Gamble USA strives to improve your online gambling experience. We aim to help you play safely, make informed decisions when gambling, and increase your betting knowledge through our guides.
We adhere to strict editorial integrity; our content may contain links to products from our licensed & legal US partners.

Since Deal or No Deal is one of the most well-known American TV programs, it didn't take long for casino software developers to build a game with a similar theme. The Slingo Originals' Deal or No Deal game has elevated this well-known TV game show to new heights and offers a genuinely enjoyable and amusing experience.
Deal or No Deal Slingo uses the standard 5×5 grid with 12 paylines and includes all familiar characters, such as Jokers, Devils, Bingo numbers, and the Free Spins symbol. It's simple to play, and although being quite interactive, it still relies only on luck, so it fits in perfectly with this slot-bingo hybrid style.
Deal or No Deal Slingo has a 95% RTP, and you may win up to $5,000 on a single wager. With a $1 minimum stake per game, the game is playable on mobile devices, tablets, and computers. You'll hear from the banker after hitting four slingos, but will he give you more than the worth of your mystery box? Read on to know everything there is to know about Slingo Deal or No Deal and what makes it so unique.
Deal or No Deal Slingo Info
RTP
95%
Volatility
Medium (2-4/5)
Developer
Slingo Originals
Reels/Rows
5x5
Paylines
12
Bets Range
$1 - $100
Spins
10
Extra Spins
Unlimited
Special Features
Joker, Super Joker, Free Spins, The Banker's Offer
Theme
TV Show
Maximum Win/Jackpot
$5,000
Compatibility
Pc, Mobile, Mobile App, iOS, Android, Instant Play Online
Deal or No Deal Slingo Casino Bonus
$20 free play at Borgata Casino + 100% match up to $1,000 on Mohegan Sun Casino
Best Legal US Casinos to Play Deal or No Deal Slingo with Real Money
Listed are the best Slingo casino sites in the US, licensed and regulated in their respective states. Deal or No Deal Slingo is still available on a few operators, but the above offer free play, no deposit, and real money versions of the game.
Theme and Graphics
Deal Or No Deal Slingo is among the most modern versions based on the world-famous TV show, and it is designed to appear just like it. It blends the idea from the actual TV show with the well-known Slingo gameplay. You'll see boxes in the center of the screen, bordered by prize ladders on either side and the potential payouts for each Slingo on the left. While matching the numbers, you can also listen to engaging music.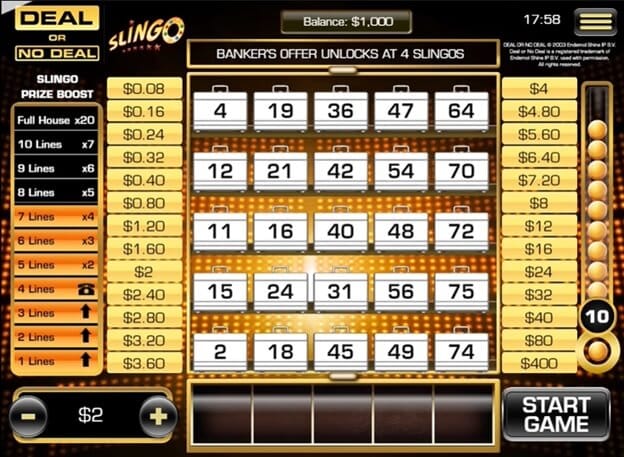 The action is generally much more dynamic than other games of this category, and the graphics are superb for a Slingo game. As with all other games of this genre, the symbols in Deal or No Deal Slingo are shown as numbered boxes. However, some special symbols have advantages that we will discuss in greater depth below. It puts you in the iconic hot seat as you pick boxes to defeat the banker, mixing real money bingo games, online slots, and the best components of Deal or No Deal.
How to Play Deal or No Deal Slingo: Rules
Now that Deal or No Deal is available in a Slingo format, you can take the hot seat and enjoy the excitement of the popular TV show. It's great if you're new to playing Slingo games, and it is just as simple to play as the TV program. But first, you need to sign up for an account on one Deal or No Deal Slingo online casinos to experience the game for real money.
When Slingo Deal or No Deal starts, you'll see a standard 5×5 grid with numbers on each square. Begin by placing your bet on the stake tab using the + and – buttons on the lower left side of the screen. Betting $1 or $100 on a game makes a significant impact. When you're ready, click the Start Game button and choose one of the 26 boxes that will show up on the screen to be your lucky box. This box will be placed to the side, while the other 25 will cover the 5×5 grid of the game.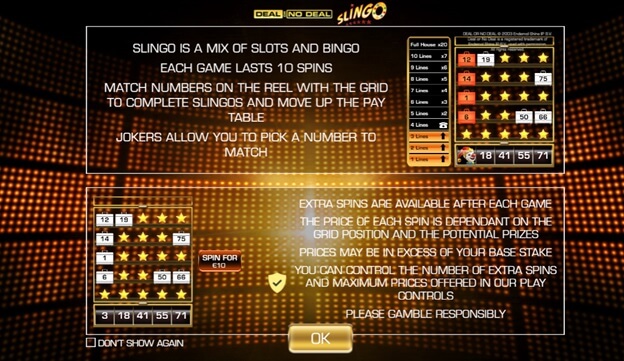 After choosing your stake and fortunate box, you will receive ten spins for each game. There are 12 separate paylines on offer that go vertically, horizontally, and diagonally. In this Slingo variation, you must get matching numbers on the grid with the numbers on the spinning slot reel underneath the grid. If you match a number, the box will open, and the reward will be removed from the game, just like on the TV program. Completing Slingos by unlocking five numbers consecutively in any direction awards you with a prize value and boosts the worth of the remaining prizes.
For new Slingo players, completing a line is referred to as a Slingo, while completing the whole grid is referred to as a Full House, resulting in the maximum prize award. Also, it's crucial to note that getting four Slingos will trigger the Banker's Offer feature. The grid has more than just boxes; other symbols can assist you in marking the numbers on the grid.
Deal or No Deal Slingo Paytable & Symbols
The above-mentioned special symbols are also in play and can make gaming much more rewarding. There are two joker characters in Deal or No Deal Slingo since a Slingo game wouldn't be complete without them. The Joker and Super Jokers perform the same function as Wild in standard slot machines.
If the Joker with Red Hat appears, the player can select any case in the column in which the Joker appears unless all cases in that column are already open. While the Super Joker with the green hat performs the same purpose, the difference is that instead of opening a box in a column, they unlock any box on the entire grid. But beware of the Devil, who works against you by preventing you from making any possible grid matches.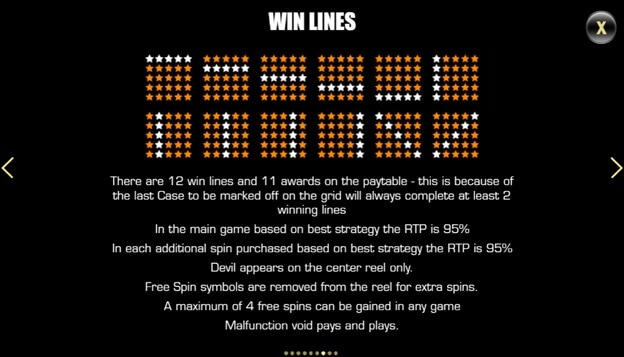 Moreover, once you've made five slingos, your reward value multiplier will grow by 1x with each Slingo, starting at 2x and increasing to 7x. If you complete all possible Slingos and get a Full House, your multiplier will increase to 20x.
Remember that you can also buy extra spins if you are on the edge of winning. It permits you to continue playing your game and possibly win.
Deal or No Deal Slingo Bonus Features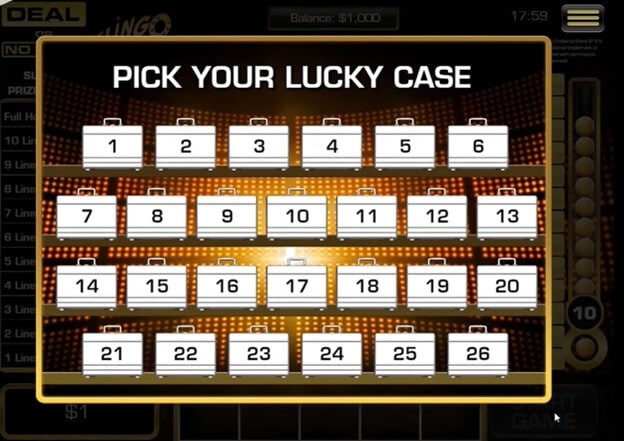 The Banker's Offer and Free Spins are the only additional features available when you play Slingo Deal or No Deal, aside from unique symbols. Let's look at how these top slots bonus features can assist you on your journey to some big wins:
Free Spins
Deal or no Deal Slingo free spins are activated by landing the free spins symbol on the slot machine's reel. You will then be awarded one free spin, which is used after the regular spins. You can only get six free spins in a single game.
Banker's Offer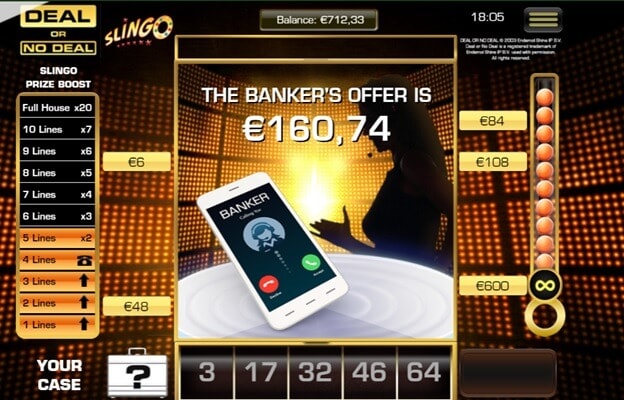 The Banker's Offer bonus round is also great in this game, but it presents the difficult choice of whether to take the offer, pass it up, or continue spinning. You can unlock the Banker's Offer bonus after you achieve 4 Slingos. In this bonus, just as in the TV game, you'll receive a call from the famous Banker who might offer you a mysterious prize. There are three options available to you here:
Deal: If you select the Deal, you can accept whatever the Banker Offer is, and the game will finish.
No Deal: If you choose No Deal, you will receive whatever reward is in the mystery box you chose at the beginning of the game.
Spin: By pressing the spin button, you can always reject the Deal and carry on with the game. But, the Banker will continue to provide you with offers based on the remaining prize amounts following each spin.
The value of the box you select at the start of the game will not match the Banker's offer, which will either be greater or lower. Similar to the respective game show, the excitement comes from not being able to decide which option is the better.
Deal or No Deal Slingo Mobile
Deal or No Deal Slingo is the ideal game for playing on a mobile device because it quickly adjusts to any screen size and offers lots of convenient pleasure while you're not at home. It means you can comfortably bring this game with you wherever you go. Thanks to advanced technology that makes it mobile-optimized, you can play the game on Android and iOS devices.
You can enjoy the game straight in your mobile browser at one of the best Slingo online casinos without additional downloads. Regarding the layout, everything is cleanly spread out with buttons, features, and help, all being simple to choose and locate. It is maintained even when playing on our mobile casino apps. Also, don't forget to take advantage of casino bonuses after making your initial deposit when you sign up.
Deal or No Deal Slingo RTP & Volatility
Finding and playing the perfect game with the RTP and volatility that will fit your preferences is crucial. Volatility provides information on the frequency and size of winning combinations that are likely to occur. The Return to Player percentage (RTP), a term used to indicate the theoretical payback percentage being returned to the player, is another crucial factor to consider alongside volatility.
Slingo Deal or No Deal  RTP is set at 95%, which is below the industry norm but can still produce some profitable results. This value isn't very high compared to other slot machines, but it's considered fair and average at Slingo slots. The game has medium volatility with balanced gameplay that combines reasonably frequent prizes at medium values. You may win up to $5,000 with a single wager and bet up to $100 each time.
Slingo Deal or No Deal Strategy & Tips
You might wish to create a Deal or No Deal strategy to boost your chances of winning. Even though the outcome is mainly random, several Slingo slots strategies exist.
The best strategy to employ is when your spinning reel contains Joker wilds. The wild can be used to complete a line and score some points. The center suitcase is the best to open because it passes through four lines, while the diagonal suitcases are next-best because they pass through three lines.
It's tempting to buy more spins if you're near to completing the full house or need a few digits to finish certain lines. However, extra spins can be costly, and the expense of purchasing them may not be justified by the reward you may win. So, if you need one number to complete a full house and the slots payout for winning is high, go for it.
Another point to remember is to play for stakes you can afford if you want to play many games.
Slingo Deal or No Deal Slot Review Summary
Play Slingo Deal or No Deal if you're searching for some new thrills with ideas straight from an exciting game show. It's a great chance to experience the best of both the slots and bingo worlds.
The Slingo Originals team seamlessly incorporated the well-known TV show into one straightforward yet highly effective game. As you climb up the prize multiplier bar by completing Slingo lines, the value of the remaining prizes is multiplied based on your starting bet. The variety of values you may unbox and accumulate while playing Slingo makes climbing up the ladder exciting and challenging.
So, start up the fun on your preferred device anytime you want and dive into this Slingo game for a chance to win great rewards at the expense of the dealer!
Slingo Deal or No Deal FAQs
What is Deal or No Deal Slingo's RTP?
The theoretical RTP of the game is set at a standard of 95%, which is the average return to the player. It indicates that you may expect good profits throughout the spins. In terms of rewards, if you can climb to the top, you may be in luck and win a hefty $5,000 maximum prize.
Can I play Slingo Deal or No Deal on mobile devices?
Yes, the game was made with HTML5 technology, making it compatible with most major operating systems. All Slingo games are accessible on mobile devices, laptops, and tablets, and you can play them straight in the browser on any device you want.
What is the volatility of Slingo Deal or No Deal?
It's a medium volatility title, and these slot games and Slingo game alternatives provide frequent but average payouts. The term "volatility" describes the interaction of three key aspects: the level of risk associated with the game, the payout size, and the frequency of payouts.
How to win at Slingo Deal or No Deal slots?
Your winnings are decided on the reels in the Slingo Deal or No Deal slot. Like bingo, each reel will show a number that you must locate on the grid. You win a Slingo if you get five opened boxes in a row, column, or even diagonally on the game screen. Also, each game offers you to place a minimum bet of $1 and a max bet of $100, and each betting option has a significant impact.
Are there similar slot games to Slingo Deal or No Deal?
Yes, you can try out more Slingo games, such as Slingo Advance, which takes you into space and offers features like wilds, multipliers, and free spins. Another option is Slingo XXXtreme, a fast-paced, action-packed game that gives you the potential to win up to 1000x your wager. Try Red Hot Slingo, a highly volatile slot/bingo mix, which is the first to have a fully functional 5x3 slot arrangement that allows you to win as much as 500x from the fruit symbols. Other notable Slingo titles are Slingo Rainbow Riches and Slingo Starburst.

The Deal or No Deal slot is another great alternative if you are not into new things or bingo.
Who is the software provider of Slingo Deal or No Deal?
Slingo Originals developed this popular TV show's Slingo adaptation, and they have now expanded into other brands that add even more intriguing aspects to their unique basic bingo-slot combo.

The Slingo Originals Software is highly renowned in the industry for offering original, award-winning casino games right to your pc, tablet, and smartphone.
Where can I play Slingo Deal or No Deal slot?
Playing Slingo Deal or No Deal doesn't need standing in line. Open it on your screen using an online casino with Slingo games and have fun whenever possible. You can play at one of the top Slingo casinos USA listed on this page, so that you know you are joining a legit and safe platform.