Novomatic. There's arguably no more prominent name in the European gaming industry. In the US, however, Novomatic are often left playing second fiddle to slot machine developers like NextGen and NetEnt. However, keen US slot players (particularly those concerned with profit) are well aware and often prefer Novomatic slots to many others due to their many benefits, making them something of a well-kept secret.

High RTP, decades of trust, as well as jackpots. This page will cover precisely why Novomatic has cemented itself as a European powerhouse and why they're now becoming a massive force in the US.
Savvy players will already know that these slots are spreading rapidly across the US casinos, often branded as Greentube Slots in casino lobbies, particularly in New Jersey and Michigan. Greentube became part of the Novomatic group in 2010 and is used as the Novomatic Digital Gaming and Entertainment division. The 2 brand names are used online frequently and are interchangeable; Novomatic and Greentube slots are essentially the same games.
7 Best Novomatic (Greentube) Online Slots
With such a massive name, illegal offshore casinos love to stock "Novomatic" slot games. However, these casinos bring with them a whole host of issues; most importantly, Novomatic is very selective with the casinos it works with, so if the casino is not a trusted, reputable one, you can pretty much guarantee the slot is not authentic either.
The truth is, Novomatic doesn't have a massive presence in the US yet — as such, a smaller selection of games is currently available compared to their entire portfolio of slots on legal online US casinos. Of course, only being able to introduce select games means they have only brought the best Novomatic slots and jackpot games.
Book of Ra Deluxe
Anyone who knows of Novomatic slots knows of Book of Ra. The Egyptian-themed game has a 17-year history, with its most popular iteration being the 5×3 Book of Ra Deluxe. A very simple game with 10 paylines, a 95.1% RTP, and high volatility. 10 free spins can be won by collecting three scatter symbols; however, Book of Ra Deluxe is pretty unusual in that, unlike many games where big winnings can only occur in the bonus rounds, Book of Ra can payout x500 in the base game. Even matching as few as three of its highest paying slot adventurer symbols will payout x10.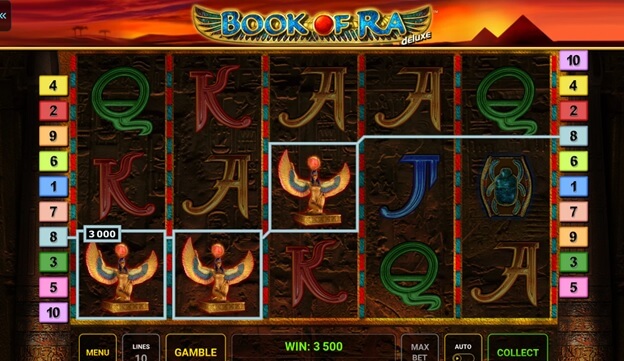 And if that's not big enough for you, as with all Novomatic slots, players can gamble their winnings to double up by guessing the color of a newly dealt card.
Lucky Lady's Charm Deluxe
Another game that almost defines the Novomatic brand, and another game that is brilliantly simple, is Lucky Lady's Charm Deluxe. Charming pink aesthetic aside, Lucky Lady can feel very similar to Book of Ra with a 5×3 layout, 10 paylines, high volatility, and an RTP of 95.13%. However, one key difference is that winnings come a little less in the main game, and instead Lucky Lady's bonus game is where the real money is to be made.
Collect three scatter symbols and you'll be awarded 15 free spins. The key difference is that here, every single win is attached to a multiplier of x3. However, one key point to note is that as the max payout for a single round is x9000, and getting five of the charming lady symbols will also award an x9000 payout — the x3 multiplier will not occur in that situation.
Dolphin Pearl Deluxe
Dolphin Pearl Deluxe is a game that immediately feels different. An underwater aesthetic. Customizable amount of paylines from one to ten played on three rows and five reels. However, the calming and simple aesthetic is a complete contrast to the game itself, as with an extremely high volatility and an RTP of 96.2%, losses can stretch on and on before suddenly being shattered by x5400 win.
That's largely the story with Dolphin Pearl Deluxe, as while the base game can be a little standard and arguably downright boring — the slots bonus features are anything but. Collect three scatter symbols and you'll be awarded 15 free spins where all wins are tripled. Better yet, if you collect the dolphin wild symbol, not only will it substitute for whatever necessary symbols, but it'll also attach an x2 multiplier to your winnings.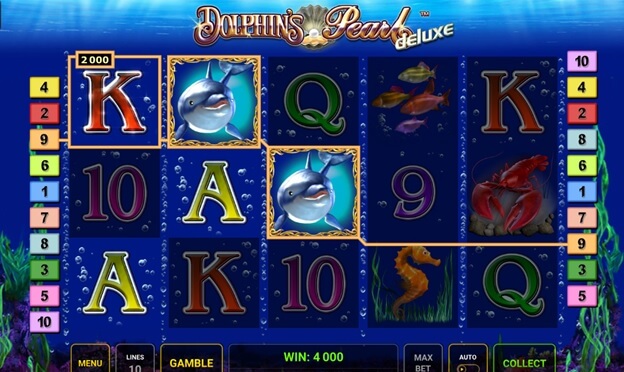 Overall I would say that while Dolphin Pearl Deluxe is a great machine, it's more recommended for patient players.
Apollo God of the Sun
As soon as you open up Apollo God of the Sun, you'll be treated to an excellent soundtrack that wouldn't be out of place of a blockbuster action movie, while being visually greeted by one of the strangest slot machines you'll ever play. This is perhaps very appropriate given its inspiration from the infinitely complex Olympian deity, Apollo. Two detached sets of five reels play side-by-side. One with four rows, the other with 12.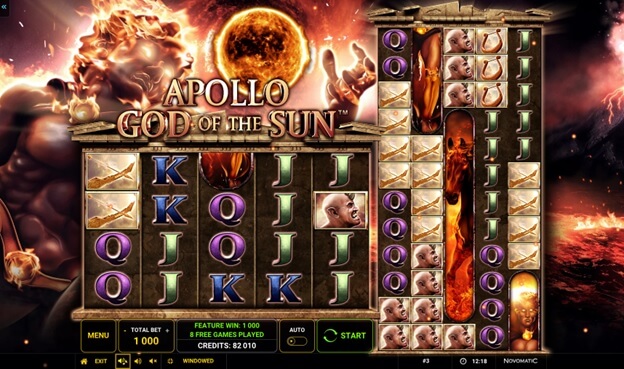 The 100 paylines make Apollo God of the Sun one of the few slot machines that could arguably be considered low volatility, and while this may seem a drawback, as winnings are generally small — Apollo God of the Sun is simply an entertaining game. There are a lot of bonus features, including expanding wilds and free spins. Of course, with such low volatility, none of them are particularly profitable and instead only add to the atmosphere of distinctiveness.
Overall, despite an RTP of 96%, this is not a game where winnings will be massive. Instead, I'd recommend it to someone looking for a unique experience.
Thunder Cash Sizzling Hot
Thunder Cash Sizzling Hot can look deceptively straightforward upon first viewing with its classic fruit theme. Likewise, a 5×3 layout with only five paylines can make the label of high volatility seem out of place. However, those familiar with Dragon Link jackpot games will know exactly what the appeal of Thunder Cash Sizzling Hot is.
If you don't though, it's simple to understand. Collect six of the scattered feature symbols and the game will change to Lock & Spin, and you'll be awarded three free spins. From here, you'll be tasked with collecting more of these disk symbols, and each time you do, not only will you get a payout that could be worth up to x100, or even a mini, minor, or major jackpot, but you'll also have your free spins reset to three. While these jackpots are profitable on their own, the main goal of this feature is to collect all 15 symbols and be awarded the grand jackpot on top of the already collected payout.
Thunder Cash Charming Lady
Instead of the Lucky Lady, it's the Charming Lady with Thunder Cash Charming Lady. The game plays with an almost identical playstyle to Lucky Lady's Charm Deluxe, with a 5×3 layout, 10 paylines, and high volatility. However, there's one key difference that separates them. The Dragon Link jackpot.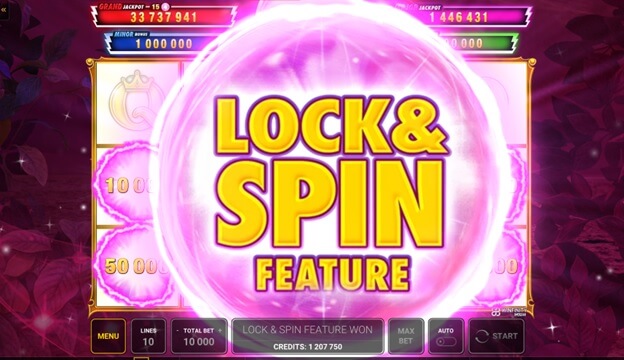 Being another Thunder Cash game, the mechanics are exactly the same as in Thunder Cash Sizzling Hot. Really, the brilliance of Thunder Cash Charming Lady is that it takes the excellent base game of Lucky Lady's Charm Deluxe and combines it with the bonus feature of Thunder Cash Sizzling Hot. The result is a game that arguably trumps both.
Diamond Cash Mighty Emperor
Continuing the theme of other Novomatic games on this list, the Ming dynasty themed Diamond Cash Mighty Emperor takes what works with the other games on this list and improves it. Medium volatility with an RTP of 95%, the five reels, three-row slot game has more paylines than most with 25. However, its most significant change comes from its jackpot mechanic.
Any Dragon Link jackpot mechanic veteran will understand the frustration of regularly just missing out on entering the Lock & Spin feature.
Diamond Cash Mighty Emperor improves on this though, because if a user gets five of the featured symbols instead of six, then those five symbols will be locked in, and the player will get another spin to get into the bonus round. This is a massively welcomed feature as it dramatically increases the chance of you entering the Lock & Spin, and thereby walking away with the grand jackpot.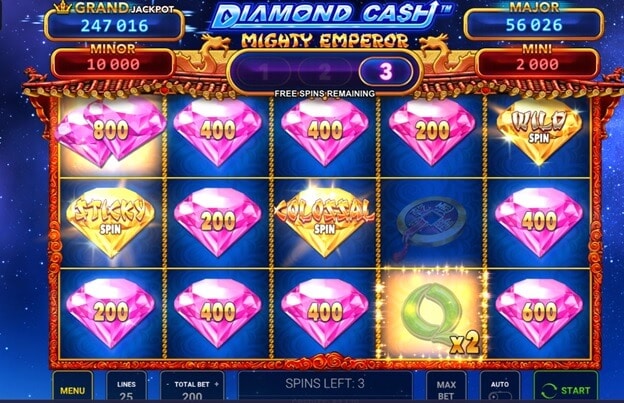 Unique Features of Novomatic Slot Machines
Overall, with the exception of Apollo God of the Sun, the unique features of Novomatic slot machine games are catered to more serious and hardcore players. Players whose sense of enjoyment is primarily intertwined with the prospect of a big win.
Novomatic Slots RTP
Novomatic slots have high RTP. That's just a fact. When you look at land-based casinos, you'll notice that most of their online slot machines will have an RTP of around 90%. However, for the online Novomatic slots, they regularly reach 95% and even beyond. This makes them the clear choice for slot players with profits at the forefront of their minds. Not only that, but these estimated RTPs that you'll find above don't change with the progressive jackpots; when you consider those, the RTP can swell even higher.
Volatility
Volatility can be a mixed bag. For many players, if they're not winning regularly, they're not having fun. Of course, that's fine. However, as the more experienced players know, those regular winnings are often far too low to deliver a significant profit. As such, they choose to go for the high volatility machines that Novomatic offers.
With Novomatic slots it's fair to say that you won't win often, but when you do, it can be for massive amounts. Of course, when you think about the truly massive, potentially life-changing amounts of money, you of course think about jackpots. This leads to the next point.
Fixed and Progressive Jackpots

Almost 43% of Novomatic slots are Novomatic jackpot slots. While the fixed jackpots can be good, the real eye-drawing catch is usually the progressive jackpot. Ticking up as you play, they work by taking 1% of every stake and adding it into the progressive jackpot. While hardcore and more casual players are of course drawn to these, it's only the more serious players who understand how to win them. While not always obvious, these jackpots can usually only be won by betting the maximum bet.
A further point to note is that unlike a lot of other progressive jackpots, Novomatic's jackpots aren't always exclusive to their machine. For example, the Thunder Cash jackpot is available to all machines that share that title i.e. Thunder Cash Sizzling Hot, Thunder Cash Charming Lady. Of course, this means that not only do these jackpots increase twice as fast, but they also have twice as many users going for them.
Mobile Gameplay
With the rise of online casinos there's also been a massive rise of people who want the freedom to play not only wherever they want, but also whenever they want. Novomatic understands this. So all of their games are built with this convenience in mind to aid their use in mobile slots. No complicated mechanics. Just sit and spin.
Novomatic Slots Bonus Rounds
With bonus rounds often being difficult to enter, there can be nothing more annoying than spinning for an hour to reach one, and then when you do — they only last a few seconds. As such, all Novomatic online slots have built-in features for retriggers. The most notable of these are of course the ones tied to the Dragon Link jackpot mechanics in which you are given an initial three free spins. However, every time you hit the featured symbols, your free spins are reset to three.
This feature of course further reiterates the high volatility, high reward style that makes Novomatic so popular with the type of player who is concerned with winning big.
Top US Novomatic Online Casinos
As mentioned already, the trustworthiness of Novomatic often makes them a keen target for illicit casinos. This is a problem for US players because if you play on these unlicensed sites, you often inadvertently waive your right to withdrawal security. So when it comes to cashout, they're under no obligation to pay you.
If you're wondering if the online casino you're interested in is legit, you can check the terms and conditions page to see what licensing they have. According to federal law, each individual state allowing for online casinos must offer its own unique license that's available for public view. A much easier way is when signing up to see which states are allowed to play. Since US online casinos are only regulated in New Jersey, Pennsylvania, Michigan, Delaware, Connecticut, and West Virginia, if a casino offers service to any other state, they are illegal and most likely scams.
Of course, these casinos pop up overnight. So they're constantly evolving, and there's always a new trick that these offshore sites will try. As such, a great way to ensure you're signing up somewhere legit is to sign up via our secure links. Here our expert team regularly checks all new casinos to ensure that they are trustworthy and that all state licenses are up to date.
Play Real Money Novomatic Slots No Deposit
With the following links, players can sign up to our recommended licensed US online casinos that offer Novomatic. Even better, by signing up via our links, you'll get access to no-deposit sign up bonuses. That means you sign up. Then you play Novomatic slots online right away without a deposit and win money right away. Of course, you can even get access to a welcome bonus where your first deposit is matched dollar for dollar and sometimes more.
Free Novomatic (Greentube) Online Slots
With the above casinos you can play Novomatic slots in demo mode. This is definitely recommended so you can get a feel for the strategy for playing Novomatic slots before playing a real money game. These free Novomatic slots are just like the real thing, same bonus games. Same RTP. Except, you don't spend money to get the hang of it.
Novomatic Slots and Greentube Company Information and Background
First established in 1980, Novomatic immediately became one of the juggernaut slot machine developers in European land-based casinos before eventually moving into online casinos with slots and other online casino games. Forays into the North American market started as early as 1995. However, it wasn't until 2012 that Novomatic really got its foothold into North America with the launch of Novomatic Americas.
Originally, Novomatic slots could only be found in land based casinos. However, in 2020 Novomatic's interactive division Greentube (acquired in 2010) launched Greentube US LLC, quickly gaining licenses to New Jersey and Michigan to supply gambling content to operators in those markets.
Since then, it's been a slow expansion as Greentube and Novomatic have not only been expanding into the US but also into Canada. And due to more lenient gambling laws, the latter has been the priority, with the most recent expansion having been into Ontario as recently as August 2nd, 2022. Of course, if their roadmap of Europe is anything to go by, it'll only be a matter of time until Novomatic is available in all US states that allow online gambling.