The minute sports betting was legalized in New Jersey, bettors have been placing wagers on Soccer. It is one of the most popular sports in the US and only growing in stature, especially on the women's side of the game.
Anyone now looking to have a bet on 'the beautiful game' is certainly well catered for. You only have to look at what New Jersey Sportsbooks are offering their customers in terms of markets and odds on what is still, the most popular sport in the world.
Whilst Football, Basketball and Baseball continue to attract the biggest handle in the US, soccer is becoming increasingly popular and that's due in no small part to the success of MLS. It's easy to see why soccer is getting more attention these days as it's a sport that lends itself to many forms of wagering, either before kick off or live In-Game betting once the action gets underway.
But you might be wondering where to place your bets if your in the Garden state – which makes it legal of course – and what exactly you can bet on. With that in mind, we have put together this NJ Soccer betting guide and even a few tips on how you might swing the odds in your favor to ensure a profit. We also have a dedicated page to the best Sportsbooks for Soccer betting too.

Where to place your bets?
There are several land-based sportsbooks within state borders and these are all located inside casinos and racetracks, meaning you have to visit in person. If you are close by or even at the casino, then that is all well and good, as there is something about the often raucous atmosphere in these locations that adds to the excitement of placing a wager.
But we also love the convenience of betting online on our mobile device, either directly at a sportsbook mobile site or, even better via an NJ Sportsbook app. We think you'll agree and to save you the trouble we've compiled a list of the current online Sportsbooks (most have apps), along with their welcome offers – important as they allow you to bet on the house. As long as you are in New Jersey, you can place bets on Soccer. You don't need to be a NJ resident, just be aged 21 or over and within state borders. You can sign up to the books from anywhere in the US, but you must be in NJ for your bet to be placed.
What to bet on?
Moneyline – this is quite simply a bet on the match winner and it's a three-way market as it includes the draw option – nearly one in three games overall end in a stalemate and that's considered a 'good result' by the underdog. Some books, especially the European-based ones, will use 'Match' or '90 Minutes' instead of Moneyline.
Totals – also referred to as 'Over/Unders (O/U) and, as it's soccer, that applies to goals rather than points. Either over or under 2.5 goals is the most popular wager here and unlike NFL, that line doesn't move. For what are potentially higher scoring games, it could pay to go over 3.5 goals as the odds will be higher. When goals are likely to be at a premium, you might consider going under 1.5 goals – you win if no more than one goal is scored.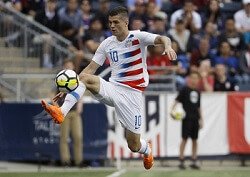 Both Teams To Score – easy to understand as it's a simple case of yes or no. This is a hugely popular bet type across Europe as it appeals to neutrals, who might not have a strong view on the match winner.
Correct Score – there's more juice to be had in predicting the final score after 90 minutes given the range of possible scores. If you think the game will end goalless, then make sure to bet on 'No Goalscorer' (see below) instead as own goals don't count in this market and odds are similar.
First/Anytime/Last Goalscorer – as it sounds, a bet on a player to score first, anytime or last in the game.
Ist Half – predict the outcome of the first half, whether that be the result (draw is included of course), number of goals scored or correct score.
Double Chance – three possible outcomes here: home (win) and draw, away and draw and home or away. This wager is especially worth considering when you fancy the underdog to 'get a result', so either win or draw.
Draw No Bet – as it implies, your bet will push in the event of a stalemate. Again, a useful way to cover a dog without going all in on the win, albeit at shorter odds.
Parlays – in Europe they call them accumulators or accas even. This is the beauty of soccer betting as there is nothing more satisfying as landing a parlay bet containing multiple teams, as we often try to do with those Sunday NFL moneylines. A big return for a small stake is the appeal, although books love these bets too and for a good reason.
Futures – predicting what might happen in the future is another appeal of soccer betting and getting it right so far in advance is very satisfying, and potentially financially rewarding of course. Odds of 5,000/1 were available at the start of Leicester's winning Premier League season and a few optimistic bettors were paid out. Extreme example.
Live/In-Game betting – most bets on a game these days are placed after the opening whistle as it definitely enhances the watching experience. It can also give you bragging rights over whoever you're watching with. Furthermore, all books these days allow you to cash out to take a profit or even partially cash out.
Did we mention Player/Team Props and Asian handicaps? We could go on, and on, when it comes to what markets are covered for soccer but let's move on to the odds.
Ready to start betting? Wait a minute as we've got a few words of advice that might just help you make a profit – or at least help limit any losses.
Know your sport and specialize
You shouldn't be betting on anything that you don't understand – hopefully that doesn't include soccer now you've got this far – and ideally get to know a certain league(s) inside out. The more exotic league the better as books won't be able to keep a handle on everything going on, whereas by keeping your ear to the ground for injury news etc might just give you an edge.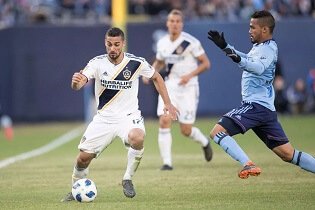 Don't just bet on favorites
You'll back plenty of winners for sure but over time the books will win out. Period. It's all about seeking out some value by taking over the odds and even favorites at negative odds can be considered value. Ask yourself whether the probability of something happening is greater than the odds suggest? That's the key to spotting value.
Don't be lazy and wager without shopping around
It's surprising just how much odds vary from book to book and the first price you see may not be the best on offer. That there are now plenty of New Jersey sportsbooks competing for your cash has made the Garden State the bettors' paradise it is.
Don't bet in-game if you're not watching live
Kind of goes without saying really but it's surprising how many bettors just rely on the the in-game visuals displayed by most books or even on a hunch. You might get lucky but the books will beat you over time.