Spartans at Nittany Lions Betting Preview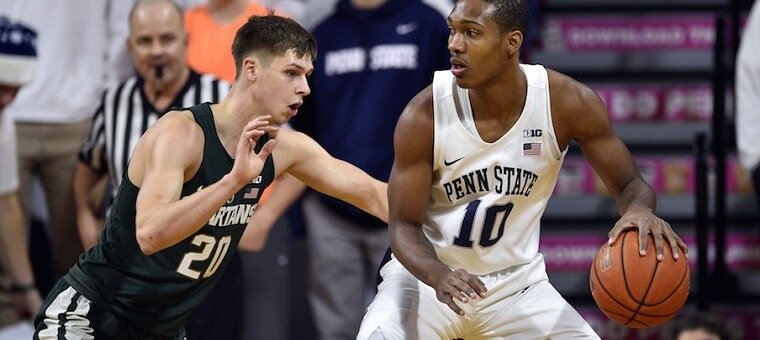 We have finally made it to March in the college basketball season, and on Tuesday, the No. 16 Michigan State Spartans will be on the road against the No. 20 Penn State Nittany Lions in an epic Big Ten Conference showdown.
Both of these teams share similar records with each other and have experienced some low-lows mixed in with all of their success this season.
On display will be two of the Big Ten's leading scorers in Cassius Winston for Michigan State and Lamar Stevens for Penn State.
Penn State won the first meeting between these two teams this season, handing Michigan State its first home conference loss of the campaign.
Based on the current standings, they potentially could run into each other again in the Big Ten Tournament, so let's break down the matchup between them.
A resurgent Michigan State team
As the season trudged along in late January and February, Michigan State was struggling with its schedule. Multiple head-scratching losses were suffered, and the leadership of the team was called into question.
That has completely flipped in their most recent games. Winston has been on fire as everyone expects him to be, and the team is coming together at exactly the right time.
They are 4-1 in their last five games, but the one loss was against Maryland, which they got revenge for with their most recent victory.
Picking up wins against Illinois, Maryland and Iowa is no joke this season, and those victories have vaulted them all the way into a second-place tie in the Big Ten standings.
Beyond Winston's incredible play, I think Xavier Tillman Sr. has jumped up a level and is now one of the dominating big men in the Big Ten.
He is a problem down low and a ferocious rebounder. Penn State is going to have to do their best to locate him on their box-outs to try and keep him off the glass.
Michigan State is coming alive, and we will have to see how long they can maintain this hot streak.
Penn State is falling back to Earth
It was not too long ago that the Nittany Lions found themselves in first place of the Big Ten standings.
They have dropped three of their last five games, and one of their victories was a narrow escape against Rutgers. They suffered losses to Illinois, Indiana and Iowa in their most recent outing.
On the positive side, their team is well-rounded and boasts one of the best scorers in the country with Lamar Stevens. Stevens is able to get himself a bucket from anywhere on the floor.
Other players like Myreon Jones and Mike Watkins are great on the floor, with Stevens leading the way.
As a team, they really do know who their best five is on the court so that always works for them in their favor.
What doesn't work in their family is the lack of precedent for success in their program. Penn State is a football school, but this is one of their best basketball seasons in recent years.
We'll see if they can capitalize on the remaining portion of their schedule.
Betting Preview
Coming into this Tuesday night game, the matchup is about as even as can be with Michigan State a one-point favorite on the road.
These two teams have shared similar paths this regular season, and now that we are knocking on the door of March, it is time to see who is ready to get serious.
I'm going with the Spartans in this one behind a monster game from Tillman. I think he will dominate the glass, and Michigan State wins in a close contest.
Make sure to lock in your bets before tip-off!
Follow us on Twitter @Gamble_usa for more big game previews and news. Make sure to check back for more free basketball picks and previews too!
Relevant news