Gamble USA strives to improve your online gambling experience. We aim to help you play safely, make informed decisions when gambling, and increase your betting knowledge through our guides.
We adhere to strict editorial integrity; our content may contain links to products from our licensed & legal US partners.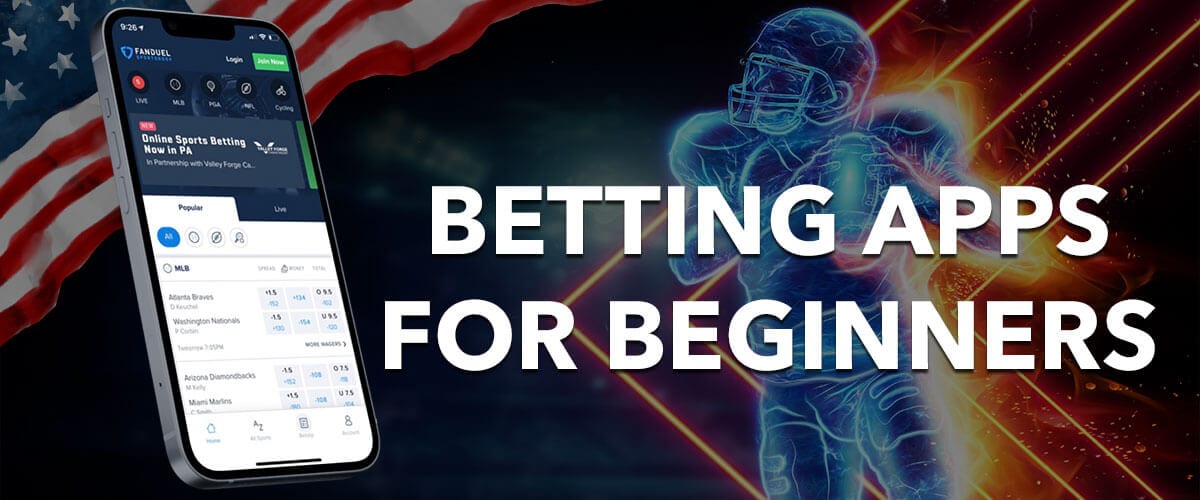 Sports betting, like anything else, isn't something you're going to pick up and become an expert at immediately. When you're just starting, you'll need to find the perfect sports betting app for you that fits your needs as a beginner.
Luckily for you, you've come across the perfect guide for the best betting app for beginners in sports betting. I've gambled on sports online ever since it became legal in the United States in 2018 and just felt like I wasn't a beginner about a year ago. I've used most sports betting apps available in my region, and I've developed the perfect list of the five best mobile sports betting apps for beginners to use.
I've taken a lot into consideration before recommending these betting apps as the best for those new to sports betting. I looked at how easy the apps are to use even for complete novices, the interface and design, how easy it is to find markets. I also looked at the exact process for placing a bet, and how easy it was to fund my account and withdraw any winnings.
---
5 Best Sports Betting Apps for New Players October 2023
Sports betting is still a new concept to most Americans and many are confused by the sheer number of operators and offers available. And let's not forget you also have to know where and what can you actually bet on. So how do you find the best betting app for beginners? We spent a lot of time testing out apps with new sports bettors to put together this easy-to-follow guide to choosing the easiest sports betting app for beginners.
This guide will show you the five best betting apps available in the United States, the specific characteristics that constitute good sports betting apps for beginners, how to start sports betting, and which sportsbooks have the best welcome bonus. I will also discuss some of the best bets to make, the best markets to place bets on, tips and strategies for becoming a better sports bettor, and all of the states in the US where these five sportsbook apps are legal.
As I said before, I've tried almost every sportsbook in my area that's available, and while some are better than others overall, the best for beginners may surprise you. Typically, the larger sports betting apps will have an edge on smaller sportsbooks because they have more resources to choose from to help new users. Resources such as videos on how to bet and matchup data are essential for beginners. Still, the most important thing is an easy and simple user experience to make things as quick and painless as possible.
Below are five sportsbook apps that are the best online betting apps in the US for beginners and why I've included them on this list.
---
🥇 #1. DraftKings Sportsbook app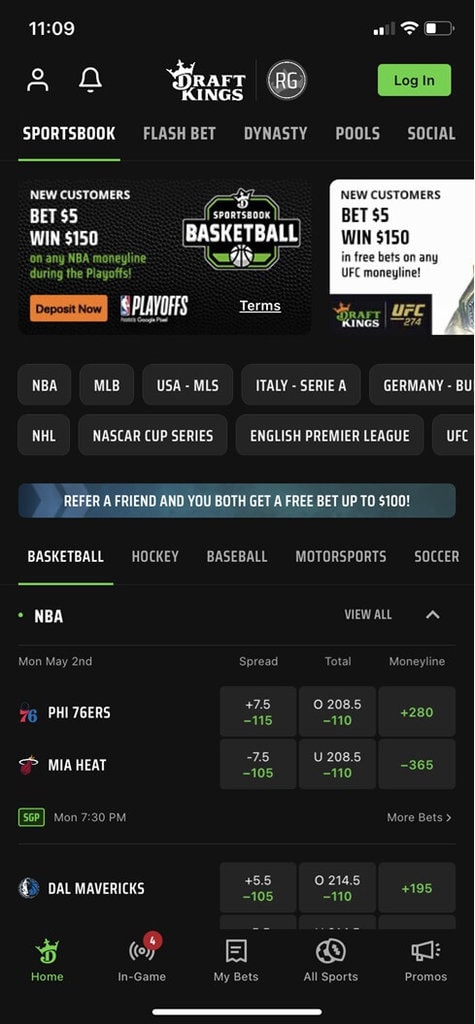 Even though this list of sports betting apps has some of the most outstanding user interfaces in the sports betting market, DraftKings is the best app. Everything is set up perfectly to allow new users to feel right at home and find what they're looking for.
The home page of the DraftKings Sportsbook app contains a clean menu layout that allows users to traverse the sometimes-overwhelming landscape of a sportsbook seamlessly. It also includes the most popular upcoming or live events and banners of their current promotions. This menu layout, extensive matchup stats, dark mode, and video tutorials truly separates DraftKings from the rest of the pack for beginner's sportsbooks.
If you are new to sports betting, you will find the layout of the app very easy to understand. I really do love the dark mode (one of the few apps to have this). Navigating around the app is simple even if you have never placed a bet online before. Finding sports and events to bet on is very easy to do even if you are a rookie.
Placing a bet on DraftKings even for first-time bettors is easy to do. Simply find your sport, tap the odds, and enter your bet amount on the betslip. You can see how much you stand to win if the bet comes in. If you are happy, press place bet and you are all done.
👑DraftKings Sportsbook app
🔔Download Size
310.1 Megabytes
🏆Best Quality
Most Features
⚡️New Player Bonus
20% Boost on First Deposit up to $1,000
📱Mobile Live Streaming
Yes
⭐Apple App Store Rating
4.8-Stars From 545 Thousand Reviews
⭐Google Play Store Rating
4.6 Stars From 88 Thousand Reviews
DraftKings also has a 20% deposit match worth up to $1,000 for new users, which is one of the best offers by any sports betting app on the online sports betting market. Rather than have bonus bets or bet $1 win $100 as a welcome promotion like most other new sportsbooks, a deposit match allows new users to use their promotional money on a more significant number of bets instead of one. There is no need for a DraftKings promo code, simply tapping on our links suffices.
---
🥈 #2. FanDuel Sportsbook app
The FanDuel Sportsbook app is another sportsbook that has an excellent user interface and plenty of resources for beginners to use to make better bets. Similar to DraftKings, they have videos to teach new users how to place bets, plenty of matchup statistics, and promotional banners.
The overall user experience of the FanDuel Sportsbook app is also extremely high quality as the app performs at high speeds with minimum lag and excellent geolocation services. It's one of the best football betting apps mentioned throughout this review because of the sheer quantity of odds boosters and promotions during the NFL season and playoffs.
If this is the first time using a betting app, FanDuel makes it easy to not only find sports to wager on, but really easy to place a bet. Just tap the odds box to add the selection to your bet slip. Tap your betslip to add in how much you want to bet, and you can see how much you will win if the bet lands. It is very easy to do. Need more help? Then check out this guide on how to place a bet on FanDuel.
FanDuel Sportsbook app
🔔Download Size
147.2 Megabytes
🏆Best Quality
Live Betting Experience
⚡️New Player Bonus
No Sweat Bet Up to $1,000
📱Mobile Live Streaming
Yes
⭐Apple App Store Rating
4.8-Stars From 1.1 Million Reviews
⭐Google Play Store Rating
4.7 Stars From 213 Thousand Reviews
FanDuel Sportsbook has a welcome bonus of a no sweat first bet worth up to $1,000 for new users. To get this offer, check out our exclusive link here.
---
🥉 #3. Caesars Sportsbook app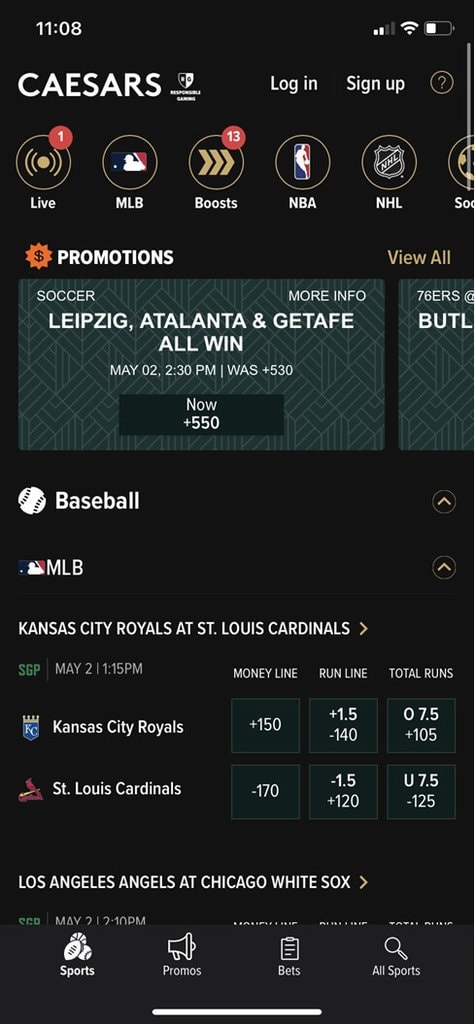 Caesars Entertainment purchased longtime international sportsbook William Hill to bring the United States one of the best sports betting apps in the sports betting industry. The app itself is beautifully done and has many similar features and amenities as the other mobile sportsbook apps on the list, but what sets it apart is its rewards program and the Caesars referral bonus.
As far as interfaces go, you probably won't find a simpler design than Caesars. It is ideal for rookie sports bettors. Navigating between different sports and events is very easy, thanks to the well-laid-out menu and design.
Most good betting apps mentioned have loyalty programs, but Caesars has by far the best with their Caesars rewards program. Users earn reward points on every wager when online betting, whether on the mobile app or desktop site. There are also unique challenges given to users who earn extra rewards points by making specific bets on particular markets.
Caesars Sportsbook app
🔔Download Size
277.2 Megabytes
🏆Best Quality
Super Parlays & Quick Picks
⚡️New Player Bonus
Up to $1,250 Cash Back on First Bet
📱Mobile Live Streaming
Yes
⭐Apple App Store Rating
4.6-Stars From 42.5 Thousand Reviews
⭐Google Play Store Rating
4.3-Stars From 20.5 Thousand Reviews
The Caesars Sportsbook app also has a pretty solid bonus for new users. Simply bet up to $1,250 for your first bet. If you don't land the bet, you'll get 100% of your stake back as a bet on Caesars. On top of this, win or lose, you'll also get 1,000 Reward Credits® and 1,000 Tier Credits. New users can access this promotion by clicking the link here and entering the Caesars promo code "GUSAFULL" during registration.
---
🎖️

 #4. BetMGM Sportsbook app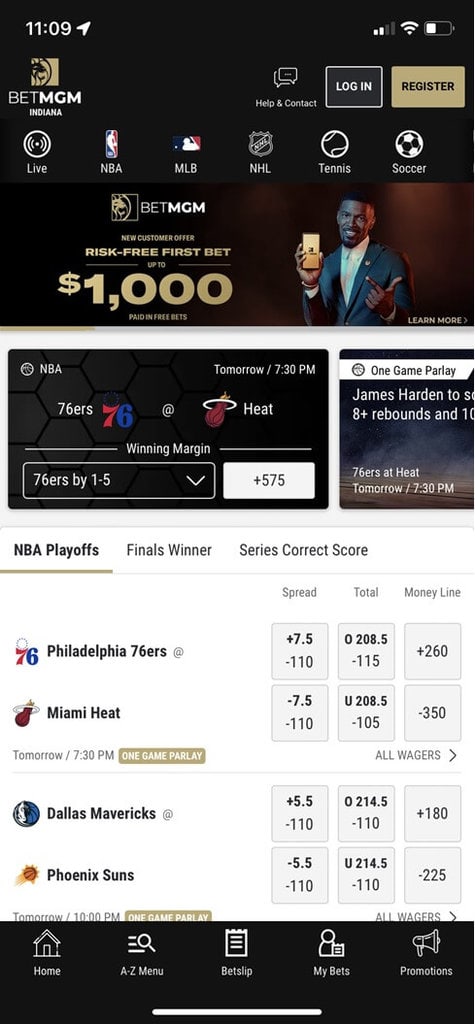 The BetMGM mobile sports betting app is one of the top sports betting apps for beginners for several reasons, but primarily because it's the best sports betting app when it comes to customer support services. In the top right corner of the app, there is an instant chat function for anyone who needs assistance.
The primary chat function on the app is an excellent tool for beginners because if an issue occurs, you can immediately press on it to bring up several questions you may be asking. It will continue presenting you FAQs interactively until you can find the solution to your issues. You will be prompted to choose from a live chat customer service option, an email customer service option, or a toll-free phone customer service option.
Even if this is your first time trying to bet on the Super Bowl with BetMGM, placing a bet with the sportsbook is so easy, even your grandma could do it. Use the menu to find the sport, then select the league or game. Find the market you want to bet on, then tap on the odds to add the selection to your betslip. You can add multiple options to your betslip and combine them, or just choose a single bet. Enter your stake and you can see how much you will win.
If this all sounds a bit confusing, then carry on reading below where we cover the different bet types, market guides and more.
BetMGM Sportsbook app
🔔Download Size
101.8 Megabytes
🏆Best Quality
Customer Service
⚡️New Player Bonus
Bonus Bet Worth Up to $1,000
📱Mobile Live Streaming
Yes
⭐Apple App Store Rating
4.8-Stars From 154 Thousand Reviews
⭐Google Play Store Rating
4.4-Stars From 6 Thousand Reviews
BetMGM is also the quickest and easiest sportsbook for the cashier page, a page where some sportsbooks don't excel. The welcome bonus is a bonus bet worth up to $1,000 (identical to the FanDuel Sportsbook bonus). Users can obtain the reward by clicking the link here and using our exclusive BetMGM promo code "GAMBLEUSA" during registration.
---
🏅

#5. PointsBet Sportsbook app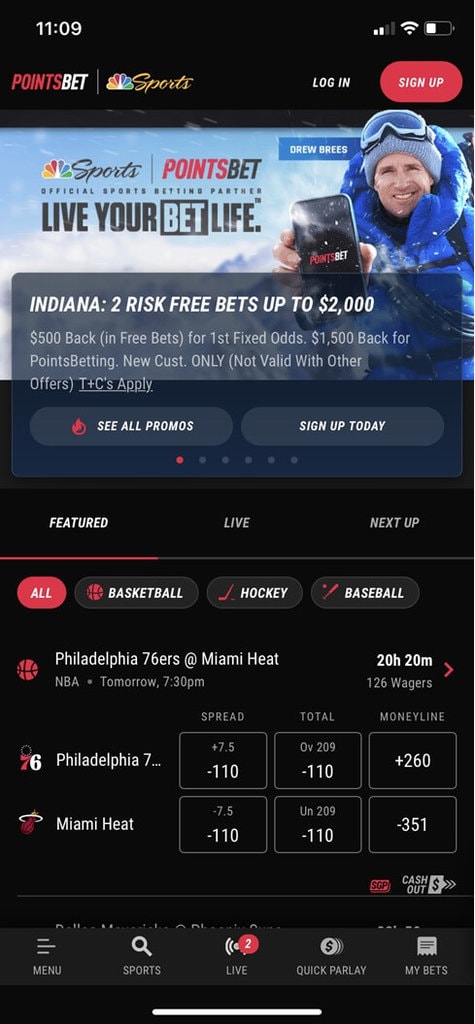 Last is the PointsBet sports betting app, which is probably the most versatile of the five betting apps mentioned. It's my personal favorite, and I believe it is the best overall of the five on this list for several reasons; however, this list is for beginners, and the app is filled with so many things that it can sometimes seem daunting.
That being said, I still believe the app is very well organized, has an enormous number of features such as in-game betting and early cash-out, and is an overall good experience for new users with the best odds in the industry. PointsBet partnered with NBC Sports in August of 2020 and has since become a dominant force in the sector of sportsbooks that have live streaming options and live stats available on their platform.
PointsBet Sportsbook app
🔔Download Size
82.7 Megabytes
🏆Best Quality
Easy Payments
⚡️New Player Bonus
5x$50 Second Chance Bets
📱Mobile Live Streaming
Yes
⭐Apple App Store Rating
4.8-Stars From 39.9 Thousand Reviews
⭐Google Play Store Rating
4.3 Stars From 10.9 Thousand Reviews
PointsBet has the second-best welcome bonus out of all of these online sports betting platforms on the list, with 5 x $50 second chance bets available. I like this not just because of the overall value but because it gives new users five chances to hit their bets. Get this bonus by clicking the link here.
Other good apps for beginners worth a mention include Barstool Sports and Fox Bet.
---
All-around Easiest Betting App
Every online sports betting app on this list is straightforward and available on the Apple App Store and Google Play Store, BUT DraftKings is my clear-cut favorite for beginners. DraftKings is one of the largest mobile betting apps in the world and has evolved past daily fantasy sports to become the industry giant that it is today.
DraftKings has done this by making everything simple. Everything from accessing the app to registering for an account to making your first DraftKings deposit is effortless and quick. If any issues arise, there is a great help center in the account menu that features resources from responsible gambling material to wagering tutorials.
While PointsBet presents the most extensive stats, DraftKings presents the stats most beginning bettors are looking for, and there are strategy guides available to teach users tips to play, although mine below is better. It has one of the cleanest mobile apps, a plethora of retail sports betting partners, and is the best sportsbook for live betting.
---
Aspects of a Betting App Suitable for Beginners
There are several things users should look at when picking online sportsbooks that benefit what they need. Beginners need a well-organized, user-friendly interface that's quick and convenient and has plenty of resources to use if/when a question occurs.
Below are the nine factors I looked at in each of the online sports betting apps and which sportsbook app from the list leads in that subject.
📱User-Friendly Interface & Bet Slip
A user-friendly interface is essential for betting apps to attract new users to use their mobile betting app instead of the hundreds of other competitors on the app store. A user-friendly interface is well organized, has a stunning design, performs well at a high quality, and feels natural.
An essential aspect of that is the bet slip. Many mobile sports betting apps don't have a good bet slip, leading to significant problems for beginners. Bet slips need to be clear, concise, and easily manipulated so that users can make bets effectively and change them how they need without dismantling the whole thing.
Below is a bet slip from DraftKings, the best user interface for a mobile sports betting app. The bet slip contains three separate picks, the availability to place individual bets for each, set all three wagers straight with the same amount of money on the line, and a DraftKings parlay and teaser menu at the bottom.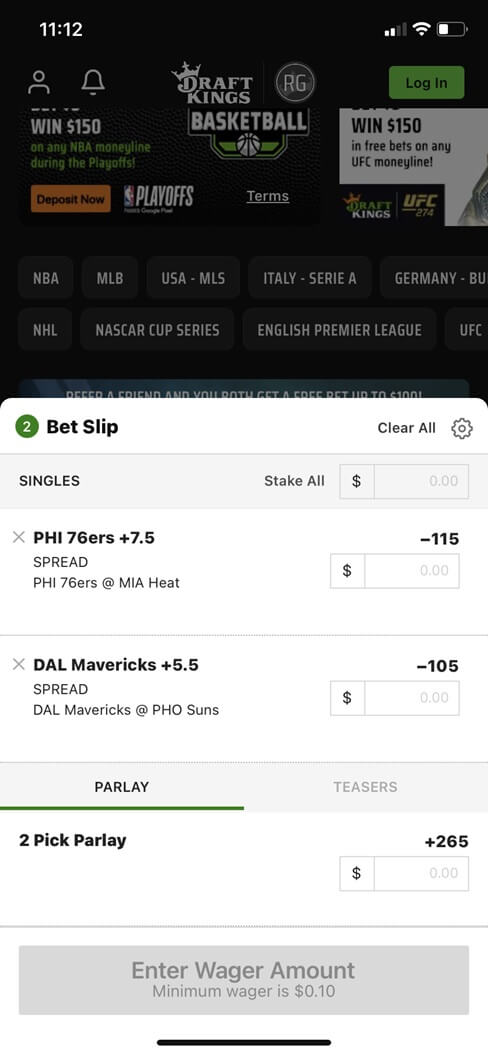 This is the perfect example of a bet slip for a sports gambling app because it allows users to place bets straight in a simple fashion or use their tools to form a more complex bet like a parlay, a teaser, or a round-robin. An easy-to-understand bet slip is critical for sports wagering apps because new users want to understand what they're doing, and while the rest of the US sports betting apps in this review have a similar bet slip, DraftKings has the best. For direct comparisons on reduced vig, reliable sports services, peer to peer betting, etc., you can also have a look at our direct comparisons between the best beginners' betting apps: FanDuel or DraftKings, BetMGM or DraftKings, and DraftKings sportsbook alternatives.
💳Convenient & Easy to Use Banking Methods
Another critical factor for a mobile sportsbook app is the various online banking methods offered to make deposits and withdrawals from your account. Online sportsbook apps focus on bringing you the most convenient ways to transfer money to and from your account online, and most sportsbooks listed above have some (if not all) of the following options.
All of the sports gambling apps in this list are free of fees when making a deposit or withdrawal, and deposits will be posted instantly to your account. In contrast, withdrawals will vary by method but generally take 3-5 business days. Every online betting app here has a land-based retail partner where users can fund their account in person at casino cages in sportsbooks across the country.
The BetMGM sportsbook app is one of the best sportsbook apps for payment methods because of the large number of ways available and the considerable number of casinos nationwide.
Many new users wonder, "are sports betting apps safe?" I'm here to put your worry to rest because absolutely. If you're using legal sportsbook apps in your area, your information and money are backed and insured by your local government's gaming commission. Make sure that you're using legal sports betting apps by checking their licensing on their FAQs page to know that your money is safe, and if you can't find it, that's a major red flag.
🖥️Tutorials and 101 Videos on Sports Betting
All of the best sports betting sites for new users have one thing in common: resources to help beginners understand mobile sportsbooks' massive platform. There are numerous help and FAQ pages on these sportsbook apps with information on each type of bet available, how to read lines and odds, and how to place bets, including adding them to your bet slip.
The FanDuel Sportsbook has a phenomenal betting guide for new users that explains everything about sports gambling. It also has video breakdowns to visualize what they're describing. Users can use these resources to assist in navigating around the sportsbook app, making deposits or FanDuel withdrawals, reading the odds and lines, and learning how each bet type works.
🍀Stats and Odds to Guide Your Betting
Understanding the matchup in front of you is essential for placing a sports bet. Stats and odds are vital when placing bets because they can help you better understand the bet you're about to make. These sports betting apps have highly competitive odds, and reading them correctly is vital for beginners.
Odds may seem confusing, but they are pretty simple once you realize how to read them. Odds are displayed in a three-digit number with a plus or a minus in front of it that reads somewhat confusing compared to European odds, which are just decimals. If the number has a plus in front of it, like +125, for example, when you bet $100, you'll get $125 if you win. Inversely, if the number has a minus, -125, you'll need to bet $125 to win $100. This means that the favorites are always harmful while underdogs are almost always positive numbers or a smaller negative number than others.
Each of these sports betting apps has what's known as a juice. This juice is an extra -10 added onto each line, meaning that the book takes an additional -10 cut in their odds on each bet. If you use a sportsbook as an NBA betting app to bet on spreads, an utterly even bet, the odds are -110 rather than +100. Some mobile betting apps even run promotions where they forgo their juice for individual bets, giving users better odds!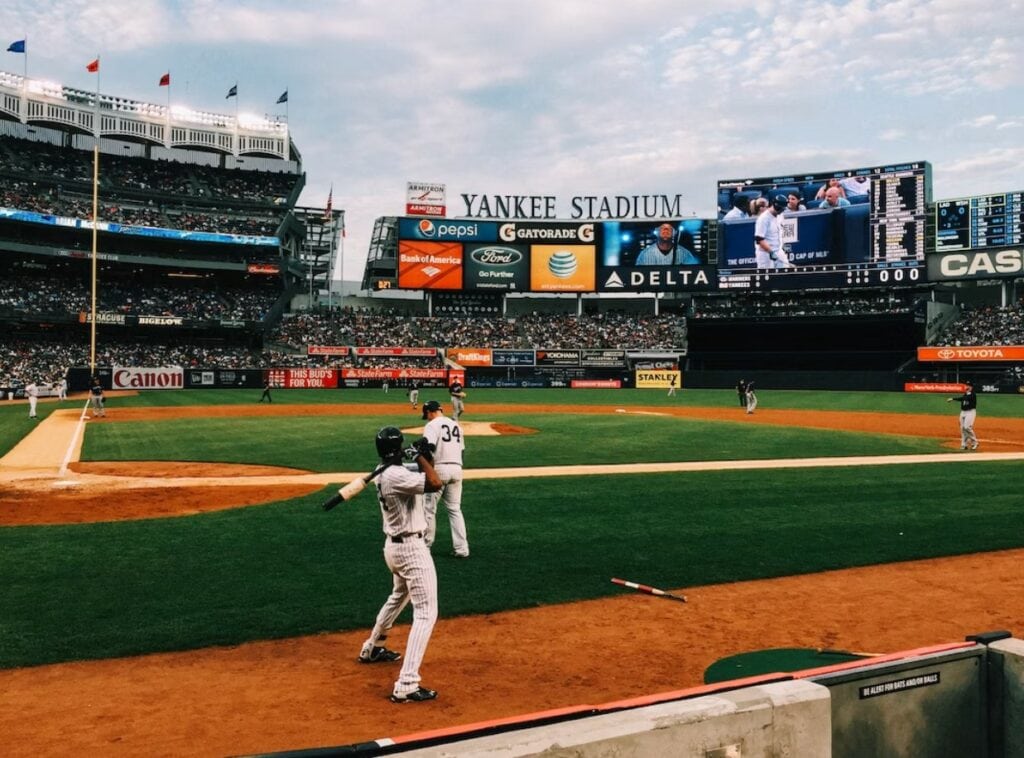 The best online sports betting app for stats and odds is the PointsBet Sportsbook, which gives both previous and live stats and stats on where the money is being placed by the public. Reading this can give an insight into where casual bettors are putting their money and the handicappers who do it for a living. PointsBet is currently running a no juice promotion that gives better deals on everyday lines for select events. I do have to say, BetMGM is an honorable mention here because they have some of the best daily odds in the industry, but the current promotion and the enormous number of stats gave the win to PointsBet.
👑Simple to Download/Install App with Neat Organization
These mobile sports betting apps iOS and Android are elementary to download in either the Apple App Store or the Google Play Store and can be used on most current operating systems. Like most mobile apps, all you'll need to do is search the name in the app store to download, and it will add to your home screen for you to use when the download is finished.
Apple and Android sports betting apps sometimes require an extra geolocation software app; however, none of the ones above do. Nothing is worse than having to download two apps, and it just gets confusing having them all on your phone's home screen, so having solid geolocation software embedded in the app is very important to make users happy.
💎Easy Bet Types
One of the most important aspects of online sportsbooks is the bet types available for users to make. The most accessible bets are straight bets placed on a spread, over-under, or moneyline that are only for the odds given by that single line.
Betting on spreads is betting on a team to win with points given or taken away based on the team's likelihood of winning. This means that the favorites would be getting points taken away and would have to win by more than the spread to cover the bet. Users can only place these bets on a sport where points are counted throughout (not fighting sports on MMA betting apps).
Similarly, a basic over-under bet is a bet on whether or not the game will have over or under the line of points provided. Over-under bets and spread bets are typically even at -110 odds, while moneyline bets, a straight-up bet, will vary, as I mentioned before.
These sportsbook apps have these options that users can combine to become more complex bets at better odds in wagers like parlays or teasers. The best sports betting app for betting types on the list would have to be DraftKings because of the sheer number of prop bets that can be added to a same game parlay.
🏆Comprehensive Market Coverage
Everyone watches different sports and has diverse interests in sports betting in markets worldwide. Finding a sportsbook that has all of the markets you're interested in is significant and can go well beyond the major sports of America.
Prominent sportsbooks will always offer popular sports like football, basketball, golf, baseball, boxing, hockey, and soccer. Still, some smaller niche sports like lacrosse, handball, or darts are only offered on certain US sports betting apps. Betting markets are expanding on these mobile sportsbooks every day, so check back regularly to see what's new!
DraftKings takes the award for the best sports betting app in betting markets because of the number of events they offer. They also have tons of free-to-play pools, which gives users more opportunities to make money for free as their entries go head-to-head against other users who've opted in.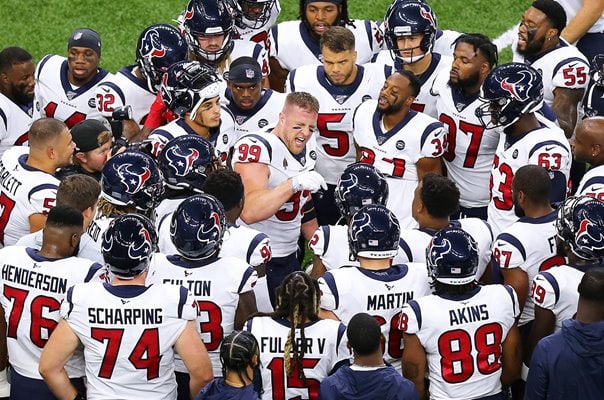 ☎️24/7 Customer Support
Customer service is an essential aspect of any industry, especially when thousands of dollars could be on the line. While uncommon, apps are not perfect, so things such as DraftKings geolocation issues or FanDuel deposit problems may occur, which would result in the need for customer service.
As I mentioned above, BetMGM has the best customer support services in this list because of their interactive FAQ page that can help users answer any fundamental question they may have. When this fails, it offers a live chat, an email, or a phone number option to contact a customer service agent to help fix your problems. This is a common feature of mobile sports betting apps, but BetMGM is the quickest and easiest to access.
⭐Reddit & Mobile App Stores Reviews
If you're looking for a new sportsbook and want to hear testimonials from real players and users of the sports betting apps, check the app store rating or reviews on Reddit for insight into the public's opinion. Be sure to look at the total number of reviews and look at a couple of testimonials before making your mind up.
Each of these sportsbook apps has glowing testimonials on both Reddit and the app store and has a minimum of 4.6-stars or higher with a minimum of 19,000 reviews. Some of the reviews were negative, but it seemed as if the people who did not enjoy them had rare issues with their app and did not use the customer support services that could have solved their problems.
🔥Signup Bonuses
Bonuses are a huge factor when a new customer is choosing any betting site. Whether it is a bonus bet or a 100% matched betting offer, beginners should always seek out the best welcome bonuses to give them a good kick-start. The best sports betting site will provide new bettors with an attractive welcome package to give them a boost before they start betting.
Beginners should do some shopping and scour the market for attractive offers. Of course, make sure they also provide the betting options you want, but take advantage of any kind offers. Some sites may require a sportsbook promo code to claim the offer. If this is the case, you can enter your code during in the sign-up process and the bonus money will instantly be credited to your account.
---
Betting Apps with Special Offers for Beginners
Bonus offers have become a massive part of sportsbooks today because of their use in attracting new users to their platform. When trying to use or obtain bonus cash with no deposit, it is essential always to understand the specific stipulations to use, such as the minimum or maximum amount that can be wagered, how to opt-in, what type of bet you have to place, and what kind of event to your bonus bet applies to.
Unfortunately, some apps try to trick users into signing up and depositing into their sportsbooks with promotions that seem great until you read the fine print. The first time I ever signed up for a sportsbook account in the US in 2018, I signed up for a book with the max bonus, not realizing that I had to place eight times the amount of the bonus in wagers before I could make a withdrawal. Pretty crappy, right?
That's a perfect example of why it's crucial to find $500 bonus bets or higher with easy-to-understand terms and conditions when deciding on a new sportsbook.
Easy to Understand Terms and Conditions
When you see bonus bet promotions on a sportsbook, look into the terms and conditions for the following information before opting in.
How to claim the offer
Minimum/maximum bet
Which sports are allowed to be bet on with the bonus
Which types of bets are permitted (straight bets only, parlays, live betting, etc.)
How the bonus money will be awarded to you if you win
Some promotions are for existing customers and others for new players. Likewise, you should read details on whether a bonus is cashable or how to use a referral link to invite your friends for special bonuses. All the info lie in the ts and cs of betting apps, so read carefully as a novice player should always do.
---
How to Begin with a Betting App


If you want to start using legal sportsbook apps, all you'll need is a mobile device or a laptop, and to follow these five easy and quick steps.
Step 1: Download the Mobile Sportsbook on your Device
To download the mobile sports betting app that you're looking for, go to the app store on your mobile device and search for the sportsbook name that you want to use. Next, have the available space on your device's memory (generally under 200 megabytes) and press download. After it's downloaded, you'll be able to create an account and have full access to all of the features (or more) as the desktop website.
Our page banners can take you to your preferred site where you can follow the same process.
Step 2: Create a New Mobile Betting Account
Creating an account on mobile sportsbooks is a straightforward process and only takes a few minutes and personal information. This step will require some of (if not all) of the following information;
Full Name
Date of Birth
Phone Number
Email
Address
Last Four Digits of SSN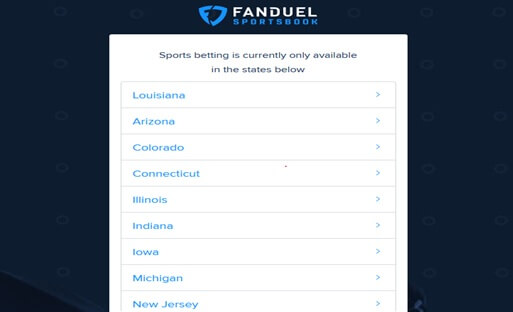 Step 3: Deposit Funds
After you've registered for an account and signed in, you'll be prompted to the cashier's page of the mobile sportsbook app to make your first deposit, which is where you'll get your new player bonus if you sign-up using our links. Depositing money into your account only takes a few minutes and has several safe and easy options for instant deposits. The possibilities are generally;
Credit and Debit Cards
Online Bank Transfers
Echecks
Prepaid Cards
PayPal
Online Wire Transfers
Cash
Bonus Step: Sports Promo Codes for New Players
As I mentioned above, you'll be allowed to get your welcome bonus during your initial deposit, which can either be obtained by clicking on the links above or by clicking on the links and entering the promo code. Below are the links to the sportsbooks bonuses and the promo codes (if necessary) that go with them.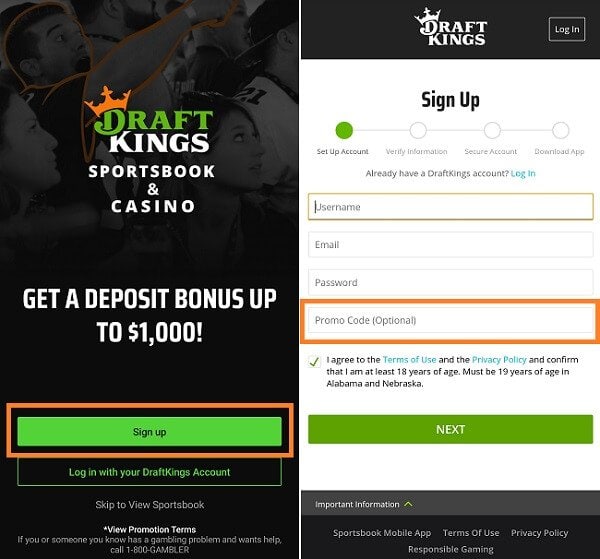 Step 4: Placing Your First Bet
It's now time to look through the plethora of events and find the one you want to bet on. When making your first bet, be responsible even if you have a bonus bet. Place a bet that you're confident in and try to keep it as a singular bet, or a small parlay, for the best chances of winning. Keep in mind that your bets will still need to be likely to win to have the best chances, not just the total number of bets.
Step 5: Watch Live & Wait for the Outcome
For the best part, watching the event live with some extra fun at stake. Kick back and enjoy as your favorite sports just got a lot more interesting!
---
Easiest Sports Bets to Win
The most straightforward sports bets to win will always be the simplest ones and, analytically, the ones with the worst odds. Moneyline bets, for instance, are the most straightforward bet on whether or not a team/athlete will win or lose, which will give great odds for underdogs, but bad odds for favorites.
To counteract this, users can bet on spreads to get some of those odds back by effectively buying or selling points with the spread. If you know a basketball game will be a blowout and the moneyline is -150, but the spread is -3 at -110 odds, then hammer the spread!
---
Best Sports Betting Markets for Beginners
The best betting markets for new users will always be determined by the person's knowledge of each sport. Bet on what you know! There's no sense in betting on Korean baseball if you only watch the NBA, so find the market you learn best.
I've always been a football and basketball fan growing up, so when I started using sportsbook apps, I began by betting on the NBA and NFL. It's great to learn the ins and outs of sports betting before you learn new sports to follow to bet on, which happens often!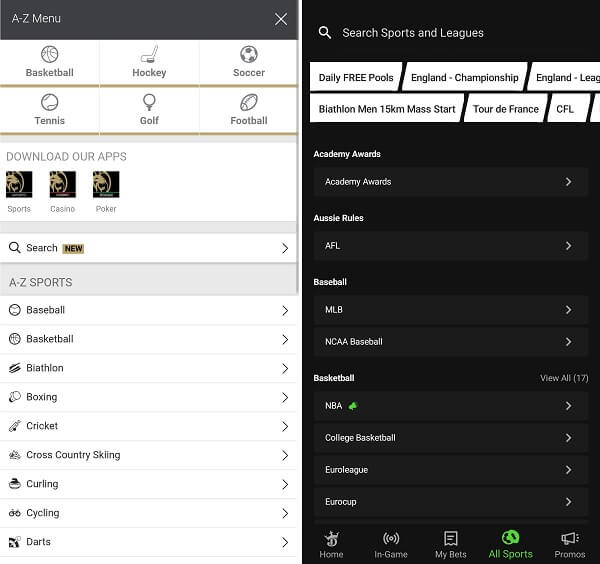 ---
3 Tips & Strategies for Beginners of Mobile Sports Betting
When you're starting as a sports bettor, you'll need to know a few things before diving in because that's how you lose a lot of money.
Keep your first few bets simple; there's no need to rush into a vast ten-team round-robin on your first go for $100. Start by placing a few moneyline, spread, or over-under bets straight or in small parlays before branching out into the more complex wagers.
I know seeing a large win amount on your screen seems enticing; however, keep your parlay and wager amounts small when you're starting. Stick to two and three team parlays and try betting in increments of $10 before upping it to $100 because you might not be as good as you think!
Only bet with what you're comfortable losing
Sports gambling is very unpredictable, and anything could happen! Only bet with what you're comfortable losing, and be sure to limit yourself to a specific amount spent per week because it's easy to overdo things without realizing it. Most apps have ways to limit your deposits per week, so find and set a limit that works for you before it's too late!
---
Mobile Betting Apps VS Online Sportsbooks
Before searching for the best sports betting app for beginners, it is worth noting the differences between the app and the best online sportsbook site. First, when you download an app, you will have come across the operator's main betting site, whether that be FanDuel Ohio, Barstool Sportsbook or the BetRivers sportsbook. This could lead you to wonder what difference, if any, there is, especially if you are new to the online sports betting world. Maximizing the opportunities presented to you by sports betting apps with all of their features and functions, ensures a smooth experience and more flexibility compared with betting on the sportsbook sites.
Betting apps perform better for advanced features like live streaming and in-play betting. An online sportsbook that is fully optimized is still a great option, but sports bettors may find there are more limits when using them.
The biggest difference between an app and using a main sportsbook site is the convenience offered with apps. The fact you can make a wager at any place at any time is hugely beneficial. Betting apps allow bettors to stream their sports live anywhere. Dedicated mobile wagering apps have added this feature to work in conjunction with their live betting sections. Additionally, most things can be done instantly when using an app. Whether you request a withdrawal, make a deposit or place a bet, everything is available at your fingertips.
Ultimately lots of things are done via mobile nowadays. If you are comfortable ordering groceries and using apps for other everyday things, you should have no trouble getting to grips with how a mobile betting app works.
---
US States with Legal Sports Betting Apps
Legal sportsbook apps have been available in several states nationwide since the change in national legislation in 2018. Be sure to check the availability of each app in your state before signing up because the geolocation software will stop you from betting from states where the book is not offered. Avoid all offshore betting apps, and the use of a VPN for sports betting, because they are unreliable and unsafe because a local gaming commission does not regulate them.
New locations such as the New York sports betting and Massachusetts sports betting markets have added another option for sports bettors.
As I said, check each specific app for its availability, but the states that offer mobile sports betting legally are;
Arkansas
Florida (currently pending)
Montana
Nebraska
Nevada
New Hampshire
New Mexico
North Carolina
North Dakota
Ohio
Oregon
Rhode Island
South Dakota
Washington DC.
Wisconsin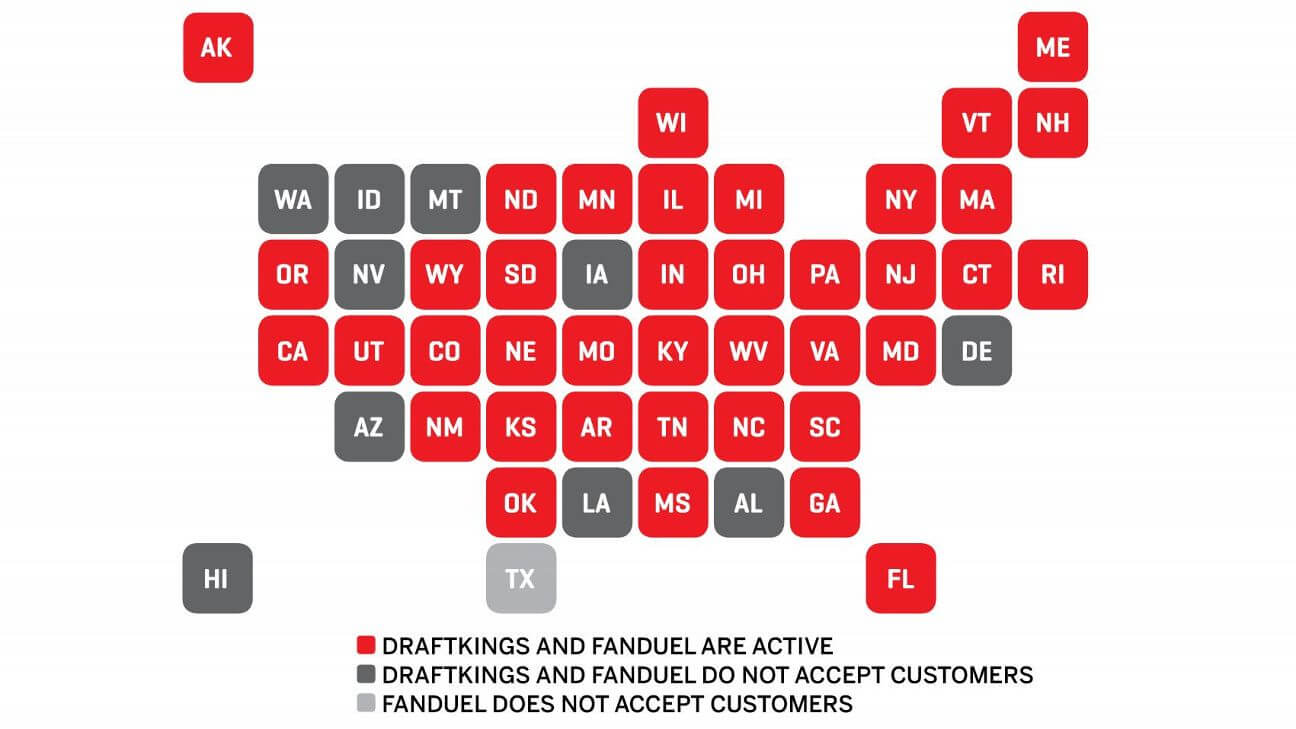 ---
Summary
To summarize this deep dive into the best betting apps for beginners, finding a sportsbook that works for your needs is significant, and beginners should do their research before signing up. Any of these five sportsbooks are excellent choices, especially for beginners, and have all of the resources needed to become a better bettor!
When you're starting, be sure to pay attention to sportsbooks available in your area, the ones with the best organization and the simplest ones. There's no need to overcomplicate things and use a mobile betting app that's too confusing. Use what you're comfortable with and enjoy!
---
FAQs
Can I make bets on the app if I am in another state?
You can't legally place a sports bet if you are located in another state. To bet on the NFL, NBA, or World Cup on a sportsbook app, you must be located within state lines of where online gambling is regulated. State laws concerning gambling differ across the country so gambling apps must gave geolocation technology. All users must also turn on the location feature on their mobile device. The legal gambling age in most states is 21.
Can I get a bonus on a sports betting app?
Yes. Bettors who sign up for an account and are intending to place a bet on an app for the first time are eligible for bonuses. This is the case for both the main sportsbook desktop sites and their apps.
What are the best sports betting apps?
Determining which is the best sports betting app comes down to personal preferences. If you are a new player, it will be helpful to read our article above and also our app reviews to get all of the information to allow you to make an informed choice. Look out for apps that offer what is important for you, whether that be NFL markets, live betting, bonuses and promotions or odds.
What sports can I bet on using an app?
Online sportsbooks will offer the same markets on the sportsbook sites and apps. The most popular sports for US bettors include football (NFL & college) basketball (NBA & college) ice hockey (NHL) baseball (MLB) and soccer (MLS & international leagues).
Are sports betting apps the same as online sportsbooks?
The only thing that should be different is the appearance. The best mobile betting sites should offer customers everything that is available on the desktop site, but with more flexibility. This includes the registration process, placing bets, making deposits and withdrawals and cashing out.