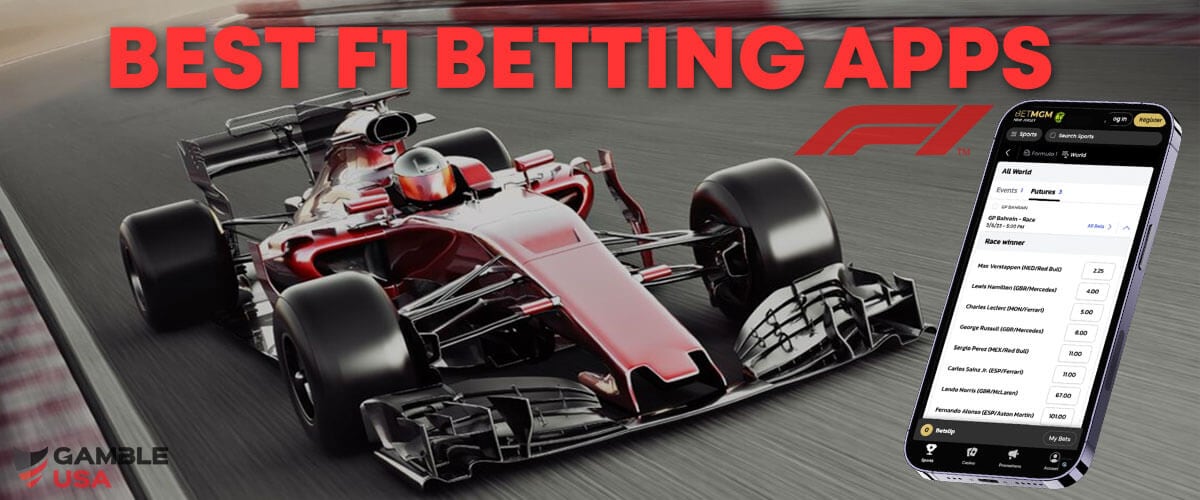 Looking to bet on the F1 races this season on your mobile? Then get ready to go full throttle on the best F1 betting apps available. We have tried and tested all the mobile sportsbooks from the biggest names to bring you this definitive list of the best F1 mobile betting apps.
Predominantly a European sport and one struggling to gain traction abroad, Formula One racing has exploded in popularity around the US in recent years, thanks in part to the Netflix series Drive to Survive, a partnership with ESPN, and the dominance of drivers Lewis Hamilton and Max Verstappen. Watching the two compete at speeds eclipsing 200mph has become appointment viewing. With a record 23 Grand Prix races taking place for the F1 Driver's Championship 2022, there are more races to wager on than ever in 2023.
While betting on the Super Bowl or big international leagues such as the Premier League remain popular choices among US sports bettors, other sports such as F1 are surging in popularity. However, many people may not know how to place an F1 bet or where to find the best odds, markets, banking options, and more.
To get you started, we've compiled a comprehensive list of the best online apps to bet F1 with, based on odds, market depth, navigation, unique features, welcome bonuses, and overall reach.
---
Best F1 Betting Apps in December 2023
In our list below we have selected our top picks for the 5 best F1 betting apps. Our team of experts have spent time on every app to make sure they are all safe, legal and secure.
More than half the country has made a move to legalize sports betting, including 20+ states clearing the way for wagering on mobile betting apps (bettors in Nevada will need to sign-up in person first). All legal F1 betting sites in the US are licensed by the local gaming commission in each state.
Already transacting in many states as daily fantasy sports providers, DraftKings and FanDuel's extensive user base's familiarity with the brands give them an advantage over the other betting apps when it comes to attracting customers.
Name recognition has also helped retail sportsbooks like BetMGM and Caesars remain relevant. Our editor's picks for F1 betting include:
Lets take a closer look at why we like each one, what they offer new customers as well as their pros and cons:
---
🥇#1. FanDuel Sportsbook
Our number one pick for the best F1 betting app is FanDuel sportsbook. They feature a clean and intuitive layout, which is perfect for navigating quickly during eventful races. They offer some of the best F1 odds that you can find on the market too with a wide array of betting line on offer during the run up to race weekends.
To welcome new users, FanDuel offers a no sweat first bet up to $1,000 refunded in bet credits within 72 hours if the wager falls flat. The bonuses don't have to be used in a single wager, but any unused credits will expire after 14 days.
Expert Comments:
"FanDuel really hits the mark with their offerings for Formula 1 Betting. I was easily able to navigate to the correct sports section, find a futures bet that I had in mind and place that bet with ease. I tried the app out during a race session and it was great to see line available within FanDuels app throughout the race."
– Paul Ricci (Chief Sports Editor)

---
🥈#2. BetMGM Sportsbook
Part of MGM resorts and casino conglomerate that has been in business for more than 35 years, the BetMGM betting app is available in 16+ states and offers a huge 28 sports to choose from, tied for the most of any of the online sportsbooks. A slight technicality with the racing section split between F1 and NASCAR betting.
BetMGM offers the best or second best odds on four of the top six racers listed, tied with DraftKings for the biggest payout on the projected second most likely to win outright. To find F1 on the betting app, users can either scroll sideways through the sports listing at the top of the homepage or by selecting the A-Z Menu tab at the bottom of the screen. The first or last options being the fastest.
The F1 betting site features a parlay generator, the ability to edit an already in-play wager, and reward points that can be redeemed at MGM locations. The edit my bet option is an interesting new wrinkle not available on other F1 betting apps.
Bettors can adjust already placed wagers by adding, removing, or swapping selections, as well as adding additional stakes, as long as the live betting cash-out option is available. This means that even if selections within the parlay betting app have already been settled, the edit feature can still be used. If cash-out is temporarily unavailable, so shall the ability to edit a wager. Be sure to act fast. Live betting odds tend to change regularly.
To attract new users, BetMGM is offering a first bonus bet up to $1,000 refunded in free bet credits to any account that deposits at least $10. Be sure to use the BetMGM promo code GAMBLEUSA when getting started. A single bet credit will be issued unless the wager is over $50. Then users will receive five free bets in 20% increments. New users have seven days to play through their free bets.
Expert Comments:
"I've always had a good experience with BetMGM for a range of sports and that was the same when I was testing the F1 betting options. The app is easy to navigate and I was able to find the odds easily before choosing a line and placing a wager quickly. They had odds in the app the week before the event so I could plan my bets earlier instead of waiting until the event was about to start."
– Paul Ricci (Chief Sports Editor)

---
🥉#3. DraftKings Sportsbook
The DraftKings sportsbook can be found in 17 states and offers 28 sports, the most of any F1 betting site, including niche competitions including cornhole, darts, and table tennis.
To get to the F1 lines using the DraftKings betting app, bettors will first need to find the motorsports section by either scrolling the list of sports towards the bottom of the page or selecting the All Sports tab at the bottom of the screen.
Despite a busy homepage with a bunch of non-sports betting-related links, DraftKings does have generous odds, extensive F1 betting options, and a helpful preview and stats section for most major sporting events.
The preview portion includes stats, write-ups, betting trends, and the success of certain prop bets, which can be broken down in various ways to zoom in or out. These options include listings like the last five or ten contests, the entire season, or head-to-head. It's seriously worth checking out whether using the F1 betting site or not.
DraftKings sportsbook has an awesome welcome bonus where new players can get a 20% deposit bonus up to $1,000. The F1 betting site's standard offering is a 20 percent deposit bonus of up to $1,000 in bonus bets, released at $1 for every $25 wagered.
Expert Comments:
"A lot of the team at Gamble USA are big fans of DraftKings and it would definitely be my number 1 for some sports like NFL. However, for betting on F1 I prefer to use other brands. Don't get me wrong though DraftKings is a fantastic sportsbook and if you haven't tried them before it's definitely worth joining and trying the app using their bonus bet offer!"
– Paul Ricci (Chief Sports Editor)

---
🎖️#4. Caesars Sportsbook
With 26 years of experience and more than 50 gambling and entertainment properties across the US, Caesars sportsbook has quickly closed the gap on DraftKings and FanDuel.
The Caesars betting app is available in 13 states and offers 19 sports to wager on, including F1, which can be located in the auto section. To get there, bettors can either go through the icons at the top, scroll down the homepage, or select the All Sports tab at the bottom of the screen.
Along with competitive odds, especially lower down the list of participants, Caesars features plenty of additional profit boosts and a favorites section to act as a shortcut for finding your favorite sports faster.
The Caesars' desktop site does suffer from too much white space; the mobile version is much easier on the eyes. The F1 betting app starts in dark mode as its default setting. On the browser, users have to adjust it manually in the appearance settings.
To entice new bettors, Caesars has upped the welcome bonus and is now offering a first bet on Caesars up to $1,250, plus 1,000 Reward Credits® & 1,000 Tier Credits. The free bet must be used within 14 days. Use Caesars promo code GUSAFULL when creating an account.
Expert Comments:
"The Formula 1 offering on Caesars Sportsbook app was a pleasant surprise for me. They had a much better selection of lines than I was expecting and the odds were extremely competitive."
– Oliver Dickinson (Sports Editor)

---
🏅#5 PointsBet Sportsbook
Available in over 12 states, the PointsBet sportsbook offers 22 sports, including eSports betting and TV/Novelty. The F1 section is separate from the rest of motorsports and recently featured the best or second best odds on the top six drivers expected to finish first in the next race, including the favorite.
To find F1 on the PointsBet app, bettors can either scroll the sports listing towards the top or select the A-Z sports tab at the bottom of the screen. PointsBet sportsbook has the same F1 betting odds as BetRivers and similar early posting of prop bets but gets the nod over the thanks to being available in more states and a little extra on the welcome bonus. The odds are always some of the best in any US sportsbook, especially for wagering on motorsport.
Expert Comments:
"Points betting on F1 is one of my personal favorite things to bet. The previous few years have been dominated by the same one or two drivers making the moneyline value minimal. By points betting I can look at the rest of the field for my bets. The best place to do this is in the PointsBet app, it won't be for everybody but personally it's one of the best ways to bet on F1."
– Oliver Dickinson (Sports Editor)

---
F1 Betting Apps Rating Process
All the top F1 betting apps are safe, fast, reliable, and highly rated in their respective app stores with 4+ stars or better.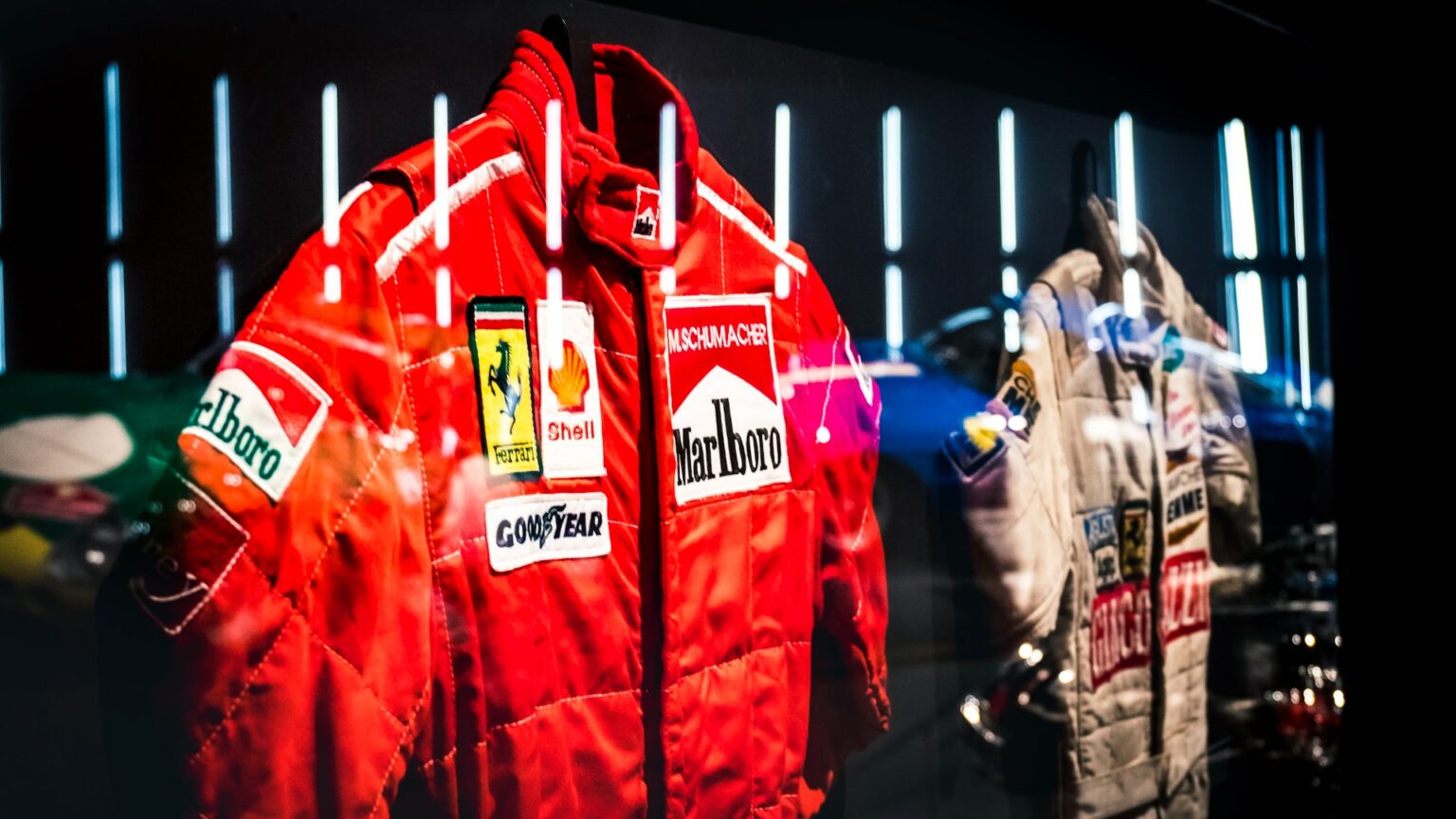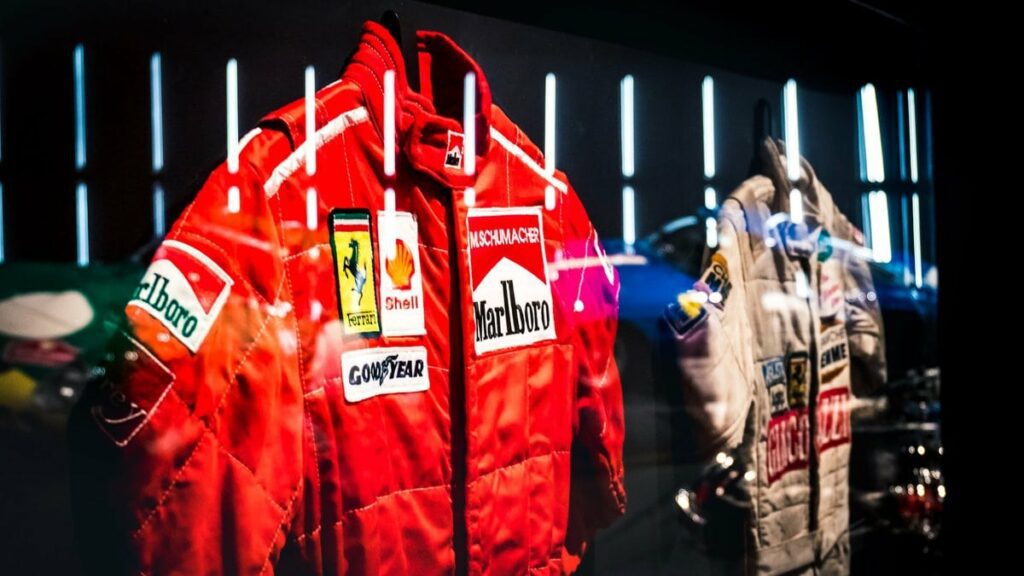 Along with the use of encrypted technology to ensure sensitive information is secure, the sites mentioned above feature various instant deposit methods, including bank transfers, credit/debit cards, and PayPal. Some have even begun accepting Apple Pay or Venmo.
Before signing up, depositing, claiming any bonuses, F1 betting online, or sending out a referral link, be sure to read the fine print. Terms and conditions vary from book to book and wager to wager. There may be criteria that must be met to place qualifying bets. Not all recurring promos will have the same requirements. Some bet types may be excluded.
For any questions or concerns, all the best sports betting sites have worthwhile FAQ sections, a live chat option for clearing up minor issues, and an email address for getting help with more complicated matters.
If your recent F1 betting activity has brought out the safety car, some measures can be put in place, including limits on the number of wagers or time online. Bettors can even lock their accounts for some time. Responsible gaming resources, including an easy-to-find phone number, are available to those that suspect they or someone they know has a gambling problem. Other factors that we considered while rating the best F1 betting apps include the following.
Betting Odds
All the other bells and whistles are nice, but the only thing for sure to help build your bankroll is earning more when you win and giving away less when you lose. The rules for formula 1 betting are the same are the same as when looking at any other betting market in terms of odds, they must be competitive. Therefore, you can be sure that we would only recommend a Formula 1 betting app that has a fantastic range of odds and markets for you to place a formula 1 bet.
You will come across numerous apps that will claim they have the best odds for the drivers championship or F1 races, but you should always do your own research. The apps we have listed on this page are among the best you will find. Additionally, they offer odds on any single F1 race or who you think will win the constructors championship.
Be sure to shop F1 odds with multiple online bookmakers, including BetRivers, before making a bet.
Market Depth
While many of the top mobile betting apps feature similar market offerings, some release additional lines earlier than others, giving bettors the jump on dissecting the early odds and deciding their wagers for the weekend before the public weighs in. If you're looking for more ways to wager, start with DraftKings or FanDuel.
Navigation
There is only so much that can be done to fit all the features from online and have the mobile version mirror the browser. Still, there are some noticeable differences in presentation and ease of use with mobile betting apps like BetMGM and FanDuel. The easier to read and less clicking around, the better.
Unique Features
All of the top F1 betting apps will come equipped with industry-standard features, including live betting, a cash-out early option, and the ability to create same game parlays. Extras like DraftKings' preview section or BetMGM in-play betting editor make betting sites stand out.
Bonuses
All the best F1 betting apps give bettors a chance to start hot or try multiple sports betting apps with little to no risk, thanks to a first bet refund. The biggest of the bunch is Caesar's $1,500 back if a wager settles as a loss. Enhanced odds bet boosts and qualifying bet insurance opportunities also make a big difference over time.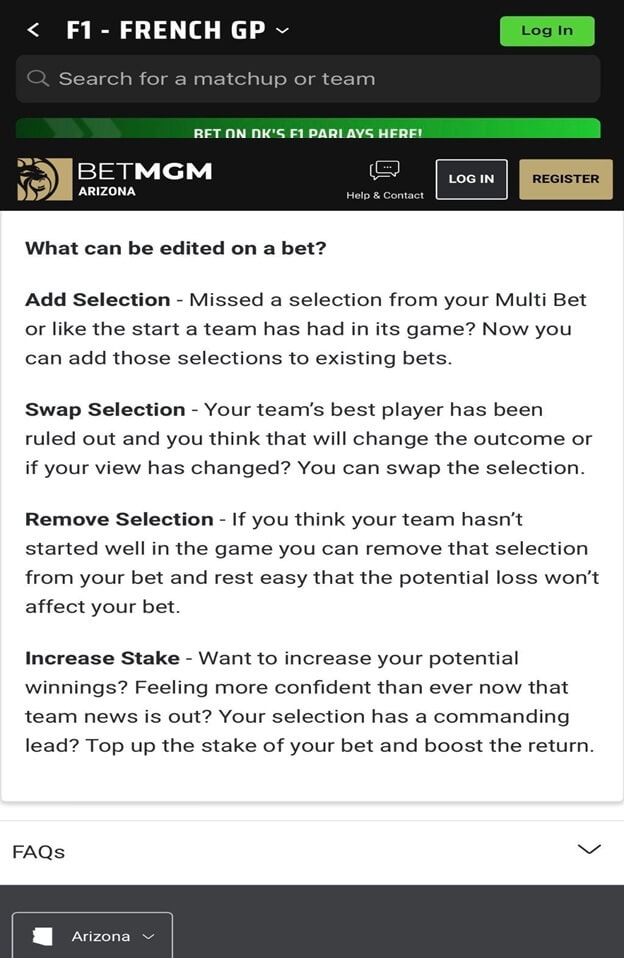 Banking Options
Customers should not have to wait for a long time to receive their funds. Additionally, they should be able to choose from a range of efficient payment options when it comes to adding funds to their betting account. The best F1 apps will provide several ways you can deposit and withdraw from your account. Depending on which betting app you choose, you will have payment methods such as debit and credit cards, e-wallets, prepaid cards and more to choose from.
---
Getting Started with F1 Betting
From downloading to depositing, getting started betting on F1 will only take a few minutes. Once you've decided which gambling site suits your F1 betting preferences, search it out in either the iOS or Android app store. Follow the installation instructions. Each time you log in, a geolocation check will be performed to verify you are in a legal state.
The personal information you'll need to create an account includes your name, date of birth, address, phone number, email, and the first four of your SSN. Additional verification steps may include providing photos of the back and front of your ID, a selfie, or email confirmation.
---
F1 Betting Types
F1 betting markets feature fewer overall bet types than most other sports. Still, there are various ways to bet on the big race, including the moneyline, driver matchups, prop bets, and season futures. All of which are simple to understand and straightforward to place.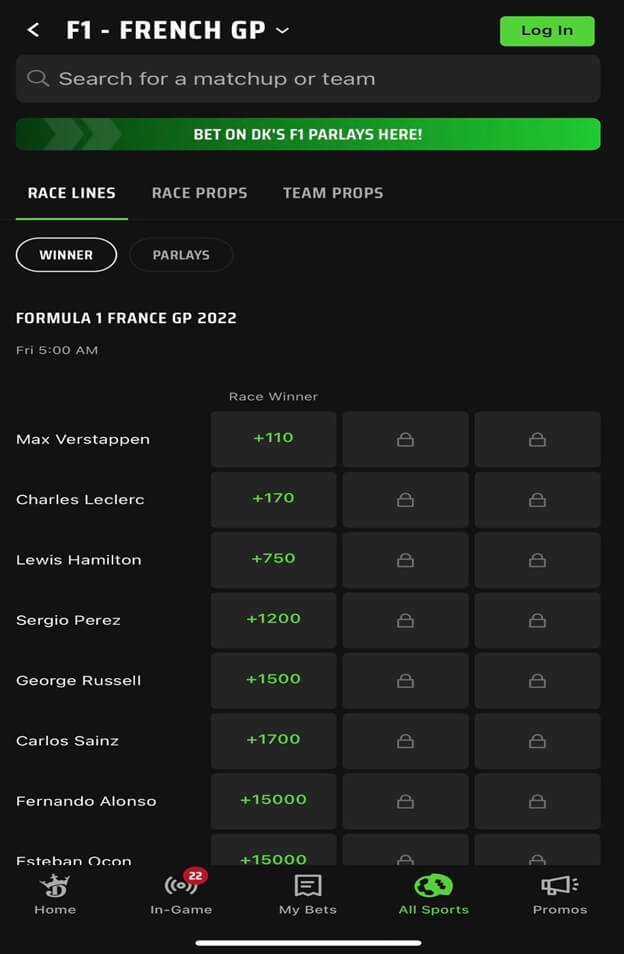 Moneyline
Consisting of betting on the outright race winner, wagering on the moneyline is one of the most common bet types. In F1 racing, making the podium or finishing in the top six are also available. Moving the odds on the favorites from plus-money to well into the juice comes with a reduced payout but less risk. They can't be combined into a parlay.
Matchups
F1 betting apps give bettors the chance to wager on driver vs. driver matchups, which help keep things exciting and encourages more bets on drivers that don't get much action. Matchups aim to keep the lines as even as possible, usually ranging from -250 to +200 for either side.
Prop Bets
Prop bets include the margin of victory, which can be broken down by the difference in finishes between first and second, under/over on a particular number, or by grouping under this/between these/over that. Other prop betting options include wagering on the fastest lap (by any driver during the race), the winning racer's nationality, and will the safety car make an appearance (hopefully not, but it does happen regularly).
For bettors looking for the first crack at a few traditional prop bets, check out the BetMGM props section. The only other major F1 betting app offering additional wagers a week out from the next race is DraftKings. Along with multi-race options (same driver to win the next two races, or split between two), DraftKings has lines on the number of finishers and fastest pitstop.
Another popular prop bet is wagering on the constructor, or race team, to win the race. These bets do correlate with the driver odds. Red Bull and Ferrari are the only two teams to win races this season. Winner of the last eight seasons, Mercedes is the only other team with more than one podium this season.
The best F1 betting site will offer driver props and team props such as Fernando Alonso to win a race or Aston Martin to win the constructors title. Props are an extremely popular betting option, and the apps on this page all have an extensive prop betting section.
Futures
Similar to the money line, futures markets allow bettors to place season-long bets on the drivers' championship and constructors' championship. Remember, futures market stakes will stay tied up until the end of the season.
---
F1 Betting Apps with Free Bets
There may be new user promos closer to race day, but for the most part, betting apps don't offer F1-specific bonuses. That doesn't mean the bet insurance and deposit bonuses can't be used to stack cash for crushing F1 betting. Using multiple F1 betting apps is a good idea for line shopping and claiming welcome bonuses.
Risk-free sports bet offers are the most common for new players, with a few F1 betting apps offering deposit match bonuses and free bets no deposit. Odds boost and referral bonuses are universally available during the season. Free bet promotions are also handed out to regular bettors, so keep an eye on your email and account inbox for notifications.
---
F1 Events and Tournaments to Bet On
F1 Driver's One World Championship 2023 is starting off on March 3rd with the Gulf Air Bahrain Grand Prix. There are 23 Grands Prix held in total – one more than last season's 22. The Formula 1 2023 season will conclude with the Abu Dhabi Grand Prix which will take place from November 24th to November 26th. As usual, races are held on most Sundays, with practice and qualifying taking place in the two days leading up to the race.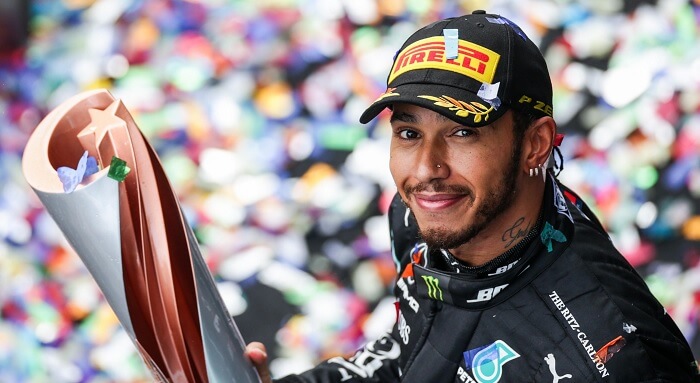 Here is the full 2023 F1 World Championship Race Calendar:
| 📍Round | 🏎Formula 1 Race | 📅Date | 🏁Circuit |
| --- | --- | --- | --- |
| 1 | Gulf Air Bahrain Grand Prix | March 3rd - March 5th | Bahrain International Circuit |
| 2 | STC Saudi Arabian Grand Prix | March 17th - March 19th | Jeddah Street Circuit |
| 3 | Rolex Australian Grand Prix | March 31st - April 2nd | Albert Park |
| 4 | Azerbaijan Grand Prix | April 28th - April 30th | Baku City Circuit |
| 5 | United States Crypto.com Miami Grand Prix | May 5th - May 7th | Miami International Autodrome |
| 6 | Grand Premio Del Made in Italy Emilia Romagna | May 19th - May 21st | Autodromo Enzo e Dino Ferrari |
| 7 | Grand Prix de Monaco | May 26th - May 28th | Circuit de Monaco |
| 8 | AWS Gran Premio de Espagna | June 2nd - June 4th | Circuit de Catalunya |
| 9 | Pirelli Gran Prix du Canada | June 16th - June 18th | Circuit Gilles Villeneuve |
| 10 | Austrian Grosser Preis von Osstereich | June 30th - July 2nd | Red Bull Ring |
| 11 | Aramco British Grand Prix | July 7th - July 9th | Circuit Silverstone |
| 12 | Hungarian Grand Prix | July 21st - July 23rd | Hungaroring |
| 13 | Belgian Grand prix | July 28th - July 30th | Spa-Francorchamps |
| 14 | Heineken Dutch Grand Prix | August 25th - August 27th | Circuit Zandvoort |
| 15 | Pirelli Gran Premio D'Itallia | September 1st - Sept 3rd | Autodromo Nazionale Monza |
| 16 | Singapore Airlines Singapore Grand Prix | September 15th - September 17th | Marina Bay Street Circuit |
| 17 | Lenovo Japanese Grand Prix | September 22nd - September 24th | Suzuka Circuit |
| 18 | Qatar Grand PRix | October 6th - October 8th | Losail International Circuit |
| 19 | Lenovo United States Grand Prix | October 20th - October 22nd | Circuit of the Americas |
| 20 | Gran Premio De La Ciudad De Mexico | October 27th - October 29th | Autodromo Hermanos Rodriguez |
| 21 | Grande Premio De Sao Paolo Brazil | November 3rd - November 5th | Autodromo Hose Carlos Pace Interlagos |
| 22 | Heineken Silver Las Vegas Grand Prix USA | November 16th - November 18th | Las Vegas Circuit |
| 23 | Etihad Airways Abu Dhabi Grand Prix | November 24th - November 26th | Yas Marina Circuit |
---
F1 Betting Strategy & Tips
One of the significant advantages F1 bettors have over other types of bettors is the chance to watch two days of practice and qualifying before race day to gather information. Take note of how specific drivers handle particular straightaway or turn-heavy tracks or how good teams are at making overnight adjustments. Also, be mindful of any weather changes.
With the current concentration of wins at the top of the standings in F1 racing, there doesn't feel like there is as much uncertainty as with projecting other sports outcomes. Still, it's not easy to win a race, and because of that, most, if not all, racers usually have plus-money odds. This gives bettors the ability to spread their money around and still turn a profit, as long as one of the drivers wins.
In the most recent upcoming race, the French Grand Prix, for example, the odds for Max Verstappen and Charles Leclerc are in the low to mid +100s, while the rest of the field, including Lewis Hamilton, is sitting at about +1000 or higher. If you put $100 on either of the favorites, and one were to win, you'd come out ahead.
Verstappen (+125)      $100 = $125 – $100    (+$25)
Leclerc (+165)             $100 = $165 – $100    (+$60)
Do tread lightly as the tide may be turning for the field in the drivers' championship. The only other drivers to win F1 grand prix races this season have done so in two of the last five weeks. Lewis Hamilton has placed third in the last three races after his only other podium in round one. Max Verstappen has only missed the podium twice in 11 rounds.
---
FAQ's
Is F1 betting legal in the US?
Which is the best betting app for F1?
FanDuel is the best betting app for F1 based on its stylish layout, the best odds on the majority of the top six projected F1 finishers, and recurring bet insurance on parlays that meet specific requirements.
How much is the minimum I can bet on F1?
While the bet minimum is less than $1, most F1 betting apps' welcome bonuses will require new users to deposit at least $10 to take advantage of any advertised free bets.
Where can I bet on Formula 1?
F1 is one of the most popular sports globally. Consequently, all of the top US betting apps will allow you to wager on on the winners of any Grand Prix,  the F1 Drivers/Constructors championships and more. Our favorite F1 betting apps can be found at the top of this page.