Gamble USA strives to improve your online gambling experience. We aim to help you play safely, make informed decisions when gambling, and increase your betting knowledge through our guides.
We adhere to strict editorial integrity; our content may contain links to products from our licensed & legal US partners.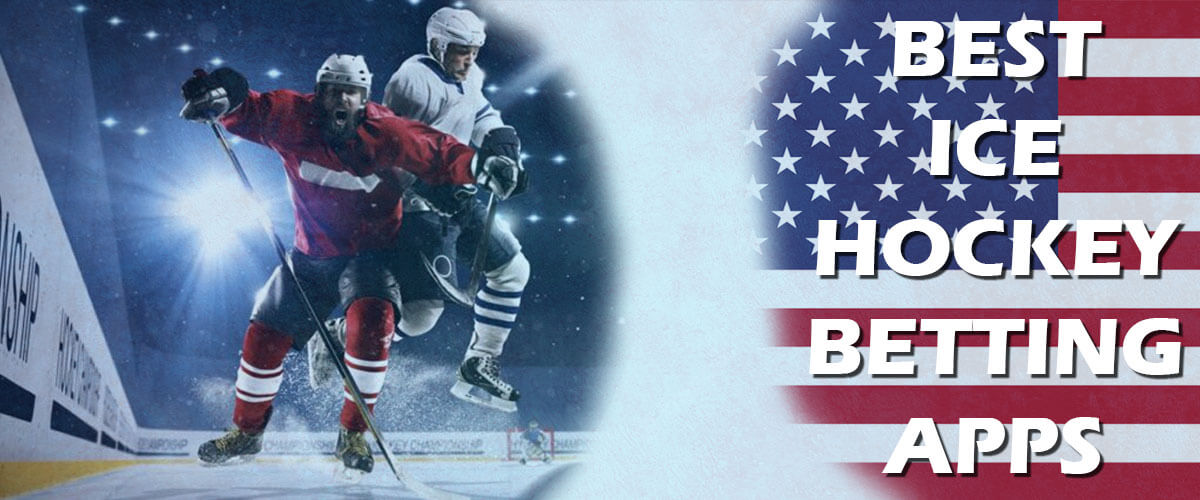 While the popularity of the NHL, and ice hockey in general, can't be compared to the popularity of the other major sports leagues, we can't deny the recent incredible surge in the popularity of ice hockey betting.
The fast-paced nature of the sport, combined with the quality of the 32 teams of The National Hockey League, draws a lot of attention among bettors willing to place wagers on some of the best NHL betting markets, as well as other popular ice hockey leagues and competitions such as the NCAA Ice Hockey Championship and the Winter Olympics ice hockey tournament.
With the growing popularity of online gambling, the offer for ice hockey betting apps is getting larger each day, and that makes the process of choosing the best app quite a dilemma for bettors interested in exploring the world of ice hockey betting.
Thus, we'll provide you with a beginner's guide to make things easier for you by going into detail about the various betting apps available on the market and some of their best features.
5 Best Apps for Betting on Ice Hockey November 2022
Although we are a long way from the Stanley Cup Playoffs, there are a lot of regular-season NHL ice hockey games that will provide fans with genuine excitement. One way to take that excitement to the next level is by making the most of the generous ice hockey odds by placing a bet at some of the best online sportsbooks.
Whether you are a die-hard New York Rangers fan from one of the five boroughs or you believe in the strength of the Tampa Bay Lightning led by the great Steven Stamkos, the NHL season has enough excitement to draw you into the world of ice hockey betting. Here are some of the best apps for betting on the NHL.
#1 FanDuel Sportsbook – Best for Reliability and Security
If you are looking for a safe and secure platform where you can find some of the most competitive hockey odds on the market, then FanDuel might be the place for you. You can't really go wrong by choosing this industry-leading online sportsbook that's been home to millions of bettors across many states.
FanDuel offers some of the most competitive odds for moneyline and puck line betting. November offers some must-see NHL games, including matchups between some of the hockey giants like the Toronto Maple Leafs, Florida Panthers, Pittsburgh Penguins, and Carolina Hurricanes, so it's vital to choose a reliable app where you can create your bet slip.
Luckily, FanDuel sportsbook is one of the most reliable apps on the market and offers bettors a safe and smooth ice hockey betting experience.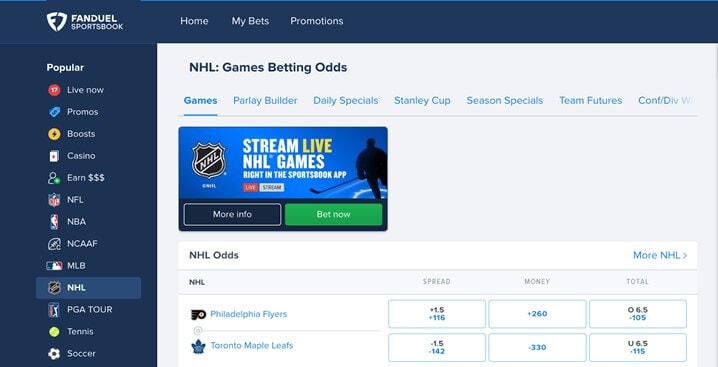 Additional Resources for the FanDuel's Ice Hockey Betting App
#2 DraftKings Sportsbook – Best for Ice Hockey Odds
The Colorado Avalanche is favored to win the 2022-2023 Stanley Cup, and DraftKings has the best odds if you are interested in placing that future bet today.
DraftKings is available in 18 states and offers some of the most competitive American odds for ice hockey compared to any other online sportsbook. Whether you are interested in placing a bet on the puck line underdog or you like moneyline betting, DraftKings has odds that other oddsmakers can't match.
DraftKings doesn't only offer a few dozen different ways to bet on the NHL and other ice hockey leagues and tournaments, but it also has a safe and secure online betting app with a modern design that can be downloaded and set up in a matter of seconds. Make sure you check out their awesome welcome promo for new bettors that can be a great start for those who usually bet on the moneyline favorite.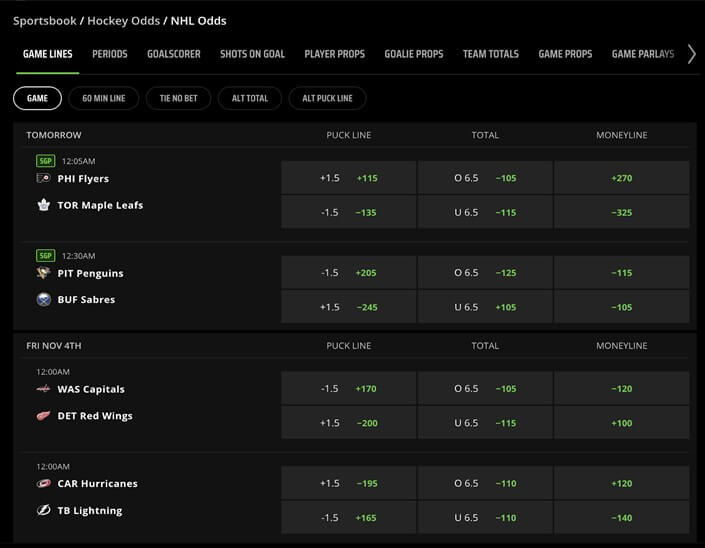 Additional Resources for the DraftKings' Ice Hockey Betting App
#3 Caesars Sportsbook – Best For General App Experience
Caesars is another reputable ice hockey betting app that boasts a very user-friendly design that makes the navigation process a smooth experience. People seem to have less and less free time in this day and age, so such apps with easy-to-use interfaces, impeccable customer support service, and reliable gameplay are valued very highly.
The Caesars Sportsbook app offers odds for many team sports like hockey, has exciting promos, and it's one of the best options for those who want to explore the wide variety of ice hockey betting markets by placing bets pre or during the events.
Whether you want to place wagers on the final score, the number of goals scored, or predict if the Chicago Blackhawks will make the Stanley Cup Playoffs, Caesars has everything it takes for you to get an incredible betting experience.
Additional Resources for Caesars' Ice Hockey Betting App
#4 Unibet Sportsbook – Best For Welcome Offers
Unibet is one of the most widely recognized betting brands all over the globe. It is a mobile-first sportsbook that offers great moneyline odds for betting on ice hockey games in more than 90 countries.
Although Unibet entered the US market only recently, it didn't take this sportsbook goliath a lengthy period to establish itself as one of the best ice hockey betting platforms in the country. Unibet offers extensive ice hockey betting odds on every single game of the NHL season and all the rounds of the Stanley Cup Playoffs. It also provides users with the opportunity to live stream NHL games and place live bets throughout the entire NHL campaign.
At Unibet, new users can make the most of the generous welcome offers by placing wagers on some of the NHL underdogs, such as the Montreal Canadiens, Arizona Coyotes, or the once-great Detroit Red Wings. Their welcome offer, where new users can receive a risk-free opening bet for up to $500, is hardly matched by the competition.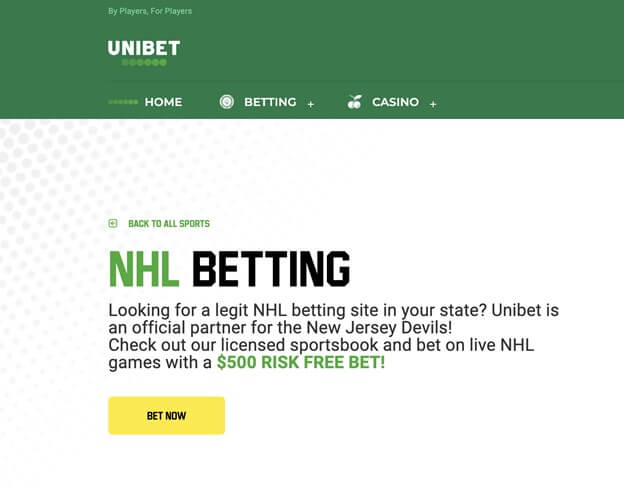 Additional Resources for Unibet's Ice Hockey Betting App
#5 bet365 Sportsbook – Best for Live Streaming Ice Hockey Games
Providing an impeccable betting experience to people in over 40 different countries, bet365 is an online sportsbook with a status that not many other betting platforms can match.
By offering highly competitive NHL odds, bet365 also enjoys a stellar reputation in the US, where ice hockey betting is growing in popularity daily. The puck line is ice hockey's version of the point spread, and although bet365 offers more generous puck lines compared to its competitors, what makes the platform stand out is the functionality of its app and the possibility of live streaming NHL games through it.
Additional Resources for the bet365 Ice Hockey Betting App
Ice Hockey Betting Apps Rating Process
Although new online sportsbooks with incredible promos and fascinating apps are emerging daily, choosing the right one can still be challenging. Here are some of the things you should consider before choosing one.
Validity and Licensing
Whenever you are looking for an online sportsbook where you can explore betting markets and start your betting quest, always make sure to choose a legitimate one that operates under a license issued by a governmental agency responsible for overseeing all the gambling activities on the platform. This way, you will be sure that all your personal data is safe and fair play is guaranteed. All listed USA betting sites are regulated by official bodies in each state they operate.
Enticing Odds
Online sportsbooks come up with their own odds, and although they might seem pretty similar at first glance, once you understand the complexity of sports betting, you will quickly realize that betting lines are constantly moving, and various sportsbooks have different odds. Thus, do your research and choose the online sportsbooks with odds that will offer you the highest potential payout.
For an idea, Caesars and BetMGM tend to offer average odds across the board, DraftKings the best Ice Hockey betting odds for underdogs, and FanDuel for favorites.
Payment Options
Convenience is one of the key factors to which the incredible success of online sportsbooks can be credited. Bettors usually associate it with the possibility of quickly depositing and withdrawing funds on a betting platform.
Although most of the legitimate betting platforms offer the same well-known payment methods, there still might be some notable differences in the details. The payment processing times may vary, credit cards might not be available, or the platform might not accept PayPal as a withdrawal method.
These are just a few examples of possible dissimilarities among different online sportsbooks. Google Play betting sites, Skrill betting sites, and even Venmo sportsbooks are slowly emerging, providing books a new way to entice Ice Hockey betting enthusiasts.
Welcome Bonuses
The incredibly high competition among betting platforms has forced them to constantly deliver new bonuses and promotions to draw bettors to their platforms. New users should always search for platforms that offer generous welcome bonuses and exciting promotions that bring positive value.
Welcome bonuses are particularly beneficial for newbies. By taking a welcome bonus, which in most cases comes in the form of a risk-free bet, new bettors can get that much-needed help at the beginning of their betting journey and bounce back from their first loss.
The standard value you'll get is $1,000 risk-free bets on books like FanDuel, BetMGM, and slightly higher on Caesars. Then, you got Barstool, DraftKings, BetSafe, and MaximBet providing deposit match bonuses. The latter are generally better. Some operators might even offer no-deposit free bets for Ice Hockey.
Getting Started with Ice Hockey Betting
Online betting is an activity where convenience is crucial; thus, getting started with ice hockey betting on any of the aforementioned online sportsbooks is a straightforward process that can get done in a matter of minutes.
To get things started, users must first download the preferred betting app. Luckily for bettors that use mobile devices, most of today's online sportsbooks deliver a stellar betting experience to players on both iOS and Android devices. You can find their apps by using our links to get on their site; this way, you will also qualify for their risk-free bets and sportsbook deposit bonuses.
Alternatively, iOS users can download the apps of their choice from the App Store, while Android users can download them manually through the official websites or by visiting the Google Play Store.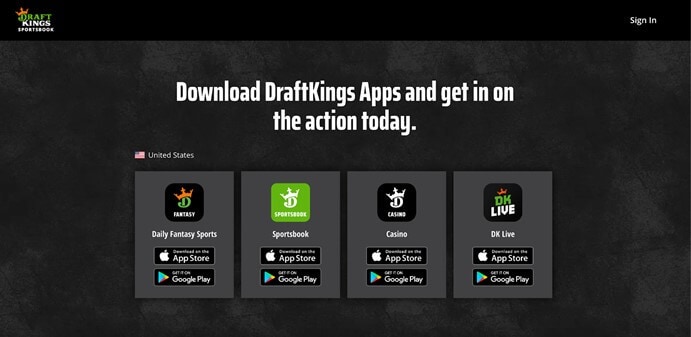 Once the app is downloaded and ready to use, each user must create an account to get access to the sportsbook. The process is simple, though it requires users' personal data. To successfully create an account, users must provide their full name, date of birth, physical address, and last four digits of their Social Security Number.
The next step is to log in with your account details, make your first deposit using your preferred payment method, look for the available ice hockey betting markets, and make your first bet.
Ice Hockey Betting Types
From the good old money line bets to puck lines, prop bets, futures, totals, and even live bets, we live in an era where ice hockey fans have a wide selection of betting options to choose from. Here is a breakdown of some of the most prevalent ones.
Ice Hockey Moneylines
Moneylines are the most straightforward bets in Ice Hockey. Placing a moneyline bet basically means that the team you have wagered on has to win outright, regardless of the final score margin.
In NHL moneyline betting, the favorite is marked by a negative number, while the underdog with a positive one. The moneyline bet always correlates to bets worth $100. So, if you back the New York Rangers to win and the odds for the favorite are (-140), you will need to bet $140 to make a $100 profit. Although American odds are most common, ice hockey moneyline odds can also be displayed as decimal odds if you prefer that.
Puck Lines
Known as a handicap or spread betting in other sports, puck line betting is a unique wagering form used by sportsbooks to basically even the odds of an ice hockey game.
What's really distinctive about ice hockey puck lines is that there is no line movement, unlike in other major sports leagues like the NFL. With ice hockey games usually not being high-scoring contests, the oddsmakers came up with a clever and fair way to even things out. The puck line favorite gets a disadvantage of 1.5 goals, while the underdog receives a 1.5 goals advantage.
So, if, for example, the Carolina Hurricanes are a heavy favorite against the Washington Capitals, bettors will have two options to choose from. They can either bet on the Hurricanes to win by a margin of at least two goals or back the Panthers to win or lose by a margin not greater than one goal.
Ice Hockey Prop Bets
Prop bets are one of the most thrilling betting markets available to ice hockey enthusiasts.
These wagers provide bettors with an opportunity to gamble on individual player stats or teams stats not necessarily related to the final result of the game, and they can make games far more exciting until the final whistle. By placing NHL prop bets, you can try and predict which team will score first or maybe try and back your favorite player to get on the scoresheet. Thanks to ice hockey props, betting aficionados can enjoy a long list of betting options that can make any game more entertaining.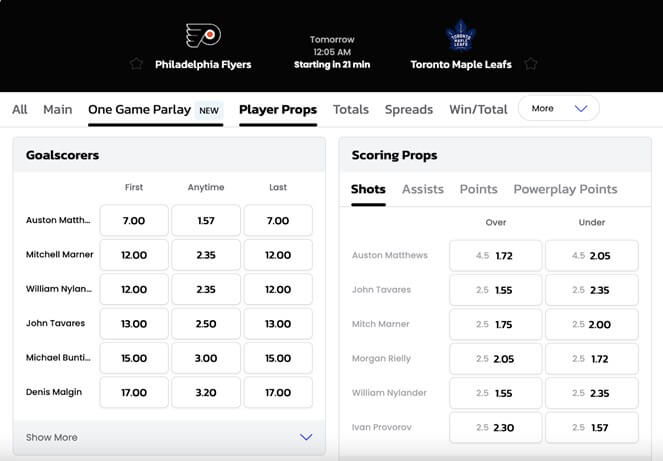 BetMGM prop bets, DraftKings props, and FanDuel prop bets all have their USPs, so you might want to check our guides before jumping on the next Ice Hockey event.
Totals
Ice hockey totals are betting markets that users can find at any online sportsbook that offers ice hockey betting. It's a very straightforward bet, and it can definitely add fun to even the most unimportant hockey matchups between low-tier teams.
By placing an ice hockey totals bet, bettors are trying to predict if the total number of goals scored in the game will be larger or smaller than the one set by the sportsbook. NHL totals are usually set somewhere between 4.5 and 6.5 depending on the goalscoring abilities of the teams playing and the abilities of their goalies.
Ice Hockey Futures
If you are someone who constantly brags about their knowledge of hockey, this type of bet is a great way to put your knowledge to the test.
If you think that the Boston Bruins have what it takes to make it into the playoffs, or you feel lucky, and you find those Stanley Cup odds for the Dallas Stars quite enticing, then you can place a future bet. Thanks to future bets, hockey fans can gamble on sporting events that will occur months in advance. The odds for ice hockey futures are usually quite enticing and bring lucrative payouts. However, the odds are subject to constant modifications based on the teams' form and other happenings that may impact their performance.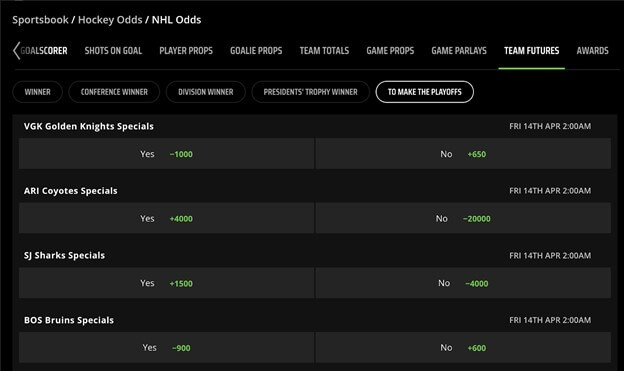 Ice Hockey Grand Salami
NHL Grand Salami bets are one of the most extraordinary betting markets in all sports.
This bet allows hockey fans to take ice hockey totals to a new level never seen before in any other major league sports. When placing a Grand Salami bet, people are gambling on the total number of goals scored in all of the NHL games during a particular day.
Oddsmakers are basically attempting to pinpoint the total goals scored for the day, and bettors try to predict if the number will be higher or lower than the one set by the oddsmakers. Why place a bet on just one team at a time when you can bet on all of them at once?
Ice Hockey Betting Apps with Free Bets
There's no better way to start your hockey betting quest than signing up at a hockey betting app with a welcome offer that offers free bets. Almost all of the online sportsbooks mentioned in this guide offer free bets as a part of their welcome promotions.
Users can also receive free bets either as a part of a welcome offer or by opting into a promotion for existing players. Although free bets are present on most betting platforms, there still might be some noticeable differences between them. Some free bets can be specific for a particular sport, while others can be all-purpose.
The most common form of free bets is usually part of sign-up promotions, where new users that sign up at their online sportsbook of choice are eligible to claim the welcome bonus and proceed by placing their first bet. If their first bet ends up being a loss, the betting platform refunds the amount in the form of free bets.
Free bets usually range from $100 to $5,000, and they're a great way to kickstart your ice hockey betting journey. However, we strongly advise you to read the terms and conditions of the bonus before signing up. Other ways to get a leg up the sportsbook while betting on Ice Hockey is utilizing reload promos, loyalty rewards, free bets for existing customers, odds boosts, etc.
Ice Hockey Events and Tournaments to Bet On
The NHL might be the most popular Ice Hockey tournament in the US, but it is far from the only event you can bet on.
Stanley Cup Playoffs
After the end of the regular NHL season, the most prestigious of all ice hockey leagues, a tournament structured in four rounds of best-of-seven series is hosted to determine the team that will get crowned as the Stanley Cup winner.
Participants in this tournament are the best 16 teams from the regular NHL season, based on regular season points totals. The Stanley Cup playoffs provide the highest level of hockey competition available for betting at any legitimate online sportsbook.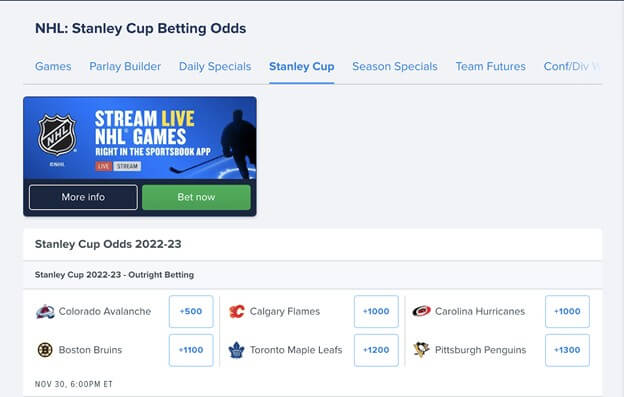 The Kontinental Hockey League (KHL)
The Kontinental Hockey League (KHL) is an Eastern European ice hockey competition where the best 28 teams from Eastern Europe participate in the KH. It was founded in 2008 and has built a reputation as one of the premier hockey competitions in Europe and Asia. Numerous US Ice Hockey sportsbooks with comprehensive coverage regularly offer games from the league.
The Winter Olympics
Olympic ice hockey has always been perceived as the pinnacle of the sport, with the best players from around the globe gathering every four years. Betting on the Olympic hockey games is popular because the 12 national teams provide quality matchups with great betting value.
NCAA Ice Hockey Championship
College sports are a big deal in the USA, and hockey has a rightful place in the events calendar. With three Divisions under the umbrella of the NCAA and tournaments that decide the champion, there are plenty of betting options for ice hockey bettors.
NHL All-Star Weekend
The first weekend of February has tremendous hockey significance because it's when the NHL All-Star Weekend usually takes place. The 2023 Honda NHL All-Star Weekend will be hosted at the FLA Live Arena in Florida on February 3 and 4.
It will be a weekend of hockey extravaganza where four All-Star teams representing each of the four divisions will battle in a sudden-death tournament. While the games are usually not very competitive, they sure tend to be high-scoring affairs that provide hockey fans with fun gambling opportunities due to the lack of defenses involved.
Ice Hockey Betting Strategy & Tips
If you are familiar with ice hockey betting, then you probably already know about hedging or some of the more advanced strategies, such as the Martingale or the Fibonacci method. Regardless, each bettor must accept the fact that every strategy comes with its advantages and disadvantages, and neither one can fully guarantee constant bet wins.
However, there are some tips that bettors can implement to improve their Ice Hockey betting records. Here are a few of them:
Real Money Ice Hockey Betting Apps FAQs
Is ice hockey betting legal in the US?
Yes. Ice hockey betting is legal in the US for individuals 21 or older; however, it's not legal in every state. The good news for ice hockey betting enthusiasts is that over half the states have already legalized sports betting, and many more are currently completing the process.
Which is the best betting app for ice hockey?
With the growth of the online sports betting industry, the list of choices for betting apps for ice hockey is getting larger each day. Although choosing a betting platform usually relies on personal preference, always choose a safe and secure platform that has reliable payment methods, user-friendly design, and smooth navigation - such as FanDuel.
How much is the minimum I can bet on ice hockey?
The minimum limit for betting on ice hockey can vary at different online sportsbooks during various events. It usually ranges between $0.25 and $2.00, with some betting platforms setting up a minimum betting limit of $5.00.
What is the best bonus for ice hockey betting?
All of the online sportsbooks mentioned in this guide have great offers for ice hockey betting, but if we have to single one out, we recommend the welcome offer at Unibet Sportsbook, where new users can receive a risk-free opening bet for up to $500 with 1x playthrough.