Gamble USA strives to improve your online gambling experience. We aim to help you play safely, make informed decisions when gambling, and increase your betting knowledge through our guides.
We adhere to strict editorial integrity; our content may contain links to products from our licensed & legal US partners.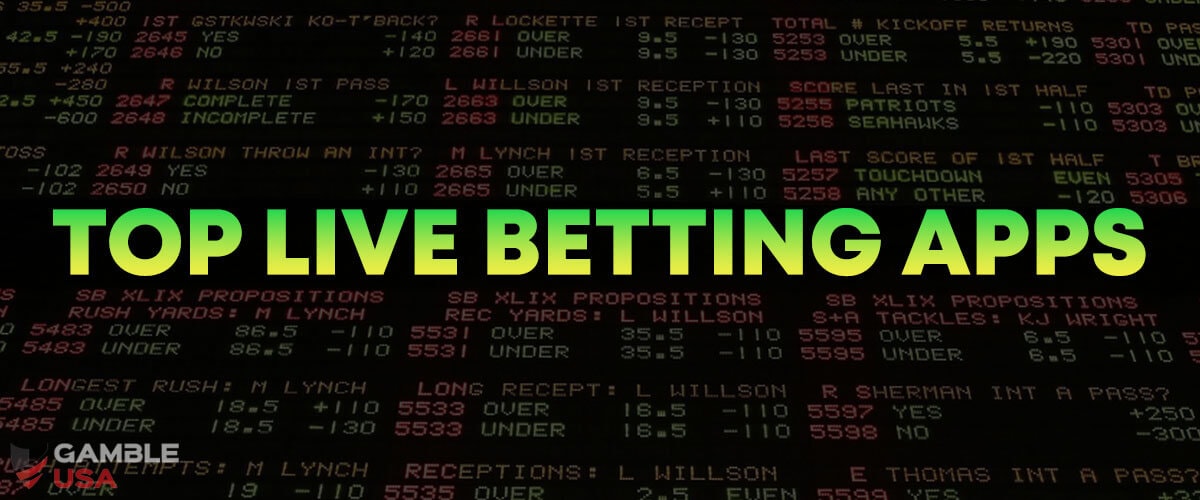 Live betting was brought to sports bettors two decades ago and became an overnight success in the online sports betting world.
Following the decision of the Supreme Court to remove a ban on online betting, bettors can place a sports bet from home or on the move via mobile apps. As online sports betting continues to grow with new markets such as the Massachusetts sports betting industry launching, there are more options available for bettors than ever before. Any top betting site now must offer a live betting option, otherwise a sports bettor will just look elsewhere.
Sports bets can be placed from anywhere and everywhere, with mobile sports betting apps taking the market by storm. Bettors can make in-play wagers on all the most popular sports straight from mobile devices with the best sports betting apps for online sports betting in the states.
This article looks at how to place a bet on live sport with an online sportsbook including how to use in-play markets to your advantage.
5 Best Live Sports Betting Apps 2023
---
What is Mobile Live Sports Betting?
Simply put, live sports betting is as the name suggests. Bettors can wager on sporting events live as the action occurs. Gone are the days of paylines closing before the game, most of the sports betting action happens during the event with live sports betting. Also often referred to as in-game or in-play betting, live betting adds a whole new level of excitement to online sports betting. Top sports betting apps bring the thrill of live sports betting straight to a bettor's tablet or mobile device, and sportsbook account holders never need to miss a moment with mobile betting.
---
How does Live Betting work?
As we have mentioned above, live betting allows you to place live wagers during an event. So, what markets and betting lines are available when you look at in-play options?
There are some standard options that most sportsbooks will provide before a game begins. Spreads, moneylines, and totals are among the most prominent options for pre-game and in-game betting. However, there are even more live markets available.
You could bet on the player you think will score the next touchdown in an NFL game, the next player to win a set in a tennis match or the next player to score a three pointer in an NBA game. Every sport has numerous in-play markets waiting for you, so make sure you look at all of the options. Some sports we recommend for in-play wagers include:
Football: The NFL is extremely popular for all different types of bets, and live betting is no different. Most football games are over two hours long and with lots of twists and turns. This presents lots of opportunities for bettors as betting apps will have lots of stats and resources for you to look at as the game unfolds.
Basketball: Basketball also has multiple lead changes and loads of scoring. The NBA has extensive coverage on most US sportsbooks.
Soccer: Soccer is the most popular sport in the world and is also taking off in the US. Although most soccer matches tend to be low scoring, with the right timing you can take advantage of crucial moments during the game. Any in game betting app will have lots of soccer coverage.
---
Why We Like These In-game Betting Sites
Sports betting enthusiasts no longer need to queue at bookmakers to wager on popular sports in the US. Online betting and mobile sports betting offer the ultimate ease and convenience, with online sportsbooks and mobile sportsbooks on the rise in current betting markets. The best sports betting apps for in-game betting on the go comes from the following five legal, reputable mobile sportsbook operators:
🥇#1. BetMGM Sportsbook App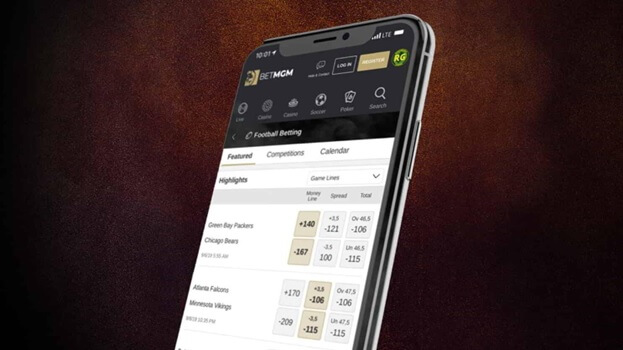 Sitting solidly among the best online betting apps are casino giants BetMGM. Boasting some of the best odds for in-game wagering in the online sports betting market, the BetMGM mobile sportsbook is a must-have online sports betting app. The tremendous live betting odds are not the only benefit of the platform. The sports selection is impressive, and betting options are plentiful on the BetMGM sports betting app. NFL fans particularly rate the BetMGM sportsbook app as a football betting app, with an impressive live game selection for the popular sport. Free bets are up for grabs in the dedicated promotions section, with exclusive live betting offers on one-game parlays and bonuses based on your favorite basketball squad.

---
🥈#2. Caesars Sportsbook App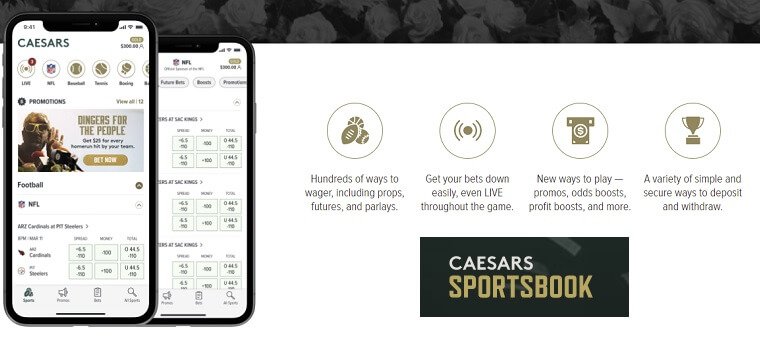 The Caesars name needs no introduction in the betting world, and its online betting app upholds the sky-high standards associated with a globally renowned operator. The Caesars Sportsbook app rates as one of the best sports betting apps for market coverage, especially in its live betting markets. The live sports betting section on the site is extensive, and there are odds boosts on offer across an array of live games. Caesars sportsbook tops the charts in US sports betting apps regarding perks and promos. From welcome bets to promo offers, the mobile betting app is one of the top sportsbook apps for in-play wagering.

---
🥉#3. DraftKings Sportsbook App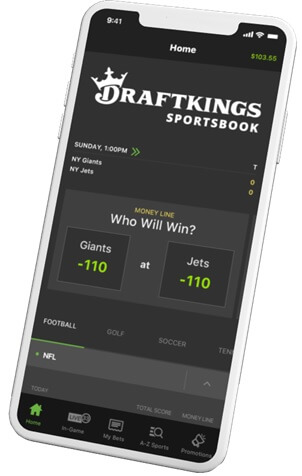 From fantasy football to the real deal, the well-established DraftKings brand delivers one of the best soccer betting apps and, indeed, sports gambling apps in mobile betting today. The renowned operator launched live-streamed sports games on its platform in 2020 and soon secured its place among the best sports betting apps in the US for in-game betting. With over 18 sports to bet on, it's not just the NFL season that sees plenty of live-betting action on DraftKings. Existing customers already benefit from the abundance of perks and options on offer from this top mobile sportsbook app. From same game parlays, odds boosts bonuses, and free-to-play pools to some of the most competitive odds for live online betting, the DraftKings mobile sports app is worth a wager.

---
🎖️#4. FanDuel Sportsbook App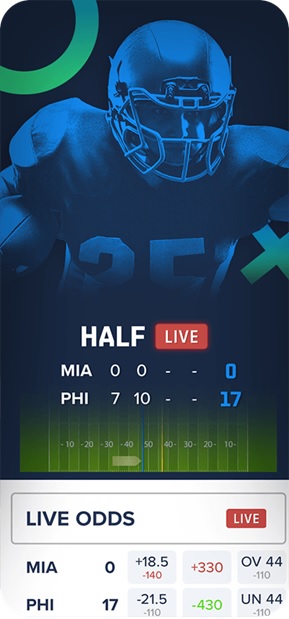 The FanDuel sportsbook app brings all the trust, usability, security, and variety that users already associate with the market-leading daily fantasy sports provider. FanDuel brings all the innovation of FanDuel fantasy sports to its mobile sports betting app and delivers one of the best sports betting apps on the mobile betting market. Betting options on the FanDuel betting app are second to none, presenting many more ways to win, including round robins, spreads, futures, MLB parlays, moneylines, and over-unders. The live sports betting section does not disappoint on the FanDuel mobile app either. It's easy to access and navigate and runs as seamlessly on a mobile device as on a desktop live betting site. FanDuel could easily be the best sports betting app for in-play online betting in the states, with a wide variety of sports and a great live betting selection.

---
#5 PointsBet Sportsbook App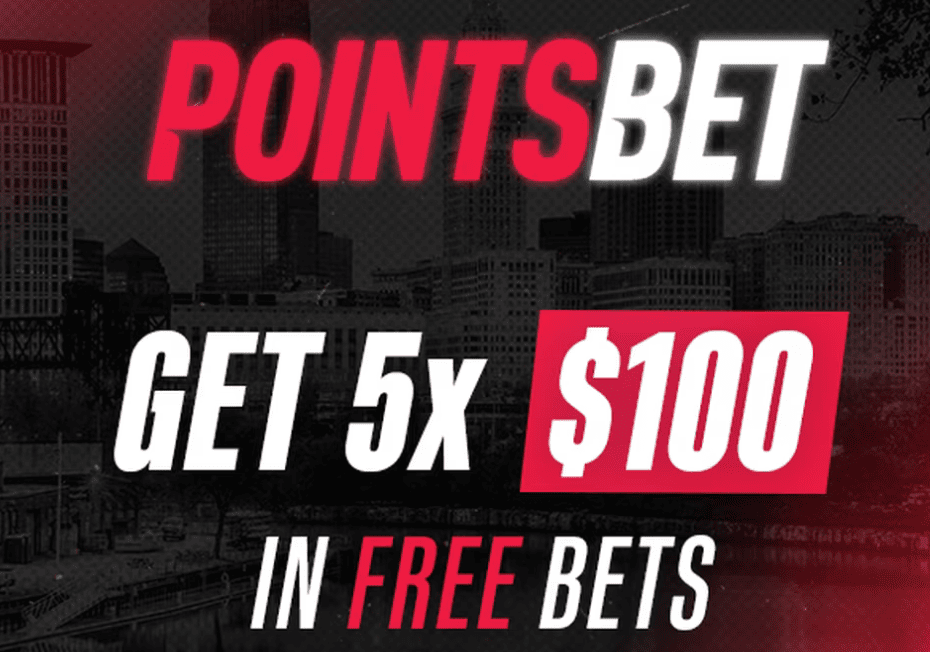 PointsBet may be one of theyounger sportsbook apps, and its coverage is not as extensive as bigger brands, but the Pointsbet sports betting app is innovative and unique. The Pointsbet online sports betting app features an exciting points betting feature, a form of spread betting with variable odds. The in-game wagering selection is above average standard, and live games are instant to spot and access on the best betting app for sports betting with a twist. The no-thrills interface makes mobile sports betting on the Pointsbet sportsbook app more accessible than ever. Live mobile same game parlays are available on the desktop site and app so bettors can combine markets from the game while the action unfolds live.

---
How We Rate the Best In-Game Betting Apps
There are many factors to consider when establishing the best sports betting apps for mobile sports betting in the states. All the top sports betting apps mentioned above meet a high standard of criteria that sets them apart from other online sports betting apps when it comes to in-game betting on live sporting events:
Highest Live Odds
All sports betting fans know that the higher the odds, the higher the payout, so the odds will always be a fundamental factor to consider when finding the best mobile betting apps for in-game wagering. On the flip side, high odds indicate that an outcome is less likely to happen, but the excitement of live betting is that the odds can change as events unfold in the real-time game or match.
The FanDuel sportsbook app is one of the best betting apps for favorable odds, joined by the Caesars and BetMGM sportsbook apps that are also renowned for offering strong, competitive live betting odds on their mobile betting platforms.
Quick Updates & Stats
Live betting on a mobile sports betting app is a fast-paced and action-packed betting experience. It is vital for the best betting apps to offer lightning-fast updates as the game unfolds. All the recommended mobile sports betting apps above come with high ratings for the speed and efficiency of their real-time updates. It is much easier to wager with confidence when bettors have access to live game stats such as injury updates, the timing of scores, or even fouls committed.
The Caesars sportsbook is one of the best sports betting apps for accessibility and variety of available stats, while BetMGM equally offers helpful stats and performance records so bettors can make informed decisions when placing live bets.
Live Streaming of Matches
Nothing makes bettors feel more part of the action than being able to watch and wager on a live event. Mobile sports betting apps bring the thrill of in-game betting to sports fans wherever they are, and sports betting has never been more accessible to bettors in the US. The best sports betting apps allow customers to watch events and tournaments straight through the app live as the action occurs. Top-rated sportsbook apps like those mentioned above use high-quality streaming technology to offer seamless and slick streaming of live sports games to mobile bettors across the states.
The PointsBet sports betting app has an excellent reputation for live streaming and real-time game trackers. Bettors also rate the Caesars mobile sports betting app for consistent streaming quality and rarely any lag. As such, the above two are the best football streaming sites in the US.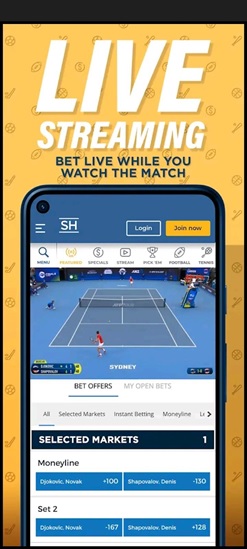 Live Bets Types
Sports betting has come a long way since simply betting on a winner. These days, sports betting apps come with many ways to wager and even more ways to win. The best sports betting apps usually offer an array of live betting options for in-game wagering. The FanDuel sports betting app offers moneylines, same game parlays, team props, and side bets on goals, half, and corners.
DraftKings spoils live bettors with choice, including bets on the next goal or next five minutes of a game, the rest of the match result, the next corner, and the first and last teams to score. The Pointsbet mobile sports betting app, on the other hand, offers totals, spreads, doubles, player, and game props. Whichever top sports betting app bettors use, they can be sure of interesting bet types on live sports games.
Micro & Flash Betting Options
Micro-betting or flash betting means betting on individual events in a game or match unrelated to the final score. Micro-betting is similar to props bets and is becoming one of the most popular sports betting types on mobile sports betting apps in the modern gambling market. Only a handful of the best betting apps offer flash betting on live sports.
The DraftKings mobile betting app was a frontrunner in presenting this innovative form of in-play betting. Flash bets could be the future of live betting on mobile apps, and wagering quickly between points in a match makes for a more immersive betting experience than mere moneylines.
However, keep in mind that flash betting does not apply equally to all sports. Betting on eSports or boxing betting in this mode is not ideal. However, NFL betting sites, Soccer betting sites, and Baseball sports betting platforms provide ample chances for micro bets with good odds.
Wide Live Betting Markets Coverage
The variety of sports on offer is a leading factor in selecting the best betting apps for in-game wagering. The DraftKings sportsbook app is by far the best sports betting app for live sports coverage featuring a massive selection of sports, including soccer, golf, tennis, basketball, hockey, cricket, handball, rugby union, and snooker.
Not far behind is the Caesars mobile app offering live betting on sports like basketball, hockey, soccer, golf, and tennis. All the biggest events and tournaments are covered by the best betting apps, and bettors never need to miss a wagering opportunity or a chance to win free bets no deposit.
Many experienced sports bettors will understand the value of an early cash-out feature. Cash-out allows bettors to settle a wager for a set value before the event has finished. The best US sports betting apps offer a cash-out option on selected sports for pre-game, future, parlay, and live bets. The benefit of an early cash-out when live betting is that bettors can secure part of their winnings or cut their losses as the odds change during the event.
All five of the best betting apps recommended above present bettors with a useful cash-out feature. The PointsBet mobile app even allows certain bets to trigger an immediate cash-out before or during the event. A cash-out option gives bettors a chance at $500 risk-free bets with the insurance that they can reduce losses or walk while they're winning. Not sure how this feature works? Check out the FanDuel cash out, DraftKings cash-out, and BetMGM sportsbook cash-out guides for details.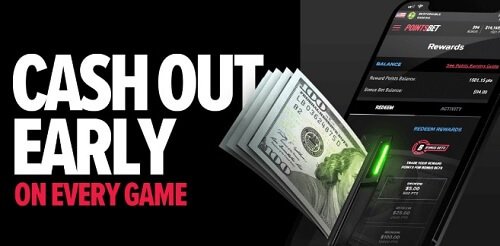 ---
Other Factors We Consider for Live Betting Apps
When wagering real money online, whether that is on a casino site or sports betting app, it's always important to take a few other factors into account, such as:
Licensing and Safety:
Not all sports betting apps have the same safety standards for real money live betting. The best sportsbook apps for safety and security are legal sportsbook apps. Licensed online betting apps like those mentioned above conform to strict regulations and uphold consumer protection laws. Legal sports betting sites are fully encrypted to keep personal details secure, and bettors can wager on the dedicated sports betting apps safe in the knowledge that the service is fair and legit.
While online casinos are only legal in CT, MI, NJ, PA, and WV, retail sports betting and mobile sportsbook apps are permitted in over half of the states. Bettors located in states with legalized online sports betting can download the best legal sports betting apps straight to their mobiles and bet on live sports safely and securely with our top betting apps.
Banking:
While most sports betting apps have basic banking facilities, the best sports wagering apps feature quick and easy banking with a wide choice of payment options for live bettors. Mobile apps are one tap to access, with many of the market-leading betting apps offering an instant deposit option. Users will find several banking options on top betting apps, including credit or debit cards, eWallets on PayPal sports betting sites, eCheck/bank transfers, Play+ and other prepaid gambling cards, and many more.
Bonus Bet Offers:
Placing a bet on the best sports betting app is great, but placing a bonus is even better. A bonus bet can take on various different forms on a mobile sportsbook app, from deposit match bonuses to $1,000 risk-free bets on popular live sports. It is always worth claiming a promo code on a sports gambling app. The best online sports betting apps run regular offers, and bettors can take advantage of odds boosts bonuses, loyalty rewards, bet $1 win $100, and even enjoy a weekly free bet or two on in-play wagering. Currently, the top mobile apps for live betting have some very enticing welcome offers to kickstart new bettors:
Free bets and promotions might vary from state to state or depending on free sports betting games, as is the case with the Parx promo code.
---
Overall Best In-Game Betting App & Sportsbook
All five sports betting apps mentioned here come with many perks for in-play betting. It would be tricky to name a single best betting app as the best sportsbook apps all have different strengths. DraftKings, for example, is one of the few mobile sportsbook apps to offer flash betting and covers the widest selection of sports, while FanDuel has some of the best odds in live betting markets. BetMGM is big on speed and stats, Caesars comes with top streaming quality, and PointsBet has one of the best NJ free bet bonuses across mobile sportsbooks in the App store.
Younger and smaller operators like FOX Bet often don't make the shortlist, but it's fast becoming one of the hottest and most reliable sports betting platforms and is worth an honorary mention. Fox Bet even has a free bet offer and it is rated as the best Golf betting app. Bettors can make their first wager risk-free when joining FOX Bet today.
---
Best Sports to Bet Live On
While football takes the lead, tennis is also one of the most popular sports for live betting on mobile betting apps. Ultimately, the best sports to bet on are down to personal favorites, and market-leading Android mobile betting apps like the ones mentioned above cover a good selection of sports.
The biggest events and tournaments are streamed straight through the mobile apps across a variety of sports. NBA, NFL, UFC, and NHL seasons are heavily pursued by live sports bettors all over the US. Other sports like golf, cricket, darts, and snooker are also available for live streaming and in-game wagering on the top sports betting apps. At the minute, the BetRivers Sportsbook app is the only one catering to Jai Alai bettors. Thankfully, the selection of darts betting apps is significantly broader.
---
Live Bet Types
As far as bet types go, live betting shares similarities with standard sports betting. Bettors get access to moneylines, multibets, double chance bets, spreads, peer to peer, totals, prop bets, matched bets, and parlays as they do with pre-game betting on any betting app.
The fundamental difference is that betting odds change as events occur within a sports game or match. In-play betting types can be exclusive to the sport. In a soccer game, for example, bettors can wager on the next team to score, the time of the next goal, the time of the next booking, the next player to get booked, and the team to win the next corner. While bettors might miss an opportunity once the game starts with traditional sports betting, live betting allows wagering while the game is in progress, and bettors can watch the action and odds change in an instant.
The top betting apps on this site offer an interesting array of prop bet options for in-game wagering. From FanDuel through to BetMGM, moneyline bets are only the start on the mobile apps. The apps with the lowest vig and reduced juice on live betting events are the same ones we listed above.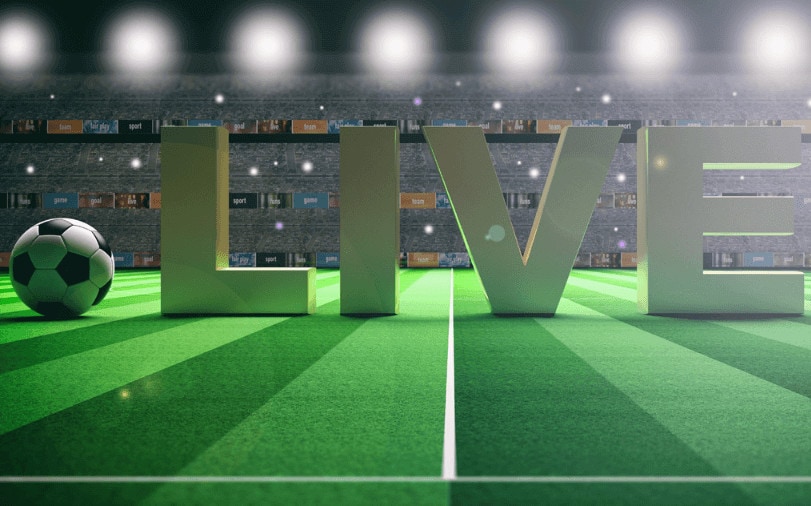 ---
Live Betting Tips and Dangers
It's always recommended to take a sensible approach when using any gambling apps. While live betting on recommended platforms can be a safe and enjoyable experience, bettors should follow the following guidelines to optimize their sports betting experience in an informed and responsible manner:
Download highly rated, legal betting apps: Both Google play store and the App Store provide user reviews on the available sports betting apps. Good user reviews usually indicate that the betting app is legit and high quality. Legal sports betting apps are always a safer choice for consumer protection and top-notch security when wagering on live sports.
Set spending limits: Live sports betting is a highly immersive experience, and bettors can easily get caught in the action and wager on a whim. While a lucky feeling or educated gamble can pay off, it's best not to risk more than you're willing to lose, no matter what the odds are.
Study the stats: Knowledge and experience serve bettors well when wagering on live sports. Top sports betting apps provide valuable stats on players, performance, and past events to help bettors bet with confidence on the next game, set, or match.
If in doubt, cash out: Most top sports betting apps feature an early cash-out option for in-game wagering. If the odds turn against you as events unfold in the game, it's possible to cash out and cut your losses. On the plus side, if the odds swing in your favor, you can cash out your winnings before they potentially turn less favorable.
Use a promo code: In-game wagering can be very rewarding on a sports betting app for bettors that keep an eye on dedicated promotions pages. Top online sportsbooks regularly update offers, and bettors get many opportunities to earn bonus rewards as part of their

live betting strategy

.
---
Summary
Live betting, in-play betting, and in-game betting all essentially refer to real-time sports wagering that occurs while a sports game or event is in progress. While traditional sports betting closes moneylines once the game starts, that's only when the fun begins with live betting.
Sports betting apps bring the action to bettors' palms and pockets to stay on top of in-game events and changing odds. The recommended operators each come with a sports betting app available for Android and in the App Store. Bettors can even find a promo code to place a risk-free prop bet during a live game when signing up to a sports betting app like FanDuel, DraftKings, PointsBet, Caesars, or BetMGM. All of these are among the best sports betting apps legal options in the United States.
---
FAQs
How does in-game betting work?
In-game betting is a form of betting that takes place during a sports event or match. Once the event starts sportsbooks will offer a range lines to place as the event goes on. The odds usually change as the event goes on.
How do you make money in-game betting?
You can make money with in-game betting by understanding how sports event is going and making predictions based on what you think might happen next. If a soccer plater is having a good game you might predict them to score the next goal.
Is In-game betting profitable?
In-game betting can be very profitable if you find the right type of bet.
When does in-game betting close?
In-game betting lines usually close once the event has finished. This would be once all of the horse have crossed the line in a race or the final whistle of a football game.
What is a in-game betting app?
An in-game betting app is a platform that you can use on your mobile in order to place bets on the go. This is useful if you're away from a computer as you can still place bets once the event has started and the odds begin to change.