Gamble USA strives to improve your online gambling experience. We aim to help you play safely, make informed decisions when gambling, and increase your betting knowledge through our guides.
We adhere to strict editorial integrity; our content may contain links to products from our licensed & legal US partners.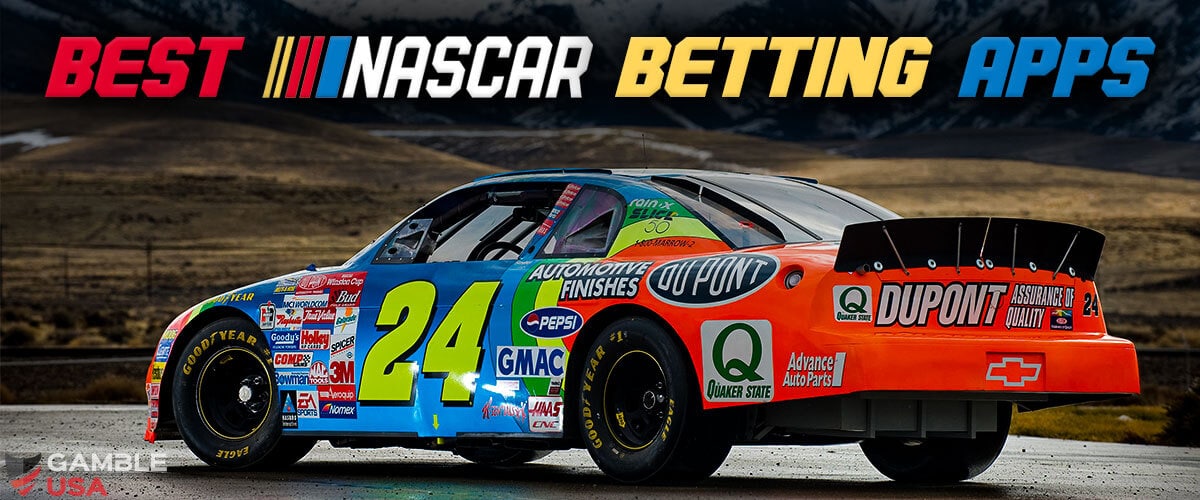 NASCAR is one of the fastest-growing spectator sports in the US. As viewing figures increase, so does fans' appetite for having a wager on the big races. What better way than to bet on your mobile on the latest NASCAR betting apps? We have rated and reviewed all the best apps so you can see which operators have the best features and odds for NASCAR betting.
Knowing the best online sportsbooks is even more critical if you're looking to bet on a specific sport, like NASCAR races. Many online sportsbooks offer betting apps, and there are, in fact, some states that only allow mobile betting. However, not all betting apps offer the same quality of experience.
We looked at the offered betting apps to compile a list of the best NASCAR betting apps. These mobile betting apps offer online NASCAR betting with the latest betting lines on various NASCAR races. We look at their welcome bonus and payment methods and whether they offer competitive odds and regulated sports betting.
---
Best 5 NASCAR Betting Apps in 2023
We've identified the top five sportsbook apps that offer various NASCAR bets and the latest NASCAR betting odds. These apps can be downloaded from the App Store, the Google Play Store, or the sportsbook's website, making it easy to install and register on the NASCAR sports betting app.
---
🥇#1 FanDuel Sportsbook App
FanDuel started as one of the biggest providers of daily fantasy sports betting and has since grown to offer real money sports betting. Their betting app is now one of the best in the market, available in more than 18 states. They offer legal online sports betting services in many states, including New Jersey, Pennsylvania, Virginia, Arizona, New York, Illinois, Indiana, Colorado, Louisiana, Connecticut, Michigan, West Virginia, and Tennessee.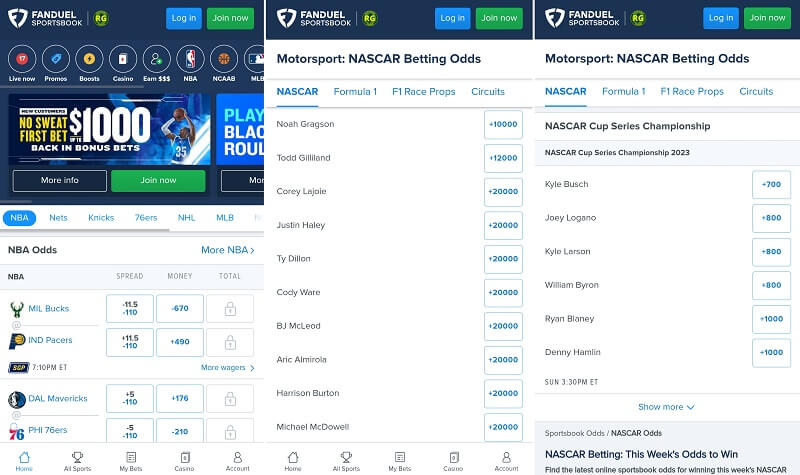 FanDuel sportsbook app offers various NASCAR betting markets, like NASCAR prop bets, NASCAR futures, and live NASCAR betting, but they also offer competitive odds. Players can easily place their bets for the NASCAR Cup Series Championship 2023. Their welcome bonus offers covers any losses up to $1,000 during the first 24 hours with a no sweat first bet.
Expert Comments:
"The best NASCAR betting app has to be FanDuel. Finding the lines for each race weekend is a breeze by navigating to the motorsport section and selecting NASCAR from the sub menu."
– Paul Ricci (Chief Sports Editor)

---
🥈#2 DraftKings Sportsbook App
DraftKings offers an innovative and user-friendly betting app with competitive odds on the NASCAR Cup Series Championship. Their betting app is offered in 17+ states, including Indiana, Arizona, New Jersey, Connecticut, Virginia, Tennessee, Illinois, Wyoming, Iowa, Pennsylvania, Oregon, New Hampshire, Michigan, New York, Louisiana, and West Virginia.
NASCAR bettors can easily access the latest NASCAR betting futures and live betting app options under the Motorsports tab. DraftKings Sportsbook is one of the best NASCAR betting apps covering many races and Cup Series Championships during the NASCAR season. The sign up bonus awards players with a 20% matched deposit bonus up to $1,000, as long as they make a minimum deposit of $5.
Expert Comments:
"If you're like me you might use DraftKings for betting on things like the NFL but it's also worth checking out there NASCAR betting lines. At the time of looking they had some really good odds for the upcoming race weekend as well as some team prop bets which I thought seemed to be priced well."
– Paul Ricci (Chief Sports Editor)

---
🥉#3 BetMGM Sportsbook App
While BetMGM sportsbook isn't available in as many states as some other NASCAR betting sites, their NASCAR betting sportsbook apps can be used in over fifteen states, including NJ, MI, NY, MA, and many more. BetMGM offers a clean and user-friendly interface, making it easy to see your NASCAR betting picks and the odds for the different NASCAR drivers.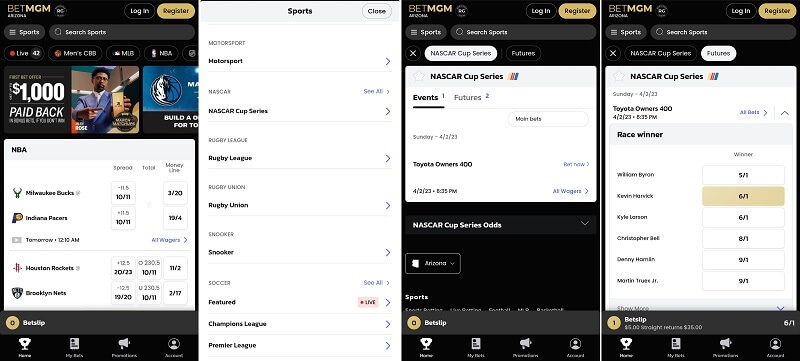 BetMGM Sportsbook offers NASCAR futures betting on events like the NASCAR Cup Series Championships 2023, the Xfinity Series Championships, etc. They offer an excellent NASCAR betting spread on some of the biggest NASCAR events, and sports bettors can enjoy the season championship live. If you make a minimum deposit of $10, you're qualified to claim the sign up bonus of $1,000 in bonus bets.
Expert Comments:
"The BetMGM app has a dedicated NASCAR section in the menu so make sure to find that instead of the mostorsport section. Once inside there are a huge range of odds available to bet with which is great if you don't just want to bet the moneyline. It's very easy to place a bet once you've found a good line too."
– Damjan Spajić (Sports Editor)

---
🎖️#4 Caesars Sportsbook App
The Caesars sportsbook is one of the best betting apps for beginners and seasoned betting pros. The layout of the app is fantastic and navigating around is really easy to do. It's simple to find all the NASCAR betting markets, and even easier to place a bet. Caesars offers a user-friendly site and app, that is available in over 14 states with more on the way.
They offer competitive NASCAR betting odds on the NASCAR Cup Series Championship and NASCAR futures and prop bets. New bettors can get up to $1,250 on Caesars making it one of the best new customer welcome bet offers available. As well as great NASCAR coverage, they also offer excellent coverage of other motorsports, including F1 betting.
Expert Comments:
"You'll find the NASCAR odds under the auto section of the app. There aren't many odds except for futures available through the week but I did see they have a live section so when the race is on, you can find good prices. Outside of that though Caesars is a really pleasant app to use with clear fonts and simple navigation."
– Oliver Dickinson (Sports Editor)

---
🏅#5 BetRivers Sportsbook App
BetRivers Sportsbook is also a betting app offering NASCAR betting info to bettors, with the current favorites for race winners and major sports updates on races. This NASCAR betting site also offers a betting app that can be downloaded in 13+ states, including Arizona, New Jersey, Virginia, New York, Ohio, Pennsylvania, West Virginia, Louisiana, Illinois, Indiana, Michigan, Colorado, Iowa, and Connecticut.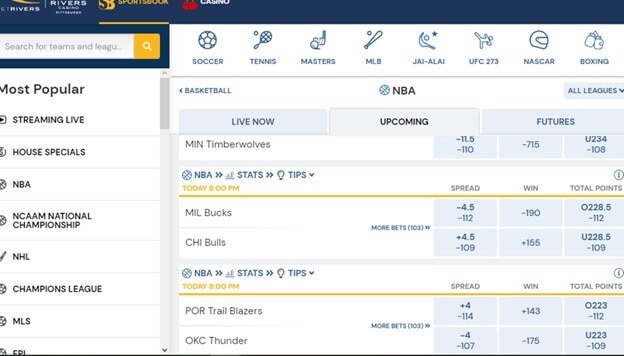 You can choose a NASCAR race to bet on using the latest NASCAR betting odds and prop bets. There's a sign up sports bonus code "SPORTS" for new players, where they get a second chance bet up to $500, with a minimum deposit requirement of $10 and 1x wagering requirements.
Expert Comments:
"I think BetRivers is often overlooked due to people being too comfortable with sites like FanDuel & DraftKings. Although they're good you can often find better odds with apps like BetRivers and this is one of those cases. Although the app isn't a good looking as others it makes up for it by having a good selection of betting lines that offer good value."
– Oliver Dickinson (Sports Editor)

---
Where can I bet on NASCAR Online Legally?
Before placing a NASCAR bet online, you must ensure you are in a state that provides a legal online gambling industry, so you don't have to sign up to an offline sportsbook. Although sports betting is certainly expanding the United States, not every state has online wagering. Many have retail locations where you can visit and place your prop bet on your favorite NASCAR driver, but without the flexibility mobile betting provides.
Thankfully, due to NASCAR being one of the most-watched sports in the US, most legal sportsbooks offer NASCAR betting. The below states currently have legal online sports betting sites with the ability to place NASCAR bets:
Arizona, Arkansas, Colorado, Connecticut, Illinois, Indiana, Iowa, Kansas, Louisiana, Maryland, Massachusetts, Michigan, Nevada, New Hampshire, New Jersey, New York, Ohio, Pennsylvania, Rhode Island, Tennessee, Virginia, West Virginia, Wyoming
If you are located in any of the above states, you can bet on the NASCAR Championship or the NASCAR Cup Series race. Here at GambleUSA, we are committed to helping bettors find the best sportsbooks, odds, bonuses and promotions and that all starts by playing in a safe environment.
Most states have laws that meant you must at least 21 years or older to bet.
---
How We Rate the Top NASCAR Betting Apps
To identify the best NASCAR betting apps, we look at various features they offer. The best NASCAR betting app shouldn't lose out on web-based online sports betting platforms. Online betting apps are a new and popular way for bettors to enjoy betting on NASCAR. The below features are what we review to rate the betting apps.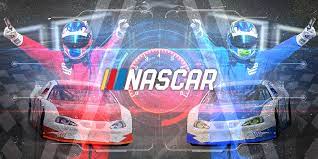 NASCAR odds
Offering the latest NASCAR odds is crucial to being classified as a NASCAR betting app. We don't only look at if they offer NASCAR odds on the most popular NASCAR racing events but also whether those odds are competitive and are released as soon as possible.
We further look if they offer several types of NASCAR bets. When you bet on NASCAR, prop, and futures bets are often popular. However, we also look if they offer the following bet types:
Stage Winners
To-Win Bets
Matchup Bets
Group Matchup Bets
Pole Position Bets
Fastest Lap Bets
Safety & Security
We always recommend practicing legal sports betting, as it means you're entirely covered under the law, and it also offers safer betting apps and online betting sites. While there are safe offshore betting sites like Bovada, owned by the Morris Mohawk Gambling Group, we recommend using betting sites licensed in the US.
Online sports betting is legal in over 20 states, and bettors can easily find a good betting app where betting on NASCAR is possible. US-licensed sportsbook apps are also regulated by the state licensing authority to ensure they provide a fair gaming platform. To ensure they offer a secure platform, we also look at the data encryption and firewall technologies they use to protect the site.
User-Friendly Features
Since apps have become a part of daily life, people often find it easier to navigate apps than they do web-based sites. Thus, we look for NASCAR betting apps with user-friendly features and an easily navigable interface.
These features include offering filters and sports tabs that make finding the different NASCAR races easy when looking at your betting options. During the NASCAR season, there should be NASCAR wagering on several betting lines and the different NASCAR Cup Series offered. There should also be a search bar, and your bet slip with your current bets and history of bets should be easily accessible. You can view the best betting app for beginners in racing betting here, supporting the above and additional features.
Wide Coverage for NASCAR Events
When looking for the best NASCAR betting apps, we don't only look for sportsbooks that offer NASCAR betting picks on the most popular NASCAR races. We also consider whether they offer betting lines on stock car racing events year-round, even the less popular races.
The NASCAR Cup Series isn't the only big event in the world of stock auto car racing. While you should be able to bet on NASCAR drivers part of the Joe Gibbs Racing team winning the NASCAR Cup Series, you should also be able to bet on the Sharpie 500 or the Southern 500 races.
Value for Money NASCAR Sign Up Offers
The sign up bonus is arguably one of the most essential elements of a betting app. It's often the first thing bettors look for, as it makes it easier to start betting on stock car races. We review their sign up bonus and see whether it offers value for money. All promotions have bonus terms, ranging from a minimum deposit to wagering requirements. For a promotion to offer value for money, not only should the benefit the bettor gets be worth it, but the bonus terms should be reasonable.
The standard minimum deposit ranges around $10, so we usually look for deposit requirements equal to or less than $10. Depending on the sportsbook, the wagering requirements for sports betting range between 1x and 20x, but often you'll find it averaging between 1x and 5x. We also check the promotion validity period because that'll determine how much time you have to wager your bonus funds or winnings. So instead of getting impressed by a $500 risk-free bet or $1,000 bonus in risk-free bets at face value, we will look for the best deals to get the most when betting on NASCAR and other racing apps.
NASCAR In-Play Options
In-play betting, also known as live betting, is bets made on a race that's currently happening. Live betting is one of the most exciting bet types, and we believe all online sports betting should have live NASCAR betting options. There's often a live section where you can see and bet on NASCAR live bets when accessing your betting lines.
This allows you to make bets even if you missed the pre-match bets, and live betting odds constantly change as the race progresses. It's also a great time to make prop bets, as you can see the different events happening during the match and how the drivers are doing to inform your live betting strategy.
Live Streaming & Betting of NASCAR Matches
With the popularity of live betting, many sites and apps have started to offer live streaming of the races. You can watch NASCAR online and keep up with the current situation in races and championships. It also offers you the opportunity to watch the live streaming of the race using the app, which means you also have instant access to new live bets that are made.
You can watch races on NASCAR tracks like the Indianapolis Motor Speedway or the Texas Motor Speedway from the comfort of your home. We test and review these features to ensure you enjoy good live streaming and multiple live betting options.
---
NASCAR Betting Types
As mentioned before, there are many different bets available when betting on NASCAR. Depending on the race you're watching and the information you have on the drivers, you can bet on different outcomes.
Futures
Futures bets cover a broad range of bets you make before the race starts, usually at the start of the NASCAR season. When a NASCAR Cup Series or similar competition starts, bettors can make bets on who they believe will be the event's overall winner.
Generally, since these are made so far in advance, the odds can change drastically. No matter at what stage of the Cup Series you made your bet, you'll only receive the payout at the end of the series if you win.
Props
Props are fun bets that often don't rely on guessing the overall winning car but rather if other events come to pass during the competition or race. It uses NASCAR betting info to create prop betting lines on events like the Number of Cautions, Better Than bets, Pole Position bets, the podium finish, etc.
Bettors can bet on anything that happens or can happen within a race, and this is a popular bet type often used in live betting. A NASCAR betting site will offer various prop bets like how many drivers will remain at the end of the race on the Las Vegas Motor Speedway.
In-Play
Live betting is always a favorite, as it gives you that feeling of watching the race at the Speedway. You feel as if you're present at the Charlotte Motor Speedway as you place your bet on who'll remain at the finish line or the winning car. There are many live betting types, like the usual Moneyline and over/under bets, but there are also a variety of props possible.
There are events year-round with stock car auto racing you can live stream and bet on. The NASCAR Cup Series Championship isn't the only option, and online NASCAR betting is especially popular with live bets.
Laps
Another fun bet to make is laps, which generally fall under props. You can bet on the most laps made by any driver. This is a form of an over/under bet, where the bookmakers will set the most amount of laps they believe one of the drivers will make. You can bet on whether it'll be over or under that amount of laps.
The fastest lap is another popular bet because the driver doesn't have to be the winning car or even make it far. If you believe a driver has a good car, even if they don't have the endurance or experience to win the race, you can bet that they'll make the fastest lap of the match.
---
NASCAR Events to Bet All Year Round
There are many different NASCAR races all year round, and the best NASCAR betting apps will offer NASCAR wagering on all of these. Some of the most popular races happen each year and attract many NASCAR fans.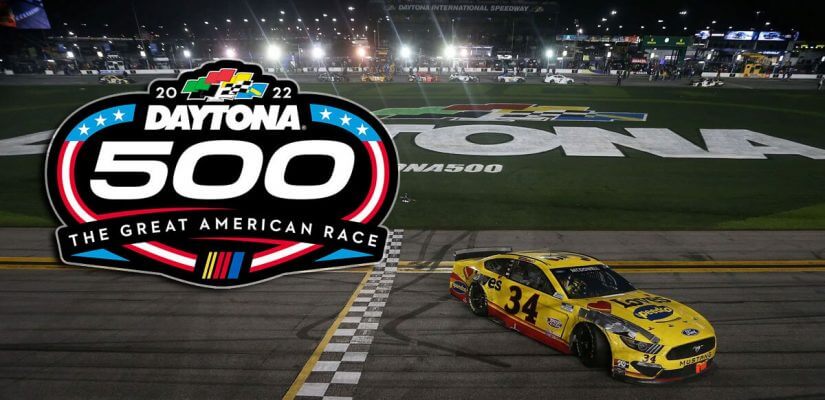 Daytona 500
This is one of the biggest races held annually at the Daytona International Speedway. It's the NASCAR race that opens the NASCAR season and starts the championships. The Daytona International Speedway is considered one of the more challenging tracks, but it's also one of the most prestigious ones and the birthplace of NASCAR.
Annual Timeline: February
NASCAR Cup Series Championship
The NASCAR Cup Series Championship is a year-long event where several races are happening each month. It's one of the biggest national NASCAR championships in the USA, and most betting apps will offer NASCAR bets on the Cup Series. The final for this championship is in November, and races are held all over the country at tracks like Martinsville Speedway, Indianapolis Motor Speedway, and Texas Motor Speedway.
Annual Timeline: Start February through to November
Xfinity Series
With NASCAR betting, another fan favorite is the Xfinity Series. It's seen as a minor league circuit where drivers can test themselves and prove themselves ready to participate in the NASCAR Cup Series. As such, it's a critical series for drivers and one of the most extensive national series in the USA. It has races on several tracks across the country, like the Martinsville Speedway and Charlotte Motor Speedway.
Annual Timeline: Start February through to November
Camping World Truck Series
Unlike the other NASCAR races, the Truck Series is run using modified pickup trucks instead of stock cars. This series is also an annual event and is often seen as a training opportunity for new or experienced drivers who can compete in the NASCAR Cup Series or Xfinity Series. The inaugural NASCAR race was held in 1985, and it has become as big an event as the other national NASCAR Series.
Annual Timeline: Start February through to November
---
Best NASCAR Betting Apps For Bonus Bets
One of the most popular promotions is the one that offers bonus bets. When using an online sportsbook or its betting app, you can receive a deposit bonus that can be used to make bets. There are several betting apps that offer this bonus, as it's one of the most common welcome bonuses available. We've listed the top three NASCAR betting apps to offer it below:
FanDuel Bonus: $200 bet awarded on the first $10 deposit and $5 bet, regardless of whether the bet is won or lost. A $1,000 bet insurance is also available as an alternative.
Betway Bonus: 100% bonus up to $250 bonus cash if your first minimum $10 bet results in a loss. No wagering requirements, but bonus funds are subtracted from winnings.
Barstool Bonus: 100% bonus up to $1,000 free bets if your first minimum bet of $10 results in a loss. There are 1x wagering requirements on bonus funds.
---
How to Bet on NASCAR Through a Mobile App
To use NASCAR betting apps, you need to be at least 21 years of age in most states. Some states allow 18 years and up, but always ensure you know the legal age limit. Registering and NASCAR betting on a site is straightforward in most cases.
Download the app from the Google Play Store or the App Store.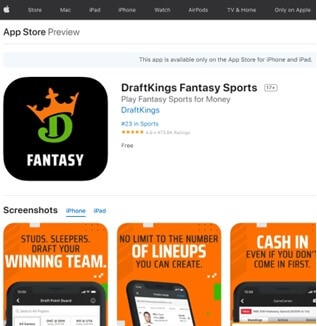 Click on the Sign-Up or Register Button.
Complete the fields with your information, including your name, contact details, address, and SSN.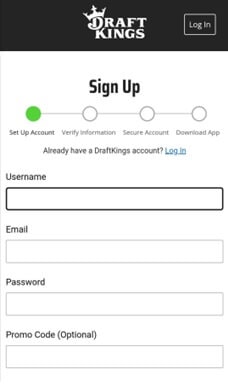 Ensure you know the welcome bonus terms, like a minimum deposit or bonus code.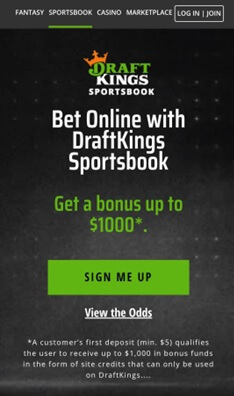 Make a deposit via your Cashier and use your chosen payment method, like credit and debit cards.
Navigate to NASCAR betting in the game tabs. It might also be listed under Motorsports.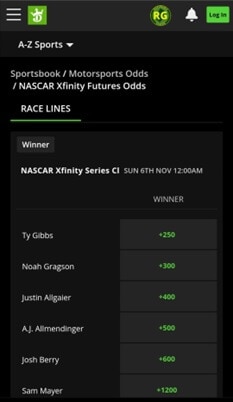 Choose your NASCAR betting type, like NASCAR betting futures, and click on the odds you want to bet on.
Enter the amount you want to wager on your bet slip and accept the wager.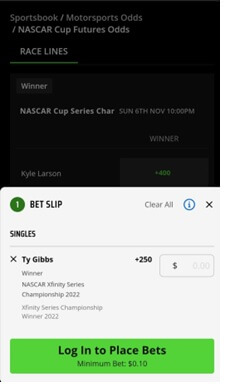 ---
Tips for Real Money NASCAR Betting
When using online sportsbooks and wagering with real money, you must know the best betting apps and specific NASCAR betting strategies. However, first always ensure you have access to multiple banking methods, like credit and debit cards, e-wallets, and bank transfers. When looking at NASCAR betting futures, you should have proper knowledge of the NASCAR Cup Series or the event you're betting on, as well as the drivers and their support.
It might be better to bet on multiple drivers if you don't have in-depth knowledge of NASCAR. One of the other NASCAR betting strategies is looking at a driver's support. How good is their car manufacturer and pit team? What about their teammates? Are they helping each other?
Finally, ensure you know the track history. Some tracks are more complex than others and some drivers perform better on a specific track than others. It's always best to make sure you look up the drivers of the race, their recent races and how they've performed historically on this specific track.
---
Top NASCAR Betting App for iOS and iPhone: BetMGM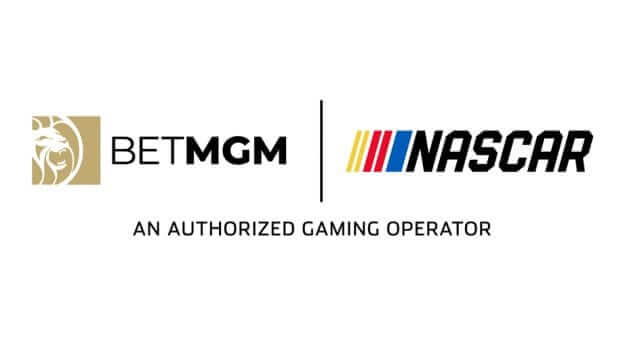 While all five of the above NASCAR betting apps are some of the best, the top app is the one we reserved for the end. BetMGM Sportsbook offers legal betting on NASCAR in 17 states and have a good selection of lines and odds available. You can place future bets on the Cup Series or the Xfinity Series easily, and you can see your current bet slip at any time.
They also offer competitive NASCAR betting odds, ensuring they have the best lines and bet options. Players also receive a risk-free bet bonus up to $1,000 as a welcome promotion. Signing up is easy and betting on NASCAR is easier when using the official NASCAR partner's betting app! Their partnership provides an edge on every aspect, such as lines, odds, and exclusive NASCAR betting types.
Promo Code: GAMBLEUSA
Up To $1,500 In Bonus Bets
21+. T&C Apply
21+. T&C Apply
Promo Code: GAMBLEUSA
Super fast payouts
Live streaming
Promo Code: GAMBLEUSA
Up To $1,500 In Bonus Bets
21+. T&C Apply
21+. T&C Apply
---
FAQ's
What banking methods are available on betting apps?
Are NASCAR online sportsbooks fair?
Yes, they're regulated by their licensing authority and must follow all gambling regulations. If you have a complaint the sportsbook can't solve, you can always contact the licensing authority to resolve the issue.
Can I use my NASCAR betting app while traveling?
It depends on the app. Generally, you can only place wagers if you're in your registered state. However, some apps allow you to change your region while traveling and thus legally gamble while in another state.
Are there NASCAR races starting soon?
The new NASCAR season has begun, with new races starting on March 7th, 2023.
How long do NASCAR races take?
NASCAR races differ in terms of length, but they typically take approximately 3 hours to complete. NASCAR betting online allows you to bet on several races and NASCAR betting sites provide plenty of odds and lines.