Gamble USA strives to improve your online gambling experience. We aim to help you play safely, make informed decisions when gambling, and increase your betting knowledge through our guides.
We adhere to strict editorial integrity; our content may contain links to products from our licensed & legal US partners.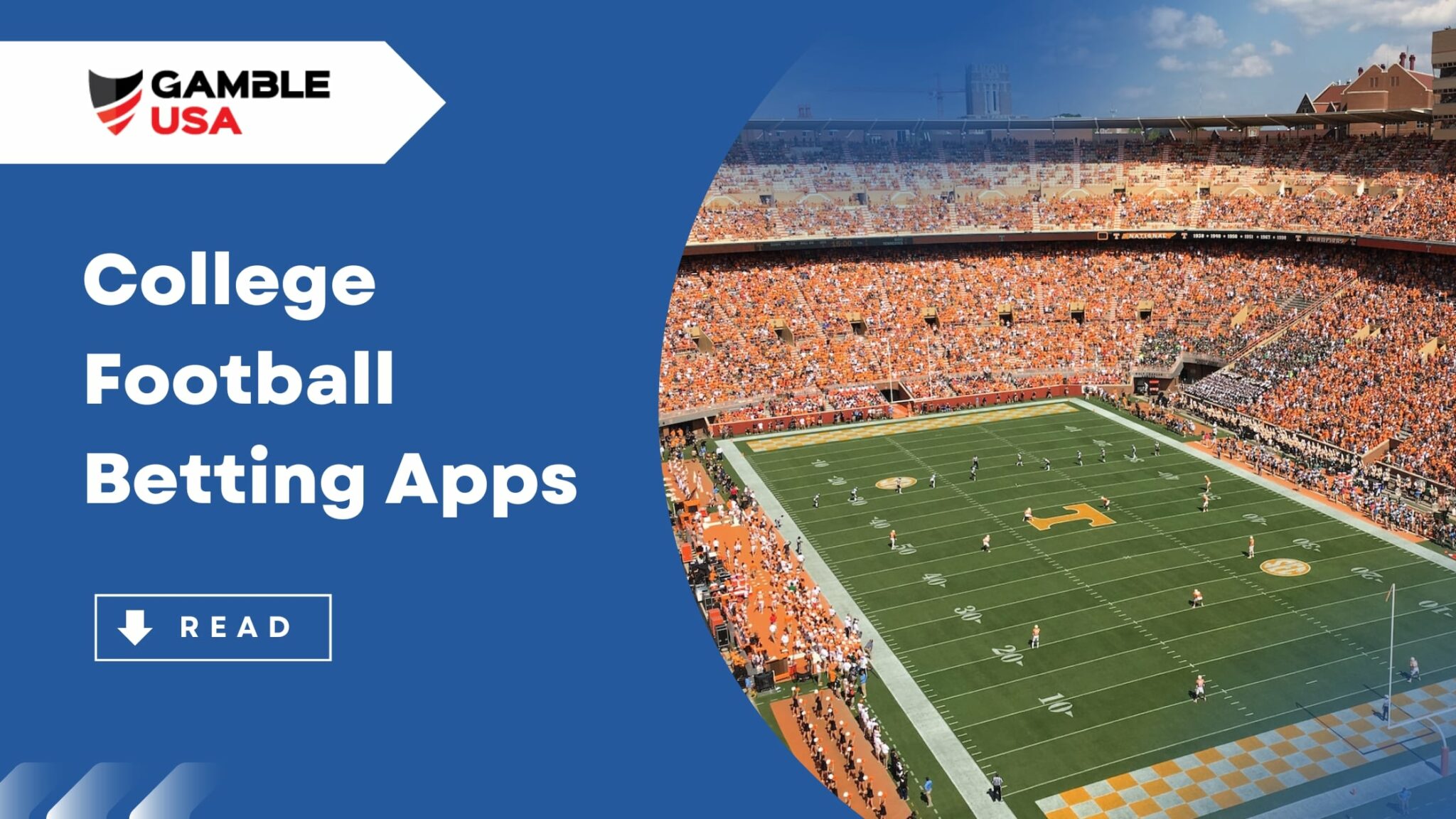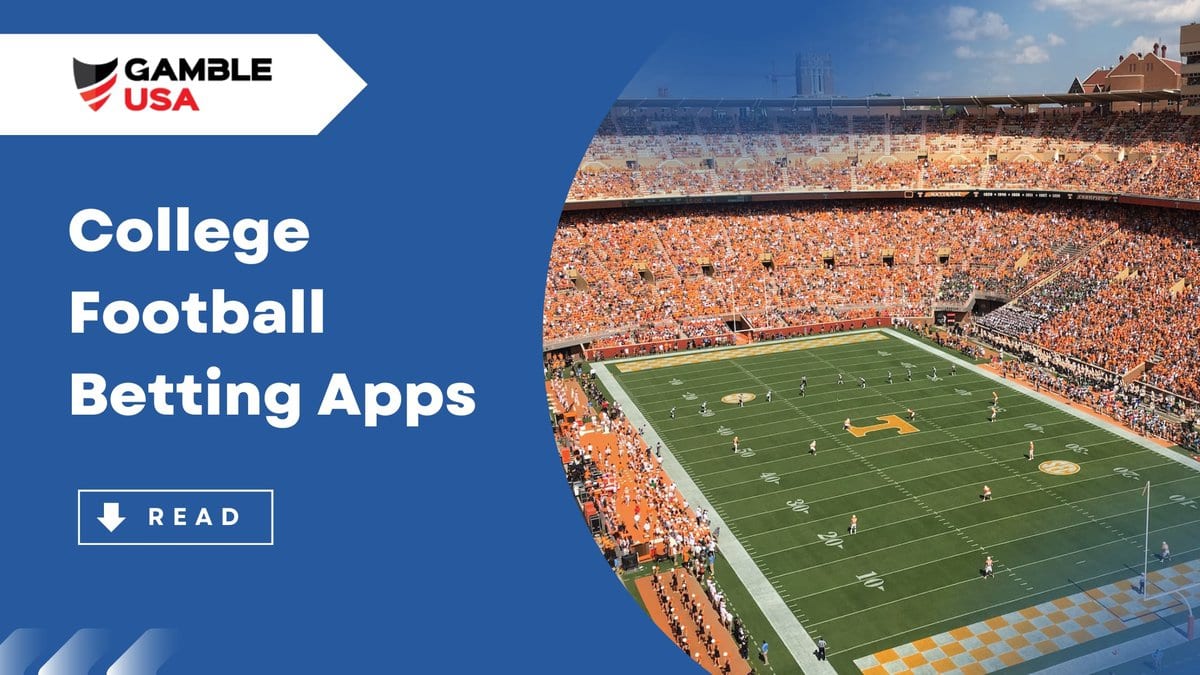 Are you ready to win money betting on college football games? The next college football season is always around the corner, and you can now make your predictions on some top NCAA football apps.
The season starts at the end of August each year, and the initial games are just a teaser to whet your appetite for the semifinals in December, and the NCAA football national championship game in January.
This page will introduce you to the 5 best college football betting apps and the wide variety of betting options they offer. All of these college football sportsbooks have been created with sports fans in mind, including those with little or no previous college football betting experience.
As always, we'll present you with a variety of options, but it's up to you to choose which is the best college football betting site for your specific needs
---
5 Best College Football Betting Apps 2023
If you would like to start betting on college football, you won't go wrong choosing any of these top NCAAF sportsbooks.
---
Is Online College Football Betting Legal?
College football legal betting is allowed in 35 different states at the time of writing. However, only 20 of those states allow online sports betting, whether it's on mobile or via desktop, with another 4 states allowing you to place college football bets online in limited form.
There are no specific regulations for college football specifically, so wherever sports betting has been legalized, so has betting on college football games.
---
Reviews of College Football Betting Apps
Now, let's take a closer look at each sportsbook and outline its main advantages and disadvantages. Assess their strengths and pick the betting site that best caters to your specific needs.
🥇#1. DraftKings Sportsbook – Best College Football Betting Site Overall
Up To $1,000 Deposit Bonus
21+. T&C Apply
21+. T&C Apply
The best sportsbook
Amazing odds & offers
Awesome betting app
Up To $1,000 Deposit Bonus
21+. T&C Apply
21+. T&C Apply
DraftKings is another college football betting site where the number and variety of wagers offered will amaze you. It is packed with everything an action-loving bettor could want from daily odds boosts to props and in-play bets galore.
Their college football betting site isn't as easy as some others to navigate, and the customer support could be better. But DraftKings Sportsbook deserves big kudos not only for the seemingly endless array of betting options both before and during a game but also for its many innovative special promotions and free-to-enter contests with prizes.
We also like the fact that DraftKings does a much better job than most college football sportsbooks in explaining the basics to first-time bettors. Its Quick Start Guide and How to Bet 101 section are a must-read for any customer who is new to college football online betting.
The DraftKings Sportsbook promo code, unlike the other four sportsbooks, gives first-time depositors a deposit match bonus of up to $1,000 on their first deposit. However, the bonus is only for 20% of the deposit. Players have up to 90 days to meet the 25x bonus wagering requirement to clear it.
DraftKings Sportsbook states are: AZ, CO, CT, IL, IN, IA, KS, LA, MD, MI, NH, NJ, NY, OH, PA, TN, VA, WV & WY.
---
🥈#2. BetMGM Sportsbook – Best NCAAF Betting Site for Prop Bets
Promo Code: GAMBLEUSA
Up To $1,500 In Bonus Bets
21+. T&C Apply
21+. T&C Apply
Promo Code: GAMBLEUSA
Super fast payouts
Live streaming
Promo Code: GAMBLEUSA
Up To $1,500 In Bonus Bets
21+. T&C Apply
21+. T&C Apply
Whether you're a seasoned sports bettor or a newcomer, if you want to come roaring out of the starting gate this college football season with all of the thrilling action you could ask for, this is the place. Single game parlays, enhanced odds, and bonus bets for active players are some of the special features in which BetMGM Sportsbook excels.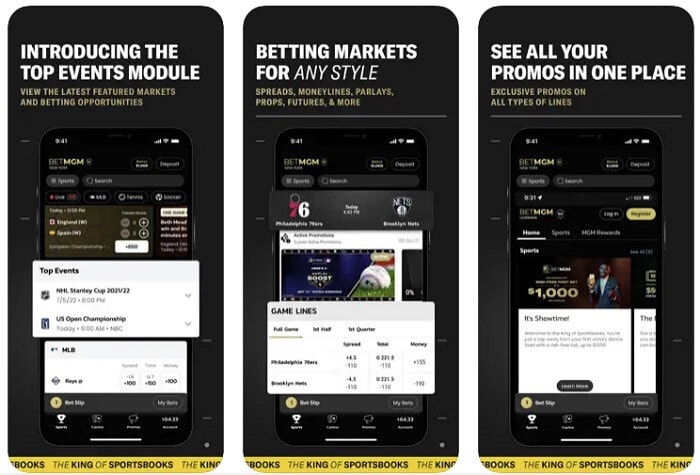 While the customer support isn't great, this sportsbook offers many helpful tools to ensure that everyone, even those who have never bet on college football before, embarks on this venture with enough basic knowledge to succeed. For starters, the Basic Sports Betting Guide, while not as detailed and comprehensive as what DraftKings, FanDuel, and PointsBet offer, covers the five most basic bets: point spreads, moneylines, totals, parlays, and BetMGM props. The combination of great college football odds, college football bet types and bonuses make BetMGM one of the best NCAAF betting apps currently on the market.
You can also type sports.betmgm.com on the address bar and then click on the NCAAF tab to access a new online sports betting feature called The Roar. You'll find an excellent article called "College Football ATS Trends: Best NCAAF Teams to Bet From 2021" along with a host of other articles focusing on specific NCAA teams and conferences.
New players who lose their first bet will receive betting credits for their next bet up to $1,000. Signing up with BetMGM Sportsbook also gives you access to one of the best player's rewards programs in the country, BetMGM Rewards.
BetMGM available states include: AZ, CO, DC, IL, IN, IA, KS, LA, MD, MI, MS, NJ, NV, NY, OH, PA, TN, VA, WV & WY
---
🥉#3. Caesars Sportsbook – Advanced College Football Betting Parlays
Promo Code: GUSA1000
$1,000 First Bet on Caesars
21+. T&C Apply
21+. T&C Apply
Promo Code: GUSA1000
Massive welcome bet offer
Earn Caesars Rewards
Promo Code: GUSA1000
$1,000 First Bet on Caesars
21+. T&C Apply
21+. T&C Apply
Caesars Sportsbook may not be as well known as the big 3 college football betting apps – DraftKings, FanDuel, and BetMGM – but it is quickly establishing its presence as one of the top college football betting apps.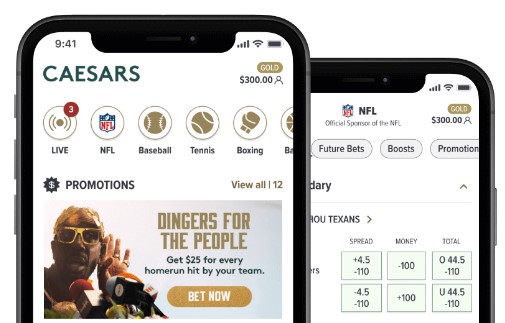 Caesars is one of the few sportsbooks with a multi-tier welcome bonus, consisting of a first bet on Caesar, as well as reward points and tier credits. Add this to the excellent features available on the app such as Caesars cash out, a huge choice of markets, and in-game betting, and you are on to a winner.
Furthermore, this is a sportsbook where parlay bettors can really go to town. Simple parlays including two or more bet types in the same game are welcome, or you can custom-build much more elaborate parlays stacking multiple legs from multiple college football games.
As at BetMGM and FanDuel Sportsbooks, as soon as you make your first deposit, your first bet on Caesar up to $1,250.
Caesars Sportsbook is currently available in the following states: AZ, CO, IN, IA, IL, KS, LA, MD, MI, NJ, NY, OH, PA, TN, VA, WV, & WY.
---
🎖️#4. FanDuel Sportsbook – Best College Football Odds
No Sweat First Bet Up To $1,000
21+. T&C Apply
21+. T&C Apply
Convenient banking
Massive choice of sports
No Sweat First Bet Up To $1,000
21+. T&C Apply
21+. T&C Apply
It should come as no surprise at all that DraftKings' long-time chief rival, FanDuel Sportsbook is also on our list of the best college football betting apps. Month after month, depending on the jurisdiction, whichever one of these two sports betting juggernauts is not first in betting handle, and revenue will almost certainly be second.

Speaking of jurisdictions, the states FanDuel is currently available in are: AZ, CO, CT, IL, IN, IA, KS, LA, MD, MI, NH, NJ, NY, OH, PA, TN, VA, WV & WY.
FanDuel more than fits the bill for anyone looking for a plethora of betting markets, and savvy college football bettors consider it one of the best college football betting apps for daily odds boosts. FanDuel also offers many betting opportunities that you won't find anywhere else. For example, you can bet on whether or not a given team will win 10 or more regular season games, and you can include up to eight of those selections in a parlay.
But even if you have never bet on college football games before, don't worry. FanDuel Sportsbook has you covered with an outstanding Betting 101 Guide.
Players who lose their first bet will receive a site credit for a bonus bet in the same amount up to $1,000. You can make more than one bet using your credits, but you only have 72 hours to do so.
---
🏅#5 PointsBet Sportsbook – Points Betting Odds
10 x $100 Second Chance Bets
21+. T&C Apply
21+. T&C Apply
Awesome live betting
Multiple bet types
Huge range of sports & markets
10 x $100 Second Chance Bets
21+. T&C Apply
21+. T&C Apply
PointsBet Sportsbook originated in Australia but is now a popular choice among American sports bettors as well. The states PoinstBet is available in currently are CO, IL, IN, IA, KS, LA, MI, NJ, NY, OH, PA, VA & WV.
PointsBet makes the cut as one of the best NCAAF betting apps for several reasons. One is that it is possibly the most innovative sportsbook of all with regard to betting markets. PointsBet goes way above and beyond the typical sportsbook when it comes to bet variety, including multi-leg parlays, boosted odds, live bets, and early cashouts, and that only scratches the surface.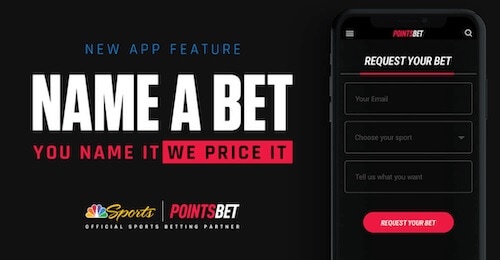 PointsBet is also the only sportsbook that offers Points Betting as an alternative to fixed odds bets. See the section on Types of College Football Bets for a full description of this exciting twist on traditional sports betting.
But newcomers are welcome, too, and an especially comprehensive and well-organized Sports Betting 101 section will get them up to speed quickly.
Most college football betting apps offer first-time depositors a welcome bonus of some form of bonus bet promo, but PointsBet Sportsbook promo allows new players to get 5 x $ 50 "second chance" bets that can even be used to place a Points Betting wager.
PointsBet sportsbook states are currently: CO, IL, IN, IA, KS, LA, MD, MI, NJ, NY, OH, PA, VA & WV.
---
Best College Football Betting Apps 2023
Best College Football Betting Apps
#1
🥉DraftKings Sportsbook
💵$50 Free Play + $2,000 Bonus
-
🌐

Join DraftKings

#2
🥈BetMGM Sportsbook
💵$25 Free Play +$1,000 Bonus
📜GAMBLEUSA
🌐

Join BetMGM

#3
🏅Caesars Sportsbook
💵First Bet Is On Caesars Up To $1,250
📜GUSAFULL
🌐

Join Caesars

#4
🎖️Fanduel Sportsbook
💵$100 No Deposit+ $1,000 Play it Again Bonus
-
🌐

Join FanDuel

#5
🥇PointsBet Sportsbook
💵2 x Risk-Free Bets Up To $2,000
📜GUSA
🌐

Join PointsBet
---
How We Choose the Best College Football Betting Apps
When we evaluate sportsbooks, we assess multiple aspects of each online betting site's strengths and weaknesses. Our determination of the best college football betting apps was based on the following criteria:
Safety
Betting on college football or any other games always involves some risk. But it makes no sense to compound the risk by taking any chance that the college football betting apps are less than completely safe and secure.
We therefore strongly recommend that you stay clear of overseas sportsbooks and confine your real money activity to state-licensed and legal college football betting apps in the US.
The five top college football betting apps recommended in this article operate only in states where they are legally authorized. All apps also have extensive experience in the sports betting industry.
Market Depth
College football is one of the most popular and heavily wagered forms of sports betting. The top NCAAF betting apps meet this demand.  For starters, they post betting lines on a huge number of College Football National Championship games. Just Division 1 college football includes 130 teams, some of which are big names and top contenders but many more that are not but might still be of considerable interest locally and to knowledgeable handicappers seeking good betting value.
The best college football betting apps also offer no shortage of betting types, not just the standard moneyline, point spread, and over/under lines that most sites post but a diverse potpourri of other betting options. For example, betting credits, prop bets, odds boosts, parlays, live bets, and future bets are all yours for the taking.
College football bettors who feel that they might have an edge or find enhanced odds betting certain teams early or who are simply chomping at the bit to have action don't have to wait for the season to start. They can place bets on their favorite college teams and players now. The five online betting apps featured in this article offer early point spreads, moneylines, and totals for every week of the regular college football season through December 26. You can also bet on player futures (who will win the Heisman trophy) and team futures (i.e., the number of regular season wins, odds to make the playoffs, odds to win the conference game, and odds to win the NCAAF championship).
Competitive Odds
Having multiple places to play and optimal timing will help you find the most favorable odds, which can make a big difference in your ability to show a profit over the long college football season. The old saying "the early bird gets the worm" certainly applies to NCAAF betting (before the public gets wind of a good opportunity and the small window of time to grab the best odds possible is lost). The best college football betting apps all post early lines.
Live Betting Options
Live or in-play betting, which means placing a bet while a game is "live" or already in progress, is the opposite of getting your bet well ahead of time. Obviously, the lines will be adjusted accordingly, but live betting is still a viable option. Missing the kickoff of college football games does not mean that the sportsbook won't still accept wagers – even if one or both teams have already scored.
Another valid reason for taking advantage of live betting options is to offset an earlier bet that you think might have been a mistake. Once the college football game is underway, you will have a better sense of whether your existing bet is a probable loser, and while you can't cancel it, you can reduce your losses by betting the opposite way. Another possibility is that the probability of your bet winning is even greater than you thought, and you would love to increase your bet. Live betting lets you do that, too, though again, the betting line will be less favorable. Any football fans with a serious interest in winning need to make live betting an important part of their betting arsenal, and the top online sportsbooks make this option abundantly available.
Ease of Use
While it is great that the best online college football betting apps cater to the experienced sports bettor by offering a wealth of betting options, it is equally important that they don't overwhelm and intimidate the sports betting novice. As legalized online sports betting becomes an option in more and more states, thousands of people who enjoy watching college football and other sports for entertainment purposes but who lack betting experience are coming out of the woodwork. These sports fans need a site that is user-friendly and that they can navigate quickly and easily.
Another important characteristic that all of the top-rated college football betting apps share is mobile compatibility. An ever-increasing percentage of sports bettors rely on mobile apps not only to place their bets but also to check the lines, make deposits and withdrawals, and access special offers and promotions. All five of the top sportsbooks recommended in this article are fully compatible with currently used iOS and Android devices.
Banking
All of the top sportsbooks offer their customers a variety of fast, convenient, and safe banking methods for adding and withdrawing funds. Legal college football betting venues often offer a variety of payment methods, including but not limited to credit/debit cards, e-wallets, prepaid cards, and sometimes even cryptocurrencies.
Bonuses and Rewards
Online sports wagering is a very competitive business, so it is no surprise that the top sportsbooks go all out to reel new players in with a very generous-sounding welcome bonus. But while the initial bonus at online casinos typically takes the form of a deposit match (a designated percentage of the player's first deposit), online sportsbooks are more likely to offer first-time depositors a bonus betting credit. Since the maximum bet that the sportsbook is willing to cover is typically quite high, this is an offer that appeals to high rollers. But other bettors like the offer, too, knowing that if the qualifying college football bet loses, the sportsbook has their back.
The good news is that if you lose your first bet, even if it's a big one, it's no big deal because you promptly get a site credit for a bonus bet in the same amount. However, if the bonus bet wins, you are only paid the winnings from the bet, not the cost of the bet. Unfortunately, players who win their bonus bet get nothing extra from the online sportsbooks.
Existing customers also receive special offers. Examples include betting credits, bonus bets, odds boosts, bonus cash, and Refer-A-Friend bonuses. Look for more special promotions specifically for college football over the next few months.
In addition, some sportsbooks offer a multi-tiered loyalty rewards program based on play.
Accessibility in Multiple States
Lastly, all of the top NCAAF betting apps are widely available. Therefore, there is a very good chance your state is included. If you're not sure, it's best you consult the full list of states where online sports betting – and hence online college football betting apps – are legal.
---
Getting Started with College Football Betting
Once you have selected the NCAA football betting site where you wish to play, the first thing you will need to do is complete the registration form and open an account at one of the college football betting apps we've outlined. You can complete this step online or, if you prefer, on your smartphone or tablet after you download the appropriate mobile app. Either way, simply click on the tab marked "Register" or "Sign up" in the upper right-hand corner of the home page and complete all of the information requested. This will include your full name, gender, date of birth, email address, mailing address, mobile phone number, last four digits of your Social Security number, and username and password for your account.
In addition, all New Jersey players are required to complete a more extensive multi-factor authentication process during registration on college football betting apps. This will probably entail answering a couple of security questions and entering a code that the sportsbook sends you via text or email.
As soon as you have satisfactorily completed these preliminary steps and the sportsbook has verified your identity and eligibility to play, you will be assigned an account and invited to make your first deposit and claim your welcome bonus.
Downloading Process for iOS and Android Apps for College Football Bets
All of the leading sportsbooks have betting apps that you can download easily onto any currently used Apple iOS or Android device. The sportsbook app for iOS devices (iPhones and iPads) is available from the App Store, while the sportsbook app for Android devices is available from Google Play.
Downloading Process for iOS and Android Apps for College Football Bets
All of the leading sportsbooks have betting apps that you can download easily onto any currently used Apple iOS or Android device. The sportsbook app for iOS devices (iPhones and iPads) is available from the App Store, while the sportsbook app for Android devices is available from Google Play.
---
Types of College Football Bets
Whether you are a beginner about to test the college football betting waters for the first time or an experienced player, eager to explore the many diverse betting options available to you, the best college football betting apps have you covered. Here is a brief description of the different types of college football bets you can make.
Moneyline
Moneyline is a wager on which team you expect to win the game. The margin of victory doesn't matter. However, the odds are based on the linemaker's assessment of the probability of winning in each individual college football game.
If you bet on the favorite, you risk more money than you stand to win; whereas if you bet on the underdog, you risk less than the amount you can win, but the probability of winning is also less.
Point Spread
Alternatively, you can bet on the point spread. If you bet on the favorite, the team not only has to win the game outright but by enough points to beat the point spread. If you bet on the underdog, the team doesn't necessarily have to win the game as long as it doesn't lose by more points than the point spread.
For example, if the point spread is 3 ½ and the favorite wins but only by a field goal (3 points), anyone who bet the favorite at -3 ½ would lose, while anyone who bet on the underdog at +3 ½ would win. Most college football point spread bets are priced at -110 (risking $110 to win $100) for either team.
Totals
Totals or over/under bets are not on which team you think will win but on whether you think the total score (either for a given team or both teams combined) will fall over or under a certain number of points. In addition to betting on totals for the whole game, in college football, totals lines are usually posted for each quarter and half of the game. There are also totals for key players (i.e., the number of passing yards for a given quarterback). As with point spread bets, most totals bets are priced at -110.
Parlay Bets
Parlays are single bets with two or more legs. For example, a very simple same game parlay (SGP) might pair a side and a total, but you can also custom-build a much more elaborate parlay with multiple legs and multiple games and even include props (specialty bets) and futures. College football parlay app bets with lots of components are very popular in football betting since the payout on a winning ticket is potentially enormous. However, every outcome selected must win. Otherwise, the whole parlay goes down.
Odds Boosts
Odds boosts or enhanced odds are special offers on specific games where the bettor gets the opportunity to take advantage of exceptionally favorable odds. Odds boosts for college football might incorporate different types of bets such as moneylines, point spreads, totals, or player or team props. DraftKings and FanDuel offer daily odds boosts on college football all season long.
Live or In-play betting
This is an option that lets you place wagers on events that are already in progress.
College Football Futures Bet
Futures bets are advance wagers on the outcome of sporting events scheduled to take place on a later date. Traditionally, the most popular futures betting targets are determining the winners of divisions/championships. In online college football betting, that would be wagering on the winner of the College Football National Championship.
Points Betting
All of the bet types described so far come with fixed odds. Whatever odds the bettor accepts at the time of the bet stand regardless of whether or not they change later. Points betting is different because the amount of money that the bettor wins or loses depends on the margin of the victory or loss. This form of betting is unique to PointsBet Sportsbook.
If your bet wins by 1 point, you win 1x your bet, if your bet wins by 2 points, you win 2x your bet, and so on. Similarly, if your bet loses, you lose your bet size multiplied by the number of points. For example, if you bet $10, and the final score is 28-14, you would either win or lose $140.
In college football, where lopsided scores occur frequently, points betting can be very risky. To minimize the risk somewhat, PointsBet sets a stop-loss limit. This maximum possible loss is temporarily deducted from your account to make sure you can cover it.
---
Types of College Football Betting Bonuses
As we've previously discussed, there are different types of bonuses and promotions available on online college football betting venues. Familiarizing yourself with each is crucial to understanding which college football sportsbook actually offers the type of promotion you could make the most out of.
Here are the different types of bonuses available:
College Football Deposit Bonus
The most commonly encountered type of bonus in the betting sphere, a deposit match bonus rewards you with extra bonus bets depending on the size of your initial deposit. While these are ubiquitous, bonus bets and No Sweat Bets have become increasingly popular.
College Football Bonus Bets
Bonus bets are usually rewarded through a variety of other promotions top college football sportsbooks award, including their deposit match bonuses. Once you make your deposit, you can redeem your betting credits which can then be placed on any bet that the terms and conditions cover. What we mean by this is that you cannot use your bet on enhanced odds, featured bets, and other promotional offers. Also, the bonus may relate to specific leagues or events.
Bonus bets let you make one or several college football wagers for free, without using your own money, but they're usually capped at $5/$10/$20. Furthermore, in case your bet does win, you'll only be awarded the profit, but not the stake, as it wasn't yours to begin with.
College Football No Sweat Bets
No sweat bets serve as insurance for your college football betting wagers. Through these bonuses, the sportsbook will cover your initial bet up to a certain cap. In case your wager loses, your stake will be refunded to you.
---
Best NCAAF Betting Apps with Betting Bonuses
Betting credit is a better offer than the more frequently given no sweat bets because it is not contingent on losing your last bet. What both bets have in common is that if you win, you only get paid your winnings from the bet, not the cost of the bet.
If you bet frequently enough or if you make a certain type of bet in the specified amount within the specified time frame, you may qualify for a bonus bet. Or another way to earn your bonus bet is by racking up the necessary number of loyalty points. Check your favorite NCAA football betting site frequently regarding when and how you might qualify for a bonus bet.
---
Major College Football Events to Bet On
The 2023 regular NCAA football season will kick off on August 26, 2023. Games take place weekly, and we will provide you a list of the upcoming events and their odds here.
The college bowl games start on December 11 and end on January 10. This season, the Fiesta Bowl (No. 2 seed vs. No. 3 seed) and Peach Bowl (No. 1 seed vs. No. 4 seed) both taking place on December 31, will constitute the college football playoff semifinals. The winners of those two games will then square off on January 9, 2024 in the national championship game.
---
College Football Betting Strategy and Tips
New to college football betting? It is a long season, and even the most knowledgeable sports bettors don't win every week. So, before you jump in with both feet, set aside a separate bankroll specifically for sports betting (that you don't need for everyday living expenses) and size your bets for each game accordingly.
Be selective. You don't need to have action on every NCAA football game. But don't put all your eggs in one basket either.
Sign up with more than one NCAA football betting site, if possible, so you can shop around for the best possible odds.
History tends to repeat itself regarding which teams excel early in the season and which tend to be slow starters. Also, at the beginning of the season, it's better to go with experienced coaches with a proven winning record with the same team than teams with a new coach.
Watch as many NCAA football games as possible. Stay on top of the latest news regarding the coach and players and any key player injuries or off-the-field problems that might adversely affect a team's performance.
On the other hand, keep in mind that betting odds are adjusted for injuries, and many teams have another good player who can step in for the injured player and play equally well.
Limit your parlay bets, especially those with many components. Those types of bets lose much more often than they win.
Don't make a knee-jerk bet on your home team simply because you want to root for it if it doesn't offer good value.
Don't chase your losses when you're on a losing streak. Conversely, when you're winning, don't get overly greedy and shoot for the moon.
Keep a record of your bets and the results. This will show you at a glance which bet types are working best for you and also which teams have been money makers and which have been money burners.
---
FAQs
Is college football betting legal in the US?
Yes, it is now legal at authorized sportsbooks in those states that have passed legislation allowing sports betting.
Which is the best betting app for college football?
You can choose from multiple excellent betting apps. We recommend five in this article. The one(s) you choose should be based on your own personal preference.
What is the minimum bet I can make on college football?
Minimum and maximum bets vary depending on the sportsbook and the type of bet, often starting at $0.10.
What is the best offer for college football betting?
Look for a betting site with good promotions and player rewards as well as ongoing promotions for loyal customers.
Is online college football betting legal?
Yes. college football betting is completely legal in a variety of states. The only requirements are that you're physically within the state's borders when you make your wager and that you're at least 21 years old.
What's the most trusted college football betting app?
Every sportsbook we've outlined here comes from a trustworthy operator that's fully licensed & regulated to operate within specific US states. As such, any one you pick is completely trustworthy and safe.