Gamble USA strives to improve your online gambling experience. We aim to help you play safely, make informed decisions when gambling, and increase your betting knowledge through our guides.
We adhere to strict editorial integrity; our content may contain links to products from our licensed & legal US partners.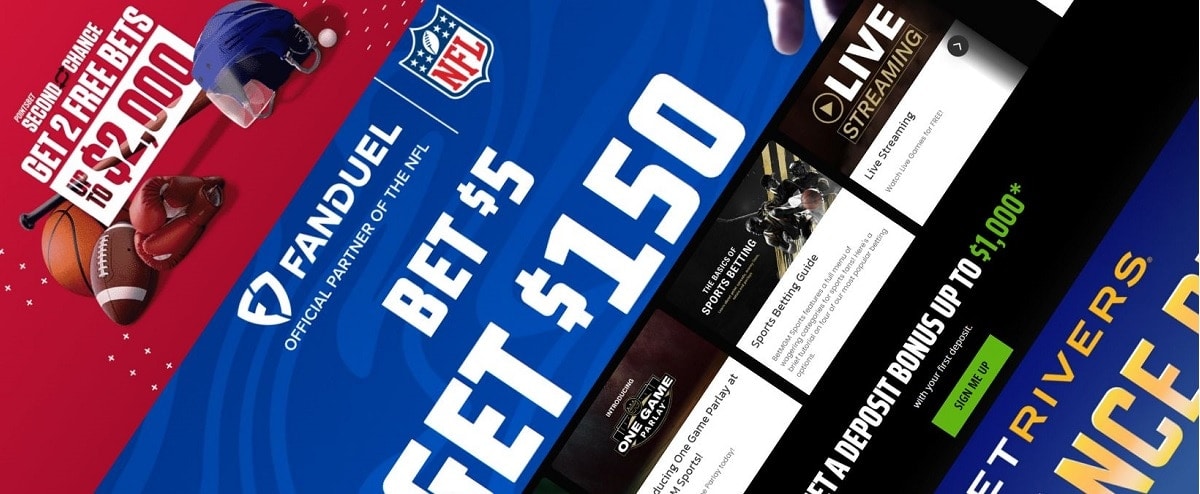 Reddit is unquestionably one of the best online resources for finding answers to those burning questions. One of the most popular asked on Reddit is what are the best sports betting apps?
As sports betting in the USA is becoming increasingly available, many betting operators are offering welcome bonuses or some other excellent promotions to get you using their sportsbook. Luckily for you, Redditors have done the hard work and picked out what they feel are the best sports betting apps available, and we have rounded them up for you on this specific Reddit betting app guide.
So, whether you are living in New Jersey, Indiana, Colorado, or one of the many other states where sports betting is now available, we have looked at the best sports betting app Reddit for you to place a sports bet.
---
The 5 Best Sports Betting Apps Sourced From Reddit
---
🥇

#1. FanDuel Sportsbook

Whether on the mainstream web or hidden away in Reddit's archives, FanDuel always seems to place itself on the top shelf of online sportsbooks available across the US. This action-packed app is simple and visually appealing while being ahead of the gambling curve; FanDuel offers a selection of bets perfect for novices and armchair experts alike.

FanDuel is the most used soccer betting app across the nation, and this is no surprise. Head straight into their quality selection of all your favorite sports, including all the major leagues like the NFL, NCAA, NHL, MLB, NBA, UFC, PGA, and more! Alongside this, you'll get the best of all of the newest features hitting the sports betting market, such as cash-out, odds boosts, parlay insurance, welcome bonus bets, and so much more!

NFL betting Reddit users tipped FanDuel to be their favorite for football betting as they have an excellent reputation for offering solid promos throughout the season as well as offering college football lines.
Available now in: AZ, CO, CT, IL, IN, IA, KS, LA, MD, MI, NH, NJ, NY, OH, PA, TN, VA, WV & WY
Discover

more on FanDuel legal states

---
🥈

#2. DraftKings Sportsbook

More than ironically, DraftKings is worthy of their name; both us and the Reddit community agree that they are one of the elites for mobile sports betting.

Having gained a fantastic reputation through their fantasy sports selections, DraftKings propelled to the front line of sports betting in the US. Their sports betting site has always been secure, safe, and easy to use, and this is no different from their sports betting app!

The DraftKings Sportsbook app is a slick and easy-to-use app and has some amazing stand-out features like cash out; Reddit loves this app, and it seems to be a large majority favorite for a speedy deposit and wager.

One of the best features available in the DraftKings app is in-game betting; place a wager during the game whenever you feel like it! Partner this up with top promos throughout the season and fair odds; DraftKings is a strong all-rounder for any sports gambler to use.

In the Reddit community, a strong following of their soccer betting users tipped them to have the best selections and odds for all your soccer needs. Check out their great lines across the MLS, BPL, La Liga, and more!

Don't forget that DraftKings offers a tremendous welcome bonus allowing you to get up to $1,000 with a 20% deposit match; you know what to do!
Available now in AZ, CO, CT, IL, IN, IA, KS, LA, MD, MI, NH, NJ, NY, OH, PA, TN, VA, WV & WY
Discover

more on DraftKings legal states

---
🥉

#3. BetMGM Sportsbook

We absolutely love BetMGM; we can never keep it far from the top of our recommendations. The internationally established MGM group is the driving force behind this app, and it seems that the Reddit community loves it just as much as we do.

The BetMGM sportsbook app has recently had a significant upgrade. All of the previous BetMGM state apps are now unified into one BetMGM app; finally, you can declutter your mobile and have all the available states in one simple app.

BetMGM is first class when it comes to sports betting lines; they have a vast amount of coverage from all the best sports, both professional and amateur, for you to place a bet on. Their selection of sports is the best, in our opinion, and it is exceptionally well-rated in the Reddit community.

BetMGM has a multitude of features like; boosted daily bets, 24/7 access, first-class parlays, BetMGM Parlays, and exclusive promos across all your favorite sports. When you add all this to the class $1,000 bonus bet, it is sure to get your tastebuds tingling; there could be some serious winnings ready for you to grab.
Available now in AZ, CO, DC, IL, IN, IA, KS, LA, MD, MI, MS, NJ, NV, NY, OH, PA, TN, VA, WV & WY
Read more

on BetMGM Sportsbook legal states

---
🎖️#4. PointsBet Sportsbook
The PointsBet sportsbook app is a cool betting platform that often goes under the radar due to its competition, but not so to Reddit users.
Although its skin leaves some room to desire, looks aren't everything. Everything at the core of PointBet and their sportsbook app is solid; you will find a secure server, easy deposits, and a user-friendly interface allowing you to lump on your favorite bets whenever you want. They also have a great PointsBet refer-a-friend program that pays you to recommend the book to your friends.
Grab yourself the best promo around with PointsBet's huge 5x $50 second chance bets. This certainly got the Reddit community talking! Thousands of people have taken advantage of this offer; why haven't you?
Showcasing strong odds competing with the industry-standard PointsBet is a force to be reckoned with. They have a solid selection of sports, lines, and leagues to play with! Reddit NBA fans love PointsBet.
PointsBet's points betting feature is entirely unique; check it out! It sure has caused a stir in Reddit forums. It allows you to win massive amounts in a continuous style bet like no other.
Available now in CO, IL, IN, IA, KS, LA, MD, MI, NJ, NY, OH, PA, VA & WV
Read more on

PointsBet states

---
🏅#5. BetRivers Sportsbook
BetRivers has won several awards for its sportsbook, and without a doubt, it is one of our most trusted brands; BetRivers has one of the best sports betting sites as well as a decent app.
You can bet with confidence inside BetRivers sports betting app; their ethos for customer satisfaction is strong. Many Reddit users spoke of their high regard for top-class customer service and speedy transactions.
If you're looking for football sports betting app, it is always worth having the BetRivers mobile app loaded in your armory; they offer fresh promos, cool challenges, and consistently competitive odds throughout the football season.
The sportsbook also offers a $500 second chance bet available to new players. Sportsbooks update their promo offers continuously, so we recommend that you take up the offers before they update them. Not all of the Reddit community was a fan of the usability of BetRivers and its app. Still, we found several threads recommending you take up the sign-up offer and check out any other promos that they have on offer. You can also take advantage of the recommend a friend offer from BetRivers too.
Unfortunately, one of the only downfalls with the BetRivers sports app is that each application is separated depending on your location; if you are a traveling customer, you will have to download many applications. This will not be a problem if you're betting from your home as long as BetRivers are licensed to operate in your state.
Available now in AZ, CO, IL, IN, IA, LA, MD, MI, NJ, NY, OH, PA, VA & WV
See more

on BetRivers sportsbook states

---
How We Find You the Best Sportsbook Apps on Reddit?
Reddit is undoubtedly one of the best fan-driven communities to pick up information without the capitalist marketing influences you would find elsewhere on the web. We often turn to Reddit to find the opinion of real American sports fans who have a truthful experience of using sports betting sites. We have been through lots of threads and subreddits and put together this list of recommended US sportsbook apps from real Reddit users.

One thing to note is that we only recommend licensed sportsbooks and operators. Lots of Reddit users often talk about offshore sportsbooks (like Bovada), but these often bring many problems with them. Please be warned that an offshore sportsbook can close at any time and take your money, which no one wants to happen.
Reddit gets to the heart of what American bettors are looking for when it comes to sports wagering. It could be you are looking for a betting option for the UFC or cricket, a sportsbook offering significant bonus funds, a range of prop bets, or Atlantic City style odds. Whatever your desire, all of the opinions on Reddit are honest and go into vast detail.
All of our Reddit-rated official sportsbook apps listed below are licensed and legal here in the US, and available on both apple and android formats!

---
What Are We Looking For?
We have delved into the Reddit archives to find you the best sportsbooks Reddit and its community have recommended, inside you will find unbelievable tips, the best welcome bonus, and a ton of cool features to find the best sportsbook for you!
Each online sportsbook we have found in conversations on Reddit is going to be rated on crucial components that we know are vital to giving you the best online gambling experience:
Welcome bonus: What is the sportsbook offering you as a new customer? Quite often, the bigger, the better!
Sports Selection: Does the sportsbook have a wide selection of sports, leagues, and competitions!
Odds: How strong are the sportsbooks odds? Are you getting the best deal for your money?
App usability: Is the app easy to use, does it look good, and does it compliment your online sports betting experience.
---
Using Multiple Sportsbooks
One thing is for sure, the Reddit community and our experts could not recommend this enough! To get the best chances of winning big, you must open up accounts with multiple sports betting operators.
One of the most significant benefits is claiming the sign-up bonuses from each operator; this will give you tons of bonuses to get started with.
Besides the sign-up bonuses, you will be able to redeem ongoing promos within each app, which you will not be able to find anywhere else; make sure you don't miss out on an offer and keep browsing between apps before placing your bet.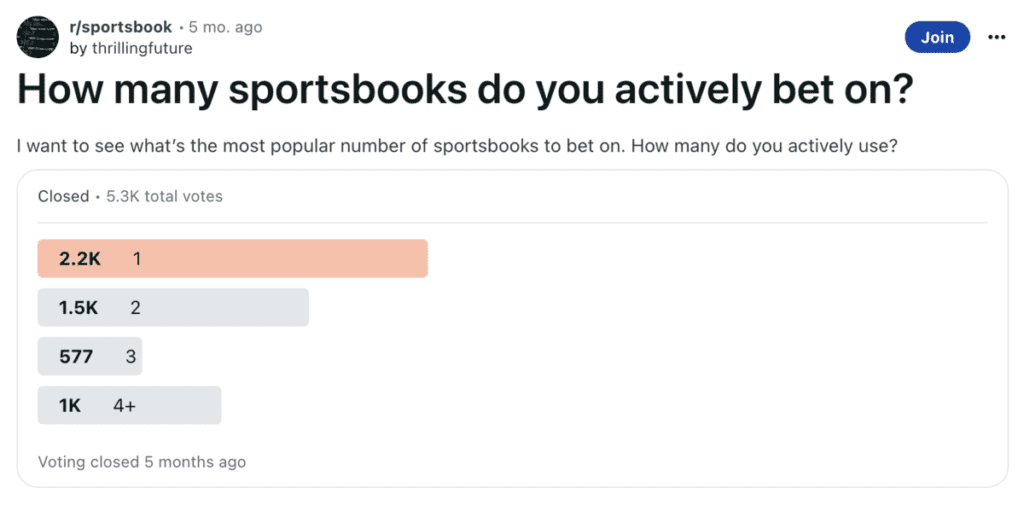 Odds will vary between each sportsbook; please ensure you find the best odds for your bet by comparing the same bet across your favorite sportsbooks. Its definitely worth opening multiple sportsbooks recommended by Reddit to get the best value on all of your bets.
---
Keep Your Account Topped Up
It was a common theme across the Reddit threads that top bettors make sure their accounts have some funds ready to use. There is nothing worse than having a burst of inspiration for the perfect bet, then… Boom, you can't find your card, or you haven't deposited any funds!
Nothing is perfect, and we all encounter problems depositing money or purchasing items sometimes. Whether it's the site's fault or yours, you should always be prepared for this to happen. We recommend that you keep your account topped up with a decent amount for you to play with whenever you feel the need.
If you have any questions related to sports betting (or anything, come to think of it), then Reddit is a great place to get answers. We have posted some great questions there and received some really helpful replies. So thanks, Reddit community!
---
---
FAQ'S
Can you really trust Reddit?
Reddit is an online community made up of all kinds of people from all kinds of backgrounds. While not everything on the internet is true, Reddit has always been known for providing helpful and useful information.
Is mobile betting on sports legal in the US?
In the USA, it is now legal across several states to place bets on your mobile phone. You must be geographically located within a legalized state's borders to place a bet on legal sports betting apps.
Is it safe to use sports betting sites?
Every sportsbook that we have recommended in this article is licensed in the US and safe to use. Be careful when selecting other sportsbooks; many offshore bookies are unsafe.