Gamble USA strives to improve your online gambling experience. We aim to help you play safely, make informed decisions when gambling, and increase your betting knowledge through our guides.
We adhere to strict editorial integrity; our content may contain links to products from our licensed & legal US partners.
Table tennis or ping pong does not receive anywhere near the attention that sports bettors in the US give football, baseball, and basketball. However, it is still one of the most popular of all indoor sports, and it is especially big in Asian countries.
In fact, since 1988, table tennis has been a featured part of the Summer Olympic games.
But what you might not have realized is that if you want to bet legally on the outcome of these table tennis competitions, along with other national and international table tennis tournaments, you can.
Now that betting on sports has been legalized in many states, the top sportsbooks are responding by expanding their betting markets to include a very wide range of sports, including some for which you were probably unaware that betting odds even existed. Obviously, we are not recommending that you suddenly just start betting blindly on ping pong or any other sport. But if you are curious to learn more about your best table tennis betting options and how to get started, you have come to the right place. This article will introduce you to the best table tennis betting apps for US players. We will even throw in 10 helpful table tennis betting tips.
5 Best Apps for Betting on Table Tennis in March 2023
Choosing a sportsbook that will best meet your needs in the table tennis category is largely a matter of personal preference, but any of the following five would be a very good place to start.
#1 BetMGM Sportsbook

If your state is one of the growing number where sports betting is now legal, there is a very good chance that one of the sportsbooks available to you is BetMGM. As of this writing, the BetMGM sportsbook app is live in over 16 states, including Arizona, Colorado, Indiana, Michigan, New Jersey, New York, Ohio, Virginia, and many more.
Other Great Features
Eye-catching graphics
An easy-to-navigate,

user-friendly betting app that won't intimidate beginners

Option to

live-stream many football games

Competitive table tennis betting odds
Generous first deposit

welcome offer

for new players:

Bonus bet up to $1,000

for first-time users. If the first bet loses, the sportsbook will refund the entire amount of your losing wager in the form of a site credit to use for free bets.
Player stats are displayed on the website while the matchup is in progress
Unusually deep betting markets, including many live betting options not available elsewhere (i.e., which player will score the 10th point of the game)
Automatic membership in the highly acclaimed BetMGM rewards program, whereby you can earn reward credits and tier credits for all of your activity at any participating online, mobile, or retail BetMGM sportsbook or casino.
Great

referral bonuses

and

VIP rewards
What could be better
Players who win their first bet get no benefit from the welcome offer for a risk-free bet.
Use of fractional odds rather than the format that is more familiar to American bettors (i.e., 13/5 and ¼ instead of +250 and -400)
The sports betting guide is hard to find. It could also be more comprehensive.
#2 DraftKings Sportsbook

This is one of the best-known and most robust sites for ping pong betting in the US. DraftKings Sportsbook started out strictly as a Daily Fantasy Sports site, but it has since grown into one of the leading all-purpose sportsbooks for American players. No sports betting markets are off limits, which makes it one of the best betting apps for seasoned table tennis bettors.
The DraftKings table tennis betting mobile app is available in even more states than the BetMGM table tennis app, including Arizona, Colorado, Connecticut, Louisiana, New York, Tennessee, Virginia, West Virginia, Wyoming and many more.
Other Great Features
More table tennis betting options than most sportsbooks
New players receive a first deposit match bonus up to $1,000.
Lots of special promotions and odds boosts
Opportunity to win big money on

multiple match

parlay bets
Lots of options for table tennis

in-play betting
What could be better
The first deposit match bonus is only for 20% of the deposit.
No customer support by phone; live chat responses are unrelated to the user's question.
Sports betting newcomers might find both the complicated sign-up process and the sheer number of betting options overwhelming.
Table tennis betting lines tend to be less favorable than on other sites.
No graphics for table tennis matches
The sports betting guide should include specific examples to show in practice how the different types of sports bets work.
Lackluster

Dynasty loyalty rewards program
#3 FanDuel Sportsbook

FanDuel, like its arch-rival DraftKings, originated as a Daily Fantasy Sports site exclusively before becoming one of the top-performing full-service sportsbooks in the US. In fact, every month these two sports betting giants duke it out to see which one will take the honors as the No. 1 sportsbook in the country in betting handle and revenue.
One of the reasons for FanDuel's tremendous popularity is its presence in many US states. These are some of the states where FanDuel Sportsbook currently offers both online betting and mobile betting; Arizona, Indiana, New Jersey, New York, Pennsylvania, Virginia, and West Virginia. You can see the full list of FanDuel states here.
FanDuel is a little easier to navigate than DraftKings, which probably makes it a better table tennis betting app for newcomers. However, seasoned bettors and any sports bettor looking for variety will appreciate the wide range of table tennis betting markets.
Other Great Features
More options for table tennis wagers than most sportsbooks
Risk-free first bet up to $1,000
Excellent

sports betting 101 guide

for newcomers
Competitive table tennis odds
Lots of special promotions and odds boosts
Lots of in-play betting options
What could be better
Players who win their first bet get no benefit from the welcome offer.
No customer support by phone; live chat is hit or miss.
#4 bet365 Sportsbook

This bookie, which is headquartered in the UK, is very popular with European sports bettors but is less well-known in the US. bet365 sports app is currently live in only two states – New Jersey and New York. However, the sportsbook has announced that it will launch in a third state – Colorado.
Hopefully, in the coming months, bet365 will open a betting site in other jurisdictions, but meanwhile, big ping pong fans with legal access to this sportsbook are in luck. bet365 offers one of the best table tennis betting apps. Anytime table tennis betting lines are posted, bet365 is a sure bet to carry them.
The states where bet365 is available in grows all the time, with the operator available in over 3 states now, including Colorado, New Jersey, Ohio, and Virginia.
Other Great Features
More table tennis betting options than most sportsbooks, even in lesser-known competitions
Great welcome bonus for new customers:

Bet $1 get $100 in free bets

, win or lose.
Many special promotions and odds boosts opportunities
Loaded with table tennis live betting options
Plentiful options on table tennis futures
Competitive odds
Easy-to-navigate site that won't intimidate beginners
Opportunity to live-stream many table tennis matches
24/7 customer support by phone, live chat, or email
What could be better
Currently available in only two states
No sports betting guide
No loyalty rewards program
#5 Betway Sportsbook

Betway is another popular European sports betting app that has made its way to the US. Like bet365, it is far from being a household name to American sports bettors on a par with the big 3 – BetMGM, DraftKings, and FanDuel. But that should come as no surprise because Betway was not introduced in this country until 2021 and only in five states.
As of this writing, Betway Sportsbook app is live in the following states; Arizona, Colorado, Indiana, Iowa, New Jersey, Ohio, Pennsylvania, and Virginia.
If you have access to Betway Sportsbook and want to give table tennis betting a try, you won't be disappointed. You will find no shortage of ping pong betting opportunities to choose from on this site.
Other Great Features
New players offer for a free bet worth 50 percent of the first bet if the first bet loses. (The maximum value of the free bet varies, depending on the state).
Competitive odds on the top table tennis matches being played all over the world
Potentially very

high-paying parlays with many components

are welcome. Players can also add additional components later to the initial wager.
Offers bets on upcoming matches and futures for the table tennis European Championships (which most betting sites don't cover).
A section on how to bet on table tennis, including a list of major table tennis leagues and some recommended table tennis betting strategies.
What could be better
Availability is limited to five states.
If the first bet wins, the new player offer is useless.
No special offers or loyalty rewards program for existing customers
Not as many deposit and withdrawal options as some sites have
No instructions on how to get customer support

Prop bets

are only available for in-play table tennis betting not before the game starts)
Other notable platforms that offer betting options for a table tennis match include Caesars sportsbook and Barstool sportsbook. Although it may not be seen as the most glamorous or exciting sport in the United States, it does attract a global audience and sports betting sites feel there is enough interest there to actively offer betting markets on a range of table tennis tournaments and matches.
How We Rate the Best Table Tennis Betting Apps
None of the aforementioned table tennis betting apps is perfect in every respect. However, the decision to rate them as five of the best table tennis betting apps took into account multiple basic criteria on which to assess the relative merit of different table tennis betting sites.
Safety
Regardless of whether you plan to wager on table tennis or any other sports, before you start using any online betting sites or mobile betting apps, it is imperative that you can be reasonably certain that the site is 100% safe. You will need to share important personal information about yourself with the sportsbook to open an account and then you will be using the mobile app or website to bet real money. Therefore, it is of utmost importance that all of your account-related data and activity are kept completely secure and private.
In the past when wagering on sports was illegal in almost every state, many people either bet with their local bookie or used overseas sportsbooks. This is not recommended for multiple reasons, one of which is that you can never be completely certain that when you win, you will be paid, and if you're not, you have no legal recourse.
But now that PASPA (the federal law banning sports betting) has been overturned, many states have passed legislation to permit legal state-run online betting sites and betting apps. Before any of these sportsbooks can open to the public, the sportsbook and its prospective partners must undergo a thorough investigation by the agency that is responsible for licensing and regulating all legal online gambling in that state. Any applicant that fails to meet the agency's very high standards for approval will be denied a license. The same agency continues to monitor each licensed gambling operator in its jurisdiction to ensure full compliance with state regulations.
Reputation and History
A related consideration is the sportsbook's reputation and history. Longevity says a lot about the trustworthiness of a site. Even if the sportsbook opened to bettors in your state only recently, you can check how it has fared in other states.
When looking for a new betting site, particularly if you plan to use it to wager on a sport such as table tennis that is also new for you, your best bet is to choose an established brand with an impeccable reputation. You can also check which sites professional handicappers and gambling industry experts recommend.
All of the top five sites mentioned above for betting on table tennis have been around for a long time. That includes the two newcomers to the US market – bet365 and Betway – based on their impressive performance in Europe.
Market Depth
It would be unrealistic to expect any online sportsbook to give the same attention to betting on table tennis as to the most heavily wagered sports like football and basketball. But there should still be adequate coverage of the game. Both casual bettors and experienced handicappers should not have any difficulty finding sufficient opportunities to place wagers.
The best table tennis betting apps offer customers many ways to win money. They include betting lines for all of the same day and future major table tennis events but don't limit the action to just moneylines and spread betting. They also accept parlay bets with multiple components and provide a cash-out option.
Another form of table tennis betting that is very popular is live betting, also known as in-play betting. This is an area where the market depth of the best table tennis betting sites is especially apparent. Look for a seemingly endless array of table tennis live betting options – everything from how long the match will take to which player will score the 5th point, 10th point, etc.- and that's just the tip of the live betting table tennis action.
Table Tennis Betting Odds
Table tennis bettors who seriously hope to win money need every edge they can get, and that includes finding the best odds possible. We advise shopping around to compare what different sportsbooks have to offer.
Navigation and User Experience
Many people who are thinking about signing up with a sportsbook, besides knowing virtually nothing about betting on ping pong, are new to online sports betting itself. Given that fact, many online sportsbooks are not as user-friendly as they could be. The procedure for signing up and making deposits and withdrawals needs to be simple and straightforward. In addition, the different categories of information on the home page need to be well-organized and clearly labeled, so users can locate what they are looking for quickly and easily.
Furthermore, first-time bettors might not be familiar with much of the important sports betting terminology. The top table tennis sportsbooks don't assume that all of their users are already well-versed in how betting lines work and other sports betting basics, so they include a free-to-use comprehensive sports betting 101 section.
Customer Support
Many online betting sites also have a section called FAQ where brief answers are given to certain frequently asked questions. The FAQ section is a useful feature, but it is not sufficient. Many other questions and issues might arise that are not answered there and require one-on-one assistance. Virtually all sportsbooks offer their online and mobile players at the very least live chat and email customer support, but the best online sportsbooks also offer 24/7 phone support.
Mobile Compatibility
The site should be fully compatible with current iOS and Android mobile devices without the loss of any features and functionality. The mobile app should be accessible anywhere in the state.
Player Recognition
Most online and mobile sportsbooks have a special welcome offer for new customers to entice them to join. Sometimes this takes the form of a bonus when they make their first deposit. However, many sportsbooks prefer to offer a risk-free bet instead. After making the first deposit, the player can bet any amount up to a designated maximum (typically, a large amount such as $1,000). If the bet loses, the sportsbook will refund the full amount of the bet as site credit for a free bet.
The best sportsbooks don't stop with the welcome offer but provide extra incentives for existing players, too, with daily odds boosts opportunities and other special offers, as well as a multi-tiered loyalty rewards program based on play.
Banking options
The top table tennis betting sites offer a wide choice of banking methods. Fast, no-hassle withdrawals are another important characteristic of the best sportsbooks.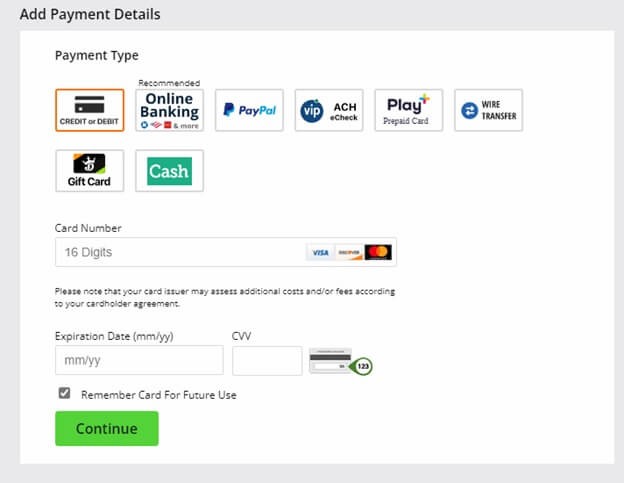 Getting Started with Table Tennis Betting
If you would like to give table tennis betting a try, if you are not already signed up with a credible site that offers betting on table tennis, don't just pick any random site for betting online. Take a little time to decide which of the sportsbooks recommended in this article, or perhaps a different one, looks like the best table tennis betting app for you.
Once you have selected the sportsbook you would like to join, before you will be permitted to place any wagers, you will need to complete the registration and verification process and open an account. Then, as soon as you are approved, you can make an initial deposit and start wagering.
You can complete the preliminary steps either online or via the mobile app, whichever you prefer. Either way, keep in mind that residence in the state where you wish to play is not a requirement. However, you do need to be physically present in that state any time you place a wager.
Downloading the App
As long as your mobile device is a current version of the Apple iOS or Android variety (check the sportsbook's system requirements), you should have no trouble downloading the corresponding sportsbook iPhone app. All of the top table tennis betting apps are iOS or Android-compatible sportsbooks.
If you have an iOS device (iPhone or iPad), you can obtain the appropriate app from the App Store. If you have an Android device, the app is available from Google Play. In the past, when Google Play did not offer apps for gambling purposes, Android users had to follow a more complicated process, but that is no longer necessary.
If this will be your first time using the sportsbook, you can either register online before you download and install the app or complete the registration process either online or via the app afterward.
How to register as a new player
Go to the site's home page and click on the tab in the upper right-hand corner marked "Register" or "Sign up." This will take you to the registration form, which you will need to complete in its entirety. You will be asked to provide such information as your full name, date of birth, Social Security number, mailing address, email address, and username and password you wish to use for your account. You must also verify that you are at least 21 years of age and you accept the sportsbook's terms and conditions.
The sportsbook will then use its software, which includes geolocation software, to verify your eligibility to play and that you are who you say you are. Then, in all probability, they will text or email you a code that you need to copy immediately and send back. This two-stage verification process before you can even place your first bet is annoying, but it is presumably necessary for the security of your account.
As soon as you are fully verified, the site will assign you an account and invite you to make a deposit and claim your welcome offer, which you can also do either through the mobile app or online. Read the terms and conditions first to make sure that you fully understand what you need to do to qualify for the bonus or risk-free bet.
As soon as your deposit is accepted, you are good to go! Log into your account, click on the table tennis tab, check the odds, and place your first table tennis bets.
Basic Rules of Table Tennis
You might know the ins and outs of the legal sports betting market in the US and how to wager on a mobile sports betting app, but before you bet on a table tennis tournament it is worth knowing the rules. The following are the five basic rules of table tennis:
No hands on the table
If any player's hand touches the table during a point, they will be deducted a point.
If the ball goes into the net on serve, try again
If the ball hits the net from the first serve, the point gets replayed. There isn't a rule in the rulebook that states how many times a point can be replayed before one is taken off, however, the rule of thumb generally seems to be three attempts.
The ball must be thrown 15mm in the air by the server
When a player throws the ball into the air as part of the service motion, it must rise to a minimum of 15m in height before being hit. Lots of players like to throw in a way that spins the ball to make it more difficult for the opponent to return.
Serve behind the end line
You are only eligible to serve from behind the end line. Serving in front could cause a player to lose a point and is against the rules.
The ball must be held in a flat palm above the table
Before any point can start, the server must hold the flat in the palm of their hand so it is clearly visible to the umpire.
Table Tennis Betting Types
The types of bets available to you on different table tennis betting apps can vary both with the betting site and the competition. The following is a brief summary of the kinds of wagering options you can probably take advantage of frequently on the best table tennis mobile apps.
Moneyline
This is a wager on which team or player you think will win the game outright. The margin of victory won't affect the outcome of your bet. However, if you bet on the favorite, you will have to risk more money than the amount you will win if you are correct. If you bet on the underdog, because in the oddsmaker's opinion, this wager is less likely to win, you are getting better value on your money. The amount of your profit if you win is more than the amount you put up for your wager.
As tempting as it may be to go against the flow and get the best odds by betting on the underdog, it is usually not the best table tennis betting strategy and should only be done sparingly. That is because the overwhelming majority of major betting events in this sport result in Asian championships and, more specifically, in Chinese players dominating the rest of the field. In fact, since table tennis has been part of the Summer Olympics (1988 to date), Chinese players have taken home by far the lion's share of the gold medals. This is the most straightforward table tennis bet you can make.
Point spread
Point spread bets are different from moneyline bets because here the margin of victory does matter. If you choose to bet on the favorite, instead of being required to risk more money relative to what you can win, the player you bet on not only has to win outright but also beat the point spread.
Suppose, for example, the point spread on a given table tennis game or match is 3 1/2. If you bet on the favorite and the margin of victory is 4 points or more, you win your bet. But if the favorite wins by 3 points or less or loses outright, you lose your bet.
Conversely, if you bet on the underdog, even if the player loses the game, you would still win your bet if you cover the point spread.
Table tennis point spreads typically add a half-point to eliminate the frequent occurrence of a push when the margin of victory falls exactly on the number.
Most of the time (but not always), regardless of whether you take the favorite or the underdog, you will be given odds of -110. In other words, in order to win $100, the cost of your point spread bet will be $110.
Totals
Here, rather than betting on which player or player-team will win the game, set, or match, your wager is on whether you expect the total number of points scored will be over or under a specified number. Over-under lines are also posted for individual players. As with point spread lines, table tennis over-under lines are typically priced at -110 and include a half-point.
Parlay Bets
Parlays are single bets with two or more components. For example, you can create a single game parlay including both a side and a total or build a much more elaborate parlay incorporating different competitions. Parlay payouts are always bigger than if you bet the same amount on each leg separately and win each bet, and of course, the more legs you include, the higher the payout. But the catch is that every component of the parlay must win.
In other words, if you make six separate bets for the same amount each and win five of them, you would show a nice profit or an even bigger profit if you win all six bets. But if you combine the same six bets in a parlay, there is no consolation prize for winning five of them. The whole ticket goes down. On the other hand, if all six legs win, you would have a fantastic payday!
Table Tennis Odds Boosts
Odds boosts, or enhanced odds, provide an easy way for new and experienced bettors alike to make specific wagers at very attractive odds. Odds boosts for table tennis might be offered on any of the following bet types: moneyline, point spread, total, or player or team prop bet. DraftKings and FanDuel offer many daily odds boosts, so if you act fast, you might be able to take advantage of some excellent table tennis odds.
Live Table Tennis Betting
Live betting, also called in-play betting, is an option that lets you place wagers on events that are already in progress. Because table tennis is such a fast-paced game, these odds are continually changing with every serve. But with the potential not only for nonstop action from start to finish but to either change an earlier bet or add to it, live table tennis betting is a super-exciting way to try to win extra money. Live table tennis betting is extremely popular, and all of the best table tennis betting sites offer it.
Table Tennis Futures Bet
Futures bets are wagers that you can make on table tennis events scheduled to take place on a later date.
Table Tennise Betting Welcome Offers
Risk-free betting promos are often confused with traditional free bets, but they are not the same. Many sportsbooks offer first-time depositors their first real money bet risk-free. This means that if the bet loses, the sportsbook will give you a site credit to use on another bet. Usually, but not always, the credit is for the full amount of the losing bet up to a very high maximum. For example, BetMGM and FanDuel both offer a bonus bet up to $1,000. However, the only winner from these offers is the sportsbook. Even if the second bet wins, you only get paid the winnings from the bet, not the cost of the bet.
A free bet is better because the offer is not contingent on losing the qualifying bet first. As with risk-free bets, you only get paid your winnings from the bet and not the cost of the bet. But it is still a great offer because you can win twice. bet365 has one of the best free bet offers for new players. Bet $1 and win or lose, get $200 to use toward free bets!
Major Tournaments and Events to Bet On
The following is a brief description of the major table tennis events for which betting action is available.
Summer Olympics
The Summer Olympics constitute the most prestigious and heavily wagered table tennis competition. Table tennis has been part of the Summer Olympics since 1988. The Summer Olympics are held every four years, with the next set of competitions taking place July 26 – August 11, 2024 in Paris.
The five categories of table tennis competitions in the Summer Olympics are as follows:
Men's singles
Men's team events
Women's singles
Women's team events
Mixed doubles
International Table Tennis Federation World Table Tennis Championship
The International Table Tennis Federation (ITTF) World Table Tennis Championships usually take place in April or May of odd-numbered years. The World Table Tennis Championships started back in 1926 but switched in 1957 from being held annually to every two years.
World Team Table Tennis Championships
These competitions usually take place in April or May of even-numbered years.  
Men's and Women's Table Tennis World Cup
Since 1980, this event has had a significant bearing on ITTF rankings. Each year only 16 of the world's top table tennis players of each sex are invited to participate for a chance at their respective world cups in this winner-take-all competition. There are also two World Team Cups up for grabs in odd-numbered years in which eight male teams and eight female teams compete.
ITTF World Tour Grand Finale
This is the last major table tennis competition of the year. The seven featured events include men's and women's singles, under 21 men's and women's singles, men's and women's doubles, and mixed doubles. $1 million in total prizes are awarded.
In addition to the aforementioned major events, there are many more table tennis tournaments for which betting lines are posted. Here are a few:
European Championships
Asian Championships
Mediterranean games
Table Tennis Leagues (especially the Chinese Super League)
Table Tennis Betting Strategy and Tips
The following are 10 useful table tennis betting tips to help you win more often when using the above apps.
If you are new to table tennis betting and/or you need to watch your bankroll carefully, be selective in your betting. You don't need to have action on every event where you see odds posted. Focus on important matchups and major tournaments because those are the competitions where information about the players is most readily available.
Do the necessary background research to check how well the two opponents who will face each other match up.
Study the ITFF rankings to determine not only which players are favored to win but which players' rankings have gone up or down.
Familiarize yourself with each competitor's playing style and strengths and weaknesses. This can give you a big edge in predicting which player is most likely to win.
The grip that the player uses to hold the paddle can affect the outcome. A shallow, balanced grip with the thumb resting on the blade of the paddle allows for greater flexibility in alternating between forehand and backhand shots but less accuracy. A deep grip where the thumb is resting on the rubber part of the paddle gives the player less flexibility and power but more finesse and accuracy. Also, some players who use the traditional handshaking grip might have trouble adapting to the less commonly used Penhold grip.
Right-handed players might have problems when their opponent is left-handed.
Before you check the actual table tennis lines, try to set your own lines based on your predictions. Then see how the two sets of lines compare. If you think that a given player has a higher probability of winning than the actual betting line suggests, you have good betting value.
Upsets are least likely in the early rounds of a competition, as the cream usually rises to the top.
Pay more attention to trends than rankings. While the best players generally win, there are exceptions. For example, a higher-ranked player who has been inactive or in a slump lately might be facing a rising young star. Since ITFF rankings have a large influence on the posted betting odds, this might be a good opportunity to back the underdog.
Close matchups are likely to have more scoring than those with a prohibitive favorite.
Real Money Table Tennis Betting Apps FAQs
Is Table Tennis betting legal in the US?
Yes, table tennis betting is legal at licensed sportsbooks in states which have passed legislation to allow sports betting.
Which is the best betting app for table tennis?
There are multiple excellent betting apps for table tennis, such as FanDuel, DraftKings, bet365, Betway, and BetMGM. The decision should be based on personal preference.
What is the minimum I can bet on table tennis?
Minimums and maximums may vary at different sportsbooks and also for different types of bets. Check with the sportsbook directly.
What is the best offer for table tennis betting?
If you are new to table tennis betting, the welcome offer from bet365 is probably the best on the market. Bet $1, and win or lose, get $200 in free bets! You can't go wrong with that!