Gamble USA strives to improve your online gambling experience. We aim to help you play safely, make informed decisions when gambling, and increase your betting knowledge through our guides.
We adhere to strict editorial integrity; our content may contain links to products from our licensed & legal US partners.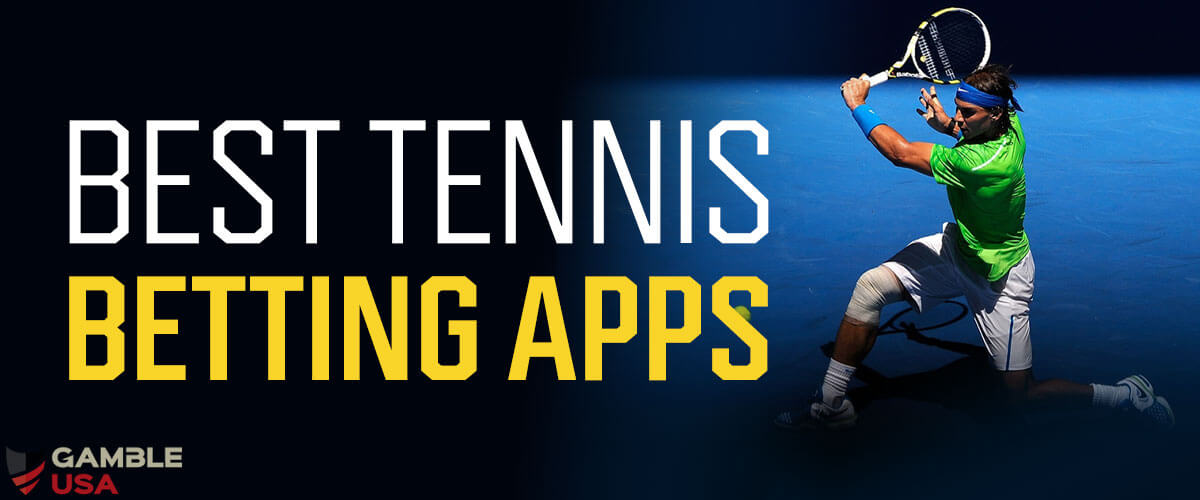 Tennis is one of the most exciting sports worldwide and is very popular in the world of sports betting. If you are looking for the best tennis betting apps available look no further. We have done all the hard work in researching many factors to pinpoint which tennis betting apps are good ones and why they are the mobile apps that you should use to wager on the fast-paced and exciting sport.
With tennis being a sport that is year-round it means there is no lack of betting opportunities. With over 24 states offering legal online sports betting all of the sportsbooks will offer tennis betting. With many betting options it is advantageous that you learn how to bet on the sport and what the good apps offer, which is why this tennis betting guide can be a great tool to use.
Tennis has been in a golden age for the last several years with the dominance of three players in Roger Federer, Rafael Nadal, and Novak Djokovic. However, those players are all at least 35 years old, and a slew of younger and hungrier players such as Alexander Zverev, Carlos Alcaraz, and Daniil Medvedev are ushering in a new age. That new age is all the more exciting with all of the tennis betting opportunities available.
Continue reading to learn about the best tennis betting apps, how we rate them, the types of tennis bets you can place, and much more.
---
5 Best Tennis Betting Apps 2023
Here are the five best tennis betting apps based on the points of availability, how competitive the odds are, the types of wagers, how easy the site is to navigate, and the overall betting experience.
🥇 FanDuel Sportsbook – best tennis betting app for live betting


FanDuel is one of the best sports betting apps out there and is available in 16 states. In terms of live betting, you cannot go wrong with using FanDuel for tennis betting, as they offer many matches to watch live, and on top of that, they stream many of them as well, so you can watch the match live and wager on it.
Live betting is not the only reason FanDuel is one of the best tennis betting apps. They have competitive odds, offer quite a few props, and provide a wide sports coverage. It is simple to find the many tennis bets available, and there is even a parlay bet-builder.
New players can take advantage of a solid FanDuel welcome bonus in the form of a no sweat bet up to $1,000 on their first bet. If your first wager loses, your stake will be refunded in the form of bonus bets.
Expert Comments:
"I think that betting during during a live tennis match is my favorite way to wager on tennis. The FanDuel app is the best for this out of all of the ones I've tested personally. The offer great live odds on a large range of lines within the app so it's easy to find and place a bet from anywhere."
– Paul Ricci (Chief Sports Editor)

---
🥈 Caesars Sportsbook – best for tennis coverage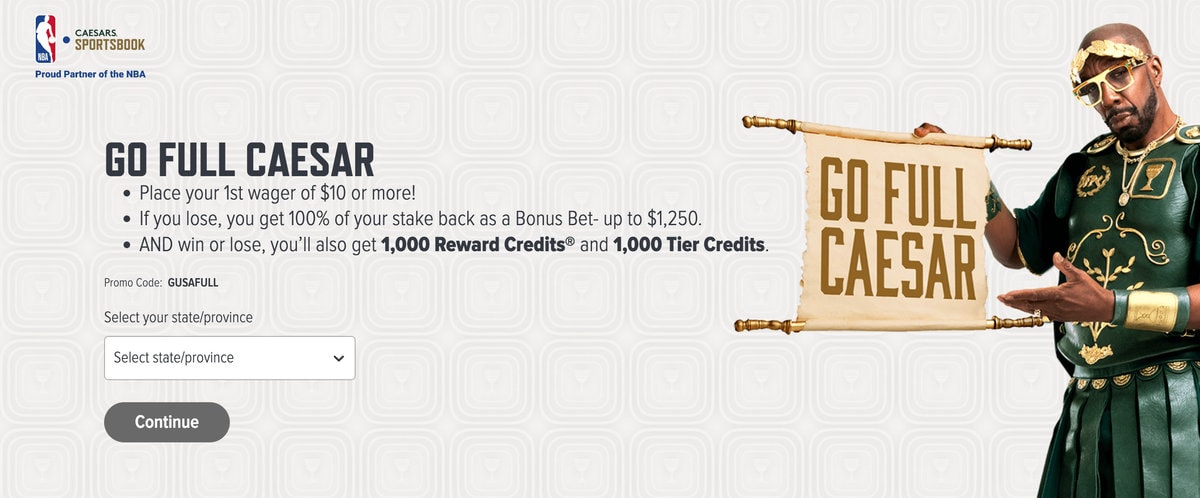 Caesars is one of the giants in the gaming industry, and their online sportsbook is one of the best around. In terms of tennis betting, they have fantastic coverage, many prop bets, and live betting. They cover all of the ATP and WTA tournaments, challengers, and ITF matches.
By clicking on Tennis in the sports section, there are six other tennis betting links: Grand Slams, ATP, WTA, Challenger, ITF, and Other. Click any of those, and you will see all the tennis bets available. For Grand Slams, they always have competitive futures odds for the big four tournaments, and they post those very early. Looking at event coverage alone, Caesars is definitely one of the top tennis sportsbooks around.
Caesars has a more than solid welcome bonus in the form of a first bet on Caesars up to $1,250. You can use the Caesars promo code GUSAFULL when signing up for an account to get the bonus. If your first bet is a losing one you will receive up to $1,250 in site credit within two days.
Expert Comments:
"With so many tennis tournaments throughout the year it's important for my betting app to cover them all. This is where I think Caesars sportsbook app excels due to their wide range of lines available when the biggest global tournaments do roll around."
– Oliver Dickinson (Sports Editor)

---
🥉 DraftKings Sportsbook – the best tennis betting app for overall sports coverage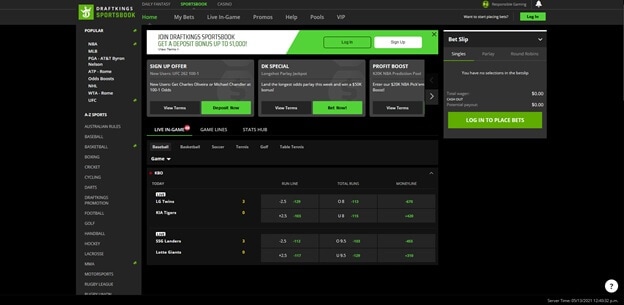 Not only does DraftKings offer a plethora of tennis betting options, but they have the most sports, overall, to wager on with 28. It is a great option for a tennis betting site with competitive odds, many props, profit boosts, parlay insurance, and live betting. Speaking of parlays, DraftKings cross-sport parlays allow you to bet on a tennis match and other sports in a single bet.
DraftKings has solid coverage of the sport, covering most major tournaments, making it one of the top tennis betting apps. you can play at today. They are one of the more popular sports betting apps in the US, being available in 17+ states, far more than most US sportsbooks. Wide availability combined with a strong selection of tennis betting options make DraftKings a great choice for tennis fans of all stripes.
While there is a lot to like about DraftKings, they do not have the best welcome bonus for new players. While other apps often have a welcome bonus of a deposit match of 100%, the DraftKings Sports offer newbies a 20% deposit match up to $1,000. Still, even with this somewhat weak welcome offer, DraftKings still secured a place on our best tennis betting apps list.
Expert Comments:
"I generally like to bet on a lot of different sports and if I had to choose one app that was best for that I'd pick DraftKings. They seem to have coverage of most of the top sports in the US as well as covering plenty from the rest of the world."
– Paul Ricci (Chief Sports Editor)

---
🏅 BetMGM Sportsbook – best for tennis prop bets

BetMGM Sports is widely regarded as one of the best tennis betting apps when it comes to prop bets. The BetMGM props are available before matches and a wide variety of them for live betting. Click one of the two Tennis links to see all the matches available, and then click on the match to see all the prop bets. A few examples of the tennis prop bets are correct score, set 1 winner, total games in the match, and will there be a tiebreak in set 1.
BetMGM offers many other sports with great odds and many betting markets. Nearly all major tennis competitions are covered on BetMGM, with the sportsbook's great UI making it easy to see and wager on upcoming tennis matches. The slick tennis betting site is attractive and simple to navigate, and the betting app is available in 15 states.
The tennis betting site has various ongoing and seasonal promotions available. The BetMGM promo code offers new players a welcome bonus of a bonus bet offer of up to $1,000. If your first bet is a losing one, you will be credited with up to $1,000 in site credit, which the sportsbook calls bonus bets. You have seven days to use the bonus/free bets, or they will expire.
Expert Comments:
"I really like prop bets and I think they are one of the most exciting ways to bet on tennis. With loads of betting options during major tournaments BetMGM has stood out to me as my go to for betting on tennis props."
– Damjan Spajić (Sports Editor)

---
🎖️ Unibet Sportsbook – best for boosted tennis odds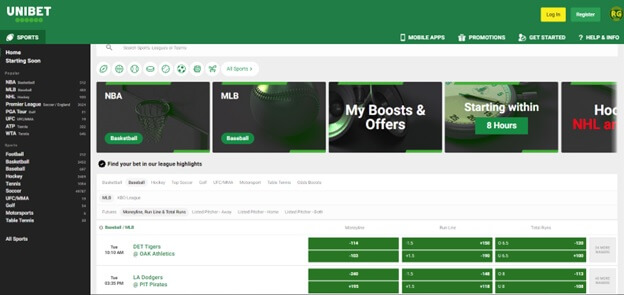 Unibet is available in six states, and for many sports, including tennis, they have great boosted odds. With boosted odds on tennis matches, players can increase their payouts on wins. They advertise that you can win every day 20% to 50% in extra winnings.
Unibet sportsbook offers regular odds boosts and parlay boosts, live boosts, happy hour boosts, and daily and weekly boosts. You are probably not familiar with happy hour boosts, but it offers them for one hour each Wednesday, Thursday, and Friday, but they vary by state and week. Overall, they are a solid tennis betting site with good coverage, solid odds, and props and parlays.
Besides the profit boosts, Unibet has a great VIP club in the Unibet Sports Club, and they offer new players a Unibet promo code with a $250 first bet insurance.
Expert Comments:
"UniBet is great for boosted bets. At first I was skeptical to move away from established US sportsbooks to try Unibet but I have found myself going back to the app regularly. I really like the during major tennis events you'll find boosted odds and prices from the homepage and I don't have to go looking for them."
– Damjan Spajić (Sports Editor)
---
How We Rate the Top Tennis Betting Apps
We have taken a lot of time and effort to find the top tennis betting apps for you. We have looked at several factors in determining what the best tennis betting apps are, so it will make it easier for you to find a tennis betting app that is suited to your betting needs. Here is insight to the factors that we have researched and how important they are in terms of tennis betting.
Tennis odds
The lines for tennis matches will be different across legal tennis betting apps. You should get the best odds when you bet on a tennis match to have the chance at the biggest payout. This can be done by checking out the odds at different sportsbooks and tennis betting apps. You can also use an odds tracker, so that you can get the best odds and maximize profits.
The best tennis betting apps will offer a good variety of tennis betting odds, from straight moneyline bets and prop bets to futures and live betting. You should know what types of tennis betting odds are available in the different wager types and we will touch on those later in the article.
Safety & Security
All tennis betting apps that are legal in the United States are licensed by a gaming commission in the state where the site operates. This means they are legal tennis sportsbooks that are much safer and more secure than offshore betting sites alternatives.
Top tennis betting apps use secure socket layers (SSL) encryption, which protects data between the web browser you use and the server of the sports betting site. Your personal and financial data are always 100% safe and secure at licensed US betting apps.
User-Friendly Features
Tennis betting apps offer players user-friendly features to enhance their sports betting experience. You will often find a search box and a bet slip, making it easy to track your bets. In terms of tennis betting, the statistics offered on live matches are a great tool for tennis bettors.
Wide Coverage for Tennis Events
Solid tennis betting apps should have in-depth tennis coverage, and many of them do. They will always have odds for the bigger tours of the ATP and WTP, and the top tennis betting apps will also offer odds on ITF events and challenger matches. One of the nice things about tennis betting is that the sport happens year-round, so there are always matches to wager on.
Value for Money Tennis Sign-Up Offers
Any sports betting site worth its weight in salt will offer new players a sign-up free bet offer for joining their site. It would be best if you took advantage of them to pad your bankroll. Typical offers include a match deposit bonus, $500 first bet insurance, and free sports betting credit. You should know that for tennis betting apps, the rule of thumb is that the more lucrative the offer, the higher the wagering requirements will be.
Free bets for existing players are available, but not every book offers a bonus for existing players. Most normally favor new players. You can join several betting apps and claim offers such as the awesome bet $1 win $100 promo or similar offers are also available in our highest-rated apps for tennis betting.
Tennis In-Play Options
All the tennis betting apps above and nearly all others will offer live tennis betting. Some legal tennis sportsbooks will offer more live tennis odds than others, and you need to be aware that the action is fast and furious, as the odds and bets frequently change, so you need to act quickly. Read our live betting strategy guide to get the most out of this feature.
Live Streaming & Betting of Tennis Matches
One of the cool things that some tennis sportsbooks, such as FanDuel, offer is live streaming. Live streaming allows you to watch the match as well as bet on live tennis odds at the same time. To get the live streaming, you will have to make at least one bet on the match. The DraftKings flash bets are also great for live betting opportunities.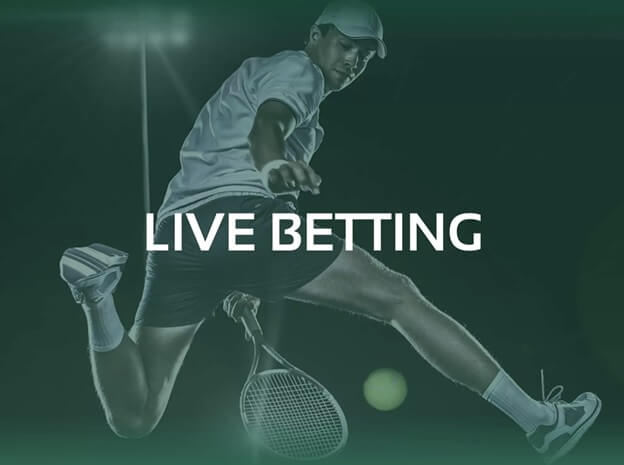 ---
Tennis Betting Types
Tennis betting apps will offer many options in terms of types of tennis bets. The four most popular betting options among tennis bettors are:
Moneylines
The moneyline is a simple wager where you are betting on what player you think will win the tennis match. The odds are varied in that you will have to bet more for the favorite, while you will have to bet less to win more on the underdog. Here is an example of a moneyline tennis bet:
Rafael Nadal +130
Novak Djokovic -150
In this example, Djokovic is the favorite denoted by the – in front of the number and Nadal is the underdog denoted by the +. Using $100 as an example, you will have to bet $150 to win $100 betting on Djokovic and $100 to win $130 betting on Nadal.
Proposition Bets
A proposition bet simply called a prop bet, is a tennis bet that is not determined by the match's outcome. They are usually for an action in the tennis match, and there are props for pre-match and live tennis betting. Just a few examples of props in tennis betting are:
Which player will have the first double-fault?
Will the first set go to a tiebreak?
Will a player have over/under seven aces?
Various correct score bets
Parlays
Most tennis betting apps will offer parlays, which are a type of bet with high risk and high reward. A parlay is multiple bets, called legs, in one, and the more bets in the wager, the higher the payout will be. However, you have to win every leg in the parlay for the bet to be a winning one. Still, some tennis betting apps, such as DraftKings, will offer parlay insurance where you can lose one of the legs and still get paid. Some sports betting apps will also offer cross-sport parlays, where you can have a tennis bet and other sports bet on a single ticket.
Futures
Futures is betting on the future outcome of a tennis tournament and who the winner will be. You can make futures before the tournament begins, and some apps will also allow you to make them as the rounds progress. For regular tournaments, the futures are posted when the main draw is known, and they are posted earlier for grand slam tournaments. The sports betting site will offer future odds for players, and you pick the one you think will win. You can clean up with a futures wager if you bet on a long-shot and they come through and win the tourney.
---
Benefits of using Tennis Betting Apps
When searching for the best betting site, you will also want to make sure the sportsbook of your choice also has an excellent betting app. Mobile sports betting has grown massively in recent years, allowing users to access their favorite betitng market and wager on huge events like the Super Bowl on the go. There are multiple benefits to using apps for real money tennis betting. Some will be more important than others for certain people, but they all make for a satisfying experience.
The best betting app to wager on tennis events such as the Davis Cup can be found on this page. Our top rated online betting apps are entirely safe, so there is no need to worry about your personal details falling in the wrong hands. In addition to that, the best tennis site will offer you amazing bonuses, efficient and fast payments, great tennis odds and more.
The elite real money tennis gambling apps will also provide exciting features to enhance your betting experience. Some of the below features offer many perks to using apps to wager on tennis.
Live Streaming
Live streaming allows customers to follow the action as it is happening and you can also look at real time stats. Live streaming works hand in hand with live betting, as you can place your bets according to what is happening.
Live Betting
The tennis betting market is a great option for live betting. The best tennis apps will have lots of unique in-play markets to explore, with many of them being hugely profitable. Live wagering is ideal for mobile betting as you can follow the action from anywhere and you can bet from a simple click of a button at your fingertips.
Cash Out
You no longer need to wait for an event to finish to collect some winnings. Nowadays, all of the best betting apps allow you to cash out at anytime during a match. This is a real-time feature that allows users to settle a bet before an event has finished. How much you win will depend on what is happening at the time you choose to cash out. So, if a match isn't going your way, you can choose to cash out and get a portion of your stake before a match ends.
---
Tennis Events to Bet All Year Round
There is no lack of tennis bets available at online tennis betting sportsbooks, as the sport takes place all year. Even when there is a rare occasion where there is a week without an ATP or WTA event, there will likely still be odds on a particular match, such as in a challenger or ITF event.
---
Best Tennis Betting Apps with Welcome Offers
Tennis betting apps will often offer free bets to new players and sometimes to existing ones. If they are given as part of welcome bonuses, they can be free bets if your first one is a loser. You will get the free bets if you bet loses, and for the vast majority of sportsbooks you have a few days to use them. You cannot take the money from free bets from your account, as you will have to use them on the site. However, you can withdraw money that you win with the free bets. There might be different offers available for each state, so the following guides might come in handy:
Click on the links to signup and get your free bet to wager on the next tennis match with reduced risk.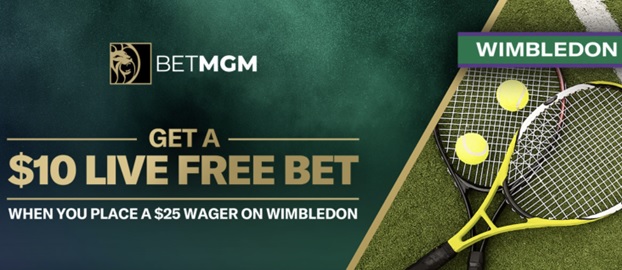 ---
How to bet on Tennis through a Mobile App
Betting on tennis through a mobile app is simple to do. The first thing is to pick a tennis betting app such as the solid ones listed above. You can find the sportsbooks in iOS and Android app stores, and you can also find them on the sportsbook apps. You will have to install the app, and then there will be a check for geolocation to confirm you are in a state that offers legal tennis betting.
Once you download the app, you will have to input such information as your name, birthday, physical address, email address, phone number, and the last four digits of your Social Security Number. Then you may have to give more information to confirm your identity
The deposit and withdrawal options will vary from site to site, but the vast majority of betting sites accept credit cards, bank transfers, and eWallets such as PayPal for betting.
---
Tips for Real Money Tennis Betting
Like with any other wager, the more you know about the tennis match and the players, the more likely you will win the bet. You have to know the players in a match and their recent form. How have they fared in recent tournaments, how are they on the surface they are playing on, and what is their head-to-head record against their current opponent? These are all important questions when it comes to handicapping a tennis match.
Besides current form and head-to-head record, looking at the surface on which the match is being played is very important. The three surfaces are clay, hard court, and grass; some players are better on certain surfaces. For example, Nadal is dominant on clay, and Djokovic is a master on the hard court. Look how a player has fared on certain surfaces to inform your tennis betting strategy.
---
Free Apps to Find Resources for Betting on Tennis
n handicapping matches, it is always important to look at stats and form. There are some great tennis apps where you can find this information. Here are some tennis betting apps that have valuable info, and they are all available at the
TNNS – This tennis app is available at the Apple Store and Google Play Store. It is a live scores app that will keep you abreast of all the tennis tournaments worldwide. You can follow matches live and get a lot of key info about players, their recent form, and how they have done in their last few tournaments.
FlashScore – This is not only a tennis app, but it covers a lot of tournaments and can be a very useful tool for live tennis betting. It covers every point of the match for nearly every tournament and has the latest news about the sport.
ATP Tour – This is the official app of the ATP Tour, and it is very advantageous to have it if you like to wager on tennis. It not only shows you live scores but also has the current player rankings, player statistics, and videos.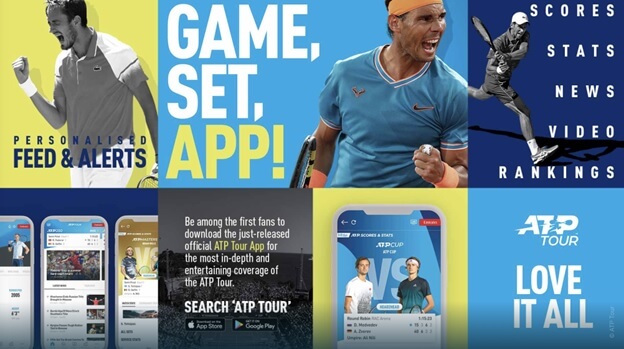 ---
Overall Top Tennis Betting App for iOS and iPhone
DraftKings and FanDuel have the best rankings of US sportsbooks in the Apple Store, as both have 4.8 out of 5. If looking at the Google Play Store, FanDuel edges out DraftKings in terms of sportsbook rankings.
For us, the five tennis betting apps listed above are all solid and offer tennis bettors many things. However, it is all up to you in the sportsbook you use to bet on tennis. Picking the right sports betting site is important, which is why we are here to help you.
---
FAQ's
Which tennis betting site has the best tennis betting odds?
While all five sportsbooks listed above have competitive odds, you will typically find that Caesars has the best tennis odds when it comes to favorites, and FanDuel has the best odds for underdogs. One tennis betting tool that can come in handy is an odds-checker where you can see what site offers the best tennis odds.
Can you find tennis-specific promotions at online tennis betting sites?
While tennis-specific promotions are not very common, you can find them on some tennis betting apps listed on this page; Unibet and DraftKings tend to be the frontrunners in that regard. They are typically available for the Grand Slam tournaments of Wimbledon, US Open, Australian Open, and French Open.
Can I use free bets on tennis betting apps?
If you get free bets as part of a welcome bonus or some other promotion, you can use them to wager on tennis. Typically, when using them, the moneyline has at least odds of -300 or less, but that can change from sportsbook to sportsbook.