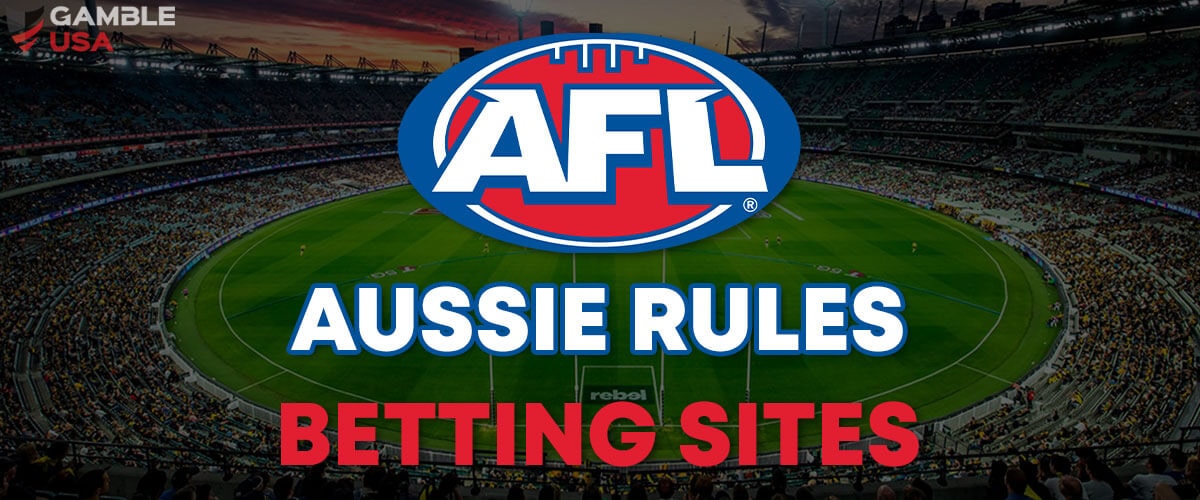 Aussie Rules, the pride sport of Australia. It's been around since 1859 and has a rich history of extremely competitive sporting action. Of course, this would include the option of placing bets on the matches too.
If you've got that white line fever like the rest of us here at Gamble USA, you're likely searching for the best betting sites to bet on the game. Our experts have taken a close look at the US market for Aussie Rules and ranked each site in five different categories.
Enough of an introduction, let's get to that center bounce action!
---
5 Best Aussie Rules Betting Sites December 2023
Here are the top five sportsbooks that are currently available. We've ensured that each of them has obtained the necessary licenses to offer their betting platform in each state that allows online sports betting. You can also find all of their payment options and Aussie Rules bonus details right here.
---
🥇#1 PointsBet Sportsbook
It's no surprise that an Australian sportsbook rules our top five here at Gamble USA. They've taken pride in their national sport and put together a comprehensive package for all bettors. Here are the pros and cons of PointsBet Aussie Rules betting site:
✅Pros
Detailed match previews
Incredible variety of betting options
Welcome bonus for all-round bettors
Complete AFL coverage
The best Aussie Rules betting odds
❌Cons
Lack of recurring promotions
Aussie Rules Matches – 5/5
PointsBet not only offers odds on every Aussie Rules match that is scheduled, but they also have over 200 betting options for each match. The sportsbook is based in Australia so it's no surprise that such a strong focus has been placed on the sport. Below is an example of a match between the West Coast Eagles and the Melbourne Demons.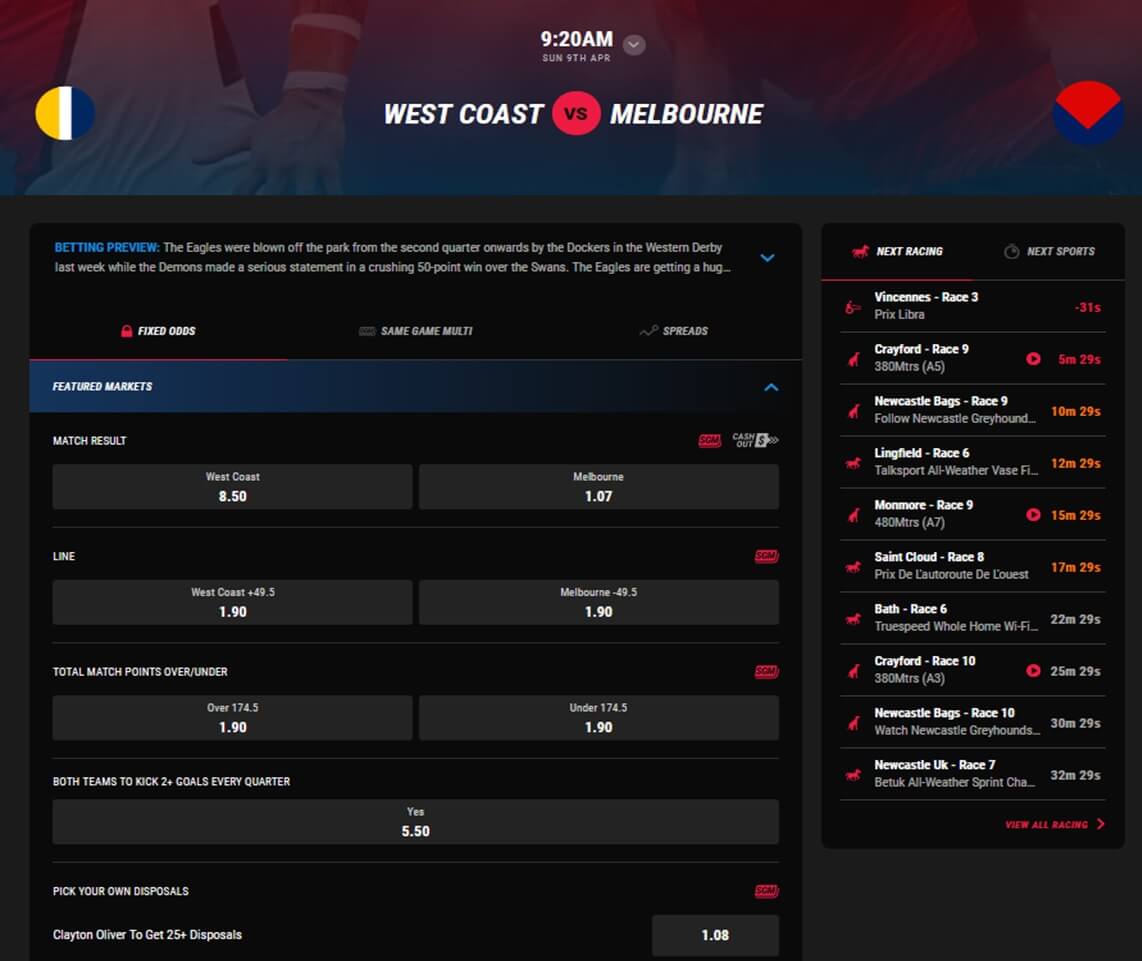 As you can see, the moneyline odds are highly competitive while the other betting options also have significant payouts if you manage to make the right call.
Australian Football League Bonuses – 5/5
Alongside the comprehensive Aussie Rules betting platform, PointsBet has also included a welcome promotion that can be used on any AFL match as long as it has fixed odds. You can find the specifics in our sportsbook bonus table.
Besides the PointsBet welcome offer, our team found the 6 – 7 PM Power Hour awarded customers an opportunity to place a unique Bonus Bet on matches. This will come in useful every week once your welcome bonus has been used.
Finally, for the more experienced bettors; there is a same-game parlay payout offer that is available to all PointsBet customers. Parlay betting on PointsBet is a great way to turn a profit as it's one of the sportsbook's strong suites. Also, you don't have to jump through any hoops to claim these offers, simply visit the 'Promos' section of their betting site and apply them to your bets.
Betting platform and additional information – 5/5
Finally, the PointsBet betting platform is also awarded a perfect 5/5. This sets them apart from the competition with a perfect review score.
To earn the maximum points, PointsBet has put together an easy-to-use and appealing platform. We were able to open an account and get into the action within minutes. Beyond that, their sportsbook app was also found to be bug-free and very responsive. Our team couldn't fault the package that PointsBet has put together and we're sure your experience will be the same.
The cherry on top would have to be the match previews available on Australian Rules odds pages. They give all customers an insight into the game and help you make those final considerations before placing a bet.

---
🥈#2 Betway Sportsbook
Next up, we have the Betway sportsbook. They've taken a decent shot at goal to become one of the best Australian Rules betting sites, but there is always room for improvement. Let's see what you can expect to find before you sign up.
✅ Pros
$250 back if your first AFL bet loses
Decent AFL match coverage
Quality live betting platform
Plenty of betting options
❌ Cons
Could use some more attention to detail
Aussie Rules Matches – 4.9/5
Once again our team was very impressed to find comprehensive AFL odds. To find them, you will need to scroll down a bit from the homepage, but the Aussie Rules section did not disappoint. Each match had about 80 betting options and once we compared the odds, we found that they were competing with the likes of PointsBet for each offer.
While the betting options were impressive, it would have been great to find some player-specific bets such as goals scored. Each betting option was specific to the team and sometimes the winning margin.
Australian Football League Bonuses – 5/5
With the betting markets available, you'll also be comforted to know that the Betway $250 welcome bonus applies to AFL matches. It will need to be your first time opening a Betway account and you'll have to bet at least $10 on a match with minimum odds of -300.

If you're already signed up, you can also take advantage of the Parlay Club which awards customers with a $10 bonus bet if they wager $25 or more on a three-leg parlay bet. This opportunity would be ideal when you have a bit more experience with placing AFL bets.
Betting platform and additional information – 4.9/5
We couldn't fault the experience provided by the Betway betting platform. While we'd prefer Aussie Rules to be a little higher on the list of sports, we understand that other markets are more popular in the US. Once we were in the AFL area, it was easy to find bets that were of interest, and placing them was a breeze.
That being said, the statistics section of the Betway platform came across as a wall of figures. It would be nice to have a breakdown of the match with some potential insights toward picking the winner.
---
🥉#3 FanDuel
Third on our list is the first sportsbook based in the US, FanDuel. The betting platform offers customers the opportunity to bet on each quarter of all the Australian Rules football matches while making the most of the generous FanDuel welcome offer. Let's take a closer look.
✅ Pros
Bet on every quarter
Bring your friends and earn rewards together
Welcome offer for high rollers
Easy-to-use platform and app
❌ Cons
Limited information available
Aussie Rules Matches – 4.8/5
When you've arrived at the homepage, you'll be able to find the Aussie Rules section quite easily; it's first on the list of sports offered. From there you'll have access to all of the scheduled AFL matches. Moneyline odds are advertised but you can always click the 'More wagers' button to take a look at any other betting options.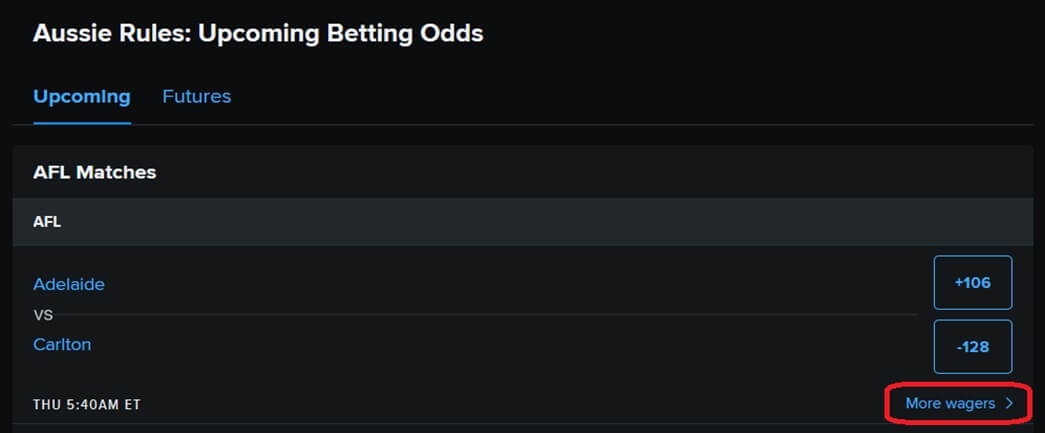 You're likely to find line bets that will handicap the match to even odds and some 'Big Win Little Win' options that require you to guess the winner of the match and the margin of points. The betting options cover most of what you will need as an AFL bettor but our experts found a more impressive range of offers at other sportsbooks.
Australian Football League Bonuses – 5/5
The FanDuel 'No Sweat First Bet' is considered one of the best welcome promotions currently available. What makes the offer so rewarding is the generous amount to cover your first bet, $1,000! You can also use this promotion on any AFL match as long as you meet the terms and conditions listed on their site.
Besides the welcome bonus, you can also opt-in to their weekly same-game parlay bonuses if there's a weekend of predictable matches coming up. The 'Refer A Friend' offer is always available and the FanDuel referral bonus rewards both the new customer and the existing account with $50 to use within the sportsbook and $25 for the online casino. If you've decided on the FanDuel betting platform, try to make the most of all of these promotions.

Betting platform and additional information – 4.7/5
Both the website and the mobile app had an impressive design that maintained their light blue and white branding. Every member of our team was able to sign up and explore the sections with ease. The 'Learn to Bet' and 'Free to Play' were also innovative sections for new customers to find their feet before they decide to place a bet on Australian Rules football.
The only constructive criticism we could give to the FanDuel team would be some additional information for each of the scheduled matches. It's quite a challenge to place a bet on a new sport when there isn't much to go on.
---
🎖️#4 DraftKings
Another big name on the scene has claimed the fourth spot of Australian Rules betting sites, DraftKings. Their social betting area allows customers a unique opportunity to find an Aussie Rules betting strategy from other, more experienced bettors. Here are some of the other benefits you'll be able to enjoy:
✅ Pros
Bet on every match and the entire AFL
Welcome offer to boost your bankroll
Variety of betting options are available
DraftKings Social
❌ Cons
Some issues with the platform and app
Aussie Rules Matches – 4.9/5
Once again, we were blown away by the AFL coverage on offer with the DraftKings sportsbook. We easily found the section listed on their betting platform and discovered an incredible range of betting options for customers to choose from.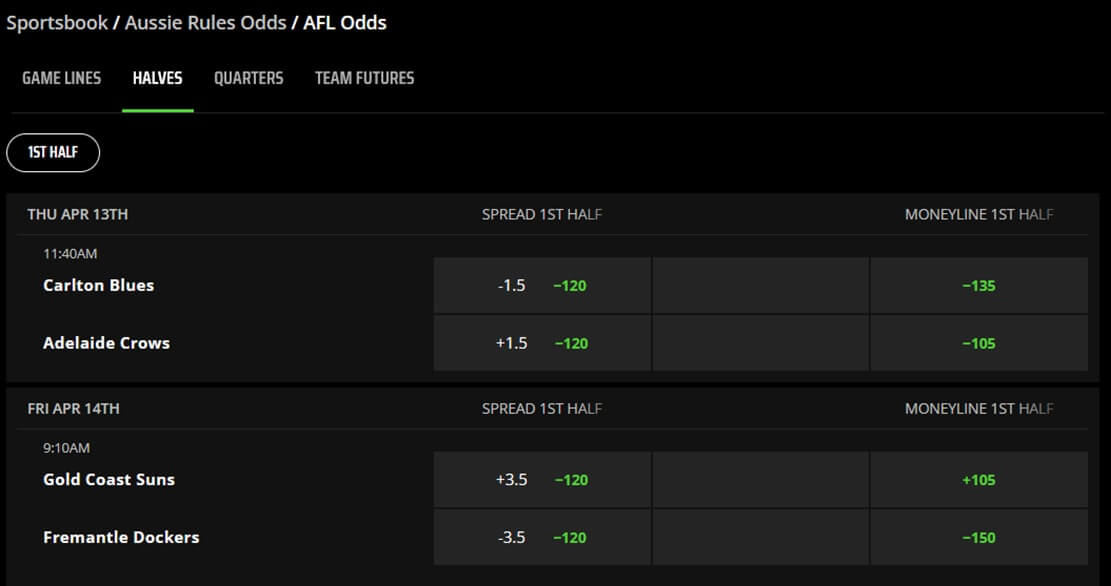 Confident the Blues will get off to a strong start? Take the moneyline first-half odds shown in the image above. You can do this for any match that is scheduled with the AFL but unfortunately, you won't be able to bet on a specific player's performance.
Australian Football League Bonuses – 4.8/5
The DraftKings welcome bonus is quite different from the competition. It's a 20% matched deposit bonus that can be used on any sporting market but you'll have to meet the rollover requirements before any funds are actually yours.
If you're not up to the welcome challenge, you can also claim the DraftKings 'Refer A Friend!' bonus that is similar to the FanDuel offer. It's $50 for the sportsbook and $50 for the online casino once your friend has deposited $50 or more. It's nice to find additional promotions but the welcome bonus needs some work to be competitive.
Betting platform and additional information – 4.8/5
The betting platform maintains a similar layout to the competition with both the website and mobile app. You'll be able to easily make DraftKing deposits and place your bets but sometimes it can be buggy and you'll have to wait for matches to load.
We also couldn't find any additional information or insights for Aussie Rules betting odds that were on offer. It's a scarce addition but something we hope they will add soon.
---
🏅#5 BetMGM
Last on our list, BetMGM could also be placed at the top of this list. It ranks well across most areas, and makes up a good Aussie Rules betting site.
✅ Pros
Competitive Aussie Rules bonuses
Coverage of every AFL match
One of the best loyalty programs
Top mobile app
❌ Cons
Aussie Rules Matches – 4.7/5
It's the final entry of our top five but our experts were still able to find all of the Aussie Rules matches listed on their site. Much like the other sportsbooks, all matches are presented with their moneyline odds to the right.
Unfortunately, after selecting each match to take a closer look at their betting options, we found that there weren't many. Some had the option of selecting a spread but most were simple moneyline offers.
Australian Football League Bonuses – 4.8/5
While the betting options would only be recommended to newcomers, the BetMGM welcome bonus presents a generous start to your betting career. It's a BetMGM $1,000 Paid Back promotion if your very first bet is a losing one. This reward is credited in five different vouchers so you'll be able to try your luck again on multiple occasions.
BetMGM customers may also take advantage of 'One Game Parlay' bonuses each week and a unique 'Edit My Bet' offer that gives you more control to change your stake.

Betting platform and additional information – 4.9/5
BetMGM's betting platform is renowned within the online gambling community. Its sleek black and gold appearance will always make you feel like royalty when signing in. After that, it's fairly easy to make your way around the platform and place your bets.
Once again, the inclusion of additional betting information would give them a perfect score here. It has slowly become a key feature with niche sporting options.
---
Compare the Best 10 Aussie Rules Betting Sites in the US
| 🏈Aussie Rules Betting Site | 🇺🇸 Legal States | 💳Banking Options | 🎁Welcome Bonus | 💵Minimum Deposit |
| --- | --- | --- | --- | --- |
| PointsBet | CO, IL, IN, IA, KS, LA, MD, MI, NJ, NY, OH, PA, VA & WV | Debit and credit cards, Play+, bank transfer | 5 x $50 Second Chance Bets | $5 |
| Betway | AZ, CO, IA, IN, NJ, OH, PA, & VA | Credit and debit cards, bank transfer, ACH, PayNearMe | $250 Bonus bet | $10 |
| FanDuel | AZ, CO, CT, IL, IN, IA, KS, LA, MA, MD, MI, NH, NJ, NY, OH, PA, TN, VA, WV & WY | PayPal, Venmo, PayNearMe, ACH, debit and credit cards | $1,000 No Sweat First Bet | $10 |
| DraftKings | AZ, CO, CT, IL, IN, IA, KS, LA, MA, MD, MI, NH, NJ, NY, OH, PA, TN, VA, WV & WY | Credit and debit cards, bank transfer, Venmo, Play+, PayPal | 20% up to $1,000 deposit bonus | $5 |
| BetMGM | AZ, CO, DC, IL, IN, IA, KS, LA, MA, MD, MI, MS, NJ, NV, NY, OH, PA, TN, VA, WV & WY | Apple Pay, Neteller, PayNearMe, ACH, debit and credit cards | $1,000 Paid Back | $10 |
| BetRivers | AZ, CO, IL, IN, IA, LA, MD, MI, NJ, NY, OH, PA, VA & WV | Credit and debit cards, bank transfer, Apple Pay, Play+ | Second Chance Bet up to $500 | $10 |
| FOX Bet | CO, MI, NJ, PA | Credit and debit cards, bank transfer, PayPal, Skrill, ACH/e-check | $500 free bet | $10 |
| Unibet | AZ, IN, NJ, PA & VA | ACH, credit and debit cards, Cash @ Cage, bank transfer, PayNearMe, PayPal, Play+ | $100 Second chance bet | $10 |
| Caesars | AZ, CO, IN, IA, IL, KS, LA, MA, MD, MI, NJ, NY, OH, PA, TN, VA, WV, & WY | ACH, credit and debit cards, Cash @ Cage, bank transfer, PayNearMe, PayPal, Play+ | Bonus Bet up to $1,250 | $20 |
---
Aussie Rules Betting Promo Codes
As you can see from our top five, there are plenty of promotions and bonus codes for Aussie Rules betting out there. We've put together this table so that you can find all the details when you come back for more.
| 🏈Sportsbook | 🎁Bonus | 💵Min. deposit/bet | ⏱️Time |
| --- | --- | --- | --- |
| PointsBet | 5 x $50 Second Chance Bets | $5 | 7 days |
| Betway | $250 Back in Bonus Bets | $10 | 7 days |
| FanDuel | $1,000 No Sweat First Bet | $10 | 14 days |
| DraftKings | 20% up to $1,000 | $5 | 90 days |
| BetMGM | $1,000 Paid Back | $10 | 7 days |
There are a couple of bonus formats that you'll come across, we'll quickly run over them so you know what you're in for.
Free Bets
Nothing is ever truly free but this is as close as you'll get with a sportsbook. These free bets are awarded once you've met certain conditions. For example, Betway has the 'bet $25 and receive $10 free bets'.
Insurance bets
This bonus can be seen as a type of insurance. Insurance or No-Sweat bets allow customers to place a bet and if it loses, they'll be rewarded with either the full bet amount or a portion of it.
No deposit
A no-deposit bonus is similar to a free bet but it won't require any money to be deposited with the platform. These are quite rare and should be used whenever you come across them.
Matched deposit
The matched deposit bonus will reward customer accounts with a percentage on top of their first deposit. The 100% matched deposit bonus is the most common one. This will be advertised as '100% up to $1,000'.
---
Aussie Rules Betting Sites Rating Process: Aspects To Look For
With our top five covered, let's take a closer look at the process that our experts went through to determine our ratings. This might help you choose between one of these quality online betting sites.
Market depth
The first section of the rating process is the Aussie Rules market depth available with each sportsbook. It is quite a niche sport since it's only played in Australia so many sportsbooks simply opt to leave it out of their platform.
Every site that we've recommended on this page will have at least AFL betting odds. Once we're certain the sport is available, we move on to the list of matches that are covered; can you only bet on the big matches, or is the entire schedule available?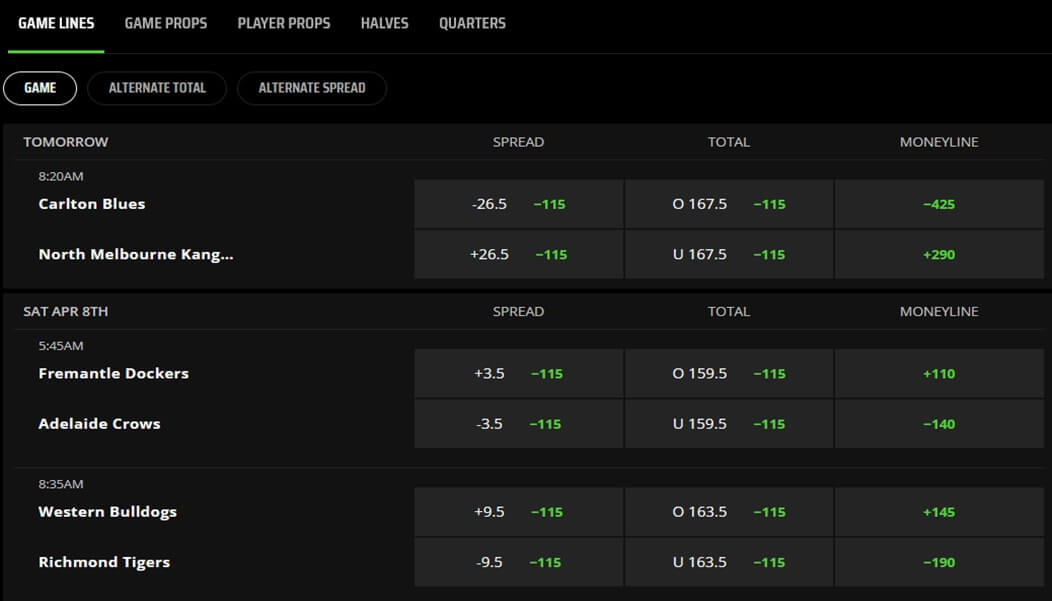 By completing this checklist approach, we can then give the sportsbook a rating out of five in terms of market depth when compared to the rest of the industry.
Live betting platform
Next up, we rate the sportsbook's live betting platform – if there is one. The build-up to a match is exciting but there's nothing quite like the thrill of betting on a game as the action unfolds. With the right live betting strategy, you can bring a lot of extra excitement and profit to your wagers. A live betting platform will offer customers sport-specific bets such as the next to score a goal or who'll win the hit out. These bets are resolved in minutes and could be perfect if you're on a hot streak!
To rank the sportsbooks, we award points based on the features of the live betting platform. This includes the variety of betting options, the inclusion of live streaming, the quality of the in-game betting app, and the availability of live betting promotions.
Bonuses that cover the AFL
Bonuses should always be on your mind! They award customers with additional bankroll or some insurance on bets. They can be tricky to claim but luckily our team does a fair amount of the hard work for you.
We've ranked each sportsbook bonus depending on its availability with Aussie Rules. All of the sportsbooks listed on this page allow customers to use the rewards on the next big match.
The bonuses are ranked by their monetary value, the terms and conditions that apply, and any potential time frame.
App and site design
It's a more general section of our review but it will apply to any sporting market you're interested in, the betting platform design. While AFL coverage is our first consideration, this is probably the most important one. There's no use signing up with a great bonus if you're going to struggle to place your bets every single week. Our experts spend some time using the app and the site to see if there are any game-breaking bugs or issues.
We can then rate the experience relative to what the other sportsbooks have to offer. This rating will depend on the appeal of the site in general, its usability, and its availability. If there are any issues, we'll be sure to highlight them.
Additional betting info
The final section is quite specific to the AFL. As we've mentioned before, the sport is definitely not American and you might find it difficult to gather information from reliable sources.
Our experts have found that some sportsbooks include blogs and detailed guides to help all customers place their Aussie Rules bets. This section is a luxury as most sportsbooks don't have the capacity of hiring a pundit for every single sports market, but if they have, they'll score additional points in our review.
---
Getting Started with Aussie Rules Betting Online
Getting started with betting on Australian Rules football is no different than getting started with any other sporting market.
Your first step is always choosing a sportsbook that has everything you're looking for. By using our expert reviews, you've likely got that one in the bag.
Next up, you're going to need to open your account. This is going to need some ID and address verification so make sure you have those documents ready. You'll need to share them on a page similar to the one below: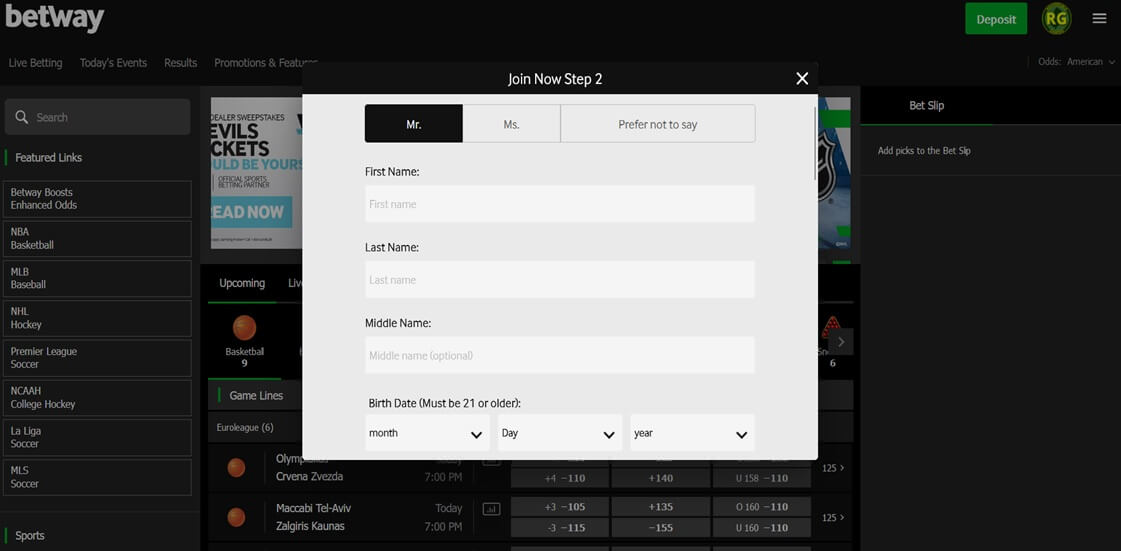 You'll only have to share the last four digits of your Social Security Number, this is done as a precaution against any identity theft. There may be some additional security questions that apply but just go through the process until you reach the verification step. This usually requires opening an email and following a verification link, you might have to submit a copy of your ID and proof of address as well.
Keep an eye out for the promotion! Most sportsbooks automatically include the promo code in your registration process but sometimes you have to put it in manually. We recommend simply following the links on this page to be taken directly to the Aussie Rules sportsbook with the relevant code already shared.
Finally, you're going to have to get your wallet. With your account verified, you'll be taken to a deposit page to make your first payment. This is likely the deposit that will count towards your bonus so make sure to have a solid understanding of what's required. Choose your preferred payment method and share your details. You can then select the amount you want to deposit and make the payment.
That's it! You're now ready to head to the Aussie Rules online area where you can make your bets. Just be sure to do your research before you dive into making that first call.
---
Aussie Rules Betting Types
Betting on Aussie Rules is about the same as betting on any other team sport. There are only three outcomes of a match, a win, a draw, or a loss for one of the teams. You can bet on these outcomes or you can bet on just about anything that happens during the game, let's take a closer look.
Best Aussie Rules Bets for Beginners
If you're just getting started with Australian Rules, we recommend keeping an eye out for the five bets mentioned above. You'll find that moneyline bets are just bets placed on the outcome of a match, which team will win or if it will be a draw. Over/under will involve the total amount of points scored by both teams, it's a little more tricky and requires a bit of knowledge of each team's playstyle.

Parlay bets involve betting on more than one match, it increases your potential payout but lowers the odds of predicting the outcome of more than one match. Futures have very high payouts but you're going to have to predict the winner of the Australian Rules Football League – not an easy task. Finally, props will allow customers a chance to bet on strange events in a match; for instance, will someone hit the woodwork?
Betting Options for Aussie Rules Experts
Weekender parlays
Same game parlays
Once you've found your feet with the AFL, you can start to look at some of the more expert betting options. A weekender parlay will include all of the matches in the coming weekend. This will have a massive payout but it can always be scaled down to exclude some tight matches. Same-game parlays use the same concept but you'll be betting on one match, for example, Christian Petracca to get 20+ disposals and Melbourne Football Club to win by 50.
A round-robin bet is similar but it will involve a combination of smaller parlays into one larger one. Say you pick the Demons, Swans, and Magpies to beat the Lions, Saints, and Giants. You'd place a parlay on a combination of each pair. This is shown below:
| 🏈Team Combination | 💵Bet | 💰Potential Winnings |
| --- | --- | --- |
| 1. Demons, Swans | $10 | $30 |
| 2. Swans, Magpies | $10 | $30 |
| 3. Magpies, Demons | $10 | $30 |
If it all works out, you'd win $90. If only two out of the three wins, you'd only have one combination and win $30 after betting $30. Still a $10 profit. If only one team wins, you'd lose the $30 wagered. Combining advanced betting options with robust betting systems and sports betting algorithms is a great way to boost your chances of winning.
Aussie Rules Live Betting
Finally, live betting. We've covered a bit on the topic before but there are plenty of live betting options for Aussie Rules fans.
You can bet on who'll be the next to hit the woodwork or the next knock-on. Live betting options are usually specific to small time-frame events, so it can be quite chaotic. We recommend first watching a couple of matches and maybe placing some moneylines before you get involved with the live betting scene.
---
Importance of Finding the Right Aussie Rules Betting Site
There we have it, we hope you've come across this information before day one in September to place your bets. Aussie Rules is growing in the US but it is still one of the more niche betting options. Don't let that discourage you from betting on the sport though, it's incredibly entertaining and could offer great payouts if you're lucky enough to make the right calls.
Choosing the best betting site will allow you to place a rainmaker of a bet each week without having any hassles. Our review process ensures that the sportsbook you have chosen will provide all AFL odds and include a decent bonus to get you on your way. By choosing any other sportsbook, you run the risk of opening an account with an illegitimate or unlicensed site. You might also find that the app hasn't been updated in a while and you're just having a nightmare every time you try to place a bet.
Browse through our top five again and make your pick before the center bounce!
---
FAQ's
What is the best Aussie Rules betting app?
Most sportsbooks have an all-inclusive betting app, so you won't have to worry about finding one that is exclusively available for Aussie Rules. That being said, our team has found that the PointsBet app offers customers access to the AFL with quality odds and betting options. We reckon they're the best choice at the moment.
Where can I bet on AFL?
While the sport is predominantly followed in Australia, there are online sportsbooks in the US that offer coverage of AFL bets. Our team found that the five best are Betway, FanDuel, DraftKings, PointsBet, and BetMGM.
Who has the best Aussie Rules bonus code?
To be considered the best, a sportsbook will have to include a welcome bonus for new customers. This is an important category in our review process and our team found that Betway tops the ladder in terms of a bonus code to use for Aussie Rules.
What are the best Aussie Rules betting strategies?
You'll need a strategy to complement your top sportsbook experience. Our experts have plenty of experience when it comes to placing bets and have put together some of the top strategies to use for the AFL. They include hedging, player monitoring, and bankroll management.
How do I read Aussie Rules betting odds?
Aussie Rules odds are identical to soccer and American Football odds. Two teams compete and either could win, lose or both draw. Each of these three outcomes will be advertised in a moneyline bet with conventional odds in the format of -200 or +135. -200 means you'd have to bet $200 to win an additional $100 and +135 means that a $100 bet will win an additional $135.