Gamble USA strives to improve your online gambling experience. We aim to help you play safely, make informed decisions when gambling, and increase your betting knowledge through our guides.
We adhere to strict editorial integrity; our content may contain links to products from our licensed & legal US partners.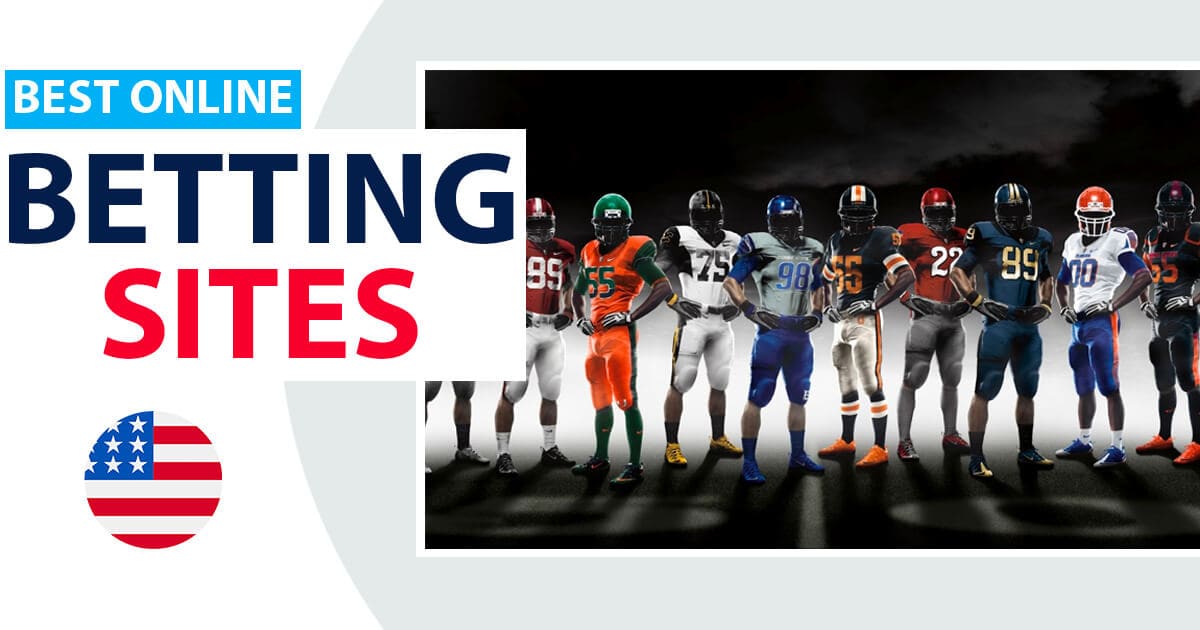 Sports betting in the United States has taken off after federal legislation changes in 2018 and several different changes in state legislation along the way. With the ability to bet on so many different online sports betting sites on the market these days, it's tough to decide where to spend your hard-earned dollars for online wagering.
So how can you tell which one is the best betting site? Considering the sports betting industry is such an oversaturated market, finding top-tier online sportsbooks is tedious because of the sheer number of options available, especially if you're a beginner.
Lucky for you, you don't need to spend hours trying out these legal sports betting sites because I've already done that for you and written why they're the best below!
This sports betting feature will discuss the seven best sports betting sites in the U.S., how we chose them, how to sign up for an account, the betting options and markets, and the best bonus offers.
7 Best Sports Betting Sites in the USA for March 2023
As someone who's been online gambling for years, I've found there are plenty of different factors that go into the top sports betting sites. These include seven critical characteristics:
The user interface
The number of betting markets
The number of betting options
The exclusive betting features
Betting odds
The number of states they're available
Please read below for my top 7 legal online sports betting sites in the United States and what they do best!
#1 DraftKings Sportsbook – available in the most states
Up To $1,000 Deposit Bonus
21+. T&C Apply
21+. T&C Apply
The best sportsbook
Amazing odds & offers
Awesome betting app
Up To $1,000 Deposit Bonus
21+. T&C Apply
21+. T&C Apply
The DraftKings Sportsbook is one of the best online betting sites for bettors of all skill levels because of its phenomenal features and wide range of availability. DraftKings is currently available in 18 total states around the country (AZ, CO, CT, IL, IN, IA, KS, LA, MI, NH, NJ, NY, OR, PA, TN, VA, WV, & WY) and is one of the largest operators.
DraftKings started as a daily fantasy sports provider and naturally evolved into a sportsbook as legalized sports betting spread around the country. It has several features and resources for users, including creating a group with other users so that you and your friends can share wagers and bet together, which is fun! Other pros include a building tool for same-game parlays, many betting options, and the 2nd best odds from the list.
The DraftKings Sportsbook welcome bonus features a 20% deposit bonus worth up to $1,000! While everyone else has gotten rid of the traditional deposit bonus because it's frankly too good of a promotion, DraftKings has held firm and features the only deposit bonus on the list. No promo code is needed, just click the link here and sign up for an account!

#2 FanDuel Sportsbook – best for user interface
No Sweat First Bet Up To $1,000
21+. T&C Apply
21+. T&C Apply
Convenient banking
Massive choice of sports
No Sweat First Bet Up To $1,000
21+. T&C Apply
21+. T&C Apply
The FanDuel Sportsbook has the best user experience out of any of the top sports betting sites because of its well-designed and easy to use app and website that makes betting a breeze. It's also known for allowing users to create custom bets for submission to the sportsbook for odds approval, which is very rare.
FanDuel is an official sponsor of NFL football and features tons of weekly promotions for several different leagues during critical points in the season. These promotions include odds boosts, risk-free bets, and ways to earn free bets!
FanDuel has a standard welcome bonus for being one of the more prominent sportsbooks as it only gives new customers a single free bet; however, it is worth up to $1,000. No promo code is needed, just click the link here and sign up for an account!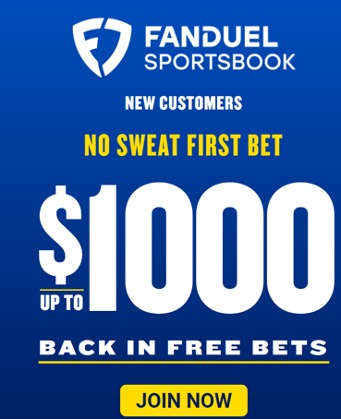 #3 PointsBet Sportsbook – best for welcome bonus offers
5 x $50 Second Chance Bets
21+. T&C Apply
21+. T&C Apply
Awesome live betting
Multiple bet types
Huge range of sports & markets
5 x $50 Second Chance Bets
21+. T&C Apply
21+. T&C Apply
The PointsBet Sportsbook is partnered with NBC Sports, allowing them to feature several live streams for different sports on its website and app. It has several features on the website and app, including live stats and scores from games in progress, matchup history for current games, and many different odds boosts.
PointsBet also features some of the best ongoing promotions out of these U.S. sports betting sites with what they call the "PointsBet Power Hour," which features a different promotion every single day! The PointsBet Power Hour features odds boosts, risk-free bets, and much more!
PointsBet is best known for its welcome bonus because it has the most lucrative welcome bonus for new users, containing five $50 first bet credits! All you have to do to get this offer is click the link here and use the PointsBet Sportsbook promo code "GUSA" while registering for an account.
#4 Caesars Sportsbook – best for betting options
Promo Code: GUSAFULL
First Bet Is On Caesars Up To $1,250
21+. T&C Apply
21+. T&C Apply
Promo Code: GUSAFULL
Massive welcome bet offer
Earn Caesars Rewards
Promo Code: GUSAFULL
First Bet Is On Caesars Up To $1,250
21+. T&C Apply
21+. T&C Apply
There's almost no chance you haven't seen one of the recent advertisements from Caesars Sportsbook, as they've been flooding different networks and streaming platforms with their hilarious ad campaigns. The Caesars Sportsbook was created by Caesars Entertainment, who partnered with international operator William Hill to bring a proven system to the U.S. under a household name.
The Caesars Sportsbook is best known for its number of sports betting options, allowing users hundreds, if not thousands, of possible wagers on every event, including while it's live. It also has one of the best rewards programs out of any of the top online sportsbooks because Caesars Entertainment allows users to redeem their rewards at all of their casinos and resorts.
New users to the Caesars Sportsbook receive a bet worth up to $1,250 on Caesars, 1,000 rewards tier credits, and 1,000 rewards credits. This bonus offer is one of the only online sportsbooks I've ever seen that provides users with bonuses to its rewards program. To get this reward, click the link here and use the Caesars Sportsbook promo code "GUSAFULL" during registration.

#5 BetMGM Sportsbook – best for betting markets
Promo Code: GAMBLEUSA
Up To $1,000 In Bonus Bets
21+. T&C Apply
21+. T&C Apply
Promo Code: GAMBLEUSA
Super fast payouts
Live streaming
Promo Code: GAMBLEUSA
Up To $1,000 In Bonus Bets
21+. T&C Apply
21+. T&C Apply
Similar to Caesars Entertainment, after sports betting legislation allowed legal online betting, MGM Grand decided to get into the sports betting industry and flood TV and streaming services with their own hilarious ads. BetMGM also has a similar rewards program to Caesars, allowing users to use their rewards points on some of their own unique MGM Entertainment experiences. However, it's not as good as Caesars.
BetMGM Sports has a wide variety of betting markets, from college sports to the Academy Awards! The different unique markets that BetMGM features make it one of the best sports betting sites in the country because many of the larger online sports betting sites don't offer sports like cricket, cycling, darts, Formula 1, and handball. In total, BetMGM features 20 different sports.
BetMGM offers its new users the same welcome bonus as FanDuel Sportsbook with a bet bonus worth up to $1,000. To get this offer, click the link here and use the BetMGM promo code "GAMBLEUSA" during the registration process.
#6 Unibet Sportsbook – best for competitive odds
Second Chance Bet Up To $500
21+. T&C Apply
21+. T&C Apply
Awesome second chance bet bonus
Massive market choice
Second Chance Bet Up To $500
21+. T&C Apply
21+. T&C Apply
The Unibet Sportsbook is probably the smallest online sportsbook on the list; however, it has one of the most beneficial aspects of any online betting site, competitive odds. Unibet originated in Europe and came overseas as more states continue to legalize sports betting to break into the American market.
Unlike William Hill, Unibet did not choose to partner with any well-known U.S. operators, which has resulted in Unibet only being available in 6 total states (AZ, IN, IA, PA, VA) so far. Unibet has a great ongoing daily promotion of an odds boost worth up to a 50% increase on any three or more leg parlay, allowing users to get a great deal every day.
Unibet has a somewhat small welcome bonus because it's a smaller online sportsbook; however, it's a free bet worth up to $100 ($500 in PA and bet $50 get $200 in AZ). No promo code is necessary for Unibet Sportsbook, simply click the link here and register for an account.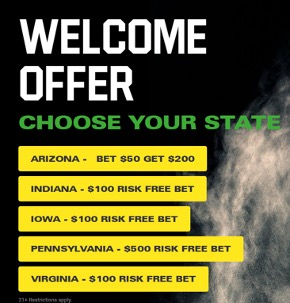 #7 Barstool Sportsbook – best for exclusive betting features
New PA Sportsbook
21+. T&C Apply
21+. T&C Apply
New PA Sportsbook
21+. T&C Apply
21+. T&C Apply
If you're unfamiliar with Barstool Sports, it's a sports entertainment media brand that has become increasingly popular around the country, especially with legal betting options becoming available instead of people being accountable to offshore betting sites. After partnering with Penn International Gaming, Barstool created its own sportsbook, becoming one of the industry's most unique betting experiences.
What Barstool has done differently from the other online sportsbooks is that it allows sports bettors to bet alongside their podcasters, making their online community even more tight-knit. Users can "Bet with Barstool" and get unique odds boosts and bonus offers never seen before on other online sports betting services.
The Barstool Sportsbook offers new users a welcome bonus of a risk-free bet worth up to $1,000. No promo code or Barstool link is necessary, just go to the website and sign up for an account to get this bonus!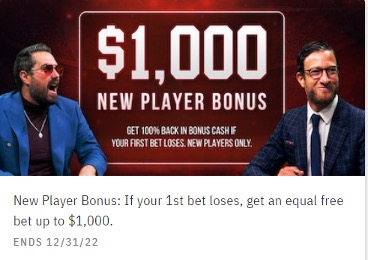 Criteria to find the best U.S. Sports Betting Sites
As I mentioned above, there are key characteristics that I look for in each sportsbook because there are so many variables involved with how a sportsbook operates. I use several sportsbooks for different things to take advantage of all the edges that different online sports betting sites can offer based on their features.
Below are the different criteria that I look at, as well as an in-depth analysis of why each characteristic is essential for sports bettors to look for when deciding on which USA sports betting site to use.
Sports betting licensing for your state
Possibly the most crucial aspect of any sportsbook is whether or not you can even use it from your state. Licensed online sportsbooks must adhere to local gaming commissions' rules and regulations to ensure they're up to fair practices to protect their constituents.
If you're wondering whether or not one of the legal sports betting sites in your state has a license, don't worry, all of the operators above are 100% licensed and legal. If you'd like to check for yourself, go to your local state gaming commission's website and check their licensing agreements.
If you see a sportsbook without a license, you're on what is known as an offshore betting site, which is not entirely legal in the United States. While the user will likely not get convicted of a crime and be forced to pay a fine, it is a legal gray area, and there is no one to regulate sports betting on these sites, which may result in them using predatory practices.
Betting markets depth
An online sports betting market is essentially any kind of sport or event that could potentially be offered on legal sportsbooks. Market depth is essential for obvious reasons; if you're a fan of college sports, you will want to bet on college football or college basketball.
When a user wants to bet online, they naturally look for the best sports they know, which can sometimes be hard to find if they're interested in more niche sports rather than major sports like football and basketball. All sports betting sites offer the NFL, NBA, MLB, PGA, and major tennis; however, not all online sportsbooks offer bets for handball and entertainment awards.
Not only is betting market depth related to the number of sports offered but it is also characterized by how many leagues are offered, which means that the more leagues, the better! For example, I'm a massive fan of F.C. Bayern Munich; however, I struggle to find the Bundesliga on many sports betting sites because they tend only to offer the Premier League.
Betting options
Betting options are a significant part of any sportsbook because they allow users to do the one thing they came to the site: make a wager. Hundreds, maybe even thousands of different types of bets range from very simple to incredibly complex.
Some sportsbooks only focus on the basics, such as the moneyline, prop bets, and totals, while not having parlay, round robins, or teasers available for users to compound their odds. Sometimes, online sports betting legal platforms have issues setting up live betting in certain states due to local laws, which presents an issue for their users.
Betting options are a vital aspect of any good sportsbook because it gives the user choice and control over what they think will happen throughout an event, and they are then rewarded if they are correct. Same-game parlays are a perfect example of this. At the same time, not every operator in the sports betting world has these forms of parlays; they have become one of the most popular forms of betting due to their ability to craft unique parlays with alternate totals and prop bets.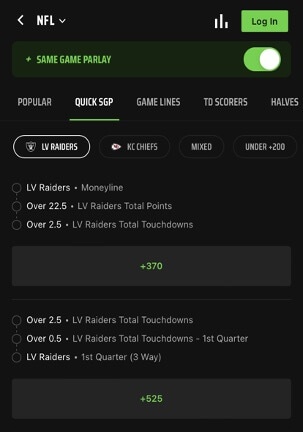 Competitive betting odds
A sportsbook with competitive odds is big and perhaps the most important for straight bets. While larger operators traditionally have more features and bells and whistles, smaller sportsbooks like Unibet and BetRivers (an honorable mention of the list above) that are looking to grow will feature better odds to gain users.
Many of the best betting sites feature daily odds boosts on several events and handcrafted special parlays from a media personality partnered with the sportsbook! Odds boosts are some of the most valuable bonuses of sportsbooks because they give you more bang for your buck!
Pretty much all of the more significant USA sports betting sites have competitive odds (so look around) because they constantly compete to retain users of such an over-saturated market.
Betting ease and software
Betting ease and the user interface are essential aspects of all USA betting sites because it's directly responsible for the overall user experience, which is vital when choosing the right online sportsbook. For example, Nevada only allows in-person sports betting at retail sportsbooks because they know the ease of betting online will seriously hurt their casino economy.
Look at the home page below and notice how it's a well-set-up home screen that's sleek, eye-catching, and well-organized.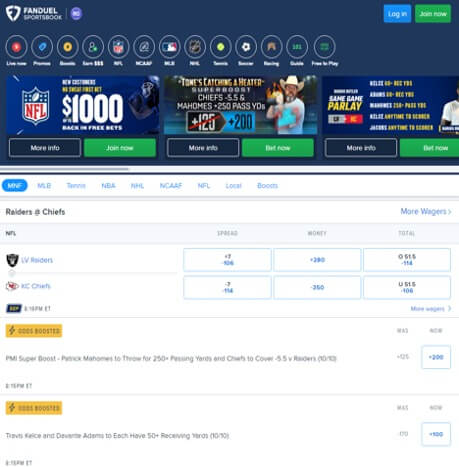 Similar to the home page, having a well-organized betting slip is also crucial so that betting is easy, simple, and straightforward. There's nothing worse than not fully understanding the bet you've made because of a poorly organized bet slip.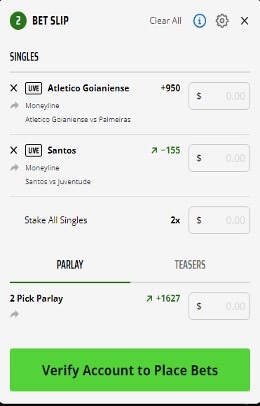 The software of sports betting apps and sites is also essential because some apps crash frequently, have long loading times, and do not have enough features. It's 2023, and the best betting sites need to have the best features.
Bonuses and free sports betting opportunities
Bonuses and promotions are a huge part of retaining users on sports betting sites because who doesn't love bonus offers? With such a saturated industry, U.S. betting sites try to stand out by offering their users several promotions that can be accessed daily, weekly, or that can be earned.
PointsBet, FanDuel, and DraftKings are some of the best sportsbooks in this aspect because they offer unique and seemingly unlimited daily promotions. Whether you earn free bets from placing specific types of bets on major sporting events or risk-free bets on a specific type of parlay, these bonuses are unique and profitable. They can be applied to a plethora of major sports.
Bonus offers include the new player bonuses as well, which I recommend using at as many sportsbooks as possible because if you're going to be betting anyways, you might as well get bonus money on top of it!
Exclusive betting features
Unique features on betting sites are very important because they can range from resources for users to live streams allowing users to watch events live through the app for live betting. Every sportsbook offers different features, and many can be taken advantage of by users to do their research on specific events.
Suppose you're a new user. Many online sportsbooks feature different how-to pages for users to read and teach themselves how to start gambling using their platform. Other features for new users include parlay-building tools that help users create quick parlays in a specific range of odds in certain sports.
Other features include a social aspect to make the sportsbook more accessible and fun for friends to join and bet together. As mentioned above, DraftKings allows users to create groups with friends so they can all follow each other's bets to ride along with them! Other sportsbooks feature a posting page where users can post their bets to the public to see the consensus or get bets from the public.
Other resources include live stats and matchup history that users can use to make more educated bets. These stats include averages for not only team total stats but also stats specific to gambling, including individual player stats. These features allow users not to go back and forth between other stats pages for easy use and access.
How to Sign Up on a Legal U.S. Betting Site
Signing up for an online sportsbook account is relatively simple and only takes a few moments of your time and a couple of personal details to verify your identity and age to adhere to local gambling laws. Remember, if you're looking to get the welcome bonus from any sportsbooks above, you must click the link and use the promo code to get the named bonuses.
All sign-up processes are pretty similar and require almost identical information, but this step-by-step guide will use DraftKings as an example, although it will look almost the same on other platforms. To start, click the registration link above, find the box that says, "sign me up," and click it, which will take you to step one of the processes.
Step one is setting up your account and creating a username and password, followed by entering your email address and promo code (other sites promo code location will vary). After this, you must verify your identity by entering your full name, date of birth, home address, and last four digits of your social security number. If you're worried about entering this information online, don't worry; you're in the clear; every legal sports betting site is prohibited from selling your data and information because of local gaming commissions.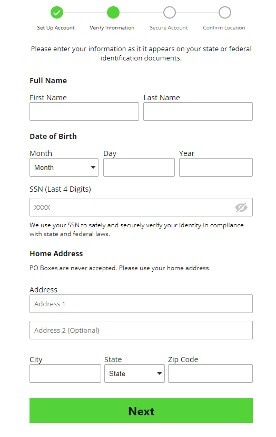 The following two steps are securing your account and confirming your location. The sportsbook will secure your account by entering your information into its database to be sure you haven't created multiple accounts, which is strictly prohibited. Next, the geolocation software will track your location and locate you in legal sports betting states. If you're not located in a legal state, your account will still be created; however, you will not be able to bet online with it until they are geolocated within legal state lines.
Depending on the sportsbook, some will have "know your customer" requirements that users must fulfill before they can fully access their accounts. Some sportsbooks won't allow you to deposit until these requirements are met; however, most only limit withdrawals until you confirm your identity.
Some of the different "know your customer" requirements include verifying your address through a utility bill or government-issued I.D. Others include entering your driver's license number, and some require users to enter their whole social security number to verify their identity. Sportsbooks do this to deter fraud, underage gambling, and multiple accounts to adhere to local laws about verifying identity.
After your account is created and your identity has been verified, you're now ready to make your first deposit!
Deposits and Withdrawals for Betting on a Legal Sports Betting Site
Making deposits and withdrawals on sports betting sites is very easy and convenient and can be done by several different payment methods. Payment methods will potentially vary based on whether it is a deposit or a withdrawal; however, they will generally be pretty similar.
Many of the common payment methods on several of the sportsbooks listed above include the following:
If you're doing any of the options above (PayNearMe Options will vary), the process will be similar to most sportsbooks. First, you will need to go to the cashier page, which can be done by clicking on your account balance on the screen. From the cashier page, select deposit or withdrawal and the amount, followed by choosing the payment option.
You will then be redirected to a safe browser shielding your private information and be prompted to enter it to process the transaction. Users can save these methods later to allow quicker and easier access to their money.
Remember, if you believe you're overspending on any online sports betting platform at any time, you can set deposit limits to your account by talking to or emailing customer support. If you think you may have a gambling addiction, please click the link here for help.
Finding the Best Sports Betting Sites Across U.S. States
The most important aspect of sports betting is whether or not it is even legal in your area. While it's currently available in 34 states, not all states allow online sports betting but do offer retail sportsbooks and vice versa.
With several states reaping the benefits of online sports betting, more and more states are pushing to legalize sports betting to start profiting from something people will always partake in. Some form of sports betting is available in:
Arkansas
Maine
Montana
North Carolina
Nevada
New Hampshire
New Mexico
Oregon
Rhode Island
South Dakota
Washington
Washington D.C.
Wisconsin
If you want to be able to tell if a sportsbook is legal without our help, use the linked article for the must-have features.
Best Sports Betting Site Bonuses: What to watch out for
The best bonus offers on sports betting sites will always be for new customers looking to make their first deposit and related bets. They are always the highest valued and are typically unique, so they stand out against the competition to attract new customers. As I mentioned above, there's no rule against making an account on several different sportsbooks to get their bonuses; I heavily encourage that.
Bonus offers for existing customers should also be taken advantage of to boost your bankroll and get risk-free bets and increased odds. Sportsbooks often provide users with odds modifiers that allow users to craft their own bets or parlays that receive a bonus based on the number of legs placed.
Some unique offers include a DraftKings promotion that had users win their bet if the spread was covered at any point in the event, which is heavily beneficial. Similarly, Barstool Sportsbook recently gave users a percentage of their parlay risk back depending on the number of legs that won.
Many sportsbooks feature a rewards program that provides users with missions such as "place three MLB same-game parlays worth $10+ each to receive a $10 free bet". These rewards programs can also access bonus cash from points and even unique experiences to casinos and live sports across the country. While it's challenging to get to that level, the benefits are definitely worth it when you do.
Top Markets for Betting in the USA
We are at the time of year when most sports bettors in the U.S. can bet on all their favorite sports. As of right now, the NFL, NBA, NHL, MLB, PGA, professional tennis, and college sports are all in season as the best time of year for sports fans has finally come.
Those are some of the most popular betting markets in the country; however, many people around the U.S. bet on several international sports. Soccer is one of the most popular sports in not only the country but the world to bet on, and many sportsbooks feature access to dozens of international leagues worldwide for users to choose from.
Along with this, Formula 1 and the UFC have become increasingly popular due to television shows such as "Drive to Survive" and "The Ultimate Fighter," which show each sport's inner workings and drama. Also, some sportsbooks offer bets on entertainment awards and political events like the presidential race, which isn't available everywhere, but I find it fun to bet on.
Most Popular Betting Options
The number of betting options available on sportsbooks is significant because I personally don't spend my time on standard bets. If you're not familiar with standard bets, they are located right next to the event on every sportsbook, including the moneyline, the spread, and the over under.
Moneyline bets are essentially who will win, while spread betsare based on who will win with a points cushion implemented or taken away based on whether or not the team is a favorite or an underdog. Over unders are bets on whether or not the total points will be over or under the line provided by the sportsbook. For example, two teams with phenomenal offenses and bad defenses will have a higher point total than two great defenses with bad offenses.
Other betting options include prop bets, which can essentially be on anything that could happen throughout a game or an extended period. Say you think that a specific player will score a touchdown in an NFL game or that you think you know who the NBA's MVP will be; you can bet these types of wagers through game props or season props, also known as futures.
Some of the more complex betting options include parlays, teasers, and round robins. Parlays are relatively simple but can become complex if they are to be same-game parlays, which not every sportsbook offers. Parlays take several different standard or prop bets across different events and compound the odds together to provide new and much better odds for the bet. Keep in mind that every leg of the parlay has to hit, or the bet is lost, which is why the odds compound so high.
Teasers and round robins are similar to parlays, except they have distinct individual characteristics that separate them. Similarly, they add multiple bets together; however, teasers are large parlays that provide users with alternative spreads to pick from, while round robins take those parlays and place bets on them in as many variations as possible. This essentially takes one large parlay and turns it into several smaller parlays and the original bet.
Online Betting Sites Vs. Sportsbook Apps
The differences between an online betting site and a mobile app are very few, and many users like me can barely tell the difference between using the mobile app and using the online website. Any sportsbook worth its salt will have a high-performance app that can provide users with an exceptional experience almost identical to the online website.
Online sports betting services often have exclusive features on their apps that allow users to watch live streams, get exclusive odds boosts, and other exclusive promotions. Doing so allows them to provide their users with extra bonuses and promotions that help bankroll your account and entertain you (in the sense of live streams).
While I prefer to use sports betting mobile apps, I understand why users choose only to use the website because it's easier to look at other resources while forming a bet. Even though that may be the case, the convenience of mobile sports betting is entirely unmatched and should be taken advantage of, especially considering you have an account for both when signing up.
Betting Sites USA Overview
Determining which U.S. betting site is best is very difficult because of the number of different operators with several different features and characteristics that benefit the user. Each sportsbook should be evaluated based on seven essential characteristics: the number of betting markets, betting options, bonuses, exclusive features, states available, odds, and overall user experience.
After these factors are considered, look into the things you become most familiar with because familiarity is critical with the sportsbook you enjoy the most. For example, stats allow users to compare the history of teams by allowing them to look at their averages over the season so far.
Betting sites are quickly joined, and deposits can be made in just a few moments by submitting your online bank details, or pay by credit or debit card. Before creating an account, be sure the sportsbook offers the sports and markets you're looking to bet on, especially if you want to bet on more niche sports like handball and darts.
Below is a table with more information on some of the major online betting sites in the United States:
| Best Betting Sites for US players | DraftKings | FanDuel | PointsBet | Caesars | BetMGM | Unibet | Barstool |
| --- | --- | --- | --- | --- | --- | --- | --- |
| Average minimum deposit | $5 | $5 | $10 | $10 | $10 | $25 | $10 |
| Support methods | Email, Phone, Live Chat | Email, Phone, Live Chat | Email, Phone, Live Chat | Email, Phone, Live Chat | Email, Phone, Live Chat | Email, Phone, Live Chat | Email, Phone, Live Chat |
| Legal betting states | AZ, CO, CT, IL, IN, IA, KS, LA, MI, NH, NJ, NY, OR, PA, TN, VA, WV, & WY | AZ, CO, CT, IL, IN, IA, KS, LA, MI, NJ, NY, PA, TN, VA, WV, & WY | CO, IL, IN, IA, KS, LA, MI, NJ, NY, OR, PA, VA, & WV | AZ, CO, IL, IN, IA, KS, LA, MI, NJ, NY, PA, TN, VA, WV, & WY | CO, IN, IA, MI, NJ, PA, TN, VA, WV, & D.C. | AZ, IN, IA, NJ, PA, & VA | AZ, CO, IL, IN, MI, NJ, NY, PA, TN, & VA |
| Betting offers for new players | 20% deposit bonus worth up to $1,000 | Risk-free bet worth up to $1,000 | 2 risk-free bets worth up to $2,000 | Risk-free bet worth up to $1,250, 1,000 rewards tier credits, and 1,000 rewards credits | Risk-free bet worth up to $1,000 | Risk-free bet worth up to $250 | Risk-free bet worth up to $1,000 |
| Promotions for existing bettors | Odds modifiers, risk-free bets, free bets, odds boosts | Odds modifiers, risk-free bets, free bets, odds boosts | Odds modifiers, risk-free bets, free bets, odds boosts | Odds modifiers, risk-free bets, free bets, odds boosts | Odds modifiers, risk-free bets, free bets, odds boosts | Odds modifiers, risk-free bets,odds boosts | Odds modifiers, risk-free bets, free bets, odds boosts |
Online Betting USA FAQs
How do sports betting sites make money?
Online sportsbooks generally make money through users losing their bets and partnerships with sports leagues and organizations. So many promotions can be offered because the sportsbook is making plenty of money through users that are betting irresponsibly.
What is the best online sportsbook?
My personal favorite online sports betting service is DraftKings because it's available in the most states, has the most unique welcome bonus, and a phenomenal user interface that is perfect for new users and sharps alike. It also has a great list of daily and weekly promotions that users can choose from to receive free bets or odds modifiers.
What sportsbook has the best promotions?
For new customers, PointsBet has the best welcome offer; however, DraftKings and Fanduel have the best ongoing offers for their existing users. Promotions come somewhat frequently, but finding the best betting sites with ongoing premium promotions is vital.
What is the difference between legal sports betting services and offshore sportsbooks?
Offshore betting sites provide similar features to users as legal betting operators; however, offshore betting sites are not beholden to the law of local gaming commissions, which means they are not regulated. Not only is this risking your private information and bank details, but it also risks your internet data, which is protected by online legal sports betting services.