Gamble USA strives to improve your online gambling experience. We aim to help you play safely, make informed decisions when gambling, and increase your betting knowledge through our guides.
We adhere to strict editorial integrity; our content may contain links to products from our licensed & legal US partners.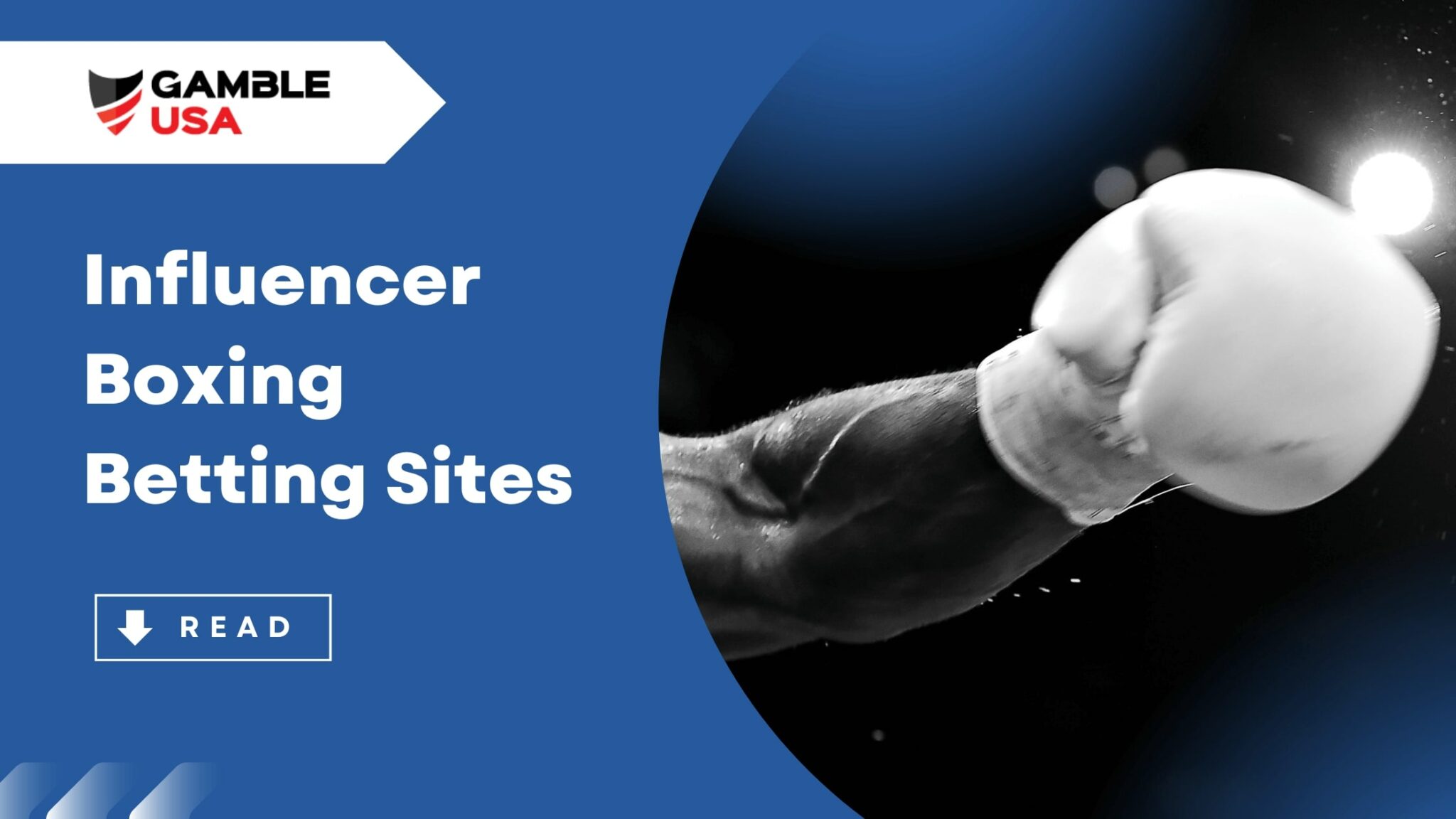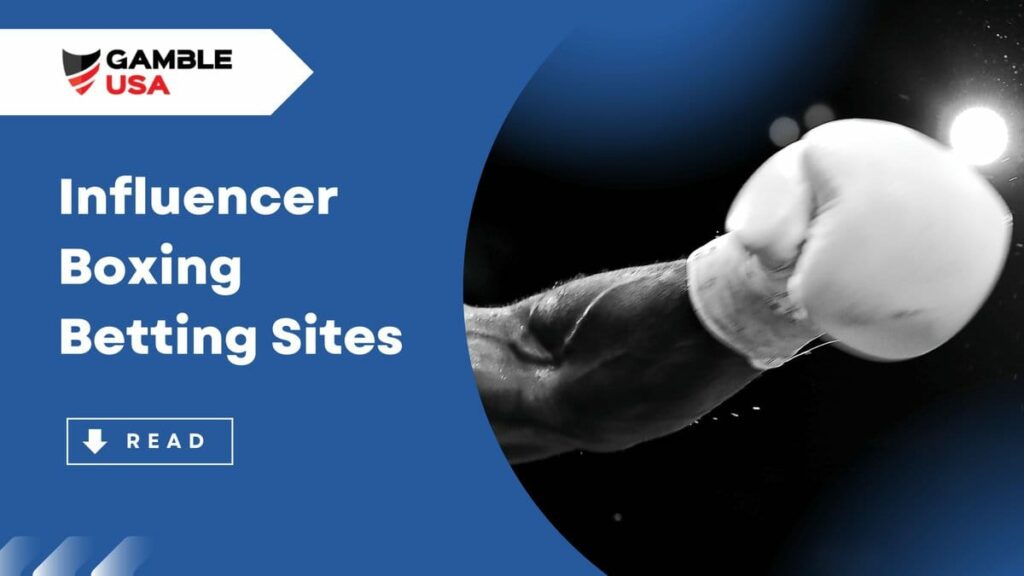 Influencer boxing has been on the rise in the last couple of years, and with it came the increased interest in celebrity boxing betting. Many platforms have taken advantage of this new twist on the popular combat sport and have started to offer betting odds on celebrity fights.
If you're good at predictions, then try your best to guess which celebrity will win a boxing match and cash in on your knowledge, as we suggest some of the best boxing betting sites in the US.
These influencer boxing betting sites offer competitive odds on popular celebrity boxing events like Social Gloves and Creator Clash, feature a range of exciting betting markets, and grant new customers bonus bets and other incentives. Most importantly, we ensured these are all safe and legit US betting platforms.
---
KSI vs Tommy Fury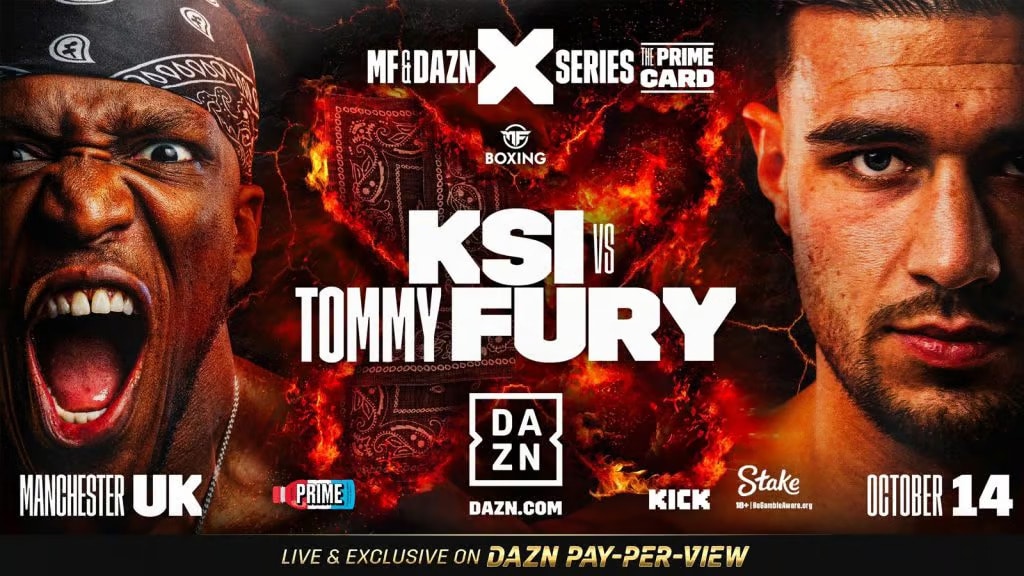 On October 14th YouTuber turned boxer KSI takes on love island finalist Tommy Fury in a boxing match that is dubbed to be one of the most exciting fights this year. This is the second time Tommy Fury will take on a YouTuber after going the distance and winning on decision against Jake Paul in early 2023.
This will be the biggest test yet for the currently undefeated KSI who has a record of 5-0-1 with 4 KO's, 1 Decision and 1 Draw. Fury on the other hand, while also being undefeated, will be hoping to secure another win to further solidify his positional as a professional boxer and help to elevate his career in the future.
Currently the sportsbooks have Tommy Fury priced as the firm favorite to win with oddsmakers giving KSI little chance of beating a real boxer. You can get Tommy at odds of -330 meaning a $100 bet would return $130.30. KSI on the other hand can be found with odds of +290 and a $100 stake here would result in a $390 payout. (*odds subject to change)
Our house expert predicts "I think this is Tommy Fury's fight to lose. KSI last fought in January 2023 winning by first round KO within 2 minutes and has yet to be properly tested. I think Fury will control the fight until going on the hunt for a KO finish in rounds 4-6." – Oliver Dickinson
---
What Is Influencer Boxing?
Celebrity boxing matches date back a few decades. Some argue that the first celebrity boxing fight was the 1979 clash between a recently retired Muhamad Ali and the legendary NFL defensive end Lyle Alzado, while others disagree. 


Similar exhibition fights featuring celebrities would continue to scarcely occur throughout the 1990s and the early 2000s, with FOX even producing two episodes of a show called Celebrity Boxing in 2002. However, it has been poorly received by the audience.
It wouldn't be until the late 2010s that celebrity boxing would take off, with an entirely new type of celebrity — YouTubers — taking center stage.
KSI vs. Joe Weller would become the first influencer boxing event to feature multiple fights when it took place in February 2018. Apart from these two, the event included fights by multiple other famous YouTubers, including Uosof Ahmadi, Exploring With Josh, MaxPlays, AnEsonGib, JMX, Mike Fox, and Liam and Jake Twinn.
Later that year, in August, we would see the first fight between KSI and Logan Paul, which famously ended in a draw. The two met again a year later, with KSI winning. Another highly anticipated Influencer boxing match was in June 2021 between Floyd Mayweather Jr. and Logan Paul, however there wasn't a winner since this was an exhibition match.
Just a few days after the Mayweather vs. Paul fight, we saw the first YouTuber vs. TikTok boxing event dubbed Social Gloves: Battle Of The Platforms, featuring famous social media personalities like Bryce Hall, DDG, Vinnie Hacker, AnEsonGib, Austin McBroom, and others.
The first Creator Clash took place in May 2022, and it was a rousing success, with fights occurring between I Did a Thing and TheOdd1sOut, iDubbbz and Dr. Mike Varshavski, and Harley Morenstein and Egoraptor, to name a few of the most prominent bouts.
Aside from amateur bouts, some influencer fights were sanctioned as professional boxing matches, like iDubbbz vs. Alex Wassabi at Creator Clash II.
Influencer boxing is a trend that shows no signs of stopping. In 2022 alone, we had over 20 major celebrity boxing events and 70 individual bouts. Some US sportsbooks noticed this and added celebrity boxing betting to their list of markets.
Influencer boxing betting works just like standard boxing betting in almost every way. You can bet on the bout winner (or draw), method of victory, number of rounds, and more.
---
Best Influencer Boxing Betting Sites in 2023
Celebrity boxing has found its way to top boxing betting sites. Some of the best US online sports betting platforms offer real odds and the standard lineup of markets for influencer boxing matches, just like they do for any regular professional boxing match.
Below are some of the best boxing betting sites to legally bet on your favorite celebrity.
---
🥇#1. FanDuel Sportsbook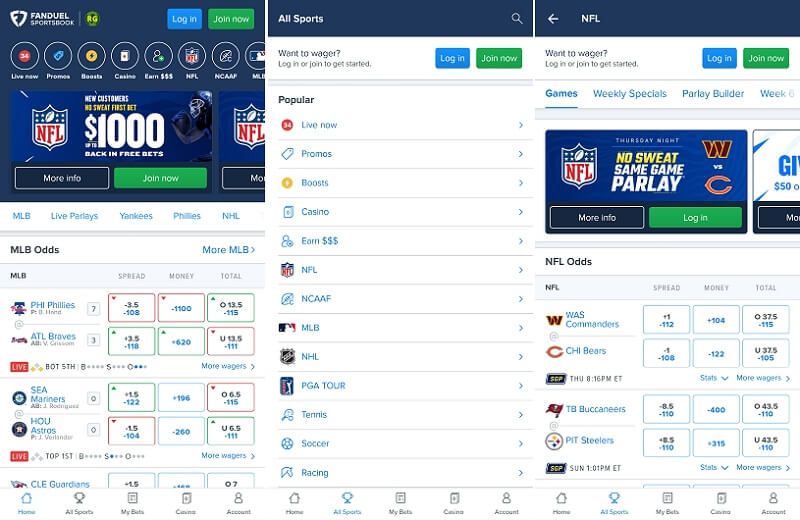 FanDuel should be your first choice if you wish to bet on boxing. FanDuel is spread to over 15 states and features competitive odds in many fights. The platform is also known for posting odds earlier than most other books. For instance, you could find the moneyline odds for the Jake Paul vs. Nate Diaz bout months in advance.
The available boxing betting markets at FanDuel include moneyline, 3-way moneyline, round betting, group round betting, method of victory, and many exciting specials, like will the fighter get knocked down and win or will the knockdown occur in the last round.
FanDuel customers can take advantage of lucrative bonuses and promotions, starting with the signature No Sweat First Bet, while you also may run into offers exclusive to popular fights.
No Sweat First Bet Up To $1,000
21+. T&C Apply
21+. T&C Apply
Convenient banking
Massive choice of sports
No Sweat First Bet Up To $1,000
21+. T&C Apply
21+. T&C Apply
---
🥈#2. DraftKings Sportsbook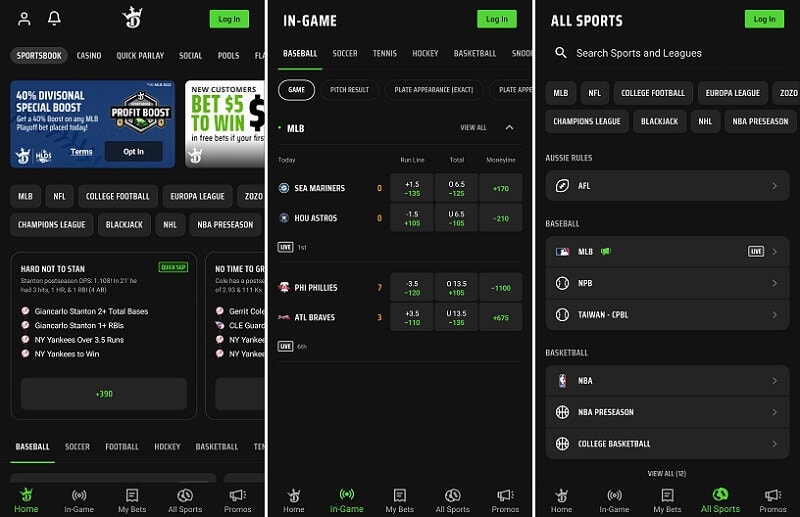 Bettors from over 20 states can join the DraftKings sportsbook and enjoy betting on celebrity and professional boxing matches. This sportsbook also features odds on plenty of boxing matches but to a slightly lesser extent than FanDuel. 
Nevertheless, DK has great boxing odds, a wide market range, and bankroll-boosting bonuses worth signing up for.
Up To $1,000 Deposit Bonus
21+. T&C Apply
21+. T&C Apply
The best sportsbook
Amazing odds & offers
Awesome betting app
Up To $1,000 Deposit Bonus
21+. T&C Apply
21+. T&C Apply
---
🥉#3. PointsBet Sportsbook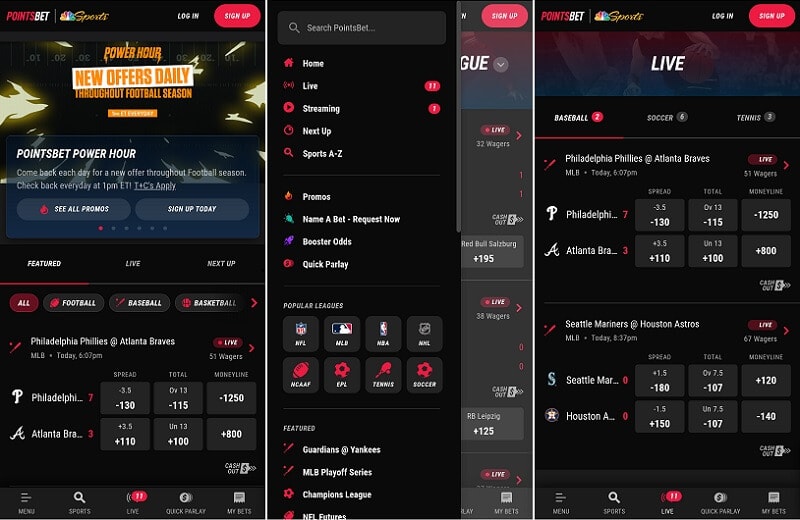 The Australian-based PointsBet has taken the US by storm with its trademark betting model called PointsBetting.
With this model, you can win or lose more based on the score. You can apply this to influencer boxing as well. 
For example, if you bet that the Jake Paul vs. Nate Diaz fight would have over 5.5 rounds, you would win more if there were eight than if there were six rounds. Conversely, if the fight finishes after the second round, you would lose more than if it ended in the fourth or fifth.
10 x $100 Second Chance Bets
21+. T&C Apply
21+. T&C Apply
Awesome live betting
Multiple bet types
Huge range of sports & markets
10 x $100 Second Chance Bets
21+. T&C Apply
21+. T&C Apply
---
🏅#4. BetMGM Sportsbook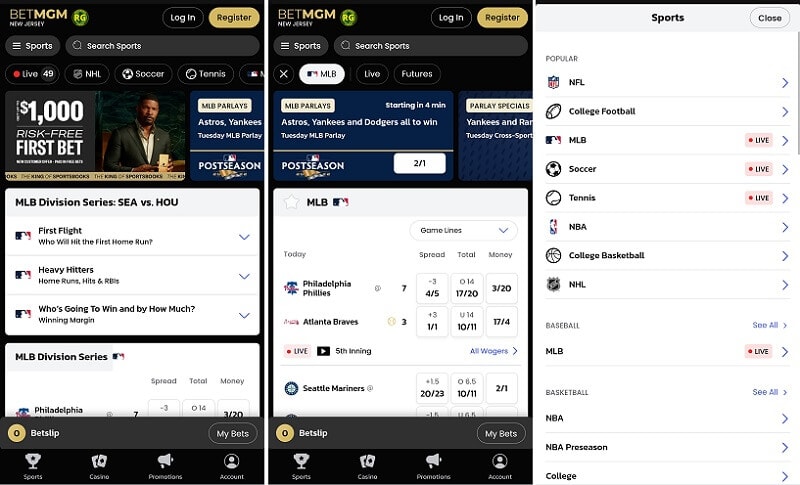 BetMGM is a solid choice for celebrity boxing betting. Like the other legal US sportsbooks, BetMGM focuses more on professional bouts than amateur and exhibition ones, but you may find odds on a few influencer fights occasionally.
Navigating through BetMGM's platform is easy and intuitive and comes with a few quaint details, like the fact that you can categorize future fights by division.
Promo Code: GAMBLEUSA
Up To $1,500 In Bonus Bets
21+. T&C Apply
21+. T&C Apply
Promo Code: GAMBLEUSA
Super fast payouts
Live streaming
Promo Code: GAMBLEUSA
Up To $1,500 In Bonus Bets
21+. T&C Apply
21+. T&C Apply
---
🎖️#5. Caesars Sportsbook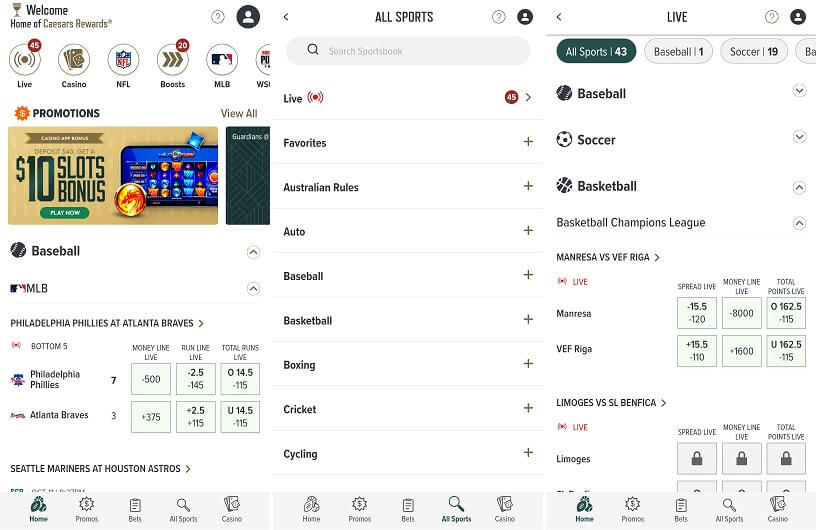 Caesars is another giant among US sportsbooks and a great place to bet on boxing. Aside from competitive original odds on boxing and other sports, Caesars commonly features odds boosts that sometimes increase prices by 50% or more.
Besides Caesars' classic moneyline bet on boxing matches, players can also sometimes have the option of betting whether the fight will go a certain distance. For example, you might get the odds of +140 if the boxer goes the full 12 rounds or -160 if he doesn't. However, in rounds propositions, the winner does not matter.
Some major fights might include a broader range of bets, like how a fighter will win (KO or decision), round propositions and odds on which round the fight will end.
Promo Code: GUSA1000
$1,000 First Bet on Caesars
21+. T&C Apply
21+. T&C Apply
Promo Code: GUSA1000
Massive welcome bet offer
Earn Caesars Rewards
Promo Code: GUSA1000
$1,000 First Bet on Caesars
21+. T&C Apply
21+. T&C Apply
---
Understanding YouTube Boxing
YouTube boxing is a relatively new phenomenon triggered in 2017 when two popular YouTubers, Joe Weller and Theo Baker, uploaded a video of their fight. Another YouTuber called KSI posted an Instagram comment during the promotion of the same fight and expressed a desire to fight the winner, which got the ball rolling.
Joe Weller and KSI fought the following month, with KSI winning by TKO in the third round. The fight was believed to have generated over 20 million views. 
After the fight, KSI called out the Logan brothers and the older Logan brother Paul accepted the challenge. KSI vs. Logan Paul was heavily promoted and is thought to be the first genuinely mainstream bout between celebrity YouTubers. The fight took place in August 2018 and ended in a draw. Seven other bouts were also on the fight card, including the fight between KSI's younger brother Deji and Logan's younger brother Jake, which Jake won.
The KSI vs. Logan Paul rematch announced for September 2019 would become the most prominent celebrity boxing event yet. The fight drew the attention of tens of millions of people and was streamed on services like Sky Sports Box Office and DAZN. This time, KSI was the winner, but by a narrow split decision by the judges.
In the last several years, many other social media influencers joined and carried on the craze of YouTube boxing, with events like Creator Clash being specifically designed to feature YouTube and other content creators.
Of course, many of these fights are amateur, and some take an exhibition format. 
However, YouTubers like KSI and the Paul brothers are actually trained boxers, and some of their bouts are often sanctioned as professional boxing matches. This is when online sports betting platforms picked up on the buzz and allowed people to bet on YouTube boxing for real money.
---
YouTuber vs TikTok Boxing
While YouTubers started the trend of celebrity boxing, they are not the only social media stars to step into the ring. TikTokers also wanted in on the action, leading to the Social Gloves: Battle Of The Platforms in June 2021.
This event featured YouTuber vs. TikTok boxing, with seven bouts headlined by Austin McBroom vs. Bryce Hall. It all started after a feud between McBroom and Hall on Twitter in March of 2011, soon after which the fight was booked, along with the full card with five other fights.
McBroom defeated Hall after a technical knockout in round 3. In other fights, Ryan Johnston defeated Cale Saurage, Landon McBroom beat Ben Azelart, FaZe Jarvis knocked out Michael Le, DDG got the better of Nate Wyatt, Vinnie Hacker outperformed Deji Olatunji (bringing the only win for the TikTokers), Ryan Johnston won against Cale Saurageand, and AnEsonGib was victorious over Tayler Holder.
While Battle Of The Platforms was heavily promoted, it was deemed a commercial failure — no follow-up event was ever announced.
---
Placing Bets on Celebrity Boxing
So, can you bet on YouTuber boxing? While celebrity boxing may be popular, it's only seldom available at betting sites. The main reason is that many influencer boxers are amateurs, so the fights are not as competitive as professional ones. Most fights are purely for entertainment, while some don't even declare a winner. Sportsbooks do not have enough to go on to create realistic odds on these bouts, so they usually don't want to risk exposing themselves.
However, not all influencer boxers are amateurs. Although guys like Jake Paul, KSI, Adam Saleh, Reykon, Nate Robinson, and Joe Fournier are not primarily boxers, they were trained professionally at certain points. For instance, Viddal Riley is known to have trained KSI.
Whenever these celebrities have fights sanctioned as professional matches, you will likely find them at top sports betting sites like FanDuel, DraftKings, BetMGM, Caesars, PointsBet, BetRivers, and others.
As for the available bets, they are not any different from bets you can find on other professional matches, including:
Moneyline

— Betting on the match winner. If the fight ends in a draw, you get your stake back.

3-way moneyline

— This market allows you to bet on the draw as well, but if the fight ends in a draw and you bet on either fighter to win, the bet will not be a push, and you will lose your stake.

Round betting

— Guessing which fighter will win in which round. For example, Jake Paul to win in round two.

Group round betting

— This is the same as round betting, but you have a range of rounds. For example, KSI to win in rounds four to six.

Total rounds

— Over/under on the total number of rounds. For instance, if the line is 7.5, you guess whether there will be eight or more or seven or fewer rounds.

Method of victory

— Betting on who will win and how. Methods of victory include decision, points, knockout (KO), and technical knockout (TKO).

Will the fight go the distance

— A simple yes or no bet where you guess whether the fight will go through all 12 rounds or finish earlier.

To be knocked down

— Predicting that a fighter will be floored anytime during the fight.

Specials

— Sportsbooks can offer various boxing specials and prop bets, like whether a fighter wins in 60 seconds, whether both fighters get knocked down at a certain point in the fight, whether there will be three or more knockouts, and more.
---
Strategies for Successful Influencer Boxing Betting
If you're not betting just for fun and are serious about making some profit off of your celebrity boxing bets, you should consider incorporating some of the following strategies:
Learn everything about the fighters

— Don't just go off of looks, physical attributes, and how confident the fighters are when talking about the bout on social media. Instead, do a little research and see the fighters' backgrounds in boxing, whether they are trained by a professional or not, whether they have experience and anything else that might affect their real chances.

Analyze previous fights — If the two influencers have already fought each other, you should look at their head-to-head stats and see if you can notice any trends. Maybe your fighter is the overall favorite, but he previously showed a lack of concentration as the fight went the distance. So, if the fight goes the distance again, you can bet against him at that moment, as most sportsbooks allow for live boxing betting.
Find the best odds

— Not every sports betting site will have the same odds for the given celebrity boxing event. That's why you should go from one sportsbook to the next and find which one has the best odds for a particular bet you're trying to place. Going odds shopping is the key strategy for making a long-term profit, not just for influencer boxing betting but sports betting in general.
---
Influencer Boxing Bets
Influencers have taken their talents beyond social media and practically reinvented the celebrity boxing industry. As they become more popular and professional, celebrity fights are more commonly seen on sports betting sites like FanDuel and DraftKings.
If you want to place an influencer boxing bet, all you need to do is be in one of the over 30 US states that allow sports betting and join one of the top boxing betting sites we've listed again below.
---
Frequently Asked Questions
What is the legality of betting on celebrity boxing?
You can legally bet on celebrity boxing as long as licensed sportsbooks in your state offer online boxing betting odds. Sports betting is legal in over 30 states, with over two dozen allowing online sportsbooks. Betting sites like DraftKings and FanDuel are available in most regulated states and offer many boxing events for you to bet on.
Can I bet on celebrity boxing matches outside the US?
Yes, celebrity boxing events outside of the US are still legal to bet on as long as a licensed sportsbook offers them. Having said this, you shouldn't bet on overseas sportsbooks from within the US.
How are the odds determined for celebrity boxing events?
Just like for regular boxing, oddsmakers decide on the odds for celebrity bouts by looking at the overall experience of the two boxers, their current form, their pre-fight record, H2H history, physical attributes like height and weight, the timing of the event, and other factors. Odds can also shift based on where the bets flow so the sportsbooks can balance their risk.
Are there any betting strategies specific to YouTube boxing?
You should analyze YouTube boxing matches the same way you would analyze any regular pro boxing duel. Research the fighters, look at their current form, read into H2H stats, and find anything else that you feel may affect the fight's outcome.
What are some successful betting stories in celebrity boxing?
One notable story that spurred from celebrity boxing is between KSI & Logan Paul who had two separate boxing matches, after which they came together to release an energy drink called 'Prime'.