Gamble USA strives to improve your online gambling experience. We aim to help you play safely, make informed decisions when gambling, and increase your betting knowledge through our guides.
We adhere to strict editorial integrity; our content may contain links to products from our licensed & legal US partners.
Iowa online sports betting is now a reality. In May 2019, the Iowa sports betting bill was approved, with retail and online sports betting going live in the Hawkeye State in August of the same year.
In August 2019, Iowa became the 11th state in the country to make sports betting legal. Since then, the Iowa sports betting market has gone from strength to strength, with Iowa sports bettors having more choice than ever before. Additionally, sports betting revenue has continued to increase as the market has grown in the state.
Sports betting in Iowa is overseen by the Iowa Racing and Gaming Commission. Iowa became the first state in the upper Midwest to permit legal sports betting, with land-based and mobile options available to residents throughout the state. There are now some excellent IA sports betting apps available, each offering a generous welcome bonus and unique types of wagers.
Online Iowa Sportsbooks & Betting Apps
The best sportsbook and betting apps for bettors to use in Iowa are:
Bally Bet Sportsbook
Circa Sports Sportsbook
Players in Iowa can also legally participate in daily fantasy sports (DFS) competitions, thanks to the Iowa fantasy sports bill being signed into law in May 2019. Since its inception, Iowa sports betting has snowballed, considering it has not been live long. To emphasize this point, in Iowa sports betting news, the last revenue report for August showed total revenue nearly equaled the best months ever in Iowa sports betting history. This is especially impressive when you consider there were no live football games to bet on at the time.
In this IA betting guide, we look at the burgeoning sports betting industry in Iowa, looking at where you can wager now, in the future, the types of sports bet you can place, and the most common player questions.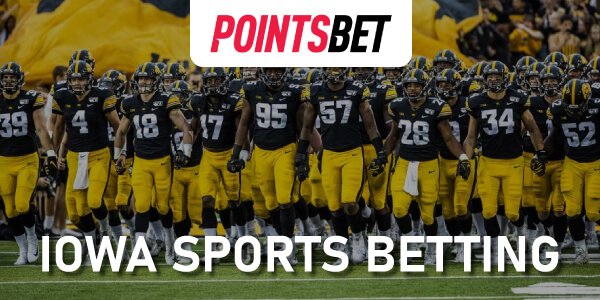 Online sports betting Iowa launched in August 2019. There are 19 casinos in Iowa, and all have acquired sports betting permits. Thirteen of the casinos offer online sports betting through six websites. There is currently an in-person registration requirement for bettors in Iowa, so they must visit a land-based casino to register for mobile Iowa sports betting accounts until at least January 2021. Once the account has been registered, bets can be made from anywhere in the state.
Below is a complete list of IA sportsbooks currently available for Iowa bettors:
DraftKings Sportsbook
PointsBet Sportsbook
Q Casino sportsbook
William Hill Sportsbook
Elite Sportsbook
Hard Rock Sioux City sportsbook
BetMGM Diamond Jo Dubuque
BallyBet Sportsbook
Barstool Sportsbook
Betfred Sportsbook
BetRivers Sportsbook
Betway Sportsbook
Circa Sportsbook
Caesars Sportsbook (Caesars Entertainment)
DRF Sportsbook
FanDuel Sportsbook
Fubo Sportsbook
PointsBet Sportsbook
theScore Sportsbook
Unibet Sportsbook
Each brand above also offers a sportsbook app, giving residents the chance to bet on the Iowa Hawkeyes on the move.
Iowa Online Sportsbooks
Every Iowa casino is permitted to host two skins on its sports betting license. Any sportsbook that launches in the state must have a casino partner. Players must visit Iowa sports betting casinos that are partnered with the below operators to complete their account registration. Some of the online sportsbook options available in Iowa State include:
Elite Sportsbook Iowa
Elite was the second Iowa sports betting app to launch in the state in August 2019 and is also the second-most successful in total handle so far. This site is powered by the Bet.Works tech platform. Players can visit one of three casino partners to register for the app: The Grand Falls Casino in Larchwood, Riverside Casino & Golf Resort, or City Casino in Davenport. The Elite Sports betting platform has not been as popular as some larger operators such as DraftKings and PointsBet.
Q Sportsbook Iowa
Q sportsbook was the third operator to take legal online sports bets in Iowa, going live in November 2019. It has a partnership with IGT, and bettors must register for the platform at the .casino in Dubuque through 2021.
Hard Rock Sioux City Sportsbook Iowa
Hard Rock has a presence in Iowa through its Sioux City location. It was the fifth mobile app to launch in Iowa and is operated by  Gaming Innovation Group (GIG).
William Hill Sportsbook IA
William Hill is a massive name in the gambling industry, globally. The brand was the first to launch its sports betting app in Iowa, setting the pace for total handle for online betting in the state. To register for a William Hill account, bettors can visit one of the four partner casinos, including Lakeside Casino, Prairie Meadows Racetrack & Casino, Isle Casino Bettendorf, and Isle Casino Waterloo.
PointsBet Iowa Sportsbook
PointsBet is based in Australia but has been making waves in the US market since entering New Jersey in 2019. The company launched its PointsBet mobile sports betting app in Iowa in November 2019. Anyone who downloads the PointsBet app in Iowa must head to the Catfish Bend Casino in Burlington to complete the verification process for the rest of this year.
DraftKings Sportsbook IA
DraftKings is well-known for its daily fantasy sports competitions and launched an Iowa DFS app in October 2019. The company launched its fully-fledged sports betting app in the state in February 2020 in partnership with Wild Rose Casino. To verify your DraftKings sportsbook account, you must visit one of three Wild Rose Casinos in the state (Clinton, Emmetsburg, or Jefferson). Draftkings Iowa online sportsbook has proved to be the most popular online sports wagering platform in the state.
FanDuel Iowa Sportsbook
FanDuel sportsbook Iowa has finally launched a mobile app, but they do have a presence at the Diamond Jo Casino. Players can visit the property and take part in some diamond betting action.
BetMGM Iowa
The BetMGM Iowa sportsbook went live at the start of 2021. The operator is partnered with Diamond Jo Casino, but unlike other operators, waited until remote registration was available in IA before going live. The BetMGM mobile app, available on Android and iOS (iPhone & iPad) is now one of the most popular sports betting apps in the state.
Iowa sports betting apps
Mobile sports betting is very quickly becoming the bettor's preferred way of placing a wager. It is so easy to bet on your mobile, and now that you can register and bet on your mobile in IA, mobile betting will grow in popularity. There are over 8 Iowa sports betting apps now available to residents and visitors to the state.
Joining an IA sports betting site is very easy on your mobile. Just head to any of the operators listed above and press join. It takes around 5 minutes in total to open and validate an account. Once that is done, you can fund your account, then get your bets down. Using a sports betting app in IA lets you wager on all your favorite sports including football, soccer, baseball, basketball, hockey, and many more, anywhere you can use your smartphone.
What is the Legal Gambling Age in Iowa?
Like most US states, you must be at least 21 years old to gamble in Iowa legally.
List of Sports to bet on in Iowa
All of the most common sports betting options are available at both online operators and casinos in Iowa. The list of sports include:
Football (NFL, NCAA)
Basketball (NBA, WNBA, NCAA)
Baseball (MLB, NCAA)
Ice Hockey (NHL, NCAA)
Soccer (MLS, World Cup, English Premier League)
Boxing
Tennis
MMA
Football is the most prominent sport in the US and is naturally popular in Iowa. Bettors can choose from numerous NFL markets with operators offering unique bets on individual games and the playoffs. NHL betting apps have gone down a storm in the state. Anyone interested in soccer betting can wager on international competitions such as the World Cup. Additionally, Iowa mobile sports betting apps offer betting options on major European leagues such as the English Premier League, French Ligue 1, Spanish La Liga, and the German Bundesliga.
Bettors can also bet on college sports.
List of Sports to bet on in Iowa
Sports betting in Iowa is growing, so more unique bet types are available to residents in the state. All of the typical bets you would expect to find are available, including some niche bets. These bets include:
Moneyline
Parlays
Point Spreads
Totals
Teasers
Futures
Round Robin
Over/Under
Futures bets are popular among players as they increase the odds and keep it exciting for the duration of a season. For example, you could bet on who you think will win the Super Bowl before the regular season has even started. Different betting sites may offer more unique options, such as PointsBet, which provides a 'PointsBetting wagers' feature.
These are a high-risk type of wager which allows players to win more depending on how "right" they are.
Live Betting in Iowa
Live betting, also referred to as 'in-play' wagering, allows players to place a bet once the action has already started. All of the standard bets are available as most modern legal sports betting operators frequently access real-time data feeds. Consequently, they can adjust their odds to reflect what is happening as the game progresses.
In some European betting markets, such as the UK, around 80% of all sports betting is now live wagering. It has become so prevalent because there is added excitement as players can watch a game with friends to see if their bets will win. Some examples of in-play bets include who you think will score the next touchdown, the next three-pointer, or which team you think will be leading at the end of a quarter. Some sportsbooks, such as BetRivers Iowa and Unibet Iowa, have an extensive live betting section covering a wide range of sports.
Legal Gambling Locations in Iowa
The Iowa Racing and Gaming Commission has issued a gambling license Iowa to 19 casinos. For a sports betting operator to be legal in the state, they need to have a Iowa gambling license before being able to operate. Only one casino has chosen not to pursue sports betting, which is the Casino Queen Marquette.
Casino Operator
Ameristar Council Bluffs DraftKings
Catfish Bend PointsBet
Diamond Jo Casino BetFair & FanDuel
Isle Bettendorf William Hill
Isle Waterloo William Hill
Lakeside William Hill
Prairie Meadows William Hill
Rhythm City Elite, Bet.Works
Riverside Elite, Bet.Works
Harrah's Council Bluffs
Horseshoe Casino
Q Casino IGT Casino
Wild Rose Clinton DraftKings
Wild Rose Emmetsburg DraftKings
Wild Rose Jefferson DraftKings
Grand Falls Elite, Bet.Works
Casino Queen Marquette
If players want to know which casino is closest to them, they could just search for 'casino near me,' and they can go and complete their online sports betting registration in-person.
Iowa Sports Betting Law
In Iowa, legislators approved a law that aims to ensure the state gets the maximum amount of benefits from legal sports betting. The main points to consider from the sports betting law in Iowa are:
6.75% tax rate on revenue
$45,000 license fee
Mobile betting apps are allowed.
Up to two different sportsbook apps can operate under each license.
You must register for mobile apps in person until January 1, 2021
Operators may not take prop bets involving in-state college teams.
Regulated by the Iowa Racing and Gaming Commission
The IRGC worked quickly to pass emergency rules to launch sports betting before the beginning of the NFL and college football seasons. Mobile sports betting in Iowa began on August 15, 2019.
Iowa Sports Betting FAQ
When do Iowa casinos allow sports betting?
Sports wagering in Iowa commenced on August 15, 2019. It doesn't matter if you are betting at the casino or on a mobile app; bettors are required to travel to the casino to verify their age and identity.
How many Iowa casinos will be eligible to offer sports betting?
All 19 Iowa casinos are eligible to offer sports betting, and 18 have progressed to provide customers with wagering options. The Casino Queen Marquette has yet to do so but is planning to move forward with an application.
When will sports betting be legal in Iowa?
Sports betting is legal in Iowa. It was legalized in May 2019, and retail and online betting was launched in August 2019. More online sportsbooks will launch in the state as the market continues to mature.
Latest Iowa sports betting news