Gamble USA strives to improve your online gambling experience. We aim to help you play safely, make informed decisions when gambling, and increase your betting knowledge through our guides.
We adhere to strict editorial integrity; our content may contain links to products from our licensed & legal US partners.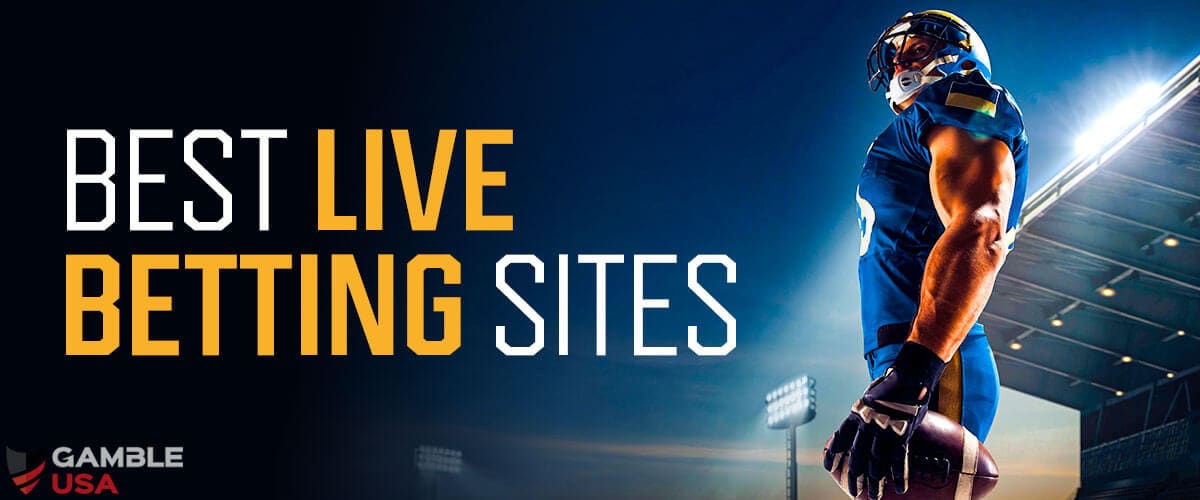 With legalized sports betting operating in more than half the US since the federal ban was lifted in 2018, it seems inevitable that every state will eventually have some legal legislation on the books.
As online adoption grows, live sports betting has become an industry-standard feature for sports betting websites. Live sports betting is an exciting, fast-paced, additional layer of action that can be extremely profitable.
Similar to traditional betting, live sports betting allows bettors to place in-play wagers using odds that are continuously adjusted based on the way the contest is going. Live betting lines change and lock regularly. Bettors should act fast when they see something to their liking.
One of the most profitable professional sports bettors of all time, Haralabos "Bob" Voulgaris, got his claim to fame from betting NBA second halves based on halftime coaching adjustment patterns. In the late '90s when he was 25, he would bet $1 million a day on basketball games, taking advantage of the lack of attention oddsmakers directed toward the halftime score. Back in the day, sportsbooks would break the end score in half without considering the high number of points late in the fourth quarter.
Another famous pro sports bettor, Teddy "Covers" Sevransky, hit it big by identifying what he calls "morphing teams," or teams that are playing better or worse, faster or slower than their season-long statistical profile indicates. He follows those teams and bets accordingly until the public perception catches up to recent performances and they get assessed correctly.
Below we break down the best live betting sites, what features to look for, how to get started, the top bet types for live betting, available live betting bonuses, and strategies for new and experienced bettors alike. And who knows, you could be on track to your own live betting career!
Compare the Best 10 Live Betting Sites in the US – September 2023
The majority of states have multiple live betting sportsbook options to choose from. To save you time, we've compiled a list of details to consider when deciding on a live sports betting site, including state availability, banking options, and welcome bonuses.
Caesars, DraftKings, and FanDuel can be found in the most states, with a handful of other online sportsbooks close behind. Most welcome bonuses have defaulted to some form of no-sweat first bet, where the second chance wager is a bet refunded in bet credits if the wager falls flat.
For bettors looking to maximize their no sweat first bet, Caesars offers the largest bet insurance amount with welcome bonuses of up to $1,250. Barstool, BetMGM, and FanDuel aren't far behind with their $1,000 promos. Residents in Colorado, New Jersey, Ohio, and Virginia will want to take advantage of bet365 sportsbook's welcome offer of betting $1 to get $200 in bonus bets. The deal for new users offer the best bonus value in the business. Customers with patience may find seasonal live betting welcome bonuses offered by sports betting sites with short expiry periods that provide value closer to what bet365 is offering.
Banking with online sportsbooks has become easier in recent years. Most in-play sports betting sites accept debit credit cards, online bank transfers, and PayPal. Apple Pay, cryptocurrency, and Venmo are even starting to appear as options for some sportsbooks. Minimum deposits typically range from $5 to $20.
| 🌐Live Betting Site | 🇺🇸 Legal States | 💳Banking Options | 🎁Welcome Bonus | 💵Minimum Deposit |
| --- | --- | --- | --- | --- |
| PointsBet | CO, IA, IL, IN, KS, LA, MD, MI, NJ, NY, PA, VA, WV | Bank transfer, credit/debit card, eCheck, PayNearMe | 5x$50 second chance bets | $5 |
| BetMGM | AZ, CO, IA, IL, IN, KS, LA, MD, MI, NJ, NY ,PA, TN, VA, WV, WY | Bank transfer, cash, credit/debit card, gift card, PayNearMe, PayPal, Play+, MGM rewards, wire transfer | No sweat first bet of up to $1,000 | $10 |
| FanDuel | AZ, CO, CT, IA, IL, IN, KS, LA, MD, MA, MI, NJ, NY, OH, PA, TN, VA, WV, WY | Bank transfer, cash, credit/debit card, gift card, PayNearMe, PayPal, Play+, Wire transfer | No sweat first bet of up to $1,000 | $10 |
| DraftKings | AZ, CO, CT, IA, IL, IN, KS, LA, MD, MI, NJ, NY, OH, OR, PA, TN, VA, WY, WV | Bank transfer, cash, credit/debit card, gift card, PayPal, Venmo, wire transfer | 20 percent deposit bonus match of up to $1,000 | $5 |
| Caesars | AZ, CO, IA, IL, IN, KS, LA, MA, MD, MI, NV, NJ, NY, OH, PA, TN, VA, WY, WV | Bank transfer, credit/debit card, eCheck, PayNearMe, PayPal, Play+ | Second chance first bet of up to $1,250 + 1,000 tier credits and 1,000 reward points | $10 |
| bet365 | CO, NJ, OH, VA | Bank transfer, credit/debit card, PayNearMe, PayPal | Bet $1, Get $200 | $10 |
| BetRivers | AZ, CO, IA, IL, IN, LA, MD, MI, NJ, NY, OH, PA, VA, WV | Bank transfer, credit/debit card, PayNearMe, PayPal, Play+ | Second chance first bet of up to $500 | $10 |
| Barstool | AZ, CO, IA, IL, IN, KS, LA, MA, MI, NJ, OH, PA, TN, VA, WV | Apple Pay, credit/debit card, cryptocurrency, PayNearMe, Play+, wire transfer | Second chance first bet of up to $1,000 + $10 bonus bet | $10 |
| WynnBET | AZ, CO, IN, LA, MA, MI, NJ, NY, TN, VA | credit/debit card, PayPal | Bet $100, Get $100 | $10 |
| Unibet | AZ, IA, IN, NJ, PA, VA | Bank transfer, cash, credit/debit card, eCheck, PayPal, Play+ | Second chance first bet of up to $100 | $10 |
5 Best Live Betting Sites in September 2023
There are many benefits of live sports betting. Being able to watch as the game progresses allows bettors to get a better number or take advantage of something they're seeing before the public or oddsmakers adjust.
The best live betting sites listed below all earn high marks in live betting for state availability, in-play betting markets, ease of navigation, quick response, and useful features, including in-game trackers that provide a variety of up-to-date match stats and information.
Live betting may not be available for every sport but online betting sites are always adding more. Bettors looking to live bet will find the most popular sports and leagues readily available. Some online sportsbooks claim to offer live streaming but what is available still leaves much to be desired.
#1 PointsBet Sportsbook
10 x $100 Second Chance Bets
21+. T&C Apply
21+. T&C Apply
Awesome live betting
Multiple bet types
Huge range of sports & markets
10 x $100 Second Chance Bets
21+. T&C Apply
21+. T&C Apply
✅Pros:
Live betting markets
Live same game parlays
Comprehensive game tracker
❌Cons:
Payment options
Limited existing customer promos
Use it or lose it welcome bonus
PointsBet sportsbook is available in 14 states and offers 17 sports to choose from. The online betting site expanded its live betting options and increased customization in recent months with lightning bets and the ability to create same game parlays. Lightning bets are live bets on the next point, over the next minute, or during the next four-minute block. The best live betting sportsbook also features a comprehensive game tracker that can be moved.
To locate the PointsBet live betting page, find the live tab located next to the default featured tab just below the sports icons on the homepage. A live betting link is also listed close to the top of the sidebar on the left, which can be accessed by clicking on the dropdown menu in the top left corner. PointsBet is also kind enough to post the current number of live betting contests next to each sport in the sidebar. There is also a next-up section so bettors never miss an opportunity.
Instead of the traditional green and red color scheme to highlight line adjustments (red down, green up), PointsBet indicates changes by filling in the odds box with red or blue and a directional arrow next to the number.
PointsBet's 5x$50 no sweat bets welcome bonus does come with some strings attached. The daily $50 second chance bet must be used five consecutive days, starting on the day the account is created. Existing customer promos from PointsBet are creative but infrequent compared to other live sports betting sites.
⭐Ratings:
Features: 5/5
Welcome offer and existing customer bonuses: 3.5/5
User experience: 5/5
Payment options: 2/5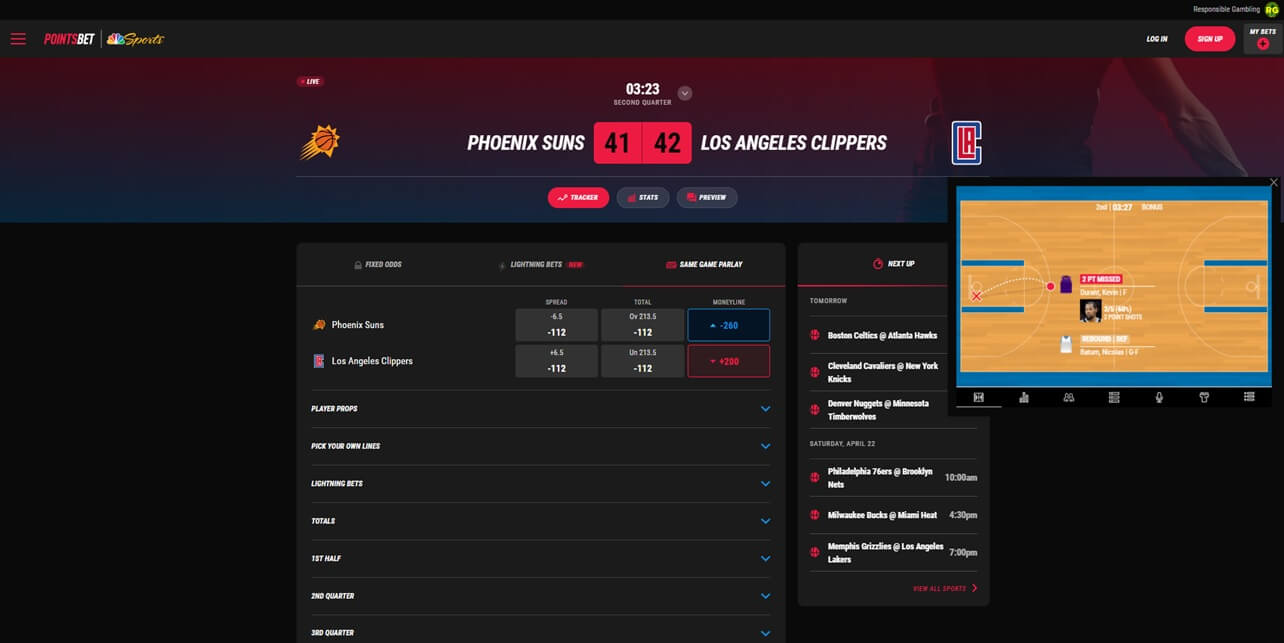 #2 BetMGM Sportsbook
Promo Code: GAMBLEUSA
Up To $1,500 In Bonus Bets
21+. T&C Apply
21+. T&C Apply
Promo Code: GAMBLEUSA
Super fast payouts
Live streaming
Promo Code: GAMBLEUSA
Up To $1,500 In Bonus Bets
21+. T&C Apply
21+. T&C Apply
✅Pros:
Niche sports live betting
Edit my bet feature
Competitive odds
❌Cons:
Limited market depth
Game tracker positioning
Available in 16 states, BetMGM sportsbook has been able to keep pace with FanDuel and DraftKings by offering some of the best odds and 27 sports betting markets. Having more betting markets makes BetMGM the best late-night online sportsbook for live betting on niche sports and international leagues.
BetMGM loses some points for having fewer live betting options than the top sports betting sites, but the number offered is still in the double digits. BetMGM does provide a game tracker similar to PointsBet, but it's positioned above the bet slip on the right side, making it difficult to manage multiple live bets under consideration.
To get to the BetMGM live betting page, locate the link labeled live, listed as the first option next to the home tab. Popular in-play wagering markets divided by sport are posted on the homepage. Bettors can also select a sport from the sidebar. If you're not finding what you're looking for or don't feel like scrolling, there's a line tab toward the top of the screen. BetMGM follows similar odds change notifications, except the direction arrow flashes in the bottom right corner.
An underutilized feature at BetMGM is the Edit My Bet. This option gives bettors customization over in-play BetMGM parlays. Along with the ability to increase stakes, bettors can add, swap, or remove selections as long as unsettled portions remain.
BetMGM's welcome bonus – the BetMGM no sweat first bet of up to $1,000 is on par with other top online sportsbooks. Existing customer promos probably won't be what sells you on BetMGM, but there are a handful of weekly opportunities to be had. To claim your no sweat first bet, click here, and use promo code GAMBLEUSA.
⭐Ratings:
Features: 4.5/5
Welcome offer and existing customer bonuses: 4/5
User experience: 4/5
Payment options: 4/5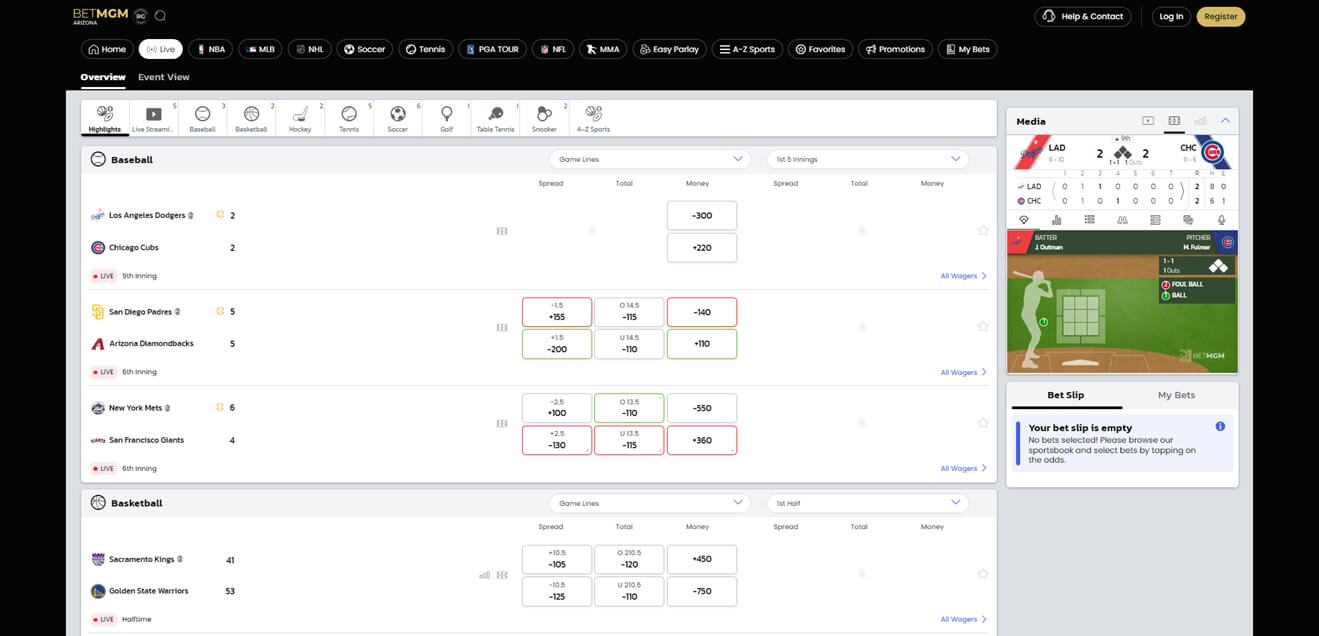 #3 FanDuel Sportsbook
No Sweat First Bet Up To $1,000
21+. T&C Apply
21+. T&C Apply
Convenient banking
Massive choice of sports
No Sweat First Bet Up To $1,000
21+. T&C Apply
21+. T&C Apply
✅Pros:
Live betting markets
Live same game parlays
Competitive odds
❌Cons:
The largest sports betting site in the US, FanDuel sportsbook can be found in 19 states. Currently, FanDuel has 18 sports to pick from and offers dozens of live betting options, including live same game parlays, a feature few other online sportsbooks have yet to adopt.
To locate the FanDuel live betting page, find the live now link next to the red circle listed as the top option on the sidebar to the left. Bettors can also scroll the homepage if they know what sports you're looking for. Any matches going on will be posted at the top, the same as if you went to the sports individual page. There is also a live tab across the top of each page.
Live odds changes are highlighted with red and green outlines of the odds boxes and a directional arrow in the top left corner. FanDuel does have a game tracker, but the in-play stats provided are limited compared to the competition.
FanDuel does offer a decent amount of existing customer promos, mainly bet insurance, to go along with a generous FanDuel no sweat first bet welcome bonus of up to $1,000.
⭐Ratings
Features: 4/5
Welcome offer and existing customer bonuses: 4/5
User experience: 4/5
Payment options: 4/5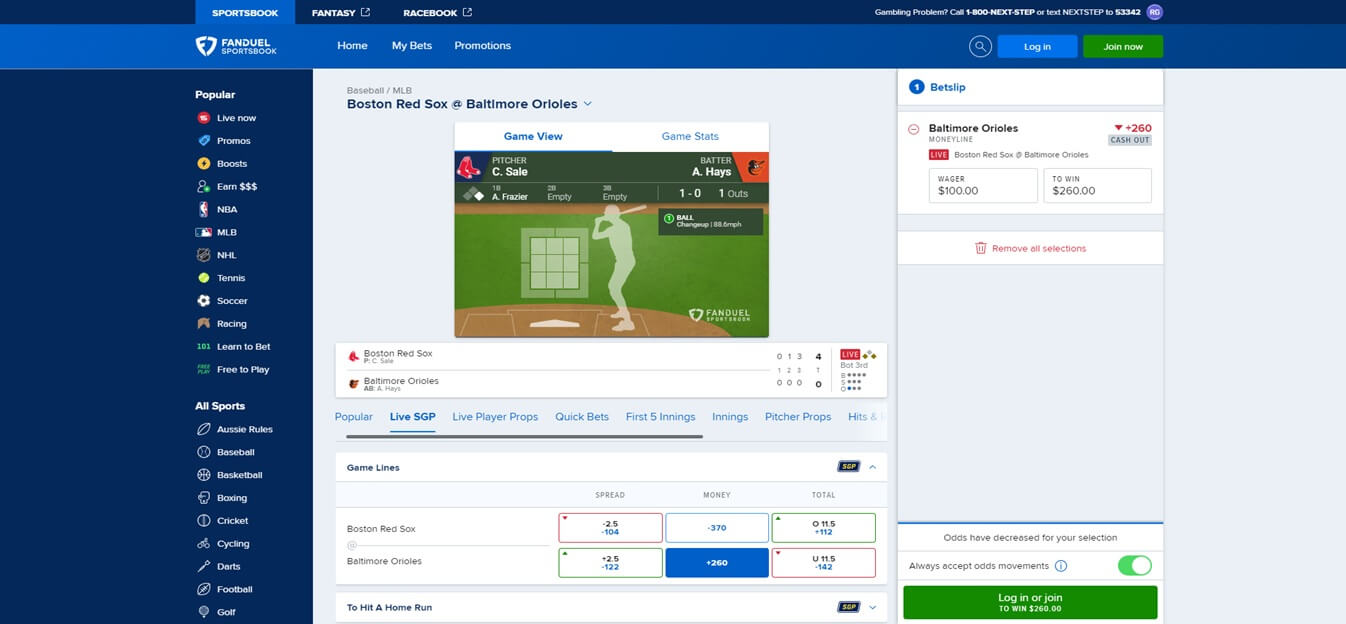 #4 DraftKings Sportsbook
Up To $1,000 Deposit Bonus
21+. T&C Apply
21+. T&C Apply
The best sportsbook
Amazing odds & offers
Awesome betting app
Up To $1,000 Deposit Bonus
21+. T&C Apply
21+. T&C Apply
✅Pros:
Live betting markets
Existing customer promos
Game previews
❌Cons:
No game tracker
Average interface
A popular name in online sports betting, DraftKings sportsbook operates in 19 states. The DraftKings online sportsbook has 25 sports to select from and excellent market depth, which extends to niche sports and late-night action. The sports betting site's pregame preview is second to none, but their lack of an in-play game tracker is disappointing.
DraftKings users can get to the live betting section a few different ways from the homepage. Look for the live in-game tab within the options scrolling across the top of the homepage or red circle next to the live-in game link just below the ads. Use the tabs directly below to switch sports. Odds changes flash quickly, and the directional arrows are green going either direction, making them easy to miss.
For what DraftKings lacks in a worthwhile welcome bonus, the online sportsbook makes up for it with the most consistent and varied existing customer promos, including DraftKings live betting odds boosts.
⭐Ratings:
Features: 3.5/5
Welcome offer and existing customer bonuses: 3.5/5
User experience: 4/5
Payment options: 4/5

#5 Caesars Sportsbook
Promo Code: GUSAFULL
Bet $50, Get $250
21+. T&C Apply
21+. T&C Apply
Promo Code: GUSAFULL
Massive welcome bet offer
Earn Caesars Rewards
Promo Code: GUSAFULL
Bet $50, Get $250
21+. T&C Apply
21+. T&C Apply
✅Pros:
Live betting markets
Competitive odds
Game tracker
❌Cons:
Basic features
Simple layout
Limited market depth
A trusted name in the gambling industry for more than 50 years, Caesars sportsbook has set up shop in 19 states. The Caesars online sportsbook takes action on 22 sports and has a decent amount of late-night niche live betting options. If you're looking to live bet underdogs, Caesar's betting lines are traditionally among the best. The game tracker provided by Caesars is similar to PointsBet but is locked in its spot in the middle of the page.
The live betting page link can be found in multiple spots toward the top left corner of the homepage. Depending on the league, in-play wagering options may not populate on the individual sport's page. Bettors will have to click the live button across the top to access a complete list of options. Caesars falls in line with the other major live betting sites that highlight odds changes with red and green boxes and a directional arrow.
Along with a massive second chance first bet of up to $1,250, Caesars is also throwing in 1,000 tier credits and 1,000 Caesar reward points, which can be redeemed for online betting bonuses and in-person perks. Take advantage of the Caesars welcome bonus by clicking here and entering promo code GUSAFULL during the registration process.
⭐Ratings:
Features: 3/5
Welcome offer and existing customer bonuses: 3.5/5
User experience: 3.5/5
Payment options: 4/5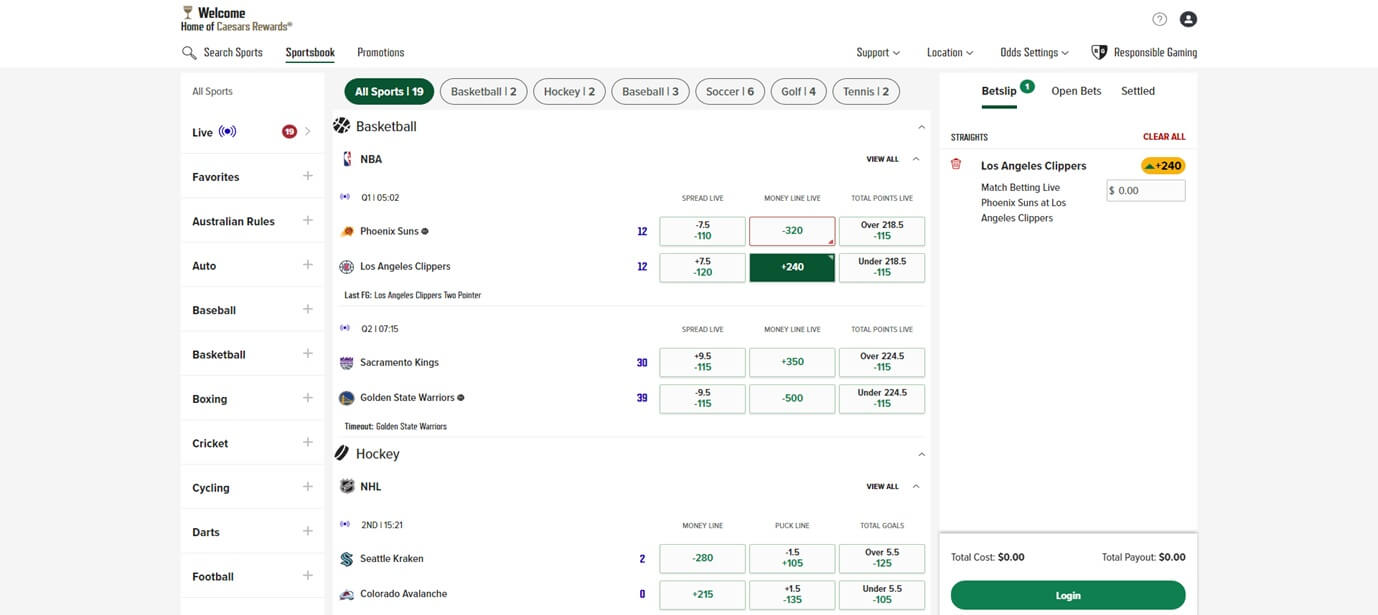 Live Betting Promo Codes
While welcome bonus bet credits, second chance bets, and bet-to-get offers are abundant in most states, live betting promos can be tougher to come by. They usually take the form of odds boosts. Professional bettors search for the smallest edges over sportsbooks. Profit increases are a big one. Some odds boost can be used as you please, others are unlocked after meeting betting specifics. Don't let boosted odds back you into a bad bet.
No sweat bets are a type of bet insurance, where stakes are returned in the form of bet credits if the wager settles as a loss. Credits usually expire between 1-14 days. The bet and get is just as it sounds. Bet a qualifying amount to earn a specified amount of bet credits. To start, choose one of the following sportsbook promo codes and start betting live on the action:
Live Betting Sites Rating Process: Aspects To Look For
The aspects to look for when selecting a live betting platform, include market depth, odds, bonuses, and banking. Safety and customer support are pretty standard across the board. For minor issues, there are help sections, FAQs, and live chats. For more complicated matters, most online sportsbooks can be contacted by email or phone. Reaching out via Twitter may also be an option.
Safety
All legal online sportsbooks in the US are licensed and overseen by local state gaming commissions to ensure fair gameplay, reliable transactions, and the safe storage of personal info. Gambling sites use encryption technology to protect valuable data.
Market depth
The number of sports to bet on and ways to wager, including live same game parlays, vary wildly from site to site. Bettors will want to do some recon and be sure the live betting platform they're signing up with offers what they're looking for.
Odds
When deciding on a few sportsbook options, be sure to check if one routinely offers better odds on your preferred sports or bet types. Finding the best bang for your buck is one of the few ways to gain an edge on sportsbooks. Losing less and winning more adds up over time. Most free odds trackers struggle to keep up with live betting information, so you may need to cross-reference manually.
Bonuses
While welcome bonuses are one of the biggest gifts an online sportsbook can bestow, they may not be enough to keep bettors around once the bet credits burn off. Similar to markets and odds, the frequency of existing customer promos isn't created equal. Sports betting sites persistent in providing bonus bets like DraftKings are more likely to offer live betting bonuses.
Banking
Most online sportsbooks accept multiple instant deposit methods, including bank transfers, credit & debit cards, and PayPal. Withdrawal options may not be quite as plentiful or take longer to settle.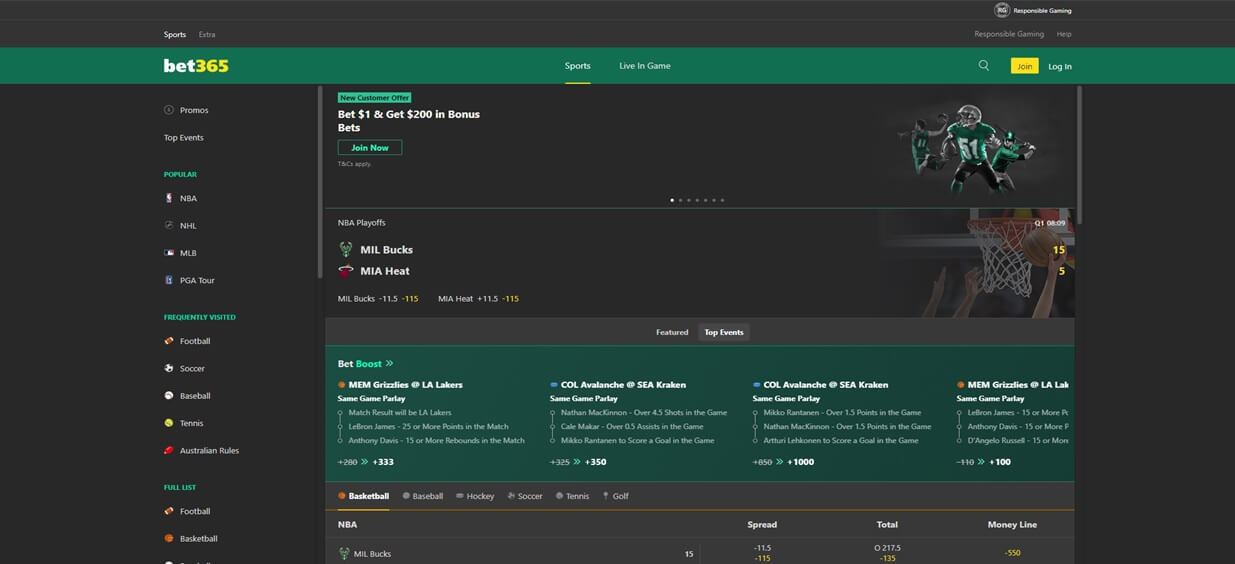 Getting Started with Live Betting Online
Getting started with live sports betting online is a straightforward process that takes less than five minutes to complete. To begin, visit the online betting site of your choice or download the in-game betting app for your Android or iOS device by heading to their respective app stores.
Live betting, especially for high-frequency bettors, is best done on a computer to avoid mistakes, like fat fingering stakes, placing the wrong bet, or placing the same bet, but mobile betting has come a long way for the casual user.
Download process
Depending on the online sportsbook, you may need to download a state-specific version. Reviews and ratings are readily available. All the live sports betting sites listed above have ratings of 4.2/5 stars or better on Google Play and in the Apple app store.
Signup process
To create a sportsbook account, you'll need to provide verifiable personal information, including your name, email, date of birth, phone number, address, and the last four digits of your social security number. You'll be asked to create a password and check a few confirmation boxes before moving on.
Deposit process
After registering, a deposit page may populate. If not, search for the account tab traditionally located in the top right corner of the page. If using a mobile version, the account section may be among the tabs at the bottom.
Live Betting Types
Along with all the traditional ways to wager on sports, live betting expands prop bets to include what will happen during a certain period in the match. PointsBet's lightning bets are a perfect example of live bets that are unique to the in-game action, as well as the DraftKings flash bets. Elsewhere, micro betting is a common term used for time-sensitive live bets. Other traditional bets you can place while the action is unfolding include:
Live Moneyline bets
Moneyline bets are wagers on the outright winner of the contest. Unlike point spreads which are set to encourage even action on both sides, moneyline odds can vary widely depending on projections.
Live Prop bets
Prop bets are similar to the traditional over/under points total bets posted along with the moneyline and point spread but for additional statistical outcomes on players, teams, or combined totals. Prop bets may also be in the form of yes or no, or in ranges. Futures aren't exactly live prop bets, but they do adjust as the season progresses.
Live Same game parlays
Live same game parlays are a new wrinkle already rolled out by FanDuel and PointsBet that will be adopted by the majority of live betting sites sooner rather than later. Parlays allow bettors to combine individual picks into a single ticket for an increased payout. The trade-off is taking on more risk by needing multiple outcomes to go your way.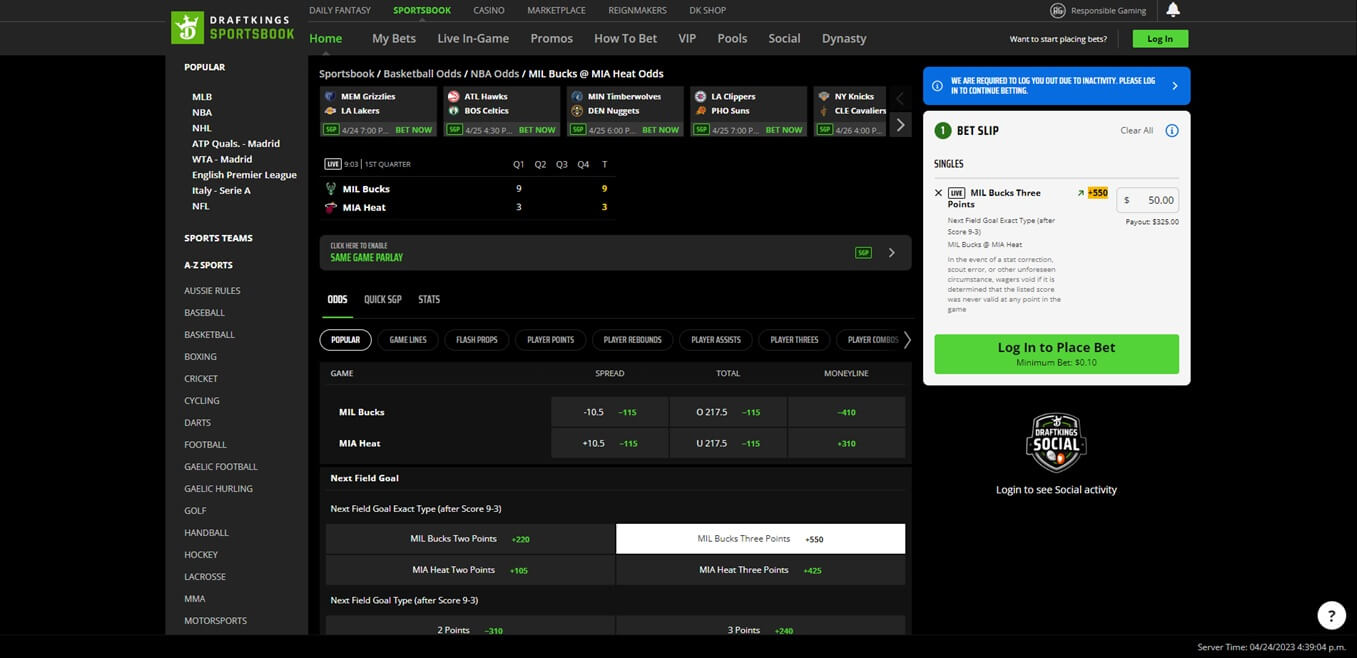 Best Live Bets for Beginners
New bettors should narrow their sport and bet type focus to begin. Start with simple bet types, including moneylines, point spreads, team point totals, and basic prop bets. Over time you may feel comfortable combining player props or betting on play outcomes. Find an edge and exploit it throughout the game.
Similar to bet types, each sport has its advantages when live betting. The slower pace of play sports like baseball, football, and golf gives bettors more time to operate. Basketball, MMA, and tennis may be more exciting to live bet, but it can be challenging to get wagers in. But with how quickly things can change, especially in the UFC, these sports can be a great way to get value on a live underdog right before a sizable swing in the odds.
Even though you plan to bet live, it's still a good idea to brush up on stats and recent results before the matchup starts. DraftKings has the most comprehensive game preview section. Be aware of key numbers in whatever sport you're wagering on. You don't want to get caught on the wrong side of a half-point.
Live Betting Options for Experts
Seasoned bettors should feel more comfortable wagering on same game parlays and more exotic prop bets. Experts may also consider placing a second bet as a hedge if the pregame wager isn't looking good to minimize possible losses. Live betting is an excellent way to find arbitrage opportunities not found during pregame pricing.
Experienced bettors also learn to work the early cash-out option. A welcomed improvement to live betting, now offered by most online sportsbooks, the early cash feature gives bettors the ability to close out an open bet before the contest has ended. The payout is based on live odds at the time. Similar to finding the best odds, claiming partial winnings, or cutting losses before it's too late, adds up over time. By cashing out early, bettors do risk leaving money on the table.
Importance of Finding the Right Live Betting Site
The addition of live sports betting by online sportsbooks has become commonplace. However, the features associated with live betting vary greatly. The further bettors stray from the best online betting sites, the more challenging having success with live betting may become.
Competitive odds, market depth, live same game parlays, and fancy game trackers make all the difference. PointsBet provides the best overall experience based on these factors. Click here to see for yourself.
FAQ's
What is live betting?
Live betting is similar to traditional sports wagering, except the live betting lines are regularly adjusted based on the in-play action at the time. Along with moneylines, point spreads, and the over/under on total points, many online sportsbooks offer a variety of live prop bets.
How do live betting odds work?
Live betting odds change and lock consistently throughout the contest. Changes are highlighted by red or green coloration or up/down arrows around the odds box. Bet slips make bettors acknowledge any changes before placing a live wager.
Where is live betting legal?
Live betting is legal in two dozen states, with more working out the kinks. So far in 2023, Ohio and Massachusetts have gone live with online sports betting. Maine and Kentucky have passed legal sports betting paperwork, but have yet to set a launch date.



Arizona


Arkansas


Colorado


Connecticut


Illinois


Indiana


Iowa


Kansas


Louisiana


Maryland


Massachusetts


Michigan


Nevada


New Hampshire


New Jersey


New York


Ohio


Oregon


Pennsylvania


Rhode Island


Tennessee


Virginia


West Virginia


Wyoming


What is the best live betting site?
The best live betting site is PointsBet sportsbook. Available in 14 states, PointsBet has all the bells and whistles to provide sports bettors with a top-notch live betting experience, including lightning bets, live same game parlays, and a convenient game tracker.
Are there live betting bonuses?
Live betting bonuses are few and far between. Occasionally online sportsbooks offer live betting bonuses, usually in the form of bet insurance or profit boosts.
What are the advantages of live betting?
The advantages of live betting are many. The asset that is being able to watch how things start and still be able to add bets, change bets, or cancel bets can't be overstated. With the increasing depth of live betting markets and customizability of these options, bettors have never been in a bettor position to find their edge.