Gamble USA strives to improve your online gambling experience. We aim to help you play safely, make informed decisions when gambling, and increase your betting knowledge through our guides.
We adhere to strict editorial integrity; our content may contain links to products from our licensed & legal US partners.
DraftKings New York Sportsbook is now available to players within the Empire State, and New Yorkers are picking their betting slips. Whether you are a mobile sports player or you like to bet in a physical location, DraftKings Sportsbook NY has got you covered. To bet with this sportsbook, you need to be within New York and at least 21 years old. Registration is super easy, and on your first deposit, you will be given a 20% match up bonus of up to $1,000 to be used to bet on any sports games of your choice. Not sure you'd be in New York every time to place a bet? Well, here are other states DraftKings Sportsbook is legal:
New Jersey (NJ), Pennsylvania (PA), Indiana (IN), Colorado (CO), West Virginia (WV), Virginia (VA), Louisiana (LA), New Hampshire (NH), Iowa (IA), Wyoming (WY), Tennessee (TN), Michigan (MI), Illinois (IL)
Up To $1,000 Deposit Bonus
21+. T&C Apply
21+. T&C Apply
The best sportsbook
Amazing odds & offers
Awesome betting app
DraftKings NY Promo Code for Sports Betting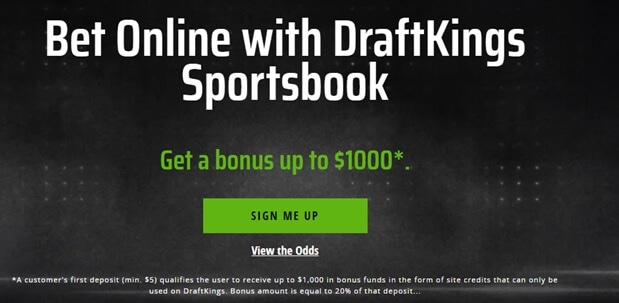 The DraftKings sportsbook welcome offer is one of the best available to new players in New York, competing with FanDuel NY Sportsbook for the most attention. Its NY promo code and playthrough requirement are fair, especially compared to sportsbooks like Unibet that only offer a $500 risk-free bet upon signing up. You do not need a DraftKings sportsbook promo code to qualify either. Keep reading for a complete overview of DK NY and what it has to offer to sports betting fans. If you are between DraftKings and FanDuel and are not currently certain where to bet, tap on the above link for a roundown of their pros and cons.
| Welcome Offer | 20% Up to $1,000 |
| --- | --- |
| Eligibility | New Player and First Time Depositor |
| Qualifying Requirement | Minimum deposit of $5 using any of the available banking methods |
| Playthrough Requirement | $1 fund released for every $25 wagered, 90 days ultimatum to fulfil the required playthrough. The bonus can only be used for sports wager |
Promotions & Offers at NY DraftKings Sportsbook 2023
If you are a New York bettor, you are in for a couple of treats by DraftKings Sportsbook. Aside from the welcome bonus that we've extensively covered above, there are also other bonuses that can be enjoyed while playing. One great thing about the free bet bonuses here is that they seek to keep things exciting. To do this, DraftKings Sportsbook is constantly adding, modifying and changing the many incentives depending on the season, month or events.
With this, bettors who have enjoyed some existing incentives can also partake in the newly released ones. Currently, there are two major sportsbook bonuses for existing DraftKings NY customers.
Refer a Friend: If you've played at DraftKings Sportsbook NY for a while and have seen the rewarding possibilities, it's no surprise that you would want to tell friends and relatives. For players who are into this, DraftKings Sportsbook is looking to reward you up to $100. To fully partake in this, your friends need to use your referral link, and a minimum deposit of $25 must be made. One interesting thing about this bonus is that you wouldn't be the only one getting the bonus as a referrer. The referral, in this case, your friend, would also be given up to $100 in free bet depending on the amount deposited.
Daily Free to Play Pools: This DraftKings sportsbook NY promo is open to all bettors, and you do not need to fulfil any requirement or input any code to partake in it. The daily free to play pools allow players to join a pool for free, and if you are lucky enough to be part of those leading at the leadership board, you stand a chance to win cash prizes.
Highlights of the New York Sportsbook of DraftKings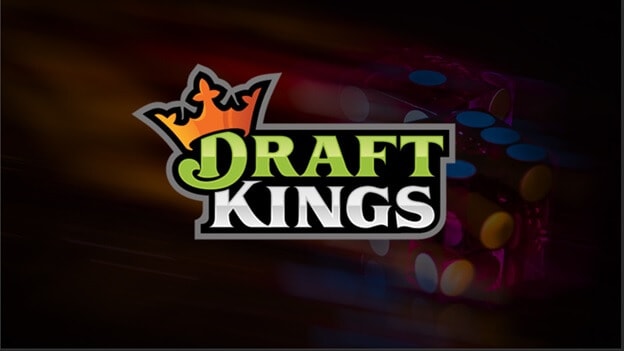 New York is one of the few lucky states to have DraftKings sportsbook operating there. Thanks to its partnership, there is a DraftKings Sportsbook NY location in del Lago Resort Casino Hotel. This means you can decide to bet online, through the DraftKings app or go there for some old traditional gamble.
There are many eye-catching things about DraftKings NY sportsbook, and the first is its appealing look. Whether you are using the mobile sports app or betting straight from the website, you will find the well-organized web layout to be easy to navigate and bet on. The nice look is also backed by quality bets powered by Kambi, a sports betting provider known too well for its quality services. So regardless of if you are a new player or an experienced one, the vastness and flexibility of what can be wagered on are unrivalled by many of its competitors. Likewise, when you log in to DraftKings sportsbook NY app, you will find a personalized carousel with suggestions on bets you should take based on your previous bets and history.
Being an all-around sportsbook that provides state-of-the-art betting services, New York bettors can trust the sportsbook to protect not just their betting interests but also information. The site and the app are secured with the latest SSL encryption, among other digital firewalls. This ensures the impervious protection of your data and financial information. Another layer of security is its license. The sportsbook is licensed by the New York State Gaming Commission, which means all their actions and operations are legal and fair – something you cannot be sure of if you decide to bet at an offshore sportsbook.
With all we've mentioned above, it's pretty hard not to see why DraftKings Sportsbook NY seems to be the leading sportsbook for New York players. Although some areas can be made better, very few competitors can come close to providing the quality services available at this sportsbook.
Pros
Reputable sports betting provider
Flexible betting
Uses SSL digital encryption
Other products like casino games and fantasy sports can be accessed using the same app.
Amongst the first sportsbooks in the Empire State
Cons
Live chat isn't available 24/7
Cryptocurrency isn't an acceptable banking option
Up To $1,000 Deposit Bonus
21+. T&C Apply
21+. T&C Apply
The best sportsbook
Amazing odds & offers
Awesome betting app
Is DraftKings Sportsbook & App Legal in New York?
Yes! DraftKings Sportsbook is as legit as they come, and so far you are within the state and over 21 years of age; you can legally bet using the website or its mobile app. Additionally, DraftKings Sportsbook NY is licensed and regulated by the New York Gaming Commission for legality. This doesn't only mean that this regulatory body oversees all its operations in New York but that all the games available to be bet on have been verified to be high quality and fair.
In addition to the quality games and impressive odds, DraftKings Sportsbook is fortified by SSL cybersecurity. This protects all players' information at the site and financial activities. So, your identity is protected, and all your financial information is shielded from third-party access or hackers.
How to Create Your DraftKings Account and Play
To wager at DraftKings Sportsbook, you'd need to first create an account, and this can be done in four easy steps. If you have a DFS account, then you don't need to open another account, as you can simply link the two together.
Click on the "Sign Up" button on

https://sportsbook.draftkings.com

to open a 4-stage signup page.
Input a unique username, email, password and an option box for promo code.
The second stage will require you to provide your first name, last name, date of birth, last four digits of your social security number, address, city and zip code.
Once your account is verified, you'd need to secure your account before you'd be given an option to download the app.
From the first moment, we urge you to bet safely and within your limits on DK. If you cannot manage and want to close your DraftKings account, you might need to contact the customer support team.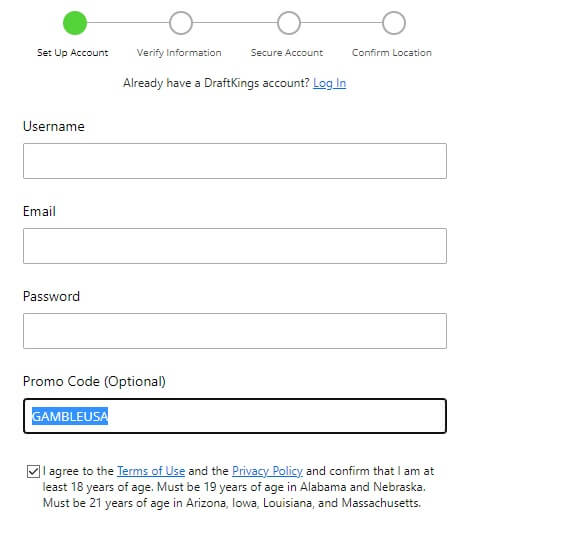 DraftKings Sportsbook Mobile App
For on-the-go wagerers, we've got a piece of good news for you. You can either select DraftKings sportsbook designated app from the App Store or Google Play. Also, unlike before, new players are not required to input DraftKings bonus code NY to get the welcome bonus as it will be credited automatically after your first qualifying deposit.
Placing Bets on DraftKings NY
Placing has never been easier with DraftKings Sportsbook. Here, you do not only have extensive ways to place your bet, but you can also do so via your PC or mobile app. To further understand this, here is how to play at DraftKings Sportsbook NY using the two means available.
Up To $1,000 Deposit Bonus
21+. T&C Apply
21+. T&C Apply
The best sportsbook
Amazing odds & offers
Awesome betting app
Playing on the DraftKings Website
Bet placing has never been this easy as DraftKings Sportsbook NY has everything explained in detail. This means new bettors can still navigate the site hitch-free. As a player, once you are logged into your account, you can click on the event you'd like to bet on before adding it to your slip. The odds are the green numbers close to each outcome, and they decide the amount to be won.
Due to the parlay bet option, you can place up to 12 bets on your slip, and you can view all your pick by clicking the right side of the website. Once you open the bet slip, you can toggle between any of the three options – Singles, DraftKings Parlays and Round Robins. After this is done, you can now input your preferred amount before pressing the "Place Bet" option to finalize your bet. Your bets can be viewed or tracked anytime by going to the "My Bets" category.
Playing on the DraftKings Mobile App
If you've ever played on the website, you'd realize that DraftKings sportsbook NY app also has a similar process of playing. To wager using the mobile app, you only need to follow these steps:
Select the game/games with your preferred outcome or odds.
You can add at most 12 bets to your slip which can be viewed by pressing the button in the middle of the app.
Toggle between the Singles, Parlays and Round Robins option in view.
Input the amount of bet on the page that will popup or press the "Add Bet" option.
If you have a

free bet

, you can also decide to use it here.
After doing this, press the "Place Bet" option to place your bet.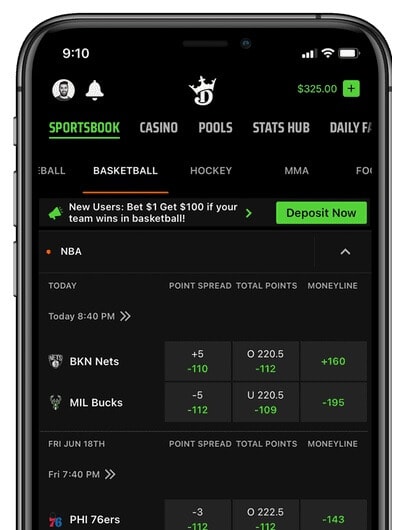 DraftKings NY Sportsbook Overview
Players from New York that choose to place their bets with the DraftKings NY promo code through the mobile app or website will be pleased with the range of options that lies within their fingertips. In terms of sports markets, DraftKings NY sportsbook is superior to most of its competitors, while the bets that one can place offer complete flexibility on how to strategize. Check in detail below, as to what betting odds, lines, and markets DraftKings hosts for its registered players.
Sports Markets Available

There aren't really any sports that can't be bet on at DraftKings Sportsbook. If the sport exists and is fancied by players, you can be assured of finding multiple ways to bet on it here. According to regulations, DraftKings New York Sportsbook does not allow bets on collegiate teams such as high school sporting events. So, what can I bet on? We hear you ask, well, here are all the options you will find in this sportsbook.
Aside from these, you can also play all the leagues in the following sports:
Betting Options
Regardless of your knowledge of sports betting, DraftKings Sportsbook has got you covered. The various options available makes it easy for players – new or experienced – to bet on what they like and fully understand. There are about 6 major types of bets in this sportsbook, and here, we will be going through all of them in detail.
Prop Bets: This is also known as proposition betting. Here, bets are placed on secondary events of a specific sport's game, like whether a home run will be hit or not by a player. Prop betting deals mainly with contest's ancillary and nothing major.
Futures: As its name alludes, this form of bet is placed on something happening in the long run. Unlike most types of bets, we will discuss here, future betting is placed on a much longer-term and can run for a couple of weeks, months or even a season. An example is wagering on a specific player to achieve a specific milestone, or a team will win its league championship.
Point Spread: This is the most typical betting option for sports bettors, and you will find it at DraftKings Sportsbook. The sportsbook would pick a team that would win a contest by specific goals, points, or scores to make this bet. The bettors would then choose whether the chosen team to lose would lose by fewer points, or the team picked to win would do so with more points.
In a case where the team is predicted to win according to your wager or the losing team loses by fewer points, then the spread, in this case, has been covered.
Over/Under: This is a little bit similar to the Points Spread betting, but it differs in that DraftKings Sportsbook would be the one to pick the number of points that would be scored in the game by the two teams. After this is done, bettors would then wager if they feel the predicted score is lower or higher. Bets here are commonly called "over/under" because if the bettors believe the number is too low, you will choose "over", and if otherwise, they choose "under."
Who Will Win/ Moneyline: This is the

most straightforward type of betting

you will see at DraftKings Sportsbook. Bettors who chose this way of betting only place bets based on who they believe would come out victorious at the end of the match or game. The point difference doesn't matter here as the payouts for this kind of gamble is determined based on DraftKings Sportsbook view on who would win.
The team at a disadvantage would have a positive number next to it, while the one the sportsbook feels to most likely win would have three negative digits beside it.
In-Game Bets: Also known as live betting, the In-Game Bet is one of the most detailed types of betting you'd ever find, and DraftKings sportsbook NY app even took it a notch. No action is wasted on you here, as you can bet on the minutest thing in a contest. In addition, inconsequential events like the type of play in the next football play can even be wagered on.
The In-Play betting option makes wagering quite flexible given that you bettors can wager on anything you could think of, and what's more? In addition, punters can decide to cash out at any time during the game.

The numerous betting options available for each game means there would be some that are not easy to understand, which is where our how to bet on DraftKings guide has got you covered anyways. In addition, there are a series of video guides detailing what each type of bet entails depending on the sports you want to wager on.
Parlays: Want to bet on a series of games at a time? The

Parlay betting option

is what you are looking for. Here you can fuse wager on multiple games into one. The more bets you are adding to your parlay, the greater the stake and, in turn, the payout. This type of bet is recommended for high-risk takers and losing just one bet in the parlay means the complete loss of the bet.
Round Robin: Do you think parlays are great? Then, wait until we explain the round-robin type of bet. Here, you can place multiple parlays into one bet. This means you can have many possibilities of bet on different parlays, and all these will be in just one bet slip. The Round Robin, RR for short, allows easy placement and viewing of bets.
A great addition and we daresay one thing that makes DraftKings Sportsbook better than most in the business is the "Pools" option. The option allows qualified players to be part of communal pools for a specific amount against other players. Likewise, you can choose how long you'd like to stay in the pool, whether for a couple of weeks or the whole season. Some of the pools you can join are the college football pick 'em and NFL pick 'em.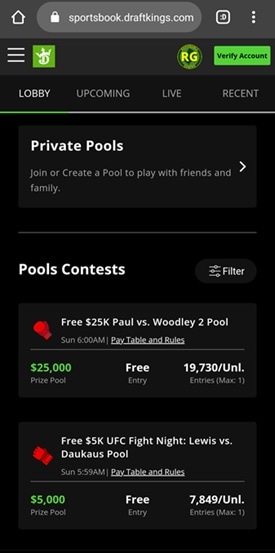 DraftKings NY Live Streaming/Betting
At DraftKings NY Sportsbook, you do not necessarily have to place your bet before a game. Instead, you can place your bet while the game is going on via live betting. Live betting is different from other forms of betting because you can bet on minor events as the game plays out. Given the type of bet, the game needs to be in play to place your bet. Lastly, the odds in this type of bet correspond with the prospect of the specific action taking place.
As of 2020, DraftKings NY sportsbook and app provides players that have over $0.00 in their account the ability to live stream a number of matches to accommodate their betting needs. This is a breakthrough opportunity for DraftKings players to place sports bets on the various live streamed markets, based on how their game is proceeding. This perk was added by DraftKings app and sportsbook after its collaboration with Sportradar; currently, all DraftKings sportsbook players can view the live matches in NY and other locations that the operator is licensed, except Iowa.
Deposits and Withdrawals at NY DraftKings Site
For a relatively new sportsbook in New York, DraftKings Sportsbook has several methods available to players to fund their accounts and withdraw. Whether you are using DraftKings sportsbook NY app or the website, you can easily use any of the following banking methods:
Method
Deposit
(min-max)

Withdrawal
(min-max)

Estimated Withdrawal Processing
Credit/Debit Card (except Amex)
$10 upwards
$1-$100,000
3-5 Days
PayPal
$10 upwards
$1-$60,000
3-5 Days
Online Banking
$10 upwards
$1-$100,000
3-5 Days
Play+
$10 upwards
$1-$25,000
2-4 days
DraftKings Gift Card
$10 upwards
-
-
Wire Transfer
$10 upwards
Minimum of $20,000 for the first withdrawal and $10,000 for subsequent ones
1-2 days
VIP Preferred E-Checks
$10 upwards
$15-$100,000
● Under $100 - 5-7 working days
● $100-$1,999 – 3-5 working days
● $2,000 upwards – 3 working days

Cage
$10 upwards
$1-$100,000
1 hour
Depositing and withdrawing from your account is relatively easy, as with the DraftKings Casino. You only need to click the top right corner of the screen to initiate any. In addition to this, using the cage method requires that you are physically present at DraftKings Sportsbook location in New York. All payment gateways are secured with well-protected financial information against external access. The DraftKings prepaid card, as the DraftKings gift card, is the suggested payment route by the operator, so consider it for speedy transactions.
Before you can fund your account or withdraw your DraftKings winnings, you will be required to verify your identity and location. Here, you'd be required to upload a copy of your driver's license, utility bills, passport or bank cards. This is to verify your identity and see if you are qualified legally to be a player at DraftKings NY Sportsbook.
Up To $1,000 Deposit Bonus
21+. T&C Apply
21+. T&C Apply
The best sportsbook
Amazing odds & offers
Awesome betting app
Customer Support & Responsible Gambling at DraftKings Sportsbook
There are three primary ways to reach DraftKings sportsbook customer service for any sportsbook issues with your DraftKings account. The first and the quickest is the live chat which can be accessed via its site or mobile app. While this option isn't always available, you can opt-in for the email support by clicking the "Contact Support" option or shooting them a mail at: sportsbook@draftkings.com. The latter is the best way to find out why your DraftKings account is restricted and similar complicated queries.
Furthermore, you can request a callback from DraftKings sportsbook, and you'd contact at your next convenience. If all these options aren't cutting it for you, you would be happy to know that you can also troubleshoot your DraftKings casino account via their numerous social media handles that have proven to get you a swift response.
Aside from offering outstanding and legit betting services, DraftKings Sportsbook also protects bettors via its responsible gaming feature. This seeks not only to sensitize players about the risks and ugly side of gambling but also features series in place to help punters combat over-betting and addiction. Here, you can set limits on your deposits, how much you can wager, and the session you use gambling. However, if these do not seem to be working, you can enroll in the self-exclusion program.
Future US States & Final Review of DraftKings NY
The Garden State was key to the overturning of PASPA, which led to DraftKings NJ Sportsbook going live in August of 2018. Shortly after going live, the sportsbook partnered with Resorts Casino in Atlantic City to have a land-based casino that keeps things interesting for players that fancy physical betting.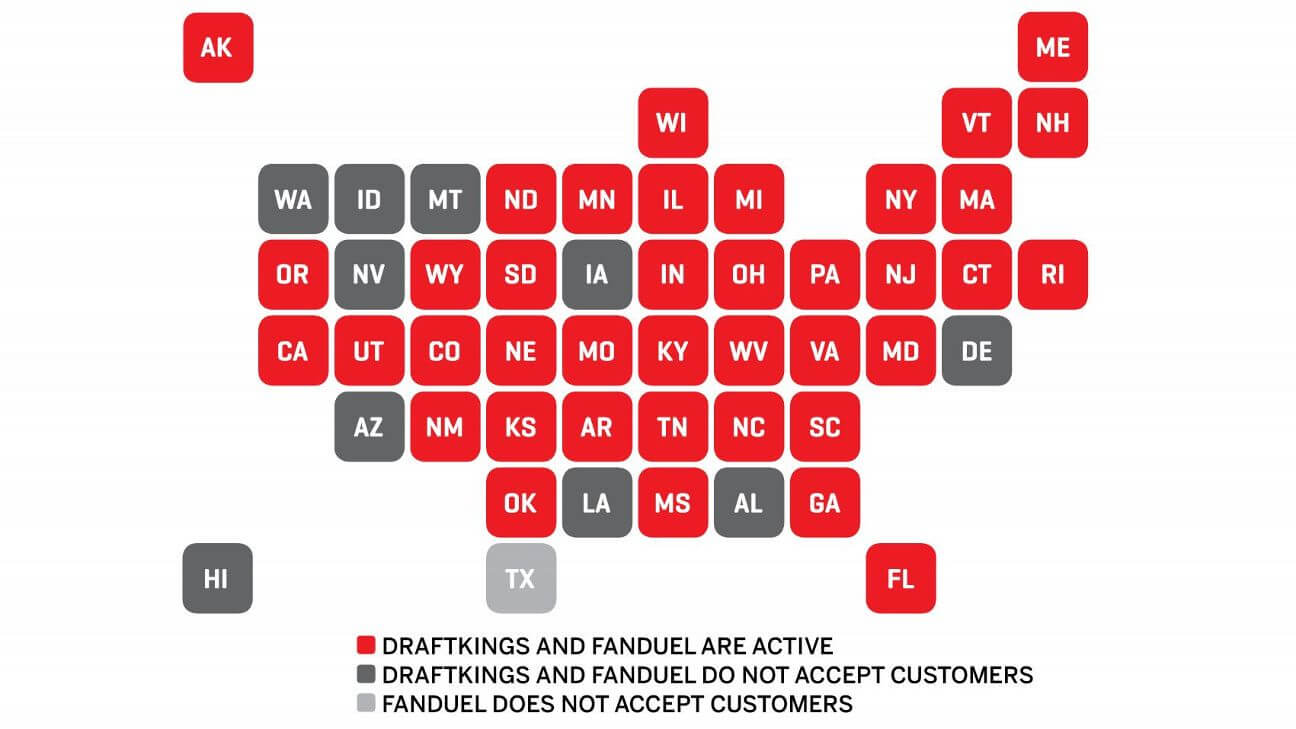 Given the success that DraftKings Sportsbook has recorded in various states, it is no surprise that it wants to spread its wings to other states where sports betting is now legal. This was made possible on the 8th of November. DraftKings Sportsbook was one of the few operators, nine in total, to be given a betting license in New York. With DraftKings New York Sportsbook being live before the Super Bowl 2022, the operator achieved whatever was possible. With this sportsbook's fast wave of progress, one could only sit back and enjoy the ride and new experience offered by DraftKings Sportsbook.
DraftKings Sportsbook New York FAQs
Can I trust DraftKings NY Sportsbook with my money?
Definitely! If you are still skeptical about funding your account, DraftKings Sportsbooks has got something to change your mind. The site uses one of the most advanced cybersecurity money can buy in safeguarding the site and all payment gateways. The SSL encryption used makes it impossible for hackers to access your account or financial information. Since there is always a need to verify yourself with every login, getting hacked is impossible.
Is DraftKings NY Sportsbook legit?
DraftKings NY Sportsbook is as legit as they come as the games here are powered by one of the most reputable sports betting providers in the industry – Kambi. This means that players get flexible things to bet on and profitable odds to go with them.
Is DraftKings Sportsbook legal in New York?
Yes! The New York State Gaming Commission regulates the sportsbook. This allows New York players to wager legally within the state line.
Where is DraftKings Sportsbook located?
Due to its partnership with del Lago Resort Casino Hotel, DraftKings sportsbook NY location is at Waterloo NY, 13165.
Can my bets on DraftKings Sportsbook be voided?
Yes. There are quite many reasons for your bets to be voided. Some common reasons for this are:
You didn't start the bet.
The game was cancelled.
The period of play of the game didn't fulfil the requirement of the bet.
In case of a void bet, the amount wagered would be refunded back to your account, similar to when you play DraftKings slots and there is lag.
What is the current DraftKings Sportsbook bonus code?
While there is a welcome offer bonus and Refer a Friend bonus, DraftKings sportsbook NY promo code is not required for players to be eligible. You can use any of the links in this page to sign up.
What is the minimum age limit for playing at DraftKings New York?
To legally register and bet at DraftKings, you'd need to be at least 21 years old. This age limit is binding on both the online and physical DraftKings sportsbook.
Is DraftKings Sportsbook better than BetMGM NY?
While the two are giants in their rights, DraftKings Sportsbook trumps BetMGM NY in several ways. Whether you are betting via the mobile app or website, DraftKings sportsbook runs smoothly and faster, unlike the BetMGM app, which is known to lag. Click here for more DraftKings sportsbook alternatives.