Gamble USA strives to improve your online gambling experience. We aim to help you play safely, make informed decisions when gambling, and increase your betting knowledge through our guides.
We adhere to strict editorial integrity; our content may contain links to products from our licensed & legal US partners.
FanDuel Sportsbook NY is a top sports betting platform in the United States. Its popularity can be credited to its excellent interface, sports betting options, fantastic deposit options, and marketing efforts. FanDuel is available in many states in the US, including New York.
FanDuel NY Sportsbook kicked off on January, 2022, and is available as a web-based new sportsbook on PCs. If you would rather play on the go, you will be glad to hear that there is a FanDuel NY sportsbook app for both IOS and Android devices! The FanDuel Sportsbook NY mobile has a clean interface similar to the desktop interface. It is clean and extremely easy for anyone to use. This means players who have not accessed a sportsbook before should not have trouble getting around this platform and betting on sports.
There is presently no FanDuel NY promo code available for players. All you need to do is register on the platform and make your first bet.  To make up for the lack of a FanDuel sportsbook NY promo code, the platform offers new players a risk free-bet of up to $1,000. You get this offer only if you make a minimum deposit of $10 within seven days of signing up. This offer is credited in site credit 72 hours after losing your first bet.
Aside from the FanDuel NY Sportsbook location, you can find the FanDuel Sports betting platform in various states in the US. Some include Illinois, New Jersey, Indiana, Tennessee, Colorado, Michigan, Virginia, West Virginia, Iowa, and Pennsylvania. FanDuel has a partnership with The Buffalo Bills, making the site/mobile app fully lensed and legal. This means that if you are within the legal age and in any of these regulated regions, you can bet without problems on the FanDuel Sportsbook.
No Sweat First Bet Up To $3,000
21+. T&C Apply
21+. T&C Apply
Convenient banking
Massive choice of sports
FanDuel New York Promo Code for Sports Betting

The FanDuel risk-free bet offer for new players is within the average range compared to other top Sportsbooks. For instance, BetMGM, another renowned Sportsbook in NY, also offers a $1,000 risk-free bet if you use the bonus code GAMBLEUSA. DraftKings also provides a $1,000 deposit bonus to new players from NY.  However, PointsBet NY offers up to $2,000 in risk-free bets, which is much higher than the offers. Visit this link for a complete breakdown of the NY sportsbook promo codes.
FanDuel Sportsbook NY Promo Code
💵 Bonus Value
$1,000 Risk-free bet
🎁 Promo Code
Not Applicable
❓Requirements
Only for new players

Players must deposit a minimum of $10

🔞 Eligibility
Players must be over 21 years of age and situated in New York
📜 Wagering Requirements
If your eligible wager wins, you get a site credit of equal amount up to $1,000.
You can't withdraw the bonus cash immediately, but winnings earned using the bonus can be immediately withdrawn.

⏱️ Expiry
Bonus expires seven days after claiming.
Promotions & Offers at NY FanDuel Sportsbook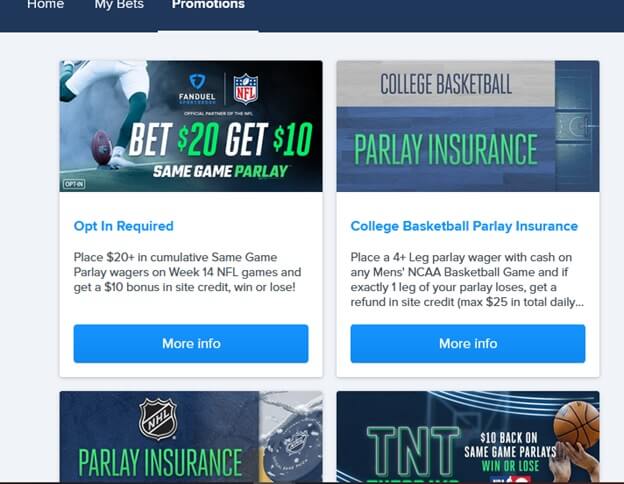 Signing up with the FanDuel NY Sportsbook bonus code gives you access to tons of offers and promotions. These are constantly updated and change depending on the season or event. For instance, FanDuel could offer boosted odds on specific teams during the football season.
It is vital to check the promotions page frequently to avoid missing out on any FanDuel sportsbook NY promo. Some of the most common offers you will find include:
Daily Odds Boost: FanDuel regularly offers daily boosts on odds. This is a way to help you earn more than normal on a specific event. You must check the promotions page regularly for the boosts available.
NFL same Game Parlay: FanDuel offers an amazing same game parlay every week during the NFL season to help you keep making money. Simply wager $20 in same game wagers and get a $10 bonus if you win or lose. If you are a new player, then use our

how to parlay on FanDuel

guide to get started.
College basketball Parlay Insurance: Place a 4+ bet on any NCAA men's basketball game and get a refund of up to $25 if your parley loses.
TNT Tuesdays: Opt-in to this offer every Tuesday and wager a 3+ leg same game parlay bet on any NBA game on TNT. You stand a chance to win a bonus of up to $10 even if your bet wins or loses.
No Sweat First Bet Up To $3,000
21+. T&C Apply
21+. T&C Apply
Convenient banking
Massive choice of sports
Highlights of the New York Sportsbook of FanDuel
The FanDuel Sportsbook stands out in many areas, making it a top choice for New York sports betting fans. Here, we will be looking into some of the aspects we liked and those we did not.
Pros
Excellent user Interface: The FanDuel NY Sportsbook is exceptionally user-friendly and easy for any player to use. Regardless of whether you decide to play via the desktop or FanDuel NY sportsbook app, this is the case. Everything is organized correctly, and the FanDuel sportsbook NY login is easy for anyone to find.
Excellent Customer Service: The FanDuel sportsbook NY customer service is very responsive and always willing to answer any questions you have. You have the option of choosing either live chat, email, or a toll-free phone number, all available 24/7.
Easy Payment System: Deposits and withdrawals are swift on FanDuel NY, with reliable payment options to choose from. These range from PayPal, Bank Transfers, Debit/Credit cards, etc. Withdrawals are processed quickly, and limits are very fair.
Tons of Sports Markets: FanDuel covers a variety of sports markets and events. You will be spoiled with choice if you decide to wager on this platform. There are also numerous

top FanDuel bets to place

available, which means there is something for everyone.
Cons
There could be more withdrawal options. The available withdrawal options, although functional, could have been more.
Some of the promotions available on the platform require a large bankroll; which is why we also provide you

FanDuel alternatives

.
Is FanDuel Sportsbook & App Legal in New York?
The short answer is Yes, the FanDuel NY sportsbook app is legal in New York. This sportsbook has grown a solid reputation as a daily fantasy sports provider over the years. Then, the provider took things further to become legitimate by entering into an agreement with Power Betfair. This agreement led to the creation of FanDuel Group, which was designated to run in the US.
FanDuel is also licensed to operate legally in the state of New York. Licensing in the US differs depending on the state, each having its unique regulations. For a sportsbook to be deemed legal in New York, it needs to get a license from the New York State Gaming Commission. This year, the authority allowed FanDuel and 9 other operators to launch in this US state.
FanDuel Sportsbook NY is in a partnership with Buffalo Bills and acquired a license from the New York State Gaming Commission, as one of the successful bidders. With this, The FanDuel sportsbook and app can operate legally in New York. Players who are interested in betting on FanDuel have two options. They can either bet online with the FanDuel Sportsbook facility or use the app in New York.
How to Create Your FanDuel Account and Play
FanDuel Sportsbook NY offers a straightforward sign-up process. This is one of the main benefits of the platform, as you can easily register and get down to betting even as a new player. Once you register on the platform, you are eligible for the welcome offer. Make sure you remember to claim it after registration. To register on this platform on either the desktop version, mobile, or via the app, these straightforward steps can help:
Input the FanDuel Sportsbook website (

https://ny.sportsbook.fanduel.com

) in your browser
Once it loads, click the "Join Now" button.
You will be required to pick your state of residence.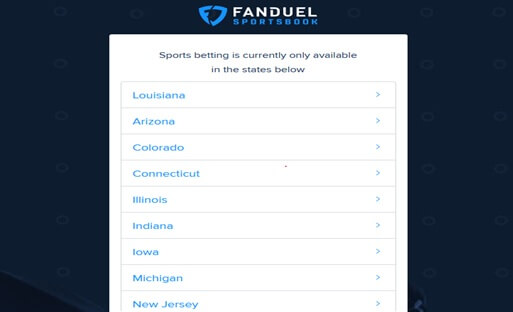 Once you do this, you will have to provide your personal information. These include your name, email, and new FanDuel sportsbook NY login details.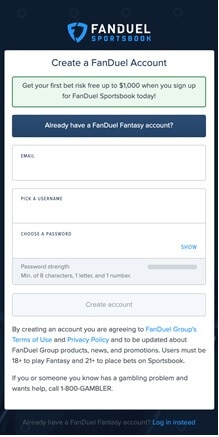 Then, you will be required to provide your contact information to help FanDuel verify your location and allow you to play legally. As you know, sports betting is not presently allowed in all US states.
After your details have been verified, you can then play legally.
After the process of verification, you will be provided full access to the various betting markets. There is also a welcome offer which is a risk-free bet of up to $1,000. This refunds any amount no more than $1,000 if your wager loses. Don't forget that you will need to deposit a minimum of $10 to access this bonus. You can also sign using the FanDuel app if you prefer playing on the move. But first, you will need to download the mobile app. Below, we will show you how to achieve this.
Registration Process at the FanDuel Sportsbook Mobile App
FanDuel Sportsbook NY has a mobile app for both Android and IOS devices. Since both operating systems are different, you will need to learn how to download the app for your respective device.
How to download the FanDuel Sportsbook for Android Devices
You have two options to download the FanDuel Sportsbook for your Android device. The first is to get the FanDuel Sportsbook APK directly from the operator. To do this, head to the FanDuel Sportsbook and click the Join Now button. Then, head to the promos tab and click Mobile > Download for Android. A pop-up box will appear asking if you want to keep the FanduelSports.apk. Allow the file download and click on the install button. Once this is done, all that is left is for you to log in and make your wager.
This was the official method because, in the past, Google Play Store did not support gambling apps for US users. Not to worry, as this process is safe and is one of the best ways to get the FanDuel Sportsbook on your device. The next option is to download the mobile app from the Google Play Store. Simply search for the FanDuel Sportsbook, and download the app. Once installed, open the app, log in and start playing.
How to download the FanDuel Sportsbook for IOS Devices
To download the FanDuel Sportsbook app for IOS, head to the FanDuel Sportsbook website (https://ny.fanduel.com) and click the " Join Now" button. Once you have registered, pick the mobile option from the main menu. Then, use the option tagged Download for iPhone to head to the Apple store and click on "GET" to install the app. Once it is done, log in and bet on your favorite sports.
No Sweat First Bet Up To $3,000
21+. T&C Apply
21+. T&C Apply
Convenient banking
Massive choice of sports
Placing Bets on FanDuel NY
The FanDuel Sportsbook is very easy to use, and this is the same with placing FanDuel sports bets. To bet on your favorite sporting events, the steps below can help.
Choose where you want to play: The first step is determining where you want to play. FanDuel NY Sportsbook supports gameplay on PC, mobile, and via the app. Pick the option that best suits you and move to the next step.
Sign up: Next, you will need to register on the platform. We already covered how you can do this in the earlier section and create your FanDuel sportsbook NY login. Ensure you verify your location and details to get full access to the platform.
Deposit and claim your bonus: You will need to deposit after you have signed up. If you are interested in claiming the bonus offer, you must deposit a minimum of $10. FanDuel NY has a risk-free bet welcome offer of up to $1,000 if your bet loses. This does not require any bonus code to use.
Make a wager: Once you have made a deposit, you can now place bets on the FanDuel Sportsbook NY location. Go through the FanDuel Sportsbook to see all the available wagering options and sports. Then choose the one you are interested in and make your bet. If you are lucky, this may be your winning bet!
Playing on the FanDuel Website
The FanDuel website has a very beautiful designed and user-friendly interface. The left side of the screen properly categorizes information on the homepage. Here, you will find a column for the "popular" sections on the platform. This consists of tabs for promotions, live sports betting, odds boosts, and popular sports and leagues. Directly underneath this is a section for "All sports," which lists all the available sports on the platform.
Lastly, you will find links to other important links as the last section in this column. The top of the home page also consists of links to "My Bets" and "Promotions," allowing you to navigate between both without any hassles.
Playing on the FanDuel Mobile App
The FanDuel mobile app also provides an amazing experience for players. This is the case regardless of whether one decides to play on the Android or IOS app. The icons are sized just right, and everything is easy to read. You can still find the promotions tab towards the top of the screen, while tabs for "home" and "All Spots" have been moved further below. Here, you will also find the "My bets" to view all your wagers. Signing up on the FanDuel NY sportsbook app requires the same process as the desktop, and you will need to input the same information. However, the mobile app gives you the chance to activate the Face ID, so you don't need to input your login details every time you want to log in.
FanDuel NY Sportsbook Overview
FanDuel Sportsbook was initially launched in the New York market in January 2022. To operate legally in NY, FanDuel, collaborated with the Buffalo Bills. This mobile sports betting giant has played an important role in the range of markets and betting options available to NY bettors.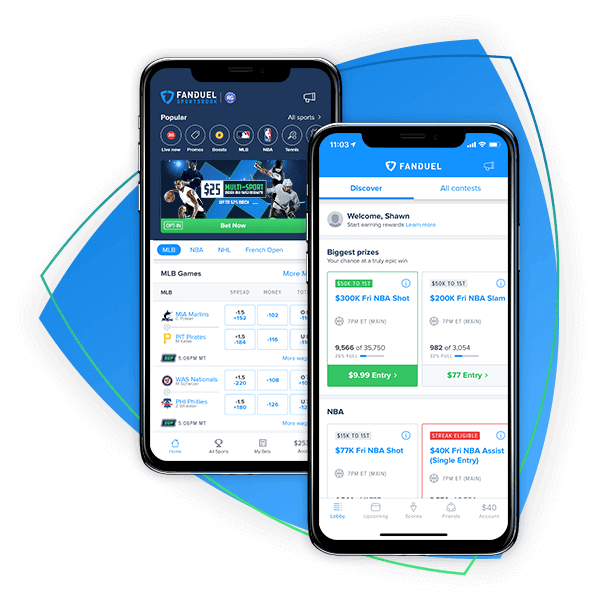 Sports Markets Available
FanDuel Sportsbook covers a variety of sports markets which ensures that you are spoiled for choices. Sports Markets covered, along with their average number of events during off-season, include:
Aussie Rules
Baseball – 3+ events
Basketball – 19 events
Boxing – 1 event
Cricket – 4 events
Cycling
Darts – 1 event
Football – 4 events
Golf – 6 events
Handball – 3 events
Ice Hockey – 4 events
MMA
Motorsport – 1 event
Rugby League – 2 events
Rugby Union – 5 events
Snooker – 1 event
Soccer – 54 events
Table Tennis – 1 event
Tennis – 6 events
Betting Options
In addition to the numerous sports markets, FanDuel NY also offers players tons of betting options. Some of these include:
Moneyline: This is a straight wager on a player or team to win a match or game.
Spread: This is a bet on a team to cover a specific number of points. It is referred to as a puck line in hockey, while it is called a run line in basketball.
Parlays: This is a combination of numerous bets into one ticket. You can increase your profit by including more selections, but all the selections must win.
First half & Second half: Here, bettors can wager on what will happen in each half of the game. Each half of the game is treated as a different match.
Totals: This is when you wager on if the combined number of points will be lower or over a specified total.
Futures: Here, you bet on an event that will occur in the future. For instance, the team that will win the World Cup before it is played. Individual outcomes can also be included in futures, like who will score a hat trick in a match.
Props: This is when you bet on a specific outcome in a game that is not dependent on the overall result. For instance, how many shots on target a player will make.
FanDuel NY Live Streaming/Betting
FanDuel NY tries to give players value in every aspect, including the aspect of live streaming and betting options, including the FanDuel cash out feature. You can get live on various sports 24/7 all over the globe, and the best part is that there is always something available to bet on. You can stream several sports events on this sportsbook like ice hockey, NHL games, tennis, and many more. Live streaming is available on both desktop and mobile apps, with fantastic quality – with FanDuel even live-streaming NHL games. However, before you can access the live streams on offer, you need to open an account first. This may be inconvenient to some people, but it seems like a minor price to pay for this quality service.
No Sweat First Bet Up To $3,000
21+. T&C Apply
21+. T&C Apply
Convenient banking
Massive choice of sports
Deposits and Withdrawals at NY FanDuel Site
FanDuel NY Sportsbook provides players with various options for deposits and withdrawals. The options are similar in all the supported US states. For FanDuel deposits, here are some of the choices available:
Credit/Debit cards – Note that the website has stated that some credit card companies categorize deposits with online platforms as cash advances. For this reason, they may include additional fees.
FanDuel Prepaid card
Online Bank Transfers
Wire Transfers
Check
PayNearMe: This is available at CVS, Family Dollar, and 7-Eleven stores.
You can deposit a minimum of $10 and a maximum of $1,000 for a single deposit.
Withdrawal Options
For withdrawals in FanDuel NY Sportsbook, you have the following options:
Play+
PayPal
Check by Mail
Online banking
Cash at Cage – The Meadowlands, Golden Nugget
You will need to have at least $1 for withdrawals to be valid except for the cash at cage, which requires $50. FanDuel suggests that you use the same option for both deposits and withdrawals.
Withdrawal Limits
PayPal has a maximum withdrawal limit of $60,000, while online baking is pegged at $100,000. There is no stated limit if you use checks. Once your withdrawal request has been processed, the payout time for online banking is between 2-4 days. In contrast, PayPal will payout between 48hours, while a check can take from 7 – 10 days.
No Sweat First Bet Up To $3,000
21+. T&C Apply
21+. T&C Apply
Convenient banking
Massive choice of sports
Customer Support & Responsible Gambling at FanDuel Sportsbook
FanDuel sportsbook NY customer service is very reliable. You can choose from any one of the following to get 24/7 support:
Live chat: This is available 24/7 and can be accessed underneath the FanDuel NY Sportsbook's page
Phone call: FanDuel offers a toll-free number to reach customer support at +1-646-930-0860
Email: This is also available 24/7 at sportsbook@fanduel.com, if this is the option you prefer
FanDuel Sportsbook is also a massive supporter of responsible gaming as it understands the damage that problem gambling can cause. Therefore, it offers players a range of tools to manage gaming activities. First, players can set deposit limits, time limits, and spend limits to control spending. If you are looking for assistance with a Locked or Suspended FanDuel account then we have a complete guide to help you.
Also, players can use a self-exclusion feature to exclude themselves from the platform for at least 12 months. Further, FanDuel collaborates with numerous third-party organizations like the International Centre for Responsible Gaming to provide players extra help. With these and many more, it is evident that this provider is very particular about the safety of players.
Future US States & Final Review of FanDuel NY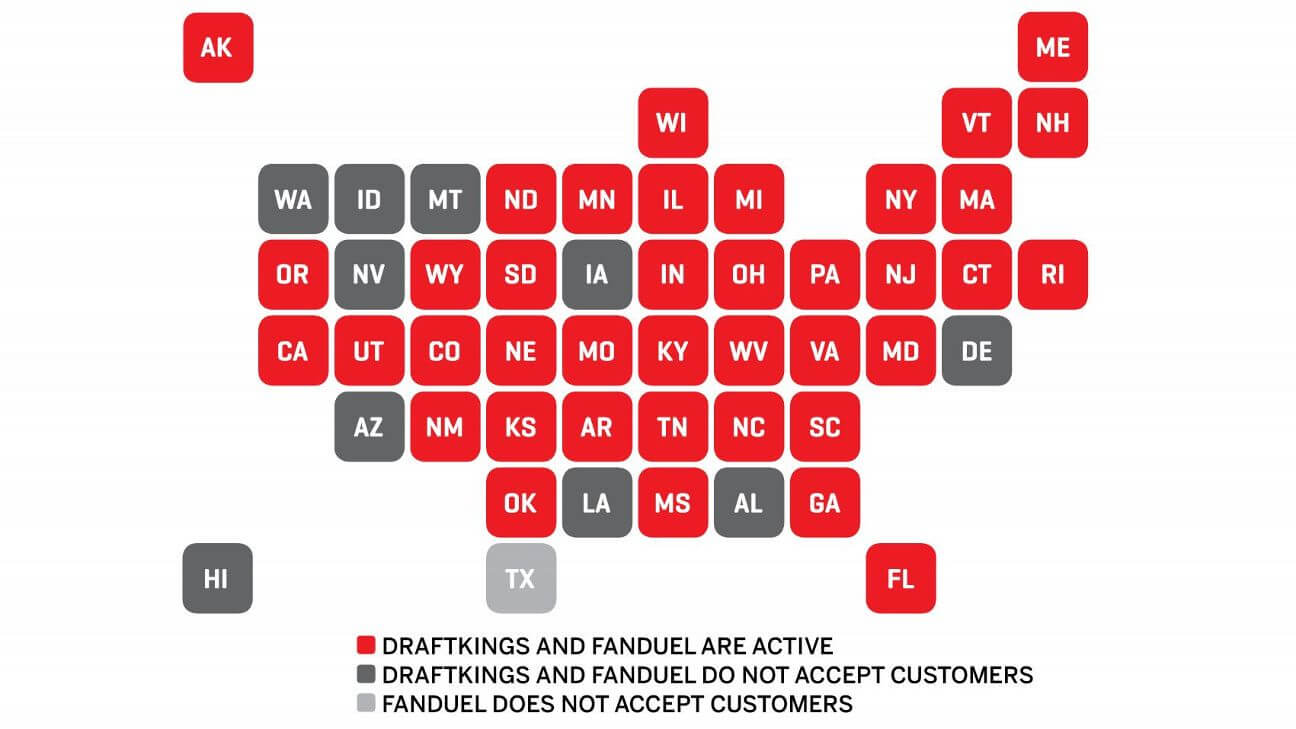 FanDuel has been growing its sports betting brand continuously and does not seem to be stopping soon. It first launched its online sportsbook in New Jersey in 2018 and expanded into PA in 2019, where it established a land-based sportsbook. It is also presently legal in New York, Illinois, Indiana, Tennessee, Colorado, Michigan, Virginia, West Virginia, Iowa, Louisiana, Arizona, and Connecticut. It is expected that FanDuel will be available in Ohio and Maryland later in the future too. But this entirely depends on how soon some of these states legalize sports betting online.
Overall, FanDuel Sportsbook NY is a platform we certainly recommend. The welcome bonus is impressive, and players can enjoy betting on the various sports markets. New players won't have a problem either since it is highly user-friendly and offers a mobile app for Android and IOS. It has managed to amass a loyal fan base and earned itself a top spot in the New York market. This is not without reason, as it is passionate about ensuring players have the best sports betting experience. This is undoubtedly a platform worth playing in if you reside in New York.
FanDuel Sportsbook New York FAQs
Can I trust FanDuel NY Sportsbook with my money?
Yes, you can trust FanDuel NY Sportsbook with your money. It built its reputation by offering daily fantasy sports and has an impeccable record. FanDuel NY is also in partnership with Buffalo Bills and licensed by the New York State Gaming Commission. This body is responsible for regulating it, so your safety is guaranteed.  Lastly, your money is secure even if the company goes out of business.
Is FanDuel NY Sportsbook legit?
Yes, FanDuel NY Sportsbook is legit. The laws surrounding sportsbooks differ depending on the state, and FanDuel has done everything to ensure it abides by the rules of NY. It is properly licensed, and anyone 21 years and above can play here without any worry.
Is FanDuel Sportsbook legal in New York?
Yes, FanDuel Sportsbook is legal in New York. For a Sportsbook to operate legally in NY, it must be licensed by the New York State Gaming Commission. FanDuel Sportsbook has successfully obtained its license this year and operates legally. It is also in a partnership with Buffalo Bills, ensuring that it is sound in New York.
Can my bets on FanDuel Sportsbook be voided?
Yes, your bet on FanDuel Sportsbook can be voided at the discretion of the platform. However, this is unlikely and only happens if you break the rules of the bookie, especially when it is a free bet or any associated offer. But in other cases, your bet may be void due to the following:
If a match is postponed or canceled
If a player is injured
The rules of the game change
In the event of errors.
What is the current FanDuel Sportsbook bonus code?
Presently, FanDuel Sportsbook NY does not have any bonus code. Simply register on the platform and make a deposit of at least $10. You can claim the bonus offer when you do this, which is a risk-free bet of up to $1,000 for FanDuel Casino and app.
What is the minimum age limit for playing at FanDuel New York?
To play at the FanDuel NY sportsbook, you will need to be 21 years or above. Also, you have to be anywhere in New York before you can bet.
Is FanDuel Sportsbook better than BetMGM NY?
Yes, in our option FanDuel Sportsbook is better than BetMGM NY because you get better odds on FanDuel. This is why more players prefer to play on FanDuel NY instead of BetMGM NY, although the FanDuel app troubleshooting is not an uncommon requirement. For a complete breakdown of how FanDuel fares vs DraftKings and other bookies, check our features.
No Sweat First Bet Up To $3,000
21+. T&C Apply
21+. T&C Apply
Convenient banking
Massive choice of sports