The National Football League is a 32-team professional football league. The NFL is 101 years old now, with top teams competing for the NFL title from around the states. Working with the National Football Conference and American Football Conference, NFL provides numerous betting opportunities. This page will guide you towards the best NFL betting sites by state, so you know who you can trust with your real money bets. 
With the 2022/2023 season on the horizon, punters' interest and promise for remarkable winnings are increasing. But can you bet on the games from the USA? The good news is, it is allowed, but with a few exceptions.
The best betting sites will be busier than ever in the upcoming years, as new licenses are granted in several states. With betting activity swarming on each of them, it is essential to figure out the best platform for bets. So, how do you go about doing that? Let us help you figure how to do that:
Legal States to Bet on NFL
Only some states in the US have allowed betting on the NFL. While experts guess the number will grow with time, you can only bet online or in-person at a licensed sportsbook in selected states. Here are a few of the States that allow NFL betting and others that don't.
| Online Sportsbooks Legal | Arizona, Colorado, Indiana, Iowa, Maryland, Michigan, Nevada, Connecticut, New Hampshire, New Jersey, Illinois, New York, Pennsylvania, Tennessee, West Virginia, Wyoming, Louisiana |
| --- | --- |
| Online Sportsbooks Illegal | Alabama, Alaska, Arkansas, California, Delaware, Delaware, Florida, Georgia, Hawaii, Idaho, Kansas, Kentucky, Maine, Massachusetts, Mississippi, Missouri, Montana, Texas, Nebraska, New Mexico, New Mexico, North Carolina, North Dakota, Ohio, Oklahoma, Oregon, Rhode Island, South Carolina, South Dakota, Utah, Vermont, Virginia, Washington, Wisconsin. |
| Number of Sites for NFL Betting in NJ and NY | Five |
The table separates the states that allow sports betting from those that do not. While some of the states where sports betting is illegal are already on their way to legalizing it, players are making cash in the states where it is legal.
Some NFL betting sites allow in-person or mobile betting, while others welcome both. Depending on where you are or which website or platform you use to bet, you can still be a part of it. But, even if you are in the states that allow it, where do you go about betting on NFL games? On their designated websites.
Here are five of them:
Various other websites are offering the option for betting on NFL games, including the DraftKings app and the TwinSpires Sportsbook. However, these are the top choices. Besides websites that allow betting on the NFL odds, some also accept betting predictions and peer-to-peer betting. So, you can try that on these websites as well.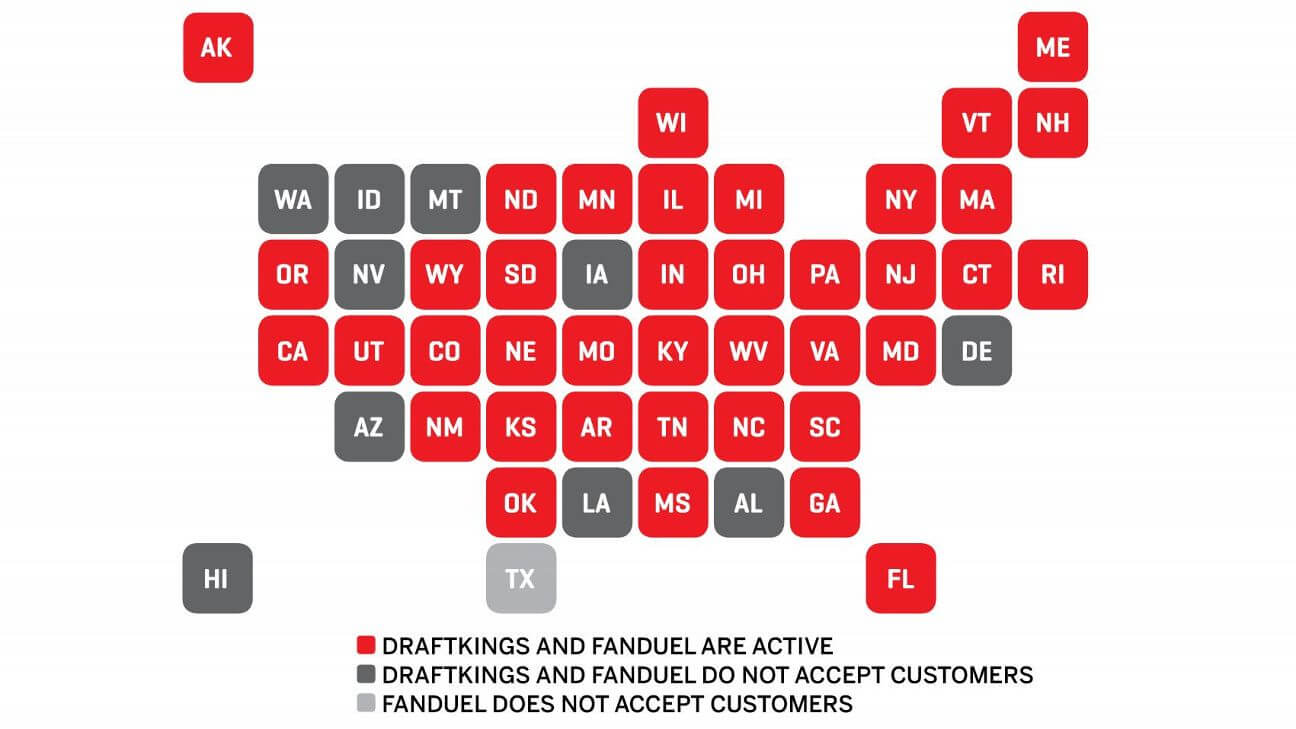 How to Bet on NFL Games Online
How do you bet on NFL games? Only if you are in one of the states that allow it.
Nebraska, South Dakota, and Maryland are in the process of legalizing it. So, punters from these states can expect to bet from the following season. Whereas states like Mississippi, Arkansas, North Carolina, Delaware, Wisconsin, Montana, New Mexico, and Washington only offer in-person betting.
In Oregon, Nevada, Arizona, Colorado, Louisiana, Wyoming, Iowa, Illinois, Indiana, Michigan, Pennsylvania, Connecticut, New Hampshire, New Jersey, Rhode Island, New York, Virginia, West Virginia, and Tennessee, punters have the luxury of online betting on NFL as well as in-person. Let us simplify it for you.
| States in the process of legalizing it | Nebraska, South Dakota, and Maryland |
| --- | --- |
| States that allow in-person betting | Washington, Mississippi, Wisconsin, Arkansas, North Carolina, Delaware, Montana, and New Mexico |
| States that allow mobile/online betting | Tennessee, Virginia, and Wyoming |
| States that allow both online and in-person betting | Oregon, Nevada, Arizona, Colorado, Iowa, Illinois, Indiana, Michigan, Pennsylvania, New York, Connecticut, New Hampshire, Louisiana, New Jersey, Rhode Island, and New York |
Virginia is one of the states in the process of legislating in-person betting. At the same time, New York and Louisiana only recently openened mobile betting. Now bearing these differences in mind, you must pick the platform that serves your state.
The five best sports betting apps mentioned above allow you to bet in these legal states. But let's talk about the betting process itself. How do you bet on the NFL, then?
Sportsbooks exist because they make betting on NFL games easy. You can use interactive betting slips that allow you to bet any amount. Moreover, you see the chance of winning simultaneously. But you need to be 21 or above to be able to bet in these legal states. Alternatively, you will need to settle with free Super Bowl party games!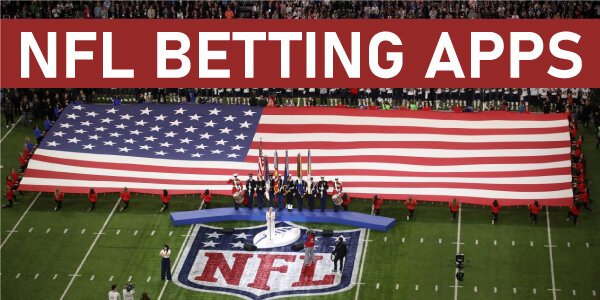 Here are a few types of bets, and their process made easy for you:
NFL Moneyline Bets

: The oldest trick in the book, aka betting on the outcome of a game. You get two choices: negative money line and positive money line.
Point Totals: Wagering on the total points both teams score in a match.

Parlays

: Parlays include betting on the outcome of several games.
Prop Bets: Also called propositions, this betting style bets on every scenario and aspect of the game. But, more on this later.
NFL Point Spreads: In this type, you can bet on an underdog or favored team to win the odds.
Before betting, you should always ensure that the platform holds a license and read the football betting odds in detail. It can help you ensure your prize if you end up winning. However, in the case of the five types mentioned above, a basic understanding of the games comes in handier. On Gamble-USA, you can always find a list of trusted websites you can use to bet on sports. So, avoid websites that promote offshore NFL betting.
5 Best Legal NFL Betting Sites
Following is a brief description of the NFL betting sites mentioned before and why they are your best option for wagering this NFL season. Since the league is all but ready to begin the next Super Bowl, betting websites will be teeming with sports fans.
Everyone will wish to try their odds and bet on the teams they deem best. Yet, it is more important to bet on NFL games using sites with a reputation. So, here are a few options for you to try your luck with football betting, depending on your US location:
| Sportsbook | Available States |
| --- | --- |
| PointsBet | IA, MI, NJ, NY, LA, CO, IL, IN, & WV |
| BetMGM | MI, MS, NV, NY, LA NJ, AZ, CO, DC, IN, IA, PA, TN, VA, WV & WY |
| FanDuel | NY, PA, TN, VA, AZ, CO, CT, IL, IN, LA, IA, MI, NJ, & WV |
| BetRivers | IL, IN, MI, PA , AZ, CO, IA, & VA |
| Caesars Sportsbook | AZ, TN, IL, IN, IA, LA, WV, MI, NV, CO, VA, NJ, NY, Washington, DC, & WY |
1. PointsBet Sportsbook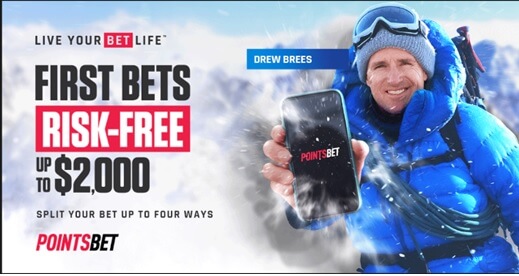 PointsBet has become a household name in NFL betting since 2019. While you can consider the platform in its infancy phase, it is doing things many other platforms lack today; for instance, its chief PointsBetting feature made for the NFL exclusively.
This feature ensures your wins and losses don't get measured before the game's end. Though it saves punters from huge losses, it provides a much smoother experience than others. Moreover, the platform is increasing rapidly in states and is poised to overtake its competitors in the coming years. For risk free bets for NFL, the PointsBet promo code will help.
2. BetMGM Sportsbook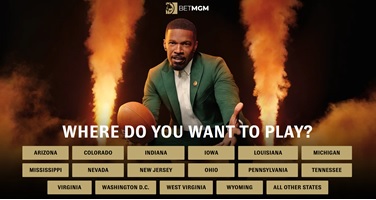 BetMGM is one of the chief sportsbook applications available today, offering various betting opportunities. Now, MGM is perhaps the oldest known name on the list. This website is the property of a well-known hotel and casino, MGM Resorts International in Nevada.
NFL fans will find all types of bets on this platform using the BetMGM sports promo code. Moreover, you won't face any errors or lags during live betting, regardless of the traffic. In addition, BetMGM is perhaps the most successful when paying off bets. Meaning you won't have to wait for withdrawals.
NFL Welcome Bonus: Use the code 'GAMBLEUSA' after signing up and downloading the BETMGM app on your android or iOS device. You will receive free bets of up to $1000 if your first Bet loses.
3. FanDuel Sportsbook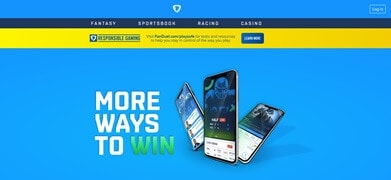 FanDuel is an all-out sports betting platform that gives you many more options than just NFL. However, its NFL-focused betting elements help it stand out in a list of remarkable competitors. It is also one of the only platforms offering same-game parlay.
This means that it lets you combine multiple bets from the same game. The platform is available in an extensive list of states, allowing you to bet on all 32 teams. It features a chart of betting odds, which will come in handy before placing your bets using the FanDuel sportsbook promo code.
4. BetRivers Sportsbook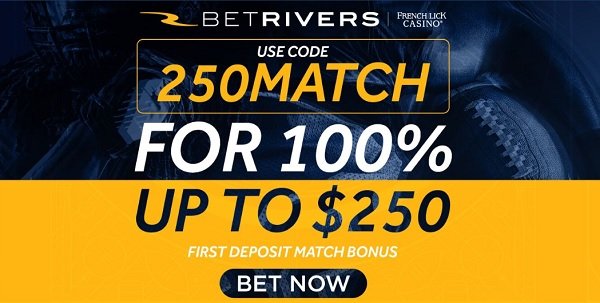 BetRivers Sportsbook and Casino are all about convenience. You can find the Bet Now option, which allows you to bet live on games that the platform will stream live during the NFL. This sportsbook is the property of Rush Street Interactive, a renowned casino company.
The app is exceedingly easy to use. It is available in various states and allows you to bet on your favorite team without any overlay or plethora of rules. Claim $2,000 risk free bets when you use the PointsBet promo code, by far the most lucrative in the market.
5. Caesars Sportsbook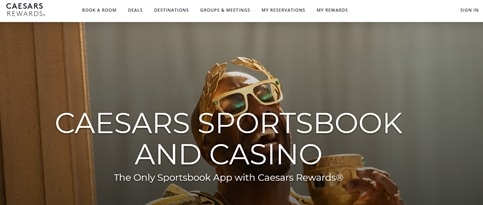 Caesars Sportsbook and Casino gives you a variety of options when betting. The system of this application is relatively easy and offers no delays or hassles when betting. Once the NFL season begins, the entailing section will activate.
They allow you to place bets such as Double Chance, Arbitrage betting, Multibet, Matched Bets, and Peer to Peer Sports bets. The platform also offers live betting, which lets you bet on live games, points, players, etc. In the legal states, punters regard it as their top option to bet on NFL games because of its flexibility, which is also reflected in its cash out feature. Check the latest promo codes for the sportsbook here.
NFL Betting Options & How they Work
If you're a first-time NFL bettor, you might get confused with all the intricacies of betting. Let us simplify it for you a little. When you see an NFL game go live, you will notice the variety of available odds and lines.
The top sportsbook only reveals them once the game is underway. So, once you enter the NFL tab in any of the NFL betting apps for iOS or websites mentioned earlier, you will see the list of upcoming games. Next to it, you will see a table such as this:
| Team | Point Spread | Moneyline | Totals |
| --- | --- | --- | --- |
| Pittsburgh Steelers | +3.5 | +150 | Over 110 |
| Minnesota Vikings | -3.5 | -175 | Under 110 |
According to the game, these are subject to change, odds in favor, etc. Numbers in negative reflect the favorite for a particular game. Whereas the positive indicates the underdog for the day. Totals feature the numbers and NFL lines set by odd makers, the platform.
The further the number is from one another, the safer it is to bet in favor of the positive team. If the gap between numbers is not that high, the experts expect the game to be tight, indicating higher yields on wagers.
If you're confused, then don't worry. It's normal since new bettors seldom find sure-footing in betting. But, to make it simple for you, let us examine each one separately while also directing you to the best sportsbooks for beginners.
NFL Moneyline Bets
NFL Moneyline odds or bets are the simplified versions of everything you read so far. It is the layman's terms of betting, as it simplifies which time you wish to bet on—aka the one you think will win the game.
You start by picking the NFL team you think will win. Then you wait for the game to end and find out about you, and your betted team won. By looking at the odds before the game, you can make your prediction and pick the winner of the NFL match.
However, if the gap between positive and negative is only marginal, you should be careful with your options. Because, as indicated before, this also means the game might be a close one. Yet, picking a team to win a tight game also means higher yields.
For instance, if the Pittsburgh Steelers are the favorite, you will see their odds, such as -175. While if the Vikings are the underdogs, then it would look like -150. So, how can you tell if it will be a close-fitting game?
If the numbers for both teams are the same as -175 and +175, then there is no clear expected winner even in the mind of experts. If the odds look like -175 against +100, then the former team is the favorite. For instance:
Minnesota Vikings: -175
Pittsburgh Steelers: +110
In this case, Pittsburgh is the underdog, whereas Minnesota is the favorite. However, betting on Pittsburgh would garner higher rewards since no one expected them to win. So, betting on the underdog is risky, but it can help you gain more. In contrast, gambling on the favorite team is a safe bet. Too complicated still? Check how to place moneyline bets on DraftKings.

NFL Spreads Bet
NFL Point Spread Bets are not that different from money line bets. Both entail a basic prediction on who wins the game, except for the difference in positive and negative. The underdog team appears positive, while the favored team appears negative in points spread. Such as:
Minnesota Vikings: +110
Pittsburgh Steelers: -110
Rather than placing the underdog team with favorable odds, the favored team is ahead since the experts think they will score higher. However, you can still win if you accurately predict the game's final score.
For instance, if Vikings win the game, and your wager was on the Steelers scoring 110, while the Vikings scored only 115. So, you will win since you predicted the score accurately. However, if Vikings win by a field goal, your wager is lost. FanDuel spread bets are easy to set, so you can get started there.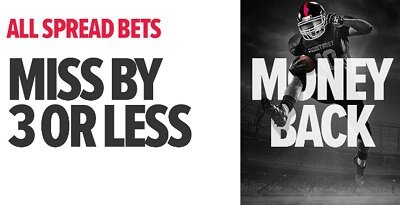 Totals (Over/Under)
Points Total is your wager on the overall score of the game. You can wager on total over/under points scored by the teams. If a game is going to be action-packed or very close-knit, the commentators might remark about the importance of the total points.
Your goal is to bet on the final or Points Total score of the game. If the sportsbook issues 55 as the final total, you must bet on the final combined score. This total Bet helps you predict and win on the last collective points scored by both playing teams.
It needs to be in close vicinity, so whether you go higher or lower, the goal is to stay in lanes of the final points total. Some sportsbooks even let you wager on the final time of the game. However, it is improbable that any of the aforementioned or reputable sportsbooks would.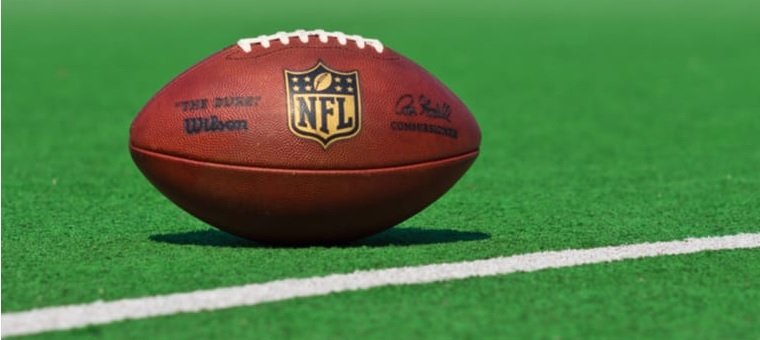 Futures
Future Bet is the mother of all bets, granted that you get it right. It deals with the final result of something significant. An ace game in the Super Bowl, two rivals against each other, or even the final. In simple words, who do you think will be the champion at the end of this season?
Or, who do you think will be the MVP? If you have a prediction, then betting on that is what future Bet entails. Tampa Bay Buccaneers are the favorite to retain their title by +525 against Kansas City Chiefs +650 as of this writing.
This means someone will think Buccs have a better chance, while others will be in favor of the chiefs.
Props
NFL Prop Bets is about betting on moments in the game. For instance, it can be your Bet on the final score or who will score first. The possibilities in prop betting are endless; however, the only thing you cannot bet on is who will win since that is already covered.
So, if you predict a team will get to 10, 15, or 25 points first, you win if they do. This betting system is straightforward. Predict the first touchdown; you win. Predict the final touchdown, and you win too. Here are a few things you can predict or bet on:
First scoring play
First to X points
Touchdown scorer: you can bet on any player
The first or final touchdown
First-quarter Winner
First-quarter total
NFL Parlays
NFL Parlays deal with two or more bets and become a singular, combined payout. Each platform has its different way of adding these multiple wagers into a parlay, with DraftKings parlay bets considered the easiest to manage. You can include the outcome of several games, a different variation of the same game, or play in a parlay to pick a hometown team to win on a particular day.
Live And In-Play Betting Options
Live or In-Play betting options are accessible when the game begins. You can hedge your pregame wagers from kick-off to the final touchdown if you deem the game to yield an opposite result of your initial expectation.
Betting on the Super Bowl
Betting on the Super Bowl, as the name suggests, is about wagering on games of this major tournament. However, nothing changes significantly, except for the odds, final takeaways, etc. One major thing you might notice is the promotions.
Many sportsbooks would provide major promotions and advertisements before the final playoffs begin. It helps draw more sports fans, and the AGA earns seven billion dollars. However, the rules of wagering will still be the same at your state's sportsbooks.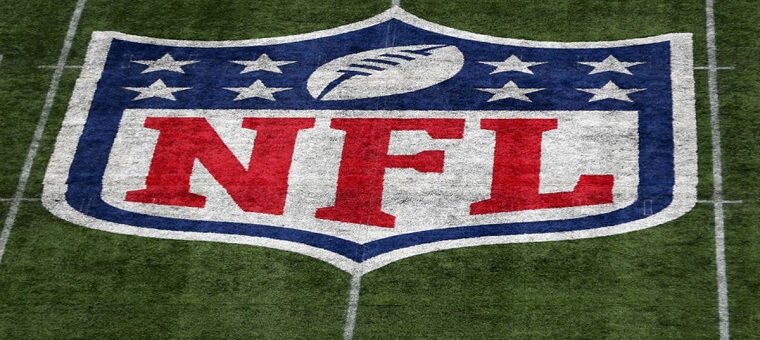 How Do the NFL Betting Odds Work Across The Board?
Sportsbooks post the NFL betting odds for a Monday night game, such as Over/Under line at 55.5. So, if you think the combined total will be more, then bet on over. If you think it will be less, bet on under that score.
You will find a variety of NFL picks and odds boards, each containing important information that are often subject to change – unless you pick fixed odds football matches. Once you know how to use those numbers in your favor, you will be able to bet on any of the types mentioned above.
Whether you bet on the NFL games, scores, players, or weekly playoffs, you can win big by learning to read betting odds. The main thing you need to do is keep an eye on the changing odds.
NFL Betting Trends
NFL betting trends change every season. They change with every game; they switch every week, and even during the first half of play, they can change for the second half. The most recent trend for bettors is to wager on underdogs, with underdogs winning bettors 55.2% of the time.
We advise against trusting tipsters or paying them. Reading prior to betting though is wise, as you can discover last minute changes, injuries, and several other areas that could sway the outcome to one side. Our news and blogs section is the best place to get the latest NFL news and inform your betting.
NFL Sports Betting FAQs
When are the NFL odds released?
The day before every game at 10:00 PM. NFL regular season odds are released weeks before the games.
How does the NFL feel about legal sports betting?
The supreme court's verdict pushed the NFL to accept legalized betting back in 2018 when the Supreme Court overturned the federal law forbidding legalized betting on professional sports.
Can NFL betting odds change?
Yes, they can but only in exclusive instances, such as the odds changing for the second half during the first half's play.
Is Vegas the best NFL odds location?
Vegas odds are accurate half the time; meaning they are as reliable as any other location where betting is legal.
What is the juice in NFL sports betting?
It is the cut of sportsbooks from your winnings or placed bets. However, the sportsbook will only collect it if you lose the bet.
How do the NFL playoffs work?
The league increased the playoff teams from 12 to 14 back in 2020. While four division winners are guaranteed, seven teams per conference can play.