Gamble USA strives to improve your online gambling experience. We aim to help you play safely, make informed decisions when gambling, and increase your betting knowledge through our guides.
We adhere to strict editorial integrity; our content may contain links to products from our licensed & legal US partners.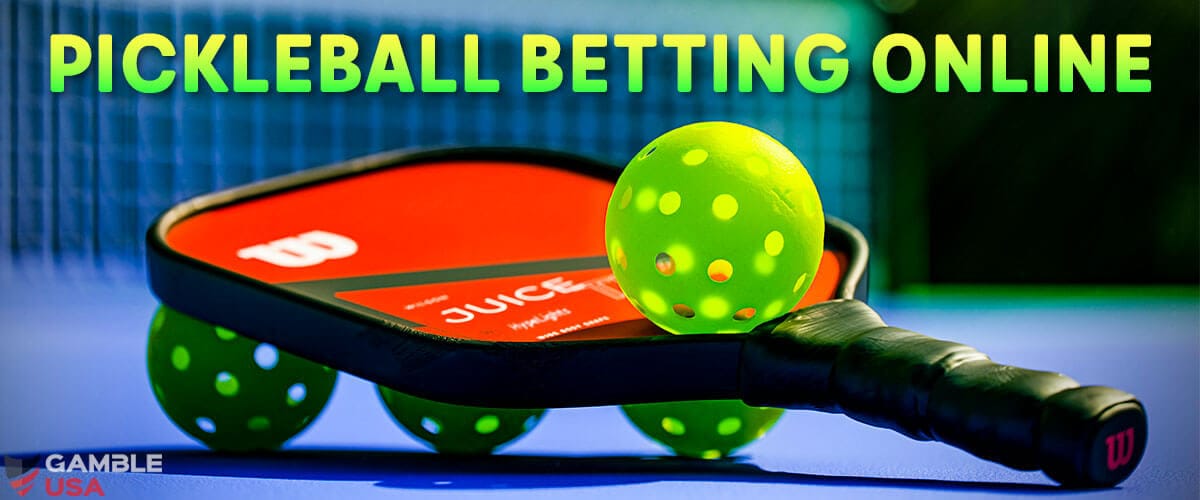 Pickleball has shown massive global growth over the last couple of years and become a highly competitive, professional sport. If you've watched a couple of games, you'll also quickly realize its potential as a betting market.
Throughout this page, we'll be taking a look at the details of the sport and how you can go about betting on scheduled matches.
What is Pickleball?
Pickleball is a popular racquet sport that has been gaining popularity worldwide in recent years. The sport originated in the mid-1960s on Bainbridge Island, Washington, and was created by a group of friends looking for a new game to play. All the group had was one set of ping pong racquets and a badminton court. After trying their hand at a few rounds with the family, they soon realized the potential of the combination.
A perforated plastic ball is used which has a reliable bounce on an asphalt surface. The rules combine elements of tennis, badminton, and ping pong, and it's played on a court with a net that is similar in size to a doubles badminton court. You can see the paddle and ball below.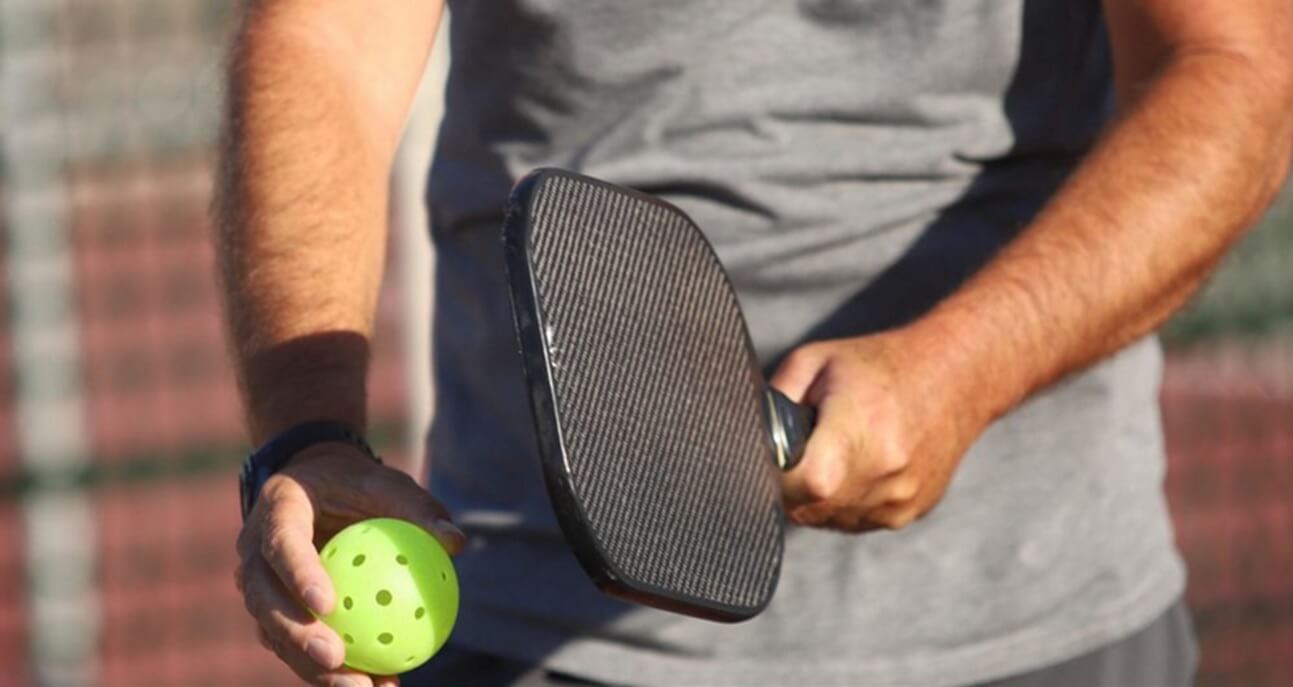 Two players from each team play from either side of the net. All serves are underhand and must be played either in the right or left service area to the diagonally opposite area on the side of the net. After one bounce the defending team can return the ball and after another, both teams can begin to volley.
The court
The usual outlines apply with service being made from a baseline. The two sidelines will cost a team a point if they hit the pickleball over. It's also important to note that no player can hit the ball with a foot in the Non-Volley Zone/Kitchen. An example is shown below: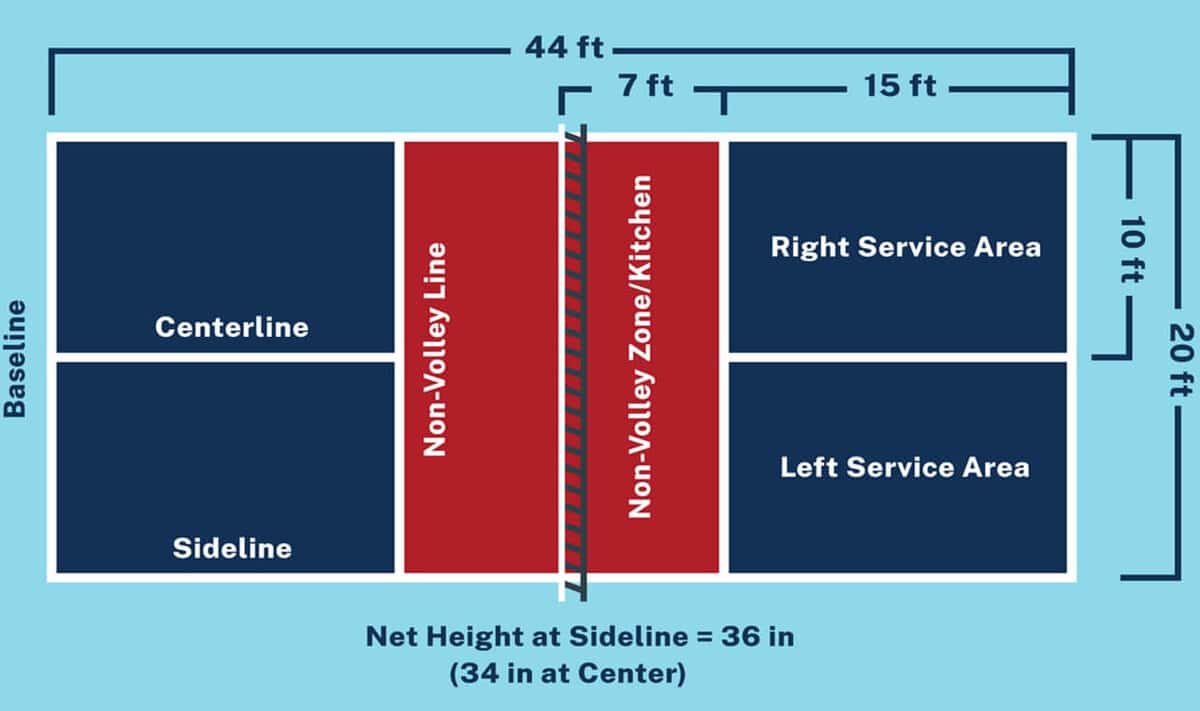 The scoring is the same as ping pong with the first to 11 winning a game, but it has to be by two points! The first serve will be one of the players from the right service area, if the defending team wins the point, a sideout is called and it will then be their chance to serve. Each team gets two serve credits, one of these is lost each time a rally is lost and if the serving team wins, the server simply switches service areas and continues. The match finishes when the first team has won 2 out of the 3 games.
Pickleball Popularity in America
With a clearly defined set of rules and a proven point-scoring system, the sport has established a global network of competitors. Many countries are getting involved with the sport but the most notable growth has been right here in the US.
One of the reasons for the growing popularity of pickleball in America is its accessibility. The sport is easy to learn and can be played by people of all ages and skill levels. There are hundreds of Pickleball clubs across the US and you can find the nearest one by using the official site. The sport is also low-impact, which makes it a popular choice for seniors and any sportsman who is struggling with a recurring injury.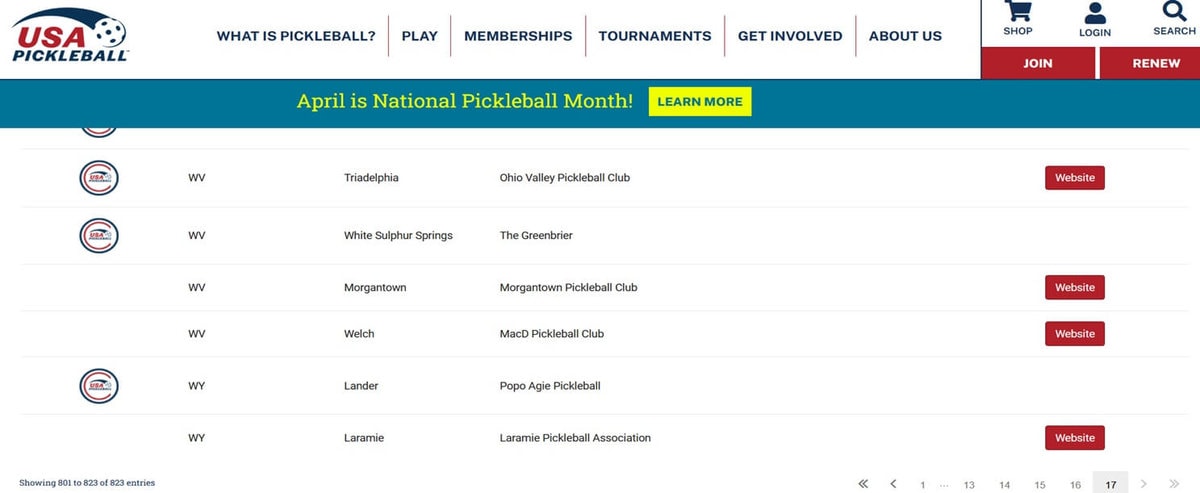 Anyone can get involved by browsing through the USA Pickleball page. A detailed breakdown of all the rules is available as well as membership opportunities for the listed clubs. If you've got what it takes, head to their tournaments section and see if something is coming up nearby.
A pickleball court does not take up as much space as a tennis court so it was a fairly easy addition to the existing grounds. With so many clubs being established, there are plenty of courts to play on. This makes it remarkably easy to try it out.
Big leagues
Over time, the facilities and high entertainment value have led to the formation of Major League Pickleball. It takes on a similar format to the other major leagues here in the US such as the MLB and attracts players from all over the world. Most can play, but it takes a true professional to play in the big leagues.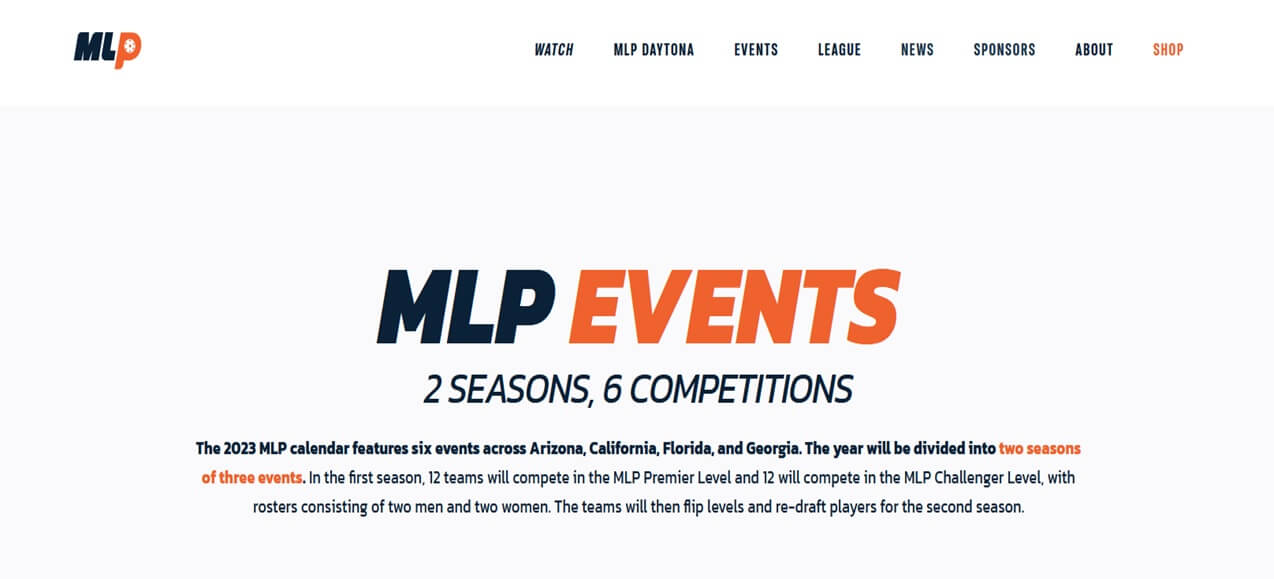 The MLP boasts six competitions on a Premier and Challenger Level. This allows new players a chance at a Premiership win. The Professional Pickleball Association has made great strides in sharing the sport and we only expect it to expand to more states and include even more competitions here in the US.
Olympic Games
Pickleball has also received significant media attention in recent years, with coverage on major sports networks and a potential entry to the Olympics. The sport is on the threshold of meeting the Olympic Games requirements to be considered for admission. Most Pickleball fans are hoping to see the game being played in the 2028 Los Angeles Olympic Games which would greatly increase the sport's exposure.
The sport currently has players from 70 countries all over the world and it will first have to find 5 more before it can be considered for the Games. We've seen the latest addition of skateboarding to the 2020 Tokyo Games and there has even been talk of somehow involving esports in the future. This is all positive news to Pickleball fans as the Olympic Committee is clearly open to new opportunities.
Loyal players
Even though the sport is still quite young, players who enjoy it are already committed to expanding Pickleball far and wide. The majority of registered players are situated in the US but international media coverage has brought many more onto the court.
Besides the Olympic dream, in 2021, Pickleball was included in the National Senior Games and has continued to grow in popularity among the older population. The social nature of the sport makes it an ideal family option and it will always have a devout player base from almost every generation in the US.
Is Pickleball Available at Sportsbooks?
At the moment, no. While the sport is highly competitive with professional leagues, it is still very young compared to other sports markets. Viewership is slowly picking up as networks are offering unprecedented broadcast coverage but the demand has not been high enough for online sportsbooks to add it to their platform, yet.
The Professional Pickleball Association (PPA) has now agreed on a partnership with Genius Sports that will deal with the data generated by the sport and any potential betting opportunities. This agreement will be massive for the growth of Pickleball in the sports world and we expect options to become available very soon.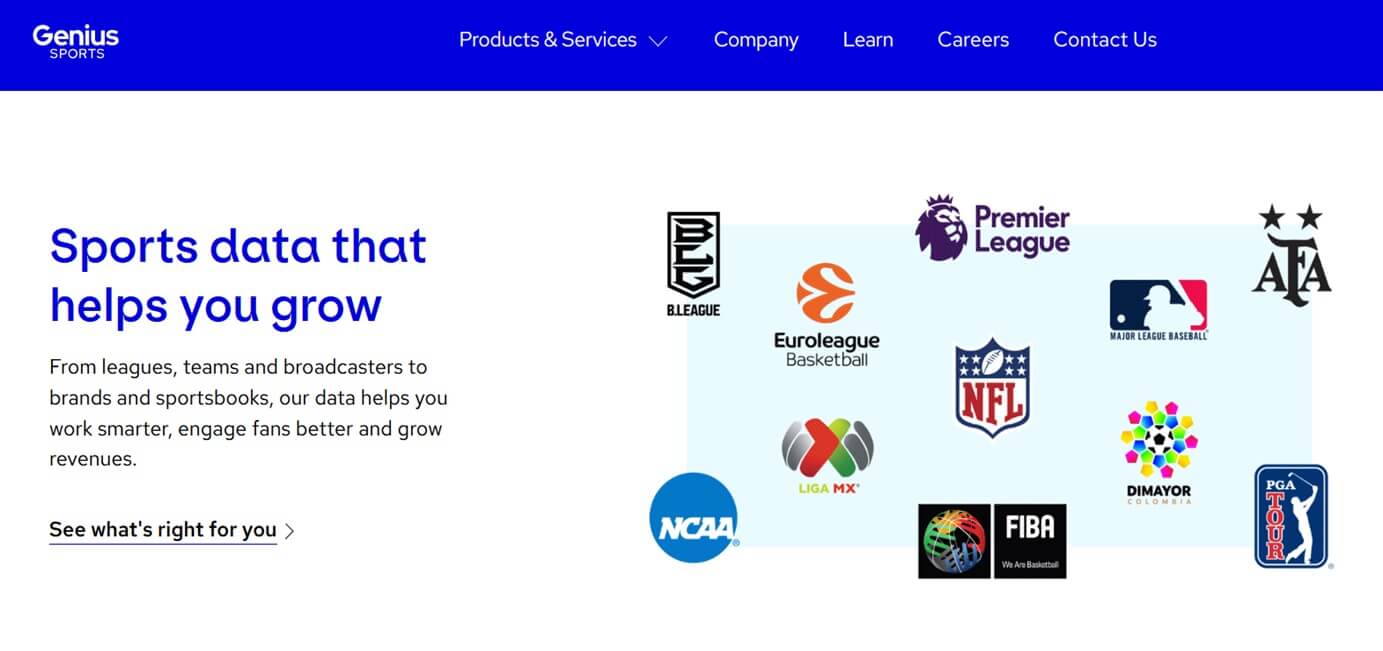 As you can see from the image above, Genius Sports is linked with some of the biggest professional leagues in the world. The data-driven technology will provide a detailed analysis of matches that sportsbooks can use to calculate reliable betting odds.
Their Sportstech product is specifically designed as an ecosystem connecting sports tournaments and to help manage the data that is generated. It has proven itself with the above leagues and provides a great opportunity for in-play betting options. All of these factors will advertise Pickleball as a valuable betting market.
Pro Pickleball Betting Likely to Arrive at These Sportsbooks
The Genius Sports agreement doesn't only mean more attention to Pickleball data. The company is affiliated with most of the big names in the online sports betting industry and we're likely to see Pickleball betting options arrive on their platforms first. Some of the most reputable names that they have partnered with include BetMGM, Caesars, WynnBET, DraftKings, and FanDuel.

If you're eager to place a bet on the professional league, we recommend giving their team some time to process the new partnership. Most of these sportsbooks have welcome offers that can only be used once, if you sign up for a sportsbook now you might just miss your opportunity to claim the rewards with a Pickleball bet. That being said, we also expect that most of these sportsbooks will have promotions specific to Pickleball once they're ready to offer bets, so if you're interested in betting on other sports, give it a shot!
When will Pickleball bets be available?
There's no way to know for sure. Sportsbooks will always include the most popular options for customers to bet on and Pickleball's popularity has been dramatically increasing. The exclusive deal with Genius Sports hints that both live-streaming betting options and standard bets are on the horizon. DraftKings has already posted some details related to the sport on their blog which leads us to believe that it might arrive even sooner than expected.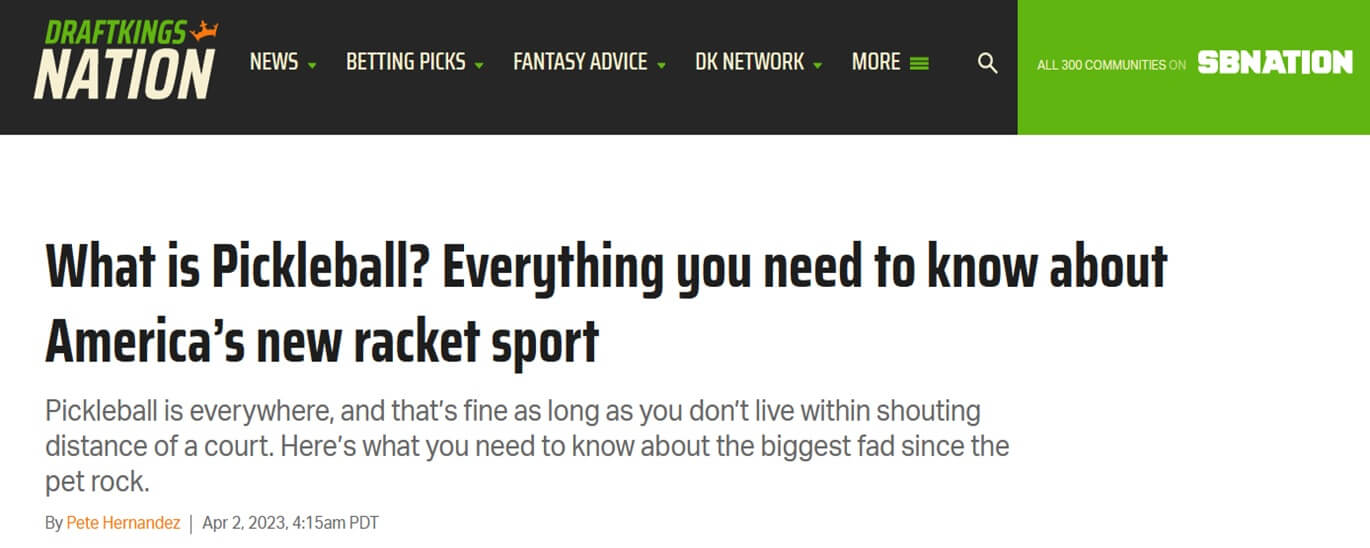 Why Pickleball is an excellent sport for online betting
One of the main reasons that pickleball is a good sport for betting is that it has a growing number of fans and players, high viewership, and a large player base means that the betting markets will be active. With more interest in these markets, sportsbooks will begin to offer a wide variety of betting options, such as betting on the outcome of a match, the winner of a tournament, or the number of points scored in a game.
Another reason why pickleball is suitable for online betting is its fast-paced and exciting nature. The sport is played on a smaller court than tennis, which means that the rallies can be quick and intense. This action creates a lot of opportunities for in-play betting, who will score the next point, the next ace, or maybe even the next sideout in a game.
With the scoring system and sideout rule, each team can gather quite a bit of momentum during a game. The only way to break this momentum is by winning a point as the defending team. This will be a unique betting opportunity for a sports market as no other sport really has the rule. A simple sideout or not bet should have even odds and could be available throughout the game.
Finally, once Pickleball arrives on the betting scene, most bettors will be unfamiliar with the players and the teams. This provides anyone with the perfect opportunity to stream the games and soak up any information that's available with the Genius Sports overlay. Matches will be highly unpredictable at first and this is ideal for experienced sports bettors trying to place a value bet.
FAQ's
Can I bet Pickleball on DraftKings?
Currently, no. But Pickleball betting should be available with most major sportsbooks this year. A newly signed deal with Genius Sports is the perfect stepping stone to becoming an active online sports betting market.
Is there a BetMGM code for Pickleball betting?
Pickleball betting is on the horizon and with that, a BetMGM code will also be following soon. You could also just use the current BetMGM promotion to be on any sporting market; we're just waiting for the odds on the Professional Pickleball Association fixtures.
Will Pickleball be an Olympic sport?
Not right now, but it's well on its way! With all the popularity and growth that Pickleball has been experiencing, many are pushing for it to be included in the Olympic Games. It should reach the required 75 member states in the next couple of years and thereafter a proper application can be made.
Where can I bet on Pickleball?
At the time of writing, no pickleball betting sites are available. The Pickleball Professional Association has signed a deal with Genius Sports and this should be the final step for regulated sports betting options.