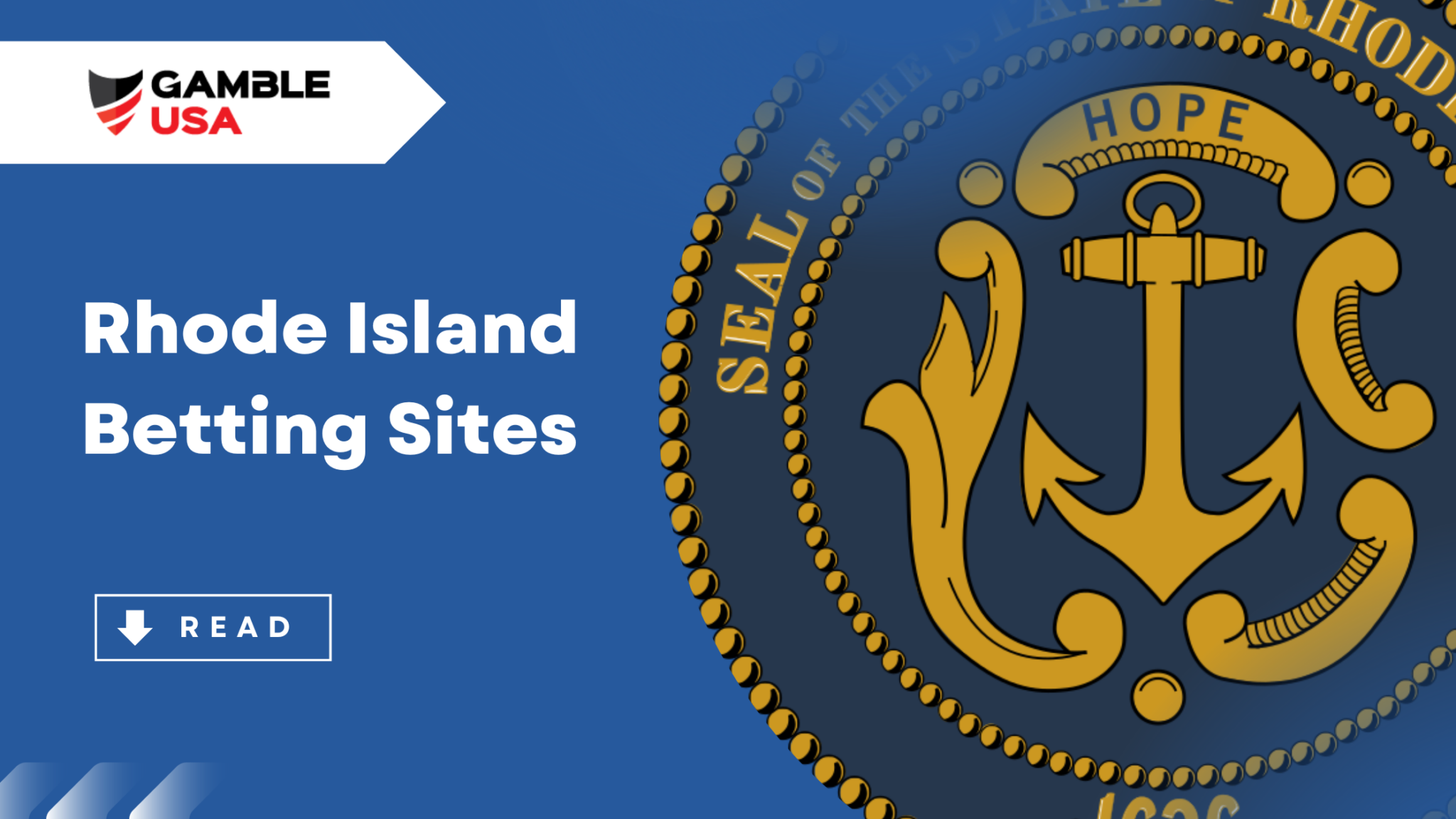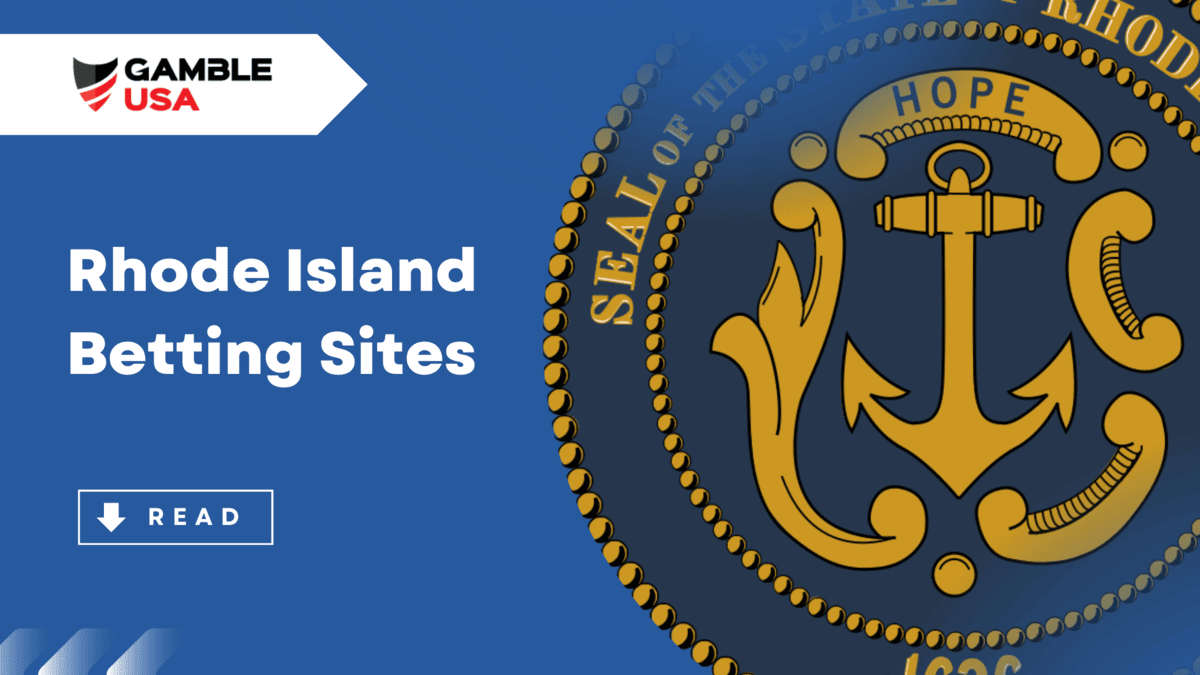 The first legal sports bet in Rhode Island was placed in November 2018. After the repeal of PASPA in 2018, Rhode Island was one of the first states to legalize sports betting. The state offers online horse racing betting, online casinos, and DFS.
Though sports betting has been legal in Rhode Island for quite some time now, the market is surprisingly small. Sports bettors have numerous betting opportunities, but Rhode Island still has fewer options than neighboring states Massachusetts and Connecticut. On this page, we will look at what Rhode Island sports bettors can do and where they can find the best sports betting promos.
---
Best RI Sports Betting Sites and Apps
The only legal sportsbook in Rhode Island is Sportsbook Rhode Island, which belongs to the government of Rhode Island. The sportsbook is powered by IGT and operated by William Hill, and provides bets on all the major sporting events, and a number of local sports.
If you are in Rhode Island and 18 years old or older, you can sign up for the Rhode Island Sportsbook and start placing your bets immediately. With only one active sportsbook in the state, there are a few things we have to point out.
Limited Sports Betting Markets
It is legal to bet on all professional leagues in Rhode Island, but you cannot bet on collegiate sports. This is made all the more disappointing by the fact that Rhode Island has some exceptional college sports teams such as the Bryant Bulldogs, Rhode Island Rams and Providence Friars. Instead, you can bet on the major leagues such as NFL, NHL, NBA, MLB and MLS. However, there are not many betting possibilities. The most notable areas in which the Rhode Island Sportsbook is lacking is in its player props and live betting options.
Fewer Sports Betting Promos
The betting promotions are not as big or regular as what you may find in other states where betting is legal. As it has no competition, the Rhode Island Sportsbook is under no pressure to sell its sports betting products to you as a buyer. This does not mean that you can expect no promotions. However, the newcomer bonus is only a 50% boost up to $50 on your first deposit, and there are very few promotions that relate to specific sports. Also, it is not known for giving out special bonuses such as cashback offers, betting tournaments, insurance bonuses and any types of boosts (parlays or odds boosts).
Poor Interface
The Rhode Island Sportsbook has a mobile app and fully functioning website, but it may feel a little simple to bettors who are accustomed to using FanDuel, DraftKings or any other big-name sports betting platforms. It provides scorecards and some stats, but these pale in comparison to say PointsBet or Caesars Sportsbook. Customer support is available 24/7 but only via call or email. There is no live chat function, which is another disappointment that sports bettors will have to get used to.
Overall Impression
The Rhode Island Sportsbook is not a bad sportsbook to play at, but it is nowhere near other sportsbooks in the US. However, it is the only available sportsbook in Rhode Island, so it will naturally have plenty of users.
This sportsbook does provide you with all the basic bets and having a native mobile app makes it very easy to bet on mobile devices. There are areas it could improve on greatly, but if you are happy with the standard set of betting options then you should not be too disappointed. It is solid, safe to use, and has a variety of payment options so you can execute fast transfers.
---
Alternatives for Rhode Island Bettors
We would be amiss if the Rhode Island Sportsbook was the only option for Rhode Islanders to place their bets. The lack of player bets, limited promos and basic market coverage is not really inspiring. So, we have scoured the betting scene in the Ocean State and found a few alternatives that you can try out.
FanDuel Racing  – Horse Racing Sportsbook
Horse racing bettors can sign up for FanDuel Racing, one of the best racing books in the country. FanDuel Racing is available in Rhode Island and over 25 other states. The racebook covers events and meetings in the top US racetracks and courses around the world. These include the most famous races in Santa Anita, Keeneland, Cumberland Run, Century Downs, and many more.
Newcomers who create a FanDuel account through the Racing app can deposit $10 and redeem their $100 No Sweat First Win Bet. The fun does not stop there, as existing customers can enjoy regular promotions such as cash bonuses, betting insurance offers, and bonus bets.

DraftKings – DFS Fantasy Sportsbook
Though DraftKings Sportsbook does not operate in Rhode Island, the daily fantasy sports contests are available in Rhode Island. DraftKings was established in 2012 and has become one of the biggest DFS providers in the country. DraftKings DFS covers virtually all the sports you can possibly need. You can play NFL, NBA, PGA, MLB, NHL, Soccer, CFB, CBB, USFL, and even eSports DFS competitions.
Simply make your lineup, picking the best stars for each week, and then you can play against your friends of in public competitions. Make sure you check out the different types of tournaments, such as Casual, Head to Head, In-Game Showdowns, Flash Drafts and more. With weekly cash prizes, and no need to make real money purchases, it is easy to see why this platform has caught the imagination American public for so many years.

FanDuel – DFS Fantasy Sportsbook
DraftKings is not the only DFS channel in the country, its biggest rival is FanDuel. FanDuel, like DraftKings, has an outstanding sportsbook but it does not operate in Rhode Island. However, Rhode Islanders can take part in the DFS competitions, which are also massively popular. It has an impressive coverage of sports, and contests for players of all levels. One of FanDuel's mottos is that they do not haze rookies, and as an absolute beginner, you can enter special contests against other newcomers or enter the Live Snak Drafts where you play against other rookies.
If you have a FanDuel account, either by signing up for the FanDuel Racing or DFS platforms, you can watch the FanDuel TV channels. This includes exclusive coverage with experts, live streams of big events, and loads of sports content to keep you up to date with all the latest news. It is worth staying in the loop with what is going on, especially for NFL fans. This is because, on Sundays, FanDuel throws the NFL Sunday Million tournament in which it offers over $1 million in prizes, all for a minimal entry fee of $5.
---
Rhode Island Gambling History
One month after PASPA was repealed, Governor Gina Raimondo signed the S2045 House Bill, legalizing retail sports betting in Rhode Island. Two casinos were opened in Rhode Island, and then the following year the state passed SB37 in which it accepted online sports betting sites. However, the bill stated that the government of Rhode Island had a legal monopoly over sports betting and betting products in the state. The authorities soon launched the Rhode Island Sportsbook, which was regulated by the Rhode Island Lottery.
It remains to be seen whether the state will loosen its gambling laws to allow competitors to sell their products to Rhode Islanders. As of now, the Rhode Island Sportsbook is the only legal sportsbook that operates in the state. It has 2 retail locations, and cannot offer betting on in-state collegiate events. Bettors in Rhode Island have to pay taxes and declare their winnings to the IRS. The tax rate in Rhode Island is 51%, which is high.
Are DraftKings and FanDuel Sportsbooks Available in Rhode Island?
Both DraftKings and FanDuel are dominant sportsbooks in the US, and hugely popular in the states that they operate in. Unfortunately, neither sportsbook is live in Rhode Island. However, you can play the DraftKings DFS and FanDuel DFS in Rhode Island. Additionally, FanDuel Racing operates in the Ocean State.
---
RI Sportsbooks vs Neighbor States
Sports bettors in Rhode Island may ask the question – when will we see DraftKings, FanDuel, Caesars and all the other hot sportsbooks in the US? It seems the regulating authorities in Rhode Island do not seem to be making any progress on opening up the market, nor does there seem to be any hint of it happening soon. However, all is not lost for bettors who want alternatives to the Rhode Island Sportsbook.
Crossing over into Connecticut or Massachusetts, bettors will suddenly find a plethora of betting sites at their disposal. Both states have a large range of sportsbooks to offer, and if you are living in Rhode Island, they are not far away at all.
Connecticut Sportsbooks
Connecticut has a good range of sportsbooks, including some of the most popular betting sites in the country. Also, the state has a very low municipal tax on gambling earnings, of only 14%. This is far lower than the 51% in Rhode Island, and you also have a far greater pool of betting markets to take advantage of.
DraftKings Sportsbook

FanDuel Sportsbook

PlaySugarHouse Sportsbook
Massachusetts Sportsbooks
Massachusetts has even more options than Connecticut, giving you a far greater choice when it comes to picking your sportsbook. If you do pick DraftKings Sportsbook or FanDuel Sportsbook, then you can make your bets within either state. However, if you travel to Massachusetts often, then it is worth checking out what else is on offer.
BetMGM Sportsbook

DraftKings Sportsbook

FanDuel Sportsbook

Caesars Sportsbook

WynnBet Sportsbook
---
Most Popular Sports in Rhode Island
Rhode Island has a rich history of sports, despite being the smallest state in the US. The Ocean State has given us many great sports players such as baseball players Nap Lajoie, Davey Lopes, Gabby Hartnett, and more recently, Bill Almon, Paul Konerko and Rocco Baldelli. There are four colleges in the state that are nationally ranked, and play in the top NCAA Division. Sadly, you cannot bet on the college teams within Rhode Island, but if you travel to Connecticut or Massachusetts, you can find plenty of betting opportunities on them.
The Ocean State does not have any professional teams in any of the major leagues, but it has a minor league AHL hockey team, the Providence Bruins, and in 2024 it will have a soccer franchise, Rhode Island FC.
Football 🏈
Within the state of Rhode Island, the two biggest football college teams are the Brown Bears and the Rhode Island Rams. These two teams play in the NCAA Division I Football Championship Subdivision and have a fierce rivalry. The Bryant Bulldogs are another football team in Rhode Island, that was launched in 1999 by the Bryant University.
The most popular NFL teams in Rhode Island are from outside the state, such as the New England Patriots (Boston), New York Giants and New York Jets (New York). The Patriots and Jets both play in the AFC East Division, and the games between the two teams can stir up Rhode Island football fans plenty. Compared to the Patriots' 6 Super Bowl Championships, the Giants have won four Lombardi Trophies and the Jets have only won once.
Basketball 🏀
March Madness is a big thing in Rhode Island. The Rhode Island Rams, Bryant Bulldogs and Brown Bears all have basketball teams that have played in March Madness. When it comes to the NBA, most Rhode Islanders support a franchise in the neighboring states of New York or Massachusetts. The Boston Celtics, Brooklyn Nets and New York Knicks are popular among Rhode Island basketball fans. The Knicks and Nets have a fierce rivalry, and both play in the Eastern Conference Atlantic Divisions. The Boston Celtics are one of the most popular basketball teams across the US, and are on par with the LA Lakers for the most NBA Championships, with 17 each. Their last NBA Championship came in 2008, but in 2022 they reached the finals and lost to the Golden State Warriors 4-2, though it was a very evenly matched series. They will hope to go ahead of the LA Lakers with an 18th championship in the upcoming season.
Baseball ⚾
Rhode Island has a great appreciation for baseball, which dates back to the 19th century when the sport was still in its infancy. The Pawtucket Red Sox, an affiliate of the Boston Red Sox, played in Rhode Island until 2020. The team has now moved to Massachusetts, but that has not diminished the Ocean State's love of baseball. Naturally, there is still a lot of support for the Boston Red Sox in Rhode Island. Babe Ruth, perhaps the most famous baseballer of all time, became a star playing for the now-defunct Providence Grays. He went on to play for the Boston Red Sox, and the rest is history. Aside from the Red Sox, the New York Mets and New York Yankees are also highly popular in Rhode Island.
Hockey 🏒
The Providence Bruins are a professional hockey team that competes in the AHL Eastern Conference Atlantic Division. They play their home games in the Amica Mutual Pavilion, in Providence. The Bruins was founded in 1992, and have won one Championship to date, in 1999. In recent years, the team has won three Divisional titles but has not managed to proceed further in the playoffs. The Bruins have many notable alumni, who have gone on to play in top teams in the NHL. These include Jozef Stumpel, Brad Marchand, Patrice Bergeron, Colby Cave, and Jake Debrusk.
The majority of the hockey fans in the Ocean State support the Boston Bruins, though there is a considerable fan base for the Montreal Canadiens too.
Golf 🏌️
As a golfer, there are loads of courses in Rhode Island to try out. Shelter Harbor in Charlestown, Wannamoisett in Rumford, Newport Country Club in Newport and Rhode Island in Barrington are just a few of the fine golf courses in the state. Rhode Island has hosted numerous golf tournaments, and the Wannamoisett Club hosts the Northeast Amateur every year. Golf betting is quite different from the major US sports, as the structure of each event is more comparable to a race than a single game. There are lots of contestants to pick from and even more aspects of each golf tournament to bet on. It really makes for some entertaining betting, and if you have an eye for good odds and know the sport, there are lots of moneymaking possibilities.
Most Popular Teams in Rhode Island
The popular major league franchises in Rhode Island are based in CT and NY for the most part. Across the NFL, NBA, MLB and NHL, there are plenty of hugely successful franchises in those states. The likes of the Boston Celtics, Boston Red Sox, New York Yankees and New England Patriots have inspired generations of players and athletes.
Rhode Island Most Popular Pro Sports Teams
Sport
Division
Franchise/College
🏈Football
🏈NFL
New England Patriots
New York Jets
New York Giants
🏈NCAAF
Brown Bears
Rhode Island Rams
Bryant Bulldogs
🏀 Basketball
🏀 NBA
Boston Celtics
Brooklyns Nets
New York Knicks
🏀 NCAA Basketball
(March Madness)
Brown Bears
Rhode Island Rams
Bryant Bulldogs
⚾ Baseball
⚾ MLB
Boston Red Sox
New York Mets
New York Yankees
🏒 Hockey
🏒 NHL
Boston Bruins
Montreal Canadiens
🏒 AHL
Providence Bruins
⚽ Soccer
⚽ MLS
Rhode Island FC
---
Start Betting on Sports in Rhode Island
The large interest in sports in Rhode Island naturally generates intrigue in sports betting. If you have a favorite team or player, then you can capitalize on your knowledge through competitively priced wagers.
There are many types of betting markets Rhode Island bettors can try out, from the simplest bets on a game to those really detailed ones that true experts may dare to place. Luck may play a big part in sports betting, but after trying different betting markets, you will form your own strategy and style of betting. Hopefully then, you will not have to rely on too much luck, and make more well informed predictions.
---
Types of Online Sports Bets
To get you started, here are the most common types of sports bets you can place. They may differ between sports, but for the most part, you can place these bets on NFL, NHL, NBA, MLB and MLS games. 
Moneyline
When you ask your peers who will win in the upcoming MLB game between the Boston Red Sox and St Louis Cardinals, this is a moneyline bet. It is as simple as that, where you have to pick the winner in a sports game. By reading the minus and plus sign odds, or American odds, you can determine which team the sportsbook favors, as they may have better players or are in good form. When you bet on the Red Sox to win the game, you need them to beat the Cardinals at the end of the game. It does not matter how they do it or how many runs they make, as long as they win the game.
Point Spreads
The odds assigned to each team shows you how likely they are to win the game. However, in a point spread the odds on either team are usually level, or very close to being level. This is because the sportsbook assigns a betting line to balance the two teams' chances. The betting line is the number of points that is added to the underdog team, or subtracted from the favorites.
Betting on the favorites, you will need them to overcome the spread and beat their opponents. For example, if the New York Giants have a spread of -3.5, then they will need to win the game by 4 or more points for you to win your bet. However, if they are the underdogs, then they would have a positive spread, such as +3.5. Those 3.5 extra points will make it easier for them to win, as you can only lose your bet if the other team beats the Giants by 4 or more points.
Total Points
This bet relates to how many points are scored in a game. It does not matter which team wins, if one team scores all the points and the other none, or if they score an equal number of points. You must predict the combined score of both teams.
Total points bets use the over/under betting format, where there is a betting line and you need to bet on whether the game will end with a number of points over the line, or under. For example, in an NFL game, the betting line may be set at 25.5. Betting over, you will need the game to finish with at least 26 points, whereas under you will need the game to end with a maximum of 25 points.
The betting line varies greatly between different sports. High scoring sports such as basketball or football will have far higher lines than sports such as soccer and baseball, which are relatively lower scoring.
Game Props
With game props, you can summon your inner Nostradamus and make some detailed predictions. They are not difficult to understand and can be explored by both rookie and experienced bettors, but there are some nail biting decisions to be made with props. These are basically bets that can relate to any aspect of a game and it varies from sport to sport.
At DraftKings, you can find MLB game props such as how many runs will be scored in the first scoring play, how many runs a team will make, race to 5 runs and what the winning margin will be, just to mention a few.
Feel free to check out what types of other props DraftKings, FanDuel and BetMGM have, as you can find tons of great picks, including a wide variety of player bets. However, you can only place these bets in CT or MA (BetMGM only operates in MA, FanDuel and DraftKings operate in both).
Futures
Futures are season-long bets that can be placed at any time before or during the season. You can place a futures bet on the Boston Red Sox to win the World Series, and follow them all throughout the season. There are various types of futures bets on offer for Rhode Island sports bettors. At the Rhode Island Sportsbook, you can catch a few NFL futures such as which team will win the Super Bowl, whether a team will make the playoffs, team total wins during the regular season, and even season totals for players.
---
Getting Off to a Winning Start With Your Bets
Now that you have the basics, you are ready to go out and start planning your wagers. Everyone starts somewhere, and it can take a while for you to find your feet. However, with our tips you can speed up your developing curve and get off to the best possible start.
Value the Betting Odds and Lines
When a sportsbook presents its odds, on any bet, they are calculated using all sorts of algorithms and statistics. While they give you a good indication of what is likely to occur, anything can happen in sports games. This is where you can use your experience and intuition to look for good deals. Look for favorable odds on bets, and do not feel pressured to place a bet if the odds are too short.
Lines are highly tricky to predict, but if you can get them right, there is a lot of money to be made. Usually, sportsbooks will offer the same lines for point spread and total points bets, but you may find that some offer slightly different lines.
Budget and Think Long Term Profit
Nothing beats a big parlay win or a winning longshot bet that brings you a massive wad of cash. The feeling will keep you going for a while, but it is important to remain practical and not to go overboard with your betting. From the start, define your spending budget as this ensures you do not end up spending too much. By making bets for a few dollars here and there, you can test the waters and when you are confident enough, you can slowly increase your budget.
The big win can also work against you, especially if you get overexcited and want to create a snowball effect on your winnings. Try to think in terms of a long term profit, by which we mean bet wisely and do not always go for the longest odds. At the end of the day, you want to make money on your betting and have fun. This is best achieved with careful planning and never going all out on one bet, as there is no way of knowing whether that bet will win or lose.
Maximize Your Bonuses
Sportsbooks offer incentives to players to maintain their loyalty as customers. Whenever you receive a promotion, you can take the sportsbook up on their offer and try to use these to extend your funds. Be careful to read the fine print, as there are usually wagering requirements or limits as to how much the sportsbook will give you. Also, if the bonus does not relate to sports you would usually bet on, then don't feel pressured to try them out. If the bet suits your usual betting routine, then take advantage of them freely.
Test Your Betting Skills on Different Bets
You may find yourself in a rut, losing your bets or simply not winning enough to turn a profit. You do not need to up the stakes or go harder, but sometimes simply picking other betting markets can do the trick. Instead of always hitting those moneylines or point spreads, you may have more success with game props, player bets, or bets on miscellaneous match stats.
For example, as a soccer fan, you can try betting on corners or bookings during a game. By extending the range of betting markets you feel comfortable placing, you are giving yourself a better chance of winning. You may be able to spot better deals, find longer odds, and place bets that have a stronger chance of winning than sticking to the standard betting markets.
---
FAQs
Is online betting legal in Rhode Island?
Yes, online sports betting has been legal in Rhode Island since the repeal of PASPA in 2018. Sadly though, the only legal sportsbook in the state is the Rhode Island Sportsbook, which is state-owned. Without any competitors on the market, the promotions and odds at this sportsbook are not that great. It remains to be seen whether Rhode Island changes its betting regulations and opens up the market for big companies such as DraftKings and FanDuel. These sportsbooks are already up and running in the neighboring states of Connecticut and Massachusetts.
What sports betting sites are available in Rhode Island?
Rhode Island Sportsbook is the only sportsbook that operates legally in Rhode Island. The sportsbook provides good coverage on all the major US sports, but unfortunately there is no other alternative. If you are a horse race bettor, then you can try out FanDuel Racing, which is a hugely popular platform with a lot more promotions to offer. Daily Fantasy Sports is available in Rhode Island, by DraftKings or FanDuel, but there are no sports betting options apart from the state-controlled Rhode Island Sportsbook. If you want alternatives, then we recommend you to travel to Connecticut or Massachusetts, where you can find loads of popular sportsbooks. Through the likes of BetMGM, PlaySugarHouse, DraftKings and FanDuel, you can find bigger promotions and better deals, as well as larger sports betting coverage.
Can I play daily fantasy sports in Rhode Island?
Yes! You have a choice between two of America's finest platforms: DraftKings and FanDuel. Both are live in Rhode Island, and have amazing fantasy sports tournaments and competitions that you can be a part of. Both have their own special features, communities and promotions that can take your fantasy sports gaming to another level.
Which sportsbook offers horse racing bets in Rhode Island?
FanDuel Racing is up and running in Rhode Island, providing horse racing bets on all the big meetings in the USA and abroad. By signing up for FanDuel Racing, you will have a plethora of betting markets at your disposal and can capitalize on the platform's generous promotions and bonuses.
Can I bet on college sports in Rhode Island?
No, Rhode Island does not allow sports betting of any kind on college sports. This is especially unfortunate as the state has some great basketball and football college teams. If you want to get in on the action for March Madness or the college football Bowls, you can place bets in the neighboring states of Connecticut or Massachusetts.
Does FanDuel Sportsbook operate in Rhode Island?
FanDuel Sportsbook is available in over 20 states, but it has not reached Rhode Island yet. Instead, FanDuel Racing and FanDuel Fantasy Sports are available in Rhode Island. By joining either, you will be part of the FanDuel community and can enjoy the perks and promotions that are involved with being part of that community. If you want to access the FanDuel Sportsbook, you can simply head to Connecticut or Massachusetts, open the sportsbook, and check out all the amazing betting markets.
Is DraftKings Sportsbook available in Rhode Island?
No, unfortunately, DraftKings Sportsbook does not operate in Rhode Island. The DraftKings Daily Fantasy Sports does however, so you can enjoy picking your lineups and entering DraftKings contests through the popular platform. It is free to join and you can win some real money prizes, all while using the fantastic DraftKings mobile app.