Gamble USA strives to improve your online gambling experience. We aim to help you play safely, make informed decisions when gambling, and increase your betting knowledge through our guides.
We adhere to strict editorial integrity; our content may contain links to products from our licensed & legal US partners.
If you are looking to bet on soccer in the US but don't know where to start, we run you through the best legal US soccer betting sportsbooks and explain how to bet on the beautiful game.
Sports betting, in general, is a relatively new concept in the United States. It has only been legal online since 2018 when the Supreme Court removed a ruling banning online wagering. In certain parts of the country, people can now legally bet on their favorite sports and events for real money. Depending on which side of the pond you live in, soccer (or football) is one of the most popular sports globally. There are numerous opportunities to make some serious money with soccer bets online due to the vast amounts of leagues and games to choose from.
Let's look at more details of soccer betting online with some soccer betting sites USA.
Best US Soccer Betting Sites & Sportsbooks
If you want to bet on soccer in the US and bet legally, these are the 5 best sportsbooks available:
As the popularity of online betting surges in the United States, so does the number of online soccer betting sites eager to sign you up. Although having loads of choices is positive, it can make the process of choosing the best platform to start your wagering action a complicated one. Several legal soccer betting sites continuously promote bonus offers and incentives, making it harder for bettors to decide which site to join. With mobile wagering also now very popular, choosing a betting app that allows you to wager on significant events like the FIFA World Cup is vital.
Multiple states have seized the opportunity to offer legal in-person and online soccer betting, so players will certainly not be struggling for choice.
More states are planning to get involved in soccer betting over time. Currently, the money spent betting on soccer in the USA is a fair way behind other sports leagues such as the NFL and NBA; however, it is the opposite in Europe and the rest of the world where the soccer betting market is king. If you look purely at the amount of money wagered and the viewers it draws, soccer towers over the major US sports. Other popular sports to bet on include boxing and basketball, among others.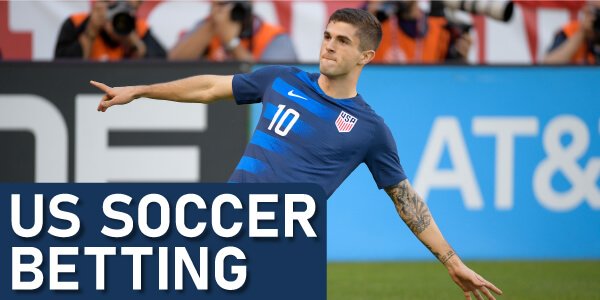 You can check out our state guides to read more about the legal soccer sportsbooks available in your state:
Now that sports betting is being legalized in more states, more and more sports fans are looking to bet on soccer games online.
Soccer betting on your mobile
Soccer is the most popular sport in Europe and is growing in popularity in the United States. Consequently, soccer betting apps are regularly launching in states with online legal sports betting markets. Regardless if you prefer watching soccer in the MLS (Major League Soccer), English Premier League, Serie A, UEFA Champions League, Spanish La Liga, or German Bundesliga, you are likely reading this because you want to win some money.
Players can now get involved in real money betting action with soccer gambling online thanks to soccer betting apps, which allow them to wager on the go or from the comfort of home. If you want to find out more about wagering on soccer legally on your mobile in the US, check out this guide to the best soccer betting apps for more information.
What Types of bets can you make on Soccer?
The best soccer betting sites will include all of the most common soccer bets into a package that allows players to access all of the options with a few taps of a button. These operators are renowned for offering numerous alternate lines, prop bets, and betting markets on smaller leagues. If you are serious about betting on soccer, it is crucial that you have flexibility.
The most popular types of bets available on soccer include:
Spread Soccer Bets
Moneyline Soccer Bets
Futures Bets
Props
Live Betting
The most straightforward type of soccer bet is the moneyline, which is the case for most sports wagers. With a moneyline bet, you are simply betting on team a to beat team b. This betting option is the ideal sports bet for customers as there are no added complications.
Live betting, otherwise known as 'in-play- betting, ' is one of the biggest online gambling trends. Bettors are able to place a bet on a mobile app once the game has already started. The soccer odds frequently change to reflect what is happening during the game, so keep an eye for the changing soccer betting lines. Additionally, live streaming is popular among soccer betting sites. For example, the bet365 live streaming service allows bettors to watch the match while simultaneously betting on the action.
You can wager on who you think will score the next goal or receive the next yellow card.
What to Look for in a Soccer Betting Site
Ultimately there is a lot to consider before you choose which site you want to join, including which apps support free soccer betting. It is an important choice and can have a big effect on your betting experience and, of course, your bottom line. Below are some factors we feel are crucial when choosing which online sportsbooks you want to take your soccer bets.
Safety
This is always at the top of our list whenever we review a gambling site. When dealing with real money, players want to feel secure and that their personal information is always protected. If a soccer betting site does not have high-quality software in place, we would not recommend them.
Betting Options
When it comes to soccer betting in the USA, gaining access to all the major soccer leagues is vital, as is having flexibility in your betting options within those leagues. The best soccer betting site and books will always offer bettors the flexibility to utilize their knowledge and experience by betting on markets from overseas. This may not be important to a casual bettor, but frequent bettors see this as essential.
Choice of Leagues
As we touched on above talking about betting options, there are so many significant leagues in soccer, and we expect the top soccer betting sites to accept bets on the biggest ones. We have come across some online soccer betting platforms that only offer wagers on one or two leagues, which is not enough. Ideally, you want to find a sports betting site that contains all of the major leagues in one place.
Best Soccer Betting Websites
Since sports betting was legalized in the United States, it has become easier to select the best soccer betting sites because of the stringent standards of conduct they are required to meet by the state-level regulatory commissions. It is not a straightforward process to obtain a gaming license in the US, which separates the best operators from the low-quality ones.
Any licensed, regulated online sports betting sites in the US, such as the FanDuel sportsbook, will be a good, safe environment to wager on sports as a minimum. Some of the world's biggest betting brands have launched websites in the US and have several years of experience behind them. Regarding online financial transactions, deposits, withdrawals, and fast payouts are all made efficiently and safely from any regulated online betting sites.
In terms of soccer betting, there are some things to keep an eye out for. One of the major things to look for is sportsbooks operated by brands that have extensive experience in the UK / European markets where soccer betting reigns supreme.
For example, if you are looking for NJ online sports betting or IL sports betting sites, you will want to find a platform that has operated in different countries and knows what options, games, teams, and odds people want when betting on soccer. One online sportsbook that is an excellent example to use is the SugarHouse sportsbook. This is powered by a joint venture between Rush Street Interactive and Kambi. Although Rush Street Interactive is new to the US gambling market, Kambi has several years of international sports betting experience. They can utilize this knowledge to make sure the online sportsbook is giving players what they want.
Consequently, Kambi offers scores and odds on MLS matches and accepts wagers on leagues from England, France, Germany, the Czech Republic, Turkey, Brazil, France, and more. Some of the biggest leagues are in those countries, including the Premier League and La Liga. Additionally, European competitions such as the Champions League sees a lot of betting action abroad and are offered by US sportsbooks.
We have recommended some sites at the top of this page, and it is also important you check out some licensed sites yourself for the best odds. Most online soccer wagering sites will allow users to view the betting odds without registering, so you can take a look at the types of bets they offer before committing.
How to Bet on Soccer Online
If you are familiar with placing bets online on other sports, you will already be aware of what is needed to bet on soccer. There are some subtle differences for soccer wagers, but nothing massive. As is the case with most bets on other sports, the majority of soccer bets in the US are posted in the moneyline format.
Other typical types of soccer bets include parlays, prop bets, point spreads, totals, and double chance. Totals give users the chance to bet on the total number of goals in a single match, which increases the odds.
There are a lot of techniques and skills involved in soccer betting if you want to be successful. If you are looking to bet on the Premier League in the USA, or have a wager on a local side, you may want to consider matched betting, or even arbitrage betting as a technique.
In-Play Betting
In-play or 'live' betting has exploded in popularity in recent years. Bettors can watch games in real-time and place wagers during the game. This removes the need for scrambling around before kick-off checking the Premier League table and form to make sure you get the right bets on in time.
One of the benefits of in-play betting is that it allows players to see how things start and get a feel for the match before placing their bet. Besides predicting which team will win, other in-play options include prop bets such as who will score the next goal, the half-time score, and more. All of these wagers can be placed during the game, and it adds to the excitement.
The odds constantly change to reflect what is happening on the pitch, so make sure you keep your eye on flashscore for the latest updates. For example, in USA soccer, the Seattle Sounders may start the game as big underdogs but score an early goal. Their odds on winning the game will shorten while odds on the other team will grow.
In-play is perfect for betting on a soccer game. As the game is so fast-paced, things can change at any moment, which keeps you on the edge of your seat. Live soccer betting is a huge market in Europe, and it is likely to become a big part of licensed US sportsbooks offer over time. Some European operators have revealed that 75% of their revenue comes from in-play betting. That isn't the case yet in the US, but as online sports betting continues to grow, so will the revenue.
Soccer betting in the USA is growing in popularity now that more states are legalizing betting. This means you have more choice of placing a soccer bet online than ever before.
Most Popular Leagues to bet on at US sportsbooks
Soccer betting sites in USA are becoming increasingly popular as the sport continues to grow domestically. Although it is by far the most popular sport globally, is has been a slow burn at home. In Europe, soccer is almost like a religion in some countries, and there is no doubt which sport is number 1. Every country in Europe has several professional leagues. Among the most prominent are the English Premier League, La Liga, Serie A and Bundesliga. The best soccer betting app will cover all of these leagues with a range of different types of bets and markets.
Apart from the leagues which see the most betting activity, European teams play in domestic and international tournaments. If you are a top European team, you will compete every year in the UEFA Champions League. Think of this as like the Super Bowl for European soccer clubs, the pinnacle of club success. The best online sportsbooks will make sure they have odds available early on in the season for the winners of the Champions League, in addition to bets for the group state and each match leading up to the final. Any sports betting app should also provide coverage of the European international tournament, known as the Euros.
In the US, lots of people enjoy placing a wager on Major League Soccer as well as the other international leagues. Users can sign in to their soccer betting app and use their bonus bet to wager on LAFC and they bet on Chelsea to win the Champions League!
For anybody who really enjoys watching and betting on soccer, the best betting site will include odds on additional leagues. There are hundreds of exciting soccer leagues to wager on when you think each country has lower divisions. For example, England has a thriving lower league soccer system that draws in thousands of fans to watch games each weekend. Before you begin to bet on soccer, it is important to compare odds on the Premier League or LaLiga to make sure you are getting the best price.
Soccer Betting USA FAQs
Which betting site is safe in USA for soccer?
All licensed online soccer betting platforms are safe for players to use. We have listed some of the best websites at the top of this page that offer numerous types of soccer bets and markets, including bets on the MLS (Major League Soccer).
What does PK mean in soccer betting?
When a betting line for a soccer match is stated as PK, this means a pick'em. In other words, oddsmakers feel the game is a complete toss-up. On soccer sporting terms, PK stands for penalty kick. The player gets a free shot at goal from 12 yards with just the goalkeeper to beat.
What does 1 x 2 mean in soccer betting?
In soccer betting, 1 x 2, otherwise known as three-way betting, refers to betting