Gamble USA strives to improve your online gambling experience. We aim to help you play safely, make informed decisions when gambling, and increase your betting knowledge through our guides.
We adhere to strict editorial integrity; our content may contain links to products from our licensed & legal US partners.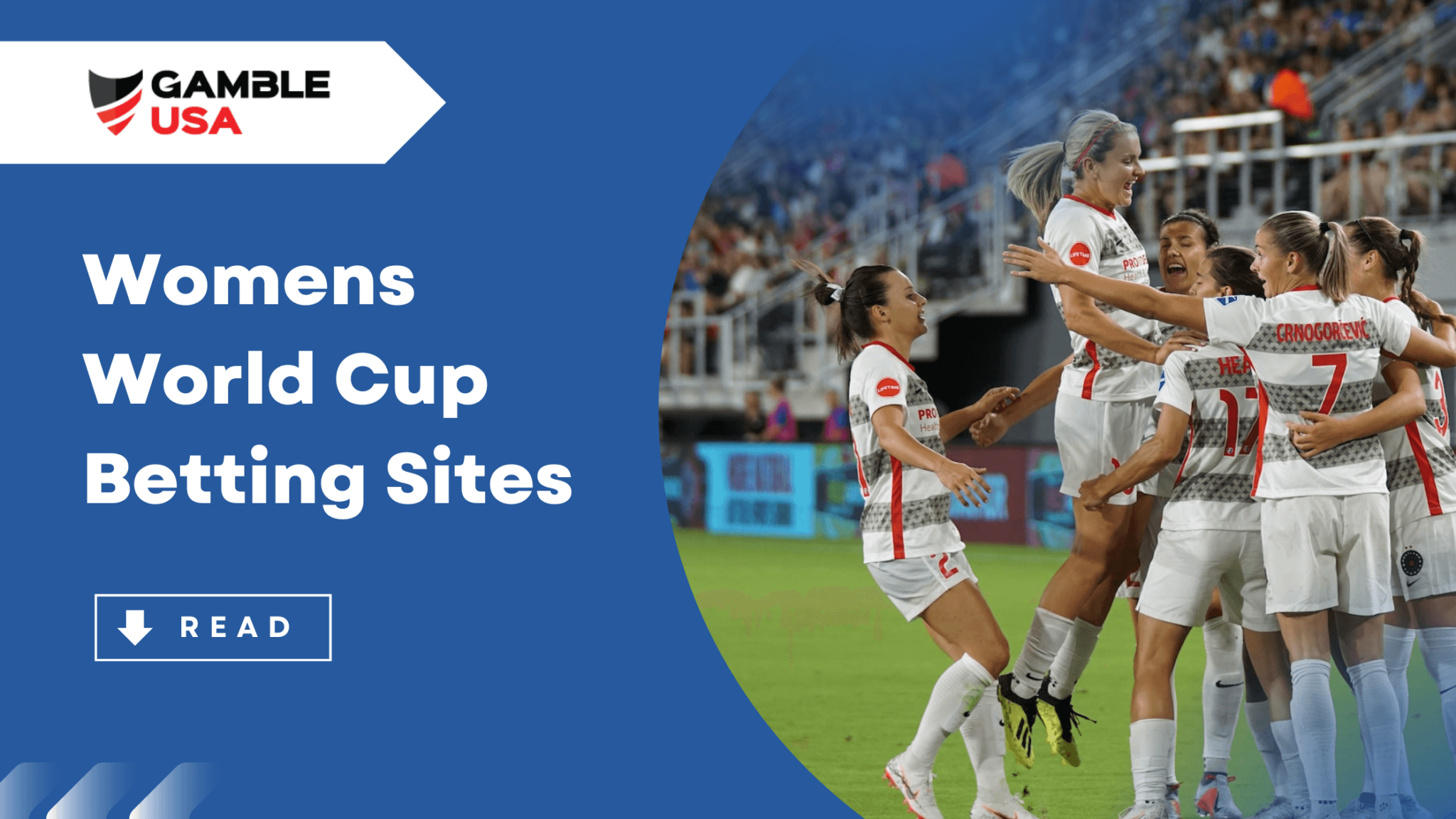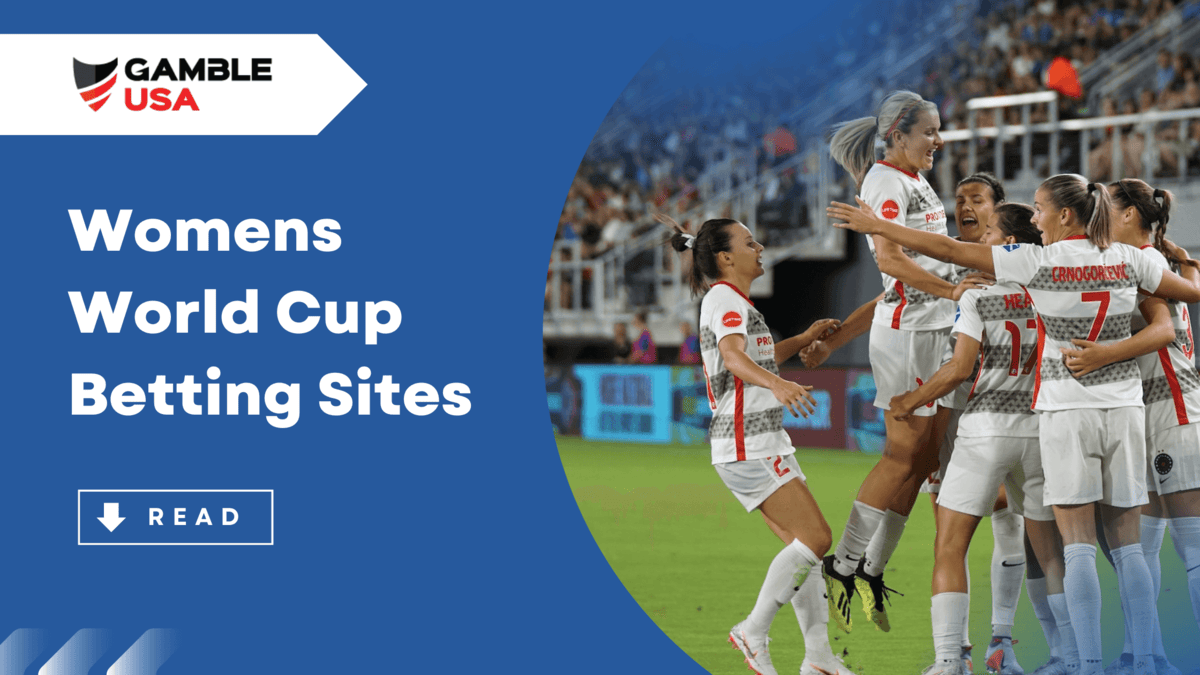 The Women's World Cup is the pinnacle of women's soccer and is held once every 4 years. The Women's World Cup 2023 is being held in Australia and New Zealand from 20 July – 20 August and will feature 32 teams from around the globe. 
Women's soccer continues to develop and improve, and now the majority of the players are full-time professionals competing year-round in top leagues. We are expecting an extremely high standard of play and some thrilling matches. Team USA are the favorites and won the last Women's World Cup but don't count out England, Spain, and who knows, maybe even the host countries might cause some upsets.
The action won't just be exciting on the pitch, you can also bet live on every single game from the Women's World Cup 2023 and win some extra cash. There are exclusive bonuses and more bet types than you can wrap your mind around! Keep reading to get the latest scoop on Women's World Cup betting, winning strategies and find out the best sportsbooks in the USA!
---
Best Womens World Cup Betting Sites
To access incredible bonuses, extensive Women's World Cup betting markets and enjoy a smooth and secure sports betting experience, stick to these sportsbooks:
🥇#1.
DraftKings Sportsbook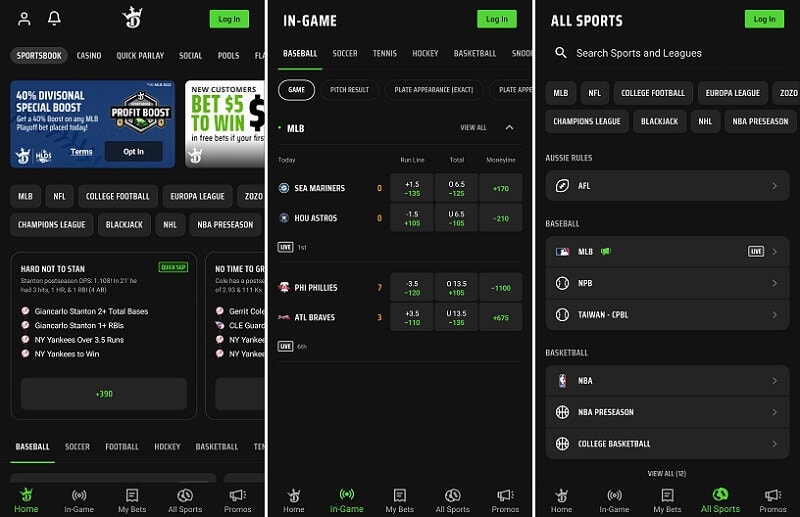 DraftKings is a licensed US-based sportsbook that operates legally in 20 US states. They have sports betting markets for over 20 sports, including soccer, tennis, boxing, MMA, football, basketball, baseball, and ice hockey. DraftKings has a lightning-quick site that is 100% mobile optimized and runs exciting promos year-round. They also have a fantastic online casino featuring 1000 + games, including slots, live dealer games, blackjack, poker, roulette, and more.
At DraftKings, you can bet live on every single game from the Women's World Cup 2023 and have 20 + bet types, including moneyline, draw no bet, clean sheet, same-game parlays, futures and spread/handicap. Even better, they regularly offer profit boosts for games so you can supercharge your bankroll. Sign up using our offer below, and when you bet $5 on any Women's World Cup game, you will get $200 in bonus bets even if your wager loses!
Expert Comments:
"DraftKings is definitely my top pick for Soccer betting and with the Womens World Cup coming soon this is who I'll be using to place most of my bets as they have loads of great lines for every game in the tournament." 
– Paul Ricci (Chief Sports Editor)

---
🥈#2.
FanDuel Sportsbook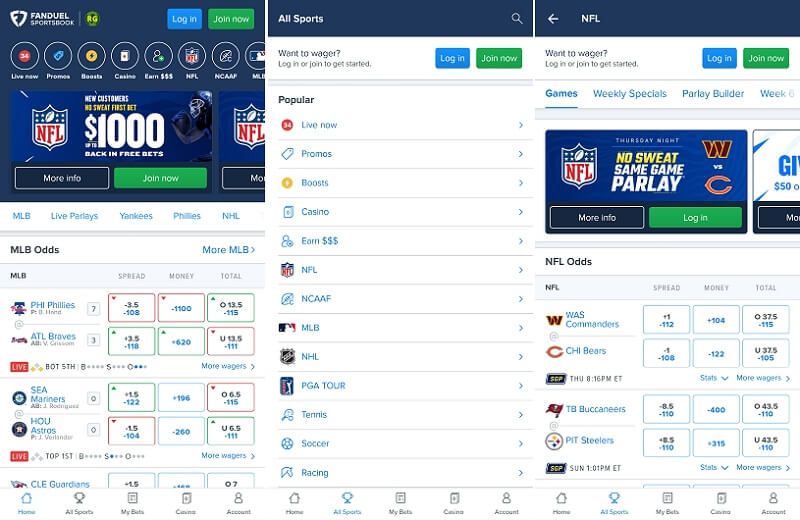 FanDuel is another major US sportsbook that, like DraftKings, got its start in daily fantasy and then expanded to sports betting. They legally operate in 19 US states, routinely have market-beating odds, and have live betting markets for thousands of sports every single week. FanDuel is a leader when it comes to mobile betting and has a well-designed mobile app that you can pick up from Google Play or the App Store. The app gives you total functionality and has tons of cool features like cash out, stats, and HD live streams of your favorite sporting events. 
FanDuel has amazing futures odds, you can bet on the Netherlands at +2400! They also have some of the best options for live betting and fun prop wagers like penalty awarded and a side to score no goals. Sign up below and get 100% insurance up to $2500 on your first Women's World Cup bet!
Expert Comments:
"Its easy to place a bet on FanDuel by navigating to the soccer section and selecting the Womens World Cup. There you'll find a range of different lines for the tournament including the outright winner. I think the main stand out feature though is the Same Game Parlay option which offers fantastic value for each match."
– Paul Ricci (Chief Sports Editor)

---
🥉#3.
BetMGM Sportsbook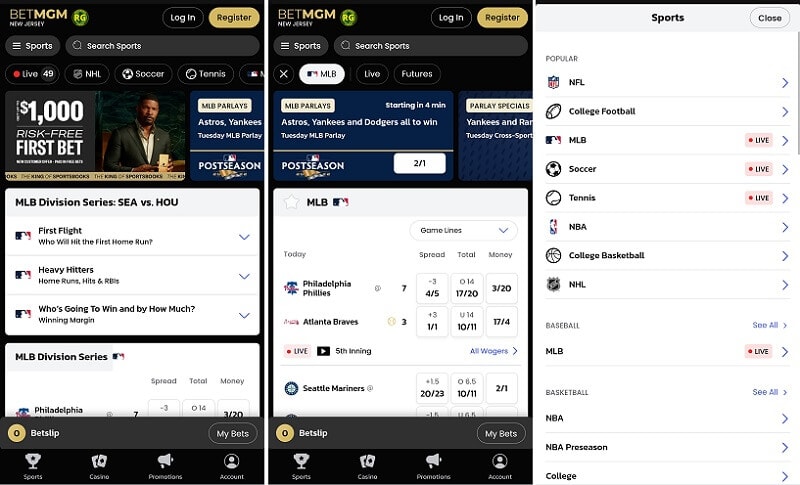 BetMGM doesn't just have amazing casinos, they also have a legit online sportsbook. BetMGM lets you gamble on everything from Czech table tennis to F1 races in Azerbaijan to cricket in India. They have hundreds of daily events, and you can often find super generous odds. BetMGM also has a great range of bonuses which are a fantastic way to kickstart your bankroll.
BetMGM's Women's World Cup betting markets feature all of your classic bet types, including moneyline, spread, total goals and also some more exotic ones like same-game parlays and player props. Use the promo code GAMBLEUSA and get up to $1000 in bonus bets if your first wager on any market loses, including all Women's World Cup soccer matches.
Expert Comments:
"It is a bit difficult to find the majority of the womens soccer odds on BetMGM just maje sure you're in the events tab under 'Soccer'. Once I found the correct section though I was impressed by the amount of betting options there is. The options are laid out really well on the page and its easy to find each bet even allowing you to filter by group."
– Paul Ricci (Chief Sports Editor)

---
🎖️#4.
Caesars Sportsbook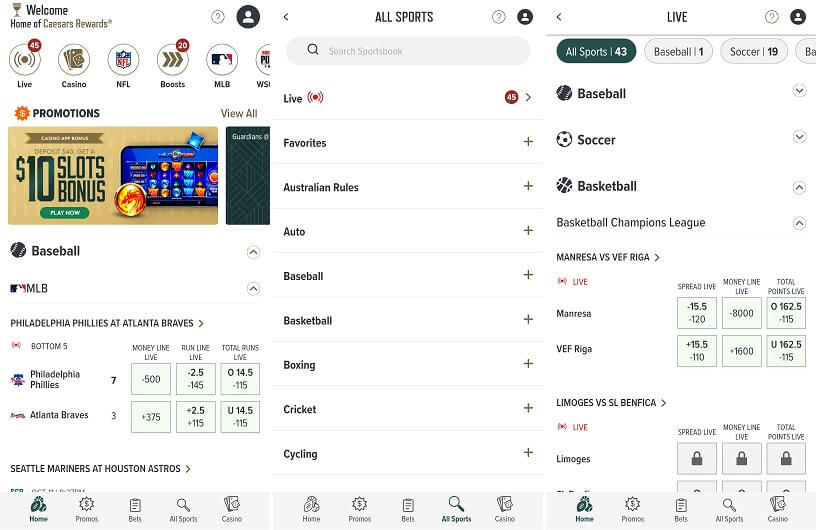 Caesars is another big-time gaming brand that is surfing the online betting waver. They are fully licensed, operate in 18 states, and have all the resources of Caesars Entertainment behind them. Caesars Sportsbook has a well-designed mobile app that allows you to place wagers on the go and features an easy-to-use minimalist theme. They have a great mix of popular sports like football and basketball, but they also have some niche ones like Australian Rules and Lacrosse.
Caesars Sportsbook has extensive Women's World Cup 2023 betting markets. They have live betting options for all of Team USA games, so you can follow along and join in on the celebration. Caesars Sportsbook has tons of bet types, so you won't be stuck just making boring moneyline wagers. Sign up now and use the promo code GUSAFULL to get up to $1250 if your first wager loses!
Expert Comments:
"I really like the betting experience on Caesars, the site is well designed and finding the right section is a smooth experience. One thing that did stand out is the quality of their live betting section, they had a lot of games listed and the odds seemed to be strong throughout each game. This is definitely a feature I'll be using during the World Cup."
– Oliver Dickinson (Sports Editor)

---
🏅#5.
Betway Sportsbook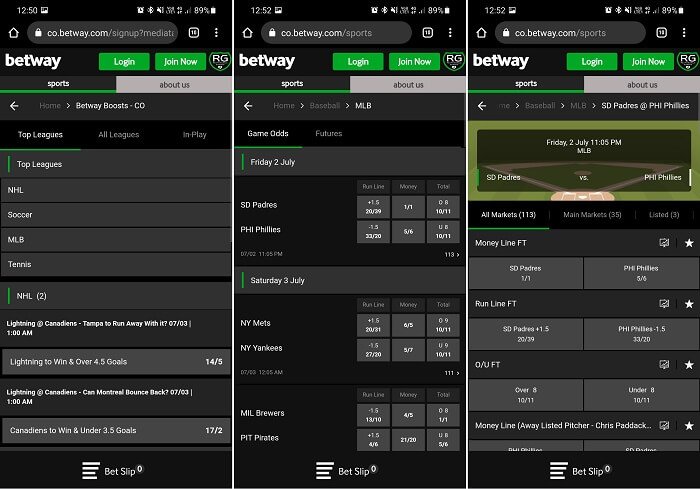 Betway is one of the biggest sportsbooks in the UK who have expanded to the US. They are live in AZ, CO, IA, IN, NJ, OH, PA, & VA and are fully licensed. They are known for their excellent live betting markets and have so many different tournaments, including 20 + soccer leagues alone! Betway also has daily boosts, which automatically increase your payouts and tons of other promos like bonus bets.
Betway, staying true to its UK heritage, has world-class women's soccer markets and has 30 + bet types for the Women's World Cup. They have some amazing odds for spreads and futures, including Denmark at +10,000 and the Netherlands at +2500. Sign up here and get up to $250 in bonus bets if your first bet on the Women's World Cup or any other market loses!
Expert Comments:
"As a European sportsbook Betway should excel in it's soccer lines and it does just that. Although they aren't available in every state, if they are available in yours they're definitely worth checking out. They have some really unique features that I'd like to spend more time with during the World Cup."
– Oliver Dickinson (Sports Editor)

---
Understanding Women's World Cup Betting
Women's World Cup betting is about accurately predicting the outcome of matches and certain statistics like goals. How it works is that sportsbooks give you odds based on their calculation of the likelihood of an event happening. The higher the Women's World Cup odds, the less likely it is to happen, and vice versa. The odds also reveal your potential payout. For example, let's say you bet $100 on Team USA World Cup Victory at +275 odds, your potential payout is $375 ($275 profit), and the chances of you winning in the opinion of the sportsbook is 26.67% (enter the Women's World Cup odds into a sports betting calculator to instantly find your payout and implied probability).
What pro sports bettors do is attempt to handicap events better than the sportsbook. They use different formulas and analysis to come up with their own implied probability calculations, and when they differ significantly from the sportsbook's calculations, pro sports bettors wager. For example, if a pro sports bettor thinks the US actually has a 30% + chance of winning the Women's World Cup, they bet.
Betting Markets
Women's World Cup betting features all different kinds of markets. These varying bet types allow you to bet on all aspects of a soccer match and not just the game result. Here are some of the most popular Women's World Cup betting markets:
1X2

– With this wager, you can either bet on Team A to win, a draw, or Team B to win. For example, you bet on Australia to beat Canada in their group match.

Double Chance

– This bet is similar to a match result bet, but even if the game ends in a draw, your wager still pays out. For example, if you bet on Germany to beat Japan in the Women's World Cup, you win if Germany is victorious or they secure a draw.

Futures

– A futures bet involves predicting which side will win the 2023 Women's World Cup. For example, you bet on England to win the World Cup. 

Total Goals

– The sportsbook sets the line for the total number of goals that they expect to be scored in a game, and you need to predict whether the real goal tally will be higher or lower. For example, in a game between Brazil and France, the line might be set at 4 if you take the under and 3 goals or less are scored, you win!

Spread

– The sportsbook applies a + goal/s handicap to the underdog and a – goal/s handicap to the favorite. You need to predict which team will win when factoring in the handicap. For example, if Australia is a -1.5 goal handicap over Ireland, Australia needs to win by 2 goals or more for your bet to payout.

Halves

– Predict which team will win the first or second half. For example, if you bet on Sweden to beat South Africa in the first half, and they are

up

1-0 when the ref blows the half-time whistle, you win!

Goal Scorer

– You can bet on a particular player or side to score a goal.

Clean Sheet

– Wager on a team not

allowing any goals.
With so many Women's World Cup bet types, you can always find amazing opportunities, and if you do your research, soft odds. If you are new to soccer betting, start with a 1X2 wager, and then once you understand how the odds work, start exploring some other fun markets like total goals and spreads.
---
Analyzing the Women's World Cup Betting Lines
The first thing you will realize when looking at the US Women's World Cup betting lines is that while they are a favorite, they are still paying decent odds at +275, and England isn't that far behind at +350. This is because, in 2022, the US women's team lost friendlies to England and Germany. However, we think the sportsbooks are reading too much into those results. Soccer friendlies often have unpredictable results. The US women's side is undefeated in 2023, and they have won the last two World Cups. We expect the defending champions USA to dominate the tournament and secure another win.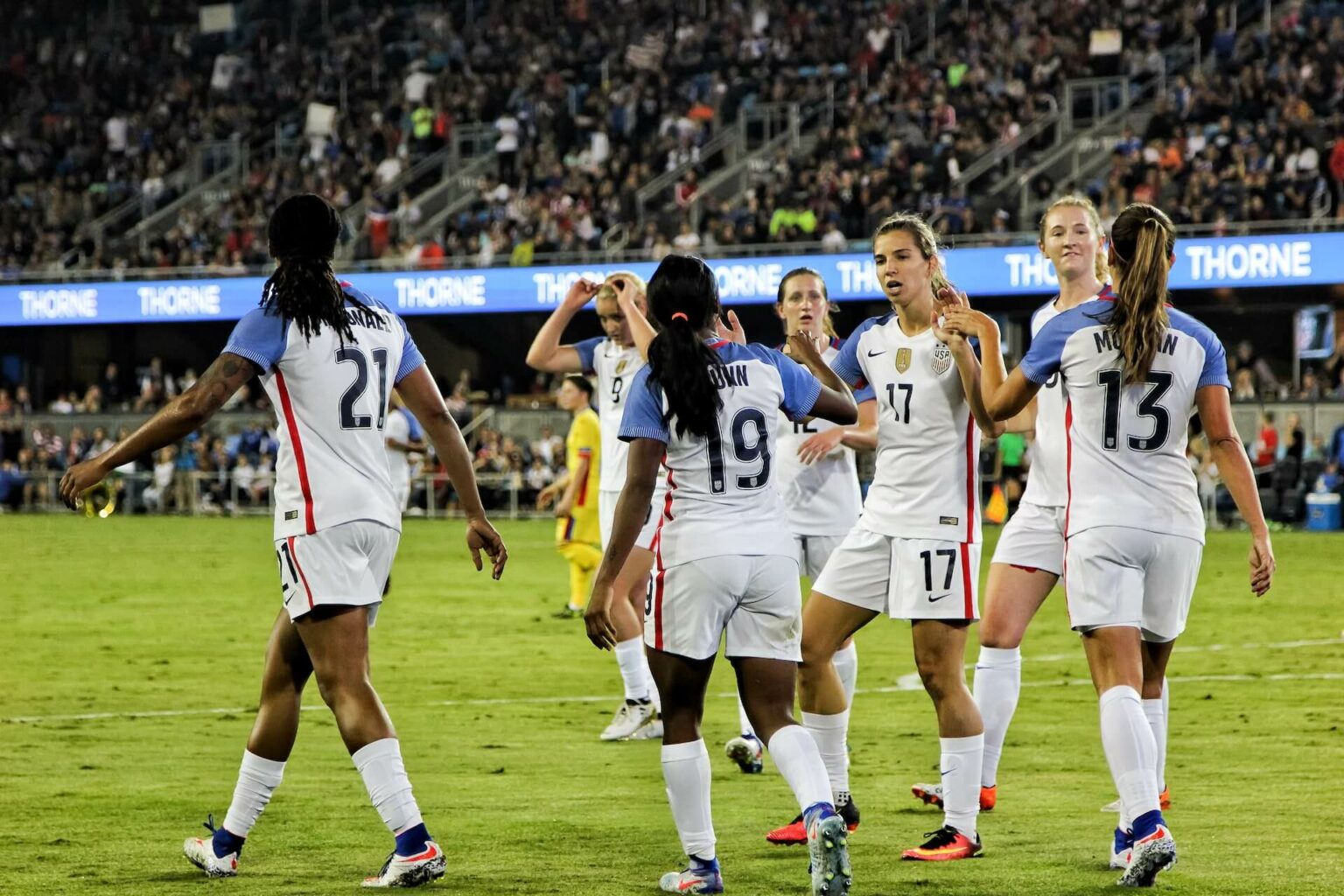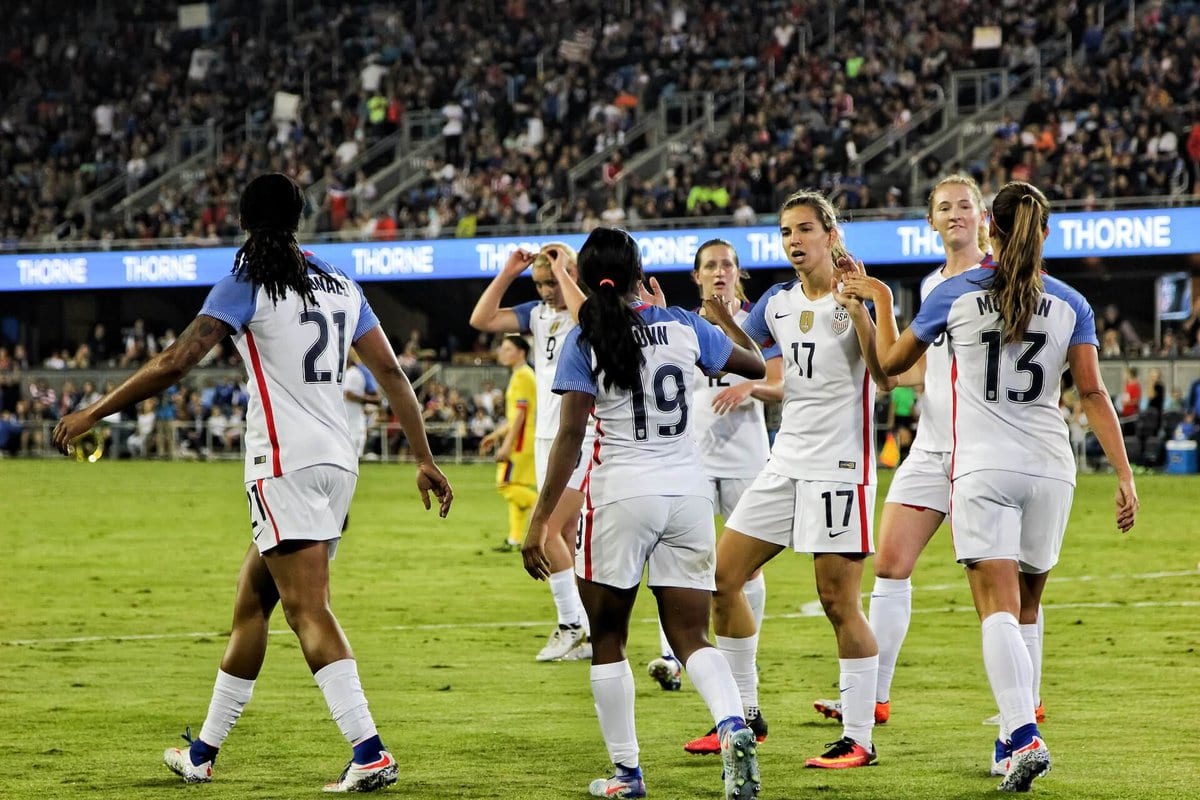 England has a strong shot at winning the tournament, but at +350, they don't offer much value. England's short odds are based on their 2022 Euro title, where they beat other top teams like Germany and Spain. They just lack the star power to beat the US, and we could definitely see them losing to Spain and France.
The Netherlands is a team worth betting on. They are definitely an underdog, but at +1600, the sportsbooks are only giving them a 5.88% chance of winning, which is very low considering the talent on their roster and the fact that they made the final in 2019. You can't count out a team with Vivianne Miedema, who has scored over 100 goals for Arsenal and is considered the second-best striker in all of women's football. Lock in these odds now because once the money starts pouring in, they are going to become a lot shorter!
If you want to chase a few lottery tickets, head over to the moneyline markets and place a few bucks on Panama beating Brazil or Haiti beating England, which are both paying +3500. Those teams need a minor miracle to win, but it could be worth placing $5 on each game and crossing your fingers.
---
Expert Strategies and Tips for Women's World Cup Betting
If you want to overcome the sportsbooks and lock up a win at the Women's Cup 2023, then you need to create a strategy. Outsmarting the betting sites is not easy but if you put on your thinking cap and follow these tips, you have a great shot at picking some winners! 
Bet on heavy favorites in the spread/handicap markets
An England victory against Haiti is paying -20,000! However, you can get -120 on them with a -3.5 goal handicap which seems like decent value considering that the English squad is filled with professional players who compete in top leagues, while Haiti barely has any pros in their lineup. Germany at -130 with a -3.5 goal handicap against Morocco is another bet worth exploring.
Bet on Women's World Cup live underdogs in the futures market, and hedge by betting on favorites
Two great underdogs to bet on winning the 2023 Women's World Cup are the Netherlands at +1600 and Denmark at +4000 odds. You can reduce your risk by also betting on the team USA and England. Make sure you divide your stake up so that you win big if an underdog wins, and at least make a small amount if one of the favorites wins.
Try same-game parlays
A parlay is where you combine multiple wagers into one, and you only win if all of your individual predictions are correct. One of the best same-game parlays is for a particular team to win and the other team not to score. Find a game where there is a very strong favorite and the other side has a lack of scoring firepower, for example, Switzerland against the Philippines.
Claim a bonus and use odds boosts
The easiest way to erase the sportsbook's edge is to use their own money to bet. Sportsbooks will often give you bonus cash for your first deposit or bonus wagers and insurance. Head to the promotions page and claim as many deals as you can get your hands on. The welcome bonus tends to be the biggest, so sign up at multiple sportsbooks and take advantage of the different new player promos. 
Conduct detailed research
While trusting your gut does play a role in sports betting, most of your decisions should be governed by analysis. Before each match, you should pull up the stats for both teams and perform a deep dive. Key stats to view include the average number of goals scored and conceded, average possession, average pass percentage, the average number of passes, the average number of shots on goal, head-to-head record, and record over the last 5 games. These simple stats have substantial predictive power and can significantly boost your chances of success.
Find value in the betting markets
Sportsbooks are not perfect; they sometimes misprice events and offer odds that are too good to be true. Your job is to identify these soft odds. Start by just browsing through the Women's World Cup betting markets and write down odds that seem a little off to you. Then perform some more in-depth analysis by studying stats and see what the tipsters are saying. Once you identify mispriced Women's World Cup odds that are confirmed by your analysis, believe in yourself and pull the trigger.
Try live betting
Live betting refers to gambling on sporting events that are currently being played. This is a relatively new form of sports betting and features dynamic odds, which are constantly shifting based on the teams' performances. To improve the accuracy of your predictions, watch the first 20 minutes of a match and then bet on a particular side to win. By watching the first part of the game, you can quickly see which players are in form, who is battling injuries, and how the two teams' strategies are performing against each other.
Practice bankroll management
It doesn't matter if you are the best women's soccer handicapper in the world – if you bet too big, you will lose it all! To ride out the variance, you need to bet conservatively. To be on the safe side, bet a maximum of 2% of your bankroll on each wager, and if you go through a losing streak, reduce your average stake size. Under no circumstances should you chase losses, this is a recipe for disaster!
---
Top Contenders and Underdogs at Women's World Cup 2023
Women's soccer is a little different from men's soccer and is dominated by the US, who are strong favorites to win the 2023 Women's World Cup. The women's US team has won 4 World Cups and was victorious in the last two tournaments in 2019 and 2015. The best player on the US squad is Catarina Macario. The youngster is on fire, netting 23 goals in 35 matches for Lyon. Rose Lavelle is another American superstar. The talented midfielder is an amazing tackler and finds chinks in the opponent's defense with ease!
England also has a very strong women's side and is currently the number 2 ranked squad in the world. The English side is known for its physical play and fine-tuned fundamentals. Some players to keep an eye on include Fran Kirby, who plays for Chelsea and is goal scoring machine, Lauren Hemp is another exceptionally talented player who is lightning-quick with the dribbling skills to match.
If England or the US don't win the 2023 Women's World Cup, then it will probably be Spain. Spain has the best women's footballer in the world, Alexia Putellas, who is an electric midfielder that can set up teammates for tap-ins but is also comfortable taking on the goalie and slotting goals. The Spanish side doesn't have the same physicality as the team USA or England, but they make up for it with speed and flair!
If you are looking for an underdog to bet on, then the Netherlands are a great option. The Dutch were the runners-up in 2019 and are 4-time European champions. They also have some real talent on their roster, including Vivianne Miedema, considered the 3rd best women's player in the world, and Lieke Martens, ranked 15th in the world. They play a high pace physical game and love pushing around weaker teams. 
Another dark horse worth tossing some cash on is Denmark. They have an amazing midfielder/forward combo in Caroline Graham Hansen and Pernille Harder, who are ranked 4th and 5th in the world. Hansen has been dominating at Barcelona, while Harder has been killing it at Chelsea, two of the most elite teams. Denmark is always exceptionally well-coached and has one of the best football developer systems in the world. At +4000 odds, you can't go wrong placing a small wager on them.
---
FAQ's
Is it legal to bet on the Women's World Cup?
It is legal to bet on the Women's World Cup. Soccer is one of the most popular sports to bet on, and there are live markets for all games at the Women's World Cup and all of your favorite bet types, including moneyline, spread, and total goals.
Where can I place wagers on the Women's World Cup?
You can bet on the 2023 Women's World Cup at all major US sportsbooks, including DraftKings, FanDuel, BetMGM, and Caesars Sportsbooks. All of these licensed betting sites have great Women's World Cup odds and exclusive bonuses.
What types of bets are available for the Women's World Cup?
Top sportsbooks have extensive betting markets for the Women's World Cup, including moneyline, spread, half-time winner, total goals, clean sheet, winning margin, exact score, futures, double chance, and more!
Can I bet on individual player performances in the Women's World Cup?
You can bet on individual player performances in the Women's World Cup. For example, you can bet on a player to score a goal or a goalkeeper to keep a clean sheet, or a player to win an award like the Golden Ball, which is awarded to the best player at the Women's World Cup.
Are there any betting strategies or tips for the Women's World Cup?
To make the 2023 Women's World Cup a profitable betting experience, bet on Sam Kerr to win the Golden Boot award, Alexia Putellas to win the Golden Ball award, and the US to win the tournament.