As more states across the US offer legal sports betting or are considering legalizing sports betting, online operators are looking to get in on the action by launching their online and mobile sportsbooks.
Many well-known brands, such as DraftKings Sportsbook and BetMGM Sports, aim to provide a seamless sports betting experience to all of their customers. However, sometimes technology can provide a stumbling block in the user getting the full experience and range of options on offer.
A common term you may hear if you have downloaded a mobile sports betting app or regularly place bets online is 'geolocation', or 'Geofencing' This technology pinpoints your exact location to determine if you can legally place a bet. For example, you may have downloaded an NJ sports betting app and registered successfully. However, you then leave the state and travel somewhere where betting is not yet legal. You then log in to the account, try to place a bet but are blocked. This is geolocation performing its duty of not allowing bets in states where it is illegal.
Geolocation error can be a make or break when trying to place your bets. It's not just sportsbook users facing these problems, you can also get player location and geolocation errors with mobile casinos. We are going to run through some troubleshooting tips to get you back betting.
Best sportsbooks using Geolocation
The sportsbooks we have found that has the best and most reliable & accurate geolocation feature are:
BetMGM geolocation performed the best when we tested this across several states and state borders. This was closely followed by PointsBet Sportsbook which also worked very well, then DraftKings sportsbook. If you have issues with either of these sportsbooks, then follow these steps below. A good way to overcome issues like this is to use 2 betting apps then you can always use the other if one doesn't work.
The sportsbook we had the most issues with was FanDuel. We saw the FanDuel geocomply no token error or Restricted Location quite a lot and would suggest using Caesars Sportsbook, BetMGM sportsbook, or DraftKings over FanDuel as it's a persistent issue.
Current Issues with Geolocation
Let's take a look at an example of the problems that sportsbooks encounter with their customers and geolocation. There is a bettor in New Jersey who has downloaded a mobile sports betting app and is ready to bet. They go to place their bet, which is rejected because they have 'failed' the geolocation test. The customer then wonders how this has happened? You may launch an app and see the error "geolocation not working" which can be annoying. As annoying as they are, player location checks are a legal requirement from a sportsbook.
This is a pertinent question amid the ongoing discussion about and expansion of mobile and online sports betting. The rules and regulations around legal sports betting state sportsbooks must use geolocation technology and are only allowed to accept bets from players physically present in-state or face hefty fines.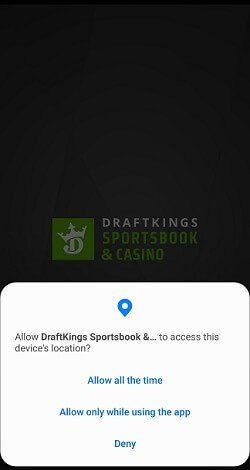 For this technology to work, it requires a combination of software and hardware designed to "fence" devices. So, if we take New Jersey as an example, as mobile sports betting is legal, the state is virtually "fenced" so players there can place their bets without hassle. The issues arise and get complicated when you consider other states, such as Mississippi, where mobile sports betting is legal but only on-site at physical casinos. This means a different kind of 'geofence' needs to be adopted.
Geolocation vendors such as GeoComply must be flexible to overcome common issues. For example, in some states, sports betting won't occur in casinos, but rather in tiny venues that are difficult to find. In places like these, hardware needs to be installed to prevent players from placing bets until they are inside a property with an interactive sportsbook.
It is not just sportsbooks that have issues. You may also experience geolocation issues with online casinos as well as they also rely on the same technology and software.
If you have not closed down the app properly or have been using it for a while, you may see this term – bet rejected geolocation expired. This means that the sportsbook can no longer find your whereabouts. If this happens, log out of the app, close it down, open the app and confirm your location again.
Player location checks by GeoComply
As a bettor, one of the most annoying phrases we come across is player location check unable to verify location, or the FanDuel cant verify location message. So what exactly is a GeoComply player location check, and what can you do to fix it? What this effectively means is your device cant speak to the sportsbook and confirm where you are. We can usually get around this issue by installing a plugin (such as GeoComply, or GeoGuard) or making sure that location settings are turned on from our cell. These need to either be set to on all the time or when using the app. We show you below in detail how to do this.
No matter what state you are trying to bet in, it is a legal requirement by a regulated sportsbook to prove your location. Operators use very clever software to detect if you are using a VPN. If you are looking for a way of how to get around FanDuel restrictions or bypass FanDuel location checks, this is against the operator's terms of use and can get you suspended and blocked from using them, or any other online betting site.
How does DraftKings know my location?
DraftKings, and more importantly, any legal US sportsbook knows your location thanks to this geolocation software. Even if you are trying to bet in the US and use VPN to attempt to change your location, there is software in place to detect that you are using a VPN and not physically in that location you say you are.
A VPN (Virtual Private Network) connects your tablet, smartphone, or PC/laptop to a server in another location so it appears you are in that location. For example, you can be in Pennsylvania, download a VPN, and set your location as being in Miami. Legal US books have a legal duty to not allow people to place bets in states where it is not legal. Using a VPN to wager is a sure-fire bet to get your account blocked and banned.
No matter where you are in the country, if you are trying to bet on soccer, or place a wager on the big NFL game, geolocation will know exactly where you are.
How Sportsbooks Could Overcome Geolocation Issues
One option open to sportsbooks to work around issues such as the one mentioned above in remote locations is to train route operators who service betting kiosks in how the technology works. Another option could be installing multiple hardware pieces, so if one breaks down, you have another reliable one still working.
Many state lawmakers have expressed concern about how geofencing will work in practice in their locations. It may be the case that geolocation needs to become even more accurate, to the inch, to stop potential breaches.
What to do if you have location issues with the sportsbook?
A question we are often asked is why do we get geolocation issues and how can we fix them. If you have problems with the sportsbook confirming your location, there are a few steps we use. If you see Draftkings location not found, for example, try these steps below.
Make sure you are physically in a legalized state
Make sure location settings are turned on in the settings
If both of the above are done, try restarting your phone
If this fails, uninstall the app and download it again
Allow location settings again, open the app & login
Normally toggling your location on and off, then restarting your phone should fix any issues you may have with a sportsbook app and the geolocation settings. You may find you struggle to perform player location checks if you are in a moving vehicle. If you are on the move, pull over and try again. When driving your mobile may be connecting to different cell towers which can cause problems. You may need to restart your device so you can reconnect to the nearest tower.
If you are using an iPhone that has had a jailbroke to the software, then your best option is to reset it to the factory settings. Jailbreaking devices are notoriously bad for allowing location settings to be used accurately. If you are still experiencing issues, reach out to the sportsbook in question customer support team as there may be an issue with your account.
Turning location setting on from your mobile
It is essential the sportsbook can access your location and geolocate me. It is very easy to do this. If you use an iPhone, iPad, or even iPad, you can find this setting in:
Settings
Privacy
Location services (toggle on)
Access the app and confirm to share location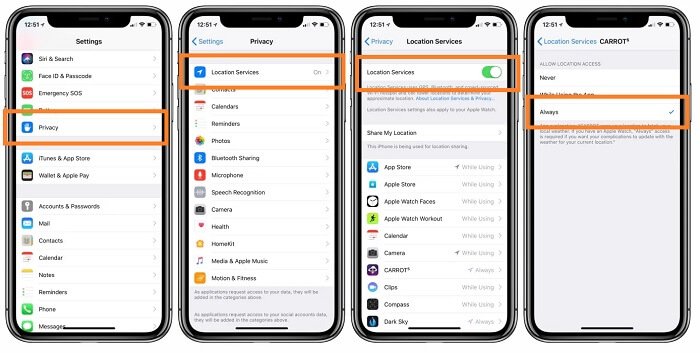 If you use any Android handset or tablet, location settings can be found in:
Settings
Location (toggle set to on)
App permissions
Find the app
Select Allow all the time or when using the app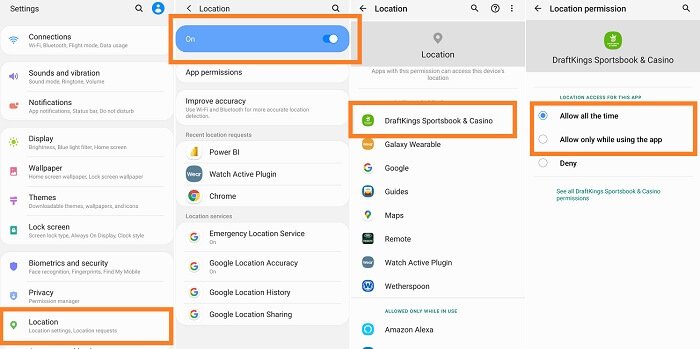 If you are using an Android mobile, or tablet, you may see the error Android location services not working. If this happens, follow the steps above and this should fix the issue.
GeoComply not working? App & Plugin help
Geocomply is the main name in US geolocation tracking for sportsbooks and online casinos. They have a location tracking plugin and app called GeoGuard (available in iTunes and Google Play) that players can use to assist in confirming their location. But like the built-in technology, this plugin and app can also cause headaches. If you are having issues with GeoComply not working, try these steps:
Geocomply plugin
Remove the plugin from Chrome
Download the latest version of the plugin
Make sure you are not using a VPN or proxy
Check your location here –

iplocation.net

If you are still having issues, contact your ISP to check your connection
Geocomply app
Make sure you are using the latest version of the app
Clear the memory and cache on your phone
Restart your iPhone or mobile
Toggle wifi and 4G/5G on and off
Force stop the app and reopen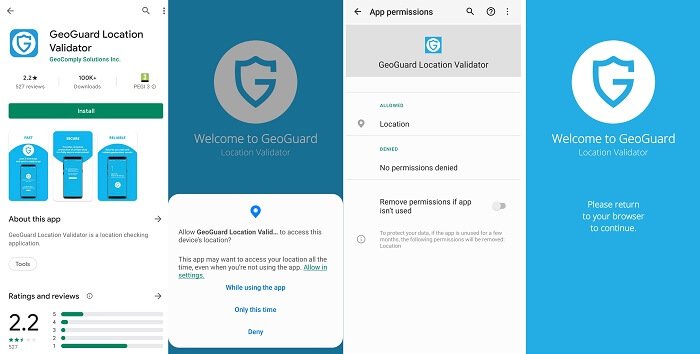 Is geolocation or Geocomply always accurate?
They are as close to perfect as you can get, but like with any technology they have issues every now and then (think mobile phone or wifi signal dropping). They can pinpoint your location to within a few inches when outside, but there may be issues when you are indoors as walls and roofs can block the signal. The technology used in PA online sportsbooks and NJ online casinos is extremely accurate.
Like any piece of technology, it is never 100% accurate and will always throw up some complications from time to time. How do you get around these issues? Well, we use at least 2 sportsbooks so that if we are having issues with 1, we have a backup to allow us to get that bet on.
If you are trying to wager in a remote location where the signal is poor, or are near a body of water, or state line, this can also cause problems.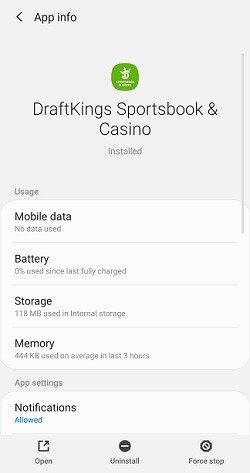 Why do sportsbooks need Geolocation?
As online gambling is not legal in every state, a sportsbook will need to prove you are in a state that does allow online betting (or casino). The best way to do this is to use your location feature that is built into your mobile. Geolocation and Geofencing (often offered up by GeoComply) can pinpoint your location to within a few inches and is often very accurate. However, like a lot of technology, it has its moments and never works 100% all the time.
If you use a desktop computer or a laptop, you may need to use a geolocation plugin (also called geocomply plugin) on your internet browser. In a similar fashion to your mobile, this can confirm your location using your IP address.
As this technology is still quite new and in its infancy, we only expect this to get better and more accurate. This will hopefully lead to less frustration and issues. It is illegal to use a VPN to try and spoof your location and is not something we recommend you do. Players trying to use a DraftKings VPN will not be able to access the site as there is the software to detect you are using a VPN.
In the meantime, you can use one of the recommended sportsbooks that we feel have the best geolocation access. If you need any additional help, you can always get us on twitter @Gamble_USA and we will try our best to help.