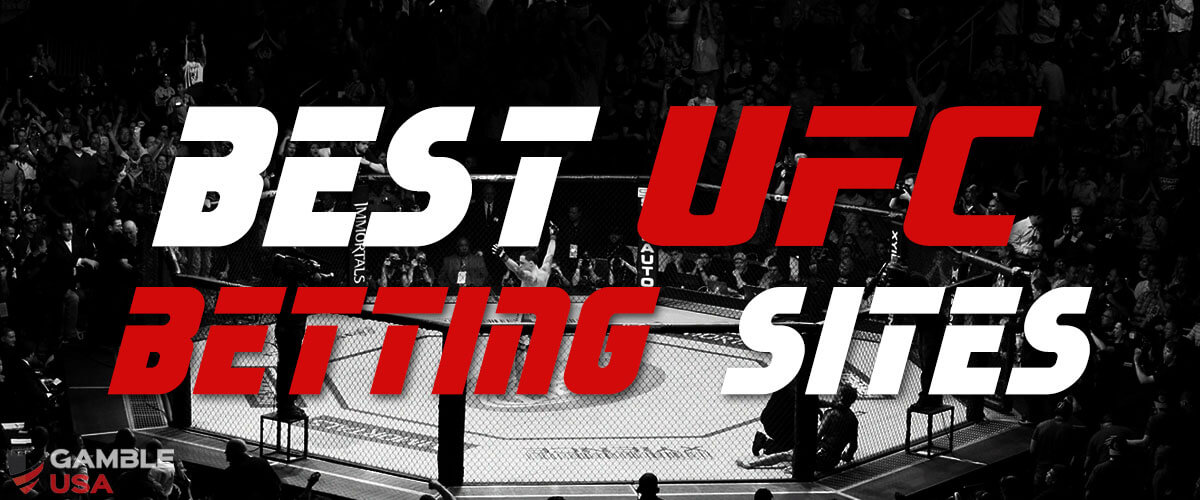 The Ultimate Fighting Championship, or UFC, has fought its way to claiming the title of the biggest mixed martial arts sport in the US. More people are gaining an interest than ever before and the growth of UFC markets offered by betting sites is evidence of that.
Top sportsbooks now offer customers the option of betting on the next takedown or calling a submission in the next 60 seconds. These bets recreate the immense atmosphere inside the octagon and can offer great payouts if you make the right call or combine multiple bets into a parlay.
This page will rank all legal US sportsbooks in terms of their UFC betting options and the bonuses that are available for UFC bets so that you can make the most of your cash. After that, we'll explore some of the betting types that you'll come across and how best to approach them before Fight Night.
---
5 Best UFC Betting Sites November 2023
Using our detailed review process, we've ranked all the best sportsbooks in the table below. Of course, some stand above the rest by offering the ultimate UFC betting experience. These are the top five UFC sportsbooks currently available in the US.
---
🥇#1. BetMGM Sportsbook: 5/5 Stars
Promo Code: GAMBLEUSA
Up To $1,500 In Bonus Bets
21+. T&C Apply
21+. T&C Apply
Promo Code: GAMBLEUSA
Super fast payouts
Live streaming
Promo Code: GAMBLEUSA
Up To $1,500 In Bonus Bets
21+. T&C Apply
21+. T&C Apply
The King of Sportsbooks has earned its rightful throne in our top five with innovative betting options and awesome UFC betting tips. Their MMA platform is packed with scheduled fights from the UFC and other international tournaments. You can also use their high-value welcome offer to place a bet on all of these fights.
✅ Pros
Unique betting options
Thorough betting tips
Well-reviewed betting app
Offering competitive betting odds
Generous welcome UFC welcome bonus
❌ Cons
Some payment methods are missing
Betting markets and odds – 5/5
BetMGM lives up to its name with extensive UFC betting lines and an impressive list of betting options that we could only find within their sportsbook platform. The 'Gone in 60 Seconds' live betting option is innovative with some of the highest potential payouts we've come across. There are also moneyline bets available for every scheduled match listed in the UFC.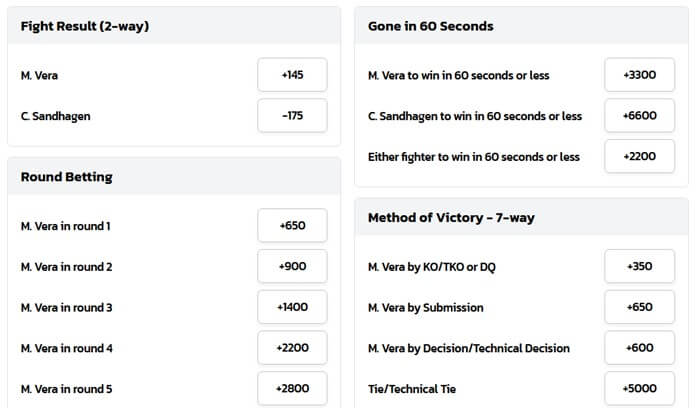 The odds speak for themself at BetMGM. You can see that the moneyline bets are in line with the rest of our top five here at Gamble USA. The sportsbook has secured a perfect 5/5 in this category for its incredible UFC betting experience.
UFC Bonuses and Payment Methods – 4.9/5
The sportsbook welcome offer is BetMGM bonus of $1,000 Paid Back in Bonus Bets if your first bet doesn't win. This means your first bet on a Fight Night would have some insurance in case you lose. The amount paid back will match your first bet value and will be awarded in five bonus bets. These bonus bets can be used again on any scheduled fight, no matter the odds. Say you register and deposit $500 that you use to bet on a specific UFC fight, if your fighter unfortunately loses, your account will be credited with 5 x $100 bonus bet vouchers.
Funding your UFC bets
The only minor fault we found with their service is the payment methods that are available. Bank transfers, credit or debit cards, Apple Pay, PayNearMe, and Neteller are supported. The lack of PayPal and Venmo loses the sportsbook a point here, but we expect it to be included in the future. A minimum deposit of $10 also applies to all of these methods.
Platform license and usability – 5/5
BetMGM maintains its status as one of the best by offering its sportsbook in more than 20 states throughout the US. Each state's gambling commission has awarded them a license, and the details of each can be found at the bottom of the sportsbook website. It'll be similar to the image shown below.

Octagonside experience
The platform itself gives you the opportunity to bet on the matchup and just enjoy the fight, or you can bet on the action as it unfolds. BetMGM has created a unique experience for bettors to put their money on fight-specific events to predict the next KO or submission. This experience proved their worth as the best to our team of experts.
---
🥈#2. DraftKings Sportsbook: 4.9/5 Stars
The next of the best UFC betting sites would have to be the DraftKings sportsbook. They've made a good effort at keeping pace with BetMGM's variety of UFC betting options, but unfortunately, their welcome bonus won't be available for all UFC fights.
✅ Pros
Variety of UFC betting options
Most payment methods covered
Frequently updated bonuses
Competitive odds
❌ Cons
The welcome bonus could be improved
Betting markets and odds – 5/5
Not only did we find that UFC odds are available, but we also found a remarkable amount of betting options for customers to take advantage of. Every fight of the UFC is listed as a moneyline bet, and there were DraftKings parlays, props, futures, and winning method bets for some of the other fights too. Most sportsbooks opt for just moneyline UFC odds, so if you are after something a little different, DraftKings is likely the sportsbook for you.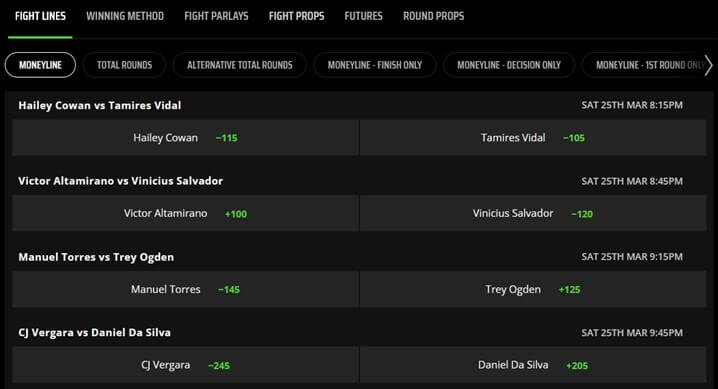 Their live betting markets were also similar to that of BetMGM but never had the depth that was offered. You can place fight event bets on rounds and fight outcomes. We couldn't fault their sportsbook in this category.
UFC Bonuses and Payment Methods – 4.7/5
The welcome offer of DraftKings is unique compared to the rest of this list. They currently offer a 20% matched deposit up to $1,000. It's decent for betting on the UFC, but the matched funds will need to be bet on odds of -300 or longer. You'll also need to deposit a minimum of $5 to trigger the promotion, and there is a 25x playthrough requirement to get through.
DraftKings supports online banking transfers, credit and debit cards, PayPal, VIP Preferred, Cash at Cage, Venmo, and DraftKings prepaid gift cards. All of these methods are processed instantly for deposits but could take a day or two for withdrawals.
Up To $1,000 Deposit Bonus
21+. T&C Apply
21+. T&C Apply
The best sportsbook
Amazing odds & offers
Awesome betting app
Up To $1,000 Deposit Bonus
21+. T&C Apply
21+. T&C Apply
Bring a friend to the fight
The variety of payment methods will allow you the opportunity to always be involved in the action. They also have a fantastic DraftKings referral bonus of $50 for both the sportsbook and the casino if you can get a friend to sign up and deposit $50.
Platform license and usability – 5/5
DraftKings usually leads the race in terms of state expansion. They are already available in over 20 states and expand to new opportunities whenever they are made available. While the growth is rapid, the sportsbook always takes care to obtain the necessary licenses to operate in the state. We couldn't fault their licensing in any of the areas where it is available.
All-inclusive betting experience
The DraftKings platform has to be considered as one of the best within the US sportsbook scene. Finding unique bets is seamless with the scrolling tabs and the bet slip will provide you with all the information you'll need on your bet. Take a look below.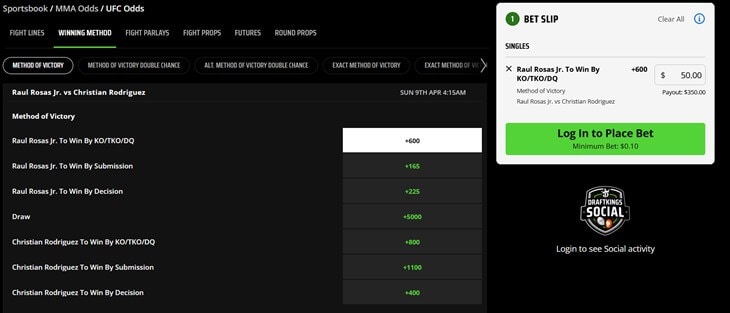 ---
🥉#3. FanDuel Sportsbook: 4.8/5 Stars
Our third contender in the Octagon is the FanDuel sportsbook. New customers can kick off their career with confidence while using the welcome promotion and look forward to plenty of UFC odds boosts building up to the big night.
✅ Pros
No Sweat First Bet
Extensive UFC coverage; bet on the undercards
Available in all of the legalized sports betting states
Frequent odds boosts
❌ Cons
Need to verify your location each time you travel
Betting markets and odds – 4.7/5
FanDuel has made certain to provide extensive coverage of all events. No matter the Fight Night, our experts found that all of the main-card and under-card schedules were covered with moneyline odds.
This made it easy to compare the odds with other sportsbooks and to no surprise, FanDuel came out on top once again. No matter our selection of a UFC fight, the payout was always within a fine margin of the other top contenders.
The only room for improvement would be additional betting options for fights compared to the standard moneylines that are on offer.
UFC Bonuses and Payment Methods – 4.8/5
To top off the odds, FanDuel has also put one of the most generous welcome offers on promotion. The FanDuel $1,000 No Sweat First Bet. New customers simply need to open an account and place their first UFC cash bet, up to a value of $1,000, and receive a matched bonus bet if you end up losing. This will only apply to your very first bet, so even if you have multiple selections on one slip, only the first will apply.
The bonus and the sportsbook have a minimum deposit amount of $10 and to make these deposits you can use debit or credit cards, online bank transfers, Venmo, PayPal, PayNearMe, ACH/e-checks, or a Prepaid Play+ card. If you're lucky enough to gather some winnings as well, you can also make use of these methods to withdraw your funds too.
Bet $5, Get $150 In Bonus Bets
21+. T&C Apply
21+. T&C Apply
Convenient banking
Massive choice of sports
Bet $5, Get $150 In Bonus Bets
21+. T&C Apply
21+. T&C Apply
Going the distance
It's worthwhile to note that the FanDuel promotions don't end with the welcome offer; customers can look forward to a variety of different bonuses with an active account. The most common of these would be the UFC Super Boosts that are shown below. These are significant FanDuel odds boosts that will be available a day or two before the big night.

Platform license and usability – 4.8/5
Finally, we have the state-specific licenses that FanDuel has obtained. Their platform is available in 16 different states, with more being added quite often. To operate in these states, they have been validated by the necessary gambling commissions, which also regulate their operations and protect state residents from any foul play. Our experts couldn't fault FanDuel in any state they offer their betting experience.
The UFC betting platform also performs to the standards set by the rest of the industry. You will have easy access to place bets on fight winners and live bets once the next Fight Night has begun. The only possible improvement would be to include more betting options on the scheduled fight instead of always redirecting users to find more bets.
---
🎖️#4. PointsBet Sportsbook: 4.6/5 Stars
Fourth on our list is the Australian sportsbook that has earned its spot as a top contender on the US betting scene. They're definitely inclined to back Bobby Knuckles, but they offer highly competitive odds to all US customers. The promotion might be difficult to take advantage of, but the service is perfect for all-round bettors.
✅ Pros
One of the best welcome offers
Moneyline bets on all UFC fights
Quality sports betting app
Expanding to many US states
❌ Cons
Betting markets and odds – 4.7/5
PointsBet naturally offers customers access to the UFC betting market. They have a range of moneyline bets available for every listed matchup in the upcoming fight night. We also found that the odds on these fights were either identical or very close to the odds available at the other betting sites that are listed in our top five. If you're simply looking to place a bet on a fight winner, PointsBet could be your ideal option.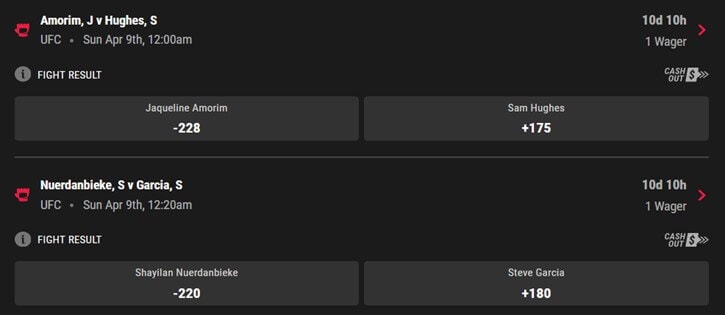 While the UFC coverage earns the sportsbook a top spot, the lack of betting options is quite noticeable. Their platform prides itself on the Pointsbetting feature, which is obviously unavailable for combat sports. They lose a few points for not providing customers with the option of placing props or unique bets. This is something that we hope will be expanded in the near future.
UFC Bonuses and Payment Methods – 4.6/5
While UFC bets are limited, customers can still make the most of the rest of the sportsbook with the PointsBet welcome offer. 5 x Second Chance Bets are available for the first five days of your account being open. Every day you can place a bet up to the value of $50 that will have the security of this promotion. It's important to note that it only applies to your very first bet of the day. This bonus is perfect for bettors who have an interest in more than one sporting market as any bet placed on the UFC will have to wait for the conclusion of the fight night before any bets are processed.
10 x $100 Second Chance Bets
21+. T&C Apply
21+. T&C Apply
Awesome live betting
Multiple bet types
Huge range of sports & markets
10 x $100 Second Chance Bets
21+. T&C Apply
21+. T&C Apply
Limited options
PointsBet only supports credit or debit cards, banking transfers, ACH/e-checks, and Play+ cards. This may be enough for some bettors but it does fall short of the industry standard. They would have to include some more e-wallet options before earning the full point rating in this category.
Platform license and usability – 4.6/5
PointsBet has gone through the necessary steps to receive licenses for all the states covered by their sportsbook. However, their late introduction into US sports betting is noticeable, with a relatively low number of states covered.
The UFC betting platform resembles FanDuel's layout with a slightly improved live betting page. You'll easily be able to place your moneyline bets, but our experts found that visiting each fight page had very limited results.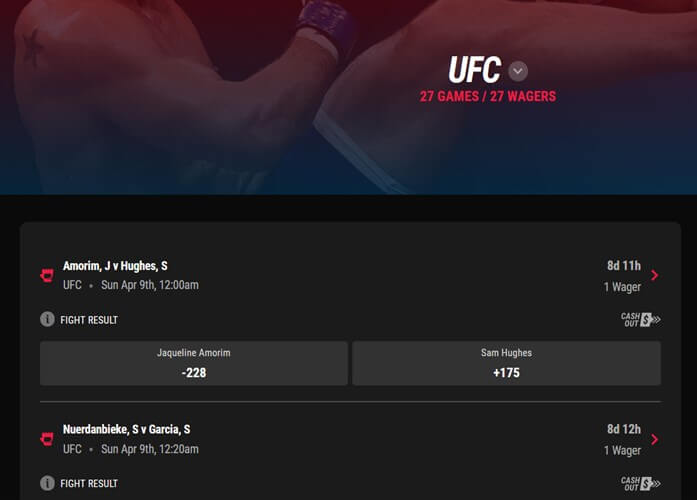 ---
🏅#5. Caesars Sportsbook: 4.6/5 Stars
The last entry in our top five is the Caesars Sportsbook. Their UFC betting experience is slightly limited but their welcome offer is perfect for new bettors looking to enter the scene. If you decide to stick with them, you'll also earn some generous loyalty rewards that can be used on the UFC schedule.
✅ Pros
High-value welcome offer
Competitive UFC odds
One of the best rewards programs
Coverage of all scheduled fights
❌ Cons
Betting markets and odds – 4.6/5
The Caesars online sportsbook proved its worth by offering customers access to all scheduled fights in the upcoming Fight Night. We couldn't find a matchup on the UFC site that wasn't listed with the sportsbook, but the only option to bet was in the form of a moneyline titled 'Bout Betting'. There are some future bets available, and of course, there is a live betting market, but they are more limited than our top two.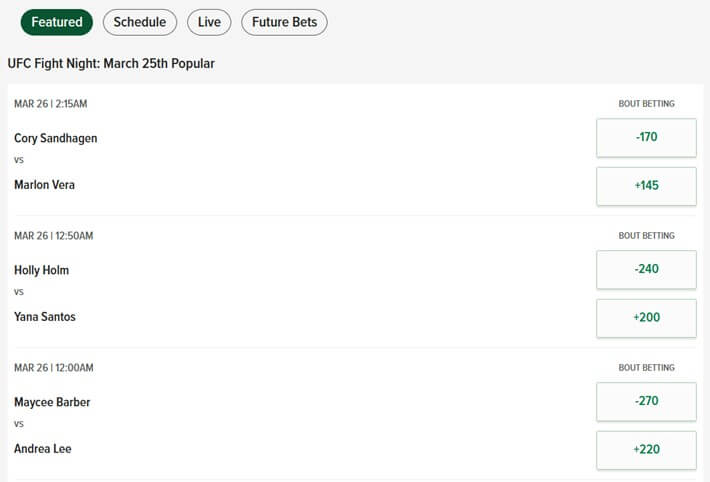 While the options are limited, the odds are competitive! Caesars has plenty of experience with online gambling and knows the importance of keeping up with the industry. You will find a great deal for any match while using the sportsbook.
UFC Bonuses and Payment Methods – 4.9/5
The welcome offer of Caesars sportsbook is one of the best for the UFC. It's a bonus bet up to the value of $1,250 with 1,000 Tier and Reward credits included. Much like the other top five entries, the amount will apply to your first bet with the sportsbook. You'll need to use the promo code GUSAFULL to opt-in for the offer and place a minimum deposit and bet of $20.
Great range of options
You can use credit or debit cards, bank transfers, PayPal, PayNearMe, ACH/e-check, Cash at Cage, and Play+ to fund your account. It's an impressive list of payment methods but the withdrawal process time can take up to 72 hours.
Platform license and usability – 4.5/5
Caesars competes with the rest of the industry by offering its sportsbook in more than 15 states. They have also been awarded the necessary licenses to legally offer online bets and secure their platform using the necessary encryption methods.
The platform itself needs some work. Reviews note that the sports betting app is buggy and users have been unable to place bets in key moments. Besides that, the UFC platform is identical to both PointsBet and FanDuel with few betting options being made available.
Promo Code: GUSA1000
$1,000 First Bet on Caesars
21+. T&C Apply
21+. T&C Apply
Promo Code: GUSA1000
Massive welcome bet offer
Earn Caesars Rewards
Promo Code: GUSA1000
$1,000 First Bet on Caesars
21+. T&C Apply
21+. T&C Apply
---
Compare the Best 10 UFC Betting Sites
| 🤼UFC Betting Site | 🇺🇸 Legal States | 💳Banking Options | 🎁Welcome Bonus | 💵Minimum Deposit |
| --- | --- | --- | --- | --- |
| FanDuel | AZ, CO, CT, IL, IN, IA, KS, LA, MD, MI, NH, NJ, NY, OH, PA, TN, VA, WV & WY | PayPal, Venmo, PayNearMe, ACH, debit and credit cards | $1,000 No Sweat First Bet | $10 |
| DraftKings | AZ, CO, CT, IL, IN, IA, KS, LA, MD, MI, NH, NJ, NY, OH, PA, TN, VA, WV & WY | Credit and debit cards, bank transfer, Venmo, Play+, PayPal | 20% up to $1,000 deposit bonus | $5 |
| BetMGM | AZ, CO, DC, IL, IN, IA, KS, LA, MD, MI, MS, NJ, NV, NY, OH, PA, TN, VA, WV & WY | Apple Pay, Skrill, PayNearMe, ACH, debit and credit cards | $1,000 Paid Back | $10 |
| PointsBet | CO, IL, IN, IA, KS, LA, MD, MI, NJ, NY, OH, PA, VA & WV | Debit and credit cards, Play+, bank transfer | 5 x $50 Second Chance Bets | $5 |
| Caesars | AZ, CO, IN, IA, IL, KS, LA, MD, MI, NJ, NY, OH, PA, TN, VA, WV, & WY | ACH, credit and debit cards, Cash @ Cage, bank transfer, PayNearMe, PayPal, Play+ | Bonus Bet up to $1,250 | $20 |
| Betway | AZ, CO, IA, IN, NJ, OH, PA, & VA | Credit and debit cards, bank transfer, ACH, PayNearMe | $250 Bonus bet | $10 |
| BetRivers | AZ, CO, IL, IN, IA, LA, MD, MI, NJ, NY, OH, PA, VA & WV | Credit and debit cards, bank transfer, Apple Pay, Play+ | Second Chance Bet up to $500 | $10 |
| Unibet | AZ, IN, NJ, PA & VA | ACH, credit and debit cards, Cash @ Cage, bank transfer, PayNearMe, PayPal, Play+ | $100 Bonus bet | $10 |
| Barstool | AZ, CO, IA, IL, IN, LA, MD, MI, NJ, PA, TN, VA & WV | ACH, credit and debit cards, PayPal, bank transfer, Apple Pay, Play+ | $10 Free bet | $10 |
---
UFC Betting Site Promo Codes
As you've seen from our top five, there are plenty of UFC bonuses available and not only to new customers. Keep an eye on the UFC schedule to make sure the bonus is available for the next Fight Night. If you're looking for something more simple, you can check out Dana White's new project called the Power Slap league. While Power Slap betting is followed by a hefty dose of controversy, it does seem here to stay for now.
The welcome offers do attract the most attention and are usually more generous than any other bonus so let's explore some of the details of the best promo codes that are currently on offer.
| 🤼Sportsbook | 🎁Bonus | 💵Min. deposit/bet | ⏱️Time |
| --- | --- | --- | --- |
| FanDuel | $1,000 No Sweat First Bet | $10 | 14 days |
| DraftKings | 20% up to $1,000 | $5 | 90 days |
| BetMGM | $1,000 Paid Back | $10 | 7 days |
| PointsBet | 5 x $50 Second Chance Bets | $5 | 7 days |
| Caesars | Second Chance Bet up to $1,250 and 1,000 Reward and Tier credits | $20 | 14 days |
---
UFC Betting Sites Rating Process: Aspects To Look For
While we've established our top five here at Gamble USA, you might be wondering just what our experts considered to rank each of these sportsbooks. Well, they've put together the cornerstones of a quality UFC betting platform so that you can decide for yourself what's important. Let's take a look.
UFC Market Depth
We always evaluate the UFC market depth to see if we can bet on any fight during the event. The market depth indicates the sportsbook's focus on the UFC itself. Not only will you be able to bet on the fight that you have researched, but you can also expect to find odds boosts and promotions with a sportsbook that has market depth.
To rank the online betting sites, we simply head to the MMA section of their site and compare the scheduled match-ups to the list of available odds. If the entire UFC fight night is covered with a variety of betting options, we know we're in business. If other UFC-adjacent championships like the Bare Knuckle Fighting Championship strike your fancy too, then it would be wise to check if the sportsbook in question offers odds for those events too.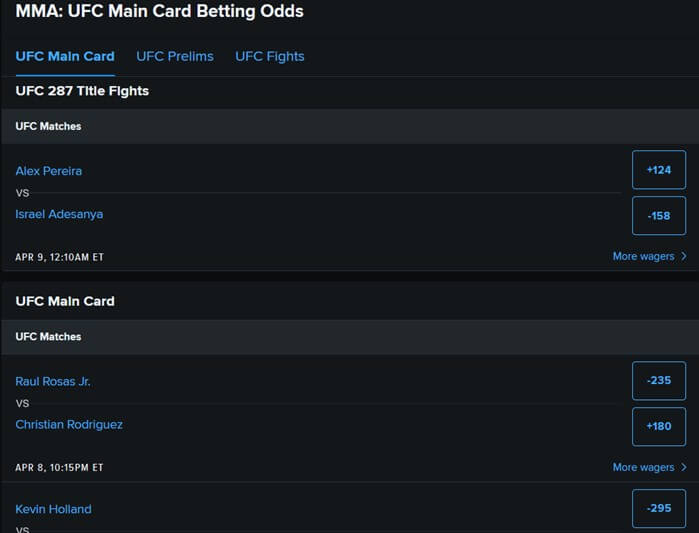 Live Betting
Next up, we take a look at the live betting options that the sportsbook has available. These can vary significantly but we usually come across a variety of live betting options, in-game graphics, and sometimes a live streaming option. Our ratings can differ quite a lot in this category since each offer is fairly unique. Overall our experts keep in mind usability and entertainment value to assign a rating.
UFC Promotions
Sportsbook promotions have become a standard within the industry. Every reputable site will have a welcome offer and sometimes they offer recurring bonuses that you can use throughout your betting career. The bonuses come in a wide variety of formats as each sportsbook offers something new to try and gain your business. Our experts take a close look at everything that's included and just how difficult it is to obtain.
Online sportsbooks may offer something new and exciting, but over time, the industry will catch up and incorporate the new bonus format if it is competitive. We rank these bonuses on the amount that could be awarded to the customer and the terms applicable to the bonus itself.
Fight-specific Bets
If a sportsbook is looking to take their service to the next level, they'll offer customers bets that are exclusive to a match up. You can see an example of these with both BetMGM and DraftKings where bettors can put their money down on a knockout or submission within a certain time frame. This is a stand-out feature to our experts and one that makes the entire experience even more exciting.
UFC Betting Interface
Finally, we take a close look at the UFC betting platform that the sportsbook has made available. With the competition being so tight, it's vital to keep the site and app up to standard. We evaluate the usability, general design and access to features in this category.
Bettors looking to place wagers while on the move will also want to keep the quality of the sportsbook's mobile app in mind. Here, we've mainly focused on reviewing the robustness of online sportsbook platforms, while we reviewed and tested UFC betting apps in a separate article,
All five of these points give our team a rating value out of 5 that allows us to sort the options. That being said, one sportsbook may have a unique feature that knocks out the rest, so always take your time when making your choice.
---
Getting Started with UFC Betting Online
If you're just getting started with UFC betting, there are a couple of things you're going to need to do and have ready before you'll be able to join in on the action before the next fight night. First off, you're going to need to choose your first sportsbook. This doesn't have to be a complicated process, find an option that has significant coverage of the UFC and a generous welcome offer.
Next, you'll need to sign up on the site and get your account verified. To do this, you'll need an active email address, identification details, and your payment method account details. The email address will need to be verified as soon as you've opened your account and you will most likely have to share a copy of an ID document and the last four digits of your SSN as well.
Once all of this is done, head to your account page and make a deposit. This is usually presented in the image below.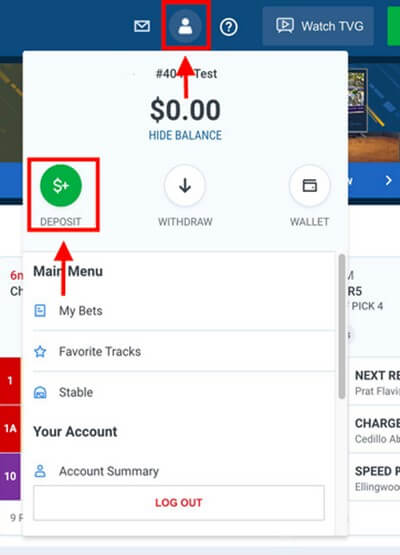 Keep in mind that the amount you deposit here will most likely apply to your welcome bonus. They also usually only consider your very first deposit/bet so make it count!
With a verified and funded account, you can now browse through the odds of the UFC events and place your bets.
---
UFC 101 – Everything You Need to Know
The UFC, or Ultimate Fighting Championship, is a fight promoter that was launched in 1993. It popularised mixed martial arts fights, turning the relatively niche sport into a global phenomena that is now a multi-billion dollar industry. While it is not the only MMA fighting championship, in terms of money and status, it is the biggest. At championship events or UFC Fight Night events, you can watch the best fighters in the world go head to head.
MMA is basically a no rules fighting sport in which the contestants are encouraged to use different fighting styles to overcome their opponents.
MMA Fighting 101
Weight Divisions
Strawweight (W) / Flyweight (M+W) / Bantamweight (M+W) / Featherweight (M+W) / Lightweight (M) / Welterweight (M) / Light Heavyweight (M) / Heavyweight (M)
Played in Rounds
Title matches and Main Event fights go up to 5 rounds, most other fights only go up to 3 rounds
Method of Victory
Submission / Judge's decision / Knockout/technical knockout / Other fighter getting disqualified
No Rules Fights
Apart from eye-gouging, headbutts, hair pulling, throat strikes and similar illegal moves
Cage Fighting
Biggest and most popular venues include: T-Mobile Arena / Pearl Theater at The Palms / Mandalay Bay Events Center / MGM Grand Garden Arena / UFC Apex
The UFC Apex, which is the headquarters of the UFC, is based in Las Vegas, Nevada, where most of the action unfolds. These fights are highly televised, so you will always be able to tune in and catch the bouts. As these events are so massively popular, betting markets for UFC fights are aplenty.
UFC Betting Types
Sports betting types have always been evolving as sportsbooks find new (and exciting) markets to bet on. From prop to parlay betting, there will always be odds involved. Simply put, the odds are the probability of an event taking place during or after a match and the potential reward of predicting the specific event.
Something highly unlikely, say McGregor taking down Hasbullah, will have very low odds and a very high potential payout. These are set by the sportsbook and can always be calculated on your bet slip.
Best UFC Bets for Beginners
The best bet for beginners would have to be the moneyline bet option. This is simply predicting who will win the fight. Sounds easy? Well, it's not. The UFC is highly competitive and even though you might be betting on the favorite, there are very frequent upsets. You will need to slowly familiarize yourself with all of the fighters and start to learn more about UFC techniques that might counter another. When you've got a matchup in mind, you'll need to browse through the UFC betting odds to find the ideal bet for the fight.
You might need to go through this process a couple of times before you get a feel for the upcoming UFC events, but once you do, you'll have a competitive edge in predicting the outcome.
Betting Options for UFC Handicappers
When you've got a bit of experience with UFC betting apps, you can start to consider other bet types that sportsbooks offer. The sport is an individual combat sport so the types are limited compared to say, football betting but there are still some options.
Step into the Octagon
Live betting options for the UFC are fast-paced and highly unpredictable. Most sportsbooks offer the option of live UFC odds and the selections can include; 'Next to land takedown', 'Next submission attempt', 'Round the fight will end', and many more. These are a little more complicated than just predicting the winner. If you have spent some time watching the sport, you might be able to recognize when a fighter is showing a bit of fatigue and have the opportunity to place a live bet.
The Full Fight Night
Why bet on one of the UFC fights when you can bet on them all? Parlay bets allow bettors to accumulate a couple of predictions all into one, grand possible payout.
Let's say you're certain that Adesanya will take Pereira but the payout isn't all that great. Well, if you include a prediction on the Rodriguez vs. Rosas Jr. fight, you'll be able to multiply the odds and multiply the potential payout.
Of course, this also means that if one of the two fights doesn't go your way, you won't be winning anything.
---
Importance of Finding the Right UFC Betting Site
As you can see from the information in this article, it's important to find a site that provides a quality platform while meeting all of your expectations as a sports bettor. The UFC is a highly competitive combat sport and as a result, odds can be very tight. By signing up with one of the top five sportsbooks here, you ensure that you are taking advantage of competitive betting odds while having the peace of mind that the site is legitimate and regulated.
It's also worthwhile to mention that you won't be restricted to just one sports betting site. You can sign up with FanDuel, gain some experience on the betting scene and then find that DraftKings live betting is just more fun so don't hesitate to try out different operators.
We also recommend checking back here every so often to see if there are any new contenders on the scene or maybe just some bonus updates.
---
FAQs
What is the best UFC betting site?
The best UFC betting site depends on what you are looking for. Our experts have put together some key components of any betting site and ranked each of the US sportsbooks accordingly. We recommend using FanDuel, DraftKings, or BetMGM to place your UFC bets.
Is UFC betting easy?
Every betting option provides some advantages and disadvantages but if any of them were easy, everyone would be doing it. You'll need to put in some time to research the fight nights and figure out exactly who you want to put your money on. The more you watch and bet, the easier it becomes to make these calls.
What apps accept bets on UFC?
There are plenty of sportsbook apps available to bet on the UFC. Each of these apps has different features and we've considered how they perform compared to the competition. At the top of our rankings are FanDuel, DraftKings, and BetMGM.
What gambling sites does the UFC use?
The UFC is currently partnered with Stake.com (currently illegal in the US) and DraftKings but there are plenty of sportsbooks that offer odds on these matches. We ensure that all our recommended sportsbooks are licensed and legit, so you won't have to worry about industry partnerships to make sure that you have a secure experience.