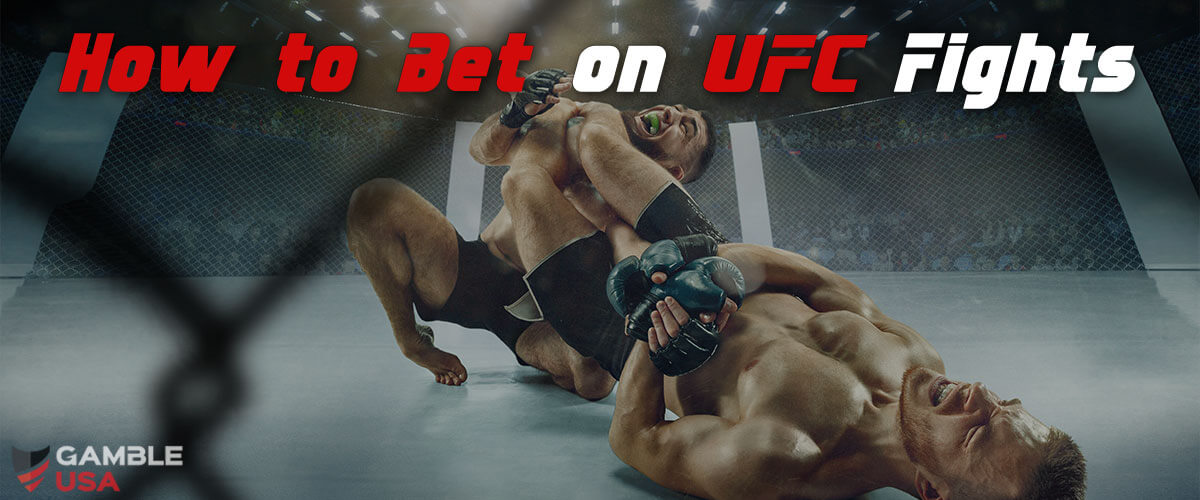 Now that full-scale sports betting is legal in many states, MMA betting, especially on UFC events, has become more popular than ever before. However, if you are new to UFC betting or to sports betting in general, you might find the number of UFC fight betting lines and the range of different UFC betting options available to you overwhelming. In fact, most betting sites offer the same popular betting options, such as moneyline betting and parlay and prop betting, that are typically available in other betting markets, in MMA and UFC betting as well.
By the way, throughout this article, you will find the terms MMA and UFC used frequently. Many people use these two terms interchangeably, but they are not synonymous. MMA is short for mixed martial arts, which refers to the actual sport. UFC stands for Ultimate Fighting Championship, which is the name of the Las Vegas-based organization established in 1993 to promote MMA fights. Because UFC fights, especially major UFC events such as title fights, are the most heavily publicized, they attract the most betting interest.
Given the plethora of UFC betting sites nowadays and the many different ways to bet on each UFC fight, we think you will find this comprehensive MMA betting guide indispensable. Understanding how the betting odds work and using a proven money-making betting strategy is just as important in picking the winner of a UFC fight as in handicapping any other sports. This article on how to bet on UFC fights will show you how to find the best UFC betting sites and betting lines, and lists the important factors to consider when comparing UFC fighters. Many sports bettors prefer the added convenience that online sportsbooks offer.
We provide all of the basic information you will need to place real money bets on the UFC online with confidence.
What bets can you make on UFC?
The types of bets you can make on a UFC fight night depend on the online sportsbook and might also vary with the fight's relative importance. For example, title fights tend to have the most betting options. However, at the best online betting sites, the UFC betting options usually include all of the following types of bets:
Odds to win the fight (moneyline betting)
These are wagers with varying odds on which of the two fighters you think will win a particular match. Usually, the betting odds show one fighter as the favorite and the other as the underdog, but occasionally, a fight will have two evenly matched opponents, so the line will be "pick 'em." Here is an example to show how the betting odds for a moneyline bet work.
Suppose fighter A has been consistently dominating the competition. His last four bouts have not only been quick and decisive victories, but three of them were TKOs. Fighter B, on the other hand, has had an illustrious career with multiple titles under his belt, but lately, he has been in a slump. He is hoping this UFC fight will show that he is still a strong force to be reckoned with in the ring.
Based on the above information, the oddsmaker does not think fighter B has much of a chance to defeat fighter A, as reflected in the following UFC betting odds:
Fighter A: -400
Fighter B: +275
Before you saw the UFC betting odds, fighter A looked like the obvious bet. Now you have a dilemma. Are you willing to risk $400 to win $100 on this wager? Upsets do occur. On the other hand, the odds on fighter B look tempting, but the probability is high that the bet will lose. Accordingly, your best bet might be to pass this matchup and look for other upcoming UFC events with more competitive odds on both fighters.
Some sportsbooks offer three-way moneylines on MMA fights, with the third option being that the fight will end in a draw. However, draws do not happen often, as reflected in long odds and high potential payouts.
Round betting (over/under bets)
Rather than betting on which fighter will win, another popular UFC online betting option is whether the total number of rounds that the fight will last will go over or under a designated number.
However, you should not be surprised if the odds are different on the two alternatives. If the fight involves two evenly matched opponents and/or both fighters are known for their defensive tactics, expect to see shorter odds on the over, which is also probably the right bet. There is a good chance that the fight will continue longer than expected.
The reverse would be true if one or both fighters are very aggressive and/or one fighter is a heavy favorite. Given that scenario, expect the fight to end early and lean toward the under, even with shorter odds.
Method of victory prop betting
If you want more action and the prospect of getting a large payout on a small investment appeals to you, UFC prop bets are another betting option to consider. For example, you can wager on the method of victory, picking one of the following:
Knockout/TKO/DQ
Submission
Decision
Parlays
A parlay bet is a single wager on more than one MMA fight outcome. The more components you include in your parlay, the greater the return if you win. However, every leg of the parlay must win for you to cash your bet.
Futures
As in other sports, you can make futures bets on major UFC events, including title fights, way in advance of the bet being decided. The odds on futures bets are subject to frequent changes.
Live Betting
Yet another betting option is to place bets on fights while they are taking place. If you are attending a fight in person, watching on TV, or live streaming, you might spot additional betting opportunities that you would like to take advantage of after the fight has already started. The best UFC betting sites offer that option.
Much like you can place live bets in other sports like football and basketball, you can do likewise during UFC fights. However, you need to act very quickly because UFC betting lines continually change based on the action so far.
Where to bet on UFC fights
The best UFC betting sites and apps not only include odds on many fights and offer all of the different types of bets described in the previous section, but also instruct you on how UFC betting works. For example, DraftKings Online Sportsbook contains a How to Bet 101 section that provides newcomers with a glossary of sports betting terms and instructions on the different types of bets and how to make them. In addition, a specific MMA Betting Guide describes the most common MMA bet types and offers helpful betting tips.
Besides DraftKings, other outstanding UFC betting sites include FanDuel, BetMGM, Caesars, and PointsBet Online Sportsbooks. Users will find very extensive UFC betting market coverage and a full range of betting options, while those who are new to UFC betting will also appreciate the easy-to-follow guides on how to make different types of bets.
See our main UFC betting apps page for additional information on the best UFC betting sites.
How to bet on UFC fights on DraftKings
DraftKings Sportsbook is one of the best online betting sites for anyone who would like to bet on UFC fights. It is currently available in 21 states, so, there is a good chance your state is one of them. But before you can start betting legally there and taking full advantage of what DraftKings has to offer, you need to sign up, open an account, and make an initial deposit. Your deposit does not need to be large. The minimum deposit at this sportsbook is only $5.
Then, If you are new to MMA and UFC betting, the first thing you should do as a registered player is read the comprehensive MMA Betting Guide found in the Sports Betting 101 section. It describes the most common bet types that DraftKings accepts in this sport and even throws in some good MMA betting strategy advice and useful betting tips.
The seven most common MMA bet types that DraftKings accepts are as follows:
Moneylines: Who you pick to win the fight
Total Rounds: Whether the fight will last over or under a certain number of rounds before a winner is declared
Winning Method: Whether the fight will be won by knockout, submission, or the judge's decision
Parlays: A parlay is a single bet on two or more fight outcomes. Parlays pay more than straight bets, but in order to cash your parlay ticket, you must pick every leg of the parlay correctly.
Futures: Bets offered with frequently changing odds well in advance of the decision
Prop Bets: Bets relating to specific fight outcomes – i.e., whether a particular fight will last a certain number of minutes
Live/

In-Game Betting

: These are bets you can make on a fight while it is happening. Live betting odds are continually adjusted based on the action that has already occurred.
States where online UFC betting is legal
As of this writing, online UFC betting is legal in the following 22 states plus Washington, D.C.
Arkansas
Nevada (BetMGM only)
New Hampshire
Oregon (DraftKings only)
Washington, D.C.
A few more states are expected to legalize online sports betting shortly. So, if your state is not on the above list, keep checking.
However, you do not necessarily have to live in the state where you open an online sports betting account as long as you are physically situated there when wagering.
Tested UFC betting tips to win
Making winning bets on UFC fights, like any other form of sports betting, entails a combination of luck and skill. There is a lot to learn, so you should not expect to master UFC betting strategy and become a proficient handicapper overnight.
But the more MMA fights you watch and the more knowledgeable you become about the strengths and weaknesses of different fighters, the more successful you will be at spotting patterns and value bets.
Here are 10 tested UFC betting tips to help get you started on a winning track.
1. Be selective.
The first betting tip is not exclusive to UFC betting but applies to all types of sports betting. Do not bet on every matchup or simply because you want the action. Your bankroll will last longer if you choose your UFC picks carefully.
2. Look for betting value.
Avoid betting on heavy favorites. Upsets do occur. Even one loss on a very high-priced favorite can play havoc with your bankroll.
3. Do your homework.
There is a wealth of relevant information online that is yours for the taking, so the extra time you set aside to do thorough research on the fighters is time well spent. Among the important factors to consider are each fighter's strengths and weaknesses. If their fighting styles are different (i.e., one UFC fighter tends to deliver frequent punches while the other is adept at wrestling), how do their different styles of fighting match up? Also, compare their performance records and the strength of the competition, and consider the possible effect of any recent injuries and where the fight will be taking place.
4. Win-Loss records are important, but they do not tell the whole story.
A long string of victories might not be as impressive as it looks on paper if they were against weaker competition and the fighter is now stepping sharply up in class.
5. Method of victory can be handicapped based on clues from the participants' previous fights.
Method of victory bets do not require picking which of the two fighters will win. However, your success with this bet type will improve if you do some background research on each fighter's style of combat and how well it matches up against his opponent's style. Furthermore, if you see a certain pattern in the manner in which the combatants' previous fights were won, there is a good chance that the same method of victory will repeat itself. When their fight history shows most fights lasting the full three or five rounds, consider a bet on a decision victory. But consider a bet on a knockout with fighters whose recent performance history includes other knockouts.
6. The total number of rounds is also strongly influenced by the style of fighting.
When making over/under bets on the number of rounds, if both fighters use a defensive style, lean toward the over. But lean toward the under, assuming the fight will end quickly if it involves two aggressive fighters.
7. Having a long-arm reach gives some fighters a big edge over their opponents.
A fighter with very long arms can repeatedly strike an opponent successfully without getting too close to him.
8. Being left handed might be advantageous, too.
If one fighter is left handed, that could give him a significant edge over a right-handed fighter who might not be accustomed to defending himself against southpaws.
9. Pre Fight weigh-ins are important.
MMA fighters have to meet designated weigh-in requirements. If a fighter is undernourished and dehydrated from needing to drop a lot of weight during the final days leading up to the fight, he might be too weak to withstand the punches from his opponent, and susceptible to a knockout.
10. Injuries, inactivity, and a recent knockout are other factors that can adversely affect a fighter's chances.
Be sure to stay well-informed about fighters' injuries and how they might impact their performance. Also, if any fighter has an extended time of inactivity since the last bout – whether due to injury, contract negotiations, canceled fights, or any other reason – he could be rusty.
If a fighter's last bout was a defeat by knockout, aside from any residual physical injuries, any knockout loss has to take its toll on the person mentally. Betting on that fighter to win his next fight outright is probably not a good idea. He might lack the confidence to put forth his best effort.
How to bet real money on UFC fights Online
If you would like to start betting real money on UFC fights online, here is a step-by-step guide outlining what you need to do.
Step 1: Select the sportsbook(s) where you wish to play.
Any of the sportsbooks recommended would make an excellent choice. Because these betting sites are state-licensed and regulated, you can rest assured that your money and personal data will be safe and that you will be treated fairly as a customer. If you sign up with an offshore sportsbook instead, you do not have these assurances, and you would be taking a big risk. Furthermore, if you are going to make UFC bets, choosing a sportsbook that offers a wide range of betting markets and bet types for that sport will help you maximize your chances to win.
Keep in mind that you do not necessarily have to live in the state where you open an online sports account. However, it should at least be within easy traveling distance because you do have to be physically situated inside that state when betting real money. You must also be at least 21 years of age.
Step 2: Visit the sportsbook homepage and complete the registration form in the upper-right-hand corner.
You can access the sportsbook to register in any of the following ways:
Download the mobile app. If you are using an iPhone or iPad, download the iOS sports betting app from the App Store. If you are using an Android phone or tablet, download the Android sports betting app from the Google Play Store.
Alternatively, in lieu of downloading the app, simply type the name of the sportsbook on the browser of your desktop or mobile device. Or use the promo code or page links we provide.
Step 3: Satisfy the two-factor authentication requirements, if requested.
Two-factor authentication is now mandatory for all betting sites in certain states.
Step 4: Make a qualifying initial deposit and claim the new user welcome offer.
Make sure you fully understand the applicable terms and conditions. Also, some sportsbooks might require you to enter a promo code.
Step 5: Read the Sports Betting 101 section thoroughly, especially if you are new to UFC betting.
This material is a must for inexperienced bettors to help them become familiar with how UFC odds work and the many different ways they can bet on this sport. Other highly recommended reading includes the 10 betting tips for UFC fights that you will find in this article.
Step 6: Look at the betting odds, and make your first qualifying real money wager.
Even when the only welcome offer is a bet credit for a second-chance bet if your first bet loses, your goal should be to try to win your first bet.
FAQ's