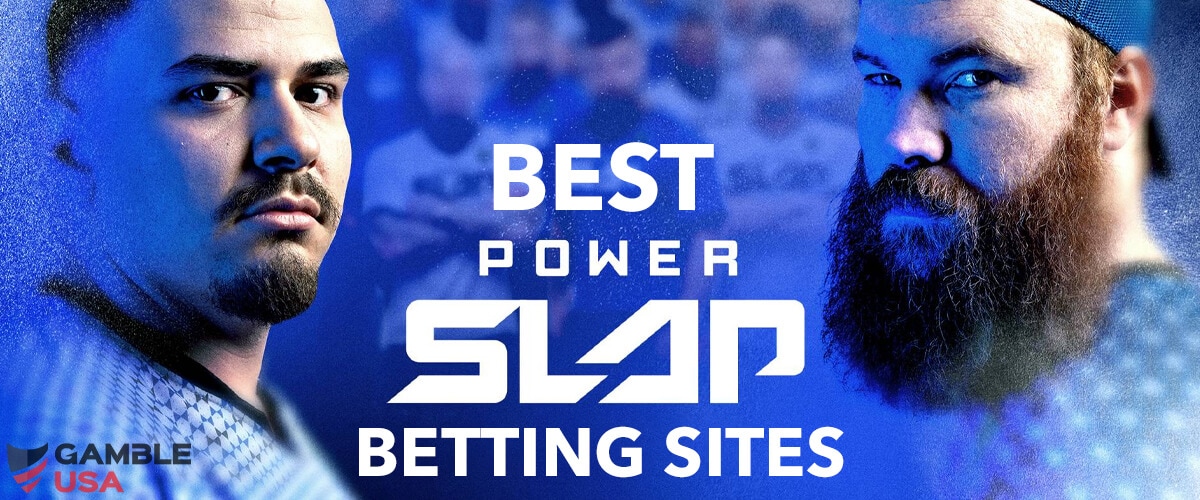 Despite taking the UFC from a freak show to mainstream and building up a $500 million fortune, UFC president Dana White is not done shaking up the sports world. In 2023, the UFC president launched Power Slap, a slap-fighting league that he hopes will one day rival mixed martial arts and the UFC.
This league features top fighters go head to head, slapping the bejesus out of each other and makes for some highly thrilling entertainment. Slapping, as a sport, really took off in the 2020s, with viral videos of fighters hitting each other until one would forfeit or pass out. Fast forward to now, Dana White decided to launch his own special league of slap fighting, in the hopes of popularizing the sport.
Up To $1,000 Deposit Bonus
21+. T&C Apply
21+. T&C Apply
The best sportsbook
Amazing odds & offers
Awesome betting app
---
What is the Power Slap League?
White kicked the league off with a reality tv show based on the Ultimate Fighter dubbed Power Slap: Road to the Title. The top slap fighters lived and trained side by side in a mansion. Over the show's 8 episodes, the slap fighters competed against each other, and then the top performers battled it out during a live event to see who would be crowned the Power Slap champion!
Here is everything you need to know about PowerSlap:
Power Slap is a fighting promotion company owned by Dana White
The Power Slap: Road to the Title series finished in 2023 and will not be continued
Dana White has confirmed there will be further events
Fights in the TV series were held at the UFC Apex
There are 4 divisions: Heavyweight, Light Heavyweight, Middleweight and Welterweight
Power Slap is partnered with Rumble
The first live event Power Slap 1, proved a massive hit with some explosive knockouts. The Ayjay Hintz vs. Vernon Cathey fight was incredible, and the headliner matchup between Ron Bata vs. Darius Varona was one for the history books.
The Power Slap League separates athletes based on gender and weight class, just like the UFC. Dana White plans to hold regular live events across the US and the world. These will naturally be covered on multiple media networks, including Rumble, which sponsors the league. The sport is licensed by the Nevada State Athletic Commission and is rapidly growing in popularity.
Now that you are fully up to date, let's take a look at where you can bet on Power Slap, and which sportsbooks provide bets for this striking sport.
---
Best Power Slap League Betting Sites in 2023
Power Slap League is still a relatively niche sport when it comes to online betting. Naturally, there will not be as many betting markets or sportsbooks that can cover the sport as say football or baseball, which have far larger fanbases. However, it is growing immensely, and for early bird bettors, there are lots of betting opportunities to take advantage of.
So far, there are three sportsbooks that offer bets on Power Slap in the States. These are DraftKings Sportsbook, Betfred Sportsbook, and Stat Hero. There are numerous other sportsbooks that have shown an interest in Power Slap too.
👑 DraftKings Sportsbook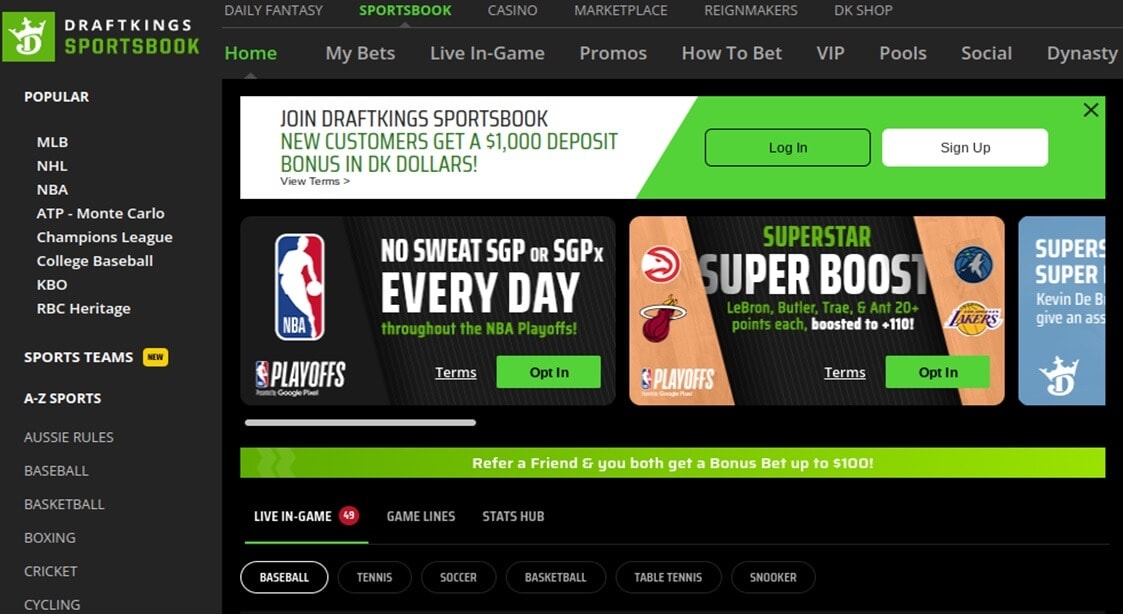 DraftKings is fully licensed and available in 19 + states! They have a 100% mobile-optimized website, a sleek betting app for iOS and Android, and consistently offer the best odds on the market. Power Slap is not licensed in all of these, but you can bet on Power Slap at DraftKings in the following states:
DraftKings is loaded with features, including live streams, early cashout, and same-game parlays, and DraftKings withdrawals are processed quickly. They offer extensive live betting markets for all Power Slap League fights and have a range of exciting bet types, including moneyline, method of victory, number of rounds, and more. It not only provides Power Slap bets, but it consistently offers the best odds on the market.
To bet on Ron Bata to defend his heavyweight title or wager on Ayjay Hintz to deliver another soul-crushing knockout, then sign up to DraftKings and claim their 20% DraftKings deposit bonus up to $1,000!
Expert Comments:
"The range of sports covered at DraftKings is outstanding
. On the betting app, I can check out all their promotions and usually find something I want to try out. The app has many other features too, including Social, where I can compare my bets with what my friends are betting on.
"
– Paul Ricci (Chief Sports Editor)

---
Other Sportsbooks
We expect the following US sportsbooks to offer Power Slap League betting markets shortly:
---
Is Slap Fighting Legal to Bet On?
Slap fighting is legal to bet on in certain states. If you are in Oregon, Wyoming, Colorado, or Connecticut, you can bet on matches from the SlapFight Championship at DraftKings. This is a global slap-fighting league and has put on 20 + shows, including in the United States, United Kingdom, Colombia & West Africa, and racked up over 1 billion views.
As Power Slap League only debuted on March 11, 2023, regulators are scrambling to legalize betting markets for this promotion. Currently, the only state that has legalized Power Slap League betting is Wyoming. The best sportsbook that accepts bets on Power Slap League is DraftKings.
---
Where Is the Power Slap League Betting Legal?
You can legally bet on the Power Slap League if you are in Wyoming and use DraftKings. The Power Slap League is in its infancy and has not even been considered by many state gaming regulators. However, as the league has the power of Dana White behind it and the first event was seen by millions, we expect the betting situation to change rapidly.
Within 6 months, we expect all major sportsbooks, including Caesars, BetMGM, and FanDuel, to offer odds for the Power Slap League. We also expect gaming authorities to quickly legalize it in all 18 + US states where sports betting is legal.
If you absolutely need to bet on the next Power Slap League, then it is time to sign up to DraftKings and schedule a road trip to Wyoming. It's not a bad place for a little getaway, you have world-class skiing in the winter and beautiful hikes and fly fishing in the summer!
---
Slap Fighting Betting Rules
Before you start betting big on the Power Slap League, we recommend brushing up on the sport's rules. Luckily, the strict rules are very simple, which judging by some of the fighters, may have been done out of necessity.
Coin toss takes place before the match and decides which fighter will slap first (slapping first is a massive advantage as many matches don't go past the first slap).
The fighter slapping first has up to 1 minute to unleash the most powerful slap they can muster.
Fighters must slap with an open palm and hit below the eye and above the chin. Athletes can not lead with the palm.
When receiving a slap, fighters must remain standing and can not flinch or evade the slap. They must bear the full brunt of the opponent's slap.
After being slapped, a fighter has up to 1 minute to recover. Once ready, it is now their turn to slap the opponent.
Fights last from three rounds to five rounds. Fighters can win by KO, or if the fight goes the distance, it is judged using a 10-point must system like MMA. The judging criteria is based on the slap power and the damage they inflicted.
Essentially two people stand in front of each other and deliver brutal slaps until one of them falls over! It is incredible to see the amount of power some of these guys can generate with an open palm. The knockouts are just as if not more brutal than the UFC.
---
Power Slap League Bet Types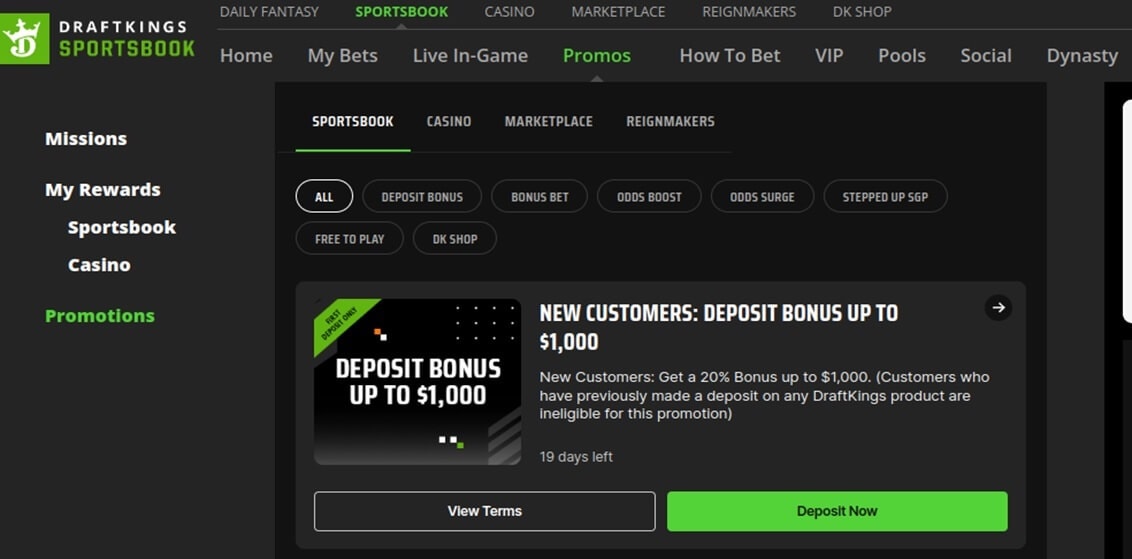 Power Slap League betting includes standard moneyline wagers, over/unders, and lots of fun prop bets. Here are some of the most exciting slap fighting bets you can make at DraftKings to turn a profit:
Winner – Also known as a moneyline wager, you need to predict which slap fighter will win. For example, bet on Ron Bata to beat Darius Varona. Underdogs have higher odds, while favorites have lower odds.
Number of rounds – The sportsbook will set the line, for example, 1.5, and then you need to predict if the match will last longer (over) or shorter (under).
Method of victory – Will the slap fight go to the judges' decision, or will it end in a brutal knockout? Guess correctly to win! For example, bet on the match between Ayjay Hintz and Vernon Cathey to end via KO. With this bet, you don't care who wins, just the type of outcome.
Coin toss – Before a Power Slap League match, a coin toss is held. Whichever fighter wins the coin toss gets to choose if they want to slap first. The winner always chooses to slap first because it gives them a big edge. With this wager, you get to bet on the outcome of this coin toss.
Knockdowns – Will your favorite fighter be smashed to the ground or eat the slap like his favorite cereal? With this strategy, you can bet on whether or not a knockdown will occur in a match.
Props – You can wager on various aspects of the competition which is unrelated to the outcome. For example, you can wager on which fighter will claim the most powerful knockout. Prop bring an added element of excitement and flexibility to your Power Slap betting experience.
As Power Slap League betting becomes more popular, expect UFC betting apps to come up with new bet types. If you are looking for value and just getting into the sport, stick to the moneyline wagers, as they are easy to understand and have the lowest juice.
---
Power Slap League Betting Strategy
Do you need some help winning your first Power Slap League bet? Then follow these betting tips and turn into a slap-fighting savant!
Bet Big on the Fighter Slapping First
A significant number of slap fights end on the very first blow. This is because the top slap fighters have serious KO power and have mastered the art of slapping other people in the face down to a science.
Look for Physically Bigger Fighters
Fighters with massive hands are able to generate ridiculous amounts of torque increasing their likelihood of delivering a knockout blow. At the same time, fighters with large heads are more likely to effectively absorb a slap without collapsing in a heap.
Heavyweight and Light Heavyweight Tend to End in KO
The big boys very rarely make it to the judges' scorecards as they hit way too hard!
Measure Your Bet
Slap fighting is a new sport that can be unpredictable. Even heavy favorites can be knocked out via a single slap. Keep your bets conservative to ensure a few unlucky streaks don't wipe you out.
Study Techniques and Styles
We recommend studying the different techniques and styles of Power Slap fighters. Each individual has a unique approach to delivering these thundering slaps. See how they execute the slap and this will enable you to make more informed predictions and identify which fighters have superior technique.
Who knows, slap fighting may be the next sport sharps target. If you do your research, it won't take you long to become more knowledgeable about slap fighting than the sportsbooks!
---
Power Slap DraftKings
A lot of people are asking where to bet on Power Slap. As we have mentioned above, the only legal online sports betting site that provides options for UFC Power Slap betting is DraftKings. Their major rival, FanDuel, is currently not offering any odds or lines on the activity as it still draws a lot of controversy from people who don't believe it should be legal. After all, watching fighters remain standing and taking turns slapping can be a brutal watch, in a much different way to more traditional combat sports such as MMA or Boxing.
It could be the case that the power slap league grows and becomes more mainstream, in which case more sportsbooks would be willing to provide a market, odds and lines on the sport. However, for now, the only option is DraftKings. Betting on this is straightforward. Once you have signed up and created a new account, click the UFC button which will be on the left of your screen. This will present all of the odds for upcoming UFC events including the Power slap league.
If you download the app, you can also wager on the move. The app is extremely responsive so as long as you have a stable internet connection you will have no problems betting. This is a more convenient option if you commuting or don't have much time and need to place bets quickly.
---
Concerns & Thoughts on the Power Slap League

The Power Slap League is not for the faint of heart! The knockouts can be intense, and the swelling and welts that the fighters inflict on each other are serious. The combat sport has even drawn criticism from health experts who are concerned about the repeated blows to the head and the brain trauma the fighters are dishing out.
However, Dana White hit back and said in a single match slap fighters only receive a handful of slaps (pun intended), whereas boxers absorb 400 blows in a fight. Whether slap fighting stays a very niche sport or hits the mainstream, we aren't sure, but it takes a brave person to bet against the UFC president, who has a history of proving people wrong.
To bet live on the next Power Slap League event, sign up to DraftKings and claim their 20% deposit match deal up to $1000!
Up To $1,000 Deposit Bonus
21+. T&C Apply
21+. T&C Apply
The best sportsbook
Amazing odds & offers
Awesome betting app
---
If You Like Power Slap – Check Out These Sports too!
Let's face it, Power Slap is still in its infancy when you compare it with well established sports and leagues. You may need to wait for a while between events, and while the promotions on Power Slap will come rolling in, it will not happen overnight. However, if you are looking for some similar sports to bet on, or want to explore other niche sports to get hooked into, we have you covered!
Here are some of our favorite combat sports and competitions to bet on:
If, instead, you are looking for the most rad and far out sports to bet on, take a gander at some of these:
There are loads of avenues of adventure to explore when you try watching and betting on new sports. WWE and Lacrosse are very well known across the states, but did you know that you can bet on them too? With sports like pickleball or jai alai, they may be completely the opposite of what you would watch with Power Slap. But what these sports have in common is that they are on the rise, and just as you can find some great bets on Power Slap, you can also hunt down great deals for other niche sports too.
---
FAQs
What is the Power Slap League?
Power Slap League is a slap-fighting league established by UFC president Dana White. Two combatants take turns slapping each other in hopes of knocking each other out. Dana White wants to turn slap fighting into a mainstream sport and plans to host regular live events similar to the UFC.
Can you bet on Power Slap?
If you are in Wyoming (the first state to legalize), you can bet on Power Slap League. You can bet on the SlapFight Championship, another slap fight league in Oregon, Connecticut, Wyoming, and Colorado. Currently, DraftKings is the only legal US sportsbook offering odds for Power Slap League and SlapFight Championship.
How do you bet on Power Slap?
To bet on Power Slap, sign up to DraftKings, make a deposit, open the Power Slap League betting markets, choose your bet type, select your outcome, and enter your stake size. Once your bet is locked, just sit back, watch the fights, and pray you picked a winner! After the event is over, your bet will be settled, and your winnings will be credited to your account.
What is the best way to bet on Power Slap?
The best way to bet on Power Slap is to place cash on the fighter who is slapping first. The first slapper has a massive advantage, as many contests usually end via knockout from the initial slap. Also, if the fight is between two heavyweights, then bet on the fight ending via KO.