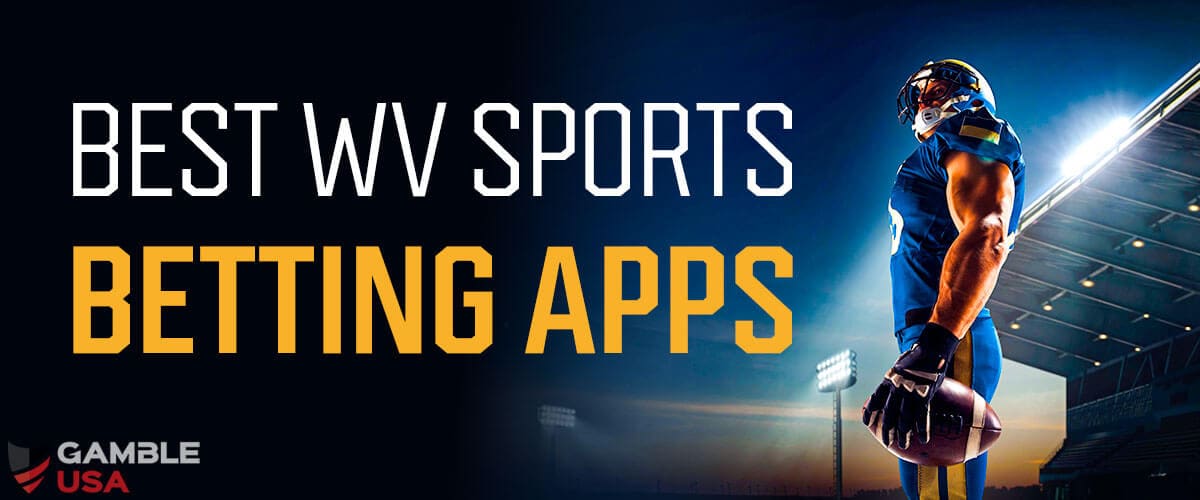 West Virginia became the fifth US state to offer legal sports betting, with the first bets being placed in person in late August 2018.
Bettors now have the choice of online sportsbooks and WV sports betting apps as sports betting in WV finally takes off. Consequently, players in WV can bet on huge sporting events online, such as the Super Bowl or take part in daily fantasy sports contests.
Some of the biggest mobile sports betting apps in the business are now live in West Virginia, and the list is only expected to grow as the industry matures and more people get used to wagering on their mobile device.
Now that sports betting has been live for several months in WV, a handful of operators are now live in the state. We look at what the best sportsbooks and mobile sports betting apps and options are for bettors looking to have a wager in the Mountain State. Watch this space as more Sportsbooks and operators go live soon.
Best WV sports betting Apps and Sportsbooks
What are the best WV betting apps?
Sports betting in West Virginia – how did we get here?
Sports betting in the WV was legalized in March 2018, and the law became active in May of that year following the Supreme Court's repeal of PASPA, a federal law that had limited sports betting to Nevada since 1993. The WV Lottery Commission regulates the industry, ensuring all casinos and suppliers work to a stringent set of rules and regulations. This includes having extensive gambling problem measures in place to protect bettors.
A lot of people that have never been to WV may wonder if are there casinos in West Virginia? Well yes, there are 7 casinos in the Mountain State. The first legal sports bets were placed at the Hollywood Casino at Charles Town during its soft launch on Aug. 30, 2018, with a full launch coming just two days later. This was the result of a partnership between the casino owner, Penn Gaming National, and DraftKings.
Another retail property, The Casino Club at Greenbrier Resort, opened its sportsbook soon after in partnership with FanDuel, albeit to private guests only. And a third, the Mountaineer Casino Racetrack & Resort, joined the fray in November 2018 with William Hill as its strategic partner. William Hills sportsbook was later rebranded to the Caesars Sportsbook which is now available to customers in the state.
Two other state-authorized WV casinos launched their sportsbooks in December 2018, which included a mobile app via BetLucky.com which subsequently shut down due to legal reasons. As a result, the retail sportsbooks also ceased taking bets at the time.
Six months down the line, things are looking far rosier for those West Virginians looking to place a sports bet by legal means, with a couple of online sportsbooks now filling the void left by BetLucky – and more are on the way.
Keep bettors had been traveling across the state to PA casinos like Mount Airy Casino or Valley Forge casino to place their bets. Now WV visitors and residents can bet on their mobile, there is no need to travel. Although it's still nice to visit a Pennsylvania casino, it's far easier to bet on your mobile with these WV online casino bonus codes.
Current Sports Betting Apps in WV
If you want to wager in West Virginia, you can either register for a betting app or visit a West Virginia sportsbook at a casino. There are currently over eight online sportsbooks available in WV:
BetMGM Sportsbook
DraftKings Sportsbook
FanDuel Sportsbook
Betly Sportsbook
Caesars Sportsbook
PointsBet Sportsbook
BetRivers Sportsbook
Barstoool Sportsbook
Golden Nugget Sportsbook
Betly marked the online sports wagering return for Delaware North, the company that owns Wheeling Island and the Mardi Gras Casino. Each WV betting site listed on this page is fully licensed to operate. Betting with an online sports betting legal site ensures your information is protected. West Virginia sports bettors are protected by the West Virginia Lottery Commission, who regulate all West Virginia sportsbooks.
Types of Bonuses at West Virginia sports betting apps
When signing up for an account with a WV sportsbook app, you will be eligible to claim a welcome bonus of some form to reward you for your custom. The online betting scene in West Virginia, and across the country, is growing so quickly that operators must try and encourage new users through a variety of means, and the welcome bonus plays a big role. Some of the common types of promos you may encounter on West Virginia mobile betting apps include:
Risk Free Bet: One of the most common bonus bet options, a risk free bet is exactly as it sounds. Once your registration is complete, the sportsbook will add a risk free wager to your account and if the bet loses, you will get another go. It removed the pressure from your initial wager.
No Deposit Bonus: These are typically awarded in site credits when you create an account.
Deposit Bonus: The betting app  will match a percentage of your deposit with some extra funds up to a maximum amount that has been set by the operator.
Odds boosts: These are one of the best ongoing promos for existing customers. Odds boosts increase the payout on specific bets artificially. The betting app adjusts a selection of bets to payout more to winning customers to encourage them to carry on betting with in the hope of seeing increase activity.
Some apps may require a sportsbook promo code, which will give you instant access to the welcome offer. If that is the case, you simply enter your bonus code during the registration. All bonuses are worthwhile, but some are better than others so make sure you check the wagering restrictions before playing.
Casino-Operator Partnerships in WV
Under regulations set by the West Virginia Lottery Commission (WV Gaming Commission), which oversees all gambling in the state, each licensed property is authorized to partner with up to three sports betting skins (operators). The casinos in West Virginia with deals in place so far are:
Hollywood Casino Charles Town – partnered with DraftKings and PointsBet.
The Casino Club at Greenbrier Resort – partnered with FanDuel.
Mountaineer Casino Racetrack & Resort – partnered with William Hill.
"Welcome to the future, West Virginia" – so tweeted FanDuel after launching their sports betting app on the Monday before the first slate of college football. Rival DFS operator DraftKings was quick to follow just a couple of days later, having been the first to launch in New Jersey a year earlier. Now that sports betting in the state is legal, you longer have to use offshore books like bovada, or 5Dimes.
The pair of fantasy heavyweights are already dominating the sports betting market in the Garden State, where 85 percent of bets are produced online. Given their head start over any potential rivals and existing large user bases, it could be a similar story in West Virginia. A generous free bet welcome offer has helped the operators gain a lot of customers.
So that's the challenge for William Hill, who opened a retail sportsbook at Mountaineer Park last November. The sportsbook finally launched online and mobile in September 2020, meaning punters now have several options with who to place their bets with.
Retail sports betting is possible in West Virginia. You can legally place sports bets at any of the state's five casinos:
The Casino Club at The Greenbrier Resort
Mardi Gras Casino
Hollywood Casino Charles Town
Wheeling Island Casino
The Mountaineer Casino, Racetrack, and Resort
Who can place bets in West Virginia?
Anyone aged 21 or older (ID required) and physically located inside the state, so non-residents are free to travel across state lines to place a bet.
The sportsbook operators use geo-locating software (a combination of WiFi and IP address data) to determine your exact location, and this is already built into mobile devices.
Here's how to turn this on.
iOS: Settings –> Privacy –> Location Services. Find the betting app by name (either DraftKings WV or FanDuel) and Allow Location Access
Android: Settings –> Apps and Notifications. Find the betting app by name (either DraftKings or FanDuel sportsbook WV). Tap on Permissions and toggle on location.
Unlike in some other states where sports betting is legal, bettors are not obliged first to set foot inside a land-based property to register with an online sportsbook. That's because mobile betting is allowed statewide – which is the big draw for operators. Android users can download apps from the Google Play Store, while iOS users can visit the App Store to download their iPhone betting apps.
Online sportsbooks having an instant effect
It's no real surprise that bettors have been quick to download both sports betting apps that are currently available, having been deprived of online opportunities since the demise of BetLucky in March.
The re-launch of mobile came at just the right time, too, with the new football season about to get underway, and that's combined to energize sports betting handle/revenue figures in the state.
For the week ending Aug. 31, the West Virginia Lottery announced that the total handle had reached almost $4.5 million, which was a jump of nearly $2.5 million from the previous week.
The revenue figures were just as positive with $649,000 coming from retail and $25,000 from just a couple of days of online sports betting – $67,000 of revenue went into state coffers, an increase of $19,000 on the previous week.
Since then, the figures have continued to skyrocket, and the first full week of NFL/WVU football was a record one, with saw sports handle topping $6 million and revenue going over $1.6 million for the first time.
What can you bet on in WV?
Just about any sport you can think of at both pro and top collegiate levels, and the kind of bets available to bettors range from single-game wagers to multi-team parlays. Expect to find at least the following:
Sports in West Virginia are extremely popular with bettors, with football being the most popular sport in WV, followed by basketball. Each West Virginia betting site offers multiple betting markets including horse racing, UFC, and more. Since going live in the state, West Virginia gambling has not only met revenue expectations but exceeded them every month. There are no professional teams in West Virginia but you will find major college athletic programs to wager online.
There are a couple of Division 1 programs in WV, including West Virginia University and Marshall, that might interest people.
Sportsbooks in WV
West Virginia sports betting is available both online and at retail sportsbooks. There are five casinos that provide WV sports wagering at retail locations.
FanDuel operates the sportsbook at the private resort, The Greenbrier.
Hollywood Casino is the online partner of DraftKings.
The Mountaineer Casino opened a sportsbook in 2019 but does not have an online site.
Wheeling Island and Mardi Gras Casino opened their retail sportsbooks in 2018.
Any West Virginian can visit the above properties and place a bet.
Banking Options for WV Sports Betting
As well as funding your account on any legal online WV sportsbook, bettors can also make cage deposits on DraftKings at the Hollywood Casino at Charles Town Races. The most common payment options in West Virginia are listed below.
Deposit Methods
Just as in any other state with a legal sport betting industry, each betting site offers deposit methods and payment options that cater to most players. These include:
ACH/Online banking
Credit/Debit cards (Visa/MasterCard)
Prepaid Cards
Paper checks/money orders/bank draft
Cash at the Cage (Hollywood Casino at Charles Town Races – DraftKings only)
Paying by card is the speediest way to transfer money online at any sports betting site. PayPal is also another excellent option for sports betting online deposits.
Is online casino and poker legal too?
Originally, only online sports betting was legalized in the state, but now players can also play on real money online casinos in the state. initially, there was only a handful of WV casino apps available, but more recently operators have launched in the state. Until a change in the law, you'll have to trek to one of the licensed casinos/racinos to play poker. Check back for more news on the state of play regarding casino and poker in WV as we will be updating our guide as soon as more information is available.
What's the future for sports betting in WV?
It's clear that sports betting is booming in the Mountain State, and the latest numbers are extremely impressive. We expect more online sportsbooks to launch soon, with Barstool Sportsbook in particular looking to add another betting option.
Expect that to double soon, and with the state has set the tax rate on gross sports betting revenue at just 10%, a very workable rate for operators, it would be a surprise if more didn't follow in the not-so-distant future.
The more, the merrier, we say, as bettors will have more choice over where to place their bets, and the increased competition between operators is never a bad thing either as competitive lines are just one way they will fight for your hard-earned cash. There has never been a better time to be a sports bettor in the US, and this applies to West Virginia.
Hopefully, that's covered any questions you might have relating to online and mobile betting in West Virginia – but feel free to hit us up with anything you like on Twitter or get in touch.
FAQ's
Are online Sportsbooks legal in West Virginia?
They sure are. Currently there are 3 online and mobile operators available to WV bettors. These are DraftKings, BetMGM and FanDuel. More Sportsbooks are expected to launch in the state over the next few months.
Do I have to be a resident to bet in West Virginia?
Not at all. Anyone inside of state borders can bet using one of the legal Sportsbooks the state has available. Mobile and sportsbooks are required by law to use geolocating software to confirm your location. This clever technology can pinpoint your location to prove you are physically in the state.
Is Poker & Online Casino legal in WV?
Sadly not. We are hoping this will be available to players late 2020 or even early 2021. The WV overseas all gambling activity in the state and has said it is on the radar to be looked at in summer 2020.
Is mobile betting available in WV?
It sure is. There are 3 mobile sportsbooks currently, BetMGM, DraftKings & FanDuel. They all have mobile sites and apps for Android devices and the iPhone & iPad.