Gamble USA strives to improve your online gambling experience. We aim to help you play safely, make informed decisions when gambling, and increase your betting knowledge through our guides.
We adhere to strict editorial integrity; our content may contain links to products from our licensed & legal US partners.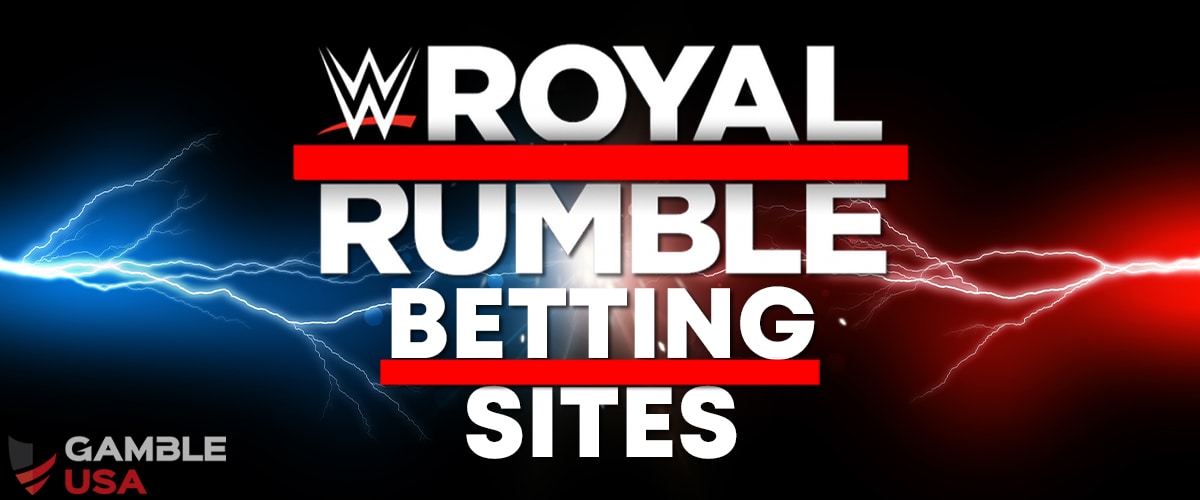 Royal Rumble marks the beginning of the WWE season and is one of the largest events in the world of professional wrestling.
Watching Royal Rumble is undoubtedly exciting, and many people wish to heighten that excitement by laying down a bet on who will win. Unfortunately, legal Royal Rumble betting is not so easy to come by in the United States. Most state regulators don't allow betting on scripted events for fear that the results may become known to the public before the matches begin. The only thing close to legal Royal Rumble betting in the US is the free-to-play prize pools run by DraftKings.
Still, WWE wants to capitalize on the rapid expansion of sports betting in the country and will look to do anything for its marquee events to appear in books like DraftKings, BetMGM, Caesars, and FanDuel.
In this overview, we will explain what Royal Rumble is, talk about the current and future possibilities of Royal Rumble betting, what the potential betting markets may look like, and share a few Royal Rumble betting tips.
Best Royal Rumble Betting Sites
---
What Is the Royal Rumble?
Royal Rumble is a professional wrestling event and one of WWE's "Big Five" alongside WrestleMania, SummerSlam, Money in the Bank, and the Survivor Series. The match is a form of battle royale in which multiple wrestlers enter the ring simultaneously and try to knock each other out until there's only a single winner left. Since 1993, the winner of the Royal Rumble has earned a place at the WrestleMania championship match.
The event has been running annually since 1988, with some of the most notable Rumble winners being Hulk Hogan, Stone Cold Steve Austin, The Rock, Batista, John Cena, and The Undertaker. Since 2018, the event also features the women's Royal Rumble match.
Participants come from three leading brands, including Raw, SmackDown, and NXT, while every match also features a few unaffiliated wrestlers or free agents. The event is usually held in late January, kicking off the new WWE season.
Royal Rumble Rules
A single WWE Royal Rumble match features 30 participants in each of the men's and women's categories. The matches follow the battle royale concept, meaning that there can be multiple wrestlers in the ring at the same time fighting against each other. Every person fights for themselves (although wrestlers can team up to knock someone out), and the match ends with the last man or woman standing.
The match starts with the two wrestlers drawn as number 1 and 2, with a new wrestler entering the ring every 90 seconds. The draws are usually kept secret to maintain the element of surprise. Wrestlers are eliminated when they are thrown over the ropes and both their feet touch the ringside floor. A wrestler will not get eliminated if they fall between the ropes, beneath the bottom rope, or if just one of their feet is touching the ground.
Since this is the WWE, pretty much everything is allowed in terms of how wrestlers fight and knock each other out. There are no disqualifications, so the fighters can use weapons, chairs, and all sorts of other props.
Highlights From The Last Royal Rumble
---
Our Recommended Royal Rumble Sportsbooks
Millions across the United States watch Royal Rumble, and a significant portion of WWE fans wish to place a bet on this blockbuster event. But there's a problem. Namely, since Royal Rumble and other pro wrestling events promoted by WWE are scripted, licensed US sportsbooks are not allowed to offer any odds on them.
You may find Royal Rumble betting on offshore betting sites. Still, we strongly advise against joining these platforms, as they are unlicensed by US regulatory bodies, don't safeguard your personal information, often have unfair odds, and feature strict terms and conditions. You may even have a problem withdrawing your winnings. Royal Rumble odds have been known to feature on some legit European betting sites like Betfair, but there's no way to join these sites from the US anyway.
The only legal US sportsbook that offers WWE Royal Rumble betting in one way or another is DraftKings, albeit only through their free-to-play pool game.
🥇 #1. DraftKings Sportsbook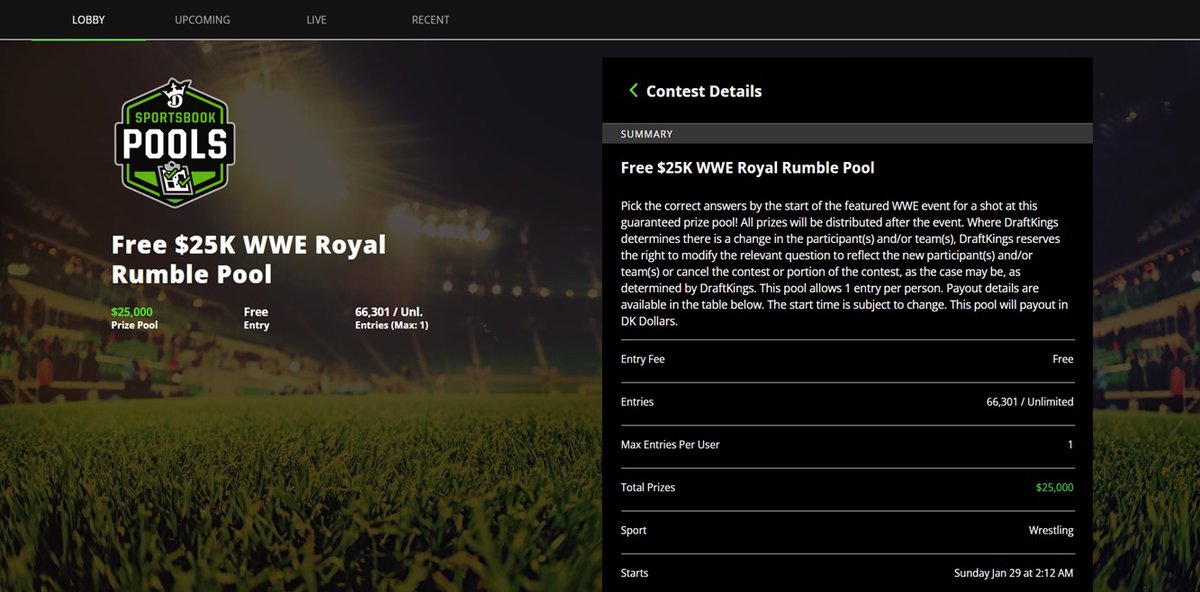 One of the main selling points of the DraftKings sportsbook is its free-to-play pools, where participants try to predict the outcomes of a given event and win a share of the prize.
DraftKings has run the $25,000 Royal Rumble prize pool for the last couple of years. They challenged the participants to make predictions about a number of different occurrences during the event, like who will enter first and last, who will have more eliminations, when the first entrant will be eliminated, and more. The goal is simple — if you guess all the items correctly, you win a share of the prize.
DraftKings is the best choice for people who like prize pool games, but it's also a number one option for many US bettors due to great promotions, a constant stream of daily odds boosts, and an excellent selection of in-game betting markets, among other stuff. As a new customer of the DraftKings sportsbook, you can take advantage of the best pound-for-pound welcome offer in the industry, granting you $150 in bonus bets after making a qualifying bet of just $5.
Up To $1,000 Deposit Bonus
21+. T&C Apply
21+. T&C Apply
The best sportsbook
Amazing odds & offers
Awesome betting app
Sportsbooks For The Future 
No one other than DraftKings offers free-to-play pools, let alone legal WWE betting, but some platforms that could introduce similar concepts in the future include:
---
Is Royal Rumble Betting Legal?
In short, there is no legal Royal Rumble betting or betting on any WWE events in the US, at least not at the moment.
WWE Royal Rumble is scripted, and as such, the outcomes are known in advance. Of course, this information is hidden from the public to maintain the element of surprise, but there's always a possibility of the info leaking, which could put sportsbooks at risk.
Plenty of individuals inside the WWE, like producers and scriptwriters, will know the outcomes, so the main issue lies in guaranteeing that these people won't take advantage by betting or sharing the information with other people who can place bets for them.
WWE was supposedly working on a deal with Colorado, Michigan, and Indiana to bring legal WWE betting to sportsbooks licensed in those states. However, these claims have been disputed by the state regulators themselves.
WWE was also supposedly in negotiations with Ernst & Young, one of the accounting firms that helped protect the result of the Academy Awards from leaking, as you can bet on the Oscars in select states. For now, however, it's all speculation, and, most likely, there won't be any Royal Rumble odds at licensed US sportsbooks in the near future.
---
Can I Win Real Money Betting on the Royal Rumble?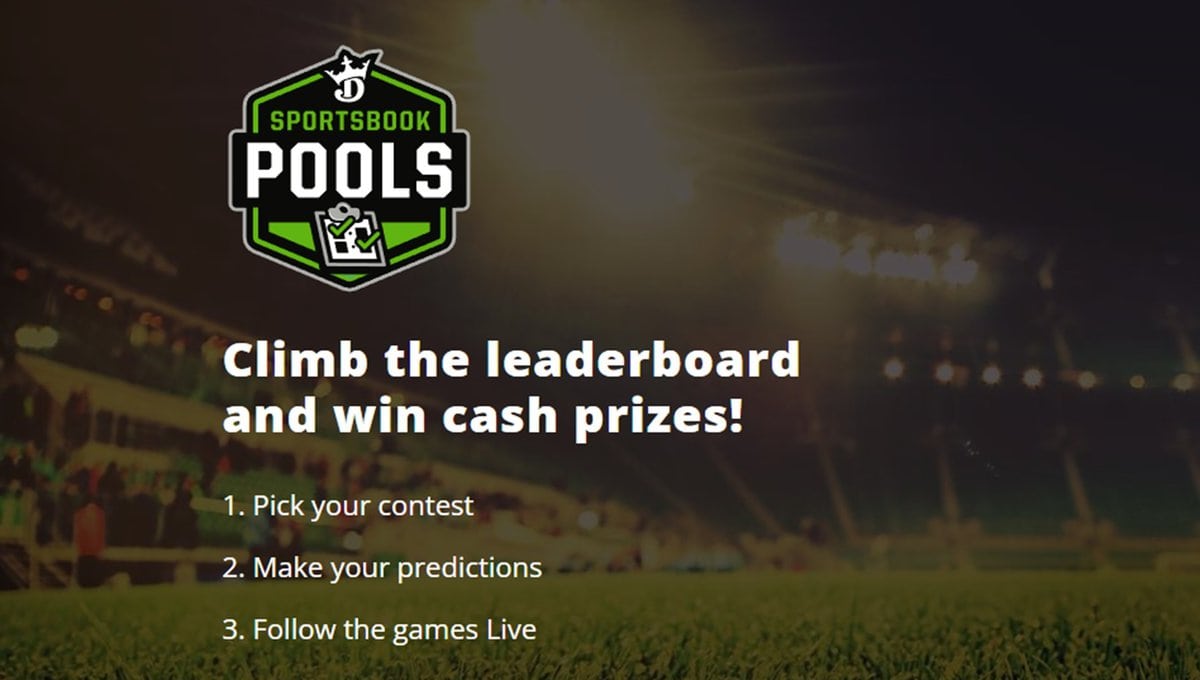 Technically, you can win real money with Royal Rumble betting. DraftKings offers free-to-play pools on WWE events, and if you get all the predictions right, you will win a share of the main prize. How much you win will depend on how many other participants get everything right, as the main prize is shared between all winners.
As for standard Royal Rumble betting, you won't find it at any licensed US sportsbooks. You can technically win and withdraw your winnings from an offshore betting site that offers WWE Royal Rumble odds. However, this is a risky endeavor as these sites are often unregulated and can put your money and personal information at risk. We also found that real-money betting on the men's Royal Rumble match is available at some European sportsbooks, but these are inaccessible from within the United States.
---
How to Bet on Royal Rumble 2024
The next Royal Rumble will likely take place in January 2024. If US sportsbooks decide to allow WWE betting in the meantime, there could be plenty of exciting betting markets to pick from. We can currently only speculate what the market structure would look like, but we can have a peek into international sportsbooks as well as DK's free-to-play pools from the last two years to get some ideas:
Men's Royal Rumble match winner
Women's Royal Rumble match winner
Will there be a first-time winner?
Wrestler to make the final four
Who will be the first to enter the ring?
Who will be the last to enter the ring?
When will the first entrant be eliminated?
Wrestler with the most eliminations
Eliminations H2H (for example, Bobby Lashley to record more eliminations than Austin Theory)
The last one standing H2H (for example, Cody Rhodes winning or getting eliminated after Seth "Freakin" Rollins)
Will any participant wrestle outside of the ring?
Will the first two entrants be from the same or different brands?
The range of the winner's entry number (for example, 1–17, 18–25, 26–28, 29–30)
Will the winner's entry be an odd or even number?
Will the match last over or under 60 minutes?
These are only some of the potential betting markets for the next event. As you can see, there are plenty of ways to win, from guessing the outright winner to predicting various other occurrences.
As to how to place a WWE Royal Rumble bet in the future, you would first have to go through a few formalities:
Pick one of the licensed RR US sportsbooks on our website and follow the links to their home pages. Make sure that the betting site you picked is licensed in the state that you're currently in.
Start the registration and share your details so the operator can identify you. In most states, the minimum betting age is 21, and the procedure involves sharing your name, email, birthday, and the last four digits of your SSN.
Go to the cashier, complete your first deposit, and opt to claim the sportsbook's welcome bonus.
Find WWE Royal Rumble in the sportsbook's menu and start listing the available markets. Click/tap on the odds to see the bet appear on your betting slip/ticket.
Fill out the slip with a desired stake and place the bet. Once the Royal Rumble winner is decided and the bets are settled, you will be paid out accordingly.
If you want to bet on your mobile device, we suggest downloading and installing a sports betting app. Top US sportsbooks like DraftKings, FanDuel, and Caesars have some of the best mobile apps in the industry and provide a smooth on-the-move betting experience.
---
Royal Rumble Betting Odds Explained
The odds for Royal Rumble work the same as for any other sporting event. There will be a list of participants, each assigned odds of winning the match.
Negative odds indicate that the wrestler is favored against the field and that they have an implied probability of over 50%, while all underdogs have positive odds. It is also possible for all participants to have positive odds, which means the fight is expected to be a bit more unpredictable and that no one is favored against the field.
Royal Rumble Mens Odds Example
If you're looking to up your betting game, you should know how betting on Royal Rumble works. Here are the odds for the top five favorites at the year's men's Royal Rumble:
| 🤼‍♂️Wrestler | 💵Odds |
| --- | --- |
| Cody Rhodes | -149 |
| Sami Zayn | +188 |
| The Rock | +200 |
| Seth Rollins | +1200 |
| Roman Reigns | +1400 |
Cody Rhodes was the clear favorite here, and he did eventually win. The odds of -149 indicate that if you wanted to win a $100 profit by betting on Rhodes, you would have needed to stake $149. Meanwhile, The Rock was assigned odds of +200. This means that a $100 wager would have yielded a $200 profit.
Royal Rumble Womens Odds Example
Royal Rumble women's betting works the same as men's, but there are some clear differences when comparing the two events from 2023. Let's go over the women's Royal Rumble odds for this event:
| 🤼‍♂️Wrestler | 💵Odds |
| --- | --- |
| Rhea Ripley | +100 |
| Becky Lynch | +333 |
| Raquel Rodriguez | +750 |
| Bayley | +1000 |
| Naomi | +1000 |
As you can see, the women's match didn't have a clear favorite like the men's, but Rhea Ripley still boasted a 50% implied win probability with odds of +100, and she did win in the end. A bet on Rhea Ripley would have won you even money, meaning that a $50 bet would have resulted in a $50 profit, for example.
Of course, sportsbooks may showcase odds on things other than the match winner, as listed earlier. These other markets, like whether a given fighter will remain in the final four, may provide safer alternatives if you find the outright winner bet too risky.
---
Is Royal Rumble Betting a Good Idea?
For now, you can't bet on this event in any legal way as it's not featured on any licensed US sportsbooks. A few offshore sites have been known to offer Royal Rumble betting odds, but joining them is not a good idea for reasons we've already discussed.
Until WWE betting becomes legal in the United States, you may want to test the waters by playing the DraftKings Royal Rumble pool game during the next year's event and see how you do with the predictions.
Up To $1,000 Deposit Bonus
21+. T&C Apply
21+. T&C Apply
The best sportsbook
Amazing odds & offers
Awesome betting app
---
Tips & Tricks for Royal Rumble Bettors
Here are a few expert tips for betting on the Royal Rumble in case it ever becomes available at US sportsbooks:
The number one favorite usually wins — While this can also be applied to other sporting events, it's very evident during the Royal Rumble. The favorite won each men's match between 2013 and 2019 before Drew McIntyre pulled an upset in 2020 and won at odds of +500. As for the women's matches, they were usually won by first or second favorites, with Charlotte Flair also being the biggest upset at +500 in 2020. While betting on the favorite is not always the most exciting or profitable, they sometimes have odds of between +100 and +175, which is nothing to sneeze at.
Look into the winner history by entrant number — Entrants with the highest number of wins are #30 (5), #27 (4), #28 (4), #1 (4), and #24 (3), while #2, #3, #19, #22, #23, #25, and #29 have each won twice. You can kind of see a pattern here where entrants who join the fight early or late usually win, while middle entrants often don't.
Don't trust unreliable sources regarding leaks — You can run into many clickbait articles claiming that the information on the following Royal Rumble outcome has leaked and that they know who the winner will be. Be careful when browsing these articles, as they are likely fake.
Make use of online sports betting bonuses — If US betting sites start offering odds on Royal Rumble and other WWE happenings, they will also likely boast special promotions for these events, like insurance bets, bonus bets, match bonuses, cashout deals, and more, all of which can work to extend your bankroll.
---
FAQs
Can you bet on Royal Rumble at DraftKings?
Technically, you can win a prize at DraftKings by predicting the outcomes of Royal Rumble matches. DK usually organizes a free-to-play pool game for Royal Rumble, and if you complete the challenge and guess everything correctly, you will share the main prize with other winners. As for typical Rumble betting odds, you currently won't find them at DraftKings or any other legal US sportsbook.
Can I bet on Royal Rumble?
You currently can't bet on WWE events in the United States, at least not in any legal way. You can only win money in a roundabout way by taking part in the DraftKings free-to-play pool game.
How to bet on Royal Rumble?
You can't legally bet on Royal Rumble or any other WWE event anywhere in the United States at the moment. If betting on such events becomes available in the future, it would only be a matter of creating an account at one of the licensed sportsbooks, laying down a deposit, and placing a bet.
Where can I bet on Royal Rumble?
WWE real-money betting has only been seen on a limited number of international sportsbooks and offshore betting sites. While you can join offshore sportsbooks, you would be doing so at your own risk, as these platforms are unregulated and unsafe.
Who will win Royal Rumble 2024?
The 2024 Royal Rumble is still months away, and we don't know who will be on the fight cards. Many top wrestlers from the 2023 event are expected to show up, including Cody Rhodes, Logan Paul, Brock Lesnar, Braun Strowman, Sami Zayn, The Rock, Rhea Ripley, Liv Morgan, and others.