What are the best Sportsbook apps in Google Play?
To say sports betting in the US has exploded since 2018 is an understatement. Since the repeal of PASPA, keen sports fans have been placing bets in their millions across states that have introduced online and mobile betting.
Sports betting in New Jersey really kick-started the revolution, and since then, lots of other states, including Pennsylvania, Indiana, Colorado, Michigan, and Tennesee, to name a few, have all followed suit and legalized online sports betting. Mobile sportsbook apps have been one of the main reasons driving the sports betting numbers up. The convenience of being able to pull out your cell and place a wager on your favorite team in next to no time has finally brought sports betting to the masses.
With innovative features such as in-game wagering, live odds, price boosts, live streaming, and even access to casino gaming in certain states, mobile betting has not only changed the way we bet; it's made it available to everyone with a smartphone. As long as you are in a licensed state.
The Google Play Store did not always allow sports betting apps even after the Professional and Amateur Sports Protection Act was repealed in 2018. Bettors with Android devices would have to download the app directly from the sportsbook website. This was a hassle, and Google Play changed its state on real money gambling apps and allowed operators to start adding sports betting apps to the platform back in February.
Since February, operators have slowly been releasing their apps into the Google app store, but not every operator has been as quick. Apple iPhone users have always seemed to steal the march on getting apps first, but now operators are finally releasing Android versions in play. Quite why this is the case as Android is the most popular operating system in the world.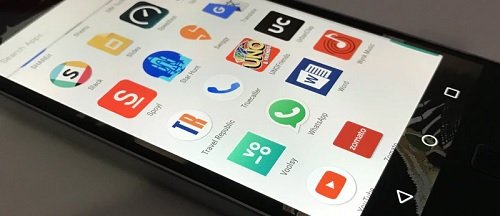 There are many sportsbook apps in the Google Play Store. However, they were not all created equal. Here are the best sportsbook apps in the Google Play Store for Android users. These apps listed below are all from licensed operators and are available in states where sports betting is legal. With more states now opening up to sports betting, these apps could all soon be available to you too.
#1 – FanDuel Sportsbook
FanDuel Sportsbook app has taken over the legal betting industry. The site, along with DraftKings, pretty much dominates the legal betting industry in the United States. One of the main reasons FanDuel is the most downloaded Android sports betting app on Google Play because the app is so easy to use. Questions about FanDuel legit and safe are out of the picture, too.
Finding your way around a sports betting app can be quite stressful, but that's certainly not the case with FanDuel. It boasts one of the most manageable platforms of any Android betting app. FanDuel makes betting easy, and it includes a ton of markets for fans of all sports. It's not only sports available on the app, there is also an excellent range of FanDuel Slots too. When you sign up for FanDuel, you will receive a risk-free bet up to $1,000.

The sportsbook receives a ton of money in wagers, and this apparent when annual revenue is studied. In 2020, the company hit $1.1 billion in revenue. FanDuel will very likely surpass this number in 2021 quite easily.
Standout features:
Lightning-fast payouts
Parlay Insurance
Site: sportsbook.fanduel.com
Installs: 100,000+
#2 – DraftKings Sportsbook
The DraftKings Sportsbook app has a few benefits over FanDuel, and that's why it's also one of the most downloaded betting apps on Google Play. The bonus on DraftKings is one of the main reasons it is so popular. New users downloading the app and joining the sportsbook will receive a deposit match of up to $1,000.
Although for many, FanDuel is easier to use than DraftKings, (see FanDuel vs DraftKings) the operator has a huge following thanks to the popularity of their DFS platform. DraftKings has a substantial first quarter in 2021. The site generated $312 million in revenue, and the site and app are improving and adding new features all the time.

DraftKings gives you more ways to bet on games than any other operator. They have one of the widest market choices available and customers can bet on all their favorite sports including football, soccer, baseball, ice hockey, basketball, baseball, and many many more. Easy to use, fast, safe and secure are just a few reasons why DraftKings is kicking some serious butt in the Play Store rankings. You can find more than sports betting on the app as there is a built-in casino with a range of live dealer games, table games, and DraftKings slots.
Standout features:
Fast withdrawals
Hundreds of markets
Odds boosts
Site: draftkings.sportsbook.com
Installs: 100,000+
#3 – BetMGM Sportsbook
The BetMGM app is a product of MGM Resorts International, a gambling company that needs little introduction. BetMGM's focus for a substantial period was online casino gaming. However, the company has incorporated a sportsbook into BetMGM, and the app has really taken off in the Google Play Store.
The BetMGM app has a ton of markets, and the sportsbook has a super easy-to-use platform, making the app appeal to new sports bettors as well as seasoned pros. Additionally, the bonuses are solid and the popular US sports are heavily covered. You will always find great props from major sports leagues on the app, and a casino featuring BetMGM Slots, live dealer games, video poker, table games, and more!
Projections have shown the unparalleled growth of BetMGM. In the first quarter of 2021, BetMGM generated $163 million in revenue. The app could generate $1 billion in revenue in 2022, which would give the company 20% of the online wagering market.
Standout features:
Secure deposit & withdrawals
Earn MLIFE reward points
Live in-game betting
Site: betmgm.com
Installs: 50,000+
#4 – PointsBet Sportsbook
PointsBet Sportsbook app is a relative newcomer to the US market compared to established names like DraftKings and FanDuel. Don't let that put you off, the sportsbook has been downloaded on Google Play over 10,000 because of its amazing sports betting offerings. PointsBet is huge in other parts of the globe and has gone down very well with US bettors. Especially the Android app.
The operator is known for huge bonuses and their generous pricing. The app is available in most states that have legalized sports betting and can be downloaded in just a few seconds PointsBet offers one of the best new players sign-up offers. You can get 2 x risk-free bet offers, and get up to $1,500 back if you lose your first PointsBetting wager and up to $500 back if you lose your first fixed odds bet.

The Android app from PointsBet is super easy to use and has one of the best navigational setups of any sportsbook app available in Google Play. It gets rave reviews from customers which only supports just how good this operator is. One player even describes it as "Best sportsbook experience in the industry hands down." Not bad for a newcomer.
Standout features:
Pointsbetting
Daily parlay booster
Quick withdrawals
Site: pointsbet.com
Installs: 10,000+
#5 – William Hill Sportsbook
William Hill is a veteran of the sports betting world. They have been available in Las Vegas for many years and first introduced the William Hill Sportsbook app to NJ back in 2018.  Since then they have gone on to launch in several states and become the go-to sportsbook for a lot of bettors.
The operator has been well known for offering generous pricing, fair odds, and some excellent promos, and no more so than using the William Hill sportsbook promo code.

Customers can find an easy-to-use app that offers a huge range of bet types, including Parlays, Props, and Futures. It's easy to deposit and withdraw winnings and withdrawals are handled quickly and safely. If you are a fan of in-play or in-game wagering, you really will be spoilt for choice.
All in all, William Hill offers one of the best mobile betting experiences going which explains why they are so popular on Google Play.
Site: caesars.com/sportsbook-and-casino
Installs: 10,000+
So Android users, if you are on the lookout for a sportsbook app on the Google Play store, you know where to look. There are more and more sportsbooks launching apps in the Google app store and we expect to see even more over the next few months. Using one of these apps instead of an offshore sportsbook offers you a lot more security and peace of mind should you ever experience any issues.
Which states offer legal sports betting?
If you have any feedback on any of the apps in Google Play, we would love to hear from you, good or bad! Drop us a tweet @Gamble_usa
Relevant news