Gamble USA strives to improve your online gambling experience. We aim to help you play safely, make informed decisions when gambling, and increase your betting knowledge through our guides.
We adhere to strict editorial integrity; our content may contain links to products from our licensed & legal US partners.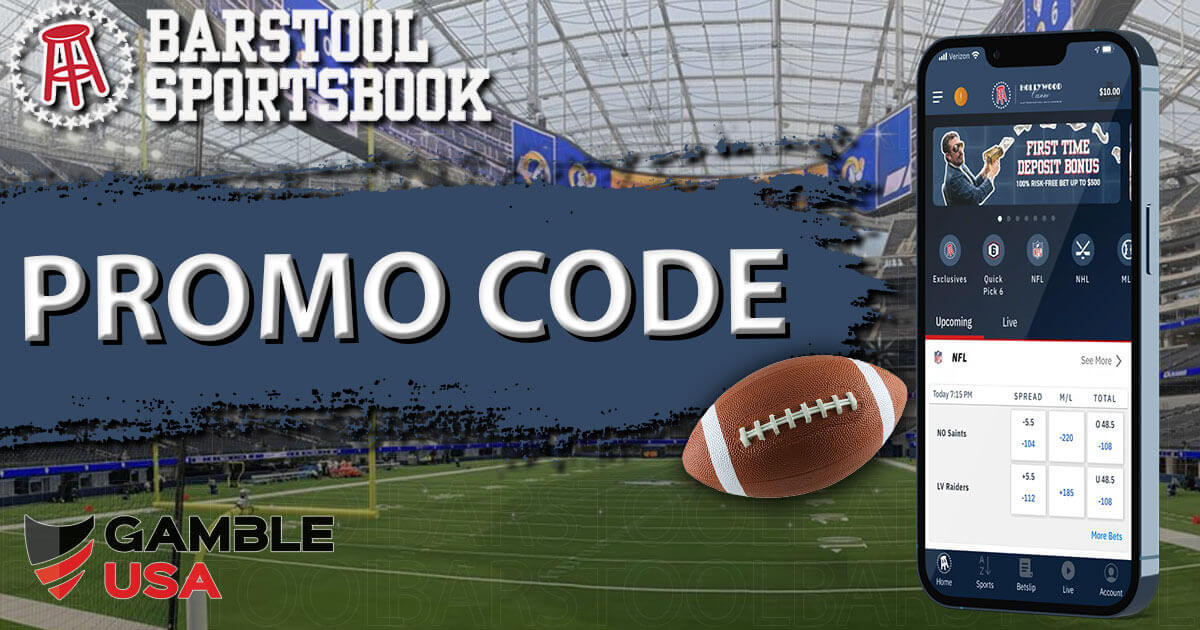 What happens when you link up two powerhouses of the online betting industry? You get a new and fresh sportsbook which is what Penn National Gaming and The Chernin Group are doing with Barstool Sportsbook.
Penn National Gaming, a company with multiple sports betting sites across the US, has taken a stake in Barstool Sports, which is now offering a $1,000 free bet and exciting sports betting through its modern, user-friendly website, and mobile app.
If you are looking for a legitimate online sports betting platform with unique promos, check out Barstool Sportsbook and its free wager of a $1,000 bet. To grab the offer, check the promo code details below.
The welcome offer is not the only bonus new users can grab at Barstool Sportsbook. They have a vast range of sports betting bonuses you can take advantage of once registered.
$500 Casino Bonus Cash as a Match Deposit (available in certain states)
Barstool Markets Enhanced Odds
MyChoice & MyCash loyalty program and awards (see full info further down)
Parlay+ (see full info further down)
$25k Parlay Jackpot (see full info further down)
This guide will look at how to use any free Barstool Sportsbook promo code and show you in which states it is available. We'll compare the Barstool Sportsbook promo offers with other sportsbooks and sports betting apps. We'll answer the most frequently asked questions about the promo code and how to bet online with the Barstool sportsbook. For those looking for higher free bets or wider availability, below you can find some great alternatives to Barstool Sportsbook:
What is the Barstool Promo Code?
📜Barstool Sportsbook Promotion Code
🆓Free Bet Amount
$1,000 risk-free bet
⏲️Expiration Date Of Offer
December 2023
💵Minimum Deposit
$10
🇺🇸 Available states
AZ, CO, IL, IN, IA, KA, LS, MI, NJ, PA, TN, VA and WV
⏱️Offer Last Verified
October 2023
The Barstool sportsbook promo code allows you to grab a $1,000 site credit to enjoy your favorite sports. A free offer is among the most generous in the online sports betting industry as it allows new players to ease themselves in. A free bet does exactly what it implies with the title, it removes the risk of losing everything if the bet doesn't win. If the best loses, you will get all of your stake back, in this case up to a value of $1,000.
There is no promo code required to claim this offer, all you need to do is complete the registration process and your account will be credited with this offer. Please make sure you read the terms and conditions of the offer, as it may state there are some betting markets which this offer cannot be used on.
Getting started is very simple, and the sign-up process is quick and will only take around two minutes.
You can follow the links here on this page. This link will direct you to the quick five-step sign-up process.
Barstool Free Bets No Deposit
Barstool Sportsbook does not offer a free bet no deposit bonus. However, you can activate any promo code before depositing and take advantage of the other bonus bets at any time.
To be clear, you do not need a promo code to take advantage of the $1,000 free bet. Using a promo code is totally optional.
When you sign up, your free bet is ready to use as soon as you follow the sign-up steps (see the screenshot guide in the next section). You must deposit a minimum of $10 before the bonus can be activated.
The Barstool Sportsbook promo code is not standard, so take advantage of the
free bet today here on GUSA.
How to use the Barstool Sportsbook Promo Code
We touched on how to use the sportsbook promo code from Barstool earlier but below is no fluff step-by-step screenshot guide essential to qualify.
Step 1 – Enter an email, username, and password.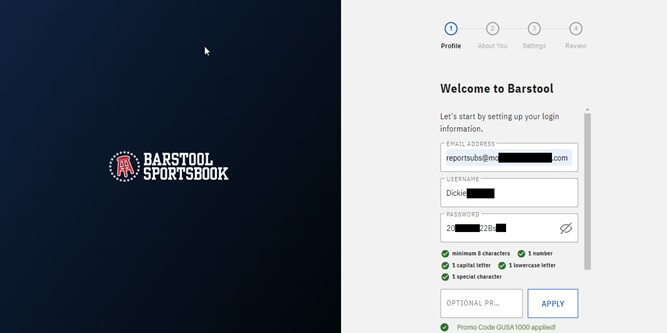 Step 2 – Enter your first name and surname, birth date, and the last four digits of your SSN.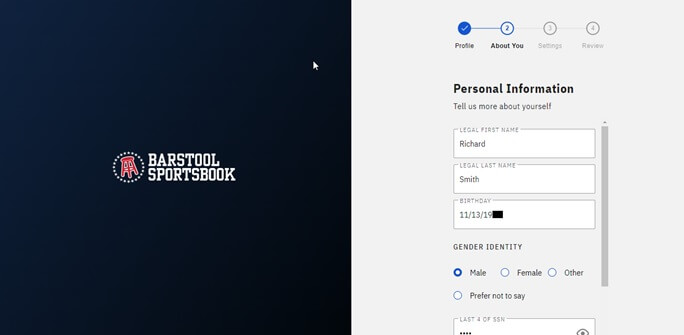 Step 3 – Enter your address and telephone number.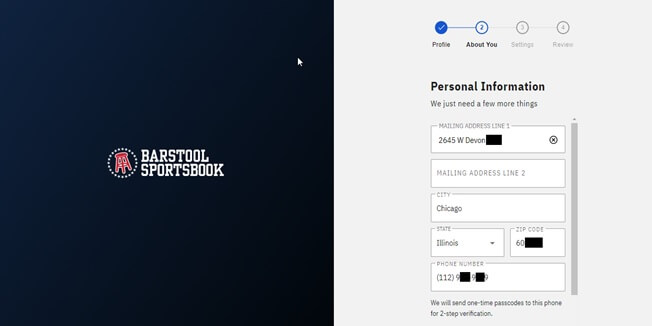 Step 4 – Choose your betting preferences.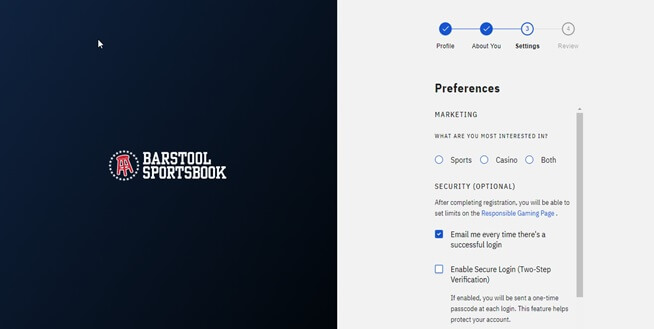 After you have gone through these four quick steps, there are just a couple of things you need to do to claim your bonus.
Step 5 – Make sure to review your info and check the tick boxes you see below.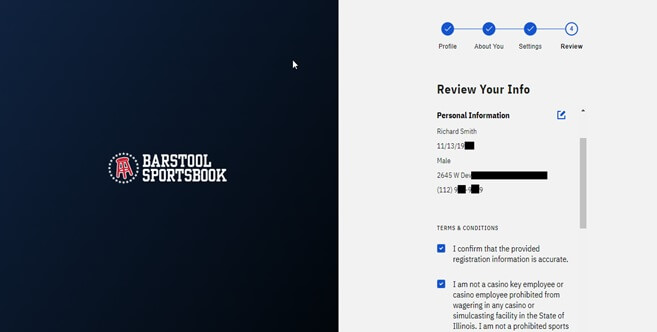 Before signing up for your bonus bet, read through the terms and conditions, which explain the sports you can use your bonus on, the maximum winnings available on each sport, and information about the playthrough requirements.
The terms and conditions for this offer include a minimum $10 deposit to trigger the bonus, but bettors can bet up to a maximum value of $1,000. There are no markets that are stated as restricted with this offer.
Once in your account, deposit your chosen amount (minimum $10), and the first bet you place will activate your promo code and give you free bets up to this amount if that first bet is a loser.
This type of bet insurance is a great way to get started with a new online betting site as you are not carrying a lot of risk. You can bet on your favorite markets with confidence knowing the wager will be refunded if it loses.
How to enter Barstool Promo Code
You can enter any promo code that you have manually, but when you click anywhere on this page using one of the links, it will pre-populate any code and apply it automatically. See the image below.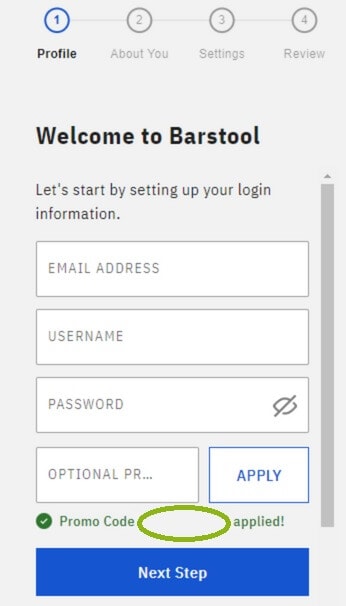 If you have a promo code it will appear in the area circled above and will be applied automatically.
If you do not have a promo code then you just click on "Next Step". In such cases, the page links are enough to trigger the Barstool free bet bonus.
What States Can use the Barstool Sportsbook Promo Code?
Any Barstool sportsbook promotional code is available in thirteen states, and the offer is for new players only.
You can register at any of the Barstool Sportsbook's portfolio sites if you are in any of the states below.
Wagering with Barstool Sportsbook is allowed when you are located in one of the following Barstool Sportsbook states: Arizona, Colorado, Illinois, Indiana, Iowa, Kansas, Louisiana, Michigan, Maryland, New Jersey, Pennsylvania, Tennessee, Virginia, and West Virginia.
Below we highlighting where the Barstool free bets are available. There are all up to $1,000 free bet.
The legal Barstool Sportsbook states, where you can activate the promo code include:
Barstool Sportsbook Arizona
Barstool Sportsbook Colorado
Barstool Sportsbook Illinois
Barstool Sportsbook Indiana
Barstool Sportsbook Iowa
Barstool Sportsbook Kansas
Barstool Sportsbook Louisiana
Barstool Sportsbook Maryland
Barstool Sportsbook Michigan
Barstool Sportsbook New Jersey
Barstool Sportsbook Pennsylvania
Barstool Sportsbook Tennessee
Barstool Sportsbook Virginia
Barstool Sportsbook West Virginia
Sportsbook Bonuses & Promotions for Existing Players


There are no promo codes for existing customers. However, the Barstool Sportsbook has several reload offers open to you if you are an existing player looking for some exciting sports betting action. For these, a qualifying bet and previous betting history suffices.
Parlay+

One of the most exciting offers from the Barstool online sportsbook is the Parlay+ offer which offers multiple ways to place a parlay real money wager, from a single game selection to a crazy multiple game selection. Below are a few examples of how an existing customer might use Parlay+ for sports betting during the current NFL football season.
Build a parlay using multiple selections from any Parlay+ game. Use a team prop, player prop, game result, and others to build a unique parlay.
Take it a step further, select multiple selections from a Parlay+ game, and add a single selection from a non-Parlay+ game.
Now let's go crazy. You can add selections from not just one but multiple Parlay+ games and add a single selection from a non-Parlay+ game.
You can see any of the games eligible for Parlay+ online or on the Barstool Sportsbook app by checking if it has the + sign next to it.
$25k Parlay Jackpot

This exciting introduction to Barstool Sportsbook is a promotion that runs during specific periods, so keep an eye on the promotions tab on the sportsbook.
This promo allows you to grab a share of $25,000 if you back a big winning odds parlay.
Place a $10+ cash Parlay or Parlay+ bet on any event/sport/league.
Players can place unlimited Parlay or Parlay+ wagers during the promotion.
Players that place eligible wagers that settle as a WIN and are among the top 25 for longest winning odds will win $1,000 in

free bet bonus cash

.
This promo runs for one week at a time.
Barstool Sportsbook Loyalty Program

Penn National Gaming acquired a share in Barstool, and they have a fantastic loyalty program called "my choice." You can earn rewards at any of their hotel, leisure, and retail locations. These rewards are called "my cash," You can redeem them to make wagers on the Barstool Sportsbook.
3,000 – 17,999 — Get $10 mycash for every 3,000 Tier Points redeemed
18,000 – 49,999 — Get $25 mycash for every 5,000 Tier Points redeemed
50,000 – 199,999 — Get $150 mycash for every 25,000 Tier Points redeemed
200,000+ — Get $500 mycash for every 50,000 Tier Points redeemed
A great way to add extra betting funds to your account is with Barstool Sportsbook. Part of it is also the Barstool refer a friend scheme, where you can get free bets for inviting your friends.
Barstool Promo Codes Reddit
Reddit is a great message board covering topics on everything. It is excellent for sports bettors, as you'll find small groups (subreddits) with people just like you.
These are great to meet other online sports betting fans and share the best sports betting, handicapping, and sportsbook bonus offers.
The only issue is that promo codes are tough to find on Reddit, especially if you are looking for a Barstool Sportsbook promo code. We checked many subreddit groups and struggled to find any of these. The Barstool Sportsbook promo code is not just handed out to anybody; they are rare.
And even if you cannot find a promo code, don't worry, as they are not compulsory to take advantage of the $1,000 welcome offer. So take advantage when visiting sites like GUSA, which offer the opportunity to sign up for the official Barstool Sportsbook $1,000 free bet.
Barstool Sportsbook Information
Barstool Sportsbook
Founder
Dave Portnoy
Date Launched
2003
Owners
The Chernin Group
Penn National Gaming
Barstool Sportsbook States
AZ, CO, IL, IN, IA, KS, LS, MI, NJ, PA, TN, VA and WV
Minimum Deposit
$10
Minimum Age
21 years of age
Bonus Offer
$1,000 Risk-Free Bet
Betting Markets & Features
The sportsbook covers 17 sports across the world, with a wide range of markets, including the NFL, CFL, NCAAF (College Football), and the NFL Draft for football fans.
Soccer fans can place wagers on matches from 42 countries across all the major European leagues and UEFA competitions like the Champions League and Europa League.
Five of the best features of the sportsbook for new users and existing customers are: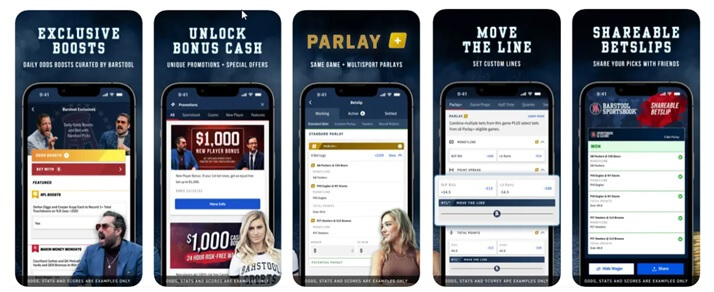 Exclusive Boosts allow you to get enhanced odds on all your favorite sports betting events.
Unlock Bonus Cash gives you the opportunity to get a number of matched deposit incentives.
Parlay+ is a unique bet-building tool to help you create high-odds parlay bets.
Move The Lines allows you to change specific games and event spreads. The odds will change as you change the spread of a game. It gives you total freedom in choosing your online sports betting odds.
Share Your Betslip is a community tool that lets you share your bets with other Barstool fans and friends.
Barstool Sportsbook Mobile App
Mobile betting is big business in the legal online sports betting world as users like to place bets on the go anytime from anywhere. You can also withdraw your sportsbook bonus cash via mobile, and the Barstool app provides a convenient way for you to play remotely. Now, users can take advantage of the opening $1,000 bonus via their mobile device with no promo code required.
The app is available on both iOS and Android devices and you will have access to a wide range of markets and bet types, including moenyline, props, totals, point spreads and parlays. You can also take advantage of the live betting markets by playing on your mobile. Although there is currently no live streaming option, you can still watch your favorite teams play and wager on the action as it unfolds.
Also look out for boosted odds when betting on Barstool. These usually appear around significant events such as the Super Bowl, NBA playoffs or college tournaments like March Madness.
Software & Betting Ease
We love the desktop version of the sports menu. It makes it easy to find sports, leagues, teams, and player markets.
It is quick on desktop and also on your phone via the Barstool Sportsbook app (see below instructions for downloading the betting app from Google Play for Android.)

Payment Options
To take advantage of the Barstool sportsbook promo of a $1,000 free bet, you must deposit a minimum amount of $10. You can deposit and place your free wager up to a maximum of $1,000.
Barstool gives an excellent range of deposit options, including both online banking and PayPal as a betting deposit option.
Deposit Methods
💳Deposit Method
💲Minimum Deposit
⏱️Deposit Timeframe
Online Banking
$10
Instant
Wire Transfer
$10
12-24 hours
Debit Card
$10
Instant
ACH/eCheck
$10
24-48 hours
PayPal
$10
Instant
Apple Pay
$10
Instant
Pay Near Me
$10
Instant
Barstool Sportsbook & Casino Play+
$10
Instant
Cryptocurrencies*
(Bitcoin, Ethereum, Litecoin, and DASH)
$10**
Within 1 hour
Cryptocurrencies* This payment method is only available in Colorado and Virginia
$10** Your crypto exchange will also charge a transaction fee, with Cash App betting sites offering the best rates
Withdrawal Methods
| 💳Withdrawal Method | 💲Minimum Withdrawal | 💰Withdrawal Timeframe |
| --- | --- | --- |
| Online Banking | $10 | 3-5 days |
| PayPal | $10 | Instant |
| Barstool Sportsbook & Casino Play+ | $10 | Instant |
| ACH/eCheck | $10 | 3-5 days |
| Check By Mail | $250 | Up to 14 business days |
How does the Barstool Welcome Bonus Compare to Other Sportsbooks?
Barstool is not like DraftKings Sportsbook or Caesars Sportsbook yet. But how does it compare to those giants of the sports betting industry and other well-known betting brands that offer online legal sports betting?
One of the negatives is that Barstool sports betting is only available in thirteen states.
The welcome offer is a substantial $1,000 free bet, but not all bets are made equal, and the playthrough requirements on the Barstool Sportsbook promo offer need to be checked in the terms and conditions.
We could not find details on the maximum payouts for each sport, so you should check this before placing your bets.
The sports markets and odds offers are excellent. Their Parlay+ offer is one of the best for sports bettors that use parlays as a part of their live betting strategy.
Check a comparison with other sportsbooks below.
As you see from the table above, many sportsbooks offer a promo code, but not many of these bonus offerings are as big as Barstool Sportsbook. Caesars offers a bigger welcome bonus, with DraftKings, FanDuel, and BetMGM being others to offer a $1,000 free bet.
Click the sportsbook logos above to view the other sportsbook offers.
Barstool Promo Codes Summary
The sportsbook has a great color scheme and user interface. We like the layout of the menu and site icons which make it easy to get to your favorite sport.
The sportsbook covers 17 different sports, with plenty of choices and great offers. Two of our favorites are Parlay+ and Move The Lines.
You can bet legally with the Barstool Sportsbook app if you are in one of the 13 states (AZ, CO, IL, IN, IA, KS, LS, MI, NJ, PA, TN, VA, and WV) where the operator is licensed.
The welcome bonus of a $1,000 free bet is a handsome offer, and you get up to $1000 to wager on your favorite sport.
Don't forget that the Barstool Sportsbook promo codes are rare and difficult to find.
Barstool could improve the signup page. When we visited, we found we had to scroll to get to the "next" button during registration, a small thing that could be improved.
Another negative is that you need an account to contact the support team. So if you are a new player and cannot get your question answered on the support page, you are left in a bit of limbo.
However, you may want to register as it only takes a couple of minutes, and you automatically activate the $1,000 free bet promo on the Barstool sportsbook legal site.
Barstool Sportsbook FAQs
Do I need a promo code to receive the Barstool risk-free bets?
No, you don't need a promotion code to activate your Barstool $1,000 risk-free bet.
How to use the Barstool promo code?
Find one of the links on this page and follow the simple screenshot guide we posted near the top of the page. Some sites will list a Barstool promo code, but these are not compulsory.
Where do I enter the Barstool Sportsbook free bet promo code?
Once you are signed up, you will see a field where you can enter the promo code if you have been given one. Some sites will have a promo code, and others will not. If you have a promo code, then it can be entered manually inside the registration form.
Are there Barstool Sportsbook free play codes for 2023?
There are no free play codes as such, but the welcome offer from Barstool Sportsbook for a risk-free bet is available now. It's important to note that this offer expires by the end of the year.
How do I win free bets and other Barstool Sportsbook offers?
The easiest way to win a free bet is to sign up for the $1,000 risk-free. As an existing player, you can join the MyChoice loyalty program and earn reward points in exchange for other free bets.
Can I bet on Barstool Sportsbook with my mobile device?
Yes of course, the Barstool sportsbook app is available on mobile. The app can be downloaded via the App Store and also on Google Play if using an Android device.
How to get the valid Barstool Sportsbook promo code?
These codes are not freely available online, but just to clarify, you do not need a promo code. The welcome offer is available without a promo code.
What is the Barstool Sportsbook no deposit promo code?
You do not need to deposit any money to activate a promo code. With a no-deposit promo code, just click on one of the links you find on this page. It allows you to sign up with no initial deposit.

When you are ready to make your first wager, just sign into your Barstool Sportsbook account, make your first deposit and place your first bet. If that bet loses, you'll receive up to a $1,000 risk-free bet depending on how much your first wager was.