Gamble USA strives to improve your online gambling experience. We aim to help you play safely, make informed decisions when gambling, and increase your betting knowledge through our guides.
We adhere to strict editorial integrity; our content may contain links to products from our licensed & legal US partners.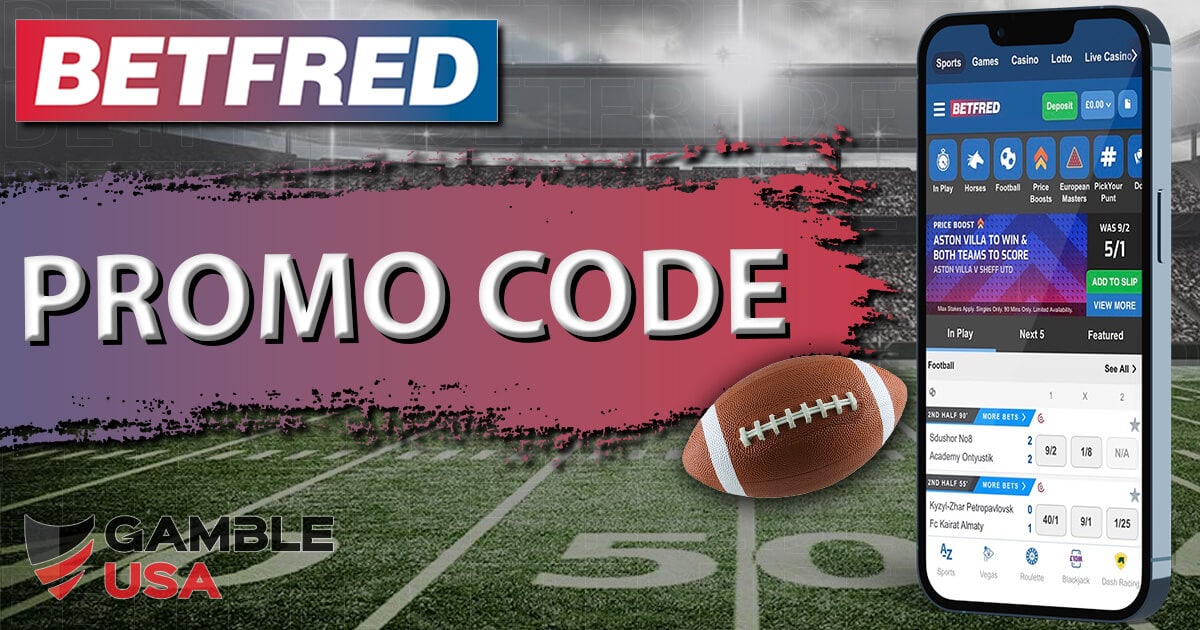 As an online sportsbook, particularly in the UK, Betfred is tried and trusted. The Betfred name is synonymous with online sports betting in that area. However, in the US, the brand is still in its infancy.
One of the newer ships on the US betting horizon, the Betfred Sportsbook is looking to stick around. A global brand with no shortage of power in the industry, this sports betting provider offers just about everything that the US bettor could ask for. All the major sports are covered, so regardless of what you're looking to bet on, Betfred, now branded as Betfred Sports in the US, will answer your call.
Is there a welcome bonus? You bet there is. New players can sign up to the Betfred Sportsbook and get a whopping $250 in free bets. What are you waiting for? Sign up using one of the links on this page, lock in that first bet and claim the Betfred Sports promo code.
$40 Free Bet + $500 Matched Bet
21+. T&C Apply
21+. T&C Apply
Awesome free bet offer
Massive range of sports
What is the Betfred Sportsbook Promo Code?
Betfred Sports may well be new to the sports betting landscape in the US, but that hasn't stopped them rolling out a tasty welcome offer, which can be redeemed by using the Betfred Sports promo code.
Betfred Sportsbook Promo Codes
📜Bonus Code
Not Required
🆓Free Bets
$250 Matched Deposit Bonus
🇺🇸 Available States
AZ, CO, IA, PA, NV, OH, LA, WA
🔞Requirements
Must be a new player.
Must be a resident of a state where Betfred Sports legally operates.
Must be 21 years of age.
Must place a first bet of at least $50.
Must place a qualifying bet at odds of at least -200.
⏱️Verified Working
March 2023
Typically, you would enter the assigned promo code when signing up – but we simplified this by landing a deal with them where our links are enough to trigger the offer. Bettors who visit either the website of the app and register for a new account will be presented with the option to enter the code, and in doing so will be rewarded with $250 in free bets, providing they make an initial deposit and place a first bet of at least $50. When you join them through our page, you can leave that space empty.
So, in simple terms, the Betfred promo code link allows new players to get $250 in free bets when they place a first bet of $50 or more.
Betfred Sports Free Bets No Deposit
$40 Free Bet + $500 Matched Bet
21+. T&C Apply
21+. T&C Apply
Awesome free bet offer
Massive range of sports
As you can see from the above, Betfred Sports is currently running a sign-up bonus, which can be redeemed by new users when they register via our links.
In the online sports betting world, such sign-up bonuses, which are also known as welcome offers or welcome bonuses, are common practice, so much so that even those with only a passing interest in gambling know what they are. What a lot of people don't know is that many sports betting providers offer "Free Bet No Deposit" bonuses. A different ball game altogether.
Those who haven't heard of this type of bonus before may be thinking "what's the deal with that?", which is a reasonable question.
No deposit free bets do exactly what they say on the label. New players creating an account will be offered some kind of bonus, usually in the form of a free bet. The kicker being that they don't need to deposit to get their hands on the free bet.
At this moment in time, Betfred Sports isn't running any bonuses that do not require a deposit, but it wouldn't be totally surprising if they were to in the not so distant future, so stay tuned and don't be caught sleeping on those no deposit free bets.
How to use the Betfred Sportsbook Promo Code
Using the Betfred Sports promo code could not be easier. If you've got a code or use our links and are interested in signing up, just head over to the Betfred Sportsbook, or download the app. You may be met with a "Register" prompt straight away. If not, you'll notice them on the home page.
Hit the "Register" button, which will open up a new page. Here you will be asked to specify your state.
Once you've clicked on the state that applies to you, you'll be taken to a registration page, where you'll first be asked to input your personal details. The personal details you'll be asked to provide include First Name, Last Name, Gender, and Date of Birth. See the image below.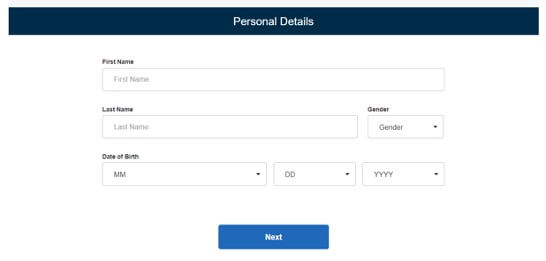 Once you've entered your personal details, you'll be asked to input contact details, such as Address, City, State, Zip Code. The image below shows the full contact details that must be provided to join Betfred Sports.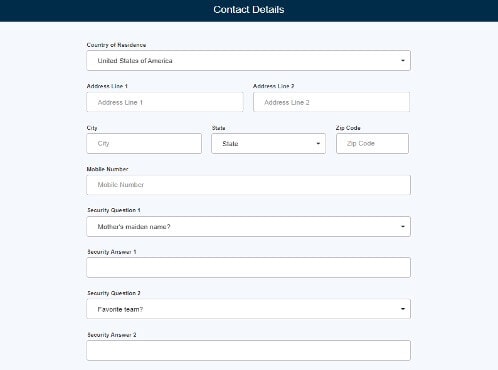 There are of course terms and conditions to this Betfred Sports sign up offer.
The T&C's are as follows:
When a new player signs up

, they must be verified as a player during the

sign-up process

.
Promotion only applies to new players.
The first wager must be at least $50, at minimum odds of -200.
After the first

wager is settled

, a $100 free bet will be credited.
Two qualifying bets of at least $1 at odds of -200 or above will need to be placed over two consecutive weeks to receive the remaining $100 in free bets.
This promotion cannot be combined with any other.
Wagers on Betfred Boosts do not apply.
Free bets cannot be withdrawn as cash and must be used within seven days.
$40 Free Bet + $500 Matched Bet
21+. T&C Apply
21+. T&C Apply
Awesome free bet offer
Massive range of sports
How to enter Betfred Promo Code
During the sign-up process, which is quick and easy, new players will have the option to enter the Betfred bonus code.
This comes after the new player has entered their personal and contact details. After entering your contact details, you will see the following box.

It is in this box labeled "Promo Code" that you enter the Betfred Sports bonus code. Doing so will allow you to take advantage of the welcome offer. But since this step is optional, we replaced it with our links to simplify it for our readers. No more copy pasting codes to redeem the Betfred bonus for your state.
What States Can use the Betfred Sportsbook Promo Code?
Is Betfred Sports legal? The answer is yes, but only in certain states. While bettors in the UK can place their sports wagers regardless of where in the country they reside, only players located in certain US states will be able to access Betfred Sports.
In theory, through the use of a VPN, bettors could access Betfred Sports from other states, but they would be unable to bet or redeem the bonus, as new players must be verified before betting. This means that a player's state must be checked and confirmed before they can place any bets.
Currently, Betfred Sports operates legally in eight states. These are: Arizona, Colorado, Iowa, Louisiana, Nevada, Ohio, Pennsylvania, and Washington.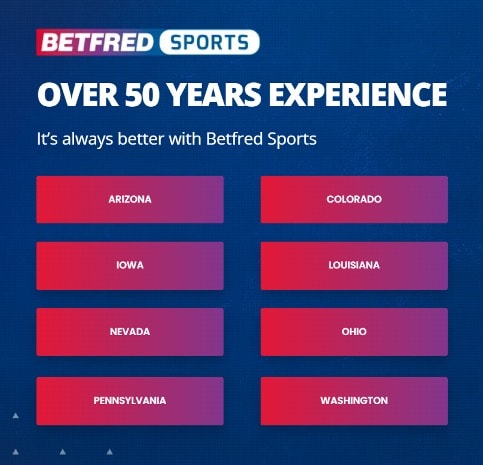 Betfred Sportsbook Bonuses & Promotions for Existing Players
Right now, the guys at Betfred Sports offer a pretty competitive welcome bonus, but that's not all there is to grab the attention of players. In fact, in terms of sportsbook bonuses and existing promotions, Betfred Sports may just be the place to be.
There are currently two football offers running. The first, known as the "Pro Football Early Bird Special" allows bettors on Tuesday to place wagers on the next Monday night pro football games and get 20% of their stake back as a free bet up to $20.
It also allows players on Wednesday to place bets for the next Monday night action and get 15% of their stake back as a free wager up to 15%.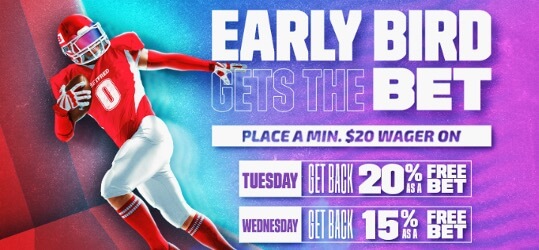 Other existing Betfred Sports promotions include "Double Take", which is a spin-off of an offer used by Betfred in the UK, where first scorer bets in soccer are paid out if the player scores again. Here NFL players can get a double pay out if they bet on a first touchdown scorer, who scores the first touchdown and goes on to score another.
There's also BETFRED BOOSTS for existing players. This is where Betfred Sports boost the odds of specific selections on a daily basis.
Golf bettors won't be disappointed if they send their action the way of Betfred Sports either, as the current "Pre-Match Golf Par-Tee" gives a little more bang for your buck.
Players who bet $100 or more in pre-tournament golf wagers will get a $25 free bet. That's one $25 free wager per customer, per tournament.
For those looking to dip their toes into the parlay pool, Betfred Sports' boosted parlays are great. Players can get added winnings on four-leg parlays up to $100 in free bets.
Existing players can also benefit from the VIP Program. VIPs will get personalized promotions, as well as other benefits such as personal hosts and box suites. The only way to become a Betfred Sports VIP is via invitation, though players who hold VIP status at other sportsbooks are encouraged to make themselves known.
$40 Free Bet + $500 Matched Bet
21+. T&C Apply
21+. T&C Apply
Awesome free bet offer
Massive range of sports
Betfred Promo Codes Reddit
Reddit, as a hub of information and conversation, is a great place for sports bettors. You can get involved in great sports betting conversations, share opinions, learn from others and come across a whole host of useful information that you may not find elsewhere.
At present, there is no dedicated Betfred Sports thread on Reddit, though you will find information and discussion regarding Betfred Sports. The image below shows a popular gambling thread (r/gambling), a community of over 70,000 Redditors, displaying information discussing the launch of the Betfred Sports mobile betting app in Arizona.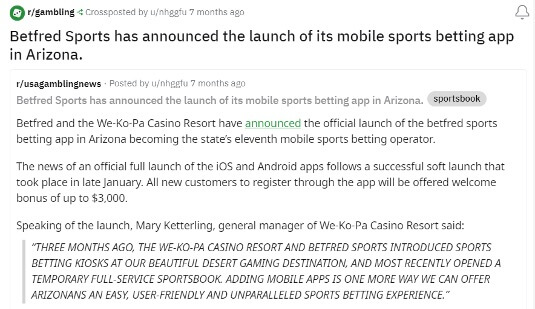 If you want to find out what other sports bettors in the US think of Betfred Sports, then Reddit is the perfect place for that, as it is awash with great threads and communities of dedicated US gamblers.
Unfortunately, when it comes to promo codes, there are better resources than Reddit. The trouble here is that promo codes and bonuses are ever changing and thus some of the information in that respect on Reddit can become outdated. Our links don't.
Betfred Sportsbook Information
As Betfred's assault on the US online sports betting front is relatively new, sports bettors may not know all the ins and outs. Realistically, Betfred Sports is an excellent option for those looking to lock in their bets.
There's plenty of sports to choose from. Whether you're an NFL bettor, an NBA bettor, or someone who likes to wager on golf, Betfred Sports has delivered an online betting platform that will meet your needs.
Their app is great too, but more about that below. First off, let's get into the markets and features that you can expect when you visit the guys attempting to take US sports betting by storm.
Betting Markets & Features
In terms of betting markets, the variety just keeps on coming. If you're looking to bet on any of the top sporting competitions, such as NFL, MLB or NHL, then you'll come across a plethora of markets. For example, on top of the usual " Spread" "Money Line" and "Total Points" markets, it's not uncommon to see that Betfred Sports has well over 100 markets for big games.
Take this recent NFL fixture between the Las Vegas Raiders and the Kansas City Chiefs. In addition to the usual three, bettors had a choice from 129 markets. Not bad at all.
The list of sports goes on too. There are betting options for Baseball, Soccer, Boxing, Ice Hockey, MMA, Motor Racing, Tennis and Volleyball. You can bet on competitions such as MLB, MLS, NASCAR, College Basketball, NCAAF and much more. There won't be a shortage of markets either.
If live betting is your thing, then both the online sportsbook and the mobile app deliver the goods in terms of odds, but you may be disappointed if you're looking for lots of options when it comes to both sports and markets. Compared to its pre-game betting, Betfred's live betting options aren't great, though it's expected that this will improve as the company strengthens its grip on the US sports betting market.
In terms of odds, Betfred Sports is reasonably friendly. When compared with other sportsbooks, they tend to offer similar odds, though can be found offering better than average odds on occasion.
Something that definitely makes Betfred Sports one of the superior online sportsbooks is odds boosts. As mentioned above, existing players can benefit from regular odds boosts. This means that they can place sports bets at bigger odds than those bettors playing with other legal sports betting companies.
For example, let's say that ahead of the NFL game above, you wanted to place a bet on the Raiders to win. In other words, bet them on the moneyline. By boosting your odds at Betfred Sports, you could get +350 instead of +280, thus giving you an edge over those playing at other sportsbooks.
Is Betfred Sports the best sportsbook? Probably not. After all, there are lots of strong sportsbooks, while there are some other sports betting apps that do a great job, many of which have been operating in the US for longer than Betfred. Don't think for one second that Betfred has failed to deliver a sports betting product that is sub par. That's far from being the case.
What's for definite is that if you're a sports bettor looking to spice up your action at a sportsbook with loads of options, a wide sports betting market selection, with competitive odds, that offers excellent mobile betting, and even great casino games, then you won't be disappointed.
Software & Betting Ease
Visit the Betfred Sportsbook website, or the Betfred Sports app, and you're not likely to be disappointed with the design. What's great is that they've kept things simple, yet slick. They've put together their website in a way that catches the eye without doing too much. Bettors won't be overwhelmed, instead they'll be met with a neat betting platform that is very easy to navigate.
Anything that a player could be searching for can be simply located from the homepage, where all of the main sports options are clearly detailed. The list of sports on the right hand side of the page allows players to find their chosen sport with ease, while the registration process for new players is straightforward.
Using the Betfred Sports betting app is easy too. Mobile users can experience the same betting experience as website users, perhaps with even more ease.
With the Betfred sports app, mobile sports betting has been simplified. You'll find quick menus and links to all of the main sports as soon as you login, while moving around the app couldn't be easier. If you click on a sport, such as MLB, you'll see a list of upcoming games, with quick Moneyline, Spread and Total Points odds displayed for each game. Additional betting markets and odds can be found by clicking on your chosen fixture.
Users on both IOS and Android can join the sports betting app revolution by downloading from their respective app stores for free.
Payment Options
For an online sportsbook to really make headway in the US, they need to offer no shortage of payment options. So, how do Betfred Sports rate in that respect? The answer in short, is very good.
There really is a pleasing variety to the payment options offered by the Betfred Sportsbook. For starters, all of the primary credit and debit cards are accepted. This means that you won't be disappointed if you're looking to use VISA, Maestro or Mastercard to transfer funds to and from your account.
If debit or credit cards aren't your thing when it comes to online gambling, then fear not, as there are other options too. Sports bettors can deposit and withdraw using AstroPay, Skrill, Neteller and paysafecard too. Bank transfer is also a viable option.
Deposits are instant, though customers may have to wait a while for withdrawals. Exact withdrawal times depend largely on the payment method. For example, those using a debit card for withdrawals can expect to receive their money within one to three days.
If you're the type of player who likes to keep your sports betting funds separate from your everyday funds, then you may choose to use an eWallet, such as Skrill. This may result in receiving your withdrawal faster. Reports show that Skrill users receive their withdrawals just 24 hours after processing.
On the subject of withdrawals, it is worth noting that you cannot withdraw your $250 in free bets, which will be paid as four free bets of $100, $50, $50, and $50. Once your free bets have been settled, any winnings can then be withdrawn.
Betfred Sports has also teamed up with a few physical casinos in the US, which means that players can deposit to their account using something known as cage-in-the-casino. If there's a casino in your area that is partnered with Betfred Sports, then you can visit and make a physical cash deposit, which will then appear as funds in your online betting account. Please note that to do this, your identification will need to be verified.
How does the Betfred Welcome Bonus Compare to Other Sportsbooks?
The Betfred Sportsbook is far from the only online sportsbook competing for bettors' dollars. As a result, most sportsbooks are fighting for position by attempting to offer the most luring welcome offer/bonus.
How does the Betfred Sports welcome bonus compare to other sportsbooks? It stands its ground, that's for sure.
Compared to say the Draftkings Sportsbook, which offers a

deposit bonus

of up to $1000, but only as a 20% match, the bet $50, get $250 from Betfred Sports looks great.
If we put the welcome bonus next to the bonus of say

BetRivers

, then again, it looks very healthy. BetRivers will give their new customers more money in free bets depending on the size of the initial deposit. So, sure, you can get $500, but you'll need to make an initial deposit of $500 first. In contrast, you can get $250 in free bets from Betfred Sports, for an initial deposit of just $50.
The offer isn't as sizable as what's being offered by

Caesars Sportsbook

, who will reward new players with a free wager if their first bet loses, up to a whopping $1,250. Again, though, you do technically get more for your money with Betfred, as to get $250 in free bets, you only need to deposit $50 initially. To get the $250 from Caesars you'd need to deposit $250 to start with.
Let's now compare the Betfred Sports welcome offer with the FanDuel welcome bonus. Again, FanDuel players can get a larger reward financially, though they'd need to deposit more, as

FanDuel

offers its new bettors a $1,000

risk-free bet

. In other words, open an account, place a $1,000 bet and if it loses, FanDuel will give you

$1,000 in free bet credits

. The best bit about this offer is that if your free bet wins, you can withdraw the winnings immediately, which is rare. Then again, you still get more for your money so to speak at Betfred Sports.
All in all, the welcome bonus of bet 50, get 250 offered by the Betfred Sportsbook more than holds its own when standing shoulder to shoulder with its competitors, and it's fair to say that new Betfred Sports bettors certainly get value for money in terms of their new player bonus.
Betfred Promo Codes Summary
By following one of the links on this page, and without entering a Betfred Sportsbook bonus code, new players can enjoy the Betfred Sportsbook welcome bonus, which is presented to players as a selection of free bets. This can be done by visiting the Betfred Sports website or by using the Betfred Sportsbook app, which is available to both IOS and Android users.
Here's how it will work. Let's say that you register for a new Betfred Sportsbook account and deposit $50 on Friday 14th January. On that day, you lock in your first $50 wager at odds of -200 or greater. When that wager has been settled, your account will be credited with a $100 free wager. The following Monday, which in this case, will be the 17th, your account will be credited with a $50 free bet.
In each of the following two weeks, new players must place a bet of at least $1 at odds of -200 or greater to receive two additional $50 bets, paid weekly.
Part of the fun is that you can place the free bet tokens however you like, though don't forget that the free bet stakes are not returned as part of the winnings. For example, if you were to place a normal bet of $50 on a +100 selection and win, you could expect a return of $100. However, if you place a $50 free bet on the same selection and it wins, you will only receive $50 in return. This is because you do not get the stake money back as it was a free bet.
Betfred Sportsbook Promo Code FAQs
Do I need a promo code to receive the Betfred risk-free bets?
To take advantage of the Betfred Sports welcome offer, you must enter a valid promo code or use our page links. Either must apply when you register for a new account.
How to use the Betfred promo code?
Follow any of the sign-up links on this page, which will take you to the new account page of Betfred Sports. Fill out the necessary information. By doing so, you won't need to use a bonus code.
Where do I enter the Betfred free bet promo code?
Once you've filled out your personal information and provided contact details, you will be invited to enter the bonus code, as shown in the image above. If required, simply enter the code on the assigned box.
Are there Betfred free play codes 2023?
At present, there are no Betfred free play codes, but those who follow the links on this page or enter the bonus code will benefit from the standard welcome offer.
How do I win free bets on Betfred Sportsbook?
Receiving free bets from Betfred Sports could not be easier. Just follow one of our links, register for a new account, make a first deposit and place a qualifying bet of $100, and you'll be rewarded with free bets to the value of $250, paid in four bets of 1x $100 and 3 x $50.
Can I bet on Betfred with my mobile device?
Sports wagering can be done using a mobile device. Bettors have two options. They can either visit the Betfred Sports website using their mobile browser. Or they can download the mobile app for free. The Betfred Sportsbook app is available on both IOS and Android.
How to get the valid Betfred promo code for their sportsbook?
If you follow our advice, use the bonus code provided and visit the Betfred website, or the Betfred Sports app, by following one of the many links on this page, then you'll have access to the valid Betfred Sports welcome bonus.
What is the Betfred no deposit promo code?
This is a code that applies to Betfred Casino players. New casino players can receive up to 50 free spins without even depositing. You heard that right, there's no deposit necessary.
All you need to do is sign up to Betfred using our casino link and you can get your hands on 50 free spins without depositing a penny.