Gamble USA strives to improve your online gambling experience. We aim to help you play safely, make informed decisions when gambling, and increase your betting knowledge through our guides.
We adhere to strict editorial integrity; our content may contain links to products from our licensed & legal US partners.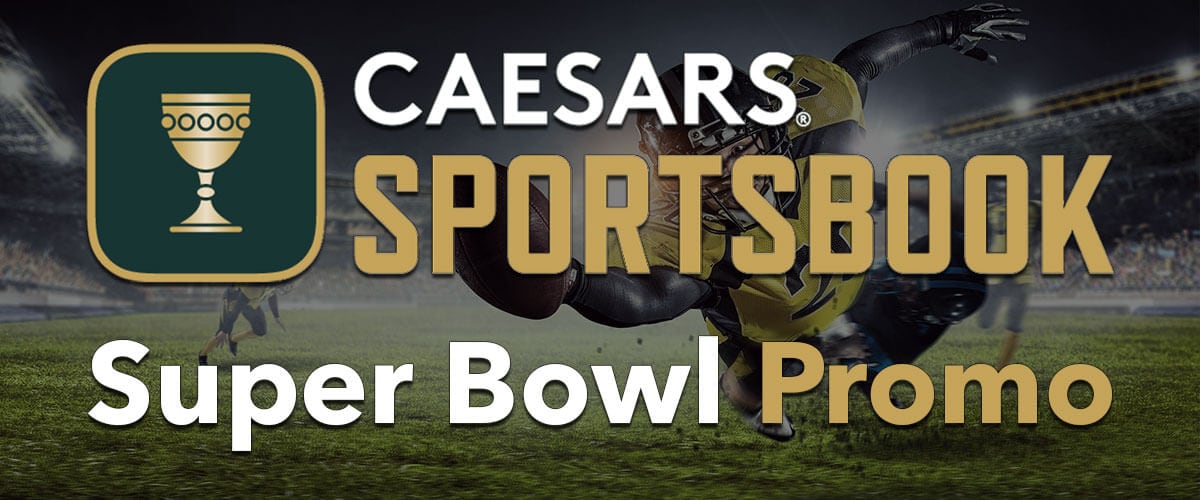 The Super Bowl is arguably the betting highlight of the NFL season, with a wide range of promotions on offer and plenty of competitive odds between sportsbooks. Caesars Sportsbook should have some sort of promotion available, and we'll be going through all of the specifics on this page.
Remember that these offers are exclusive to the fixture and cannot be combined with a standard welcome offer. You'll have to decide which suits your game better, but we're here to help!
The Caesars sportsbook promo code currently offers customers a first bet on Caesars up to $1,250. This bonus is available through our site using the promo code GUSAFULL. To claim it, you'll have to be a resident of the following states:
Arizona
Colorado
Iowa
Illinois
Indiana
Louisiana
Michigan
New Jersey
New York
Tennessee
Virginia
West Virginia
Wyoming
The offer will expire after 14 calendar days and can be used on any sporting market available within the Caesars sportsbook.
Promo Code: GUSAFULL
First Bet Is On Caesars Up To $1,250
21+. T&C Apply
21+. T&C Apply
Promo Code: GUSAFULL
Massive welcome bet offer
Earn Caesars Rewards
Promo Code: GUSAFULL
First Bet Is On Caesars Up To $1,250
21+. T&C Apply
21+. T&C Apply
Caesars Super Bowl Promo Explained
Unfortunately for all the NFL fans, the Caesars sportsbook Super Bowl promotion has not been released yet. This page is updated as soon as information becomes available. With the Super Bowl LVII currently scheduled for Sunday, the 12th of February, the promotion may be a few weeks away.
You will also come across many offers available in the weeks leading up to the big day. Last year saw the Rams take on the Bengals, and most online sports betting sites had specific betting options for their customers. While waiting for the bonus details, check out the Caesars sportsbook promo code already on offer.
You'll find any Caesars sportsbook Super Bowl promotions discussed here once they have been made available by the online sportsbook.
First Bet on Caesars up to $1,250
If you're looking to bet on a few fixtures before the Super Bowl, you'll have to claim one of the available promotions. Head to the Caesars sports betting app, and you'll find the promotion banner below.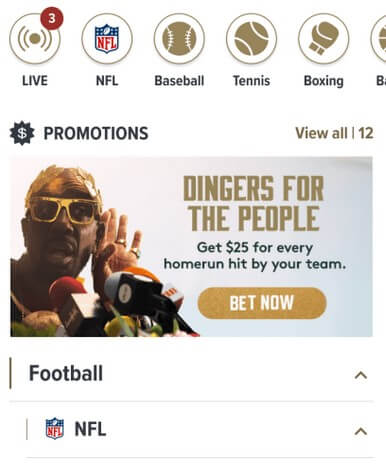 Currently, there's an incredible welcome offer of up to $1,250. You'll also be rewarded with an additional 1,000 tier credits and 1,000 reward credits when signing up. To claim the Caesars sportsbook welcome bonus, begin your registration process and use the GUSAFULL promo code.
Promo Code: GUSAFULL
First Bet Is On Caesars Up To $1,250
21+. T&C Apply
21+. T&C Apply
Promo Code: GUSAFULL
Massive welcome bet offer
Earn Caesars Rewards
Promo Code: GUSAFULL
First Bet Is On Caesars Up To $1,250
21+. T&C Apply
21+. T&C Apply
Remember that you will need to meet all the terms and conditions while opening your account. These include a minimum initial wager of $10 on your fixture of choice. The wager will also have to be placed through the Caesars online sportsbook page within 30 days of opening your account, so set a reminder!
If your bet wins, you'll simply receive your winnings relative to the odds of the event, and if the bet loses, you'll receive a welcome voucher equal to the wager that you placed or the maximum amount of $1,250. You'll also only have 14 days to use this voucher, so try to time when you sign up to have an eligible bet for the welcome offer.
This offer provides the perfect opportunities for bettors on the hunt for a big win! The maximum amount allows for a great Super Bowl betting opportunity. If all the Super Bowl promos don't meet your expectations, keep the Caesars welcome offer bet in mind.
Caesars Super Bowl Odds 2023
Super Bowl odds were recently made available on the Caesars sportsbook app, and margins were tight between the teams. The Chiefs are currently the favorites after Wild Card Weekend with odds of +320, respectively.
These odds differ slightly from the competition and offer customers an opportunity to win big by betting early. Outright Super Bowl winner odds were close to the announcement made by FanDuel earlier this year which favored the Bills at +600. With some games already being played, these odds could provide the necessary insight towards making your next wager.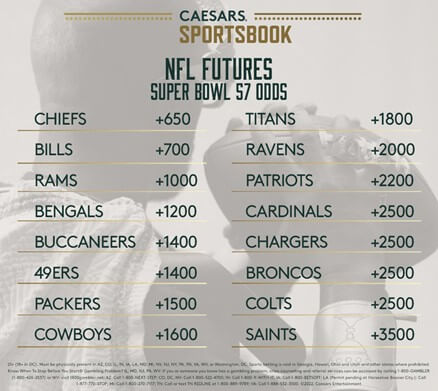 If you only plan on betting on the Super Bowl itself, you'll have to check back here before the game to find the latest Caesars odds for the even. The competing teams will only be determined at the end of the NFL season, and the odds will vary.
Consider using the Caesars sportsbook promo code for your first bet either on the Super Bowl or using your bet credits to place your stake on the match.
The Best Super Bowl 57 Sportsbook Promo Codes
With so many online sports betting sites competing for customers, you'll find that the promo codes can vary in quality. Our team here at Gamble USA keeps updated with all the offers and brings you the latest news in our bonus reviews.
Most offers are still in the works with sportsbooks but judging from previous promotions, you're likely to find something similar to the trend set last year with $560 deposit bonuses and 560% returns. For instance, Caesars rewarded customers with the option of new customer offers up to $560 for the Super Bowl, and we expect they'll have something similar in store for customers, just with the change to $570.
Not many Super Bowl promotions have been made available at the moment, but there are a host of incredible welcome offers with reputable sports betting sites. For instance, you could claim 2 welcome bonuses up to a total of $2,000 with PointsBet when you sign up, or you could double up with the $1,000 DraftKings deposit match bonus. The ideal way to make the most of all these promotions would be to sign up with a few of the online sportsbooks and utilize the rewards of each.
Tips on Using the Caesars Super Bowl LVII Promo
Every online sportsbook promotion will come with a list of terms and conditions to ensure that customers fairly make use of the offer. You'll need to keep a few things in mind while you are betting; let's look at some of the major points.
Study the Ts and Cs

If you've used a couple of online sports betting apps, you will likely be familiar with some of the terms and conditions linked to promotions, but they can drastically change. Whenever you open a new account, browse through the terms and conditions to see if any factors could exclude you from the rewards. With the Caesars sportsbook, you'll find the details by following the below link.
Promo Code: GUSAFULL
First Bet Is On Caesars Up To $1,250
21+. T&C Apply
21+. T&C Apply
Promo Code: GUSAFULL
Massive welcome bet offer
Earn Caesars Rewards
Promo Code: GUSAFULL
First Bet Is On Caesars Up To $1,250
21+. T&C Apply
21+. T&C Apply
Keep an eye on promotions
While the Super Bowl may be the climax of the NFL season, the promotions available may not be the best that the online sports betting market has to provide. You might find that opening an account and claiming the welcome bonus from Caesars will be more beneficial than the Super Bowl promotion itself.
Do your research
Follow the news, go through all the team details and try to gather insight into the match's outcome. The Buffalo Bills are favorites to take it with FanDuel, but each sportsbook generally has its own odds available. There are plenty of betting options for you; consider a moneyline bet or a point spread to place your wager. Consider all of these factors before placing any bets with online sportsbooks.
Bookmark this page
Finally, bookmark this page! The Caesars sportsbook promo code for the Super Bowl is not yet available, and it's only a matter of time before it's on offer. Once we have the details, you'll be able to find all of the specifics right here at Gamble USA. Check back to see if there are any updates so that you can compare the Caesars sportsbook welcome offer to the Super Bowl offer.
About Caesars Sportsbook
🏈Caesars Benefits
🎁Current Promotion
$1,250 Risk-Free Bet
📱Apps
Both iOS and Android
🇺🇸 States

AZ

,

CO

,

IL

,

IN

,

IA

,

LA

,

MI

,

NJ

,

NY

,

TN

,

VA

,

WV

and

WY

🤑Additional Rewards
Caesars Rewards and Tier Rewards Programs
☎️Customer Support
24/7 Live chat and email
💳Banking Methods
-

Visa


- MasterCard
- Discover
-

eCheck


-

Online Banking


- Caesars Sportsbook

Prepaid Play+ Card


-

PayPal


- PayNearMe
💻Live Streaming
Many live betting and streaming options
Caesars have been a prominent figure within the online sportsbook scene, and their quality extends to an online casino service as well. The sports betting service provider opened their doors in 1996 and fine-tuned its platform to what it is today. Their service is also backed by the merger with William Hill in April 2021, a postal and telephone betting service that dates back to 1961. Recently, they also partnered with Genious Sports to bring the Caesars NFL live streaming service to life.
You'll find a quality Caesars football betting app available for both iOS and Android devices, provided you're in a supported region. While using the app, you can browse through Caesars sportsbook promo codes and all the available betting options within their service.
The rewards program will also keep you coming back for more as they reward customers who are loyal to the Caesars online sportsbook service. You will earn Reward Credits as you place your wagers, and these can be redeemed at numerous destinations all over the US. Check out the map below for some options.
Customer service is available 24/7 using the live chat option. We reached out to determine the response time and managed to reach an agent within 10 seconds. Karen was friendly and had all the information necessary to clear up our concerns. If you have a more detailed request, you can also make use of the Caesars 'Email a Question' section to create a ticket.
Given the track record of Caesars sportsbook promotions, we won't be surprised if they offer another top-quality promotion for Super Bowl LVII. Their intent has already been shown with the odds available on the outright Super Bowl winners competing with the top sportsbooks on the scene.
Promotion terms and conditions are simple to understand, and if you have any further queries, you can always rely on the customer service team that is always available. Remember, you can only use one Caesars sportsbook promo code at a time, so if the welcome offer suits your strategy better, you might want to sign up with the welcome offer.
FAQ's
Does Caesars have a Super Bowl bonus code?
While it's expected to arrive in the next couple of months, Caesars has not yet released the details of their Super Bowl promotion. We're constantly on the lookout for new online sportsbook offers, so be sure to bookmark this page and check back for any new information.
Can I use the Caesars sportsbook welcome bonus on a Super Bowl match?
If you manage to meet all the terms and conditions of the Caesars sportsbook promo code, then you should be able to claim your free bet! If you'd like to actually use the free bet reward on the Super Bowl match, keep in mind that only the winnings will be awarded if your bet wins, not the actual bet value itself.
Can the free bet funds be withdrawn?
Unfortunately not. Once you qualify for the risk-free bet offer, you'll be credited with a voucher for the amount that was initially wagered. This voucher will need to be bet on a game of your choice, and the winnings can then be withdrawn if the placed wager is successful.
Are Caesars sportsbook promotions exclusive to new customers?
The current risk-free bet is exclusive to new customers, but there are occasional offers that are also available to existing Caesars sportsbook customers. The Super Bowl bonus code may be available for all customers to use, but we will only know the specifics once the announcement has been made.
Can free bet credit be used on a different sport?
Sure! The free bet is credited once your Caesars sportsbook account has qualified by meeting all of the minimum requirements. Once you've received your voucher, you can use it as you please. Just keep in mind that the bet cannot be split across multiple matches.