Gamble USA strives to improve your online gambling experience. We aim to help you play safely, make informed decisions when gambling, and increase your betting knowledge through our guides.
We adhere to strict editorial integrity; our content may contain links to products from our licensed & legal US partners.

As we enter the final stretch of the regular season, it's officially make-it-or-break-it time for all 32 teams of the NFL. Some will be looking to snatch a seat at the playoffs, while others will have their eyes on the grander prize of the biggest trophy in all of North America. But for punters nationwide, it's payday. That's because with Super Bowl LVII looming large, any sportsbook worth their salt is preparing big promotions — and of course, America's number one sportsbook FanDuel is no exception to this.
Last year FanDuel gave customers 56-1 odds for picking the winner, and so this year, it should be no surprise that we're expecting to up the ante by one by offering 57-1 odds for picking the winner. There are only two problems. First, it's a max bet of $5. And secondly, this offer can not be used at the same time as the FanDuel $1,000 No Sweat First Bet. So many new sports bettors make this mistake of not signing up until the last moment, and then are forced to choose between which of these two promos to take and which to waste.
No Sweat First Bet Up To $3,000
21+. T&C Apply
21+. T&C Apply
Convenient banking
Massive choice of sports
But it doesn't have to be like this. Sign up today to claim the No Sweat First Bet, and then when the big day rolls around, use those winnings with the Super Bowl Bonus to make the big game just that little bit bigger. That way, the only question you'll need to ask is, who's gonna win it all?
🏈FanDuel Super Bowl LVII Promotions
🤑FanDuel Super Bowl Promo (TBA)
57-1 Odds On Money Line Winner ($5 Max Bet)
🎁FanDuel Welcome Bonus
$1,000 No Sweat First Bet
🇺🇸 Available States

AZ

,

CO

,

CT

,

IL

,

IN

,

IA

,

KS

,

LA

,

MD

,

MI

, NH,

NJ

,

NY

,

PA

,

TN

,

VA

,

WV

and

WY

🎖️Favorites
Buffalo Bills (+370)
💵Great Value PIcks
Kansa City Chief (+460), Dallas Cowboys (+750), Tampa Bay Buccaneers (+2200)
🃏Wildcards
Carolina Panthers (+48000), New Orlean Saints (+28000)
FanDuel Super Bowl Promo Explained
The yearly FanDuel Super Bowl promo is easy to understand. For Super Bowl LVI, it was 56-1 odds, and for Super Bowl LVII, it'll (most likely) be 57-1. And you can claim it in three easy steps.
Sign up to

FanDuel sportsbook

via our links.
Select the Super Bowl LVII promo.
Place your $5 on the team you think will take it home.
And that's it. You call it correctly, and you'll walk away with $285.
No Sweat First Bet Up To $3,000
21+. T&C Apply
21+. T&C Apply
Convenient banking
Massive choice of sports
This isn't the only offer FanDuel has in store for the Super Bowl though, and veteran punters know that FanDuel brings out regular time-sensitive promos at varying times of the season. Already, lucky players who signed up at the start of the season got to claim $5 in free bets for each game their team won. And as the Super Bowl gets closer, you can expect more promos to come in.
How will you know when they arrive? Easy. Just bookmark this page. Because we've assigned members of our team to keenly monitor for new Super Bowl promotions at FanDuel, and as soon as they arrive, we'll update this section to include them. You can also view more Football betting promo codes here.
Risk-Free Bet up to $1,000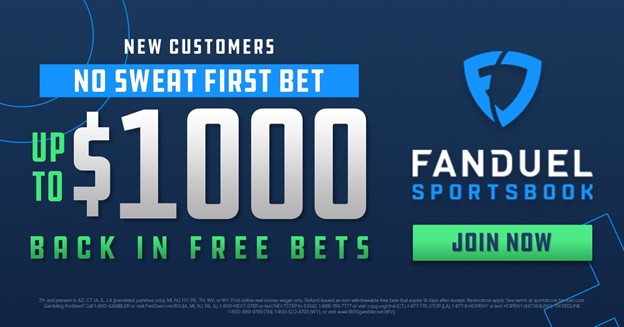 A $5 bet at 57-1 odds is good. But with a max profit of $280, it's fair to say that some people want to go a little bigger when it comes to Super Bowl betting. For those people, the FanDuel $1,000 No Sweat First Bet is perfect. With this bonus, you can wager up to $1,000 on the winner of the Super Bowl, and then if worse comes to worst and your team doesn't win, your full stake will be returned to you in the form of a free bet. For those looking to bet bigger, the risk-free bet is far superior to the Super Bowl bonus.
However, since the risk-free bet is a welcome bonus that can only be used on your first bet, the question arises — if you save it for the Super Bowl, what will you use in the meantime? Well, while FanDuel may be America's number one sportsbook, there are alternatives. So we recommend you reserve the FanDuel risk-free bet for the Super Bowl, and for now try one of the following sportsbooks.
PointsBet

— Exclusive to our readers, new users who sign up to PointsBet and use

code

GUSA during registration will get two risk-free bets at a combined max value of $2,000.

BetMGM

— The self-proclaimed King of the Sportsbook is now giving new users who sign up with code GAMBLEUSA an identical bonus to FanDuel. A $1,000 risk-free first sports bet. Pick one to sign up with today, and leave the other for the Super Bowl.

Caesars

— Caesars sportsbook is rewarding new users who sign up with code GUSAFULL with a risk-free bet of $1,250. Additionally, they'll also throw in 1,000 free tier credits and

Caesars reward

credits.
FanDuel Super Bowl Odds 2023
As of writing, the Divisional round is over and just four teams remain:
Kansas City Chiefs +250
Philadelphia Eagles +260
Cincinnati Bengals +260
San Francisco 49ers +310
Check out the picture below for a full list of odds.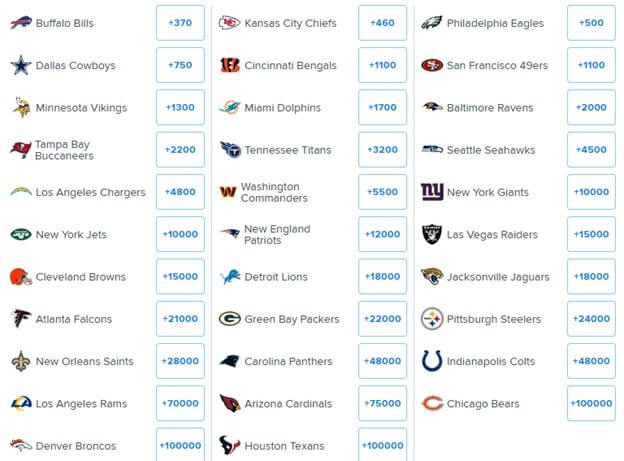 Highlights for Best Super Bowl Odds
While the Houston Texans, Denver Broncos, and Chicago Bears are all currently offering +100000, I think you'd be better off tossing your money in a wishing well. If you're desperate for that Hail Mary bet, the next highlight will be for you.
NFC South is the wildcard division. No team has more than five wins, so both the Panthers (+48000) and Saints (+28000) could easily make the playoffs — and from there, anything could happen. Brady's Bucs are also in this division — and for (+2200), I wouldn't bet against the GOAT getting ring number eight.
The Eagles are 11-1, but don't be fooled. The NFC conference is notably easier than AFC, and with the exception of their week 6 game over Dallas, they've yet to face any strong competition. For (+500), I'm not a big fan.
Kansas City started the season as favorites, and although they're now second in FanDuel's eyes — I think at (+460), they are excellent value.
Super Bowl LVI champions Rams may be tempting for (+70000), but they've looked out of it this season, and I think you'd be best off avoiding them. Similarly, runners-up Bengals (+1100) may seem tempting, especially after their win against Kansas. However they're just too inconsistent for this to be a smart bet.
The Best Super Bowl 57 Sportsbook Promo Codes
It's not just FanDuel though. With an estimated $7 billion being wagered, all online sportsbooks know that the Super Bowl is their busiest time of the year. Of course for many, it's too early in the season to launch the best Super Bowl bonuses; however sportsbooks tend to repeat their promos, and for those that want a peak at what they might be getting, we'll take a look at the best Super Bowl promos offered by sportsbooks other than FanDuel.
BetMGM — Low risk, high reward. That's the basis behind the BetMGM Super Bowl promo. Because last year, if you placed a $10 or higher bet on the game, then BetMGM would give you an additional free bet. If any team scores a touchdown, you'll get $200 in free bets. Given that there's never been a Super Bowl without a touchdown, this bet was as close to a sure thing as you could get. And sure enough, everyone who participated in it won $200 in free bets. You can check the

BetMGM 2023 Super Bowl promo code

here.

DraftKings

— DraftKings went a similar route as BetMGM last year. Though unlike BetMGM, DraftKings' Super Bowl promo had a bit of risk. That's because while they were offering $280 worth of free bets if you placed a

moneyline wager

of at least $5, your bet had to win to claim it. Discover the

DraftKings Super Bowl LVII promo

details here.
Caesars — Last year at Caesars, they took the phrase "go big or go home" to a much higher level as they offered their customers up to $560 in free bets. The catch? You had to place a

same-game parlay

with odds of at least 10-1. If you bet $10 or more and won, you'd collect $56. And if you went big and bet $100, you'd get the full $560. If you fancy some risk, you should learn more about the

Caesars Super Bowl promo code 2023

.
The best part of it all was there was nothing stopping customers from taking part in them all. So this year, if you haven't already, make sure you sign up for them all and take part in their promos. And if you're a new customer, you can also look forward to first deposit bonuses and risk-free bets.
Tips on Using the FanDuel Super Bowl LVII Promo
The FanDuel Super Bowl promo only comes once a year. So when it does, you have to know how to take full advantage of it. For seasoned online sports bettors, the Super Bowl is like Christmas in February, and in this section, we'll give you their tips so you can squeeze every last penny from your Super Bowl promo.
Read Terms & Conditions — Winning $1,000 is great, but if the bonus is sticky or has a massive 100x

wagering requirements

, then it's as good as garbage. These are usually tricks done by unlicensed offshore sportsbooks, so you won't have to worry about it when betting on a

legal online sports betting app

. Even so — you should still spend a few minutes reading through the fine print.
Use Welcome Bonus to Build Bankroll — The Super Bowl is not only the biggest game of the year, but also the last game of the season. You might think that's an obvious point. Though so many people save their welcome bonus till the big game, and then when they get their free bets, they realize there are no more games to bet on. If you

bet on other sports

, you'll be fine. Otherwise, you should use your welcome bonus to build up your bankroll so that when the Super Bowl comes, you can go big on that final bet of the season.
Bet Late — As kickoff comes nearer, the bonuses will get better, and more team news will be available. A great example of this came last year at Super Bowl LVI when total points over/under dropped from 50 to 48.5 just three days before.
Keep Up to Date — As the big game looms closer, it can get pretty hectic. Odds are changing; new promotions are coming in round the clock — if you're not used to it, it can be overwhelming. That's why we recommend you bookmark this page. We'll keep you informed about all the latest promotions so you can keep your eyes on the game itself.
You can check the table below for a quick summary of all the betting stats you'll need.
Super Bowl Key Stats
NFC Vs AFC Historical Head to Head
29-27
Favorites Vs Underdogs Historical Head to Head
37-19
Biggest Underdog to Win Super Bowl
1999 St. Louis Rams (+15000)
Teams with Most Super Bowl Wins
New England Patriots & Pittsburgh Steelers (6)
Player with Most Super Bowl Wins
Tom Brady (7)
NFC Favorites
Philadelphia Eagles (+500)
AFC Favorites
Buffalo Bills (+370)
Favorites for Super Bowl LVII
Buffalo Bills
How have the Bills gone in the past?
The Bills have made the Super Bowl four times — doing so consecutively from 1991-1994. They however lost all four games.
About FanDuel Sportsbook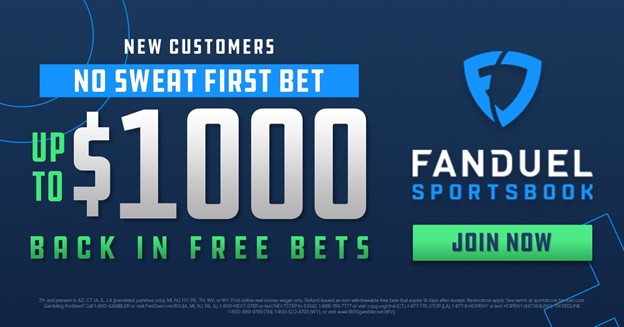 🏈FanDuel Summary
📱Mobile App?
Yes. iOS & Android Compatible
🎁Welcome Bonus
$1,000 No Sweat First Bet
🤑Other Promos
$50

Refer A Friend Bonus

💳Deposit Options
-

Credit Cards

and

Debit Cards


- Bank Transfer
-

eCheck


-

PayPal


-

Venmo


-

FanDuel Prepaid Card


- PayNearMe
-

Gift Cards

💵Withdrawal Options
- Bank Transfer
- FanDuel Prepaid Card
- PayPal
- Venmo
- eCheck
- Debit Card
☎️Customer Support Options
FAQ, Email Support, Live 24/7 Chat
❗Highlights
Americas #1 Sportsbook, Great Odds, Live Sports Stream
A great mobile app, an awesome welcome bonus, and a track record of the best Super Bowl promos — it's no wonder FanDuel is America's number one sportsbook. Sign up today to take advantage of their $1,000 risk-free bet, and get ready for Super Bowl LVII.
FAQ's
Who are the favorites for Super Bowl LVII?
While the Kansas City Chief started the season as favorites for Super Bowl LVII, this has now changed. As of writing, the Buffalo Bills are favorites at 370+.
Can the FanDuel welcome bonus be combined with the Super Bowl Bonus?
No. The FanDuel welcome bonus and Super Bowl bonus cannot be used at the same time. As such, we recommend you use the welcome bonus and sign up today to build a big bankroll and then combine those winnings with the Super Bowl bonus to go for the big payday.
When is Super Bowl 57?
Super Bowl 57 is scheduled for February 12th, 2023. It will take place at the home of the Arizona Cardinals, State Farm Stadium. However, with Arizona currently sitting 3rd in the NFC West, don't expect to see the home team making the big game.
What is the FanDuel Super Bowl Promo?
While it's still too early for FanDuel to announce their 2023 Super Bowl promo, we expect it to be a $5 max bet with 57-1 odds on whichever team you choose.