Gamble USA strives to improve your online gambling experience. We aim to help you play safely, make informed decisions when gambling, and increase your betting knowledge through our guides.
We adhere to strict editorial integrity; our content may contain links to products from our licensed & legal US partners.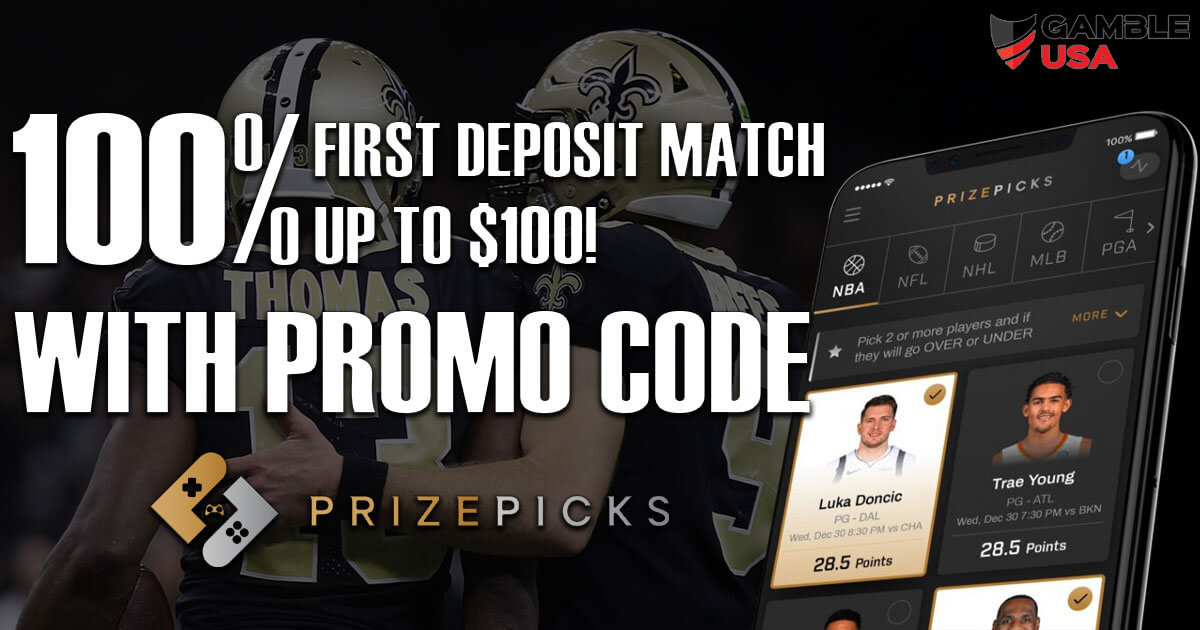 PrizePicks is a single fantasy sports platform that offers a simple way to enjoy daily fantasy sports. It is an Atlanta-based company that has been in operation since 2017 and now provides its services in 30 states in the US and Washington DC.
For anyone seeking an alternative to sports betting in states where it is not yet legal, PrizePicks is an excellent option. This guide provides information on the latest PrzePicks promo code, how to play on the platform, the sports markets you can find, how to register, and tips for winning on the platform.
Promo Code: GAMBLEUSA
$100 Instant Bonus 100% Match Rate
21+. T&C Apply
18+. T&C Apply
Less competition than on FanDuel & DraftKings
Best alternative to real money sports betting
You can download the PrizePicks mobile app for on-the-go access, and we provide steps on how to get the fantasy sports betting app on your device with a $100 free betting bonus.
PrizePicks Promo Code
🤑 Promo Code

GAMBLEUSA

🎁Offer
100% bonus up to $100
💳Requirements
$10 minimum deposit / 18+
🇺🇸 Promo Code States
AZ, AK, OR, CA, UT, WY, CO, NM, TX, OK, KS, NE, SD, ND, MN, AR, WI, IL, MI, KY, AL, GA, FL, SC, NC, VA, NY, VT, MA, RI, and Washington DC
⏱️Last Verified
November 2022
✅

Claim Offer!
New PrizePicks Promo Code: 100% match bonus up to $100
The PrizePicks promo code is an excellent offer you mustn't overlook if you're signing up for the first time. The current PrizePicks DFS promo code we have for you provides a 100% deposit match bonus of up to $100 on your first deposit.
To claim this bonus, here are the simple steps to take:
Go to the PrizePicks website (https://prizepicks.com) and begin the registration process.
Provide your email and enter the PrizePicks promo code GAMBLEUSA.
Complete the account registration and make your first deposit.
There are several other ways to get a PrizePicks promo code, including:
Referral code
Advertisements
PrizePicks partners
You can receive a referral code from a friend or send your code to friends, while you can find exclusive PrizePicks promo code advertisements on the official PrizePicks Twitter and Instagram pages.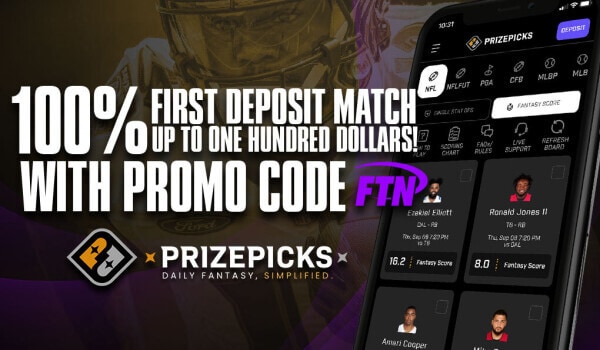 Terms and Conditions
Must make a $10 minimum initial deposit
You must be 18 years or above to play on PrizePicks
Available to citizens in the US who have a physical address and are in a state with PrizePicks legal operation.
Promo Code: GAMBLEUSA
$100 Instant Bonus 100% Match Rate
21+. T&C Apply
18+. T&C Apply
Less competition than on FanDuel & DraftKings
Best alternative to real money sports betting
PrizePicks Promo codes for Existing Players
PrizePicks doesn't currently have an exclusive promo code for existing players; however, excellent promotions are available. Popular existing player promotions include:
Taco Tuesday
This is a recurring promotion that every existing player on PrizePicks enjoys. With this promotion, you can enjoy a 15% to 25% discount on projections.
Members of the PrizePicks community are responsible for voting for the Taco discount via the community Discord or PrizePicks Twitter page. A player who wins the Taco discount will have the original projected fantasy points reduced by the discount amount and the image replaced by a Taco.
Referral Bonus
If you have many friends who seek your opinion on the best platforms to have fun, why not earn some money through referral services to PrizePicks? You can click on the "Invite Friends" button on your dashboard to find your PrizePicks referral code that you can share with friends.
PrizePicks will credit your promo funds account with $25 for every friend that signs up and deposits using your referral code.
Payout Boost Promotions
These are occasional promotions you can find on PrizePicks. Most of these promotions are seasonal, so you need to be online at the right time to participate in these events. One of the most recent payout boost promotions was the New Year's 2022 boost. Players who were a part of this event had a chance to win up to 22x their bets on any sports market on the PrizePicks site.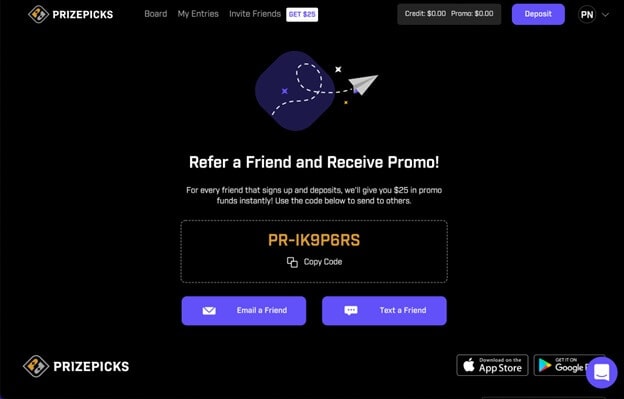 PrizePicks Reddit Promo Code
Several DFS fans visit Reddit searching for alternative promo codes for PrizePicks. During the writing process of this page, and weekly, we visited all relevant threads looking for any better or alternative Reddit promo code. Currently, GAMBLEUSA seems to be the best promo code for PrizePicks, as many Redditors also confirm. Using unsafe links or older codes to play on PrizePicks with free credits will not work.
PrizePicks Overview & Offerings
PrizePicks is a daily fantasy sports platform that allows you to make predictions (over or under) on two to five-player prop bets. You are responsible for the combination of your picks, and you get better payouts with more correct picks – as expected.
Unlike other daily fantasy sports platforms on which you must build a roster and compete with hundreds of other players, PrizePicks operates as a Single Player Daily Fantasy platform. You don't need to compete with other players, just make your picks based on your research, and wait for the outcome.
On a single-player fantasy platform, you don't have the restrictions of a salary cap; all you need to do is make an entry with a selection of over or under picks. The more correct picks you have, the better your payout.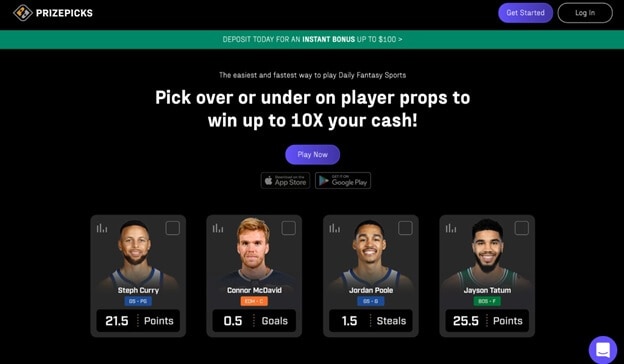 PrizePicks provides access to more than ten sports markets to pick from, and an exciting bonus of a 100% deposit match with a welcome offer max bonus of $100. There are different ways to play, and it is available in Washington DC and 30 other states in the US.
To allow you to interact with other players on the platform, you have access to the Instagram and Twitter pages of PrizePicks, and a members-only Discord channel with over 50,000 PrizePicks members.
The site and mobile app is user friendly, with easy navigation features, live chat, and a responsible gaming page for players with a gambling problem. Using a PrizePicks promo code gives you access to excellent bonuses, and you can reach out to the PrizePicks customer service if you have issues or need to withdraw funds.
How to Play on PrizePicks
To play on PrizePicks, there are easy steps you can take, and these are:
Select two to five player props to create your entry. Your entry can include players from multiple sports markets and stat types available on PrizePicks.
Go over or under for each

player prop bet

on your entry.
Now, choose between a Flex Play and a Power Play (we will provide more information on each play type later in this guide).
Set an entry-amount to see your potential payout if you win. PrizePicks has a $5 minimum entry amount, but this shouldn't be a problem if you use the GAMBLEUSA PrizePicks promo code on sign up.
Once you're all set, submit your entry and wait for the results in real-time.
Jubilate if your picks are green – this means you're winning.
Promo Code: GAMBLEUSA
$100 Instant Bonus 100% Match Rate
21+. T&C Apply
18+. T&C Apply
Less competition than on FanDuel & DraftKings
Best alternative to real money sports betting
Sign Up Process
To start playing on PrizePicks, you must create a PrizePicks account. The platform doesn't support a demo mode you can access without an account. You don't need to type out the URL in your address bar manually – just use the link we provide below:
Go to https://prizepicks.com and click on the "Get Started" button to begin the five-step process.
Provide your email address, enter a PrizePicks promo code (GAMBLEUSA), and click continue.
Enter your first and last name. The account information should match what you have on your driver's license for successful verification.
Provide your date of birth to verify you meet the age requirement.
Provide your physical address – you must be in an eligible location to play.
Set up a password for your PrizePicks account and continue.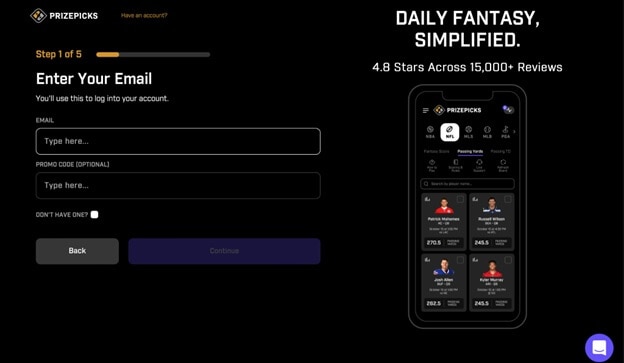 Deposit Options
To start playing on PrizePicks, you need to deposit money into the account you create. There are several deposit options on the platform, and these include:
PayPal Direct Deposits (the platform doesn't accept a deposit with debit or credit cards via PayPal)
Credit or debit cards like

Visa

, American Express, Discover, and Mastercard
How to use the PrizePicks Promo Code
To use the PrizePicks promo code to claim bonus offers, you need to provide the code when registering on the platform. These steps are already explained in the registration process earlier, but here is a quick refresher:
Visit https://prizepicks.com and start the registration process.
Enter the code GAMBLEUSA as the PrizePicks promo code when registering and complete the process.
Deposit into your account for your welcome bonus deposit match and start playing.
Every account has a "credit" and "promo" wallet, and to display deposited funds and your bonus funds should appear in your credit wallet.
PrizePicks App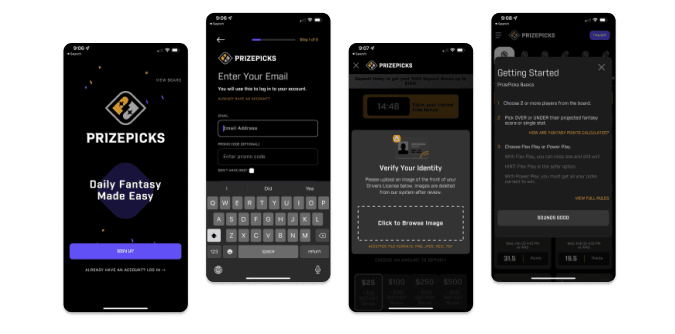 To ensure everyone has access to the PrizePicks platform whenever they desire, mobile apps are available for download. You can get the PrizePicks mobile app on your Android or iOS devices, and you can find the steps for each operating system below:
Downloading the PrizePicks iOS App
Head over to https://prizepicks.com on your mobile browser.
Click on the "Download on the App Store" button. This redirects you to the official

iOS betting app

on the Apple app store.
Hit the download button and wait for the process to complete.
Launch the PrizePicks app and follow the steps on the screen.
You can register for an account using the app or do so on the website by following the earlier steps.
Deposit money into your account and start playing.
Downloading the PrizePicks Android App
Open the PrizePicks website at https://prizepicks.com.
Tap the "Get it on Google Play" button. This isn't a real money online sports betting site, so the

Android betting app

is available on the Google Play store.
Download the app and wait for it to install on your device.
Open the PrizePicks app and create an account if you don't already have one.
Make sure you use a PrizePicks promo code, make your first deposit and enjoy the fantasy sports offer.
Gaming Contests at PrizePicks
The gaming options at PrizePicks are available as contests. You can pick two contests – Flex Play Contests and Power Play Contests- when you decide to play. These are unique features that make the daily fantasy sports prop bets on PrizePicks exciting.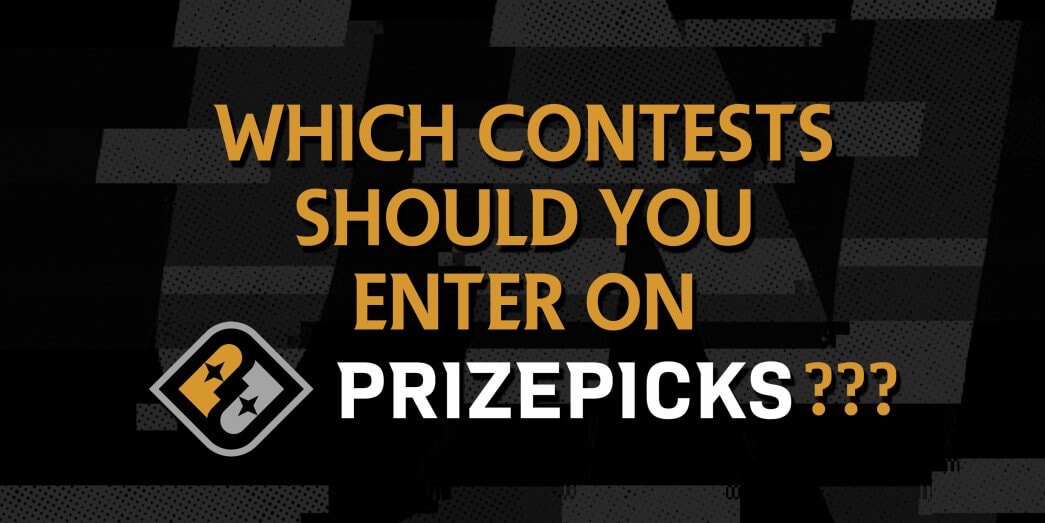 Flex Play Contests
Once you make your picks on PrizePicks, you can select the Flex Play. It is an option for individuals who want a low-risk bet that assures them of a decent payout event with a few wrong picks.
The Flex Play option is simple to understand and the safest option for players still new on the PrizePicks platform. Although the payouts on the Power Plays are better, you still get decent winnings with the Flex Play contests. Here is a quick look at what you can expect:
5-Pick Flex Play: You get a 10x payout if you win all five picks (5/5), a 2x payout for four correct predictions (4/5), and a 0.4x payout for three picks (3/5). On a $20 bet, you win $200 for 5/5, $40 for 4/5, and $8 for 3/5.
4-Pick Flex Play: Here, you win a 5x payout for all four player props (4/4) and 1.5x for three picks (3/4). On a $20 bet, you get $100 for 4/4 and $30 for 3/4.
3-Pick Flex Play: For a $20 bet with a 3-pick flex play, you win 2x ($40) for three winning picks (3/3) and 1.25x ($25) for two correct predictions (2/3).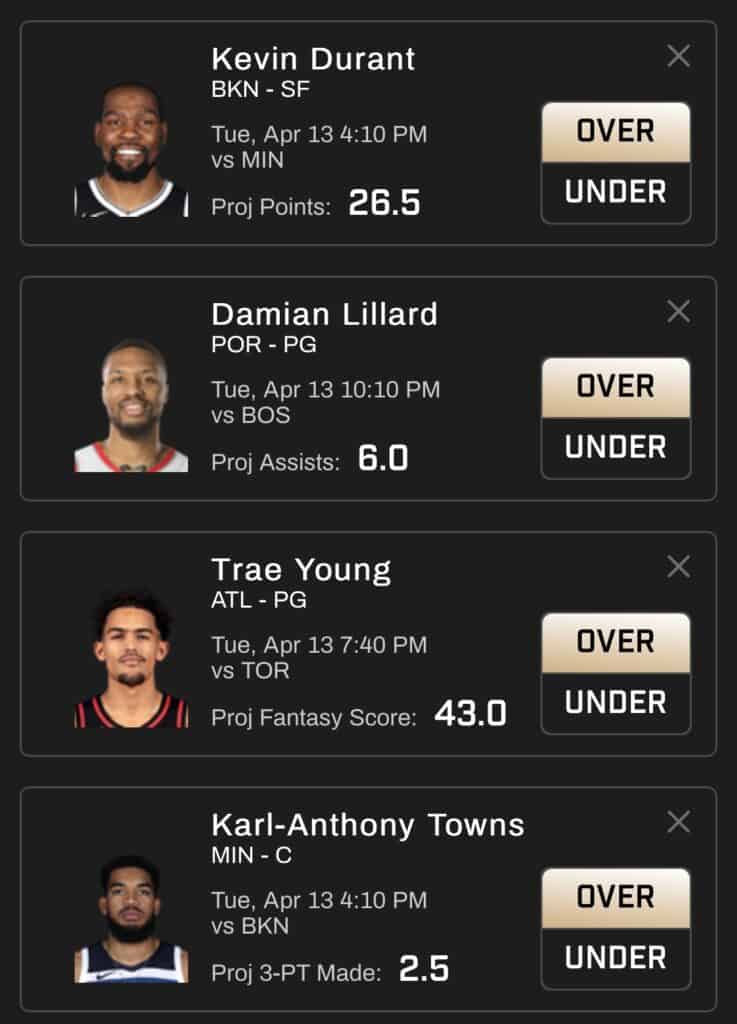 Power Play Contests
Staying to build your expertise and confidence on the PrizePicks platform has its rewards, and you can reap these rewards through the Power Play contests. It is a high-risk, high-reward gaming option for veterans on the site, with a potential for massive payouts if you get all picks correctly. The payouts for various picks are as follows:
4-Pick Power Play: You get a 10x payout for four correct predictions in this mode. For a $50 bet, you win $500.
3-Pick Power Play: Winning all three picks earns you a 5x payout. This implies a payout of $250 on a $50 bet.
2-Pick Play: With this option, you can win 3x your bet for two correct predictions. A potential payout of $150 is up for grabs with a $50 bet.
Special Payouts
The special payouts on PrizePicks are unique and available on specific sports markets. These markets include:
PGA
MLB
College football
NFL
You also need to make a combination that consists of specific picks like a Quarterback with his wide receivers or a Quarterback with his tight-ends. For these combinations, the payouts on a win can go as high as 15x if you're correct.
On a sports market like PGA, a payout as high as 12.5x is possible on the PrizePicks platform.
Promo Code: GAMBLEUSA
$100 Instant Bonus 100% Match Rate
21+. T&C Apply
18+. T&C Apply
Less competition than on FanDuel & DraftKings
Best alternative to real money sports betting
Sports Markets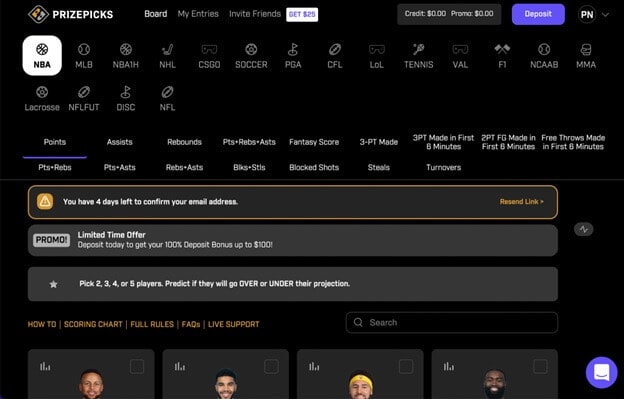 PrizePicks offers access to many of the most exciting sports markets in the world. You can enjoy your daily fantasy sports betting in any of the following markets:
Basketball

(NBA and WNBA)
Tennis
PGA
NCAA Basketball, Baseball, and Football

Esports

(COD, League of Legends, CSGO, Apex Legends, Rocket League)
Cricket
How to win at PrizePicks
Daily fantasy sport is a pastime for entertainment purposes that is suitable for everyone – but this doesn't make it easy. To win as DFS players, you need to put in the work, and this often means working as hard as individuals who engage in real money sports betting. PrizePicks does simplify the process for DFS players, but there are certain actions you can take to ensure you make correct picks, such as:
Perform extensive research and don't pick based on emotions.
Focus on sports you know about (PrizePicks offers more than ten major sports markets).
Make the most of your bonuses. Don't miss out on the 100% match up to 100 dollars when using the PrizePicks promo code GAMBLEUSA.
Learn effective bankroll management strategies on DFS sites.
Where is the PrizePicks Promo Code Valid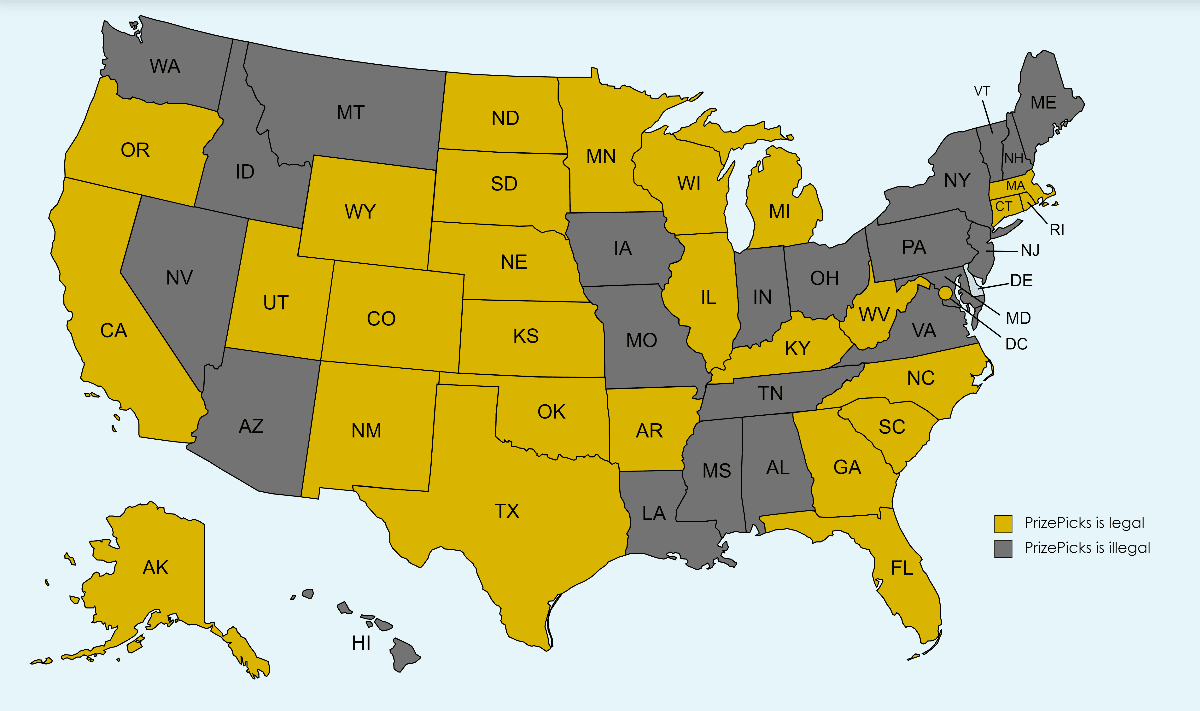 You can enjoy the exciting services of PrizePicks in most of the states across the US. If you decide to enter the promo code, here are the states where PrizePicks is valid:
Alabama
Alaska
Arizona
Arkansas
California
Colorado
Florida
Georgia
Illinois
Kansas
Kentucky
Massachusetts
Michigan
Minnesota
Nebraska
New Mexico
New York
North Carolina
North Dakota
Oklahoma
Oregon
Rhode Island
South Carolina
South Dakota
Texas
Utah
Vermont
Virginia
Washington DC
Wisconsin
Wyoming
Promo Code: GAMBLEUSA
$100 Instant Bonus 100% Match Rate
21+. T&C Apply
18+. T&C Apply
Less competition than on FanDuel & DraftKings
Best alternative to real money sports betting
PrizePicks FAQs
How do you get free promo on PrizePicks?
You can sign up for PrizePicks with the promo code "GAMBLEUSA" to get your first deposit doubled up to $100. Once you sign up with code "GAMBLEUSA", you'll be taken to the deposit page. You'll then be able to choose your initial deposit amount, with the minimum being $10.
How do you use promo codes on PrizePicks?
Head to prizepicks.com and click start playing now. Enter your contact detail, and promo code "GAMBLEUSA" and click create an account. Deposit and Done!
Is PrizePicks available in all states?
No, PrizePicks is only available in 30 states, including AZ, AK, OR, CA, UT, WY, CO, NM, TX, OK, KS, NE, SD, ND, MN, AR, WI, IL, MI, KY, AL, GA, FL, SC, NC, VA, NY, VT, MA, RI, and Washington DC.
Can I win money on PrizePicks?
Yes, you can win money playing on PrizePicks.
Can I withdraw winnings on PrizePicks?
Yes, you can make withdrawals on PrizePicks. You do have to meet a minimum requirement for this withdrawal.
Is there a minimum deposit to claim the welcome bonus from the promo code?
Yes, you must make a $10 minimum deposit.
Is there an entry fee on PrizePicks?
Yes, some contests require an entry fee. The entry fee will vary depending on the contest you want to enter.
How do I contact the customer service team at PrizePicks?
There is a live chat feature to get in touch with the PrizePicks customer service team, and the response time is usually within 5 mins.