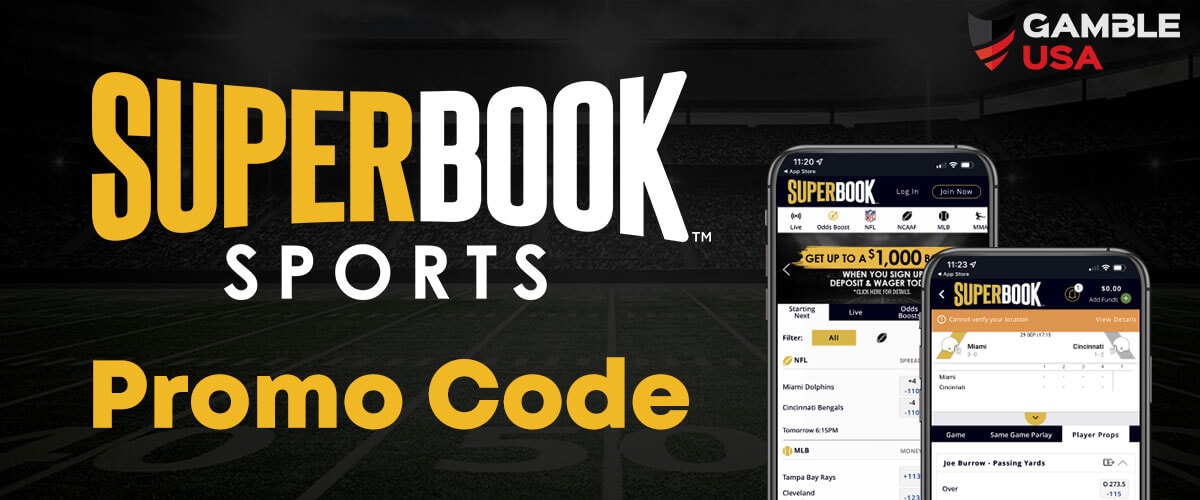 SuperBook started out in Las Vegas in 1993 and has since expanded to the online sports betting industry. Their service is available in 7 states with new additions being announced regularly. New players can use the latest SuperBook promo code to land one of the best welcome offers going.
There is currently a 100% matched bet up to $250 as a bonus voucher and our team has taken a close look at exactly how useful this bonus can be.
We'll be running through all of the bonus details, how you can claim it, what else the sportsbook offers, and just how all of this compares with the rest of the industry. Let's first run through the bonus format:
🏈SuperBook Sportsbook Promo Codes
📜Bonus code

Click here

🎁Amount
100% matched bet up to $250
💲Minimum odds
-200 or less
💵Minimum deposit
$5
📅Expiration date
30 days after being awarded
🇺🇸 Available states
AZ, CO, IA, NJ, OH, TN, NV
What is the SuperBook Promo Code?

New customers opening an account with the SuperBook online sportsbook can look forward to the $250 bonus voucher promotion that is available. There is no promo code required to opt-in for the offer, all you need to do is make sure that your first bet after opening your account meets the requirements of the bonus. No matter if the bet wins or loses, you'll be credited with your bonus voucher within 24 hours.
The SuperBook sports promo code is offered as a voucher after your first bet. Choose an amount you can afford between the minimum of $5 and the max of $250, make a deposit, and you'll receive a voucher matched at 100% value. The voucher can be used to boost further bets by 25%. We'll need an example to explain, let's say you're betting on this match shown below:

Usually, a winning $100 bet would return $190.91 and a winning $75 bet would return $143.18. With the bonus voucher, 25% of your bet is covered by the sportsbook. So, your winnings of the '$100' bet would be $90.91 and your initial cash bet of $75, totaling $165.91. That's an extra $22.73 of winnings!
The best part of this offer is that you don't need to win or lose to claim the bonus funds, simply make a qualifying bet to the value you'd like to be rewarded with and your account should be credited with the bonus voucher within 24 hours. The credited funds can also be used multiple times, so you don't have to make one big bet to take advantage of the boost.
The downside of this is that you'll always be betting with real money and the bonus just boosts the potential return. You'd have to spend a total of $1,000 to use the maximum value bonus voucher.
It does require a little bit of math to calculate exactly how much more you're getting, but the promotion always offers a higher potential payout, no matter the odds.
Up To $250 Bonus
21+. T&C Apply
21+. T&C Apply
Huge betting markets
Super competitive lines
In-play betting
SuperBook Free Bets No Deposit
No deposit promo codes are the holy grail of sportsbook offers as they allow customers the opportunity to try out a service without actually depositing any funds. These sports betting offers are incredibly scarce and unfortunately, SuperBook does not have one available at the moment. They are known to keep promotions rolling over, so be sure to check back to this page every now and then to see if there is a SuperBook no deposit free bet bonus.
It's also worthwhile to mention that no deposit bonuses are usually tied to some rollover requirement or a deposit requirement, so you might have to bet the funds several times before you can withdraw the cash or you might simply be able to add to the funds by making your own deposit. Always read the terms and conditions closely.
How to use the SuperBook Sportsbook Promo Code
Let's get into the details of how you can go about claiming this first bet match bonus. You're going to need an active account before you can do anything. Either visit their site by following one of our links, head to superbook.com or download the SuperBook mobile sportsbook app and click the 'Join Now' button shown below:
You'll need all of your personal information for the next couple of steps so make sure you have the documents nearby. It's first your account information (e-mail address, password), then your personal information (SSN, physical address), then further information (employment, earnings), and finally your payment information. Complete all these steps and submit your verification documents to gain access to the SuperBook online sportsbook.
Once this is all done, deposit the amount you're hoping to use for the bonus and place your first bet! It'll need to be on a match with odds of -200 or less. No matter the outcome, you will be awarded a 100% bonus voucher match up to the value of $250. Thereafter, the bonus funds are applied at a rate of 25% to your future bets. The actual funds of the voucher are also not credited to your account if your bet wins, only the winnings of the extra 25%.
It's important to note that this offer only applies to your very first bet on the service. You will also need to place the bet on the same day of opening and verifying your SuperBook account. After that, you'll have 30 days to use any funds linked to the voucher.
What States Can Use the SuperBook Sportsbook Promo Code?
The SuperBook first bet match bonus is currently only available in six of their supported states, they're shown below:
Just keep in mind that you will not be able to bet on collegiate sports if you're in Iowa, Colorado, Arizona or New Jersey. If you're in the Garden State, you'll be able to be on college matches in other states but not on New Jersey teams or any matches being played within the state.
Besides the state limitations, this bonus is only available to new customer accounts. You will also need to be over the age of 21 to open your account. There is a verification process that will need to be completed after you've opened your SuperBook sportsbook account. Residents of Nevada will have to visit the retail partner, Westgate Las Vegas Resort, to verify their online account before they can make any bets.
SuperBook Sportsbook Bonuses & Promotions for Existing Players
If you've already claimed the SuperBook welcome bonus, you can expect even more rewards on the horizon! Our team found that the sportsbook frequently puts boosts and bonuses on offer for existing players too. Below is an example of a promotion that was available for an upcoming UFC betting event.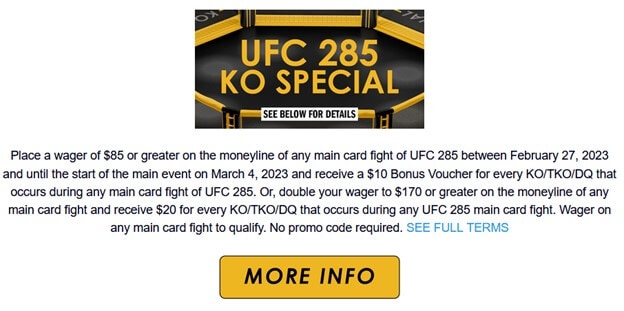 The offers are usually restricted to specific sporting markets when big events are scheduled so be sure to check back before you place your bets. Existing customers can also expect odds boosts and bonuses tied to the SuperBook loyalty program.
SuperBook Sportsbook Information
🏈SuperBook Sportsbook
🔥Betting markets
Football, Australian rules, baseball, basketball, boxing, hockey, soccer, MMA, rugby, golf, and auto racing
💳Payment methods
Credit or debit card, PayPal, Paysafe, and Play+
🤑Additional rewards
Loyalty program and existing customer promotions
📱Mobile app
Yes, both iOS and Android
⭐Betting options
Great odds with a large variety of bet formats
Our SuperBook sportsbook review found that the service offers so much more than their welcome bonus. From a range of rolling promotions to an extensive sports betting market with competitive odds, the service has made sure they've got their bases covered for an in-depth review. Let's take a closer look at what our experts found.
Betting Markets & Features
There are plenty of betting markets available within the SuperBook service. After you've opened your account, you can place your bets on football, Australian rules, baseball, basketball, boxing, hockey, soccer, MMA, rugby, golf, and auto racing. These markets may change depending on what state you are accessing their service in, but there is always a variety of options available.
The SuperBook app also features access to its renowned SuperContest challenge. The feature is football specific but it offers massive prizes to bettors who have what it takes to go all the way. Besides that, the service features access to live betting markets, detailed guides on betting options, frequently updated tips and tricks to help you along your way, and a dedicated customer service team.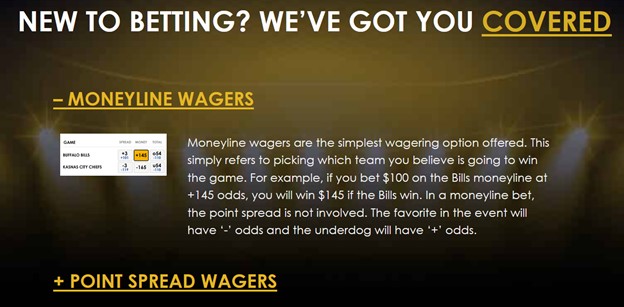 Software & Betting Ease
The SuperBook mobile app has been recently revamped to ensure that customers can place their mobile bets with ease. It's available with most devices and received a relatively low rating due to the outdated app that was previously available. Now that they've spent some time on it, we can assure you that they are competing with the rest of the industry. Our team couldn't fault the design as we were able to register, deposit, and make our bets with ease.
Residents of Nevada will have to keep in mind that their mobile app will need to be verified in Las Vegas at the Westgate Resort. After you've verified your account you will be able to place your bets from anywhere in the state. Visitors to the state can also go through the same process.
Payment Options
Finally, our team evaluated the SuperBook sports mobile app payment options compared to other sportsbook offers. Users can make their deposits using a credit or debit card, PayPal, Paysafe, and Play+. Remember that only your initial wager will be considered for the welcome promotion so you'll have to make a $250 deposit to claim the maximum value of the offer. The online sports betting platform accepts minimum deposits of $5 but visitors of the Westgate Superbook can only make a lowest minimum deposit of $100.
Customers are also only able to quickly withdraw their funds by using a Play+ account or with Paysafe. This is very limiting when compared to other online sportsbooks so we hope they offer alternative methods fairly soon. The minimum withdrawal limit is $10.
| 💳Method | 💵Min. deposit | ⏱️Deposit time | 💵Min. withdrawal | ⏱️Withdrawal time |
| --- | --- | --- | --- | --- |
| Debit/credit | $5 | Instant | - | - |
| PayPal | $5 | Instant | - | - |
| Play+ | $5 | Instant | $10 | 1-3 days |
| Paysafe | $5 | Instant | $10 | 1-3 days |
How does the SuperBook Welcome Bonus Compare to Other Sportsbooks
Up To $250 Bonus
21+. T&C Apply
21+. T&C Apply
Huge betting markets
Super competitive lines
In-play betting
The SuperBook promo code is a scarce format when compared to competitor's offers. You'll mostly find matched deposits and free bets available at the moment so the promotion could be of interest to bettors looking to try something new. That being said, the bonus amounts of the other promotions are much greater and could offer more rewards depending on how you plan on betting.
Promo Code: GUSA1000
$1,000 First Bet on Caesars
21+. T&C Apply
21+. T&C Apply
Promo Code: GUSA1000
Massive welcome bet offer
Earn Caesars Rewards
Promo Code: GUSA1000
$1,000 First Bet on Caesars
21+. T&C Apply
21+. T&C Apply
In terms of state availability, the SuperBook promo code is also lacking. It's in six states with Maryland, Virginia, and West Virginia coming soon. Caesars sportsbook is currently available in 17 different states with a bonus amount that is five times greater than the SuperBook promo code.
If you're not too concerned about high roller bonus amounts and you're located in one of SuperBook's states, then the offer could mean increased winnings after your account has been verified. The percentage bonuses are fairly decent when compared to the competition and the odds boosts on SuperBook sports may prove to be even more beneficial over time.
The limits on the bonus are also quite low when compared to other promotions. This means that you can claim the offer by putting in less when you are just getting started, but a $5 bet will also only be a $5 reward. That's still better from the 20% deposit bonus on DraftKings Sportsbook.
Up To $1,000 Deposit Bonus
21+. T&C Apply
21+. T&C Apply
The best sportsbook
Amazing odds & offers
Awesome betting app
Up To $1,000 Deposit Bonus
21+. T&C Apply
21+. T&C Apply
SuperBook Promo Codes Summary
The SuperBook sportsbook has made significant progress in its service development and can now compete with the likes of the big names within the industry. Their app was recently revamped to address their negative reviews on mobile app stores and our team couldn't fault the website and the mobile version. There are plenty of sporting markets available with odds that are on par with most of the industry.
The service is quite limited in terms of state availability, there are only six that are live with three more on the horizon. Customers should also keep in mind that they will have no selection or a reduced selection of college betting options in Iowa, Colorado, Arizona, and New Jersey.
The welcome bonus does reward new customers with a significant percentage increase in potential winnings and has fairly low minimum odds to bet on. This ensures that you can make the most of the bet match bonus voucher and try your luck with additional promotions within their service. The most important term to remember is that the bet has to be placed on the same day as your account enrollment.
Our SuperBook online sportsbook review certainly awards the operator a favorable recommendation but there are definitely higher-value options out there. The SuperContest does provide an additional competitive edge for football fans and new SuperBook promotions will keep the upcoming seasons exciting. Once again, the choice is always yours and this sportsbook might just be the ideal destination for your betting style.
FAQ's
Do I need a promo code to receive the SuperBook risk-free bets?
No, you don't! The bonus that's currently available requires no code. You simply have to open your account and meet the terms and conditions on their site.
How to use the SuperBook promo code?
Simply sign up for an account in Arizona, Colorado, Iowa, New Jersey, Ohio, or Tennessee. There's no promo code required, you'll simply need to make your first wager up to a value of $250 on a match with odds of -200 or longer.
Where do I enter the SuperBook free bet promo code?
You won't have to enter a promo code while signing up for SuperBook. All you have to do is register and meet the conditions that are set on the promotion.
Are there SuperBook free play codes?
There aren't any free play codes currently available but there is a $250 welcome bonus voucher on offer.
How do I win free bets on SuperBook Sportsbook?
The $250 bonus voucher is claimed by opening and verifying your account within a supported SuperBook state. After that, you'll need to make a qualifying first bet to be awarded the promotion.
Can I bet on SuperBook with my mobile device?
Yes, you can! SuperBook has a newly revamped mobile app that is available on most devices. Simply head to their page and follow the links to find the app on your mobile store.
How to get the valid SuperBook promo code for their sportsbook?
There is currently no promo code for the SuperBook bonus. You only have to make a qualifying bet on a newly opened account to claim the offer.
What is the SuperBook no deposit promo code?
The promotion is currently a bonus voucher up to the value of $250 but you will need to make a deposit to claim it. There is no promo code for a no deposit offer within their service.