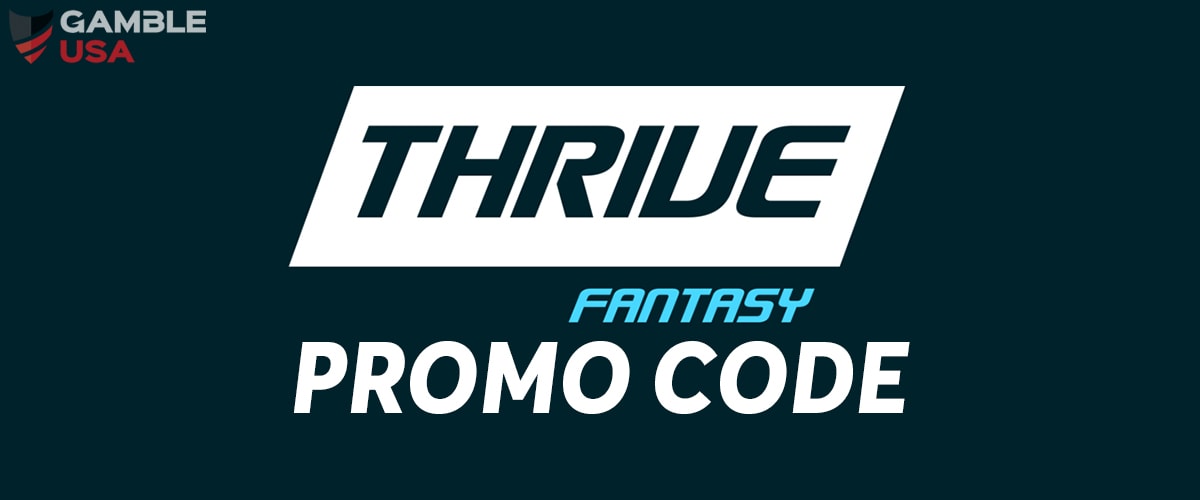 We all remember when playing Daily Fantasy Sports was a niche online gambling hobby for die-hard sports fans ready to spend hours figuring out the salary cap in each of their lineups. However, those days are far behind us, as we now live in the golden era of Daily Fantasy Sports, where sports fans of any level can compete in various highly engaging yet very simple contests.
ThriveFantasy is a Daily Fantasy Sports platform that stands out due to its ability to perfectly blend Over/Under prop bets with guaranteed prize pool contests by offering players opportunities to win money by competing in a very fun format in the nick of time. Using a promo code for this DFS app can further enhance the overall experience, since budgeting your team won't be an issue with up to $250 free on your first deposit.
ThriveFantasy lets users compete against the platform or go head-to-head with other users in 33 U.S. states. The platform is super-mobile friendly and its responsiveness on my iOS device blew me away. On top of that, ThriveFantasy has a generous welcome bonus that I'll tell you more about in detail.
100% Deposit Bonus up to $250
Instant deposit match
Fast & easy withdrawals
Over Under player props
ThriveFantasy New Player Bonus
With the excitement of the NFL season heating up as we speak and the start of the NBA regular season approaching, ThriveFantasy is a great DFS option for sports fans who like to bet on Over/Under prop bets or enjoy competing against fellow players in draft-style prop contests.
If you haven't had a chance to open a Thrive Fantasy account yet, you can do it now and make the most of the generous new player Thrive Fantasy promo.
| 🎁Welcome Bonus | 💵Minimum Deposit | ❗Bonus playthrough requirement | 📅Bonus expiration window | 🇺🇸 Eligible states | 💳Deposit methods | 📜Promo code |
| --- | --- | --- | --- | --- | --- | --- |
| A 100% deposit match in bonus funds up to $250 | $25 | 2X | 45 Days | AK, AR, CA, CO, CT, FL, GA, IL, KS, KY, ME, MD, MA, MI, MN, NE, NH, NJ, NM, NY, NC, ND, OH, OK, OR, RI, SC, SD, TX, UT, WV, WI, and WY. | Credit card, E-check, PayPal, Prizeout | / |
Do I need to enter a ThriveFantasy Promo Code?
When you visit the Thrive Fantasy app or website on your own, you will get an option to enter an exclusive ThriveFantasy promo code during the registration process. However, you don't need to do that since you can qualify for the Thrive Fantasy promo by simply using our link.
ThriveFantasy Welcome Bonus
ThriveFantasy has a generous welcome bonus that can be a great way to start your Props-based DFS journey. And, as mentioned above, you do not need to use any ThriveFantasy promo code to get it as long as you register via our sign-up link.
To use the ThriveFantasy welcome deposit bonus, with or without a Thrive Fantasy promo code, individuals must meet two essential criteria: first, they must be physically located within one of the 33 states where ThriveFantasy is licensed to operate, and second, they must meet the minimum age requirement of their state.
Although it may not be the absolute top in the industry, the Thrive Fantasy bonus for new users surely ranks among the most generous among the American Daily Fantasy Sports elite. Once you redeem it, Thrive Fantasy gets you a 100% deposit match up to $250.
In practical terms, if you make an initial deposit of $250, you will receive an additional $250, totaling $500, that you can use to enter various prop contests from the contest lobby such as traditional and versus contests, but also in prop lobby games.
However, as with any other bonus or promo offer, this one also comes with a clear set of rules and wagering requirements that I will break down for you.
How to Redeem The ThriveFantasy Promo Code
ThriveFantasy has one of the largest prize pools ever seen on a Daily Fantasy site, and you can start by claiming the welcome bonus. Like most aspects of ThriveFantasy, redeeming the deposit bonus is a swift and straightforward process.
Start by opening the Apple App Store or Google Play store and download the official ThriveFantasy mobile app. If you prefer using your desktop computer, go to the official website of ThriveFantasy by clicking our link and locate the Sign Up button.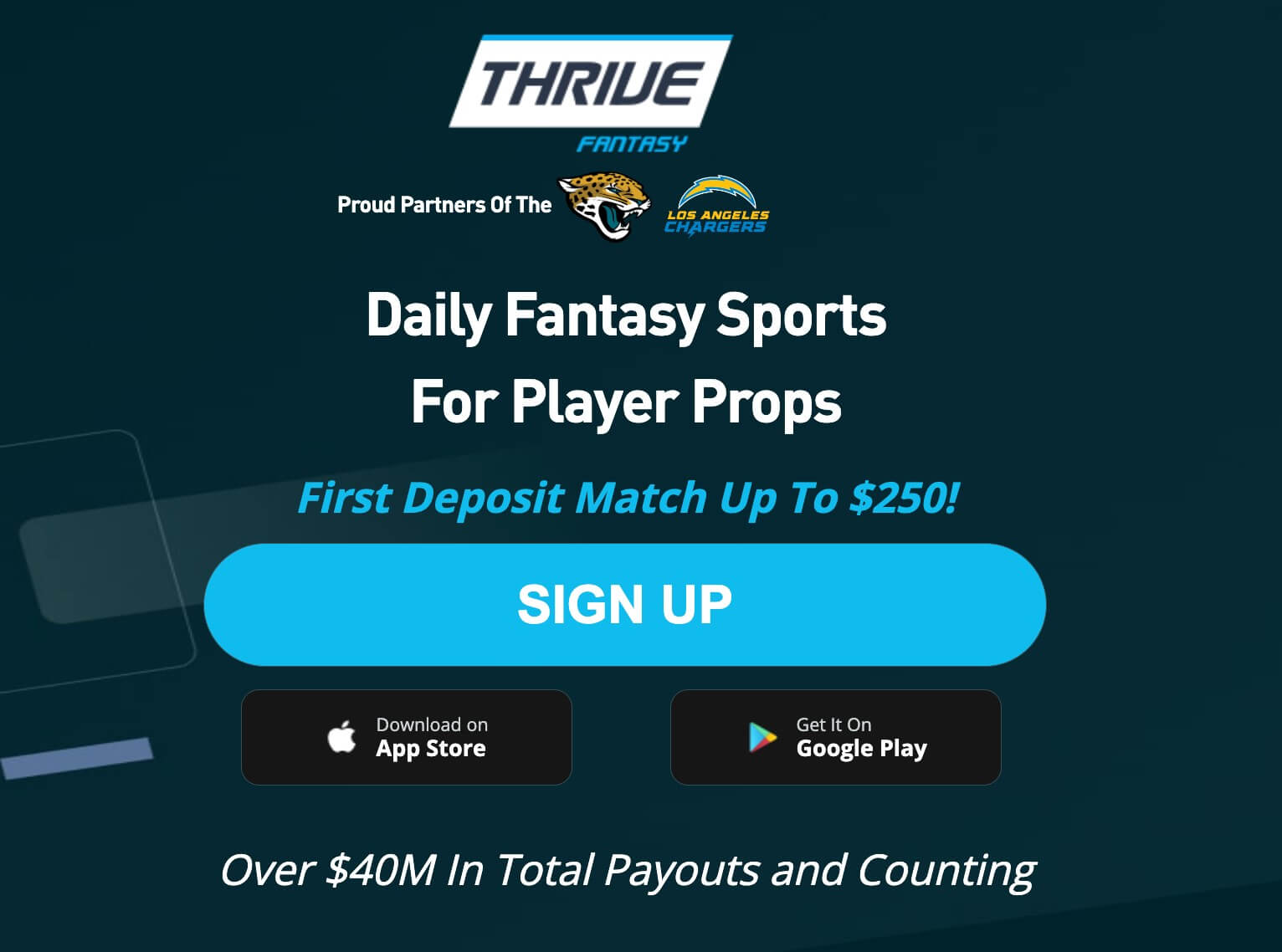 When you access the platform through our sign-up link, you can continue by creating your ThriveFantasy account without the need to input a ThriveFantasy promo code in the promo code box. To start a ThriveFantasy account, choose a unique username, enter your email, and submit your personal information such as full name and date of birth.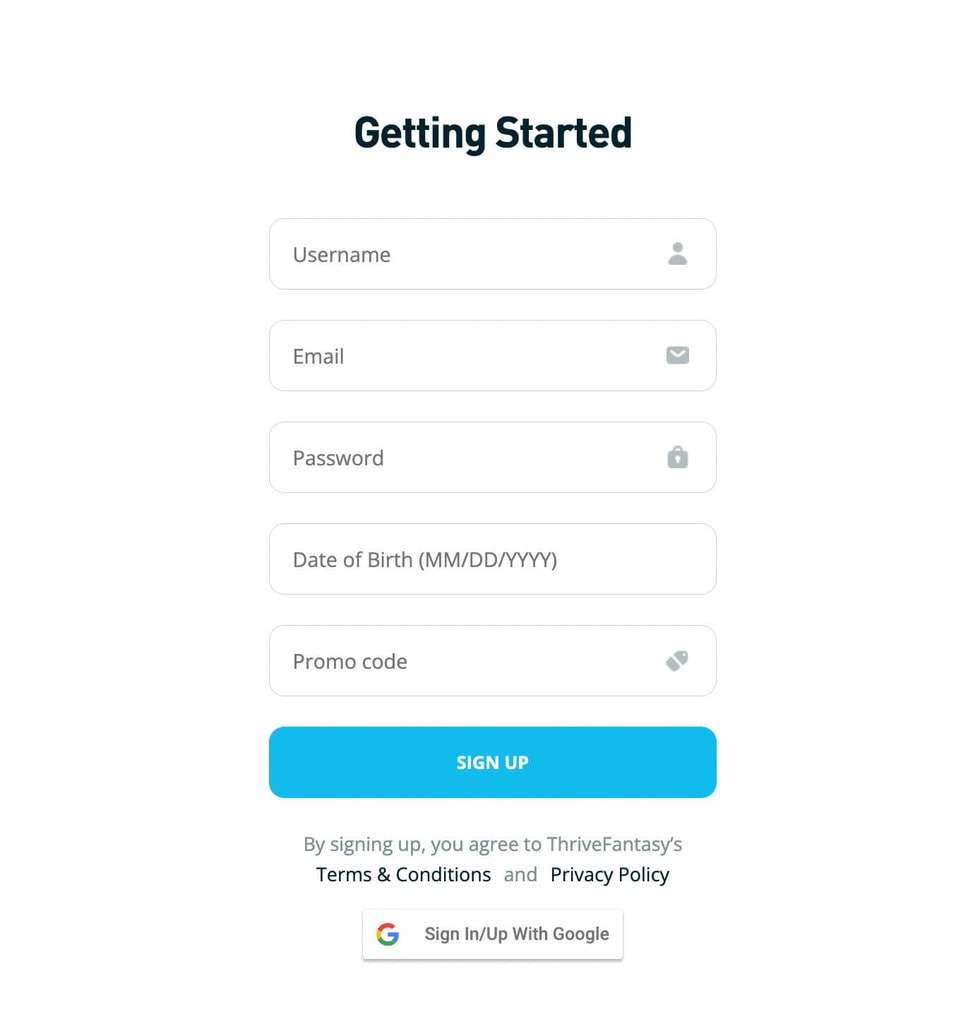 Once you successfully register and get a confirmation through email, you can proceed by making your first deposit. To do so, navigate to the deposit section and select one of the available banking methods.
Thrive Fantasy offers a modest range of options to deposit funds, including e-checks, widely recognized credit cards, such as Visa, American Express, and Mastercard, and PayPal – a banking method that many new fantasy platforms have yet to adopt.
To complete the deposit procedure, input your desired deposit amount and verify your contact information. It is crucial to note that you should deposit a minimum of $25 to qualify for the ThriveFantasy deposit bonus. Once the money is in your account, choose one of the available ThriveFantasy contests and start your daily fantasy sports player props adventure.
ThriveFantasy Sign Up Bonus Rules & Wagering Requirements
While there's no requirement for a promo code to qualify for the Thrive Fantasy welcome offer, there are specific rules and wagering requirements that you must adhere to. Although all terms and conditions might appear strict initially, in my personal experience, ThriveFantasy's T&Cs are quite reasonable and manageable.
To qualify for Thrive Fantasy's 100% match of your initial deposit up to $250, you first need to deposit a minimum of $25. Once you've received the welcome bonus, you must fulfill a 2x wagering requirement to become eligible for withdrawing the bonus funds from your account. You have a 45-day window from the moment you receive the welcome bonus to meet these wagering requirements. If you fail to do so, ThriveFantasy has the authority to remove the bonus funds from your account, and trust me, they won't hesitate to do so.
Last but not least, you must prove that you are at least 18 years old (or 19 in Nebraska, 21 in Massachusetts), and be physically present in a US state where participating in Thrive Fantasy contests is not prohibited by law.
States Where The ThriveFantasy Promo Code Is Valid
As already mentioned, signing up at ThriveFantasy through our link will allow you to redeem the welcome bonus without the need for a Thrive Fantasy promo code as long as you are of minimum legal age and you reside in a state where ThriveFantasy is legal.
Here is a list of all the US ThriveFantasy legal states where players can register with our link and get a chance to play ThriveFantasy through various contests and compete for massive prize pools.
Alaska
Arkansas
California
Florida
Georgia
Illinois
Kansas
Kentucky
Maine
Massachusetts
Minnesota
Nebraska
New Hampshire
New Mexico
North Carolina
North Dakota
Ohio
Oklahoma
Oregon
Rhode Island
South Carolina
South Dakota
Texas
Utah
West Virginia
Wisconsin
Wyoming
For those of you who reside in Canada and seek an alternative to traditional sports betting, consider downloading the ThriveFantasy app to explore some of the most popular ThriveFantasy game modes. However, be aware that ThriveFantasy is allowed in all Canadian provinces except Ontario.
Tips to Use the ThriveFantasy Bonus Code
As good as the ThriveFantasy bonus code offer is, you should consider a strategic approach that will help you get the most out of it. Here are some tips on how to use the welcome bonus:
Utilize Data
While occasional successes driven by luck or gut instincts can be thrilling, those who crave consistent, long-term achievements in ThriveFantasy must first understand how critical is harnessing the power of data and accept the fact that it's the road paved with data that leads to enduring triumphs.
In ThriveFantasy, every selection matters, and data serves as the ultimate guide to making informed decisions. Whether it entails evaluating player performances on the road, scrutinizing injury reports, or pinpointing advantageous matchups, data serves as the driving force behind equipping participants with the necessary tools to increase their chances of victory in any of the ThriveFantasy contests.
100% Deposit Bonus up to $250
Instant deposit match
Fast & easy withdrawals
Over Under player props
Pay Attention to Matchups
The significance of matchups when betting on NFL and NBA cannot be overstated. Even the most prolific basketball scorers, such as Carmelo Anthony, have fallen victims to the style of play of some of the top-notch perimeter defenders, and the most elite wide receivers have experienced tough days in the office against formidable cornerbacks.
Hence, evaluating how players fare against their opponents in particular matchups can provide crucial insights that can significantly shape your ThriveFantasy choices.
Choose Your ICE Picks Wisely
A common mistake made by beginners when participating in ThriveFantasy contests is fixating solely on their 10 initial picks and neglecting the importance of their two reserve selections. Game-changing factors like injuries and coaching decisions can profoundly affect the outcome. Thus, it's crucial to exercise careful consideration when choosing your two backups, as the fate of your ThriveFantasy contest can easily end up in their hands.
Stay Responsible
When you play ThriveFantasy you don't get the same feeling that you do when participating in classic sports betting. The overall vibe of the gameplay is quite different. It's more laid-back and akin to a game, but this casual vibe can be a double-edged sword.
It's easy for players to get carried away and spend large sums of money. Therefore, it's crucial to approach ThriveFantasy as an online gambling platform and make a conscious effort to partake responsibly by establishing and adhering to predetermined limits.
ThriveFantasy Promo Codes For Existing Members
Judging by the welcome offer, ThriveFantasy seems like a platform that has a bustling promotional page. Nevertheless, the reality is that in this aspect, ThriveFantasy seriously lags behind its competitors.
The platform currently does not offer any additional ThriveFantasy promo code for existing members besides the ThriveFantasy referral code that can earn you free contest tickets that you can use in a limited selection of contests. Besides that, ThriveFantasy doesn't offer any form of reward points at the moment and still doesn't have an active loyalty program for those of us who might be here for the long haul.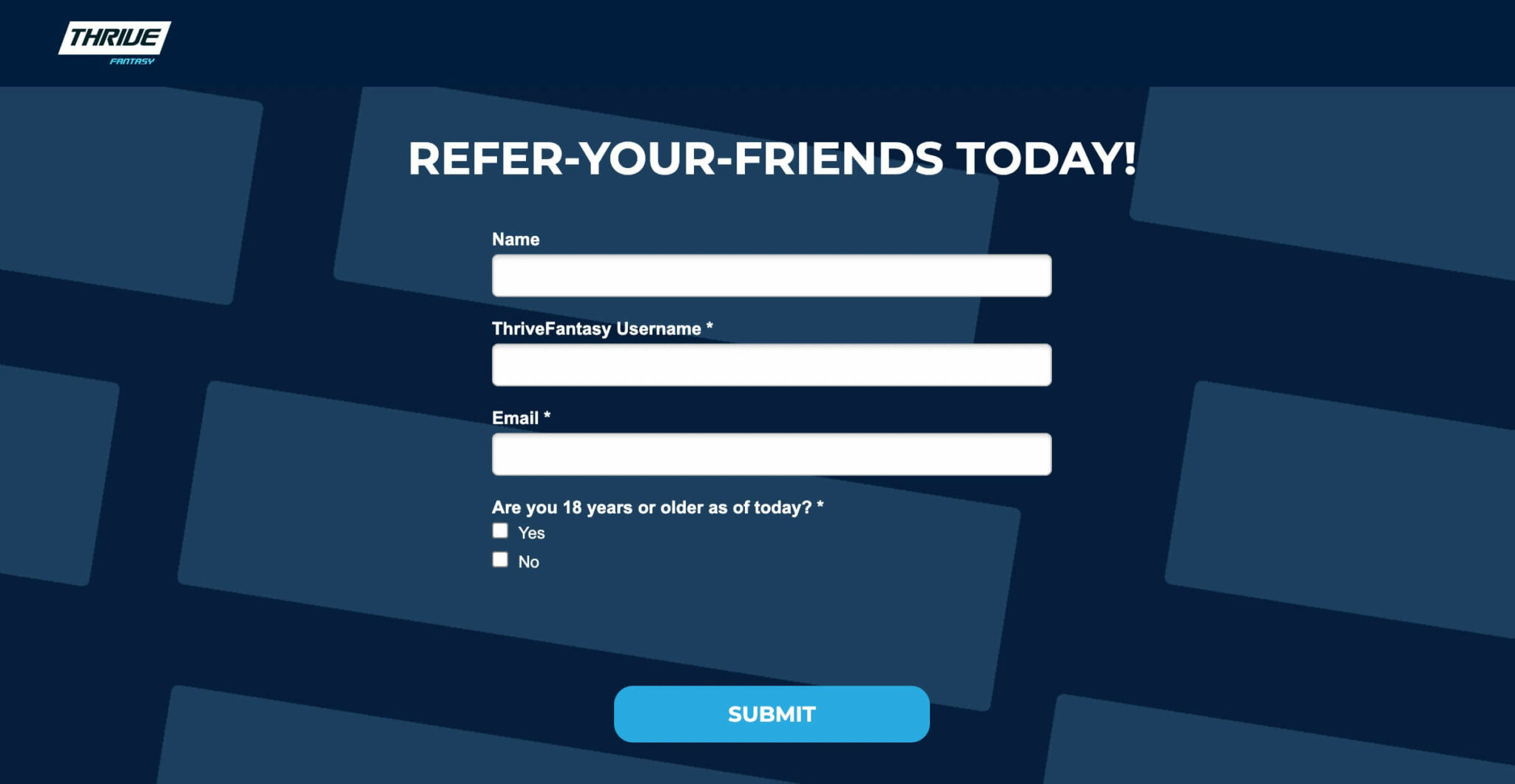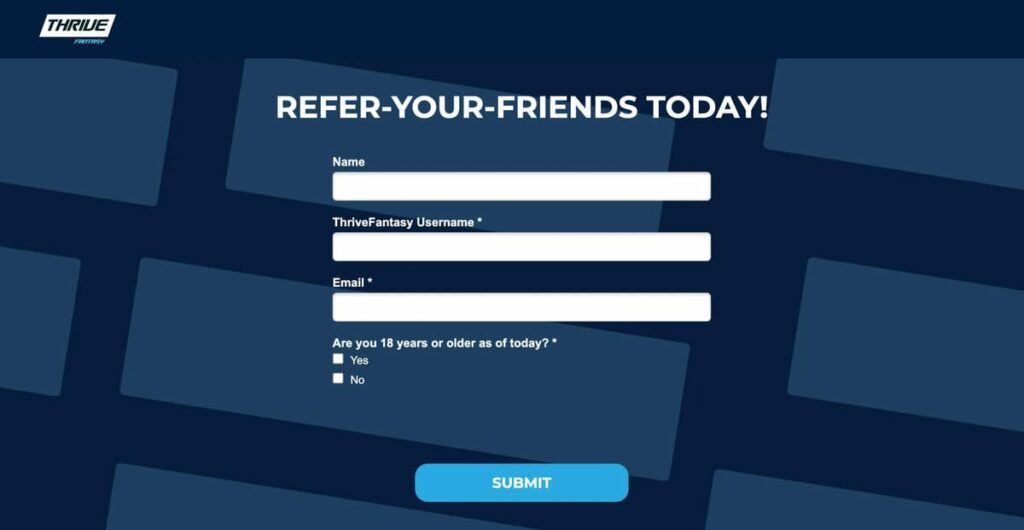 About ThriveFantasy
As bettors eager to add to the excitement of watching sports with some online gambling, simplicity holds great significance for us, and judging from my experience, the people at ThriveFantasy are very aware of this. The platform is very user-friendly and unlike other DFS platforms, it allows users to jump into the action of any of their DFS contests as quickly as De'Von Achane against the Broncos.
Unlike the classic daily fantasy sports platforms that require players to build entire rosters, ThriveFantasy focuses on DFS contests with a prop betting format. When participating in these ThriveFantasy contests, players can choose between competing against the platform or challenging their sports knowledge against their friends or other DFS enthusiasts.
The selection of available sports is decent since players can find ThriveFantasy contests for all the major North American professional sports leagues, including UFC bouts and PGA Majors. However, what caught me off guard and was disappointing about ThriveFantasy is the absence of college football.
So, if you are like me and want to spend your Saturday mornings browsing sports betting picks, consider picking John Rahm in a PGA paid contest. And if the tour is not your thing, you can always try your luck and win cash prizes by playing in some of the featured contests involving matchups from the best esports leagues.
Now let's break down how each of the contests works.
Traditional Contests
The traditional contests at ThriveFantasy are similar to the contests you will find on classic DFS platforms such as DraftKings, however, there is one distinction that makes them truly unique. Instead of drafting an entire lineup, at ThriveFantasy, you pick from a list of different prop bets involving top-tier athletes from the major sports leagues.
The list consists typically of around 20 props, and each player is required to choose half of them, plus two reserve players that can be used as substitutes in case of an emergency, hence the name ICE picks. Each prop comes with an associated fantasy point value, which is earned if the event occurs. The goal is to earn more fantasy points than the other users.
It's crucial to note that some props naturally carry higher probabilities of occurring than others, so to maintain balance, ThriveFantasy assigns higher fantasy point rewards to props that are less likely to happen.
ThriveFantasy offers players three types of traditional contests.
Double-Up – In this setup, the upper half of the player pool emerges as the winners and they double their entry fee. The number of players in these contests can range from 2 to over 55.
Head to Head – A player versus player format in which you compete against only one opponent and the winner takes it all.
Guaranteed Prize Pool Contests (GPPs) – These are contests where both the prize pool amount and the number of winners are set in advance, and only those players who make the most correct predictions are eligible to claim portions of the prize. If you are into these types of contests, make sure to check out the Featured contests as they provide the most substantial prize pools, going even north of $10,000, and can attract more than 2,000 entries during the peak NFL weekends and later rounds of the NBA playoffs.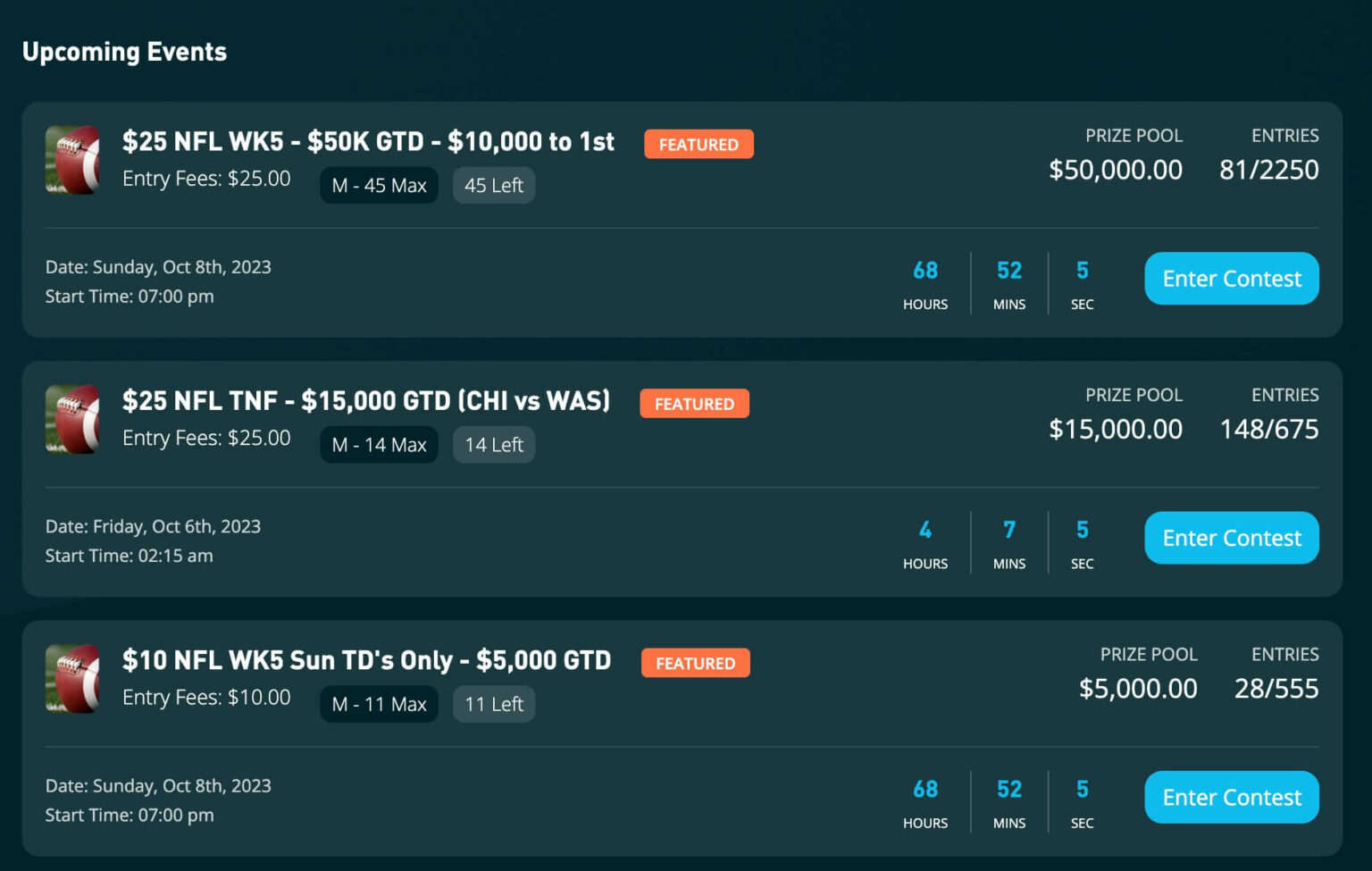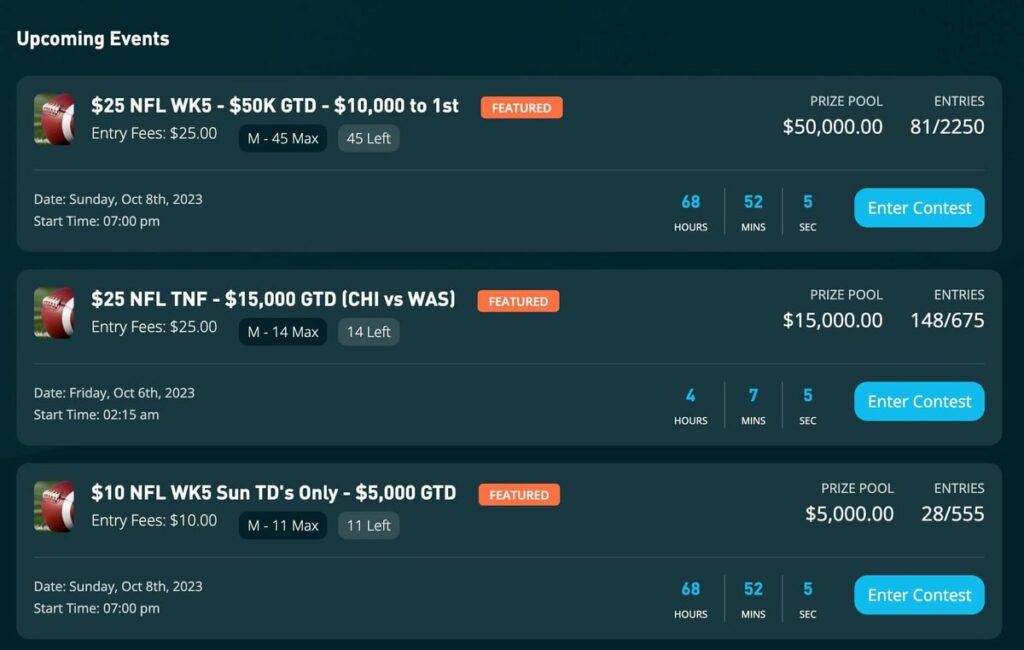 Versus Contests
The versus contests work like the traditional contests except instead of deciding on the Over/Under lines for particular athletes, you're now tasked with choosing which of the two athletes will outperform the other in a pre-designated statistical category. Let's say the Nuggets meet the Philadelphia 76ers in the NBA Finals and you have to pick who will get more rebounds between Joel Embiid and Nikola Jokić.
Each correct prediction in the Versus contests will earn you fantasy points and the goal, just like in the traditional contests, is to rack up as many points as possible.
Prop Lobby
If I could offer you one piece of advice, it would be to go ahead and download the ThriveFantasy mobile app. It functions faultlessly, and I am not even using the latest iPhone. However, if you are not a huge fan of stacking fantasy points on the go and you play ThriveFantasy on your desktop computer, there is still good news for you.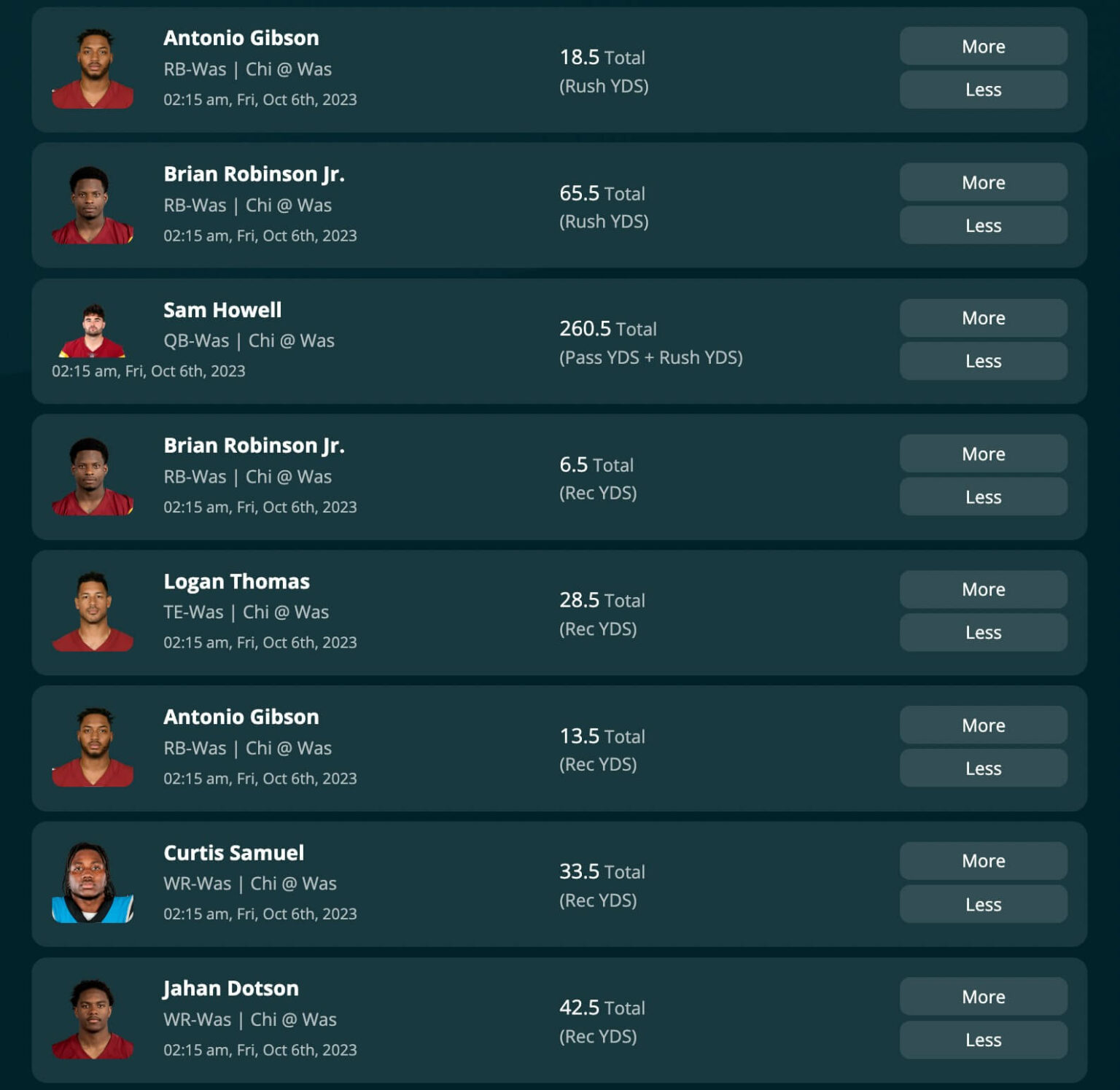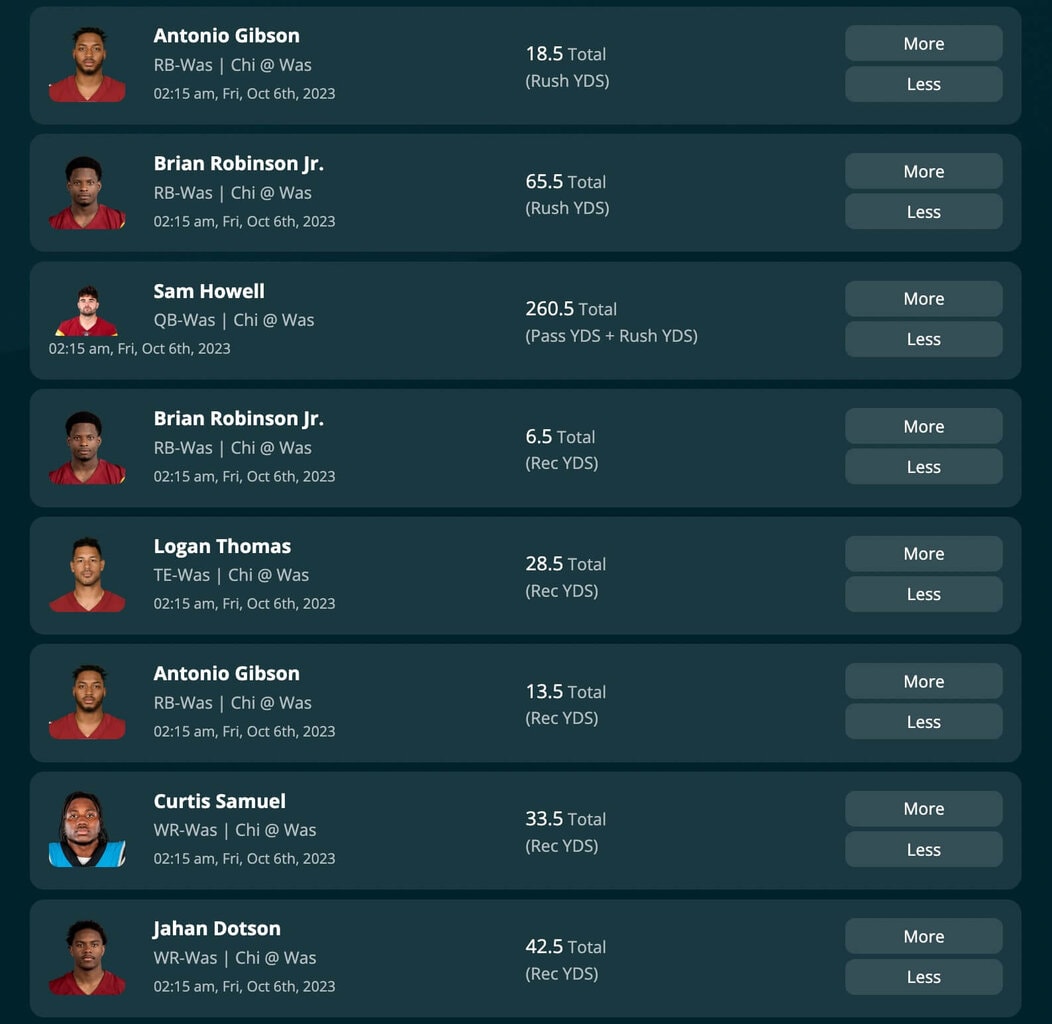 The ThriveFantasy Prop Lobby is available exclusively for ThriveFantasy website users. What is great about it is that it allows you to compete against the house by choosing the Over/Under for two, three, four, or five top-tier athletes from the daily fantasy sports players list for an entry as low as $1. What's more, ThriveFantasy has some of the best payouts in the industry.
| 💲Stake | 🎯Accurate Predictions | 💰Return | 💵Win Amount |
| --- | --- | --- | --- |
| $25 | 2/2 | 3.2x | $80 |
| $25 | 3/3 | 5.2x | $130 |
| $25 | 4/4 | 10.2x | $255 |
| $25 | 5/5 | 20.2x | $505 |
ThriveFantasy Promo Code vs. Other DFS Bonuses
Promo Code: GAMBLEUSA
$100 Instant Bonus 100% Match Rate
21+. T&C Apply
18+. T&C Apply
Less competition than on FanDuel & DraftKings
Best alternative to real money sports betting
Promo Code: GAMBLEUSA
$100 Instant Bonus 100% Match Rate
21+. T&C Apply
18+. T&C Apply
What I've realized throughout my latest DFS journey is that although the promo section at ThriveFantasy is on a lower tier compared to most of the competitors, the welcome offer and its requirements can certainly hold their own against the bonuses at the plenty of other well-established Prop-Style Fantasy Sports platforms.
To clarify, I conducted direct comparisons between the Thrive Fantasy promo welcome offer and the welcome offers at the two other platforms that can be regarded as key rivals.
| 📖Operator | 🎁Welcome Bonus | 💰Max Bonus Amount | 💵Minimum Deposit | 📅Expiration time | ❗Playthrough (Rollover) |
| --- | --- | --- | --- | --- | --- |
| ThriveFantasy | A 100% deposit match in bonus funds | $250 | $25 | 45 Days | 2X |
| PrizePicks | A 100% deposit match in entry credits | $100 | $10 | 90 Days | 1X |
| ParlayPlay | No-deposit bonus of one free $5 game and a 100% deposit bonus in two free entries | $100 | $10 | 7 Days | 1X |
ThriveFantasy Bonus Summary
If you have been navigating the US Daily Fantasy Sports map and you believe that the traditional DFS contests are slowly but surely losing their allure, then ThriveFantasy is likely to emerge as an exciting alternative for you. Although embarking on new adventures may seem daunting at first, the new player bonus at ThriveFantasy will surely make things easier for you despite its relatively high minimum deposit requirement of $25.
There are plenty of alternative platforms where you can claim the welcome offer by depositing as low as $10, but the one at ThriveFantasy gets you more bang for your buck considering the quality of contests you can use the bonus funds for and the overall quality of the platform. Therefore, my advice would be to deposit $25, embrace this opportunity for change, and let ThriveFantasy introduce an exciting and rejuvenating element to your DFS hobby.
100% Deposit Bonus up to $250
Instant deposit match
Fast & easy withdrawals
Over Under player props