Gamble USA strives to improve your online gambling experience. We aim to help you play safely, make informed decisions when gambling, and increase your betting knowledge through our guides.
We adhere to strict editorial integrity; our content may contain links to products from our licensed & legal US partners.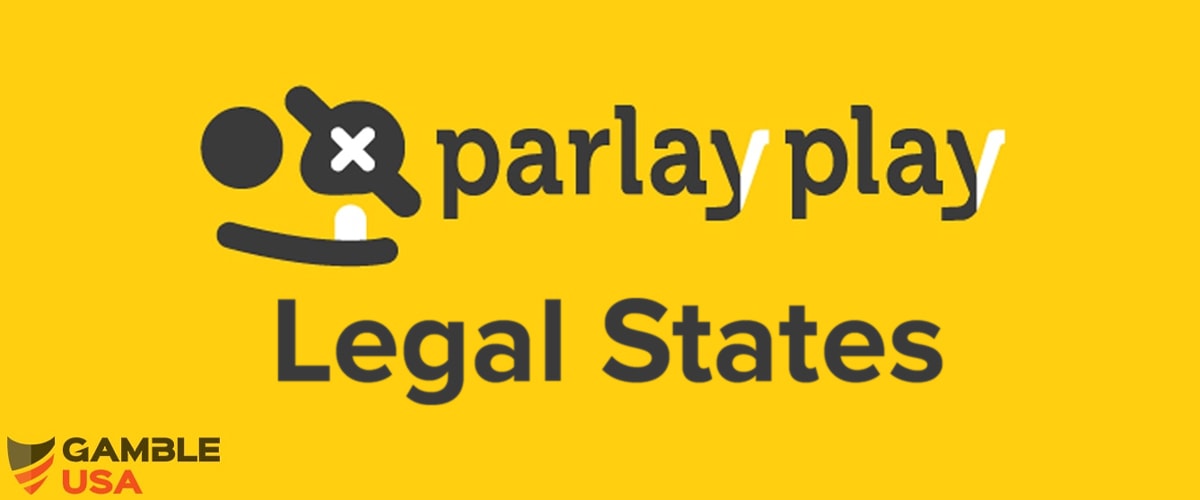 If you are looking for a fun alternative to traditional sports betting, or are a fan of Daily Fantasy Sports betting and are looking for an alternative to DraftKings or FanDuel, ParlayPlay might be a great option.
ParlayPlay is a Daily Fantasy Sports platform and presents a unique alternative to traditional sports betting and DFS contests. It introduces an innovative approach with simple prediction-style fantasy contests with cash prizes that eliminate the need for players to compete against each other to win money.
It's completely legal in more than half of the states in the country, and it offers its customers the opportunity to partake in weekly Free2Play contests and win real money without paying entry fees.
The age restriction is 18 in most states where ParlayPlay operates in, and the list includes Alabama, Arkansas, California, Colorado, the District of Columbia, Florida, Georgia, Illinois, Kansas, Kentucky, Maryland, Minnesota, New Mexico, North Carolina, North Dakota, Oklahoma, Oregon, Rhode Island, South Carolina, South Dakota, Texas, Utah, Wisconsin, West Virginia, and Wyoming. If you're from Alabama or Nebraska, the legal age to participate in ParlayPlay is 19, while if you're from Massachusetts, Iowa, Arizona, or Louisiana, the legal participation age is 21.
Regarding licensing, fantasy contest operators such as ParlayPlay are required to acquire a license from the regulatory bodies in some states to hold DFS contests. So, if you're physically located in a state that requires a license, you'll be required to turn on the GEO location on your device to confirm that you're in a legal state upon registration.
Since the official launch in 2021, the number of ParlayPlay legal states has grown to 30, and judging by its increasing popularity, it's safe to say that a steady expansion is definitely on the horizon.
---
How does ParlayPlay Work?
ParlayPlay is not only an alternative to sports betting but also a platform that is redefining the Daily Fantasy Sports landscape in various aspects. ParlayPlay offers two types of contests that are unlike the contests at other DFS sites such as DraftKings and FanDuel. The first type is the Higher/ Lower type, where each player at ParlayPlay picks athletes and predicts if they will score more or less than the stats projected by the platform.
On the other hand, when playing the Hit It contests, ParlayPlay users select two athletes from a sporting event and predict a predetermined projected stat/point range for each one. The potential payout is based on how close the prediction is for the two athletes to their actual performance in the game.
The list of sports ParlayPlay offers includes football, college football, basketball, hockey, baseball, MMA and soccer. On top of that, eSports enthusiasts will be pleasantly surprised to see that ParlayPlay also offers contests for eSports contests in games such as CS:GO, Dota, Valorant and LoL .
If a ParlayPlay player predicts the correct range for both of their picks they will get a boosted payout of 6x of their entry fee and if a player predicts the correct range for one athlete then they will get a 2x payout. Moreover, users can claim a ParlayPlay bonus code upon registration and other rewards and promotions through the Parlay Club program.
The platform provides a variety of contests designed for players of all skill levels, with entry fees ranging from $1 to $50. The innovative payout method, the way the prize pools work, and the rewards program are unlike most other daily fantasy sports sites and DFS contests.


---
Where can I play ParlayPlay?
Users can play the ParlayPlay contests through the official website from any desktop device without downloading anything. However, ParlayPlay is a platform designed primarily to accommodate the needs of mobile users.
Previously limited to iOS devices, the ParlayPlay Daily Fantasy Sports Game is now accessible to Android users as well. Whether you're using an iPad, iPhone, or any modern Android mobile device, all you have to do is visit the respective app stores, download the app, and proceed to create your account.
Apple device users can download the ParlayPlay Daily Fantasy Sports Game through the native App Store app, while Android users can download it from the Google Play Store. The process is quick and straightforward, taking only a few minutes to complete.
If you don't want to download the app, you can also play online through the mobile browser on your device.


---
States where ParlayPlay is Legal
While Free2Play contests are widely accessible throughout America, the paid contests of ParlayPlay are currently available to players in 27 states within the US and select Canadian territories.
Here is the official list of US states where ParlayPlay is legal, granting its players the opportunity to partake in paid contests.
Alabama
Alaska
Arkansas
California
District of Columbia
Florida
Georgia
Kentucky
Minnesota
Nebraska
New Mexico
North Carolina
North Dakota
Oklahoma
Oregon
Rhode Island
South Carolina
South Dakota
Texas
Utah
Vermont
Wisconsin
ParlayPlay Illegal States
ParlayPlay, being a relatively new platform, is continuously expanding its reach. However, it's important to note that there are still many states where participation in their paid contests is considered illegal. Here is a list of US states where playing ParlayPlay paid contests is against the law.
Hawaii
Idaho
Maine
Missouri
Montana
Nevada
New Hampshire
Tennessee
Washington
---
How to register with ParlayPlay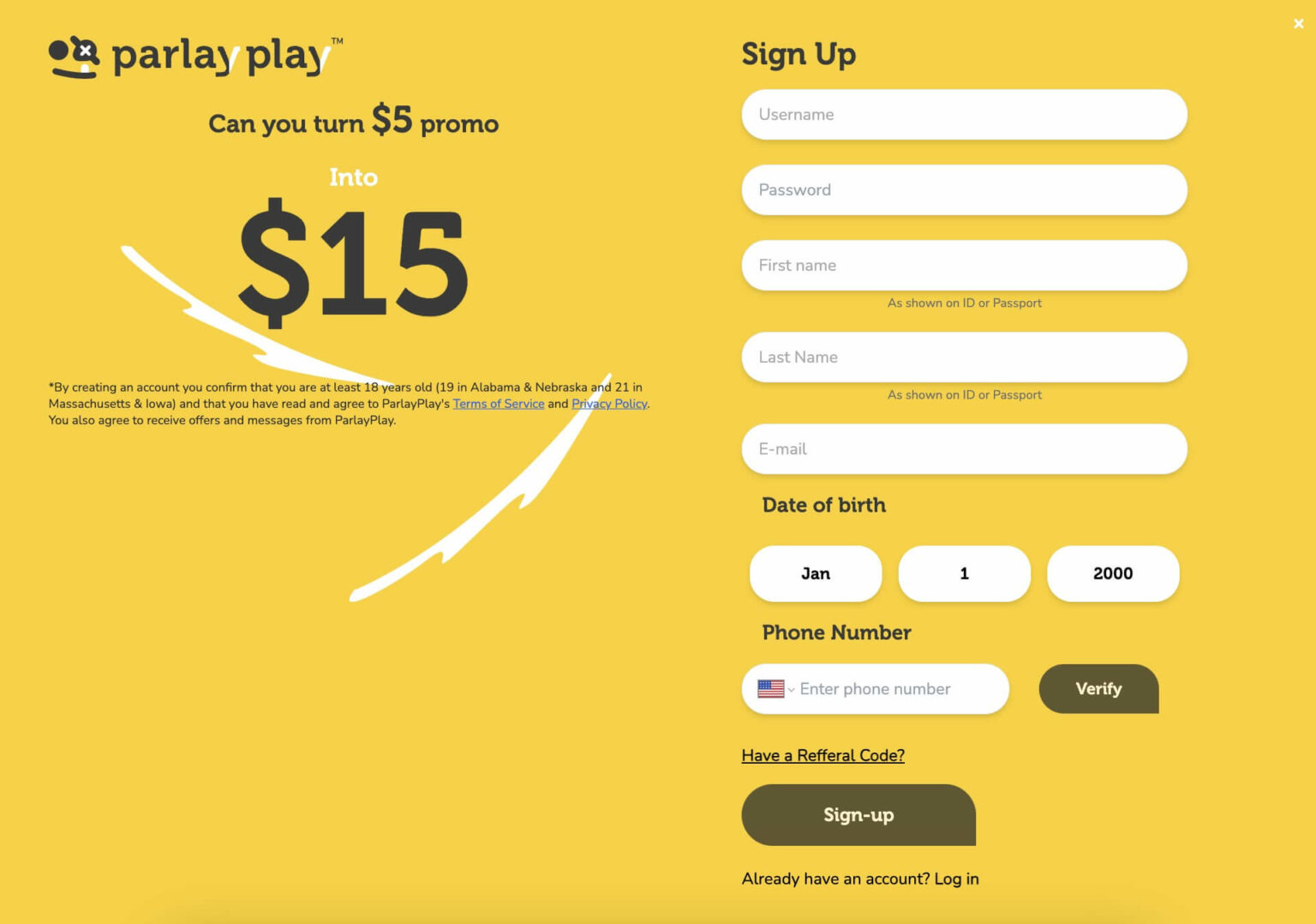 As previously mentioned, whether you want to play to win cash prizes or you want to test the waters through the free contests, the registration process at ParlayPlay is simple and new users can get it done in just a few minutes. If you meet the age requirements, follow these steps to create your ParlayPlay account:
Open the ParlayPlay website or ParlayPlay app
Locate the Create Account button and select it
Enter a username
Choose your own unique password
Enter the ParlayPlay Promo Code to become eligible for the ParlayPlay welcome bonus
Enter your first and last name
Enter your date of birth
Enter your email address
Enter your phone number
Press Verify
Enter the confirmation code you received by an SMS
Enjoy the thrill of the ParlayPlay contests and make the most of the plenty of ongoing promotions
---
How is ParlayPlay Legal in These States?
ParlayPlay verifies all accounts for age and eligibility, so in order to be able to participate in their contests, each account holder must meet the age requirement set by the legal authorities of the state he resides in.
In addition to meeting the age requirement, ParlayPlay players must be either citizens or residents of the United States of America or Canada and possess a valid address. When making a deposit or entering a ParlayPlay contest, players must be physically present within the USA or Canada and be in a jurisdiction where participation in such contests is legally permitted by the law.
Our expert ParlayPlay review team found that users who meet the age requirement but are from a state where paid ParlayPlay contests are not legal can enter Free2Play contests. These are weekly contests that are free to play and are based on competing against other players to climb the ParlayPlay leaderboards.
ParlayPlay provides all its customers with full access to the terms and conditions and their privacy policies and utilizes various tools and methods for responsible gambling.
Although online betting sites are slowly gaining ground, most states without this option offer legalized DFS betting apps like ParlayPlay. The list of states covered above is your best bet if online sportsbooks like PointsBet or Caesars are not yet legal where you live.
---
FAQs
How old do I need to be to access ParlayPlay?
All individuals 18 years old and above can legally play ParlayPlay contests, with a few exceptions. In Alabama and Nebraska, players must be at least 19 years old, while in Massachusetts, Iowa, Arizona, and Louisiana the minimum age requirement is 21.
Can I use ParlayPlay in New York?
ParlayPlay's paid contests are not available to players in New York. At the moment, New York players can only enjoy free to play games at ParlayPlay.
Is ParlayPlay legal in Oklahoma?
Yes. ParlayPlay is legal in Oklahoma. Players from the Sooner State can enjoy both paid and Free2Play ParlayPlay legit contests.