SugarHouse Casino Poker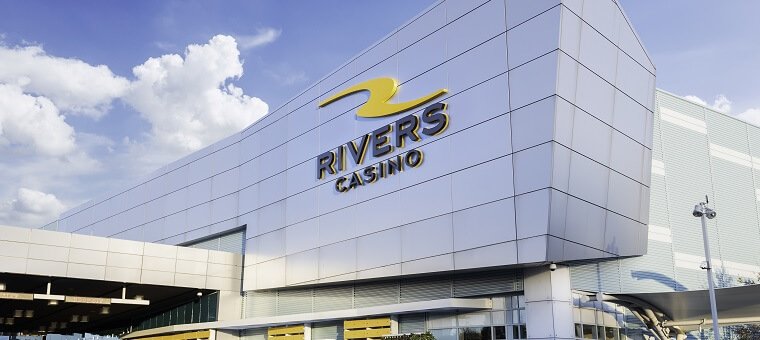 Gamble USA strives to improve your online gambling experience. We aim to help you play safely, make informed decisions when gambling, and increase your betting knowledge through our guides.
We adhere to strict editorial integrity; our content may contain links to products from our licensed & legal US partners.
The Rivers Casino PA (formerly SugarHouse casino) poker room is the only live poker room in Philadelphia. Players in the city can take part in a SugarHouse casino poker tournament 24/7.
The Casino houses 28 state-of-the-art poker tables, complete with backlit tables and full charging stations at every position, offering food service and complimentary drinks. River Casino PA (SugarHouse Casino) can lay claim to having the swankiest poker room in Pennsylvania.


21+. T&C Apply
21+. T&C Apply
SugarHouse is officially a branded Poker Night in America poker room and hosts live televised poker tournaments and cash games. There are regular Rivers PA Casino poker promotions, including hourly high-hand giveaways. This casinos' promotions include player benefits such as:
$300 every 30 minutes on Mondays and Wednesdays
A $300 giveaway every 20 minutes from 12 p.m. to 8 p.m. on 'Super Saturday.'
$500 every 30 minutes on Thursdays and Fridays
The SugarHouse schedule consists of a player tournament every night on a weekday, with three SugarHouse poker tournaments at the weekend.
We thought we would look at how the poker room at SugarHouse Casino compares to other poker rooms. Does it stand up well against the poker room at Deleware Park Casino or Borgata poker? We will also look at SugarHouse online casino and the developments in offering online poker games for players in Pennsylvania.
SugarHouse Poker Room Review
As you would expect, an inexperienced poker player will likely play the lowest stakes available in a poker room. In fact, all players might want to play at those low stakes. The stakes you will find at SugarHouse casino range from $1/$2 no-limit hold'em to $2-$6 limit hold'em. State games are also available to play on request.
The most popular game at SugarHouse casino is the $1/$2 no-limit hold'em. The rake at SugarHouse is 10% up to a maximum of $5 per pot, which is the norm across most poker rooms. One of the unique features that is not the norm at SugarHouse Casino is that players have an opportunity to straddle (optional and voluntary blind bet) from anywhere. This heats up the action at the table and adds an element of excitement to the games.

The live poker tables at SugarHouse Casino offer numerous exciting opportunities for players looking for a game. The atmosphere is fantastic, with the poker room separate from the rest of the Casino. SugarHouse Casino does a great job of keeping the players entertained, and it is very enjoyable taking part in the numerous SugarHouse poker tournaments.
Poker Player Quality
If you are wondering about the standard of poker players that may visit SugarHouse, there is a real mixture. Many tend to watch poker on television and like to play too many hands or feel they can bluff their way through games after watching the professionals. You do not need to be an expert to play, but having some basic knowledge of the games and how they work will help.
Amateur players can play at this Casino without much trepidation. The stakes are pretty standard, and as we have mentioned, the players aren't all fantastic. If you want to play some games in a casual setting, this Casino certainly provides that. Checking through the Poker room schedule and tournaments, you will see a wide variety of Poker tournaments, including a Beginner's Poker Tournament and a Seniors Event for players that are 50+.
Sugarhouse Poker Tournaments and Promotions
The SugarHouse Poker tournaments and promotions are packed into a busy calendar, with different poker promotions running each day. A wide variety of promotions are available, including High Hands, Bad Beat Jackpot, Wild Wednesdays, Thunder Thursdays, and Super Saturdays!
The poker tournaments are also packed with NLH Daily Tournaments, Deepstack, and Double Green Chip tourneys, along with special games to attract brand new poker players and senior 50+ poker players.
SugarHouse Online Poker
SugarHouse Casino was one of the first casinos to apply for an online gambling license in PA. The Pennsylvania Gaming Control Board approved the license in 2018, allowing SugarHouse to offer online slots, table games, and online poker for Pennsylvania residents and visitors. SugarHouse Casino is one of the most reputable brands in the industry and is owned by Rush Street Gaming company, which also operates the famous Rivers Casino.
The application for a license to offer online poker for residents in Pennsylvania cost SugarHouse Casino $2 million. So, although you cannot play poker tournaments online at present, this is something the company will want to offer in the future. Moreover, suppose they utilize their Poker Night in America broadcasts. In that case, there is an opportunity to do cross-promotions as they look to build up and market their online poker offering and bring it to the level of competitors such as the Borgata poker blog.
Pennsylvania has some of the best casinos in the states, and most have exclusive poker rooms. You can read more about poker tournaments in the state with our Poker tournaments PA guide. The Rivers Casino poker tournaments attract some of the best players from around the globe. If you are looking to play video poker, however, you will find a small selection of poker games online at the Casino.
Summary
Being the only live poker room in Philadelphia, it is essential SugarHouse Casino provides an attractive environment to encourage people to come and play. It delivers that by hosting a space containing all the modern perks, you hope to find, including in-seat text-to-order food service and state-of-the-art tables. It may not be as glitzy as the bright lights of Las Vegas, but that does not diminish its overall quality.
If you are a poker player in Philadelphia and are thinking, 'I want a poker room near me,' then you are in luck. You can visit a quality poker room at all hours at the SugarHouse Casino. While the brand continues to work on its online poker offering, you can take a trip to the physical Rivers Casino Poker room and enjoy real money poker in person.
FAQ
Where is Sugarhouse casino?
The Sugarhouse Casino is located at 1001 N Delaware Ave, Philadelphia, PA 19125, now rebranded as the Rivers Casino Philadelphia.
What happened to the SugarHouse Casino?
The SugarHouse Casino has rebranded to be known as the Rivers Casino Philadelphia as part of the goal of unifying brands by Rush Street Gaming
Relevant news