SugarHouse Pick'Em Contest Pennsylvania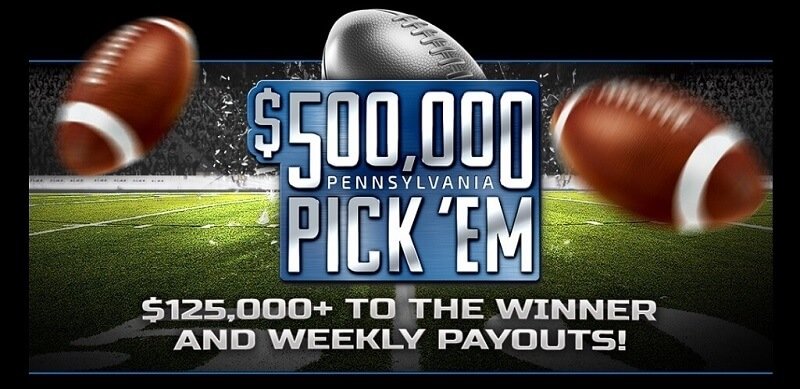 If NFL fans' excitement levels for the forthcoming season weren't high enough already, they have been elevated to a new level with the announcement of a $500,000 Pick'em Contest by PA Sportsbook SugarHouse in partnership with BetRivers Sportsbook.
The SugarHouse Sportsbook is already on the radar of all NFL bettors in the Keystone state having opened for business earlier this year, and we're huge fans of the former's welcome bonus worth up to $250 – you can read more about that here.
The Sportsbook is now calling our name again with their $500,000 Pennsylvania Pick'em contest, which is – as it sounds – a Las Vegas-style Pick'em contest – so straight-up winners, no moneylines or spreads to worry about – with a half-million total prize pool of $500,000, open to all sports bettors located within the physical state borders.


Get Bonus
21+. T&C Apply
21+. T&C Apply
The winner will walk away – at the end of the regular NFL season – with a cool $125,000, with the rest of the prize pool distributed amongst the remaining top 500 contestants. Furthermore, weekly leaderboard winners will collect $2,500, while there's even a 'wooden spoon' of  $2,5000 for the contestant with the most incorrect picks. There's no vig as 100% of entry fees are paid out.
Sounds too good to be true? We think not and here's how to get involved step-by-step:
1: Sign up for a SugarHouse PA Sportsbook account by clicking on this link
2: Create your account and enter '250MATCH' for the bonus to ensure your account is properly funded
3: Click the $500,000 Pick'em tab for the contest on the left-hand side of your screen
4: Scroll down and click on 'Enter Now'
5 (optional): Repeat steps 3 and Step 4 for multiple entries – you can enter up to 25 times
Here's some more key info:
Players can enter now through September 8th.
The contest consists of the 17 weeks of the regular NFL season (playoffs don't count).
Picks must be made each week starting at 5pm EST through 12:59pm EST Sunday.
No changes can be made once you've made your picks, so choose wisely.
Only Sunday and Monday NFL games that start at 1pm or later will require picks.
And remember – contestants must be located within PA state lines to sign up and entry is by online-only, rather than brick-and-mortar properties.
Wondering about ties?
These will be broken by a tiebreaker question asking for a guess at the total points scored in the last game played that week. If it's still tied after that, the prize will go to the player who got their picks in first that week.
Think you're PA's sharpest NFL bettor? Well, now you've got $500,000 worth of reasons to prove it!


Relevant news