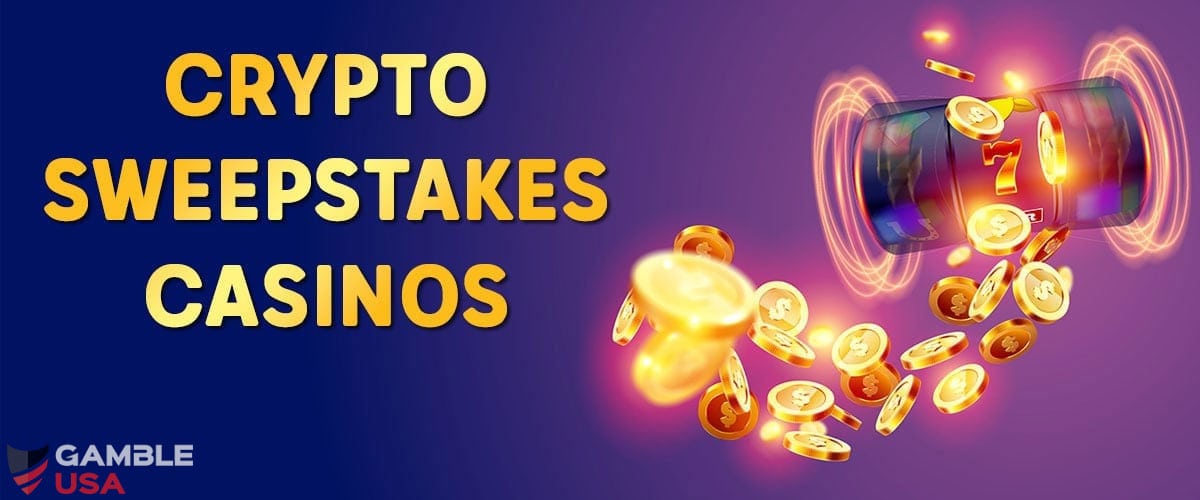 Bitcoin, Ethereum, Tether, and other cryptocurrencies are becoming massive, but should you use them at online casino sites? The short answer would be yes, but there are some important details you need to know before you start.
The payment method itself is exceptionally secure, as all the transactions are verified on the blockchain and they do not carry any personal or financial information of the user.
Cryptocurrencies are no longer a gimmick, and the number of platforms that support this payment option outside of the online gambling industry is steadily increasing.
More and more online gambling sites are starting to accept cryptocurrencies for deposits and withdrawals, but it does not mean you should trust every Bitcoin casino you see.
Our quick tip would be to stick to sweepstakes casino sites like Sweeptastic and Modo.us. They are registered in the US, and offer a safe and secure experience, while also providing amazing exclusive bonuses like 20,000 Gold Coins and 2.77 Sweeps Coins at Modo.us or 27,777 Lucky Coins and 2 Sweeps Coins at Sweeptastic Casino.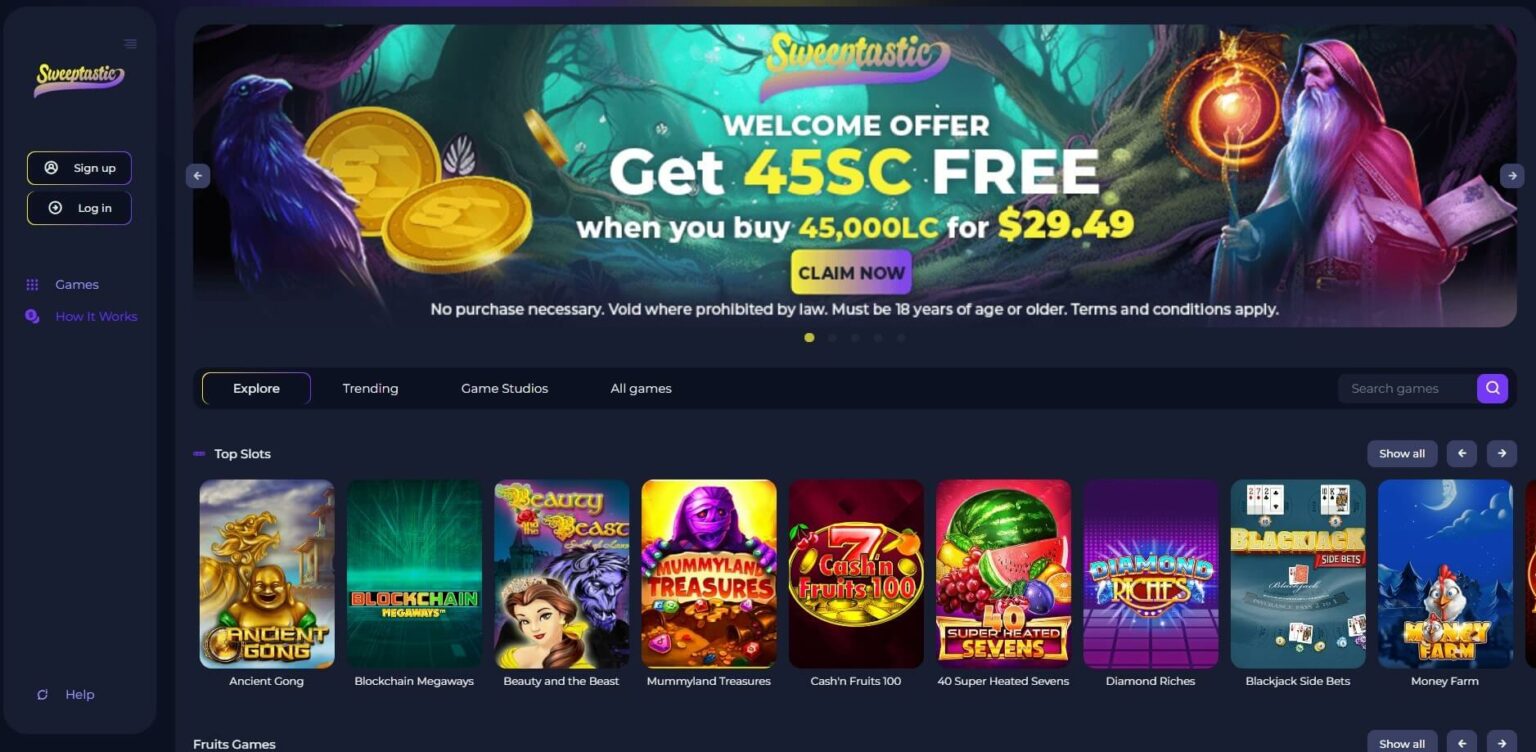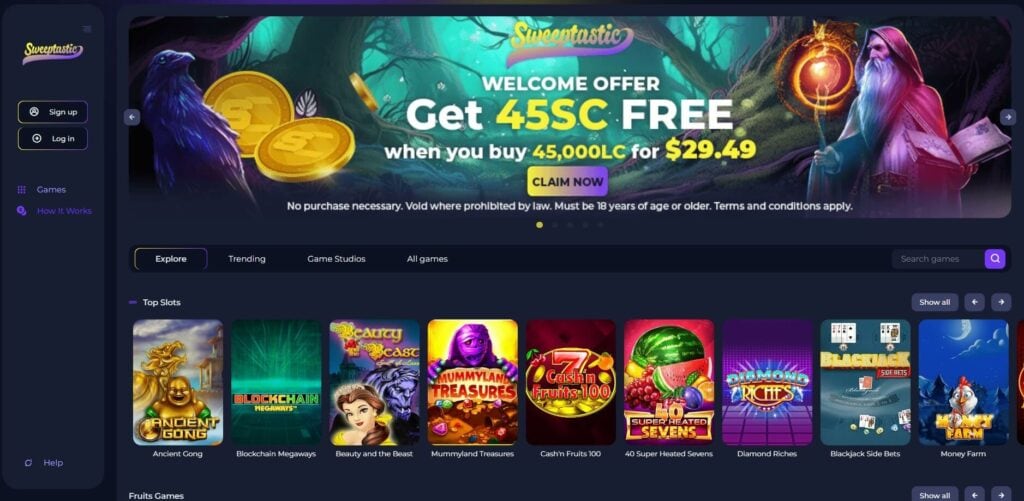 About Crypto Sweepstakes Casinos
As a player, you have two main options to choose from: crypto sweepstakes casino sites registered in the US and traditional Bitcoin casinos registered offshore.
The latter option is extremely risky, as these crypto casinos are registered outside of the US, meaning you won't be protected by local legislation there. Needless to say, many of these sites take advantage of shady practices with crypto transactions.
We are not stating there are no safe and reputable Bitcoin casino sites, but in general, it is much safer to play at sweepstakes casinos that offer crypto gambling. The web is flooded with Bitcoin casinos that blatantly scam their players, and it is fairly hard to find a trustworthy site in that realm.
Cryptocurrencies are commonly associated with shady practices, although it has nothing to do with the payment method itself. It is safe to use Bitcoin, Tether, Ethereum, and other cryptocurrencies for playing casino games on trusted websites.

Best Sweepstakes Casinos Accepting Crypto
Sweepstakes casinos are only starting to implement cryptocurrencies into their banking systems, so there are not so many options to choose from. Nevertheless, there are multiple sites we are willing to recommend. You will be able to play slot games and enjoy other titles there while using BTC or other cryptocurrencies for deposits and withdrawals.
Here is a list of crypto sweeps cash casinos:
Stake.us
Sweeptastic
Luckybird.io
SweepSlots
Modo.us
Moonspin.us
Learn more about the best among them from our reviews:
🥇Sweeptastic
Launched in early 2023, Sweeptastic Casino has already managed to earn a positive reputation among players in the US. It has two currencies, Lucky Coins which you can use to play games for fun, and Sweeps Coins which may be exchanged for cash prizes.
You can get 27,777 Lucky Coins and 2 Sweeps Coins for registering and completing your profile at Sweeptastic, and there are many other deals you can benefit from. The list includes happy hours, daily login rewards, mail-in bonuses, and various deposit bonus offers.
The main highlight of Sweeptastic Casino is its game collection. There are more than 1,000 different gambling games you can play there including Bitcoin slots, new and classic table games, and various specialties. The lobby offers titles by the best crypto casino software providers like Betsoft, BGaming, Pragmatic Play, and others.
The exchange rate between Sweeps Coins and USD is 1:1 at Sweeptastic Casino, and the minimum number of coins you can redeem is 100. The operator accepts the following cryptocurrencies for deposits and withdrawals:
Bitcoin;
Ethereum;
Litecoin;
Tether;
USDCoin;
Bitcoin Cash;
TRON;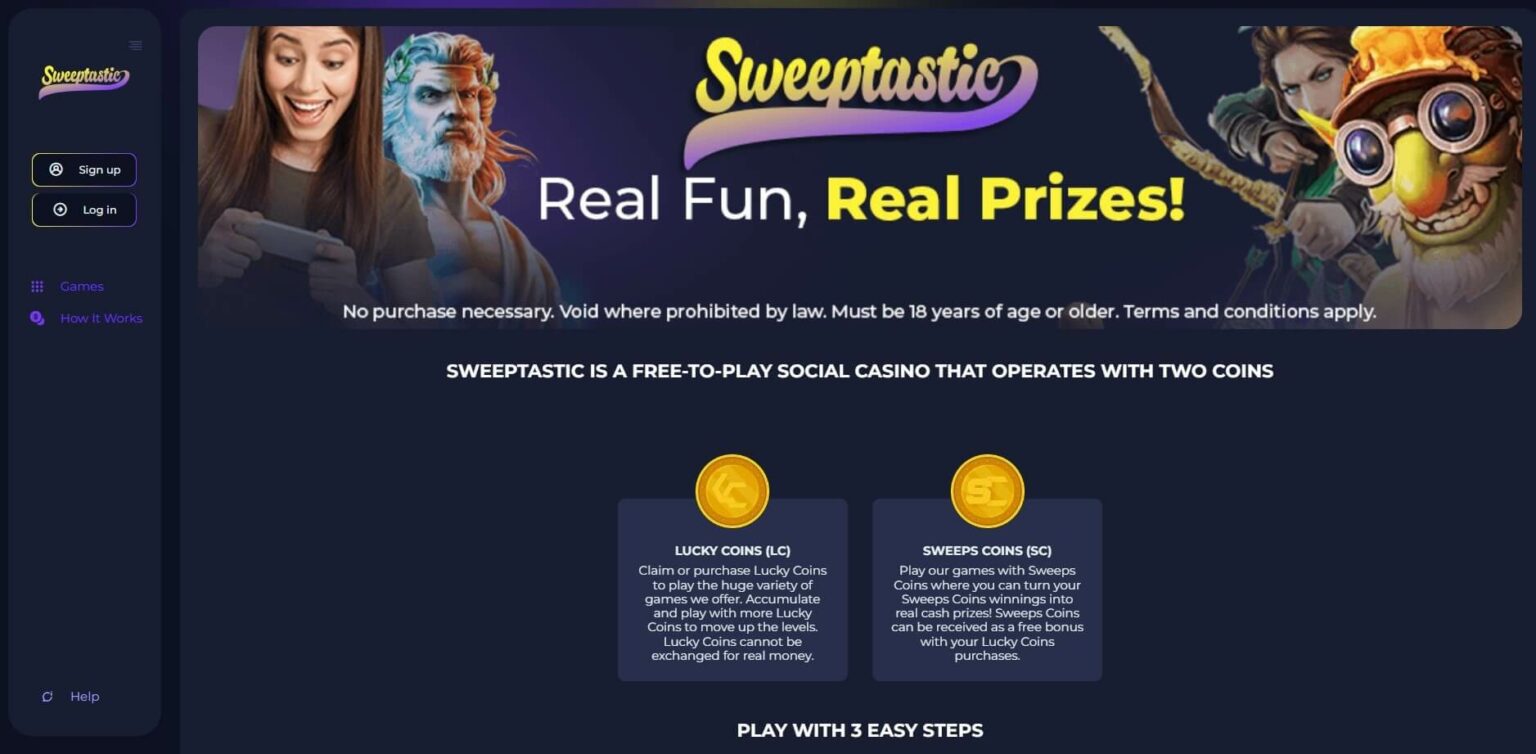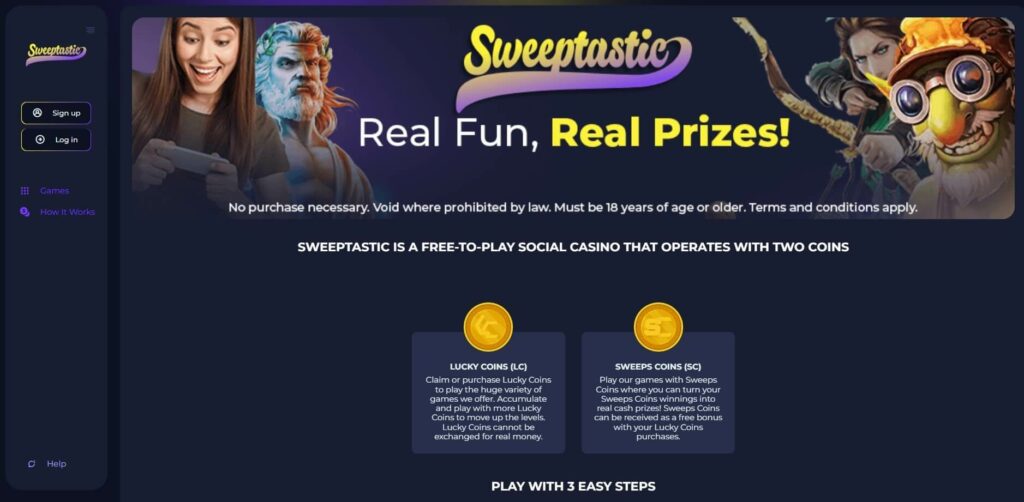 🥈Modo.us
Modo.us is a fresh sweepstake crypto casino that had a very promising start earlier this year. You can claim a package of 20,000 Gold Coins and 2.77 Sweeps Coins as part of the welcome bonus for new players. Other promotions available at Modo.us include daily login deals, social media contests, and mail-in bonuses.
The main highlight of this site is its rapid development. Modo.us is constantly implementing new features and systems to improve the experience of its players. Even though it does not yet offer as much content as some established sweepstakes Bitcoin casinos, it is reasonable to expect it will reach the same level over time.
Modo.us has a collection of more than 300 casino games including online slots and table games. The lobby is constantly expanded, and new Bitcoin games are added to the selection every week.
Sweeps Coins can be exchanged for USD at a 1:1 rate, where the redemptions start from 100 Sweepstakes Coins.


🥉Stake.us
Stake.us is the last sweepstakes crypto casino we can suggest for players in the US. In contrast to the previous website, it is an established platform with a history of successful operation. You can claim a no-deposit bonus of 10,000 Gold Coins and one Sweeps Coin for registering there.
The main highlight of Stake.us is its system of promotions. You will be bombarded with various freebies and events, which is never a bad thing. Here are some of the most notable promotions of Stake.us:
Daily login no deposit bonuses;
Mail-in no deposit bonuses;
VIP rewards;
Bonus code giveaways;
Various deposit bonuses;
Regular tournaments;
Social media contests.
The game collection of Stake.us features more than 400 titles including Bitcoin slots, poker games, blackjack games, and other table games. Moreover, it is one of the very few Bitcoin sweeps casinos that offer live dealer games in their lobbies.
Sweeps Coins at Stake.us may be redeemed for USD at a 1:1 rate, where the lowest sum you can redeem is 40 Sweeps Coins. You can top-up your casino account and redeem your winnings via the following cryptocurrencies:
Bitcoin;
Ethereum;
Litecoin;
Dogecoin;
Tether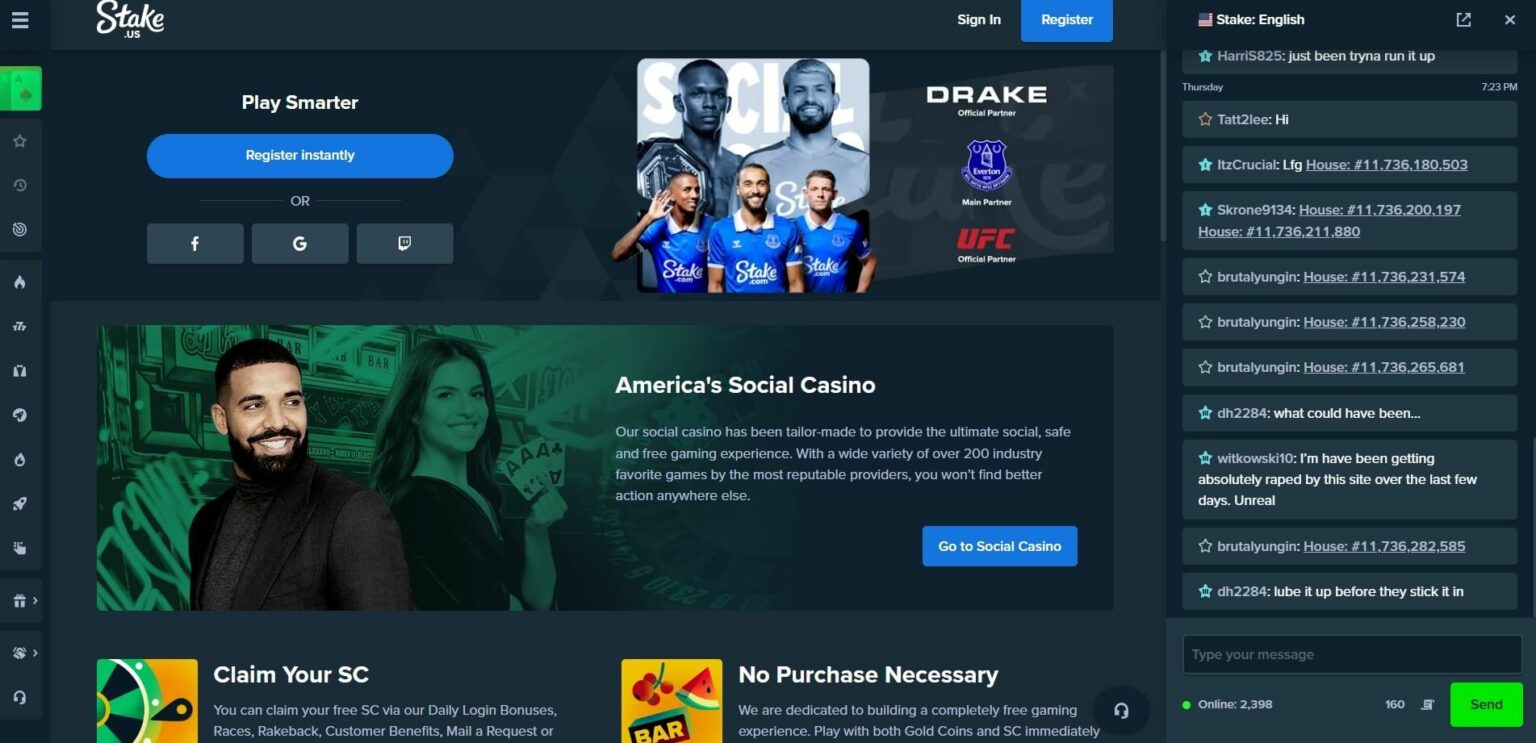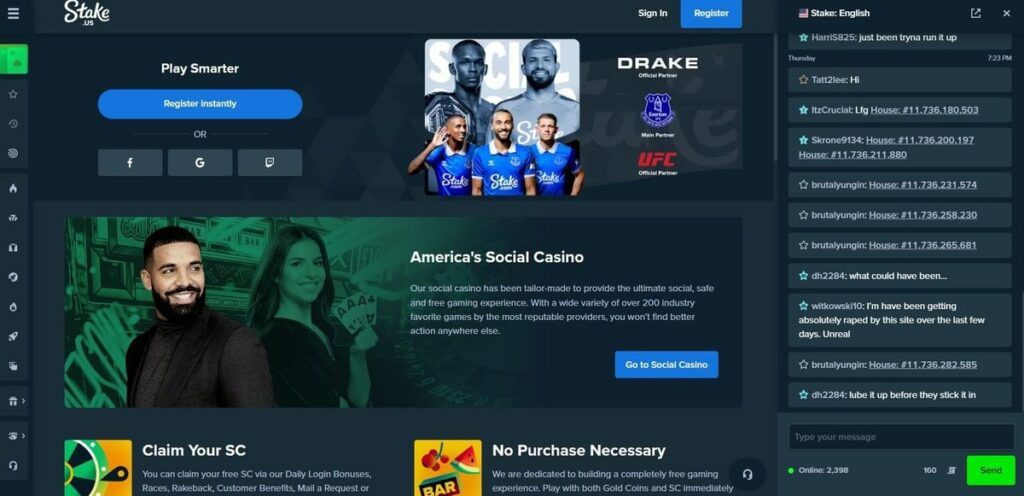 How Sweepstakes Casinos Accepting Crypto Work
The process of joining a sweepstakes site is the same as with any other crypto casino. In order to set up an account, you will need to ensure you are eligible first. Make sure you comply with the age requirement and that your location is not on the list of the casino's restricted states.
Once you're sure you are eligible, you can perform these steps to register at a sweepstakes crypto casino:
Visit the website and locate the "Register" or "Sign Up" button.
Click on it and read the Terms of Service document.
Share the required details and follow the instructions to set up a profile.
Verify your email address or phone number if requested by the Bitcoin casino.
Log in to your new account and start playing popular casino games.
Modern sweepstakes casino sites are compatible with both mobile devices and desktops. Some of them offer downloadable sweepstakes apps for Android and iOS, while others have web-based applications you can enjoy in your browser.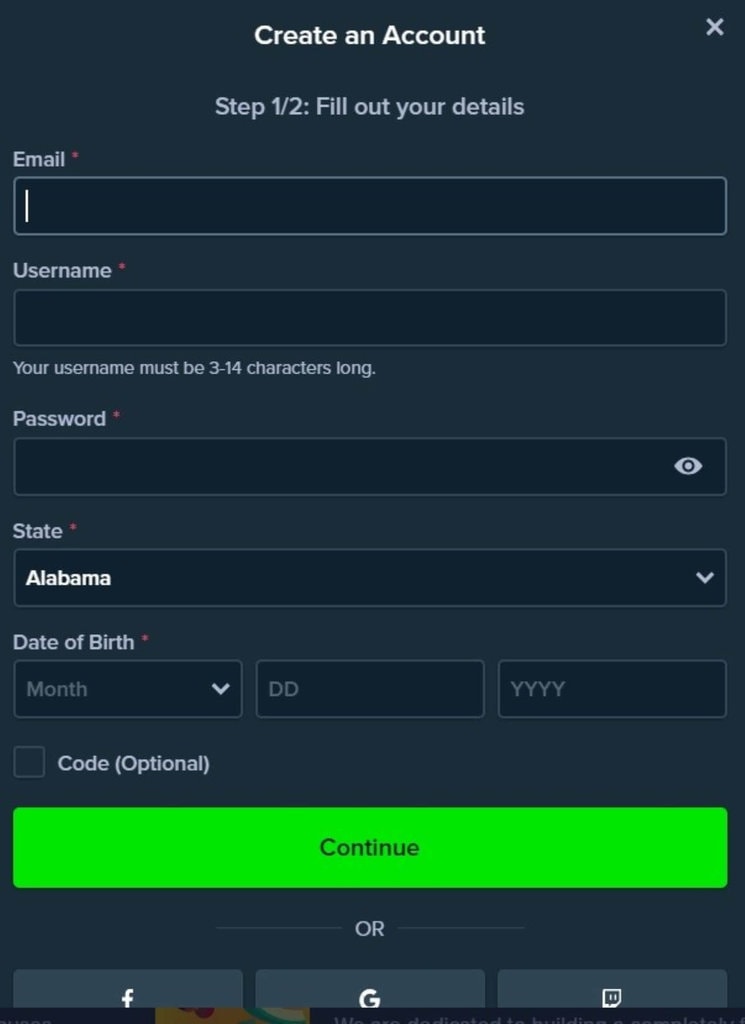 How to Buy Cryptocurrencies for Playing at Sweepstakes Casinos
Before you can play casino games with Bitcoin, you need to obtain the cryptocurrency in the first place. Some users prefer setting up their wallets independently, but it is much more convenient to use one of the leading crypto exchange platforms like Binance, Coinbase, or Kraken.
A crypto wallet essentially works like an e-wallet, the only difference being the necessity to purchase cryptocurrencies after adding funds to your balance. It might sound complicated, so let us break it down into simple steps for you:
Visit Binance, Coinbase, or Kraken and click on the "Register" button.
Follow the instructions to set up an account.
Log in to your new account and choose Bitcoin or other cryptocurrencies for your transactions.
Set up a wallet following the built-in tips of the website.
Click on the Deposit button to add funds to your account.
Use the funds to exchange cryptocurrency.
You can even make direct trades with other users, although in most cases, it is simpler to use the features of the website to get BTC.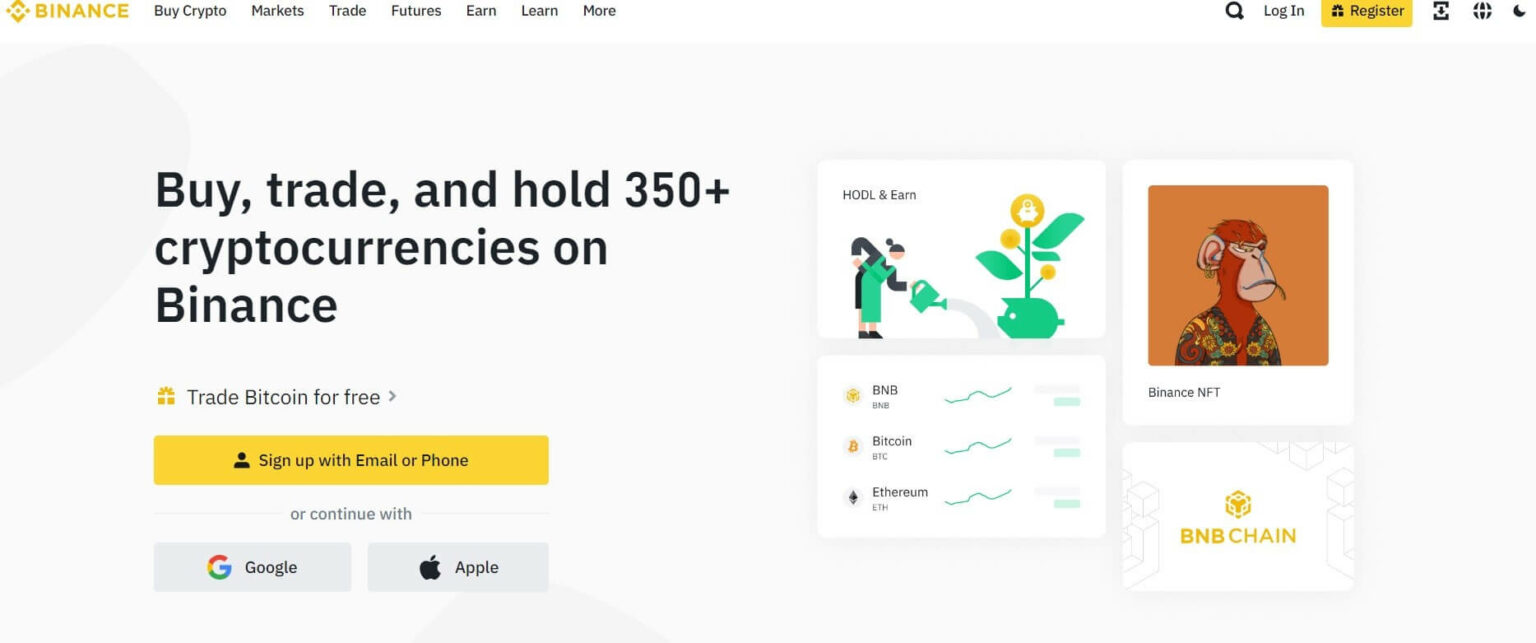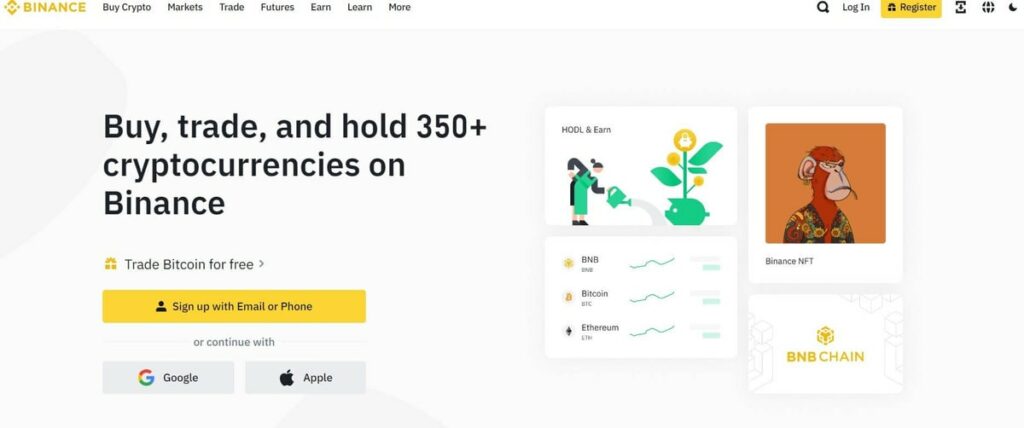 How to Deposit at Crypto Sweepstakes Casinos
Setting up your first crypto wallet is the hardest part of the experience, and once you have it, the rest is fairly simple. To transfer the funds from your crypto wallet to the balance of a Bitcoin casino, follow these steps:
Log in to the Bitcoin sweeps casino.
Launch the cashier by clicking the "Deposit" button.
Select one of the packages of coins and click "Proceed".
Choose Bitcoin or a different cryptocurrency as your payment method.
Copy the address of your crypto wallet if requested by the Bitcoin casino.
Receive the details of the casino's wallet and manually make the transfer.
The last step might be challenging for some users, as it is necessary to be very precise with the transfer. Since it is a manual operation, you will have to visit Binance or another crypto exchange platform, select your wallet, and make a transfer yourself.
Crypto online casinos verify these transactions automatically, so it is vital to transfer the exact sum requested. Note that it might take a couple of minutes for the blockchain to process the transaction before the funds reach your sweeps casino balance.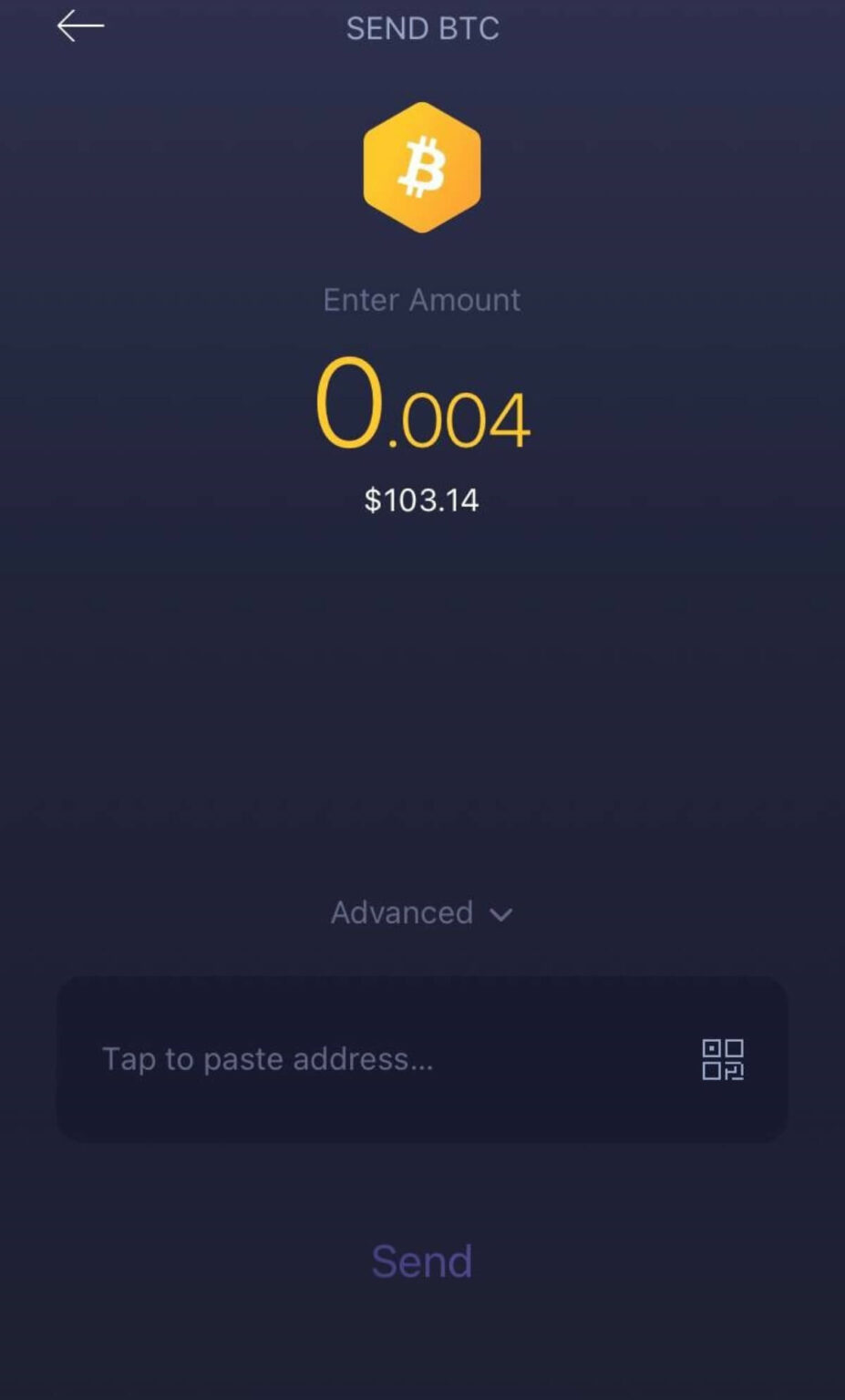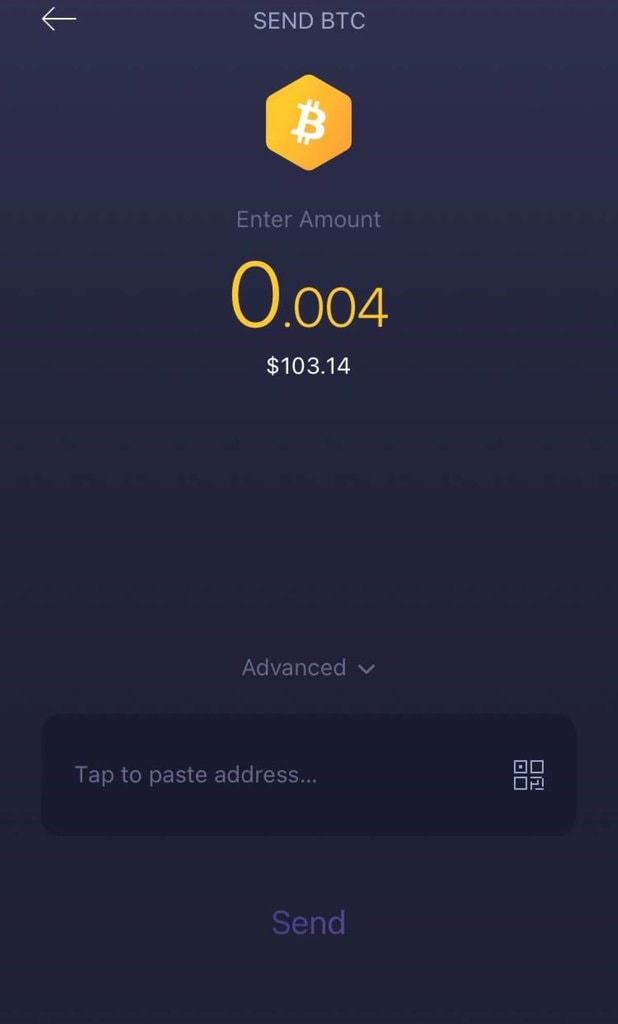 Redeeming Crypto from Sweepstakes Casinos
The best crypto casinos in this niche offer you an option to exchange Sweepstakes Coins for real money prizes. The process of redeeming your winnings with cryptocurrencies is easy, as there is no difference from using any other payment option.
To submit a withdrawal request, you will need to perform the following steps:
Log in to any listed sweepstakes casino accepting crypto.
Launch the cashier and switch to the Withdrawals tab.
Select Bitcoin or another cryptocurrency as your withdrawal method.
Enter the sum you wish to redeem and provide the crypto casino with your wallet address.
Submit the request and wait for the casino site to process it.
When making a withdrawal, it is important to consider the redemption rate of the sweepstakes online gambling site. The operators we have suggested today offer a 1:1 exchange rate between Sweepstakes Coins and United States Dollars, although it may be different on other sites.
The minimum redemption sum may also vary between different crypto-gambling sites. Some of them will allow you to make withdrawals from $40, while others will require you to stack up $100 before you can receive a payout.
Sweepstakes Casino Cryptocurrencies
Crypto gambling sites use different payment gateways, so the assortments of supported cryptocurrencies may significantly vary. The most widely accepted cryptocurrencies are:
Bitcoin;
Bitcoin Cash;
Ethereum;
Tether;
Litecoin;
Dogecoin;
TRON;
You can easily check the payment methods a crypto casino accepts on its website. In case you don't manage to find the information there, feel free to contact the customer support service: they will always provide you with a list of cryptocurrencies they accept.
In case you haven't chosen a cryptocurrency yet, we recommend considering Bitcoin or Tether.
Bitcoin is the most widely accepted cryptocurrency, meaning you will be able to use it for numerous purposes other than crypto-gambling. The main downside of BTC relates to its network fees, which make small transactions very inefficient.
Tether is a great alternative, as it is also accepted on many platforms including both online crypto casinos and various other venues. The fees are significantly lower there, especially if you're using the TRON network rather than the Ethereum one.
Transaction Terms for Payments Made to Crypto Sweepstakes
You should know some of the most common transaction terms before engaging in crypto-gambling, as it will inevitably affect your experience at a crypto sweepstakes casino. The most important factors to consider are:
Minimum deposit and redemption sums;
Processing time for withdrawals;
Fees associated with transactions.
The minimum deposit and withdrawal sums are different at every gambling site, so they should be checked individually. Top-ups usually start from $0.99 to $10, whereas the minimum withdrawal limit might range from $40 to $100.
The situation with fees is easier. Most crypto gambling sites do not charge any fees for transactions, but it does not mean the funds are transferred for free. No matter which cryptocurrency you're using, there will always be a fee for using the blockchain. It is different for every cryptocurrency, and it is important to keep it in mind at all times.
Deposits are processed by crypto gambling sites instantly, although there still might be a small delay while your transfer goes through the blockchain. Withdrawals are usually approved manually, so the gambling site might require a couple of days to process your redemption.
Are Crypto Sweepstakes Casinos Better than Offshore Online Casino Sites?
As a crypto-user, you will be able to choose between offshore Bitcoin casinos and sweepstakes sites that are registered in the US. It is an important choice that will have a significant effect on your experience, and here are the aspects you should keep in mind while making it:
The legality of the experience;
Available purchasing options;
Bonuses and their terms;
Availability of the service.
The legal aspect is pretty straightforward: offshore Bitcoin gambling sites operate illegally in the US. It does not mean you will be pursued for playing there, but you will also not be protected by local legislation in case you decide to opt in.
The situation with the purchasing options is even simpler. Offshore online Bitcoin casino sites only offer you to play with real money, while sweepstakes casinos also have a free-to-play mode.
The promotions on offshore Bitcoin gambling sites might seem more beneficial at first glance, but it is not always the case. The bonus rules are usually a lot stricter there, meaning you will have a harder time actually withdrawing the bonus funds. Sweepstakes sites offer smaller promotions, but the terms like wagering requirements are usually noticeably milder.
The availability of service is better and more straightforward with sweepstakes casinos. Offshore Bitcoin casino sites are restricted in many states, and even if they are available right now, it does not mean they won't be blocked tomorrow. Sweepstakes casinos, on the other hand, are legally available in most states of the US.


Benefits of Crypto Sweepstakes Casinos
There are several major benefits you can receive on sweepstakes sites. The best crypto casinos in this niche are available in most states of the US. For example, Sweeptastic Casino only has three restricted states which are Washington, Nevada, and Idaho. The residents of all the other states are able to enjoy Bitcoin casino games and even win real money prizes there.
The second advantage these sites have relates to their bonus programs. Sweepstakes sites are interested in improving their player retention rates, so they are constantly introducing new regular promotions and events. The best crypto sweeps casinos in the niche offer the following types of bonuses:
Free registration bonuses;
Free mail-in bonuses;
Daily or hourly login rewards;
Discounts for purchasing packages;
Social media giveaways;
Tournaments and other competitions;
Layered VIP programs with exclusive benefits;
Local jackpot networks;
Referral bonuses.
All legal sweepstakes crypto-gambling sites follow the "No purchase required" concept, so they are usually generous with providing you with free SC coins. If you prefer playing for fun, you will be able to explore their provably fair games without having to deposit any funds.
Last but not least, you can enjoy all the popular casino games on sweepstakes sites. They have the same software providers as traditional online casinos, meaning you will be able to experience the best gambling games from the leading software providers there.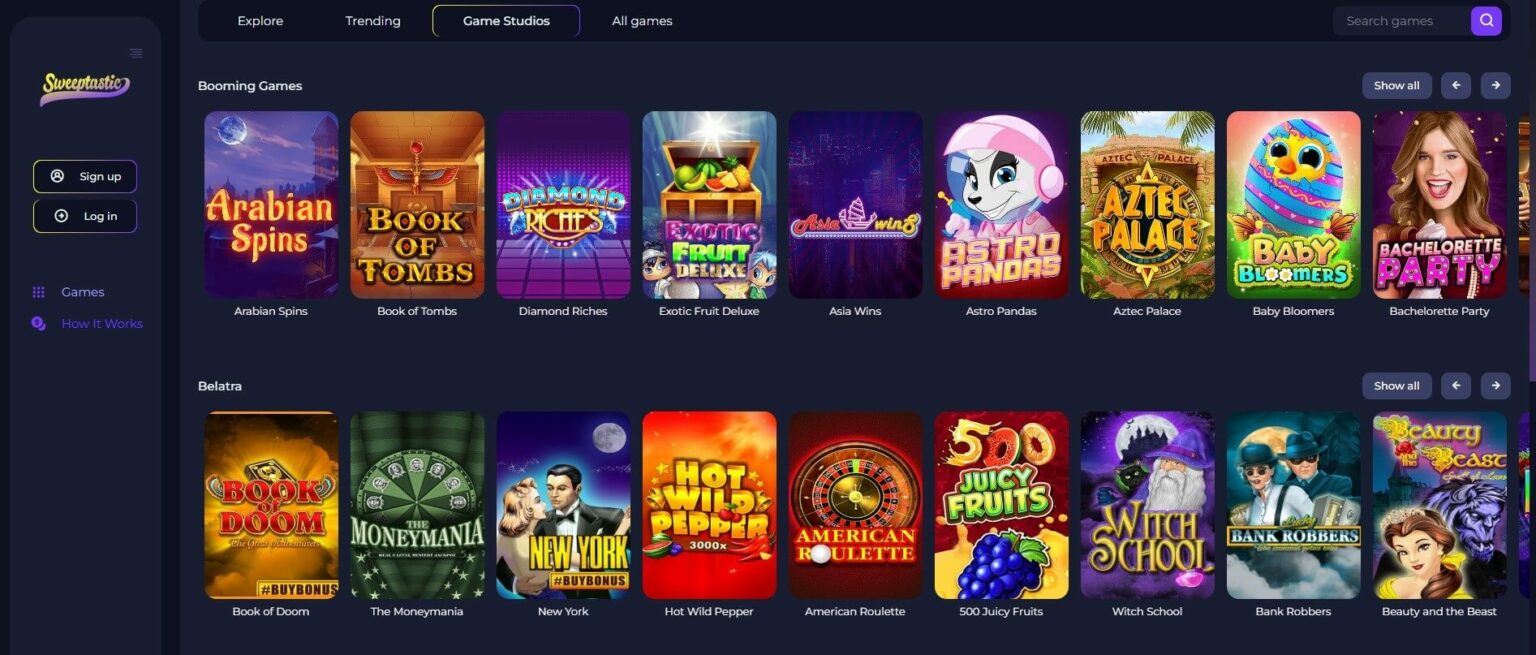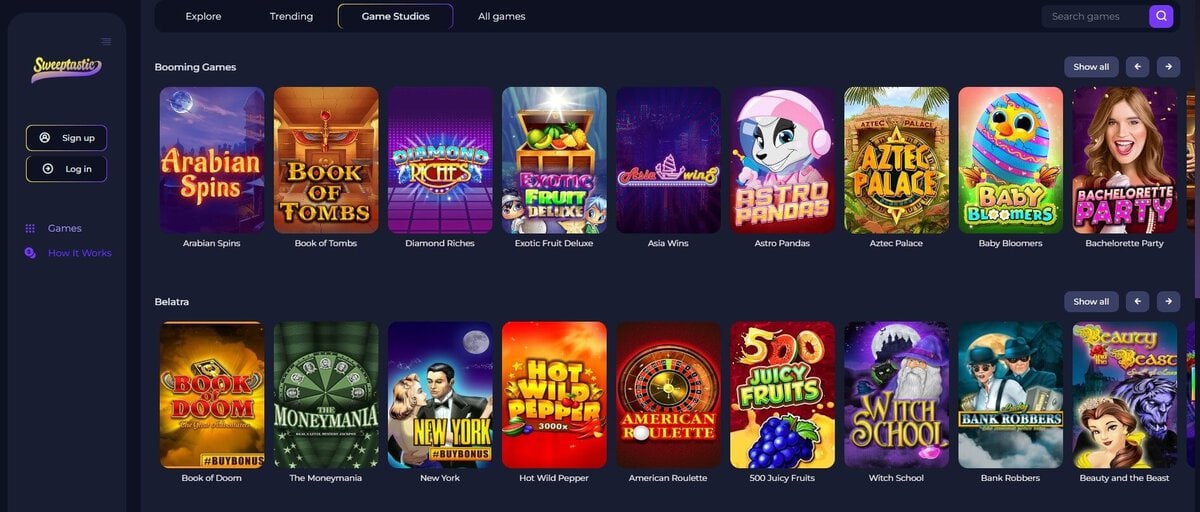 Pros and Cons of Playing at Crypto Sweeps Casinos
The decision to join a sweepstakes crypto casino should be made individually, as no site can possibly appeal to all players at once. Let us present you with the main advantages and drawbacks of sweepstakes online casinos to make this decision easier for you.
| ✅Pros | ❌Cons |
| --- | --- |
| Lots of regular promotions that don't require any deposits | Cryptocurrencies are not yet widely accepted by sweepstakes casinos |
| Access to casino games by the leading game providers | Most crypto sweepstakes sites do not have downloadable apps for Android and iOS |
| Opportunity to enjoy the games on desktops and mobile devices | The promotions mostly provide you with Gold Coins, while Sweeps Coins are rather rare |
| Legal availability in most states of the US | |
| Option to choose between playing for fun and playing for cash prizes | |
Red Flags of Unworthy Crypto Sweepstakes Casinos
There are many decent and trustworthy sweepstakes online crypto casinos, but it does not mean every website you encounter is one of them. The environment inevitably attracts some bad actors, and there are many shady websites you should avoid.
If you are a beginner, we recommend you stick to the sites we have suggested today, as all of them are trusted and tested gambling platforms. But if you decide to look for more crypto casinos on your own, here are some factors you should assess before joining:
License and company info;
Presence outside of the website;
Downloads for mobile apps;
Software providers.
In case you cannot find company information and details about its license anywhere on the website, it is always a major red flag. The same goes for the operator's presence outside of the casino itself. Top crypto casinos have social media groups where you can learn more about the operator and interact with other users.
We also recommend avoiding casinos that only offer direct downloads for their mobile apps on Android devices. The operators who fail to add their applications to Google Play Market or App Store are hard to trust.
Lastly, we suggest checking the software providers of the Bitcoin casino. If the list is composed of some no-name companies or in-house powered games, it means the site does not offer provably fair or RNG-tested games and it should be avoided.
Summary
Summing up, crypto sweepstakes casinos are a viable option for players in most states of the US. If you don't want to be scammed out of your BTC by a shady offshore gambling site, sweepstakes casinos are your option to go with.
The platforms provide a similar experience and even offer you an option to win real money prizes while using cryptocurrencies for deposits and withdrawals. If you decide to join one of the sweepstakes sites we have suggested today, don't forget to claim the free bonuses with Gold Coins and Sweeps Coins to have a head start!