Gamble USA strives to improve your online gambling experience. We aim to help you play safely, make informed decisions when gambling, and increase your betting knowledge through our guides.
We adhere to strict editorial integrity; our content may contain links to products from our licensed & legal US partners.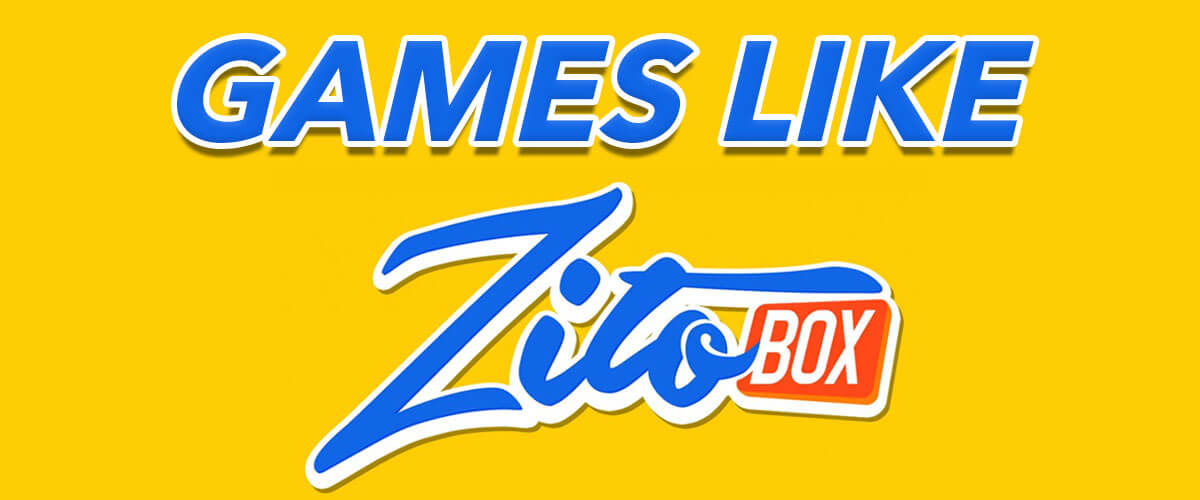 Want to play free games like live casino, roulette, bingo, scratchcards, baccarat, and sports betting but couldn't find any at ZitoBox? ZitoBox is one of the legal online gambling alternatives in the US, with over 150 casino games. Although the sweepstakes site offers players the chance to win real money, it lacks in providing users with a similar experience as they would in a real gambling site.
If you want to make real money playing free casino games while not sacrificing the gaming experience, we've come up with some of the best ZitoBox sister casinos, which offer state-of-art games for free without necessarily making a purchase.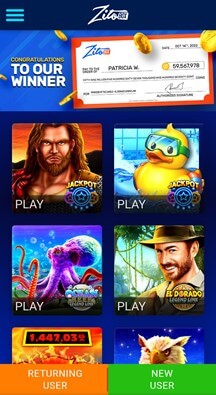 Best Alternative Prize Casino Sites Like ZitoBox
ZitoBox is a social casino where users can play free online casino games with the possibility of winning money or redeeming prizes without needing to spend money. But if you have played at ZitoBox, you'd realize that there are limited game options there.
Aside from the different slot machine titles, video poker, and arcade games, you wouldn't find other game options. This means the vast demographic of players that want to play bingo, sports betting, and live dealer games are lacking.
Also, while ZitoBox rewards players with real money and prizes, you can only win these through specific activities and not gameplay which is a deviation from what you'd find in other social casinos and even real money casino apps. So, no matter how much you earn when you play slots, you only win prizes that can be converted to actual money by performing activities like logging in, making posts about the free online casino, and purchasing coins.
So, while you could play some of the online casino games, you wouldn't get the best gambling experience at ZitoBox, but it doesn't have to be so for you. Other top US social casinos offer a more comprehensive range of free casino games that include but are not limited to slots, baccarat, roulette, blackjack, keno, scratch cards, live casino games, sports betting, and so much more. Not only this, but these sites also allow players to win real cash prizes as they would in an actual online casino, thereby closing the gap between sweepstakes sites and real money online casinos.
If you'd like to start playing at any of these better alternatives, here are 5 highly recommended ones with their unique features.
How to Find Free Casino Sites Like ZitoBox
Even though sweepstakes casinos are legal online gambling alternatives in a restrictive market such as the US, finding social casinos like ZitoBox isn't as easy as it sounds and the reason for this is quite simple. While big gambling operators like PointsBet, DraftKings, and WynnBet make enough money from players' bets to make ads, sponsor events, and give ambassadorial deals, sweepstakes casinos do not have such luxury. Games and cash prizes at social casinos are offered for free and are funded mainly through players' support, hence the financial constraint in its publicity.
Thankfully, you don't have to worry about finding free casino sites like ZitoBox as we at Gamble-USA, with our years of experience in the iGaming industry, have researched and reviewed over 20 legal free casino sites where you can play traditional games for free. We have a bunch of sweepstakes casino reviews you can check to know which social casino is perfect for you.
Unlike real money online casinos, you do not necessarily have to make purchases to play and win real prizes like money and gift cards at the free online casinos we've reviewed. You can keep yourself updated by checking our new sweeps cash casinos page as we add new site releases that meet our requirements.
ZitoBox Casino Games and Best Sites to Play Them
There are over 150 casino games at ZitoBox. Although most are slot games, you'd still find over 30 table games, video poker, keno, and arcade games at the social casino. Seeing a free casino site have an extensive pool of options is excellent, but ZitoBox is far from being the only site to offer these and more. Here are some of the games at ZitoBox and the best alternative sites to play them.
Online Slots
Most of the casino games at ZitoBox are online slots, making up 100+ of the available games. This wide selection includes several features that keep each of them unique. Features such as the number of reels, themes, paylines, and themes are varied to make playing enjoyable.
ZitoBox, thankfully, isn't the online social casino game to offer a wide variety of online slots. In fact, most of the best free online casinos we've mentioned have an almost endless list of slot titles. While you wouldn't find the same ZitoBox slot games at other sweepstakes sites, you'd still find some with similar features. But how do they compare in quality to Zitobox's?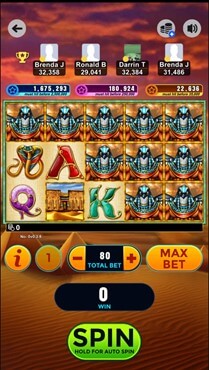 King of Cairo Deluxe is one of the most popular slot machines at ZitoBox being an

Egyptian-themed slot

; the game has excellent design and hyper-realistic symbols like Nefertiti, Horus, the sphinx, snakes, temple, and the cat, all taken from the ancient Egyptian history. Aside from offering players a deviation from the otherwise standard modern theme slot games, King of Cairo also offers players exciting, fast-paced gameplay with three jackpot prizes that could give up to 5-figure coins if triggered.
For players who like to explore ancient eras, we'd recommend playing Pulsz Casino's Sun of Egypt 3. This game by Booongo is also inspired by ancient Egyptian history and has similar symbols to ZitoBox's King of Cairo. Sun of Egypt 3, however, has 5 jackpot prizes instead of the usual 3 you'd find in King of Cairo and other jackpot slots at ZitoBox. The jackpot can be triggered if you can land 6 of the bonus symbol in a spin. This opens the bonus game where you'd be offered 3 respins to earn you the grand prize of up to 10,000x with just a spin. This Pulsz game is simple and exciting to play, with huge prizes to be won, and it's just one of the hundreds of slot machines to be played at Pulsz.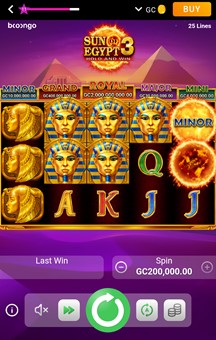 Blackjack Games
The classic game of 21 is also one of the most sought-after ZitoBox online casino games. There are about 9 different blackjack variants at the free online casino, but the most popular of them is the 5 Hand Blackjack.
5 Hand is a type of blackjack for fun and thrill seekers. In addition to having all the features of standard blackjack, you can decide the number of hands you want to play and how much you are willing to wager on each hand. With this advantage, the potential of having a huge win is great, hence its popularity.
BetRivers.net is also one sweepstakes casino with a plethora of blackjack variants.
Unlike in ZitoBox Casino, where you'd be playing with an AI, BetRivers.net has live dealer blackjack games which accept up to 7 players as you would in real money traditional online casinos. To play a game with dynamic features similar to ZitoBox's 5-Hand Blackjack, we recommend playing Infinite Blackjack. This blackjack variation is a live game that, from its name, allows an infinite number of live players. With an unlimited number of players and the chance to double down on two initial cards of your choosing and also split pairs three times, there possibility you'd find in the Infinite Blackjack is endless.
If you are a newbie or prefer a much easier and straightforward blackjack game, American Blackjack would be one of the best online casino games to play as it offers a simple 8-deck shoe and the chance to double, split, stand, or split using mainly American rules.
Roulette Games
Roulette is one of the most exciting casino games, and betting on red or black barely scratches the surface of roulette's gameplay. There are three main roulette variants – American, European, and French – but ZitoBox only offers American Roulette. While this lack of variety could be a turn-off if you are a fan of the online casino game, the one available has an appealing design, and you could hear the wheel spin on every round. If having several game options is a big deal for you, we'd suggest you head to BetRivers.net or Rush Games.
These two sweepstakes casinos offer all three variants of the casino game with an option to play with an AI or with real players in live dealer games. Some roulette games like Lightning Roulette, French Roulette, and Instant Roulette have up to 10 types of bets covering outside, inside, call, and final bets, giving players the same option as they would in an actual land-based or traditional online casino.
If you are seeking a similar roulette game like the one at ZitoBox, you can try out BetRivers.net and Rush Games' American Roulette. While it shares the same features as that of ZitoBox, a live game option can be played with up to 7 real people.
Bingo
Bingo is a pariah of online casino games, as most sweeps casinos do not have this game. While ZitoBox used to have two online bingo rooms in its game catalog, they have since been removed.
If daubing and shouting bingo to win cash prizes seems like a great idea to you, then you should try out Pulsz Bingo. Pulsz Bingo is a social bingo site where you'd find many online bingo games like Route 66 Bingo, a fast-paced 30-ball bingo card. Players can buy up to 100 tickets at a time to compete with other players, and there is the possibility to win real cash prizes.
For players who want to support a good cause by donating to charities while playing online bingo cards, Golden Heart Games bingo is the right place to be. Unlike other sites, where you can play free casino games like bingo to win cash prizes, you can also opt-in to donate to local charities of any good cause of your choosing. The Golden Hearts Games bingo room is also live, so you'd be competing with other real players like you for real prizes from paying. Sites like Golden Heart Games are where it's at if you're a bingo lover.
ZitoBox Parent Company & Sister Casinos
🎰ZitoBox Casino
🌐Website
www.zitobox.com
🎲Available Games
Online slots, video poker, blackjack, and arcade games
❓Limitations and Downside
- Real cash isn't won via gameplay
- No available mobile app
- No live dealer games
🎰Best Sister Sites
Pulsz Casino, BetRivers.net, Golden Hearts Games, Fortune Coins, and SweepSlots
🎁Available Bonuses at Sister Casinos
No deposit bonuses, welcome bonuses, first purchase bonuses, daily login, slots tournaments, social media contests, referral bonuses
Free Casinos Like ZitoBox
If you like a world-class social gaming experience with the opportunity to win real money, consider these ZitoBox alternatives.
ZitoBox or Pulsz?
Pulsz Casino is one of the best alternative sweepstakes casinos to ZitoBox. The free online casino has one of the most expansive collections of slot games, and you'd find slot engines like the megaways and fixed and progressive jackpot slot games that payout in real money.
Pulsz has one of the most exciting video slots with lucrative bonus features like multipliers, free spins, and respins. Unlike ZitoBox, Pulsz Casino also includes Play the Feature slots that allow you to buy bonuses like wilds, scatters, multipliers, and much more to enhance your chances of winning big.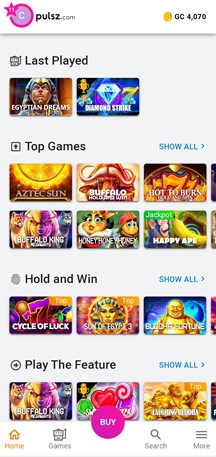 You'd also find skill-based casino games like blackjack and Texas Hold'em as well scratchcard games that could provide real money winnings. You may also want to have a look at scratch carnival too which provides some awesome scratch based games.
Similarly, Pulsz casino has a loyalty program where you accumulate points. However, instead of being able to cash out your points as you would in ZitoBox, you'd be given exclusive access to games and offered discounts on your gold coin purchases.
ZitoBox or BetRivers.net?
ZitoBox is undoubtedly one of the sweepstakes sites where you can play casino games like online slots, table games, video poker, and so much more for free to redeem real prizes or money. Still, it lacks variety compared to the 400+ casino games available at BetRivers.net.
Owned by Rush Street Interactive, BetRivers.net sweepstakes games are powered by real iGaming studios you'd find at traditional online casinos. So, while you'd be able to play some casino games at ZitoBox, the games offered by BetRivers.net gives you a near-perfect experience to what you'd get in land-based or online casinos.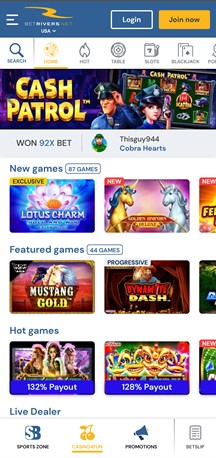 In addition to having a better quality of games than ZitoBox Casino, BetRivers.net has the most diverse game catalog of over 400 casino games. So, aside from the regular slots, you'd find ones with innovative engines like the Megaways, Hold and Win, and Slingo. Other than slots, there are many other gaming options like online bingo and video poker. BetRivers.net is also one of the top sweepstakes casinos, aside from Rush Games, to offer live dealer games and free sports betting to all US residents.
In terms of gameplay, accessibility, and general online gaming experience, BetRivers.net offers top-notch services. Still, the only advantage ZitoBox has over it is that you cannot win real money from playing at BetRivers.net.
ZitoBox or Fortune Coins?
Fortune Coins and ZitoBox share several similarities. Aside from offering predominantly slot games, these two free social casinos also provide players with less popular but interesting games like fish games, but this is where the similarity ends.
Fortune Coins is owned by Social Gaming LLC and is the first sweepstakes casino that offers only progressive jackpot slots. While there are only about 50+ slot games at Fortune Coins, the three-tier jackpots with up to $30,000 make playing worthwhile. Aside from online slots, Fortune Coins features card and multiplayer fish games that you can play with up to 4 players.
Another perk that Fortune Coins has over ZitoBox is that all fortune coins won when playing casino games can be converted into cash prizes. So, instead of being rewarded for your activities like in ZitoBox, you can log in, play online slots or any game of your choice, and after making enough fortune coins, you can withdraw real money.
This prevents players from being addicted to online casino games as they are not rewarded for how long they stay or play at the free casino site.
Best ZitoBox Games
There are numerous games to choose from on ZitoBox, but which ones provide the best entertainment? Below, we list our favorite games available on the ZitoBox platform.
Space Cat
This arcade game is a unique offering on ZitoBox. The game sees the user control a spaceship and aim to fire at enemies that constantly appear at the top of the screen. You must must manoeuvre your ship to dodge various objects and enemy craft as they will return your fire. The more successful you are, the more coins you earn. If you want a break from traditional casino games, this option provides light hearted fun.
Wolfpack
Wolfpack is one of the top slot games at ZitoBox. It is a progressive slot game, so the jackpot continues to grow the longer it goes unclaimed. Each jackpot has a maximum limit it can reach before it is won. For instance, the lowest jackpot must hit before the total gets to 35,000 Coins. Consequently, if you the jackpot creeps up above 30,000, you know it will be hit soon. The game is set in the wilderness and has symbols inspired by Native American history. There are 50 paylines and five reels, and you can wager anywhere from 100 to 10,000 Coins per spin.
Players looking for more than just slot titles will find plenty of choice on ZitoBox. There are lots of Video poker games with 6 different video poker variations for you to enjoy. Although the games available on ZitoBox are varied and exciting, there are multiple other sweeps casinos sites with a deeper pool of games.
Play Games like on ZitoBox for Real Cash Prizes!
Sweepstakes casinos are the new cool in the iGaming industry. Their broader reach in the US, coupled with the ability to play and earn real money as you would in an actual casino, makes them a worthy alternative in states where online gambling is still illegal.
While ZitoBox is excellent, certain limitations, like available games and rewards, make it challenging to play free games or make real money. So, why not try out the best alternative free online casinos and claim the lucrative welcome bonuses instead?