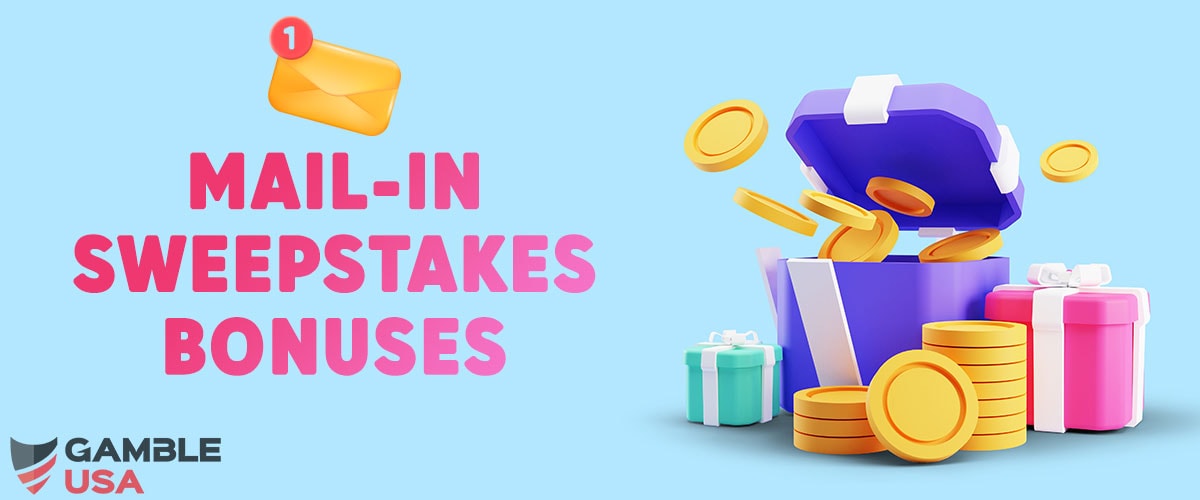 A mail-in bonus supports free entry with no purchase by providing free coins to any user who sends a mail request through a postal service, so long as you adhere to all the rules of the offer.
The possibility of getting a constant supply of free coins at sweepstakes casinos makes the mail-in offer attractive. Still, the need to handwrite each request can be a hassle for many players. So, other online offers like the daily login bonus, referral bonus, and social media promotions are still trendy.
For anyone who doesn't mind the extra steps for a chance to rake in at least $30 worth of free SC monthly, you can find a selection of our top mail-in bonus casinos in the following table:
| 🎰Sweeps Casino | 📧Mail-in Bonus | 🎲Games | ✍️Sign-up Bonus |
| --- | --- | --- | --- |
| Fortune Coins | 500 free Fortune Coins | Fish table games, slots, video poker, specialty games | 360,000 GC and 1,200 FC |
| Pulsz Bingo | 5 free SC | Bingo, slots, scratchcards | 5,000 GC and 2 SC |
| Stake.us | 5 Stake Cash | Live dealer games, slots, Plinko, specialty games | 10,000 GC and 1 SC |
| High 5 Casino | 3 SC | Slots, table games, live dealer games | 250 GC, 5 SC, and 600 Diamonds |
| Sweeptastic | 5 SC | Slots, card games, roulette, specialty games | Up to 27,777 LC and 2 SC after profile completion |
| WOW Vegas | 5 SC | Slots, table games | 8,500 WC and 4.5 SC over 3 days |
| McLuck Casino | 4 SC | Slots | 7,500 GC and 2.5 SC |
| Funrize | Up to 1,000 PE | Slots, fish games | 125,000 TRN |
| NoLimitCoins Casino | 100 Super Coins | Slots, fish games | 100,000 GC and 1,000 SC |
How the Mail-in Sweepstakes Bonus Works
A mail-in sweepstakes bonus is an ongoing promotion that rewards you with a set amount of free sweepstakes coins for every physical mail you send to a sweepstakes casino operator.
Although it's just one type of entry method, many players and casinos commonly refer to mail-in bonuses as Alternative Mode of Entry or AMOE.
Due to the number of free SC on the line and the fact that the casino incurs losses from the offer, the mail-in bonuses require a deliberate effort from players, leading them to handwrite each request, follow specific guidelines, pay for postage, and take each letter to the post office for delivery.
Players who choose to see the process through until the end can get up to 100 free SC monthly from the social casino to play any game they want and redeem their winnings.
Do Sweepstakes Casinos Profit from Mail-in Bonuses?
Sweepstakes casinos don't profit from the mail-in promotion and usually lose money running it. However, the mail-in bonuses help them meet the legal sweepstakes requirements to operate without a license since they provide free entry to their games without a purchase.
Furthermore, the requests you send are helpful as proof to regulators that all players are treated equally, and there is no form of consideration for the free SC.
Getting More Free Sweepstakes Coins Legally and Without Hassle
Mail-in requests are outstanding since they offer an unlimited supply of free premium coins that you can use to win real money. Nonetheless, I understand how it can be stressful to claim due to the restrictive guidelines.
For me, the most annoying part of the mail-in bonuses is the need to handwrite each request, so I often find myself looking for other legal loopholes to claim free sweeps cash.
Hacks and petty tricks won't work on any standard sweepstakes casino (don't ask how I know), but there are several other legal ways to earn free sweepstakes coins, including no-deposit and deposit options:
Social media promotions
Referral bonus
First purchase offer
Our Top Picks for Sweepstakes Casinos with Mail-in Bonuses
Finding a social casino that supports mail-in entry is easy, but the rules for claiming the offer is what matters. Regardless of the US sweepstakes casino you pick, there are certain standard AMOE rules you should note:
Your request card should be 4″ x 6″ postcard or paper
Use a #10 Envelope
All requests must be handwritten without any form of assistance (from friends or via automation)
You can only send one request per envelope
Your return address should be written on the front of the envelope
Requests must be made from the same state or province as your verified residential/return address
In addition to these, you must go through the sweepstakes rules page of any site you pick for unique conditions you must follow, and this step applies to our expert's picks for top mail-in entry casinos:
🥇Fortune Coins Mail-in Requirements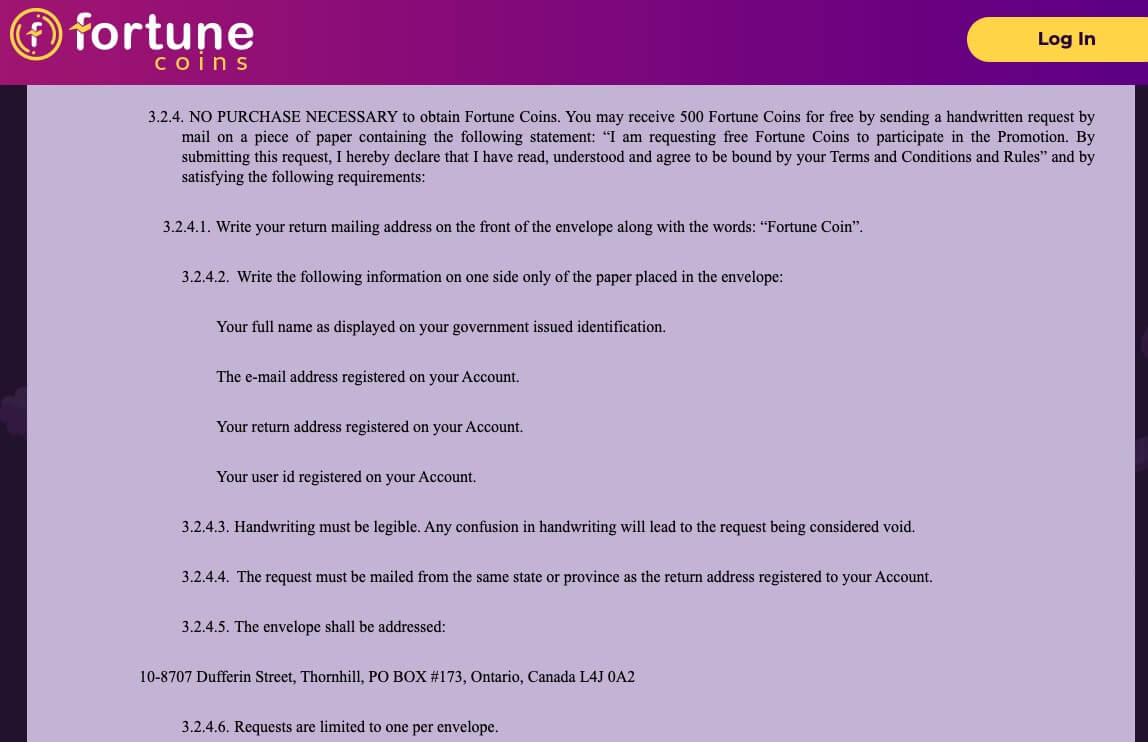 Fortune Coins now has one of the best selections of fish table games, and the best way to enjoy them is by requesting free Fortune Coins through its AMOE option.
You can get up to 500 Fortune Coins from your request, and while this may appear to be larger than other offers on this list, remember that 100 FC equals $1, so the bonus is the same as 5 SC on other popular sites.
To start creating your request, get your 4″ x 6″ postcard, and on one side of the card, write the following:
Full name as it appears on your ID
Email address you used to register
Registered return address
Account user ID
Seal your request card in an envelope and address it to 10-8707 Dufferin Street, Thornhill, PO BOX #173, Ontario, Canada L4J 0A2.
Play Slots For Fun, With 1200 Free ($12) Fortune Coins!
Real cash redemptions
Huge array of free online slots
Relax Gaming slots
Play Slots For Fun, With 1200 Free ($12) Fortune Coins!
🥈Pulsz Bingo Mail-in Requirements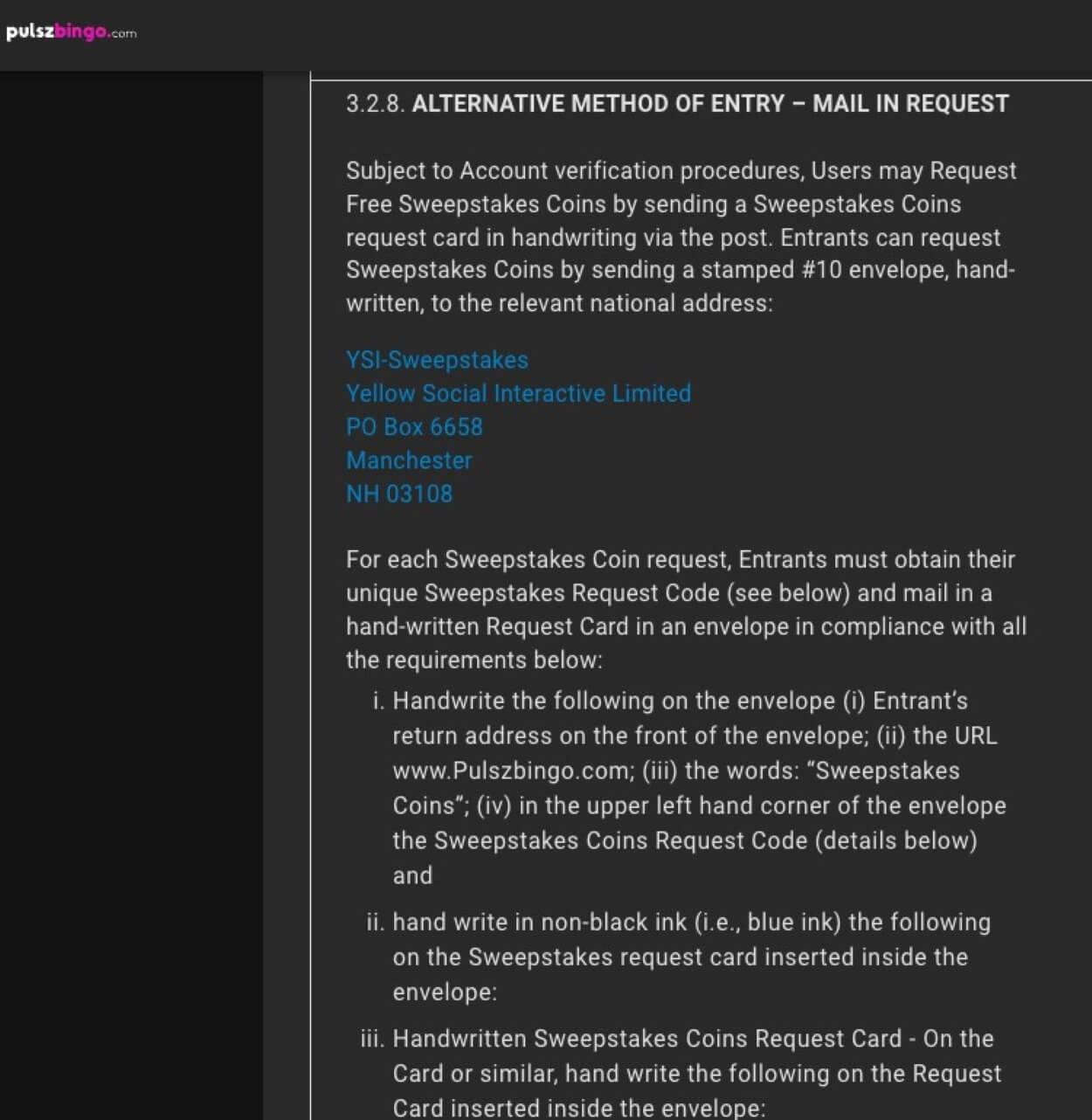 Pulsz Bingo allows you to go through its exciting selection of slot games and bingo rooms using its 5,000 GC and 2 SC welcome bonus or 5 SC mail-in offer.
To claim your first AMOE bonus, fill your request card with your full name, URL (pulszbingo.com), return address, email address, and the unique sweepstakes coins request code at the upper left-hand corner of the card.
Now, write the statement: "I would like to request free Sweepstakes Coins offered by Yellow Social Interactive Limited in order to enter the promotional Sweepstakes offered on pulszbingo.com. I agree to be bound by the general Terms of Use and Sweepstakes Rules."
On the envelope, write your return address, URL (pulszbingo.com), "Sweepstakes Coins," and the sweepstakes coins request code at the upper left-hand corner. Your envelope should be addressed to YSI-Sweepstakes, Yellow Social Interactive Limited, PO Box 6658, Manchester, NH 03108.
Unlike many other sweepstakes casinos, Pulsz Bingo states that all requests be handwritten in non-black ink, so blue ink is allowed.
Get up to 90,000 Gold Coins + 9.8 SC FREE
Supports real money bingo prizes
Proprietary US-themed bingo rooms
Get up to 90,000 Gold Coins + 9.8 SC FREE
🥉Stake.us Mail-in Requirements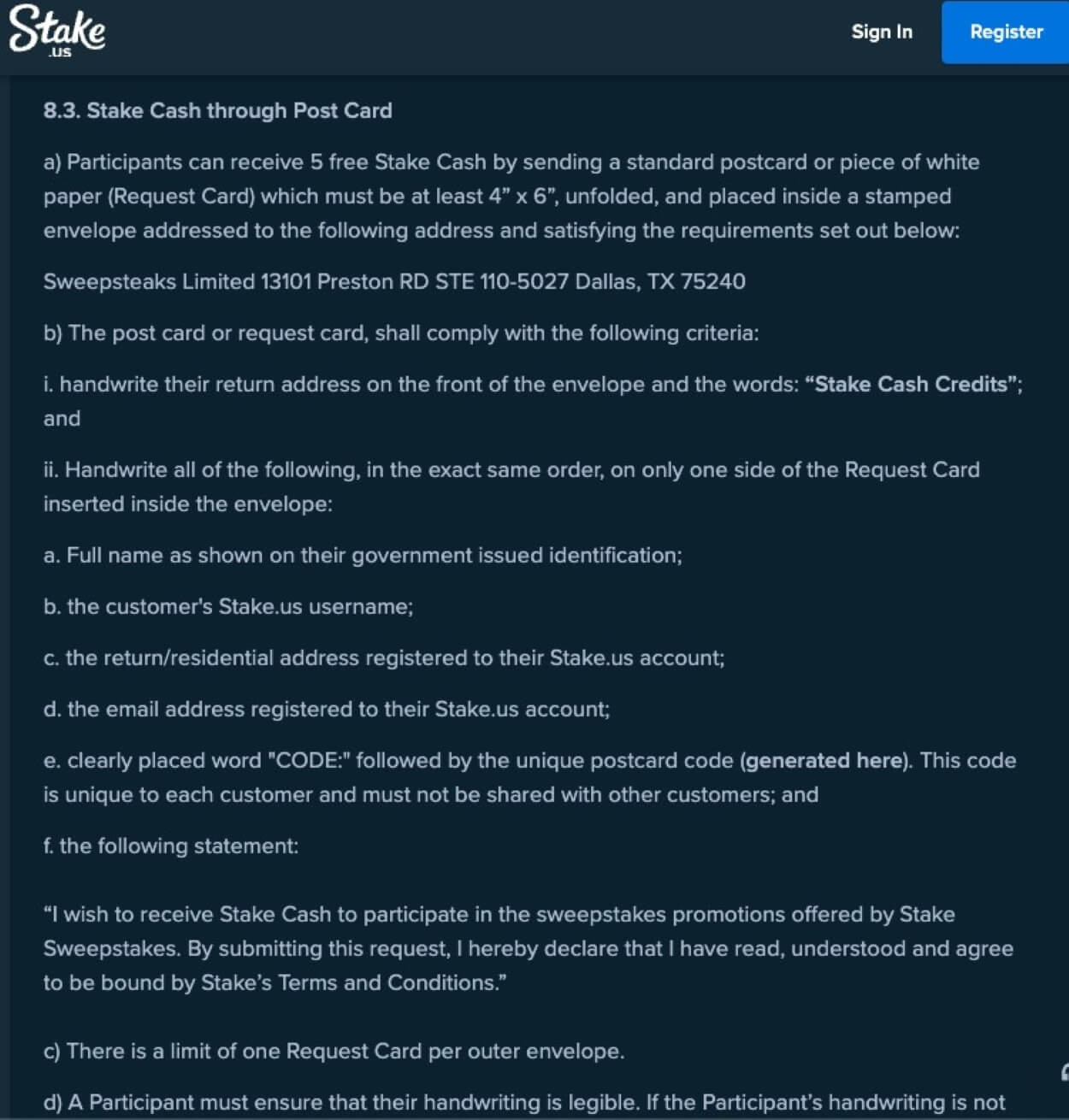 The Stake.us mail-in bonus rewards you with 5 Stake Cash for each request you send to complement its 10,000 GC and 1 SC sign-up/daily login bonus. To get this offer, get an unfolded request card of at least 4″ x 6″ and write the following on one side as listed:
Full name as it appears on your ID
us username
Return address on your Stake.us account
us account email address
"CODE:" (generate a unique code on the Stake.us page and insert)
Now, you must write the statement: "I wish to receive Stake Cash to participate in the sweepstakes promotions offered by Stake Sweepstakes. By submitting this request, I hereby declare that I have read, understood and agree to be bound by Stake's Terms and Conditions."
Put your request card into an envelope addressed to Sweepsteaks Limited, 13101 Preston RD STE 110-5027 Dallas, TX 75240.
Finally, the words "Stake Cash Credits" and your return address should be written on the front of the envelope.
10,000 GC + 1 Stake Cash No Deposit Bonus
Only legal crypto gambling site in the US
Stellar range of slots, including Stake Originals
RNG and Provably Fair Games
10,000 GC + 1 Stake Cash No Deposit Bonus
🎖️High 5 Casino Mail-in Requirements
High 5 Casino doesn't provide many high-payout SC bonuses besides its welcome bonus of 250 Game Coins, 5 Sweeps Coins, and 600 Diamonds, a daily bonus of 1 SC, and a referral bonus of up to 5 SC. Therefore, the mail request option that earns you 3 SC for each envelope is worth the effort.
To get started, get your 4″ x 6″ postcard or paper and write the following details on the top left of the card:
Full name as it appears on your H5C account
H5C account email address
Mail-in request code (can be generated by the "My Account" tab of your account)
Return/residential address as it appears on the ID submitted to the H5C team
On the same side of the card, go to the top right side and write the date of the day you're preparing the request.
Now, flip over to the other side of the card and write this statement: "I wish to receive Sweeps Coins to participate in Sweeps Play on High 5 Casino."
Slot the card into an envelope and hand write your return address on the front top left. When done, turn it over to the back and write the unique mail-in request code on the mid-center.
High 5 Casino has an address for US residents and another for Canadian players, so send your envelope to the right option based on your location.
5 FREE Sweeps Coins + 600 Diamonds + 250 GC
Lots of bonuses
400+ Slot games
Daily rewards
5 FREE Sweeps Coins + 600 Diamonds + 250 GC
🏅Sweeptastic Mail-in Requirements
To get five free coins from the Sweeptastic postal offer, you must first complete your account verification, then write the following details on one side of your request card in non-black ink:
Your sweeps coins request code at the upper left corner of the request card
Full name as it appears on your ID
Registered email address
The return/residential address on your Sweeptastic account
After providing these details, write the statement: "I wish to receive Sweeps Coins to participate in the Sweepstakes promotions offered by Sweeptastic. By submitting this Request Card, I hereby declare that I have read, understood and agree to be bound by Sweeptastic's Terms of Use including the Sweeps Rules."
Get a fresh #10 envelope, put your request card inside, and address the card to Heuston Gaming Inc, 4498 Main St, Ste 4 #1347, Amherst, NY 14226, USA.
Finally, provide these details on the top left corner of the front envelope:
Sweeptastic Sweeps Coins
sweeptastic.com
Return address
Sweeps coin request code
2 SCs FREE +25 SCs extra free on first purchase
Huge catalog of 1000+ slots and casino games
Excellent UI with smooth browsing
Sweeps redemptions available for cash & gift cards
2 SCs FREE +25 SCs extra free on first purchase
Are Mail-in Entries Worth the Effort?
| ✅Pros | ❌Cons |
| --- | --- |
| Many casinos allow you send as many requests as you want | The process is time consuming and tasking since you have to handwrite each request (no use of photocopies) |
| No restriction on games you can play with your free SC | You usually have to wait at least five minutes to generate a unique postal code |
| One of the few ongoing promotions that is available throughout the year | |
| Excellent for growing your bankroll without purchasing coin packages | |
Tips for Mailing a Free Sweepstakes Request By Post
Getting a postal bonus should be an easy process for everyone, but sweepstakes casinos look for ways to disqualify as many requests as possible.
To help you avoid these pitfalls, we have some tips for you, along with other tricks to make your life easier when writing a request:
Adhere Strictly to the Rules: AMOE is free money, and sweepstakes casinos find the pettiest reasons to avoid paying out the free sweeps coins. So, to ensure you're not missing out on your bonus, we recommend you follow all terms, conditions, and rules set by the casino to the letter.
Always Generate a New Code: The unique sweepstakes request code you generate is usually for one-time use, so you must generate a new code for each envelope. Many social casinos force you to wait about five minutes to generate a new code which is why I like to generate them when I'm less busy (like on a bus) and use them before expiry.
Buy Envelopes with Seals in Bulk: Getting your envelopes in bulk is a great way to minimize expenses. Also, look for self-sealing or peel-and-seal envelopes to close your envelopes neatly (no licking).
Try to Use Only Blue Ink: A few social casinos restrict users to blue ink when writing a postal request. So, an easy solution is to only use blue ink when writing all your requests regardless of the casino.
Get a White-Out Pen: A white-out pen is an excellent tool that will be handy when you need to cover up any mistake on your request neatly. I can assure you, this is a less frustrating and better alternative to striking out mistakes or throwing out the entire card.
Save Cost on Postage: All envelopes you send to a sweepstakes casino must have postage affixed, and using the correct postage is crucial to avoid paying more than necessary. Although you can find cheap/discounted postage online, you must check with your local PO before use, as some may be counterfeit.
Get Help on Social Media: You'll be mind blown by the number of users that are always willing to help out on social media sites. A few of these users go as far as providing images of how your request card should look and other valuable tips that can help you meet the requirements for your entry.
Reasons for Delayed or Denied Mail-in Sweepstakes
While sweepstakes casinos are obligated to payout free SC for requests they receive via mail, they also reserve the right to decline specific requests if there is a dispute and no satisfactory resolution.
I've confirmed a few reasons that may cause a delay or denial of your bonus request, so you should avoid them when possible:
Backlogs: Dealing with backlogs is one reason sweepstakes casinos delay mail-in bonus payouts since they must comb through thousands or millions of requests. This is beyond your control and some casinos may take weeks or months to credit your account with the free sweeps coins.
Sending Requests to the Wrong Address: Sweepstakes casinos that operate in the US and Canada might have multiple addresses, and using the wrong address will disqualify your request.
Mismatched Details: Submitting a request with details like an address that doesn't match what you have on your account can get you disqualified from receiving free sweepstakes coins. For example, abbreviations like St for street or ln for lane when it doesn't appear that way on your ID will be flagged when they're going through your request. I advise you only to use details that match what you have on your ID when setting up your account and filling out your mail-in request card. Other issues you may have to deal with include wrong capitalization, failure to include all your names, or incorrect spelling.
Sending Too Many Requests: Different sweepstakes casinos have unique rules, and some, like Fortune Coins, limit their mail-in bonus requests to once every five days. So, sending multiple requests like you would do on Chumba Casino will be an issue.
Other Free SC Bonuses at Sweepstakes Casinos
In my experience, you may need to wait a few days or weeks for a response to your AMOE request. So, while you wait, finding other options to claim free coins is always essential.
Fortunately, you can get more free sweeps coins through a daily login bonus, social media contests, tournaments, and referral bonuses that many casinos offer while waiting.
Summary
Claiming your first mail-in bonus may seem daunting, but it gets easier as you repeat the process, becoming one of the best and most efficient ways to get free sweepstakes coins.
The general approach is the same on most mail-in casinos, but going through the AMOE rules of each operator is an essential part of the process.
Adding this bonus to the other free coin bonuses you can claim, you can quickly grow your bankroll and cash redemptions without any coin purchase.
FAQs
Is there a limit to how many mail-in requests I can send?
The limit to the number of mail-in requests varies depending on the sweepstakes casino, with Fortune Coins accepting one request every five working days. You can find more information on this limit in the sweepstakes rules or by contacting the support team.
Can I win cash prizes from mail-in bonuses?
Mail-in bonuses earn you free SC that you can use to play premium games and redeem your winnings. You'll usually have to play through the coins at least once to trigger any cash redemption.
How long do I have to wait for a response to my AMOE request?
There is no fixed response time, with some sites responding within a few days, while others may take weeks or months, depending on how many requests they have to go through. It doesn't matter if you've filled your request correctly or wrongly, everyone has to wait the same time for a response - even if your request will be rejected.