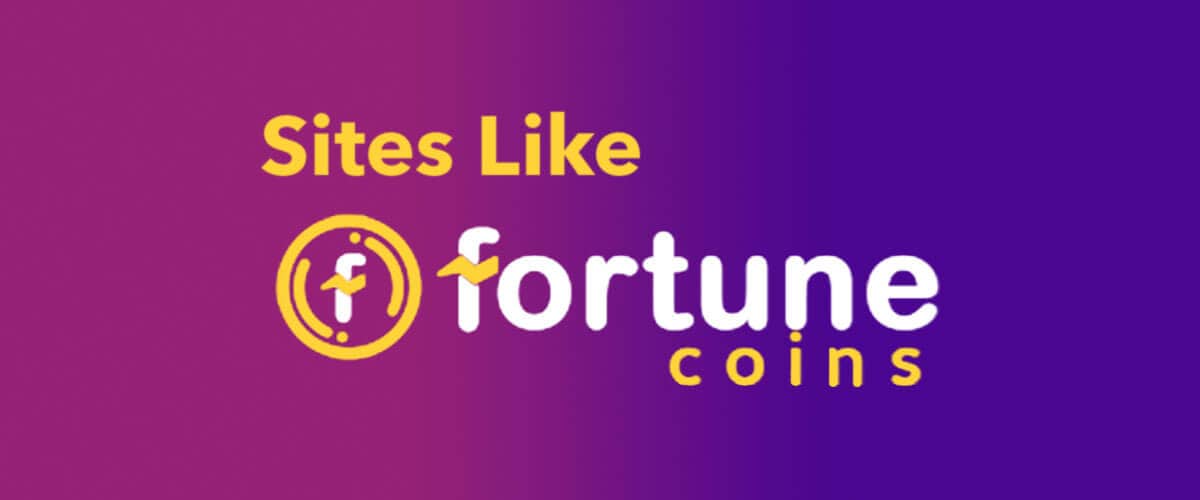 Since launching in 2021, Fortune Coins has been riding a wave of success. And in some ways, they deserve it. The Fortune Coins no deposit bonus of 140,000 gold coins and 500 fortune is one of the best welcome bonuses around. Likewise, their star attraction Emily's Treasure could be justifiably described as the most exciting sweepstakes online casino game. However, Fortune Coins isn't perfect.
While it can be tempting to stick with a casino that you know and are comfortable with, smart players know that the best way to beat the casino is to shop around.
Of course, with so many duds out there the last thing you want to do is jump in blindly, so that's why we've prepared this guide to show you where Fortune Coins falls short, and what other social casinos can fill in those holes.
Why Do You Need Fortune Coins Alternatives?
When it comes to multiplayer fish games, Fortune Coins is king. But when it comes to more conventional game types like slots and video poker, they can fall quite a ways short of other sweepstakes casinos. Whether it's variety or RTP — Fortune Coins could do better.
But this isn't their only issue. As of writing, their reputation is at a weird level. Not big enough that it has the same levels of trust as some of the big names, although not small enough that you can take advantage of their social media promotions. While it does suffer from several problems, many of which also prompt players to look for Paradise Sweepstake alternatives too, its reputation is not as bad as Paradise's.
This isn't their fault. And I certainly wouldn't suggest you stop playing there because of this. However these are weaknesses of Fortune Coins, and if profitability is your chief concern, these are areas where you should be asking if other sweepstakes casinos can do better.
Fortune Coins Sister Casinos
When looking at alternatives to a particular casino, your best bet can sometimes be to look at sister casinos owned by the same parent company. Pulsz has Pulsz Bingo. Chumba has Luckyland. However, Fortune Coins doesn't have a sister casino. Being founded in 2021, they're still quite a new venture of Social Gaming LLC, and it makes sense that they'd want to stick to just one casino for the time being.
While this may seem a bad thing, it's actually a good thing. One of the main criticisms of Fortune Coins is the lack of information about their parent company. In some ways, it's a fair criticism as there have been many companies that pop up overnight touting their new casino, then disappear the next, having taken their customer's money with them.
But with Social Gaming LLC deciding to invest heavily in a singular venture, it's a good sign that this is something that they are taking very seriously. Of course over a year since their launch, there are no question marks about their legitimacy anymore.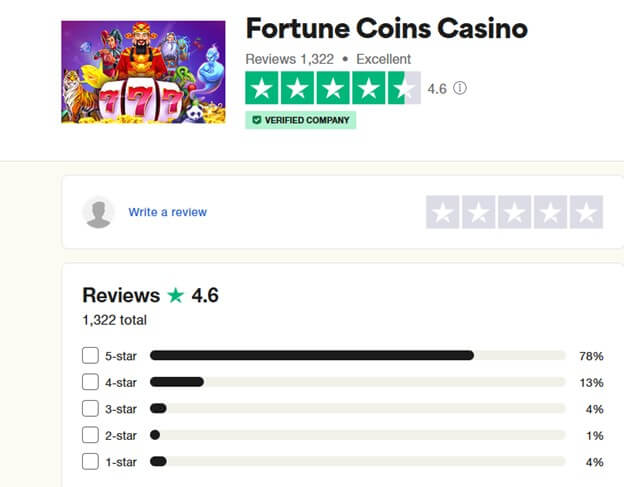 And their 4.6 rating from 1,322 reviews of Trustpilot proves this.
Fortune Coins Similar Casinos
🎰Casino
🎁Welcome Bonus
✅Where They Improve
Pulsz
5,000 Gold Coins + 2 Sweeps Coins
Better Variety of Slots
Mainstream Slots
BetRivers.Net
500 VC
Access to Table Games
Better Variety of Games
SweepSlots
5,000 Gold Coins + 1,000 Sweeps Coins
Higher RTP Games
Better Welcome Bonus
So with no sister casinos, the best option now is to find similar casinos. Thankfully, with sweepstakes casinos enjoying a surge in popularity, there's an abundance to choose from. However, not all of them are better. In fact, from my research I think there are only three sweepstakes casinos that I would consider above Fortune Coins.
Fortune Coins vs Pulsz
To start off, it's Pulsz Casino. There are a few differences between Pulsz and Fortune Coins, but I consider those to be almost entirely positive in favor of Pulsz. Firstly the gaming library of Pulsz is considerably bigger than Fortune Coins, and while table games aren't plentiful at either, Pulsz does offer their variant of Texas Hold'Em, as well as blackjack.
The main differences come with their selection of games. While Fortune Coins designs their games in-house, Pulsz offers games from a wide variety of gaming developers, including NetEnt and Pragmatic Play. This means that the games at Pulsz will be much more familiar to the average slot player.
The only real drawback to Pulsz is that their welcome bonus of 5,000 gold coins and 2 sweeps coins is slightly worse than Fortune Coins'. Besides that, Pulsz is a great alternative.
Fortune Coins vs BetRivers.Net
How does BetRivers.Net stack up to Fortune Coins? Well, for the most part, it's a landslide. Being affiliated with one of the major names of traditional online casinos means that the selection of games at BetRivers.Net is the most expansive that you'll find at any sweepstakes casino, including even live dealer table games.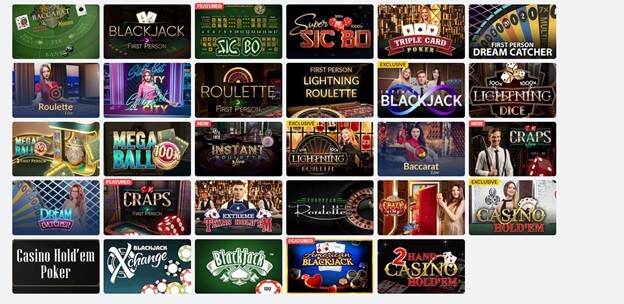 The main drawback to BetRivers.Net is that they do not offer real money play and you can only play free games. If that's a deal-breaker for you, you should look elsewhere. Otherwise, BetRivers.Net is the perfect starting place for those new to the world of online casinos.
Fortune Coins vs SweepSlots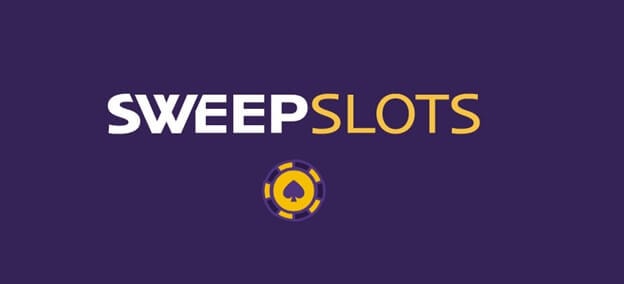 The final entry on this list is SweepSlots. Starting off with the bad, the SweepSlots gaming library is minuscule, with only 33 games available as of writing. Their reputation is also smaller than Fortune Coins.
But SweepSlots knows this. And so they treat their customers especially well with regular bonuses, including a SweepSlots welcome bonus of 10,000 gold coins and 1,000 sweeps coins when you use promo code GUSA during sign-up. Secondly, while they have fewer games, these games are incredibly profitable (more about this later).
SweepSlots is definitely the dark horse on this list. But if profitability is your favorite thing about Fortune Coins, then SweepSlots is the clear favorite.
Online Casino Games Like on Fortune Coins
A preface to this entry is that when it comes to Emily's Treasure — there's nothing like it. However, the multiplayer fish game isn't the only appeal of Fortune Coins, and for their five other most popular games, we've found some great alternatives.
Legendary Diamonds — Pulsz
Hope Diamonds is arguably the most popular slot at Fortune Coins. A classic 5×3 slot with medium to high volatility and 95.1% RTP. It's fun. But it's a great example of how the slots at Fortune Coins fall just a little bit short of the upper echelon, as there's nothing that stands out about Legendary Diamonds.
So for our alternative, we've gone for a game with a thematically similar game that one ups it in every way — Legendary Diamonds. Developed by Booming Games, Legendary Diamonds has a similar level of volatility, though with a superior 95.6% RTP.
There's nothing to dislike about it, and I consider it a superior game in every way. Free spins are awarded for collecting three scatter symbols, but even the base game is profitable, awarding x2,000 your stake if nine diamonds hit the reels. So if you want to play a better version of Hope Diamonds, register with Pulsz and try out Legendary Diamonds.
Cleopatra's Ancient Treasure — SweepSlots
For those concerned with profitability, Pyramids of Giza is Fortune Coins' number one game. Medium to high volatility with a 96.9% RTP. Pretty good. But like every other sweepstakes slot game, it can't hold a candle to SweepSlots' Cleopatra's Ancient Treasure, which boasts an incredible 98.9% RTP — a full 2% higher than Pyramids of Giza.
It's a no-contest. The numbers don't lie, so if profitability is what you're after, Cleopatra's Ancient Treasure is in a league of its own.
Wheely Wheely Big Win — BetRivers.Net
Novelty games have always been a specialty of Fortune Coins. So it's no surprise that one of their most popular games is the classic wheel game Wheel of Luck. Pick your odds, pick your stakes, then spin the wheel. It's classic. But it's a little uninspired, and after a few spins, it can get repetitive. That's why I've selected Wheely Wheely Big Win from BetRivers.Net as the perfect alternative to Wheel of Luck.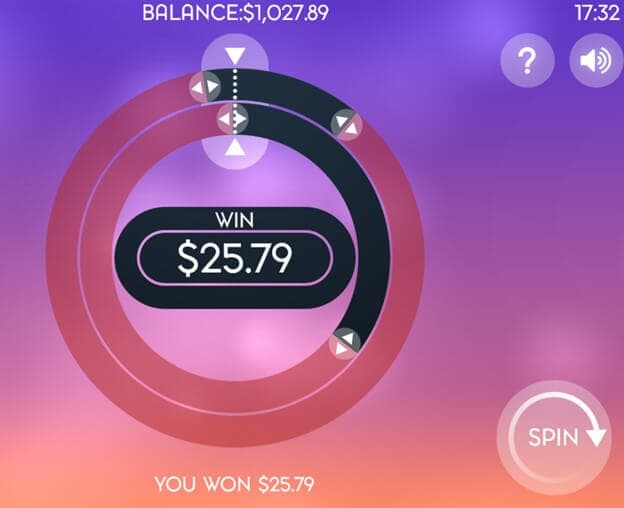 Wheel games advertise that they let you choose your own odds, though do they really? Sure they do to a degree — 2:1, 5:1, 10:1, etc. But with Wheely Wheely Big Win, you make your odds.
You can adjust the black section of either wheel to the individual degree with the payouts adjusting automatically, thereby giving you an unprecedented level of control. Want to play it safe with 1.2:1 odds? You can. Or if you want to go the other direction and go for the 360:1 play, you can do that as well.
It's a unique game. And I think with a game this unique BetRivers.Net is the perfect place to play it.
Jackpot Slots — Pulsz
One of the first things you'll notice when you visit Fortune Coins is their jackpots. With half of their slots attached to a pooled jackpot, any spin can award you a five-figure payout. It's a popular feature of Fortune Coins. And for an alternative, we've chosen Pulsz.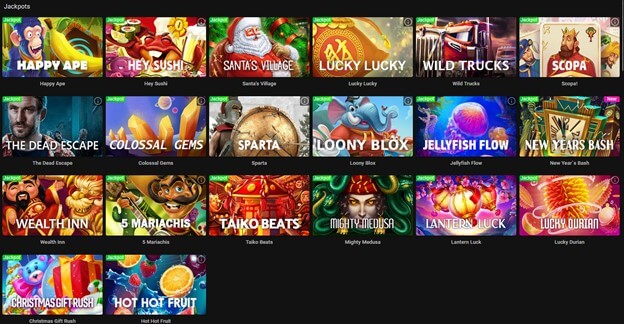 Pulsz is one of the few sweepstakes casinos with a dedicated jackpot slot section. Though what I really like about Pulsz is that the section changes regularly. So even if you are the sort to only play jackpot slots exclusively, you'll always have new games to play. And similar to Fortune Coins, all Pulsz jackpot casino games share the same prize pool.
Tens or Better — SweepSlots
Jacks or Better is the classic variant of video poker, and it's one of only two variants available on Fortune Coins. While they may seem fine on the surface, one thing you'll notice when going through the paytables is the paltry payout. Pairs and two pairs don't even pay 1:1, instead paying 11:12. Our solution is simple.
Don't play video poker at Fortune Coins. Instead, my recommendation is SweepSlots, who offer Tens or Better.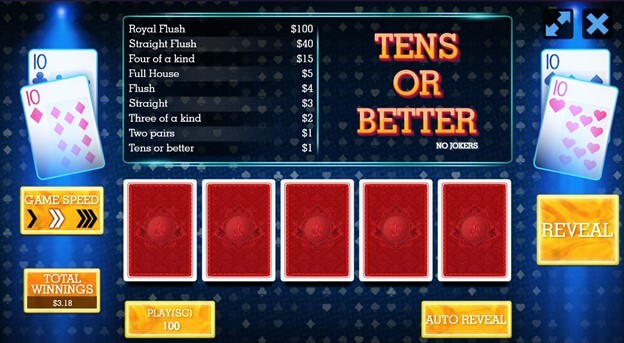 There's no smoke and mirrors here as SweepSlots always shows the paytable on the same screen as the action. And it looks much like you'd expect, save for one difference. A pair of tens is now good enough to get paid. It's a small difference, but it's just another way that SweepSlots looks to improve the RTP of all their games over their competitors.
Fortune Coins Information & Highlights
Before looking at alternatives, we'll cover the basics of Fortune Coins Casino.
Great Multiplayer Fish Games — It can't be overstated, but if real money multiplayer fish games are what you're after — Emily's Treasure is second to none.
68 Games in Total — While they do add more games regularly, they have an unimpressive 68 as of writing.
Lack of Table Games — While Fortune Coins does have WAR, there's a distinct lack of the more traditional table games.
Great Welcome Bonus — With 500 Fortune Coins and 140,000 gold coins awarded on sign-up, the Fortune Coins welcome bonus is one of the best.
Parent's Company Has a Lack of Reputation — Fortune Coins was founded by Social Gaming LLC. And this parent company doesn't have much information about itself floating around. While we have no doubt they are legitimate, some players prefer to play at companies that are a little more transparent.
How Sweepstake Casino Alternatives to Fortune Coins Work?
The alternatives to Fortune Coins all work a little differently. But they're pretty easy to understand, and in this section, we'll cover the key currency differences from each of the three sites and how you can expect to get paid.
Pulsz — Pulsz works very similar to Fortune Coins. Same deposit and withdrawal methods. Same dual currency system. And like Fortune Coins, the easiest way to redeem is via

Skrill

or bank transfer.
BetRivers.Net — BetRivers.Net is different from most sweepstakes casinos. There's no real money play, and so there's no dual currency system. It's a drawback to BetRivers.Net, but it does make playing with them simpler.
SweepSlots — SweepSlots has three currencies. The monetarily worthless gold coins. The premium sweeps coins. And redeemable cash. Those last two are where the differences come in. Because when using sweeps coins, rather than winnings being awarded in

additional sweeps coins

, they are instead awarded as cash that is kept in a separate balance which cannot be used directly to play additional games, and instead can only be redeemed for cash prizes when you collect enough. If that seems confusing, think of it like an arcade. You insert coins, though win tickets. These tickets can't be reinserted into the game, but once you collect enough, you can redeem them for a prize. Why SweepSlots has done this is beyond me. Fortunately, redemptions for these real cash prizes are very simple and are done via the same

method you used to deposit

— bank transfer or Skrill.
FAQ's
Who Owns Fortune Coins?
Social Gaming LLC owns Fortune Coins.
Which Online Casinos are Similar to Fortune Coins?
There are many casinos similar to Fortune Coins — although most are slightly worse. In my opinion, only three are as good or better than Fortune Coins: Pulsz, BetRivers.Net, and SweepSlots.
Are There Better Casinos Than Fortune Coins?
It depends on what you're looking for. For multiplayer fish games, they're the undisputed kings. If you want table games, BetRivers.Net beats them out. For variety of games, I've got to hand it to Pulsz. And for sheer profitability, SweepSlots is the king.
Is Fortune Coins Legit?
Yes. While parent company Social Gaming LLC may be elusive, for the past year that Fortune Coins has operated, they've processed millions of dollars worth of withdrawals, proving that they are 100% legit and that you can win cash prizes with them.
Can I Cheat Fortune Coins games?
No. The software behind the online slots and other casino games at Fortune Coins are secure and protected against all forms of external cheating.
Is Fortune Coins Legal in the US?
Yes. Operating under the sweepstakes "Free to Play" model, Fortune Coins are 100% legal across the US. The only exceptions to this are for residents of Washington and Idaho who are not permitted to play or create accounts with Fortune Coins.