Gamble USA strives to improve your online gambling experience. We aim to help you play safely, make informed decisions when gambling, and increase your betting knowledge through our guides.
We adhere to strict editorial integrity; our content may contain links to products from our licensed & legal US partners.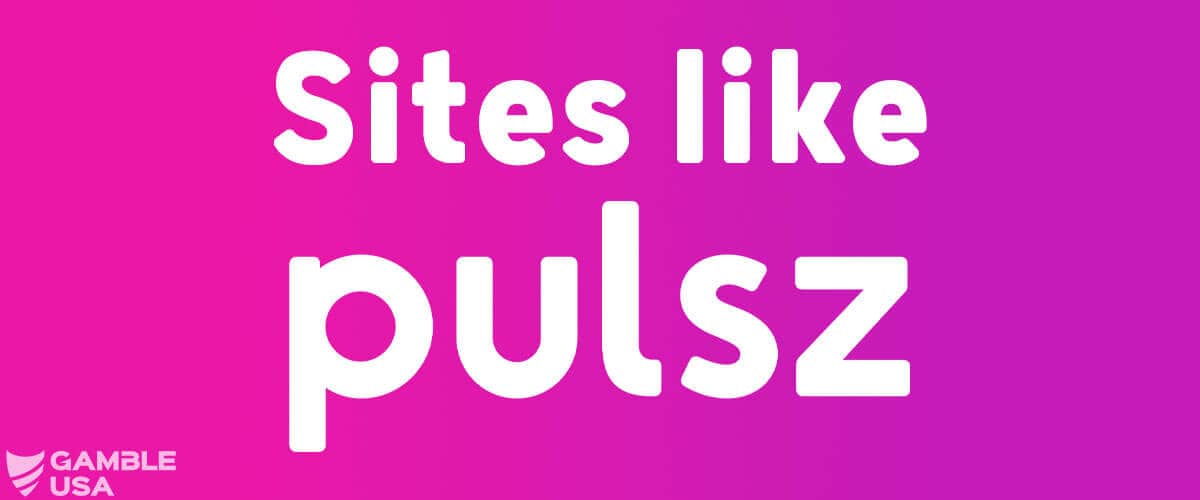 Since the introduction of online gambling across many states in the country, lots of online casinos have launched, enabling players to play casino games on mobile devices. You can sign up to an online casino, play slots for real money on your way to work or at home, and have fun doing so.
However, for anybody looking to play purely for fun, new sweepstakes casinos offer the same level of entertainment without the added pressure of playing for cash. Sweeps cash casinos provide legal online casino gaming in every state except Idaho and Washington. The idea behind a sweepstakes casino is that it allows bettors to play online casino games for cash prizes, with the sweepstakes games performing as mini-sweepstakes contests. These sweepstakes sites are also referred to as social casinos.
One of the latest sweepstake casinos to enter the market using the sweeps model for real cash prizes is Pulsz Casino. The Pulsz casino is owned by Yellow Social Interactive Limited, which is registered in Gibraltar. The casino site launched in 2020 and offers some of the best online casino slots with a welcome bonus of 2.3 Sweepstakes Coins.
Although Pulsz real money slots cover an excellent range, some people may be looking for even more variety, even with several hundred unique slots on offer. As slot players, we do love a massive selection of games and are always searching and testing for the next great new slot.
Luckily, there are several alternatives and sister sites to Pulsz, including the online casino sites mentioned above. For example, Funzpoints Casino and BetRivers.net are similar to Pulsz, with fantastic user reviews and a wide variety of different slots and developers available.
Best Alternatives to Pulsz Casino
The US sweepstakes casino industry is thriving, with loads of free slot apps and new casino sites frequently launching. This means there are numerous great alternatives to Pulsz Casino, where you can play free games and slots and win cash prizes. While most of these sites provide a good selection of online slot games, you will also be able to play bingo, Slingo, video poker, online scratchcards, and more.
Lots of sweepstake casinos are similar to Pulsz Casino, which is already a top-tier platform; however, like most sites, there are things it could improve on, such as the number of online slots available. The good news is, that you can discover a large range of different slots on other sweeps casinos like BetRivers.net or LuckyLand slots.
There are plenty of slots and other games available on Pulsz's sister sites. These casinos offer games like Pulsz, and while some are better than others, there is plenty of choices. You can find below a selection of our favorite sites that are similar to Pulsz Casino, offering free casino games:
Please note that not all of the above sites will give you the opportunity to win real money prizes, most notably sites like High 5 Casino and Riversweeps. If you are playing at a site like that, the positive is that you will have access to an excellent range of slot machines from a top casino provider. Casinos like B Spot do offer real money prizes, but they are linked with real-life horse racing wagers, so it is difficult to predict how much you will win.
With that said, most of the alternatives to Pulsz Casino will allow you to play casino games and win cash prizes without spending your own money. Consequently, they can be much more fun than traditional casinos. All of the platforms listed above are casinos like Pulsz with a range of fun games to play.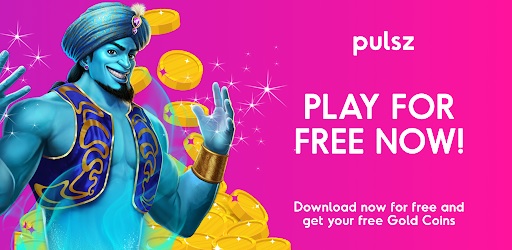 How Does a Sweepstakes Casino Work?
An excellent place to start is with "how a sweeps casino works." When you play at a sweeps casino, you play with a virtual currency (VC)  and play for cash prizes. For example, if you join Chumba Casino, you play with "Gold Coins" and "Sweeps Coins." You can then win prizes or redeem them for actual cash prizes using this currency.
Although all of these sites' principles are the same, in terms of the sweepstakes casino games and playing for free, they still differ in certain aspects.
What are Sweeps Coin Casino Games?
You may not have come across sweeps coins before, but the games are very similar to classic live or online casino play – whether you are playing table games or slot machines. You can use what is called "Gold Coins" on Chumba Casino and Global poker, also acquired via Luckyland slots hacks and Chumba cheat codes. The virtual currency used on Pulsz Casino is sweeps coins, while on Funzpoints Casino, it is "Standard" points to play free slot apps that have tangible rewards.
No matter the currency, they can be redeemed for cash prizes. You can collect gold coins or sweeps coins by signing up for a new account, earning these coins from slots or table games, and logging in and playing a session every day.
The amount of sweepstakes slots and sweeps casino games available with sweeps coins is restricted. You can access the whole selection of games by purchasing more sweeps coins. You can get 15 Free Sweepstakes Coins for $9.99 and 30 Free Sweepstakes Coins for $19.99.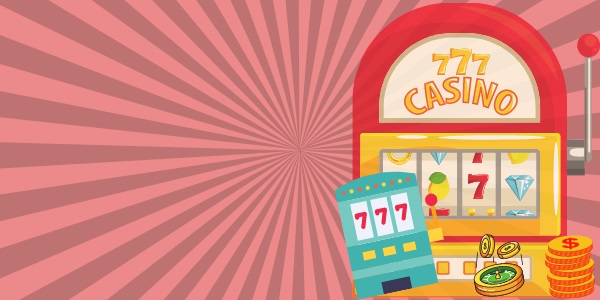 How much can you win at Pulsz Casino?
There are gift cards with a value of $50 or more and cash prizes of $100 or more. The minimum amount to receive a gift card is $50, and you are limited to the selection of gift cards offered by the operator. The minimum to get a cash prize is 100 Sweepstakes Coins (SC), which can be redeemed.
You also have the option to play for Gold coins and VIP points. Although Gold coins cannot be exchanged for cash, you can still win tonnes of them, which is still pretty satisfying. Additionally, the more VIP Points you earn for playing the games, the bigger your free spins offers and purchase bonuses will be.
Most Popular Sweeps Casino Games
In terms of their fundamental principles and formats, as we have mentioned above, sweeps casino games are very similar to the options at traditional online casinos. The most significant difference is that social casinos offer free games where you can't place any real money bets. Instead of using cash, customers at Pulsz Casino and sites like Pulsz use Gold Coins to play casino games, with Sweeps Coins prizes.
Apart from that, sweepstake sites offer the same types of games you can find at classic casinos and real money casino apps. Some of the most common games at sweeps casinos include:
You may find that some free online casinos offer games you can't find at traditional casinos. These are typically strategy games like those found at sites such as Skillz Games. Bear in mind that a broader range of slots is available at Pulsz Casino sister sites.
Pulsz also doesn't offer any of the games listed above apart from online slots, so users often end up looking elsewhere. Similar games to Pulsz Casino are available on sites such as LuckyLand Slots and BetRivers.net.
A menu on the Pulsz Casino site indicates it is ready to host table games. According to the app listing, users will soon have access to roulette, blackjack, and baccarat. All of these games will be free to play, and customers will not be able to redeem cash prizes from them.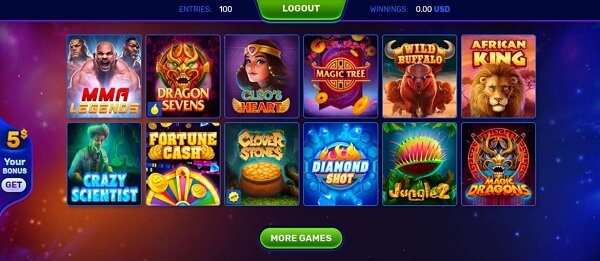 How Do You Redeem Virtual Currency for Cash Prizes?
All of these sweepstakes casino sites listed on this page give you the option of purchasing virtual currency packages to receive either Gold Coins, Premium Funzpoints, or free sweeps coins. This is an easy way of getting your bankroll going while also keeping your information secure.
The casino will ask you to provide the usual personal details such as full name, address, phone number, and email. Pulsz casino and the alternatives listed in this article are licensed and verified fair and random by state regulators, so rest assured that your financial and other information is kept safe at all times. If you decide you would like to buy some coins, this is also a secure process. Players can choose from the following options:
Mastercard
American Express
Stripe
If you want to redeem virtual currency for gift cards or cash, you will have to go through an added layer of security. You will be required to provide a valid government ID such as a driver's license or passport and proof of residence. The proof of residence could include a utility bill or bank statement.
You will only need to go through this process once; the first time, you are redeeming coins for cash. Transaction times vary depending on which sweepstakes casino you are using, but they are consistent and speedy, typically ranging between 5-10 days. Commitment to the above shows that Pulsz is legit and safe.
Other Redemption Options
There are a few other ways you can get your hands on coins with Pulsz or its sister sites. First, you can win coins back while playing games. Manage your bankroll by looking at your current balance on the top left of the homepage.
Alternatively, some sites like Chumba or B Spot offer competitions to win points on their social channels. The Pulsz social media channels are still growing, but it's worth checking out their social sites, such as Pulsz Instagram, Pulsz Facebook, and Pulsz Twitter, to keep track of the latest promotions and coin giveaways.
Pulsz Bingo
Pulsz Bingo has recently also launched; freshly out of a beta testing phase, this sister site of Pulsz has its main focus on Bingo, with a wide variety of Bingo game options available in the lobby and several new rooms close to being launched on the site. The Pulsz Bingo no deposit bonus rewards new registrees with 5,000 Gold Coins + 2 Sweepstakes Coins.
The same sweepstakes features are available with gold coins, sweeps coins, and the ability to earn free bingo tickets. The same range of online slots are also on offer, and these are being pitched as "Side Games".  The Pulsz Bingo site will  be a more attractive option if you enjoy Bingo and Keno-style games but still want to play a few slots too, if online slots are your focus then the original Pulsz Casino is still the best option.
Slots like Pulsz Casino
Although the Pulsz social casino offers exclusive slot games, some titles can also be found on other platforms. You will likely discover the same slot games on other social casino sites such as Fortune Coins, WOW Vegas and Stake.us Casino. The online social gaming market will also have similar games based on quirky features and exciting themes to encourage new players. Consequently, if you have found a range of slots you like at Pulsz, you should be able to play on similar games at other sites.
When you compare slot games at Pulsz with its competitors, you will find that there are many exciting titles spread out among lots of online social casinos. Whether you are looking for slots that are based on a TV show, movies, sports or even classic board games, there is something for everyone.
Table Games like Pulsz Casino
Customers will find a small selection of table games on Pulsz Casino, which is ideal for those who love slots but also enjoy playing card games occasionally. Although there aren't many options, Pulsz provides popular games among casino enthusiasts, giving them an attractive alternative to playing slots.
While slots take up most of the games library at Pulsz and many other online casino sites, table games are a solid option. You will typically come across table games like Blackjack, roulette, Texas Hold 'em and video poker. Some sites will also offer blackjack variants and Jacks Or Better.
While these games are different, sweeps casinos offer alternatives to slot gaming if you do some research and know where to look to find them. For anyone who enjoys visiting a physical casino they will enjoy visiting social gaming apps as they provide a well-rounded experience with multiple slots and table games.
You can choose to play table games you are experienced in or try something new. If you are worried about trying something new, you have the ability to get some practice in using your free sweeps coin or fortune coin so you are not at risk of losing any of your own money. Any practice you can get in before playing for real money will be extremely beneficial as you get to grips with betting online.
Hints & Tips to Win at Sweepstake Casinos
Just like real money online casinos, winning at sweepstakes sites is challenging. There are lots of strategies to improve your chances of success, though. Here are some helpful tips to remember:
Always take full advantage of new and ongoing free sweeps coins promotions
Look out for

high RTP slots

where possible and especially the

high variance and high volatile slots

.
Research all of the bonus information and max win info before you begin playing
Feel free to take more risks than you would do playing at a traditional online casino
Ultimately, you can have tonnes of fun playing at sites like Pulsz Casino, where there is no real money pressure.
Things to consider when looking for alternatives
When looking for a Pulsz sister casino, the features, hints and tips we have listed on this page are all important factors. We believe the sites we have mentioned will meet the needs of social gamer looking for the best online casinos. Whether someone is looking for a particular Gold Coin package, a free sweepstakes coin offer or a specific casino game, the alternatives listed above have got you covered.
Each casino on this page have something unique and new to offer, and many will have a slot game or table game that you won't find on any other sites. If you are still unsure about which one to sign up for then one of the ways you can help make an informed decision is having a look at the social media feeds of each platform. The one thing to always remember is that all of the games provided by these sites can be played for free so don't worry about creating an account on each to test the waters and see which one best suits you.
You might be someone who is particularly interested in progressive jackpot slots or a particular slot machine which will narrow down your choice. No matter what you preferences are, there is no harm in trying things out. Hopefully you will find the platform for you quickly and then you can begin your sweeps casino experience and have fun playing the range of games available with little pressure.
FAQ's
What are the best alternatives to Pulsz Casino?
Some of the best sweeps alternatives to the Pulsz Casino site are Fortune Coins, BetRivers.net and LuckyLand slots, along with the recent Pulsz sister site - Pulsz Bingo
Will Pulsz Casino offer more games in the future?
There is the scope for Pulsz to offer more games in the future. However, online slots seem to be the main focus for this casino, and they remain the most popular game at most casinos.

There is currently a menu listing roulette, baccarat, and blackjack. This would indicate that more table games will be available on the Android casino app and website soon.
Does Pulsz Casino have a mobile app?
Yes, but the app is only currently available for Android users. Pulsz is likely working on an iOS app so we may see one at some point. Load the website on your mobile browser to play Pulsz slots on your Android device; it is fully optimized to work on smaller screens.