Gamble USA strives to improve your online gambling experience. We aim to help you play safely, make informed decisions when gambling, and increase your betting knowledge through our guides.
We adhere to strict editorial integrity; our content may contain links to products from our licensed & legal US partners.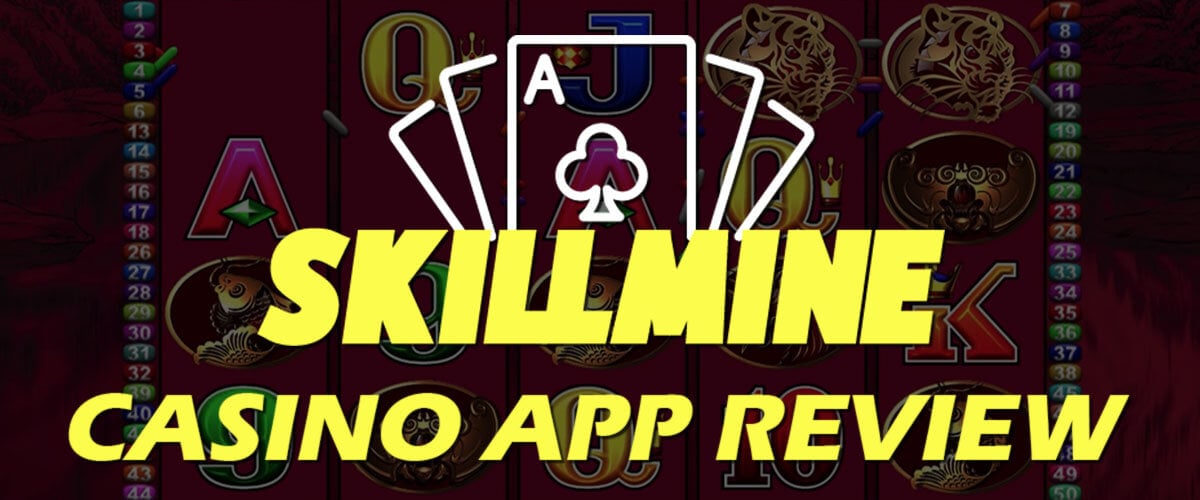 Playing online casino games in the US is tricky. If you live in one of the six states where online gambling is legal, then you have a plethora of great online casinos to choose from; however, anyone outside of those states is left with few options and as such it may feel like you've got to take what you can get. SkillMine presents a solution. It is an online sweepstakes site available to residents across the US, offering a host of slots and fish games — but let's face it. It's a B- at best.
Weird depositing and withdrawal requirements, games with RTPs lower than 50%, and sketchy online casino software with shady third-party affiliation. Chances are if you've found this article, you're not satisfied. And why would you be? We weren't either, and that's why we sent our top researchers out to find the best SkillMine online casino alternatives — and boy have they delivered.
Read below to find our favorite SkillMine alternatives along with our brief guide on why it's so important that you seek out different sweepstakes online casinos over SkillMine.net.
SkillMine Casino Games Highlights
Of course, that's not to say there's nothing good about SkillMine. The $20 no-deposit welcome offer is among the best welcome offers out of all sweepstakes casinos. Likewise, while they do offer some online games with horrible RTP, they also offer a large assortment of slot machines designed both in-house and by some of the top slot machine providers, including IGT and Novomatic.
Another thing that I'm personally a massive fan of is their Bitcoin depositing options. This is something you won't find in nearly any other sweepstakes casinos or any online casino in general — which is a shame. But SkillMine does allow for both withdrawals and deposits via bitcoins.
However, there are some definite negatives. And in the below table, you'll see that some of them are pretty dreadful.
🎰Skill Mine Overview
✔️The Good
❌The Bad
Bitcoin Deposits & Withdrawals Welcomed
Weird Depositing & Withdrawals Structure
Great $20 No-Deposit Welcome Bonus
Horrible RTP On Games
Regular Promotions
Untrustworthy Third-Party Software
Lengthy & Strange Registration Process
SkillMine.net Sister Casinos
When thinking of alternatives for SkillMine your first thoughts may go to sister sites. Sites that operate off the same philosophy, that hopefully do the good things to the same standards of SkillMine — but also make improvements on the things SkillMine doesn't do well.
That was our first thought as well. And we checked them all — Riversweeps, Vegas-X, WebSweeps, Milky Way Casino, Funrize, Royal Eagle, etc. Unfortunately, as became painfully apparent, these sites aren't very good. Sure they all have decent varieties of games — though they also operate off that weird sweepstakes internet cafe basis with weird rules on depositing and withdrawing, along with subpar RTP on their games.
At their best, they were as good as SkillMine. But more often than not they fell quite a ways short and in truth, were quite lousy.
Best SkillMine Casino Alternatives for US Players
After extensive research, our team identified some great SkillMine casino alternatives. If you're in a rush you can check out this table for a brief overview.
🎰Casino
⭐Highlights
🎁Welcome Bonus
💯Score
Pulsz
Massive Social Media Presence With Giveaways
5,000 Gold Coins
2 Sweepstake Coins
9.5/10
Fortune Coins
Emily's Treasure Fish Game
140,000 Gold Coins
500 Fortune Coins
9/10
SweepSlots
High RTP Slots
10,000 Gold Coins
1,000 Sweeps Coins
9/10
BetRivers.Net
Large Variety of Games
500 Virtual Credits
8.5/10
There are a lot of good sweepstakes casinos. But when coming up with this list our team didn't want to come up with casinos that were better in one way while being worse in another. So while there are plenty of good sweepstakes casinos, this list will focus on the great sweepstakes casinos. The ones with variety, high RTP games, and unparalleled levels of trust. And keeping those requirements in mind, our team identified four prime options for SkillMine casino alternatives for US players.
SkillMine vs. Pulsz Casino App
If SkillMine is a B-, then Pulsz Casino is an A+. They have a better selection of casino games with higher average RTP and are powered by software providers far more trustworthy than SkillMine. Depositing and withdrawing with Pulsz is smooth. And unlike SkillMine, Pulsz has a massive social media following — so if you do find yourself having any sort of trouble you can head over to their Facebook page where they have over 100,000 followers and are regularly doing giveaways.
When comparing two casinos it's common for there to be a bit of give and take between them. But with Pulsz and SkillMine, it's an absolute blowout. Sign up using our links to get started today with 5,000 gold coins and two sweepstake coins with no deposit on registration.
SkillMine Online Casino vs. Fortune Coins Casino
One of SkillMine's big claims is that they offer one of the best fish games in the US. And while their games are undoubtedly fun, they are one of the most unprofitable games that I've ever seen a casino offer, with an RTP below 50%. That's why when looking for the best SkillMine alternatives, we prioritized casinos that offered great multiplayer fish games, and with Fortune Coins' Emily's Treasure, we found one of the very best.

It's fun, it's interactive — and unlike SkillMine, it offers an RTP of 91.2%. It's great. And while there are plenty of fun slot games at Fortune Coins Casino, for me, the main appeal is Emily's Treasure which you can try for free when you take advantage of Fortune Coins' welcome offer — exclusive to our readers who sign up via our links.
SkillMine vs. SweepSlots
While not always at the forefront of the conversation of best US sweepstakes casinos, SweepSlots Casino has carved itself a niche as a favorite for experienced casino players. This is because while they may not have the most expansive library of real money casino games, what they do have are some of the highest RTP online slot games available in the US. Cleopatra's Ancient Adventure (98.9%), Treasure Wild Bears (98.62%), and Chinese Lucky New Year (97.79%) are just the beginning. Plus, as recently as as this year, they've re-imagined the theme of their site.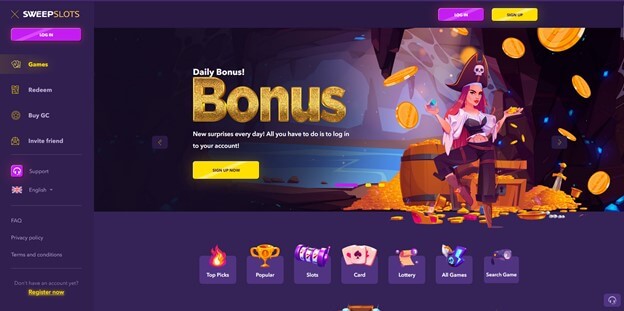 To celebrate, they're giving new users a welcome bonus of 10,000 gold coins and 1,000 sweeps coins.
SkillMine Casino vs. BetRivers.Net

If you're looking for a casino with a reputation like no other, BetRivers.Net is for you. Anyone knowledgeable in online casinos will no doubt recognize the name from the ever-popular BetRivers Casino & Sportsbook. But lesser known is that Rush Street Interactive has also moved into the social casino market.
Users of BetRivers.Net can expect the same great selection of games that BetRivers Casino has to offer. Though rather than being exclusive to four states, BetRivers.Net is available nationwide. The only drawback is that BetRivers.Net is strictly for entertainment. So no real money play is offered.
Why You Need SkillMine Online Casino Alternatives
There was a time when your only option for playing at an online casino in the US involved playing at sketchy sites. But that's no longer the case. Even if you don't reside in one of the big six online casino states (NJ, CT, WV, MI, PA, DE), you still have a choice of where you play.
Do you want to jump over hurdle after hurdle when depositing and withdrawing money, or do you want the withdrawal process to be streamlined? Do you want to play at a shady site operating off of a confusing internet sweepstakes cafe basis, or do you want a name that you can trust? Do you want to play games that have RTPs of less than 50%, or do you want to play somewhere where you've got a legitimate chance of making some money? These aren't difficult questions.
I don't want to badmouth SkillMine, because in truth it's a fine casino. But why settle for just fine? Chances are if you're reading this guide, you want to get more bang for your buck — and if that's the case and you want your online casino experience to be a great one, then I strongly suggest you at one of our SkillMine online casino alternatives.
BetRivers.Net — For a wide selection of games.
SweepSlots — If you want to play online slots with high RTP.
Fortune Coins — For one of the best multiplayer fish games in the US — Emily's Treasure.
Pulsz — For the unmatched levels of trust and overall A+ experience. Players' favorite pick for the

Pulsz slots games

.

Stake.us Sweepstakes Casino

– One of the newer big players in the social gaming industry, Stake.us online slots stand out for crypto payouts and provably fair software.
You can check out other new sweepstake casinos here that would make up for an alternative to SkillMine.net if the above does not cut it for you.
Summary
SkillMine certainly has some things going for it. And if it were a case of either playing at SkillMine or not playing at all, I'd probably still bite the bullet and play with them. But that isn't the case.
There are many great alternatives to SkillMine that absolutely blow it out of the water, and in truth, there is no reason why you should pick SkillMine over any of the alternative free sweepstakes coins casinos that we've suggested.
SkillMine Casino App FAQs
Should I Play at SkillMine?
No. While SkillMine is one of the few sweepstakes casinos that allow for deposits and withdrawals via bitcoin, there just isn't enough going for it for us to suggest it. The depositing and withdrawal process is weird and convoluted. Their games have horrible RTP. SkillMine just isn't all that good of a site — especially when looking at the alternatives.
What alternatives are there to SkillMine?
There are a lot of great alternatives to SkillMine. But to find the best alternative you should ask yourself what it is you're looking for. If you don't care about real money play and instead just want a good selection of games, then you should play at BetRivers.Net. If you want to play multiplayer fish — try Fortune Coins. Though if you want to stick with slots and want to play the most profitable games available, then try SweepSlots. And finally, if you want a bit of everything and are after a genuine A+ sweepstakes casino, Pulsz should be your number one destination.