Team USA Basketball Suffers Stunning Loss
Categories:
News
|
Published by:
Alex W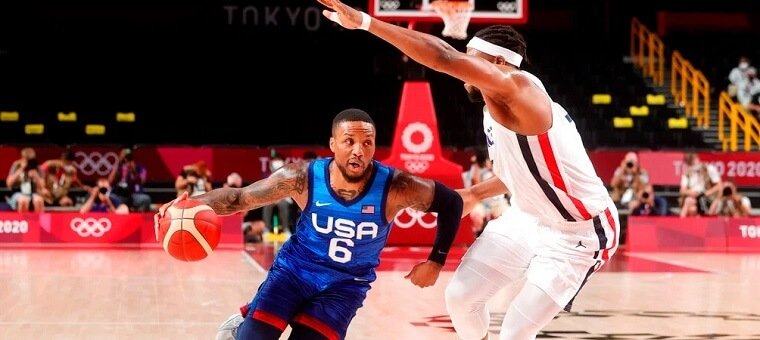 The United States men's basketball team came into the Olympics with some questions, and those questions will only get bigger from here.
Team USA suffered an 83-76 loss to France to open up play in the group stage.
The United States team is looking for their fourth straight Olympic Gold Medal, but meddling at all might be out of the question now. With the loss, Team USA had its 25-game winning streak snapped in Olympic competition.
Team USA had built up an eight-point lead with less than four minutes to play before the team from France stormed back. Evan Fournier led his team with 28 points and hit the biggest shot of the game late in the fourth quarter.

21+. T&C Apply
21+. T&C Apply
The United States team is without some of the brightest stars from the NBA, but this roster is still loaded with talent. Team USA unexplainably went the final four minutes plus without making a field goal.
There has been plenty of adversity facing the Americans so far during the build-up to the Olympics, including some COVID-19 issues. Three players didn't get to Tokyo until hours before the game, and there was plenty of rust.
Jrue Holiday of the Milwaukee Bucks was one player that just arrived, but he scored 12 of his 18 points in the fourth quarter to keep Team USA in control. Kevin Durant had a forgettable game for Team USA, going just 4-12 from the field.
This was a rematch of the game that took place two years ago, and it was almost a repeat of that performance. France stunned Team USA in that game by mounting a miraculous comeback as well.
Team USA does not have much size on the roster, and the French team routinely had a pair of 7-footers on the floor together. Rudy Gobert is another player on the French team with plenty of NBA experience.
With the loss on Sunday, Team USA has now lost five of their last eight games in international competition. There hasn't been a lot of betting action so far on the Olympics, but early reports show the majority of bets have been placed on a mobile betting app, with mobile still taking over 90% of bets.
Still Time to Regroup
Unlike in some of the other Olympic competitions, one loss will not keep Team USA from potentially winning a gold medal. This loss does put a ton of pressure on the team as they can't afford another upset in the group stage.
There are still two more games in group play, and a pair of wins should be good enough to get the US team into the single-elimination tournament. This loss will affect their potential seed for that tournament, and it will make the task that much harder.
The next two games for Team USA will come against Iran and the Czech Republic. Team USA will be massive favorites in each game, but there are plenty of areas to clean up before those games.
What this loss does prove is that the rest of the world has caught up to the United States when it comes to basketball. The US team simply can't just show up and win games this year, and they will have to play well for the remainder of the tournament.
For more legal casino and sports betting news across the US, follow us on twitter @Gamble_usa for the latest news and offers.
Relevant news