Texans Not Activating Deshaun Watson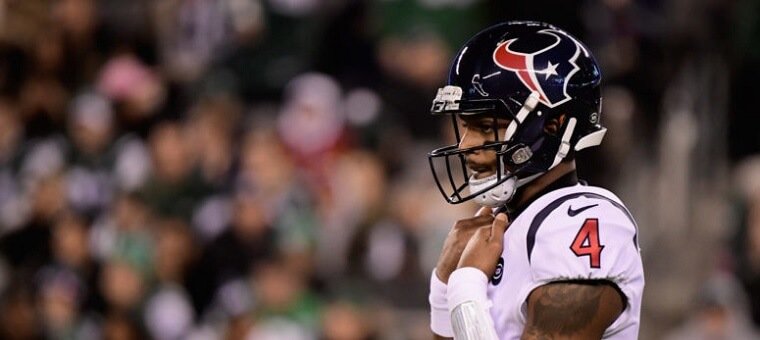 The Houston Texans have not yet activated quarterback Deshaun Watson, and he won't be active in Week 3 either despite the team needing some depth at that position.
Head coach David Culley informed the media of the decision on Monday, and he has made it clear to Watson as well.
Tyrod Taylor was named the starting quarterback in Houston, but his status for Thursday Night Football is unclear after suffering an injury in Week 2. An MRI cleared Taylor of any serious damage to his hamstring, and he is currently listed as day-to-day.
Rookie Davis Mills started the second half for Houston on Sunday, and he did not have a very good day on the field. Mills was just 8-for-18 with 102 passing yards in the Week 2 loss to the Cleveland Browns.

21+. T&C Apply
21+. T&C Apply
Taylor was actually able to go back into the game on Sunday, but it's unclear if he will be healthy enough to suit up against the Carolina Panthers. If the Texans don't feel comfortable with Taylor making the start then it will be Mills that gets the call.
It has been an interesting offseason for Deshaun Watson, and the Texans are trying to distance themselves from the former face of the franchise. Watson began the offseason by demanding a trade from the Texans, but the team was unwilling to seek one immediately.
The NFL continues to investigate Watson for sexual assault after a number of accusers came forward following the 2020 season. There have not been any criminal charges brought up against Watson, but the league could still issue a suspension.
Houston is now willing to trade Watson to another team, but they continue to want a massive return for his services. The Texans were reportedly seeking a combination of six players and draft picks for Watson, and they weren't able to find any suitors.
Wentz Off to Rocky Start in Indy
The Indianapolis Colts acquired quarterback Carson Wentz this offseason after losing Philip Rivers to retirement. Wentz wore out his welcome in Philadelphia, but the Colts were hoping that the former Eagles quarterback could lead the team to the playoffs.
Wentz went down early in Training Camp with an ankle injury, and that was an injury that required some surgery. The Colts were able to have Wentz back on the field for the season opener, but he has yet to pick up his first win in Indianapolis.
Now, head coach Frank Reich has announced that the status of Wentz for Week 3 is up in the air. Wentz reportedly sprained both of his ankles in a Week 2 loss to the Los Angeles Rams, and there is a chance that he won't be suiting up.
The Colts have not been doing a good job of protecting their new quarterback up to this point as he has already been sacked six times. Wentz is a player that has dealt with a number of injuries of late, and this could become an issue all season long.
Follow us over on Twitter @Gamble_usa for the latest legal casino and sports betting news across the US.
Relevant news